After nearly fourteen days at sea, Proctor's Ocean Classroom aboard the Schooner Roseway finally made it to St. Croix in the US Virgin Islands. Read the crew's most recent ship's logs to get a sense of what has been happening aboard the Roseway since landfall on Thursday. With just two weeks remaining in their nine week journey, Ocean Classroom is savoring these final days together in the Caribbean!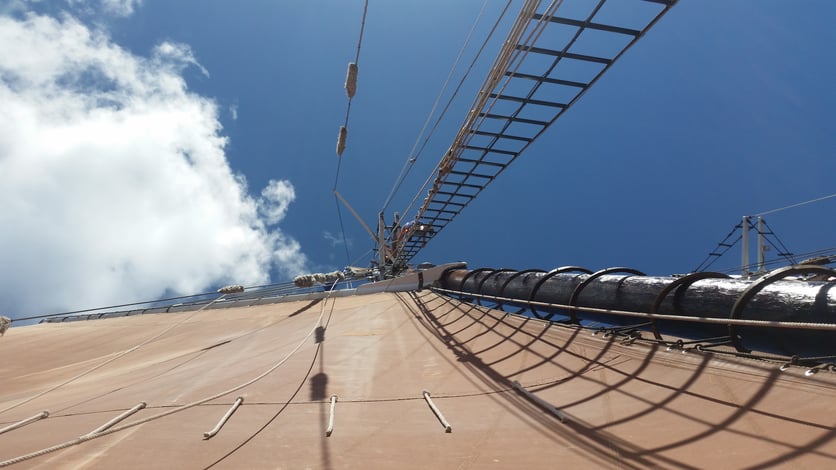 Ship's Log - November 5, 2015:
Yesterday, we heard rumors of getting to land in the late afternoon but we refused to believe until we reached the Virgin Passage which was thirty miles off of St. Croix. After two weeks on the open ocean the sight of land felt new and strange. By the time we had dropped anchor and sails, we could literally smell the land a short distance away from us. Even though we could not step on land that day, we were content with the stillness and the thought of a full night sleep.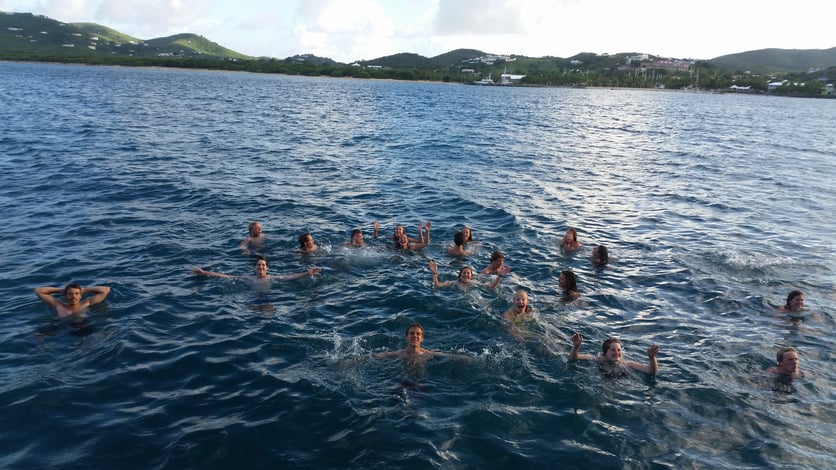 When all the chores were done, Ashley, our Marine Science teacher, yelled out "Swim call!" It is amazing how two simple words brought so much joy into our eyes. We rushed down to pull on our bathing suits and ran back up on deck. After a long time of getting everyone back up we all lined up on the cap rail and tried to steady ourselves as the boat rocked back and forth. As Captain Tom counted down to three, we jumped in unison into the warm waters of the Caribbean.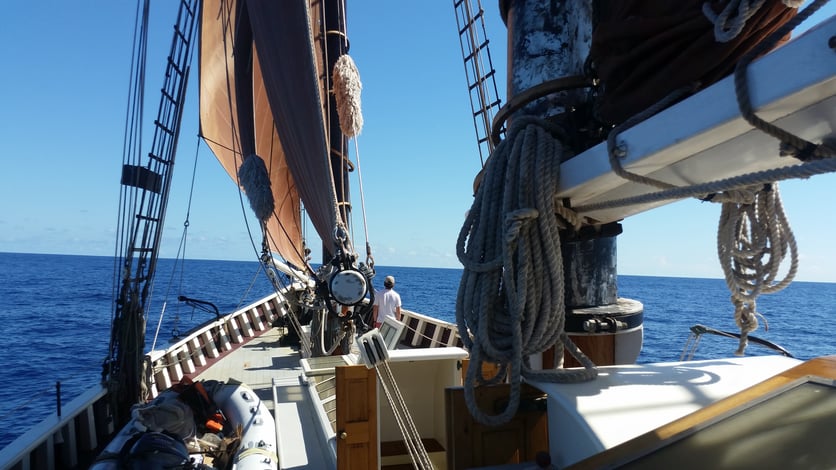 Ship's Log - November 6, 2015 - Caroline and K
Sitting at anchor watch from 0000 to 0100, we reminisce about our first day on shore after a fourteen day period at sea. Our morning was spent at the dock, cleaning away the stench of our living quarters and roasting in the tropical sun. After lunch, we were finally allowed to step off our rocking home to the beautiful island we had been admiring since it was only a mere shadow on the horizon. We made our way to the boys and girls club. We made our way to the Boys and Girls Club with a pit stop to the post office to send any letters people had ready.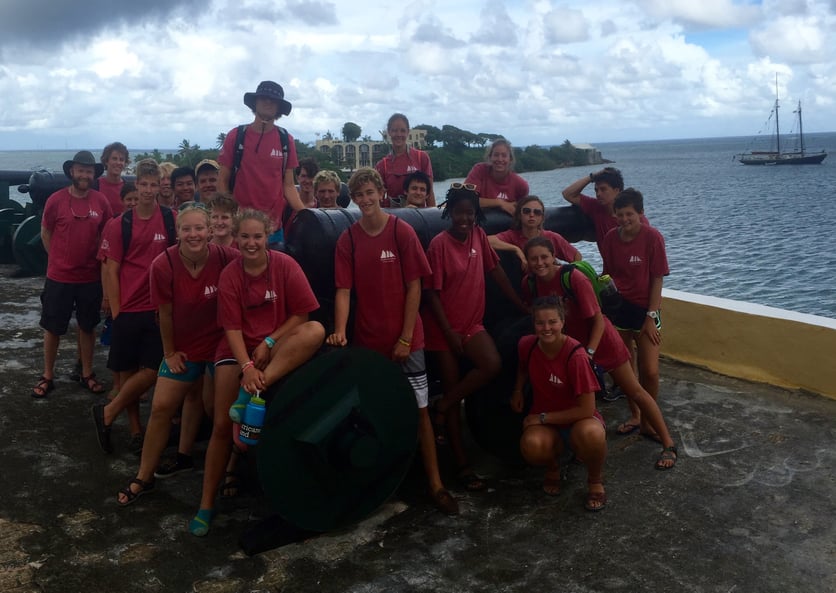 The boys and girls club was one large room surrounded by three walls, with smaller classrooms and the last wall going out into a concrete playground. Kids everywhere from ages five to nineteen swarmed the area after school let out for the day. They spend between two and three hours at the Boys and Girls club before being picked up. The first half hour is devoted to letting energy out followed by an hour of time devoted to homework called "power hour", with help from people working there as well as us for the day. We were all happy to see the kids had the same energy levels as we after our two week transit. We quickly became pack mules, carrying the kids around on our backs and racing with others. The kids were more than happy to open up to us and share their sanctuary for the day.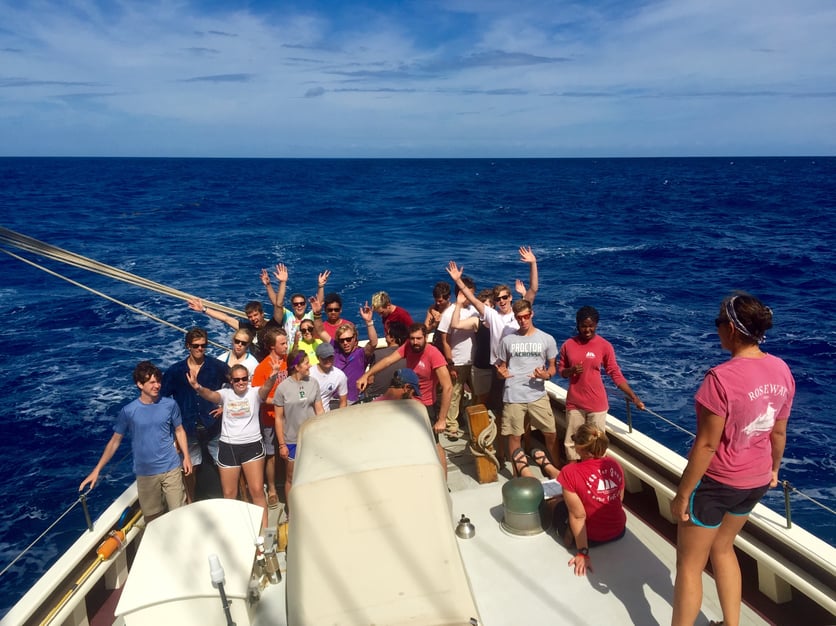 After the half hour of play, there was an assembly where three kids got up on the stage in the main room and had us hold our hands out as in catching something. They then recited their motto and once they were done, we were told to cross our hands over our chest. All of the kids in the room knew the motto and were excited to share with us. The sense of community was very strong in this program. Homework hour started and we spread out with the kids in different classrooms and at different tables. The tables were organized by grade so the kids could help each other with their assignments. We helped forming sentences using vocabulary words and with times tables, as well as with computer programs in one of their two computer labs both with around seven computers. The Proctor students spent an hour doing this before some kids finished and could go outside again. Vans and cars started to show up just as it began to downpour, cooling us all down from a hot and sweaty day. The kids were taken home either by parents or by vans and our work was done for the day. It had been so wonderful to feel the enthusiasm of the kids and their willingness to share their world with us. We walked home along the old streets feeling happy and accomplished about our experience at the Boys and Girls Club that day.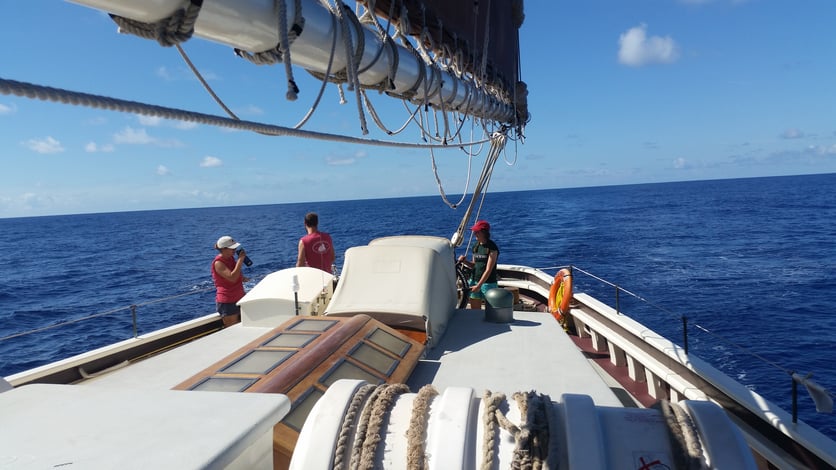 Groups of students also spent time writing pirate shantys, like THIS one, as the reflect on their time living at sea. Until next time, enjoy the new pictures uploaded to our Flickr album linked below!