Proctor Academy's Ocean Classroom program continues their journey south as they make their way to Charleston, SC. Despite a string of unfortunate weather delays, the student crew is well on their way to becoming Junior Officers and running the daily operations of the Harvey Gamage alongside the crew. Read more from the past week at sea below!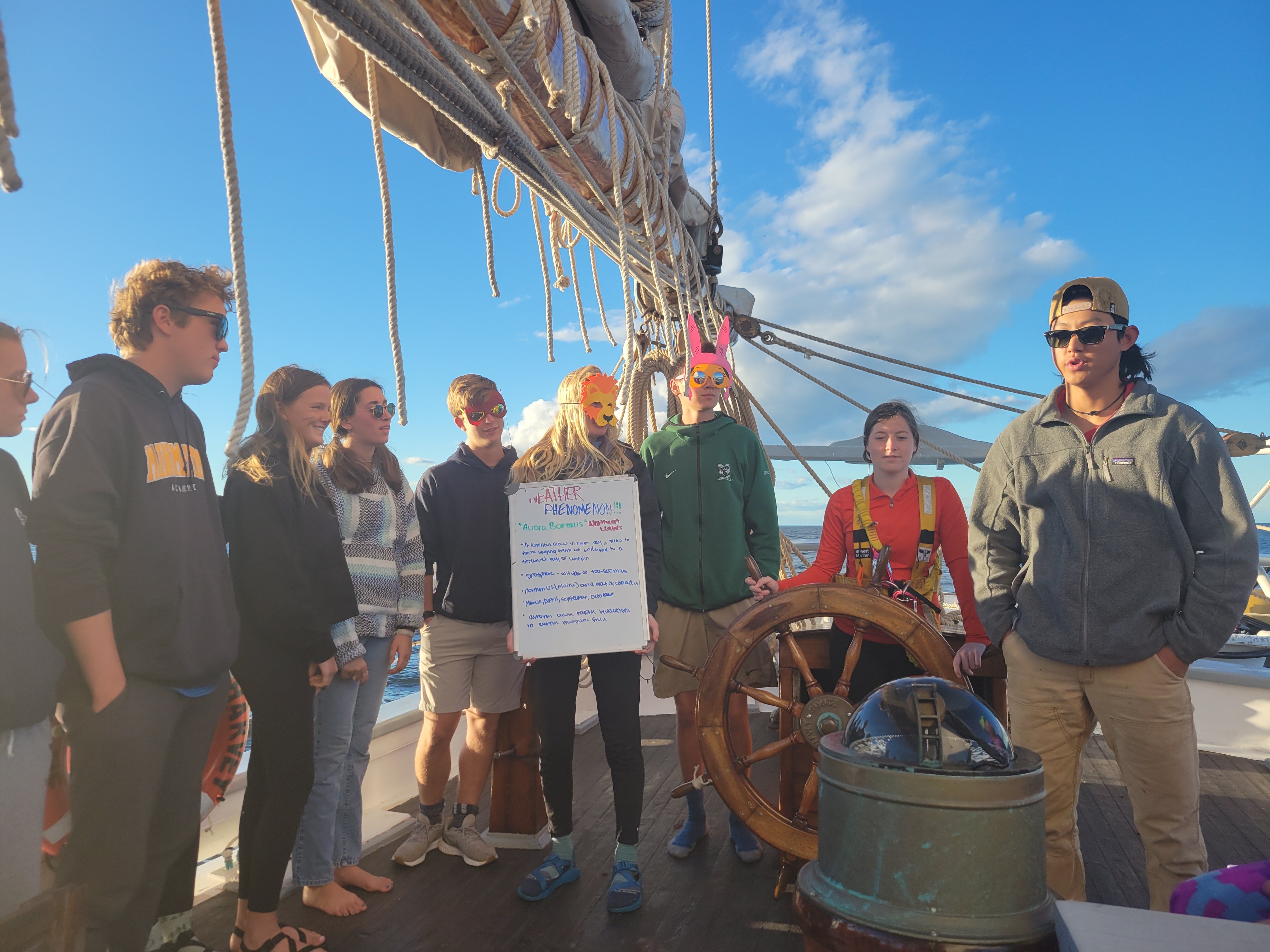 Day 46 | Wednesday October 27th
N 39° 16.727' W 076° 35.794'
Today began with a wake up in the dark! The sun is taking longer to rise which means a warm fall on the Harvey Gamage is approaching us. Today is the day we have all prepared for...midterms! After breakfast and chores, it was time to begin the test that all the students were ready to be done with. Once everyone finished, it felt like a breathe of fresh air. Free time was exactly what we needed for a brain break today, and that's exactly what we got. There were lots of ice cream trips, chipotle runs, shopping trips, and even more ice cream! Everyone came back to the ship feelin good, knowing there was no homework or tests to worry about. Another surprise: A mail delivery happened and it was really nice to hear from our dear old Proctor friends and family. Dinner was served picnic style. We had hot dogs, chips, and cookies and it was delivered by an Ocean Classroom Alum: Lilli Gensler '13. To end our fun day of adventures in Baltimore, we got to have movie night. The movie chosen was "Hairspray" and that was perfect because the plot takes place in Baltimore, exactly where we are, and it was a great way to end the night!
--Lilly '23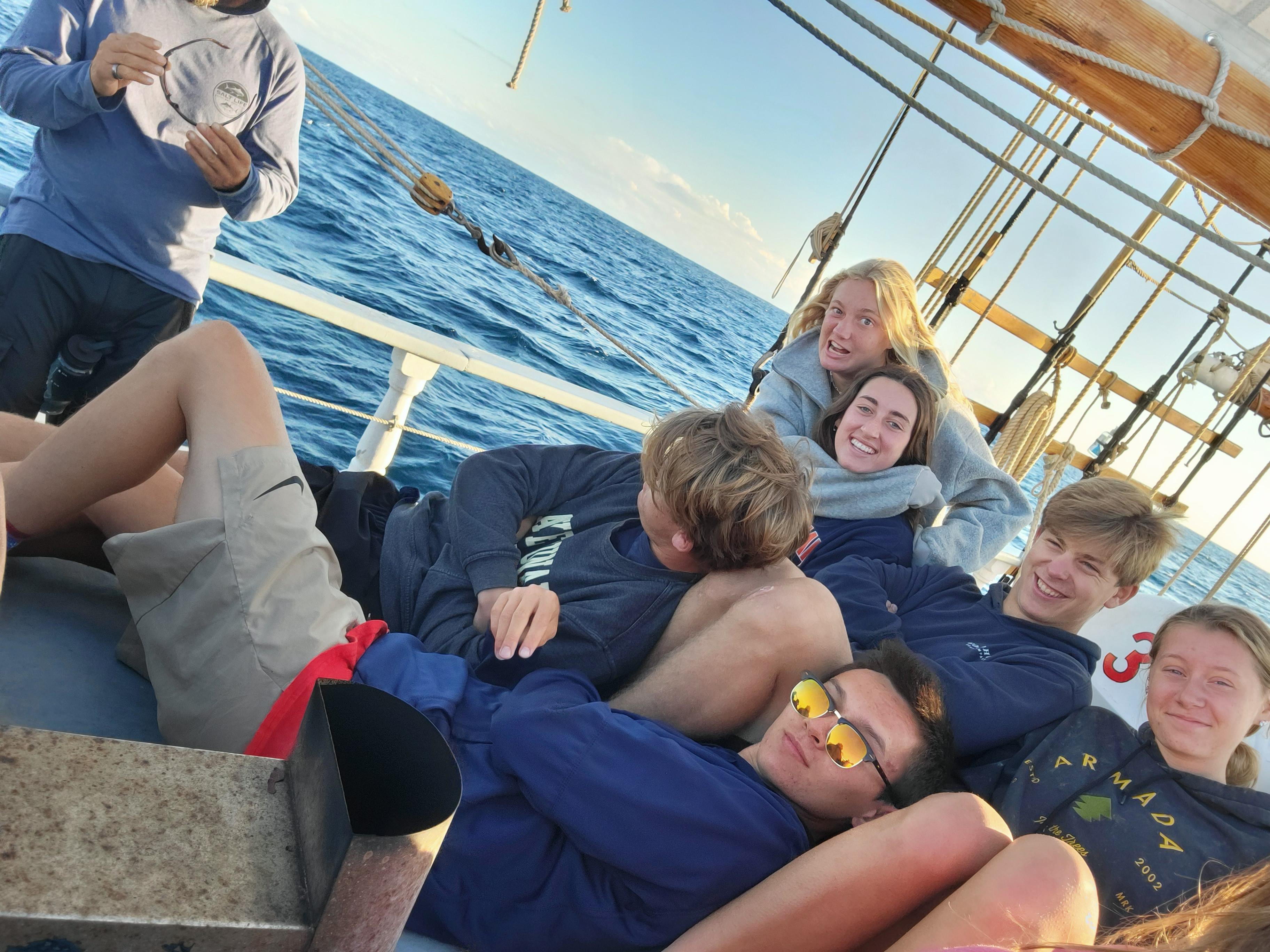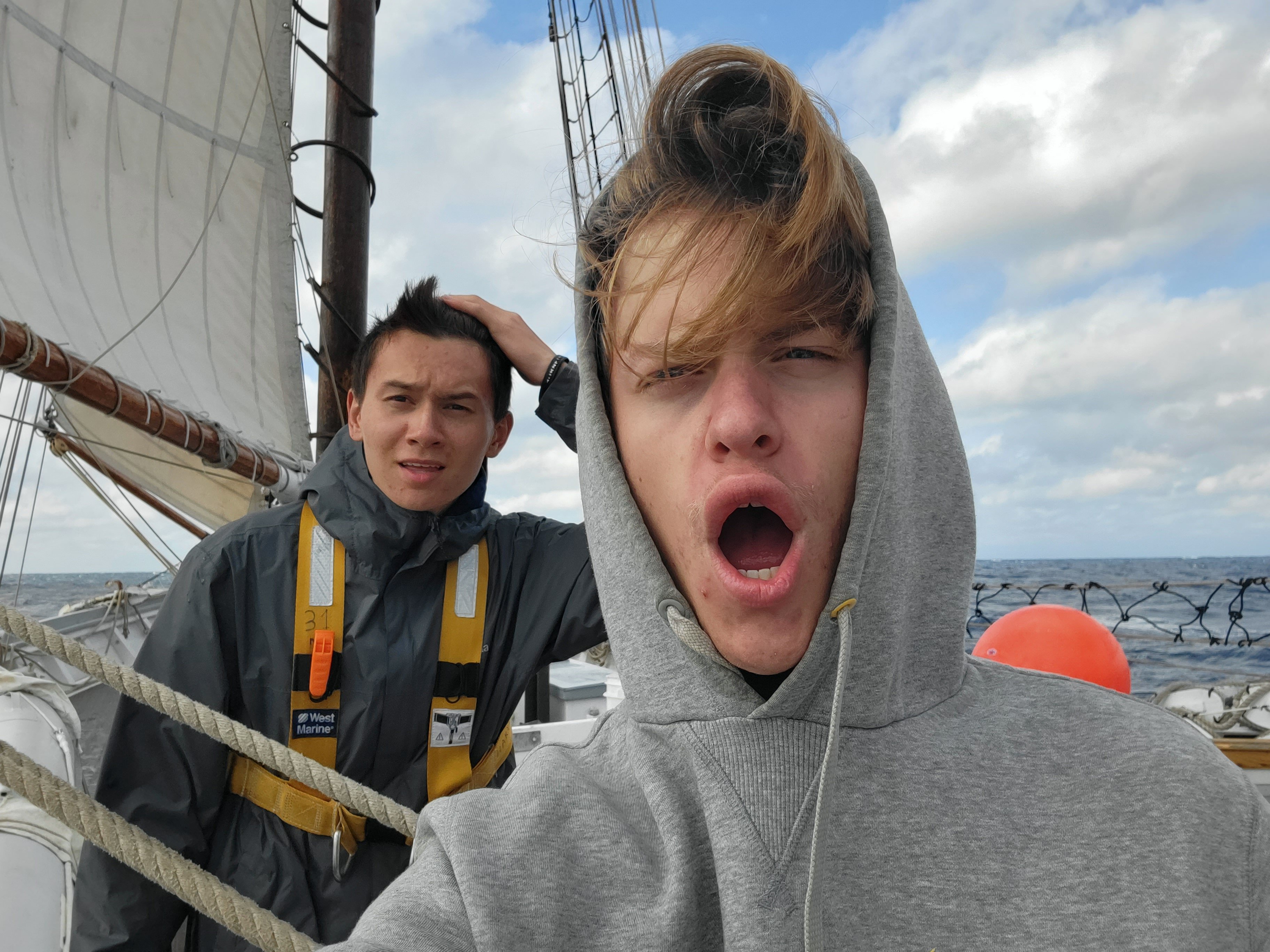 Day 47 | Thursday October 28th
N 38° 47.220' W 076° 13.175'
Oh, to be underway again. It seems to be that on this voyage one of the things we have done the least is sail. Morning muster brought news that we would be getting underway for St. Mikes. Needless to say, chores went a bit quicker due to anticipation. Baltimore had been a gracious host, but it came time to leave yet another port astern. We tossed decklines aboard and set sail, well motorsail. As we made out way through Baltimore channel, Ms. Spring took the time to teach us about Dead Reckoning and three point compass fixes. These are both important ways for a sailor to determine location and predict destination. As St. Mikes drew near on our 30 minute sail, we relied on our "dead dinosaurs" to carry us along. Our travels brought us alongside container ships that towered over the Harvey Gamage. We spotted the Pride of Baltimore setting her sails as she was out on a day trip. Most of our crew had spent time on that vessel and were able to point out details about her rigging and construction. We broke free of the channel and completed the last portion of motoring while eating dinner. Coming alongside the dock proved to be particularly difficult and hectic. All at once, the students had to complete the dish pit, take orders from the crew as we docked in windy conditions. It was truly an experience in organized chaos. Nevertheless, everything went smoothly. It was a testament to how well the students work together. The evening ended as we secured the boat from incoming rain and gale force winds. Another day the students of Proctor Academy were successful against the odds.
--Tucker '22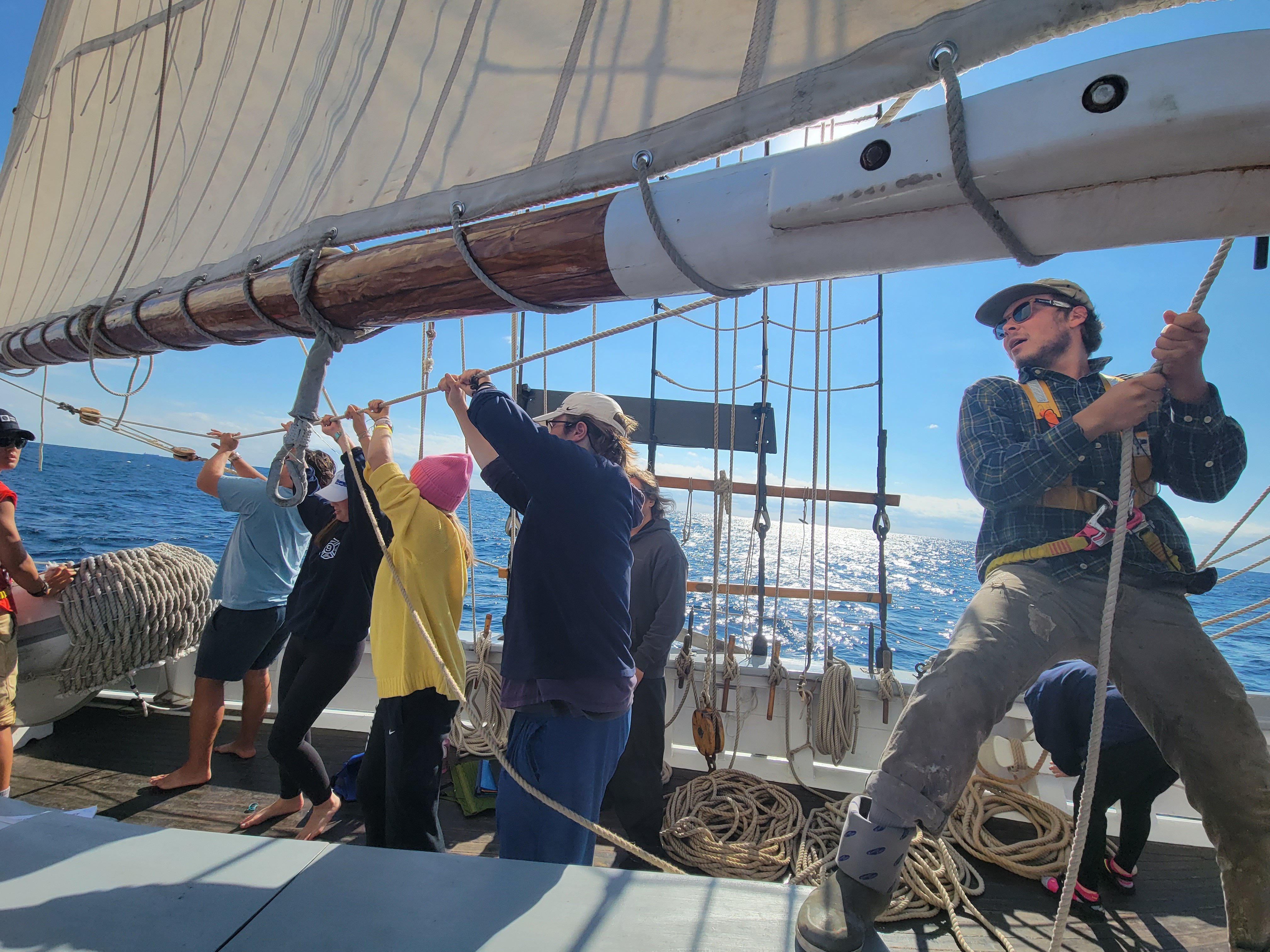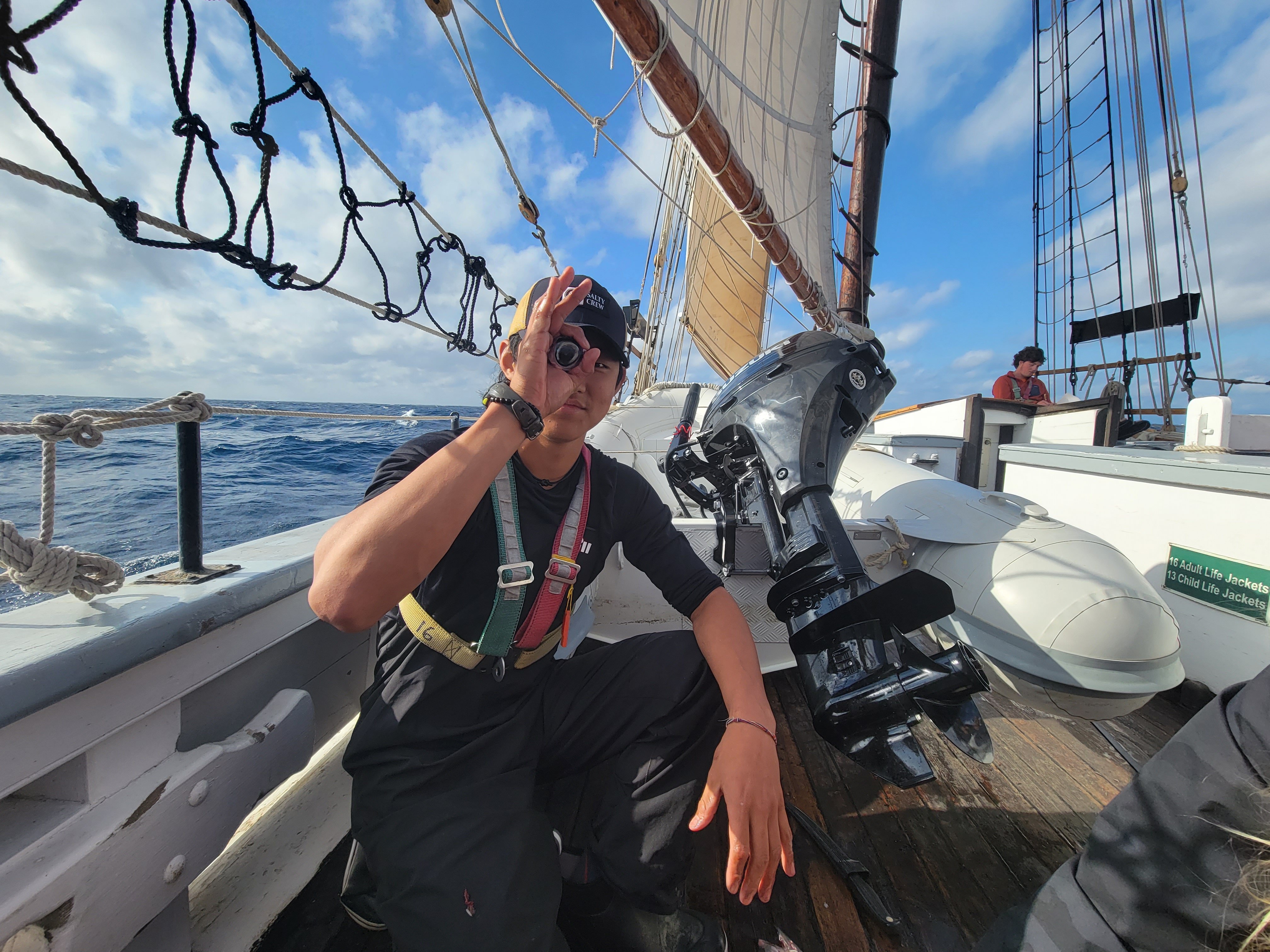 Day 48 | Friday October 29th
N 38° 47.220' W 076 13.175'
Wake ups were at 0700 this morning, and (as always) we had an amazing breakfast from the best chef! Tyler made a delicious corned beef hash with toast and cookie butter. During morning muster, we found out that we were gonna get shower time here at St. Mike's Museum. We did some chores and then ran to the showers. It felt so good to stand under a hot stream of water. I have been getting so used to bucket showers! For Nav and Sea class we worked on our ditty bags. Everyone was crammed in the salon because it was pouring rain outside. There was a gale warning for the area and the dock was completely submerged under water. A Watch had dish pit during lunch, and the wind and the rain had picked up, so we had plates and silverware flying everywhere. Prime dishpit conditions if you ask me (wink wink). Alan was outside cheering us on, which made it go by quicker. After lunch, we had Marine Science class and we watched a really cool documentary about plastic in the sea. After both classes were done, we got some time for a study hall where we finished up some poems and our post class, for science. It was nice to have some time to relax, to be warm and finish up some school work. After dinner we received some super exciting news! Phone calls tomorrow! Everyone is extremely excited to call their loved ones! This news was a great way to end the day! I am looking forward to this nasty weather going away.
--Kass '23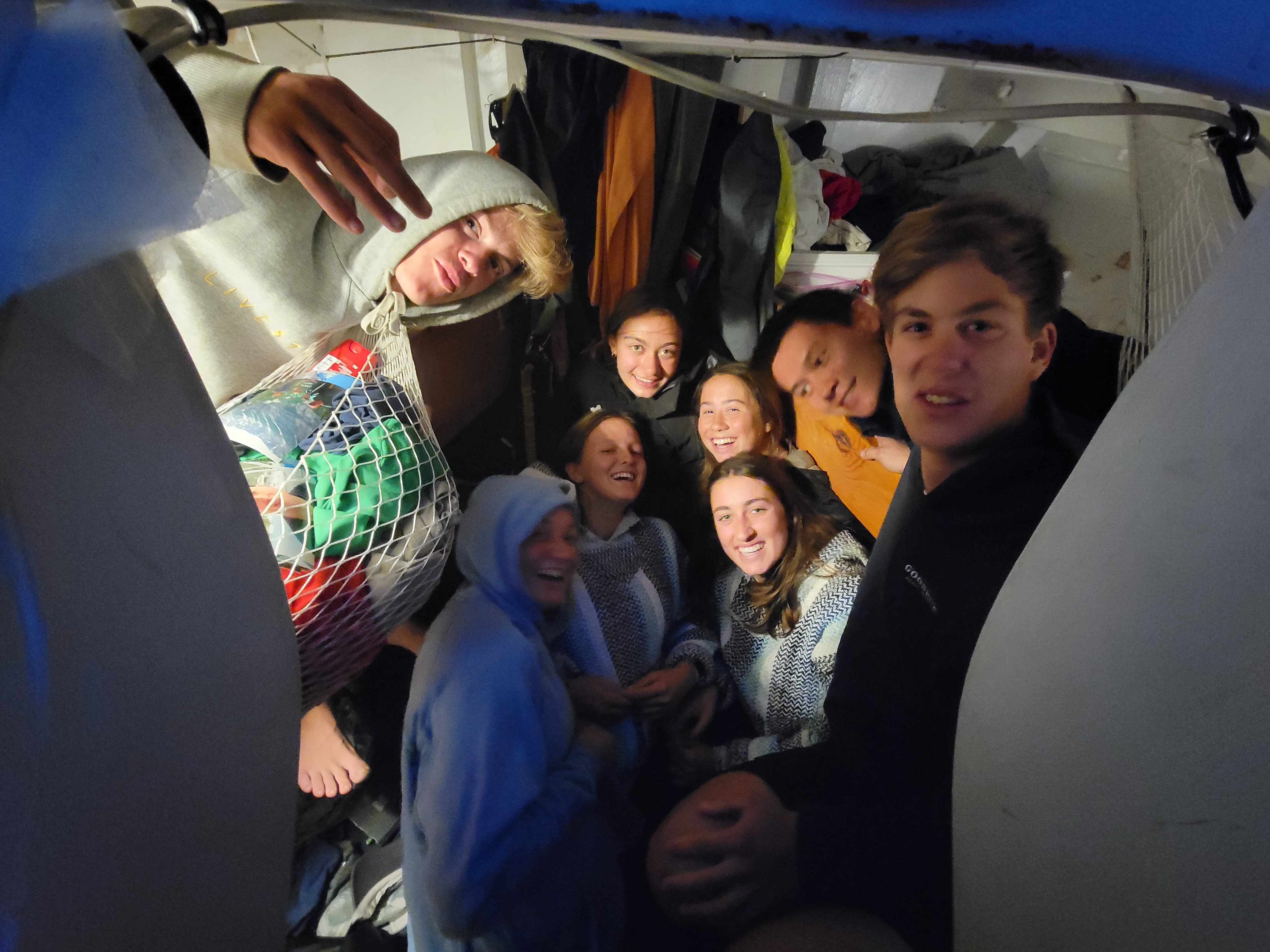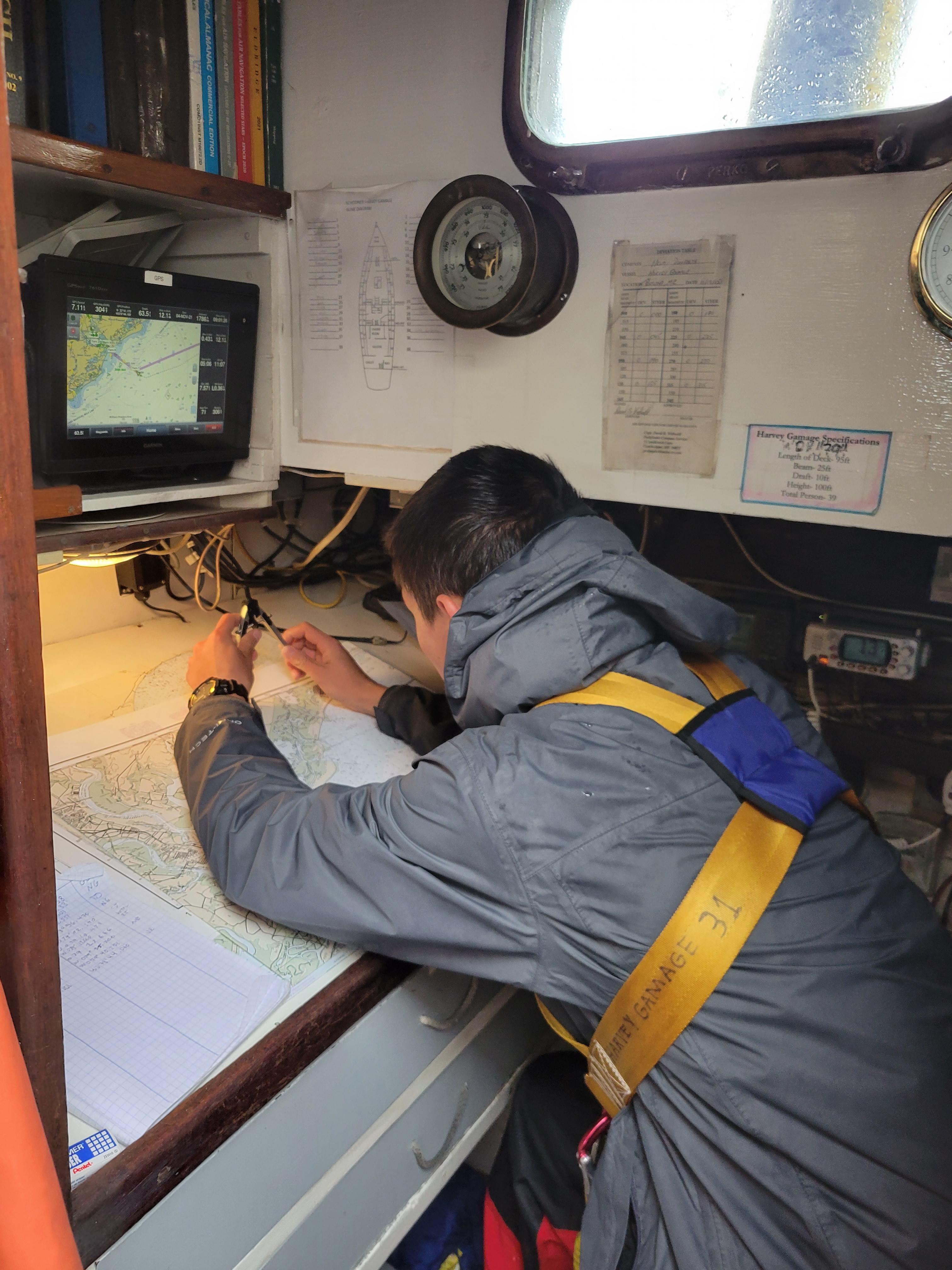 Day 49 Saturday October 30th
N 38° 47.220' W 076° 13.175'
Hear ye, hear ye, in the Chesapeake Bay are we. Hear yay, hear yay, but we are not underway. A small hamlet, of which is named after St. Michael himself, and possesses a similar charm of Mystic. This marina was generous enough to open its arms and allow the Harvey Gamage to dock at the maritime museum. Our schooner remaned at St. Michaels until the arrival of fair winds. For the students, there were many reasons for celebration. Today, we reached the milestone of having only three weeks left on our grand voyage; a feat that many of us are proud of the progress we have made. In addition, the students were given the privilege of making calls to family and friends alike, using the phones borrowed from crew members. Being able to call individuals whomst we care about was a huge boost of morale and it was much needed. I say this for the reason that nerves were beginning to rise in regards to the last portion of the trip. From our current point, the Harvey Gmage shall sail underway for five days to Charleston, SC and then Florida and then the Bahamas after that. In addition, each student is now expected to take on the role as Junior Watch Officers, or JWO's, during a full shift. With the finale legs of the voyage upon the Harvey Gamage, within our sights, the students and crew push through for our final destination.
--Patrick '22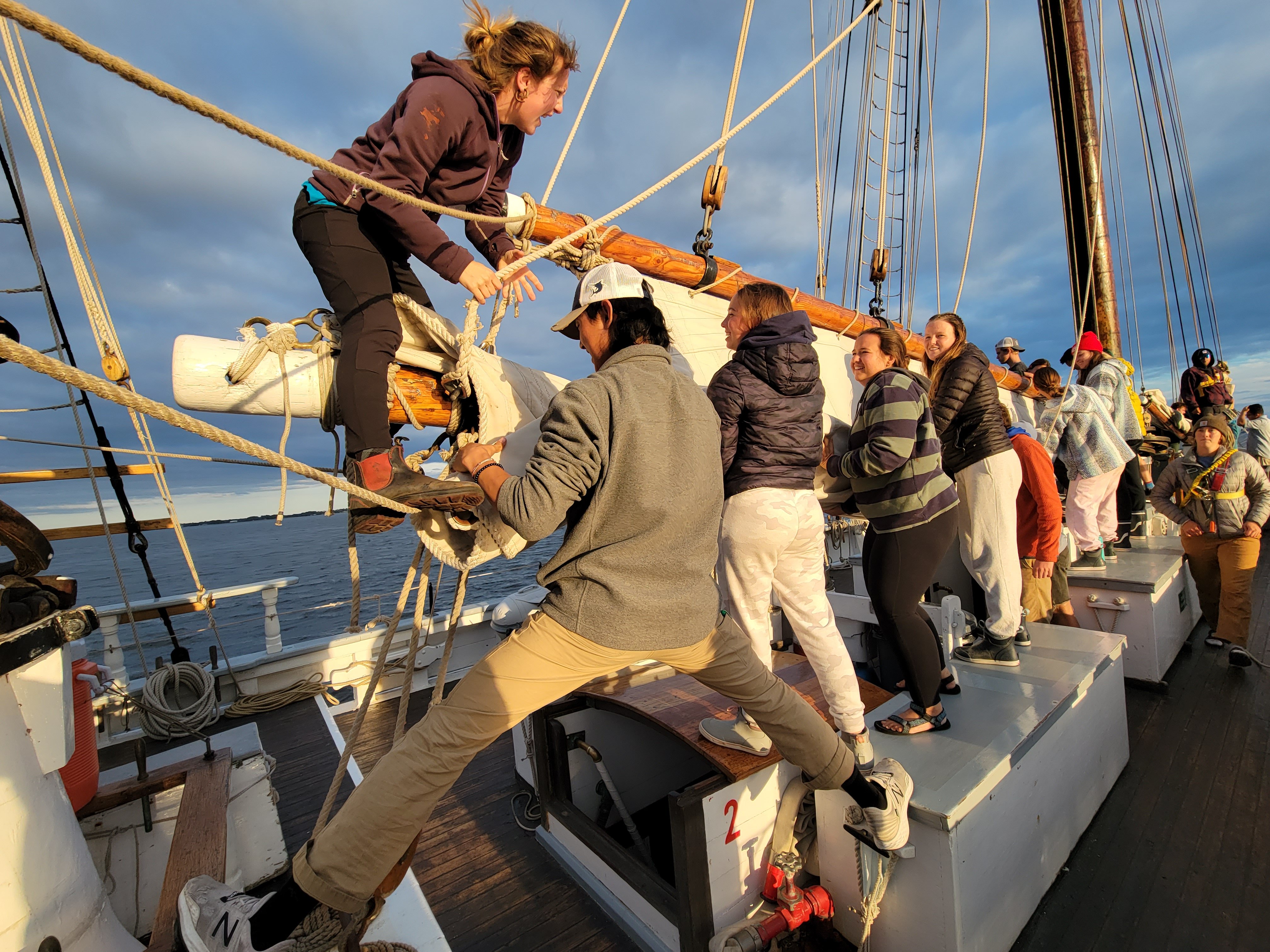 Day 50 | Sunday October 31st
N 38° 20.099' N 076° 18.712'
Happy Halloween to everyone with a toothbrush (RIP Morgan's toothbrush). Things are getting creepy here on the Harvey Gamage. This morning we left St. Michaels in pursuit of Charleston. Spirits are running high as we head further south. All of the ships' company is dressed to the nine in random costumes ranging from Fortnite Llama to cats. Other vessels probably think we look crazy. Lots of wind here in the Chesapeake, as we hit a top speed of nine knots! There was a spooky Almanac with scary maritime stories Captain Goldman needs to stop working in haunted places, especially in Connecticut. We are all on a sugar rush from Kit Kats, Milky Ways, and lots of Twix. Today, a new sail was put up that we had received in Baltimore. A storm trysail was raised to the main mast, it's a triangle! Personally, I spent too much time on the forepeak organizing decklines with Ava. Sometimes I enjoy going in there and sometimes I don't. Best costume of the night is a tie between 3rd Mate Brooke and Deckhand Morgan. Brooke was the monkey and Morgan was her banana. I was a mermaid in the morning (destroyed by the forepeak) and now I'm a black cat. Thank you Aunt Cinda and Uncle Fred for donating snacks and Halloween candy to the boat. We are very grateful. Let's head into a spooky night of watches on all hallows eve.
Mom and Dad, I ate a banana today.
--Nina '23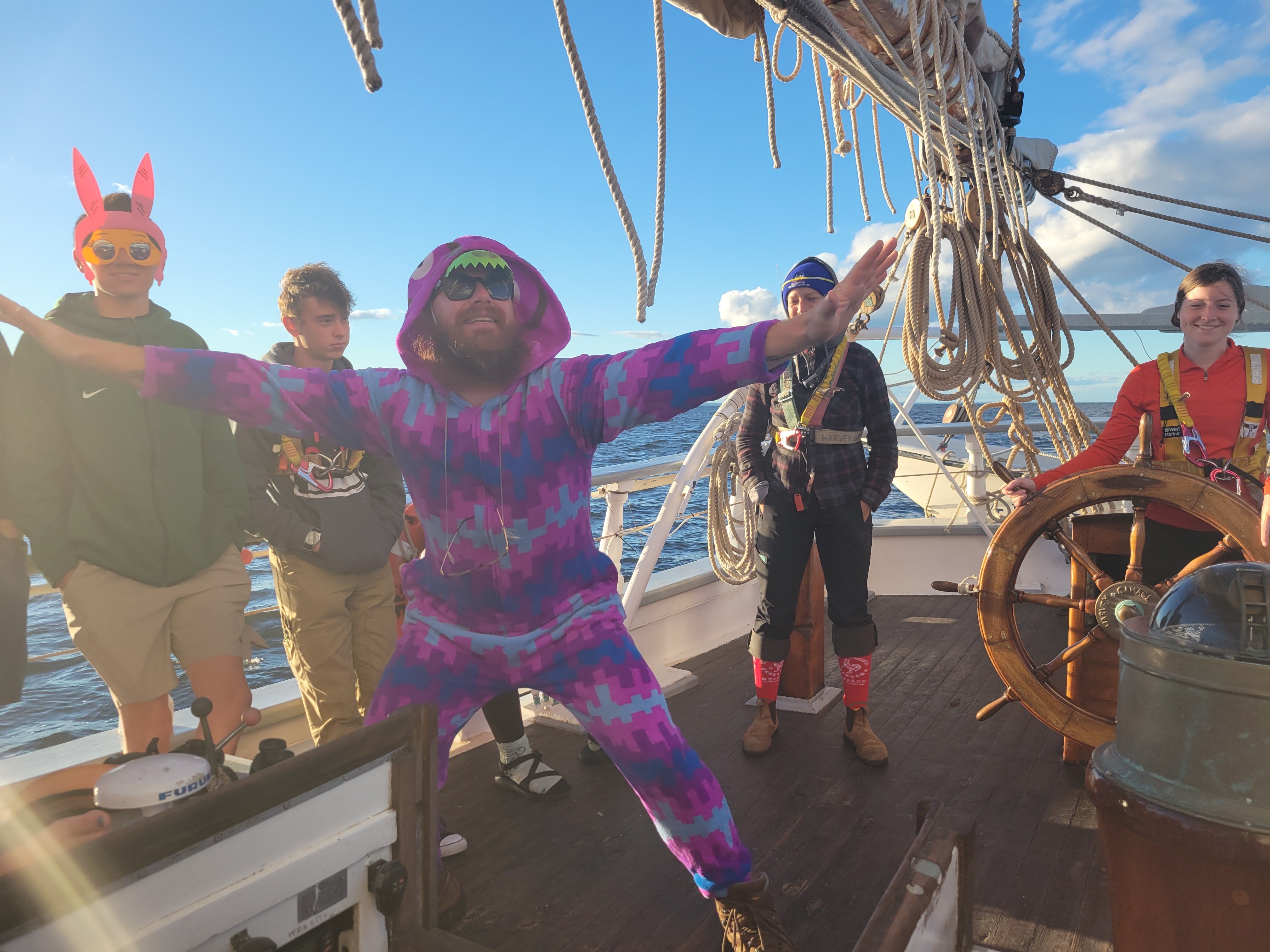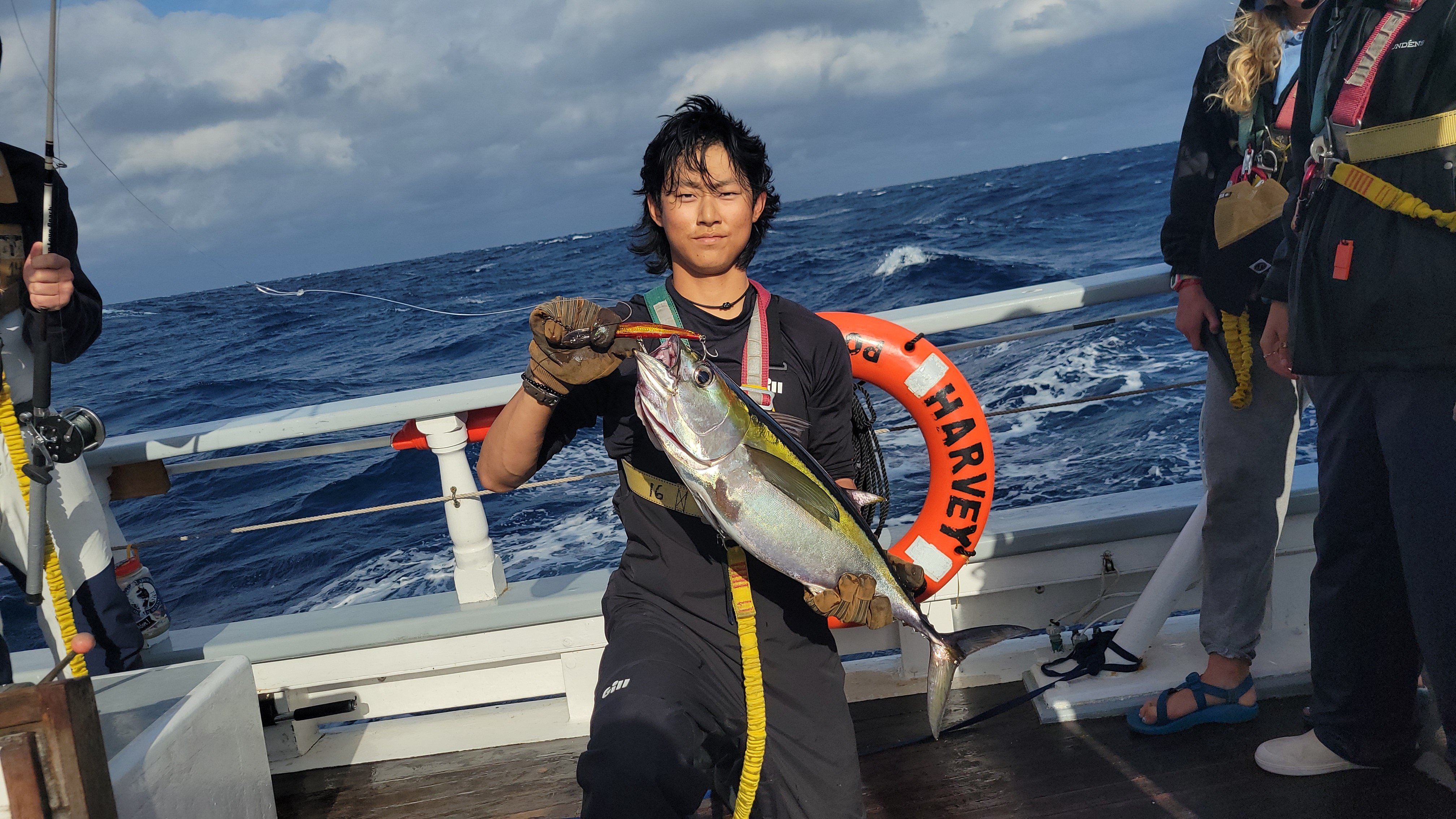 Day 51 | Monday November 1st
N 36° m25.064' W 75° 37.808'
Today was rather uneventful other than Sewall catching his first fish, then his second moments later. Everyone was excited for him and I tried to take a picture of it, but the side of the film was defective and it was all black where the fish was supposed to be visible. It was unfortunate but it is what it is. Last night was the first night starting the 12-4 watch. Holly dressed up in a vintage wedding dress and a frightening mask and went around the boat scaring people throughout the night. Apparently, she got Lilly really good, on the watch before ours and she managed to get a video. On our watch, she waited for Ava to do a boat check and when she went to check the bilge, in the Lazarette, that is when Holly struck. It was interesting to hear screams from down below while trying to focus on shadowing Ms. Van der Least. On last night's watch, Lillian and I were shadowing the Watch Officer before going into our Junior Watch Officer phase. I am feeling confident about my first watch as a Senior Watch officer but I want to wait until the engine is running.to see if I am able to control the throttle. We will be in charge of when to tack or jibe, trimming or setting, not taking in the sails, keeping us on course, navigating us through channels and buoys , not running aground, and monitoring ship traffic to avoid collisions. It will be a lot to manage, but the best way to learn is being thrown into the deep end. Today at Almanac, I presented the macerator pump that empties the blackwater tanks. I enjoy analyzing the picture of the pump, and how it works; the fact that it is a positive displacement meaning it is self priming. Then, I talked to our engineer about how it is powered to figure out that it is powered on our 24V system. In other news Halloween was good. We had lots of candy and most everyone dressed up. I hope we make it to Charleston before the weather rolls in on Thursday. It would be nice to kill time there while the weather passes over us, and an extra bonus is we can see our mail. Everyone is excited to hear from the outside world again.
--Gunnar '22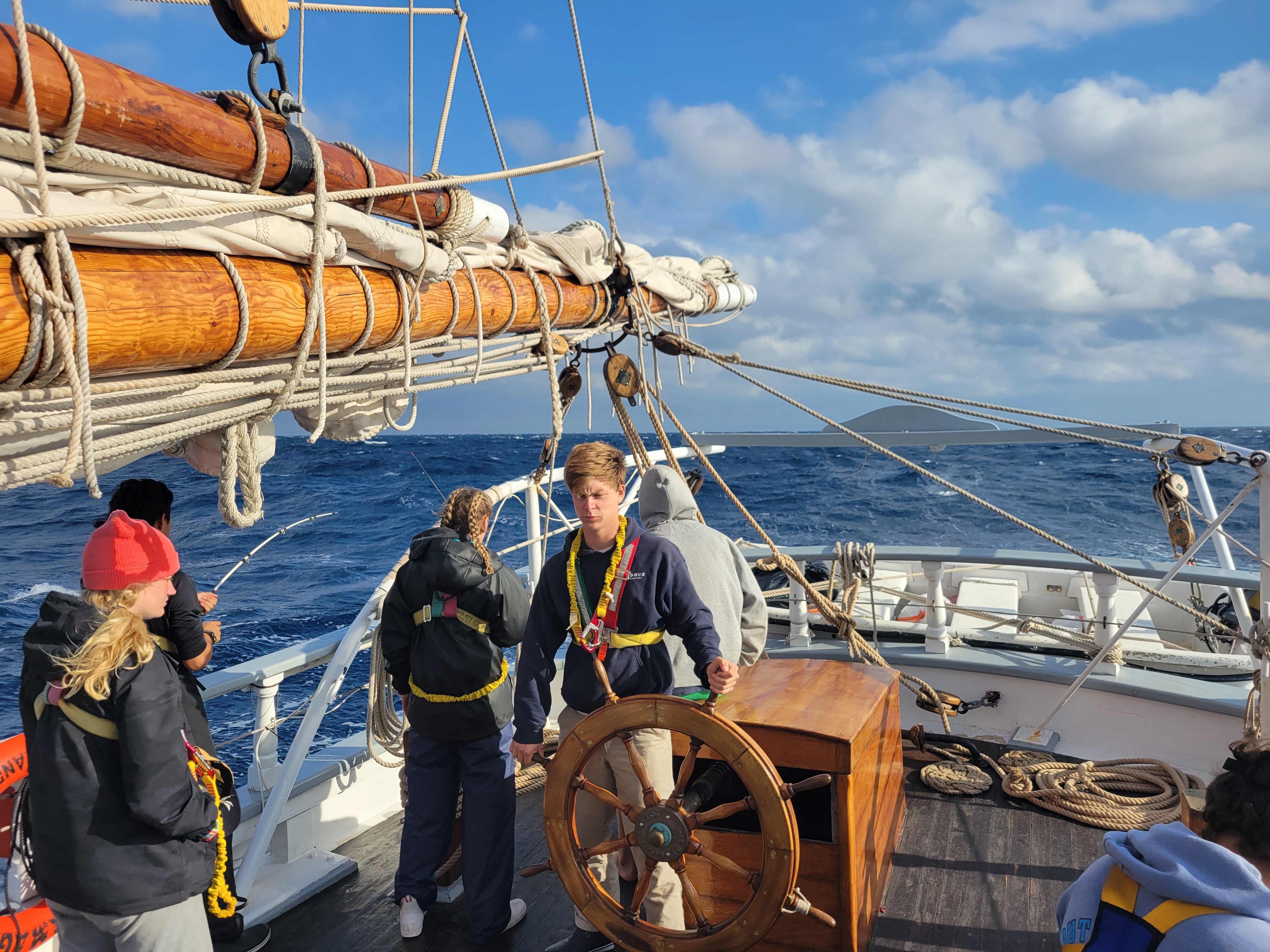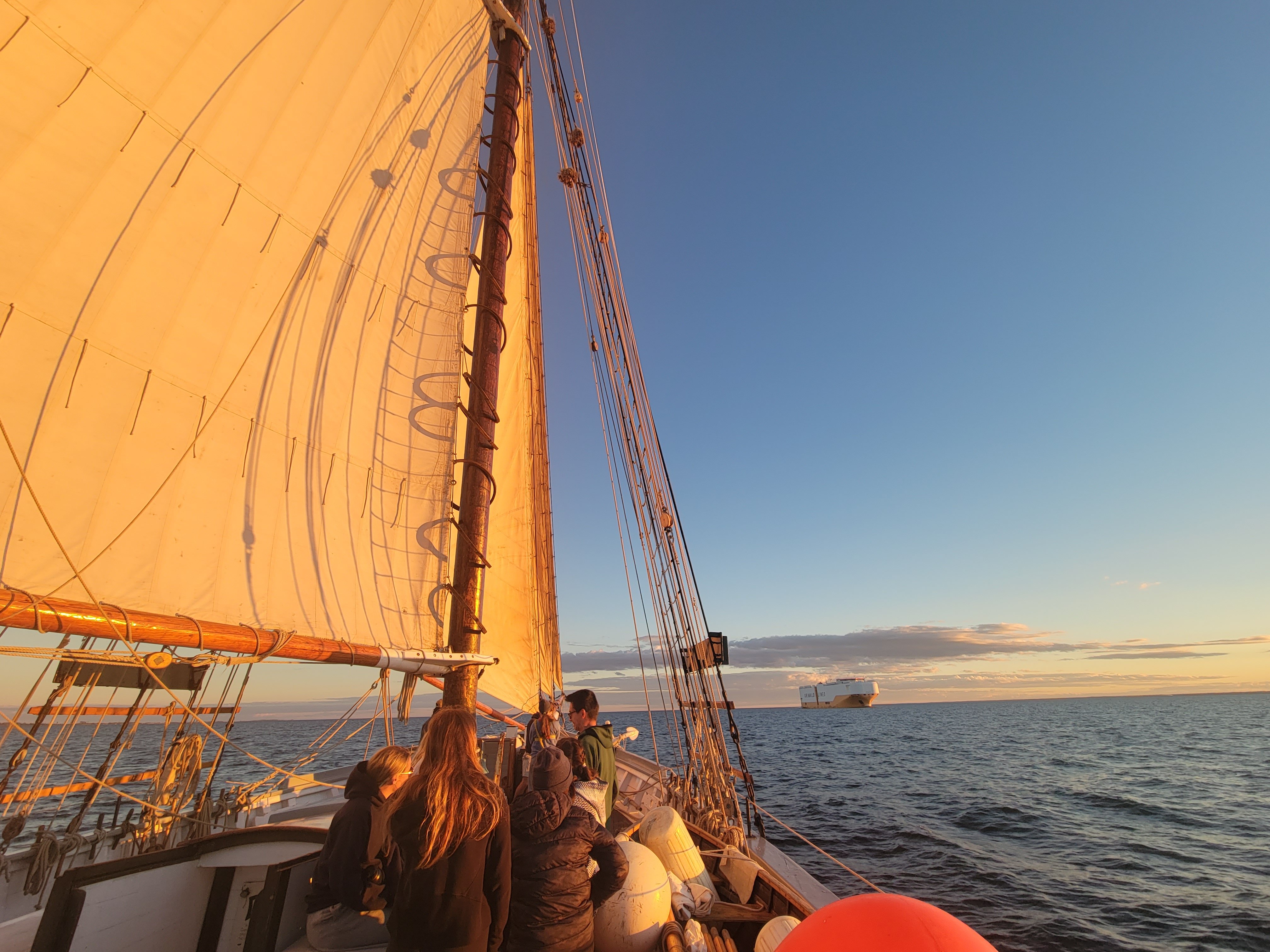 Day 52 | Tuesday November 2nd
N 35° 11.838' W 075° 11.867'
Waking up to sunny skies and warm weather after spending the last day and a half in my bunk with a migraine was an absolute delight. I came on deck halfway through my watch to find beautiful weather and plenty of events that I missed. Breakfast was English muffins, over-easy eggs, sausage, and fruit. Next, we had a history lesson that started off with us singing a new sea shanty called Sailor's Prayer. We rounded Cape Hatteras and saw the fabled sea llama. I heard that Nina got distracted by it in class and Alan had to tell her to stop staring at the llama. Everyone ate lunch, no one will tell me what it was (totally not tubular guys) but I suspect it was amazing as always. A bit later, I finally emerged from my cave to join my watch. The others made me touch the water and to my surprise it was warm, like bathtub water warm. It was weird, so we decided to rip a bucky after my watch. The water had gotten cooler by the time watch was over, but it was still slightly warm and it was refreshing. After drying off and changing into clean clothes for the first time in what felt like years, I went on deck to read a book that Morgan had lent to me. We had Almanac and then we ate the meal that everyone looks forward to, Taco Tuesday. I think I died from a food coma. I ate so much, RIP me. I went to bed and ended up waking up for my watch after sleeping for negative 3 hours. Last night was a blur of sleep deprivation, but I remember looking out on the ocean, no land in sight, and being absolutely amazed by the massive waves filled with bioluminescence, and the stars were so clear that you could feel the milky way. Also, mom and dad, I think I finally smelled what people describe the ocean to smell like, salt and static, not just rotting fish.
--Lillian '23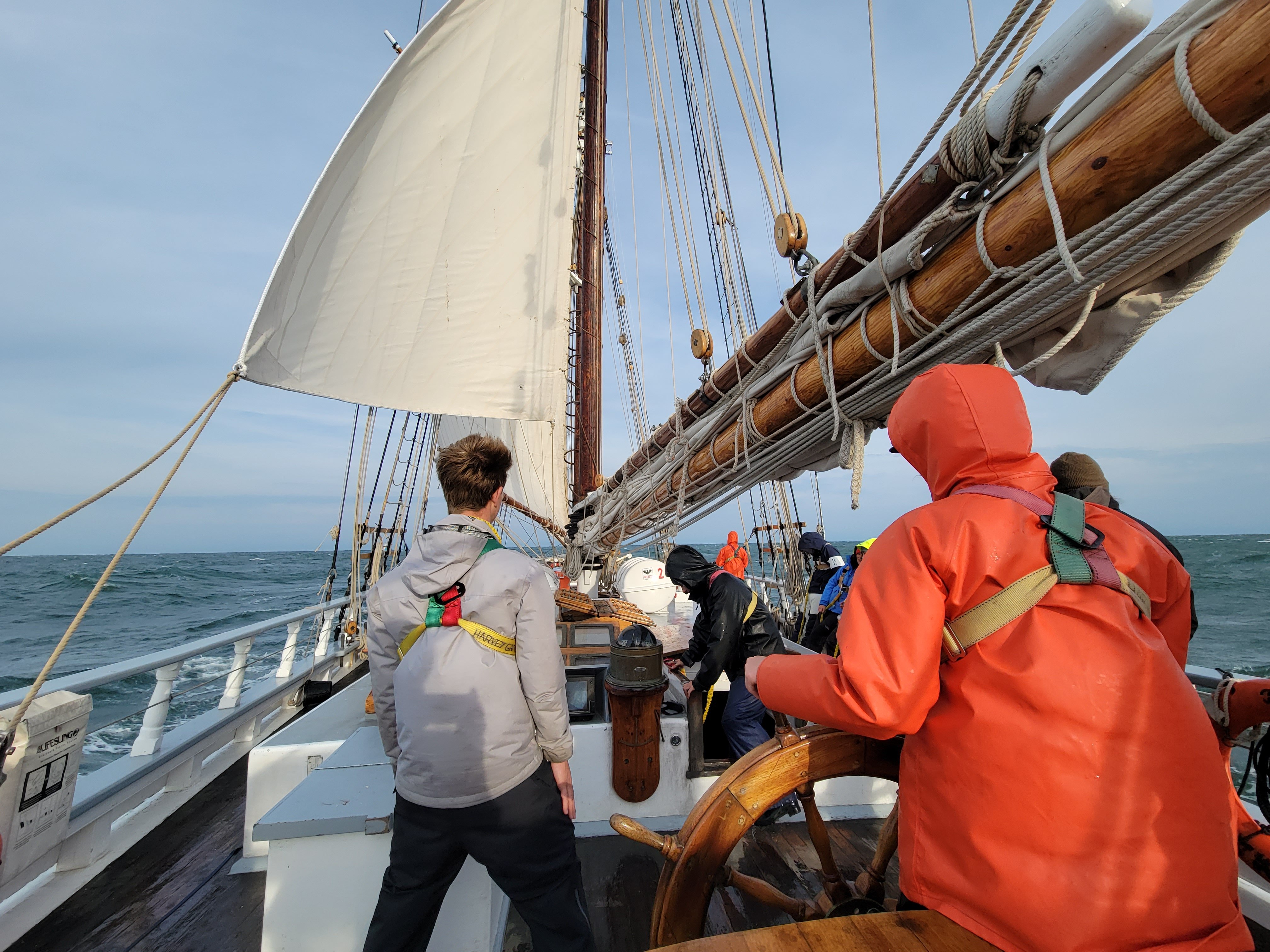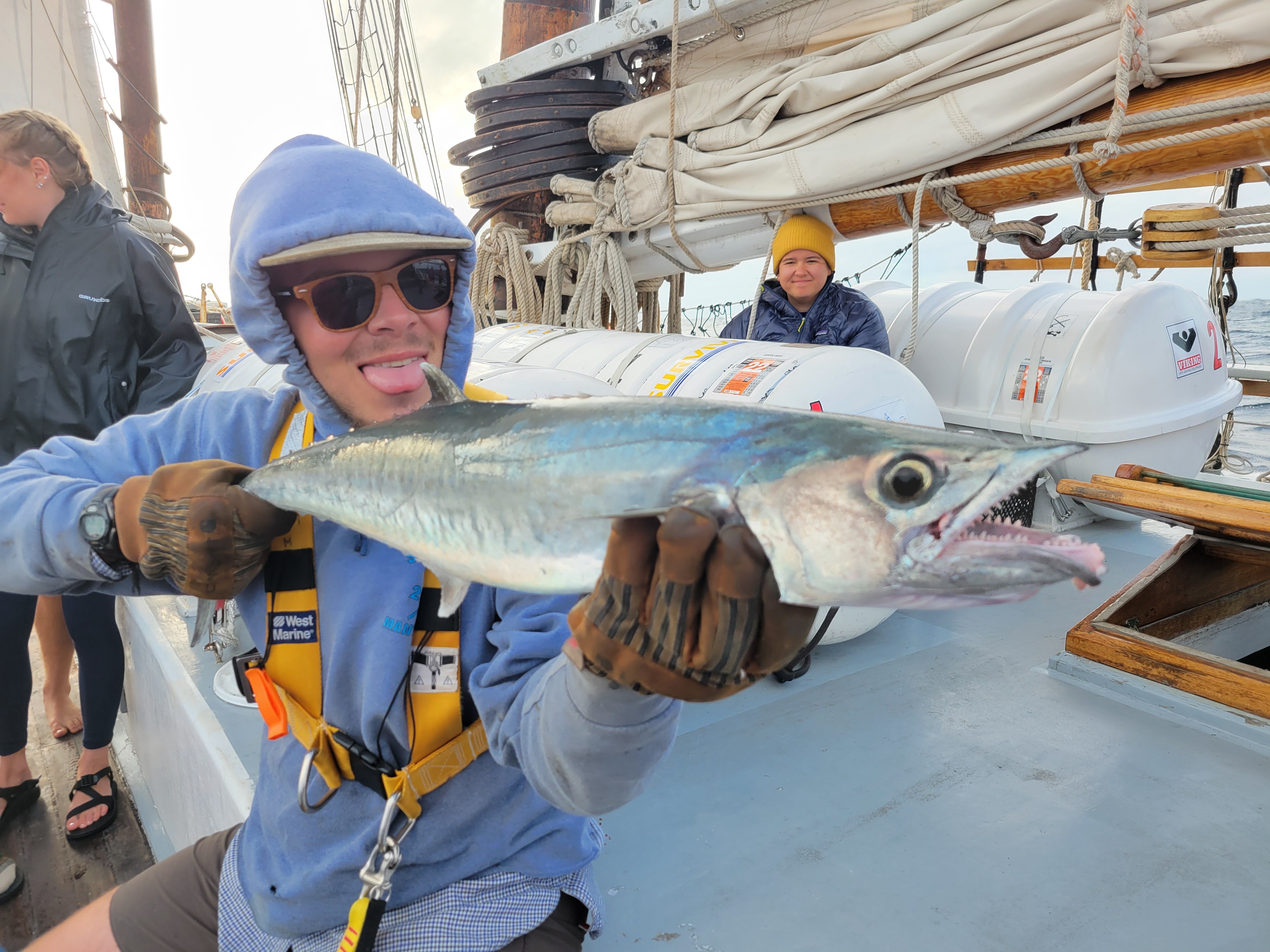 Day 53 | Wednesday November 3rd
Wow! The day started off with waking up and looking off in the distance to the towering waves, that we surfed and rode throughout the day, that comforted many fish. As I looked at the huge waves and waited for an occasional splash, I heard that we had caught three fish already! The best fish we caught was tuna and the chef decided that we were gonna have it for dinner. What an exciting start to the day. As watch time came around, I put my fowlies on and decided for another fun four hours on the tumbling sea. This watch consisted of bending fishing rods and dolphins jumping in the air. The dolphins surfed the waves and were leaping into the air: it seemed like they were performing just for us. AMAZING! Today was filled with constant moments of anticipation and it kept me on the edge of my toes. It was so fun to see fish caught and filleted in the live, the creatures in their natural element. I have been so excited to be in Southern waters and it feels so real now. The waves crash and the clearness shows how close we are to the gulf stream. The warm blue water is a gateway to the Caribbean. As dusk fell, dinner was nearing. Sushi, with our fresh catch, was our spectacular meal for this Wednesday night. Everyday out at sea is exciting and I am having the time of my life. We are nearing Charleston and the thought of arriving there is also very exciting, and I cannot wait. But honestly, I would love it if we could stay out to sea longer; the roll of the waves, twinkling of the stars, and bioluminescence all feel comforting now. As the voyage goes on the days fly by and make me appreciate and love every moment even more.
--Ava '23
PS: we hit 12 knots! We cruisin'!