Nine weeks and 2,000 Nautical Miles later, the schooner Harvey Gamage docked in Brunswick, Georgia completing the fall 2021 Ocean Classroom voyage. For the 22 Proctor students aboard Gamage, their term at sea has changed the trajectory of their lives. They not only learned Marine Science, Navigation, and Maritime Literature, but they learned how to crew a tall ship and how to live together in close quarters. The lessons of Ocean Classroom -- newfound confidence, independence, and perspective -- will accompany these students for the rest of their lives, and we will all benefit from their time at sea when they return to campus in December. Congratulations, OC '21!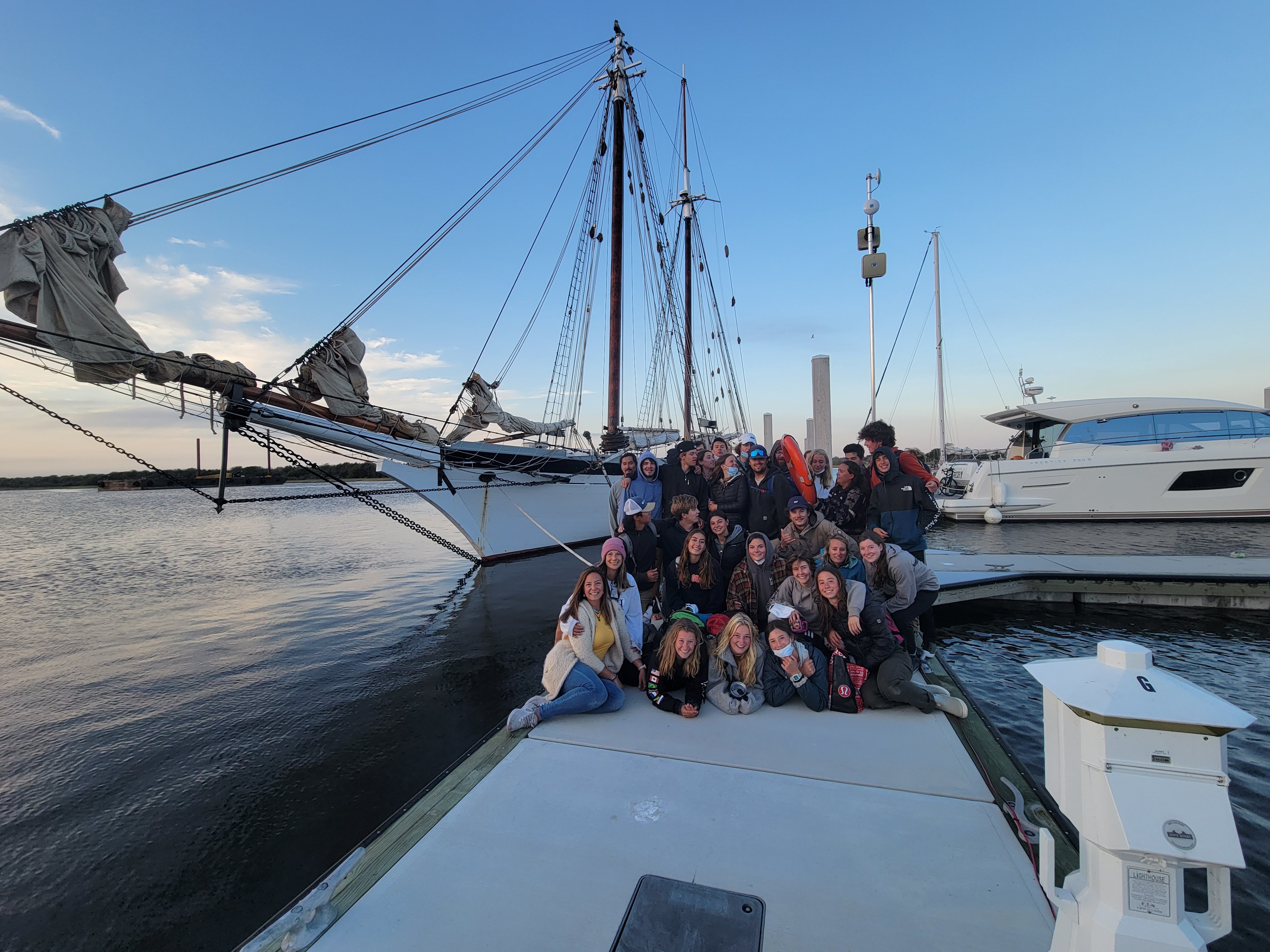 Day 63 | Saturday November 13th
N 30° 45.142' W 081° 28.531'
At last, we anchored on Cumberland Island. Last night's watch was one of the calmest watches we have had.yet; not a ripple in the water or the slightest breeze across our backs. Just clear blue skies, beautiful stars, and blinking red and green nautical markers lighting up the sky. So far, Georgia hasn't treated us too badly. As all the watches and morning chores come to a close, Captain and Ms. Spring mustered the students and informed us that after a morning study hall we would be able to go ashore for the afternoon. As we stepped foot on Cumberland Island, we were greeted by horses, armadillos, dolphins in the water and shark teeth on shore. Our group of students took a b-line right for the beach. We strolled down a road until we arrived at the quote un quote duck pond, which was really just a concrete hole filled with debris and leaves. We then visited the house of the Carnegie family, which at one point owned the island. Next, we visited a grave site where some stones were carved in Spanish, and it was interesting to learn that the Spanish settlers were on this island well before the English. The next mission was to find shark teeth on the beach and to watch the jellyfish. The next hour or so was spent wandering around aimlessly, but once again the beach was calling us. As we walked down another path, we were amazed by the sight of vultures in the trees. On this island, we witnessed wild horses, crazy looking prehistoric creatures and now vultures...wild. The final destination was a beach at the far south of the island. We stood there, looking out at the ocean, and there was no land in the way until Europe or Africa. After about an hour and a half we started to make our way to the showers: we of course were very excited. We did not make it all the way to the Caribbean, which was a huge disappointment, but it was still a very special day.
--Kai '22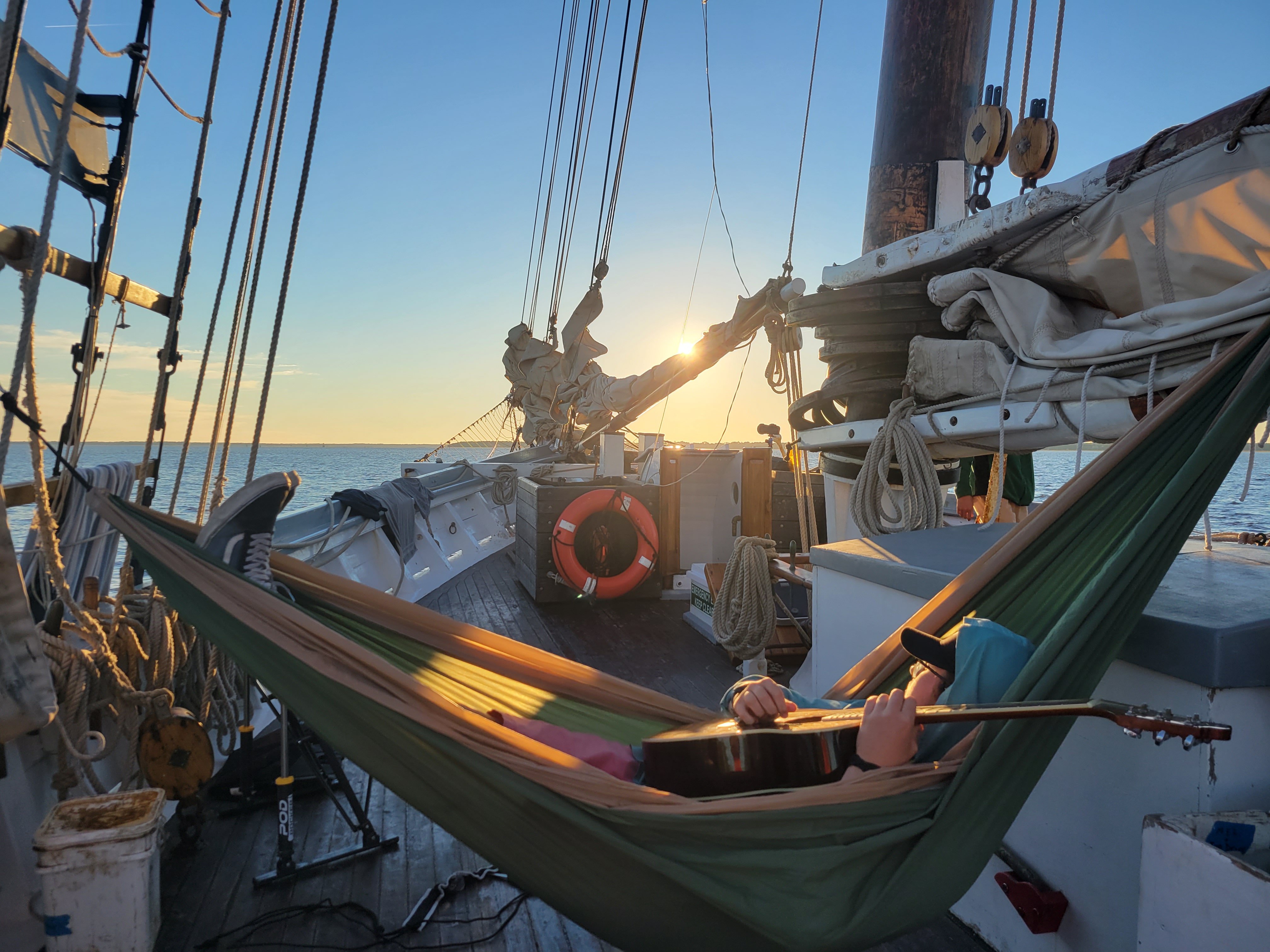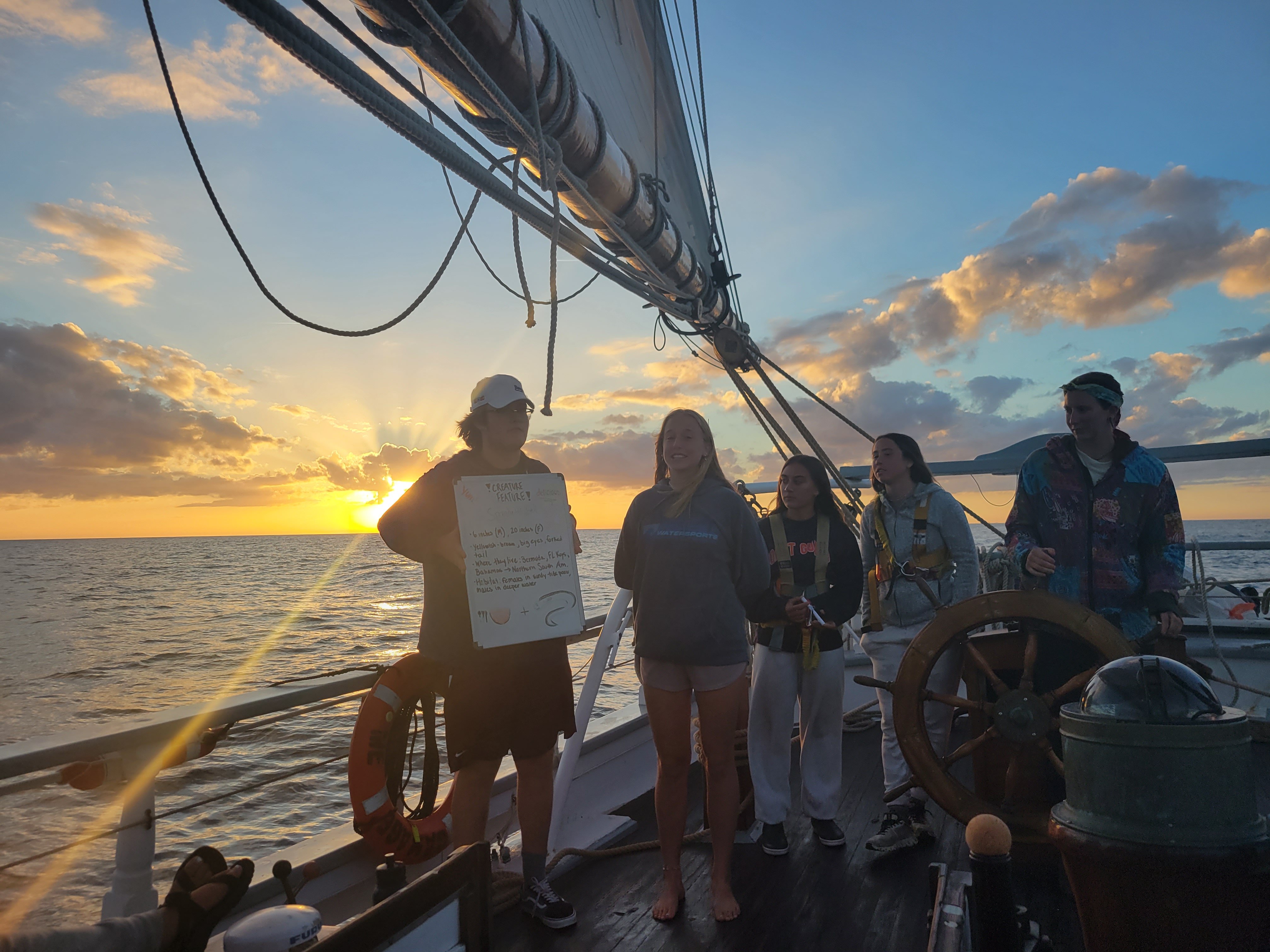 Day 64 | Sunday November 14th
N 30° 45.142' W 081° 28.535'
A late morning wake up and the smell of french toast to start the last Sunday morning. Walking up through the campionway, I was met by the bright sun beaming in my face and oddly to lines of students were facing aft; confusion arose as I joined the line, as it continued forward I came to the realization that we had a knot tying pop quiz. As some passed and some went to the back of the line, we were eventually sharing Tyler's amazing breakfast together. After the typical morning "hoo-rah", the students disappeared below to focus on much needed study time. At 1300, we all mustered on deck and were informed that we were having our last ditty bag class. The students completed our last stitches, grommets, and spliced rope to finalize what we started weeks ago. Somehow, it was already time for dinner so we helped Tyler set up, put on our cleanest clothes for Sunday's best and we devoured Tyler's delicious burgers and oven-roasted potatoes. A couple of quick photos, a speedy clean-up, and the students were off...all of us small boating over to Cumberland Island for a chill bonfire, roasted apples and some camp songs. Weirdly enough, the brisk night held much more than just a campfire...Swimming, singing and strolling the beach made for the most perfect night to end our last Ocean Classroom Sunday's best.
--Ella '22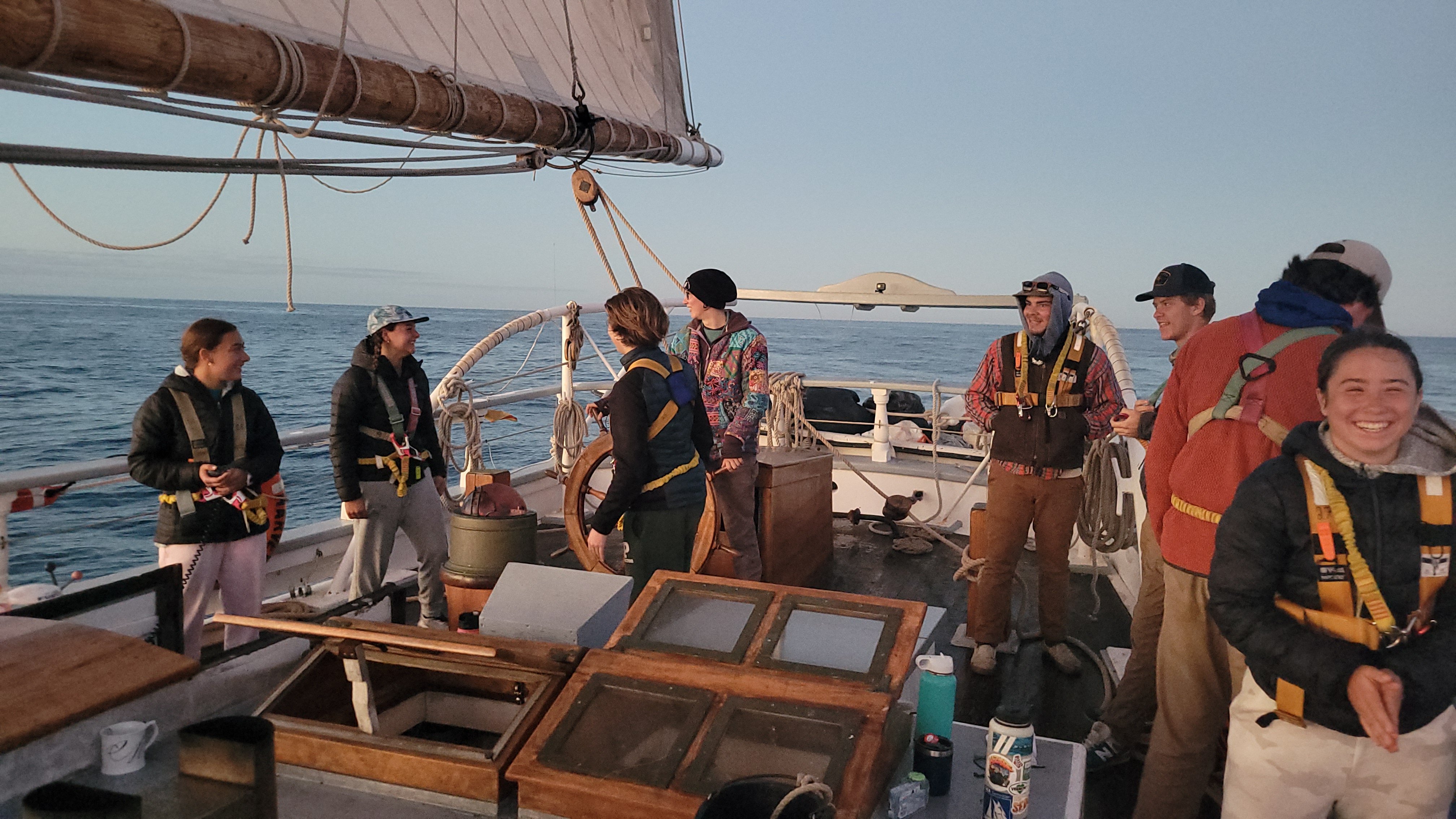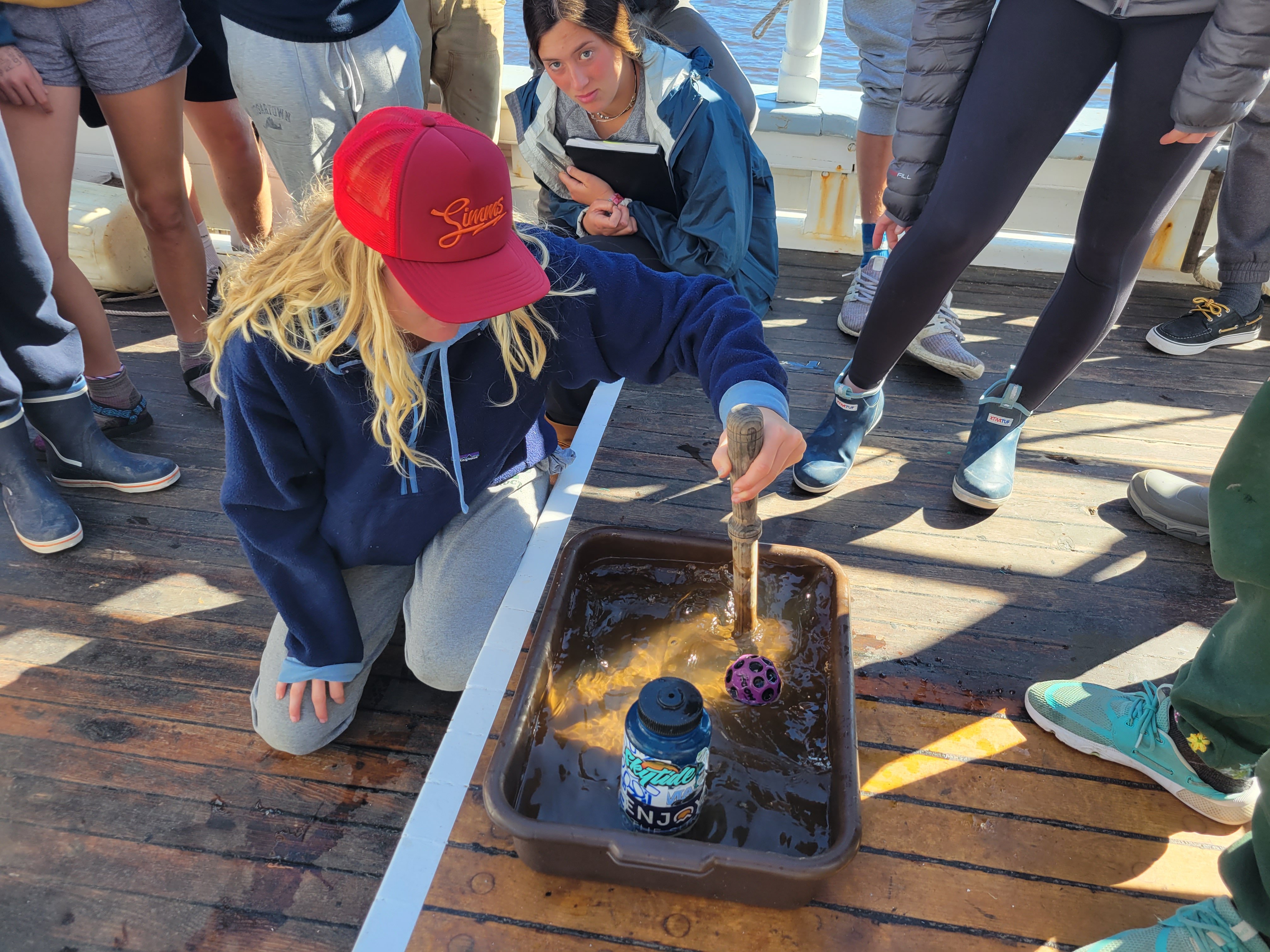 Day 65 | Monday November 15th
N 30° 41.142' W 081° 28.535'
Today started with a delicious meal of oatmeal, scrambled eggs, and bread. After breakfast, the students scrambled to make last minute preparations for our marine science final at 0900. We then mustered and started with a lesson about chemicals going into the water and ending up in large fish, eventually killing them due to accumulations. The second group explained how we could be eating microplastics through the same process. We then learned about the two types of jellyfish and we saw Duffy do the jellyfish dance. The fourth group discussed waves and their types on the ocean and how they move. The presentation was then interrupted by the USS Georgia (a nuclear submarine) going by. The last group explained Corvallis. After finishing the final class, :(, we had lunch: broccoli and cheddar soup with bread rolls. It was a fantastic meal! The next plan of attack for the students was to explore Cumberland Island one last time. Everyone went to the beach to hang out. A few people split off the main group but most of the group stayed together. We all got to relax on Cumberland Island for a few hours before it was time to head back to the boat, where our professional crew set up decorations for a party for our chef Tyler. It is actually his birthday tomorrow but we will be underway so tonight is the night. We got some music going while we waited for dinner to be served. A dance party quickly formed. While we were all eating a delicious lasagna dinner the dance party broke up, but only for a bit. Very soon after cleanup we got the music going again and people were dancing and having a blast. Around 2100 the party broke up and we set into our anchor watches. A great day all around.
--Reid '22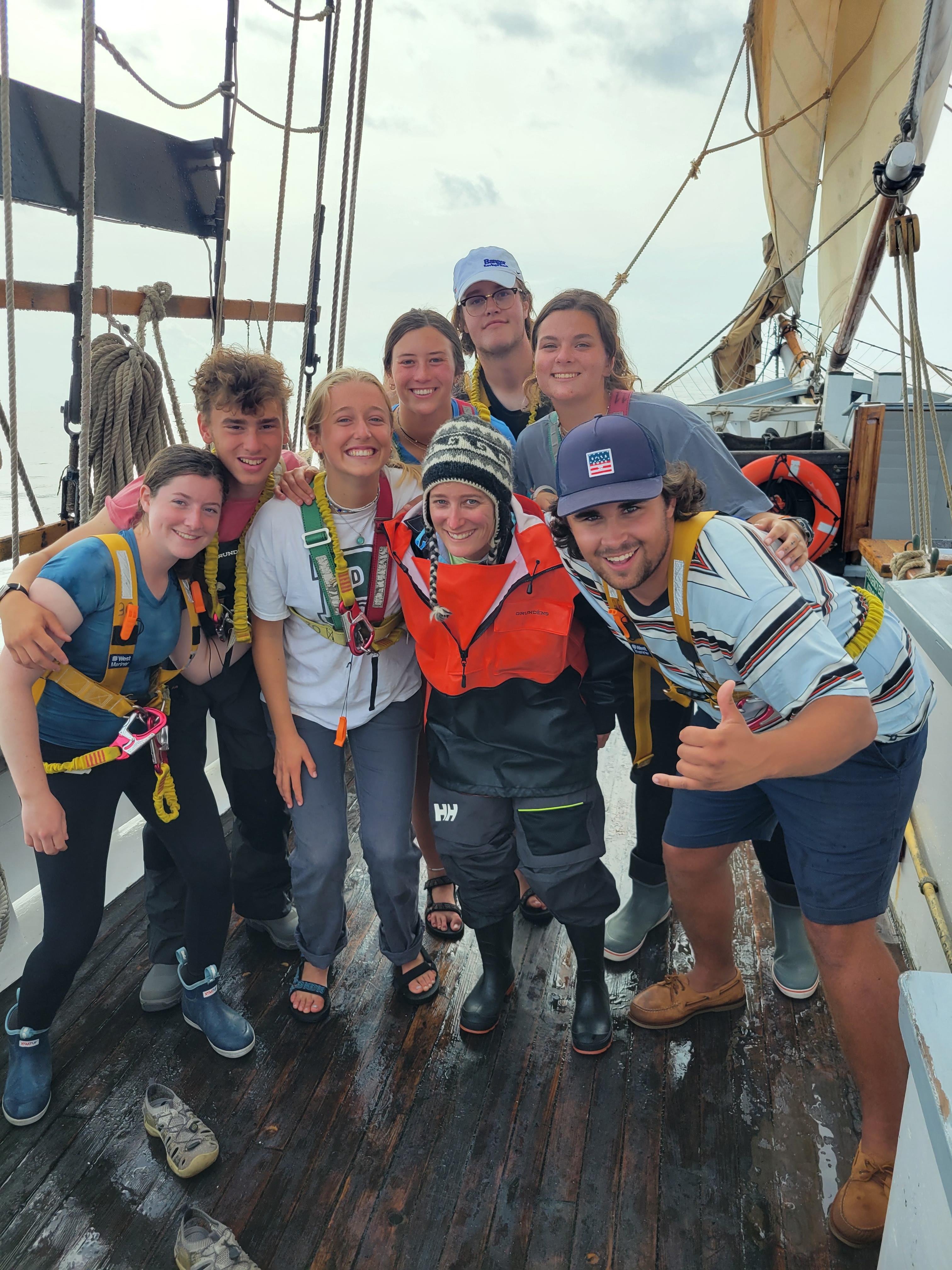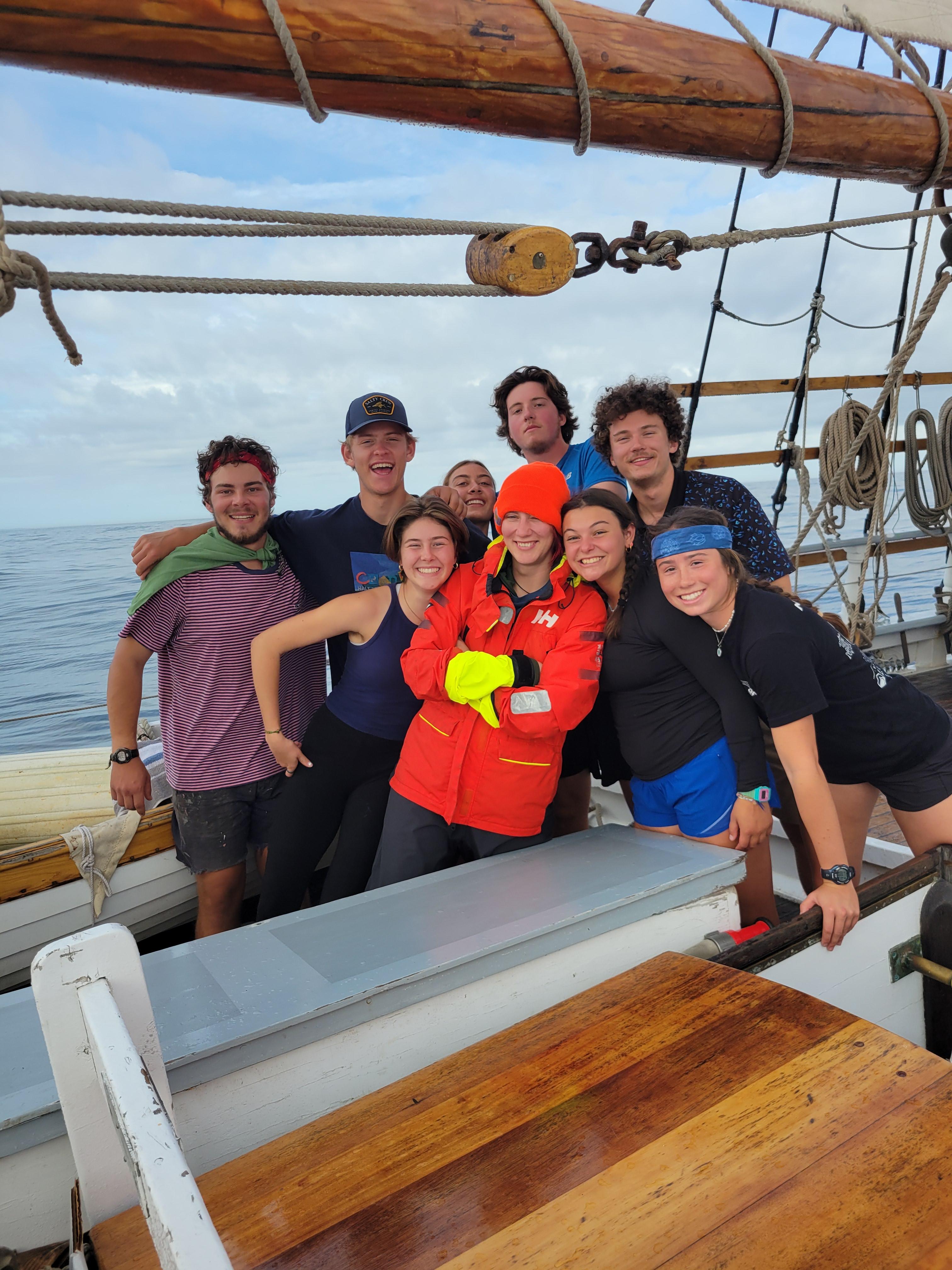 Day 66 | Tuesday November 16th
N 30° 34.879' W 081° 12.679'
This morning we departed Cumberland Island and set sail for our final destination to Brunswick, Georgia. Once A + C Watch stood down, we spent the rest of our morning enjoying the sun on deck, working on the history final, or catching up on sleep. After lunch, C Watch took the deck and I was the JWO (Junior Watch Officer) today! This watch consisted of boat checks, calculating apparent noon, our last history class, talking on the radio, and fixing the main peak halyard block. Thankfully, David was able to see the pin sticking out and informed the captain. What would we do without David? Our average speed during watch was a crazy fast 1.5 knots. Today was painfully slow but the weather made up for it! At 1700 we had an Almanac. Today C Watch decided to switch it up and do a creature feature! We taught everyone about the vampire blood squid. I promise it is not as scary as it sounds. Right before dinner, we watched an amazing sunset, hoping to see a green flash. We didn't get to see one but the sunset was GOOD ENOUGH! Tonight is TACO TUESDAY! Thank you Tyler and happy real birthday! We love you and your tacos so much! At 1900, C Watch headed to bed to get some rest before our 0000-0400 night watch. Today was sadly my last full day of watch because I am a messmate tomorrow. I have loved every moment of this voyage. I can't believe that the end has come so soon, It feels so like only yesterday we had arrived. Thank you to everyone on the Gamage. This has been the experience of a lifetime! I will miss this.
--Skaane '23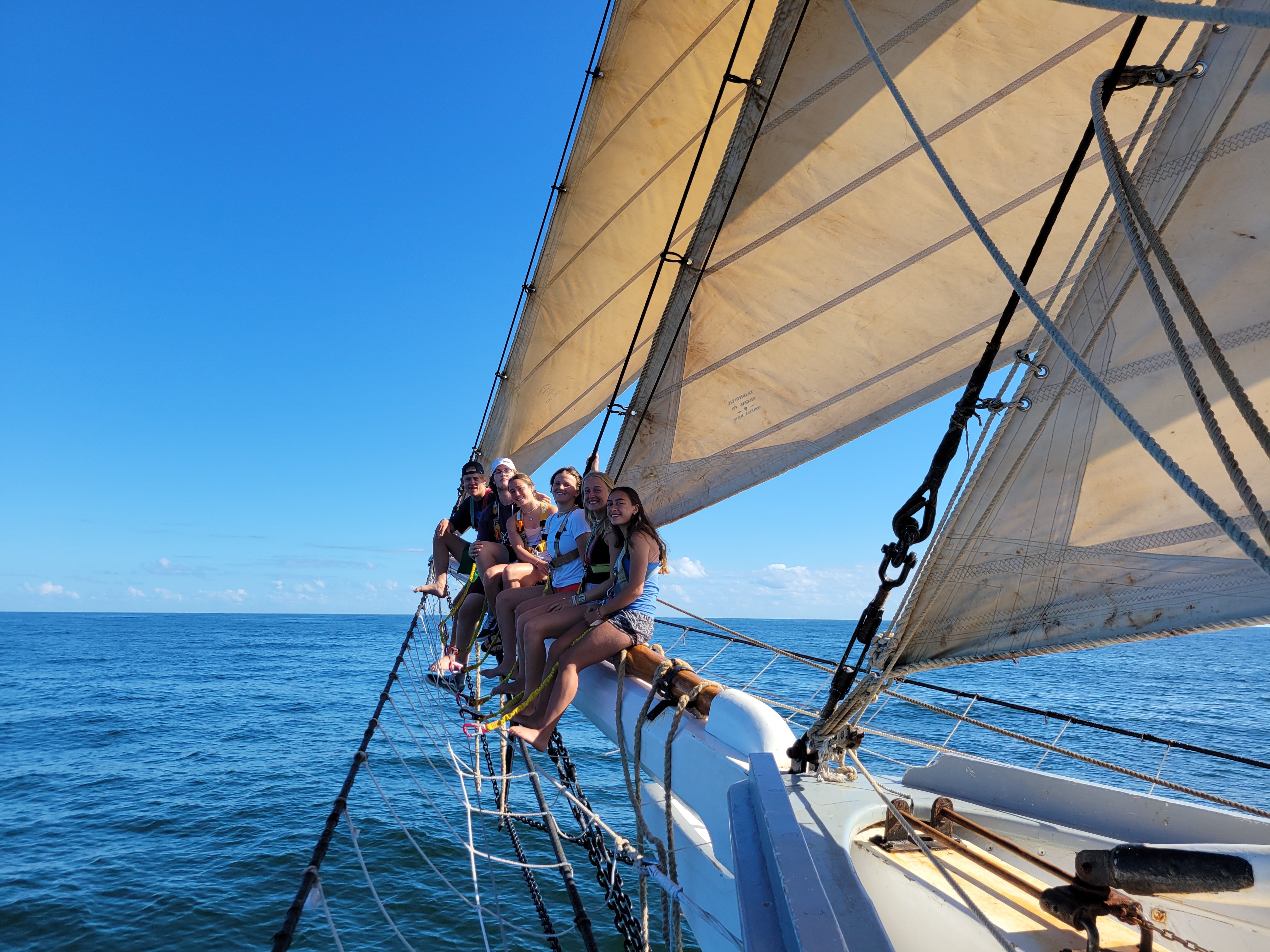 Day 67 | Wednesday November 17th
N 30° 36.048' W 081° 12.706'
With so few days left aboard the Harvey Gamage and the end of the trip on the horizon, anticipation is building. Everyone is thinking about home and wishing to see their loved ones. Yet at the same time, the students are not sure if they are ready to leave. This journey has been more than packed with unforgettable memories. Although the trip did not go as everyone hoped, the voyage kept on going no matter what. The true journey is about the adventure with the people on board, not from point A to point B. Throughout the long days and nights of standing watch, maybe walking around one of the towns we visited in port, or just hanging out in the salon playing cards; I think I can speak for everyone when I say that 'whether we like it or not, we are family now". Simply put, this is a trip I will never forget. We have sailed over 2000 nautical miles with a unique moment for each mile. Through the wind and the waves and the scorching sun live a few more days that I am promised never to forget.
--Sam '23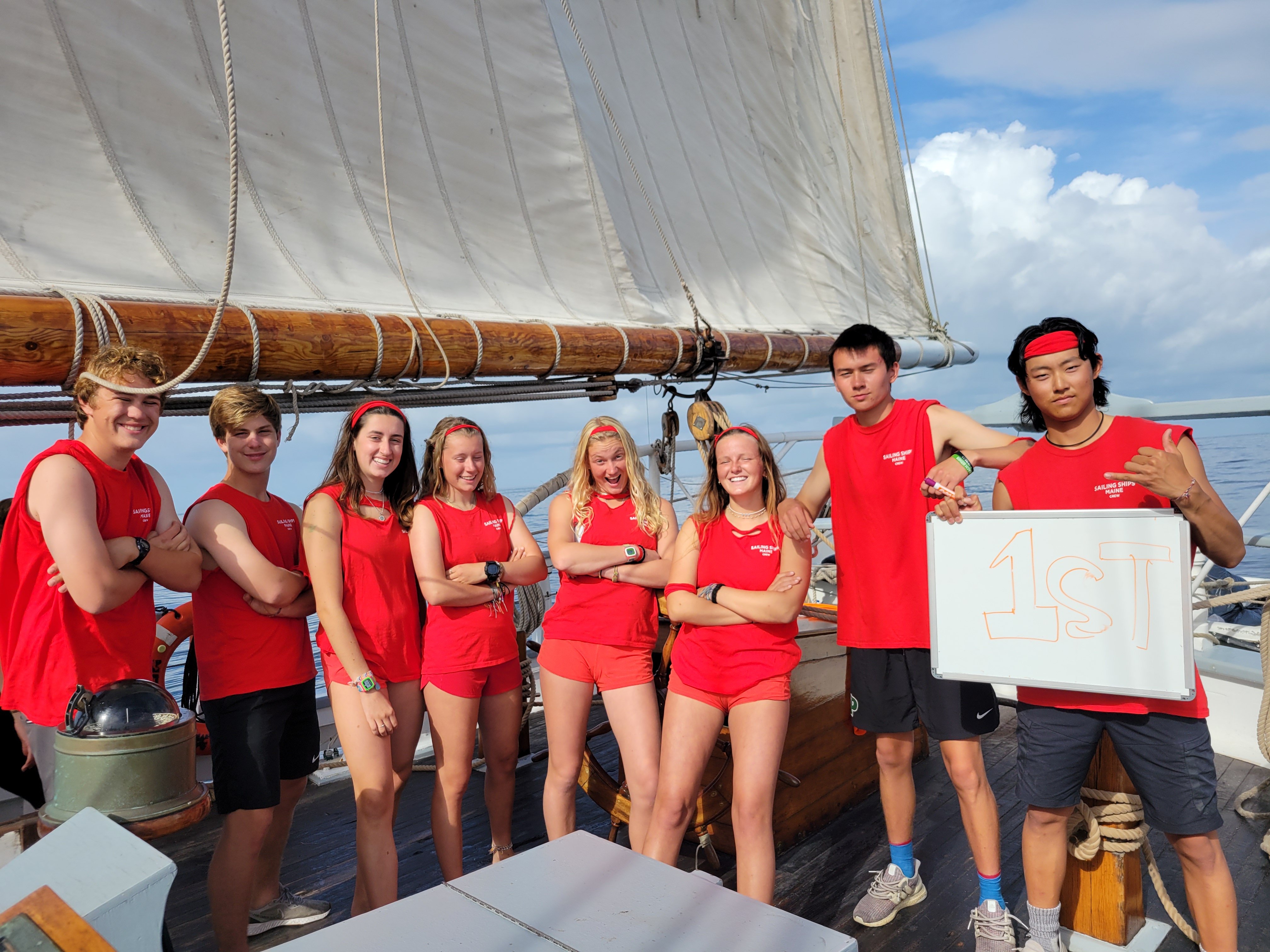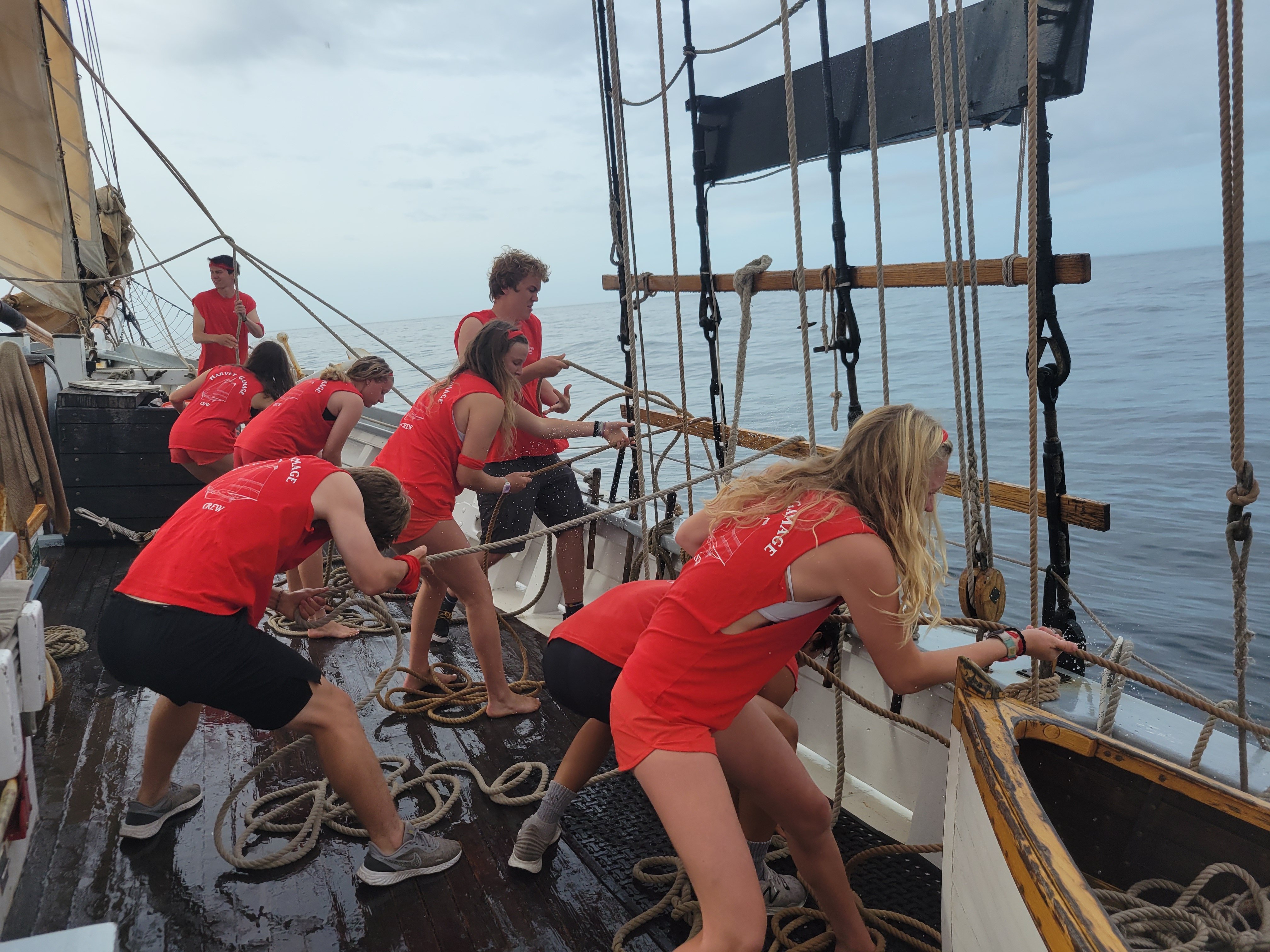 Day 68 | Thursday November 18th
N 31° 09.022' W 081° 29.991'
Today began with a wake up finding out that we would be doing our last crazy activity, the schooner Olympics. All the crewmates split into their watches and got into costumes that represented their watch flags. C watch in red cut off t-shirts and matching headbands led the charge in group spirit. The Olympics began with the crew blasting music getting us all very excited. We competed in knot tying, pin finding, dressing your mates, and ended the festivities with a 5 minute skit. Our job was to do our interpretation of the crew and the all around winner of these Olympics was C watch. I realize that winning the Olympics was not just a test of our individual strengths but also how we worked so well together as a team, how we have become a family. This is why we worked so well together. My watch (C watch) completed our last 4 hour stint together as we sailed into Brunswick, Georgia, our final destination. It was crazy to think that after all the sea watches we have had (in the last two months) that we are finally finished! Time to start packing. We then had our last delicious dinner from Tyler which was pasta, bread rolls and cheesecake. We had our last bowls and soles with a beautiful sunset as our backdrop. The students of Proctor Academy ended the night by watching "Moana", one last movie on the second to last night on the Harvey Gamage. As we all watched and sang along, I think it was a poignant moment for everyone to think about these past 10 months living together. Even though we have all been wishing for our homes and our families, we also realize that this has been an unforgettable experience. We have all become a family. We have traveled 2000 Nautical Miles together and have had an amazing voyage.
-- Lilly '23