Proctor Academy's Ocean Classroom program has entered the final week aboard the Harvey Gamage and its fall voyage along the eastern seaboard. While unfortunate weather patterns have impacted the student crew and their ability to sail into Caribbean waters, the learning taking place and adventures remain life-changing. Read more from the past week on Ocean Classroom below.
Day 54 | Thursday November 4th
N 32° 467.321' W 079° 55.422'
The Harvey Gamage sailed into Charleston, South Carolina today. Weeks prior to our arrival, I am confident that most students would have predicted our southern introduction to sunshine, clear skies, and perfectly warm weather. What greeted us instead were conditions eerily similar to that of a New England winter storm. We can't help but break records on this trip:this is the furthest south we have gone and the coldest weather we have faced so far. Regardless, the rest of the day at anchor was occupied by chores, class, competitive games of poker; luckily the forecast for the days to come looks a lot less arctic than today.
With my final logbook entry of the trip, I thought it would be valuable to reflect on one of many memories that this trip has produced. I am very new to this, but the thrill one gets at sea in "perfect conditions" is truly indescribable (but I will try my best). We are under full sail, the wind propelling the boat through the night, there is no sound but the swells and the creaking of the ship's wooden skeleton. Even with the inherent stress of a 4 hour watch, there is a collective peace among the ship's company as we soar toward our next destination. The deck is fully illuminated by the tapestry of the night sky. As beautiful as the display is, the emergence of the sun from behind the horizon is equally as spectacular. And all at once, warmth chases out the frigid night air as the smell of a freshly prepared and delicious breakfast permeates the boat. You see the smiling (and hungry faces of your shipmates as they flood the galley where we recap events from the night, retell strange and spontaneous dreams, and struggle to contain your laughter. As much as we may romanticize a return to normalcy, it is hard not to acknowledge these moments as the ones we will miss the most when it is all said and done. The stories we will share with our friends and family from years to come will long outlast the hardships we have faced: the lessons we take from the most challenging moments will remain through us through high school and into the next chapter of our lives, or wherever the wind decides to take us.
--River '22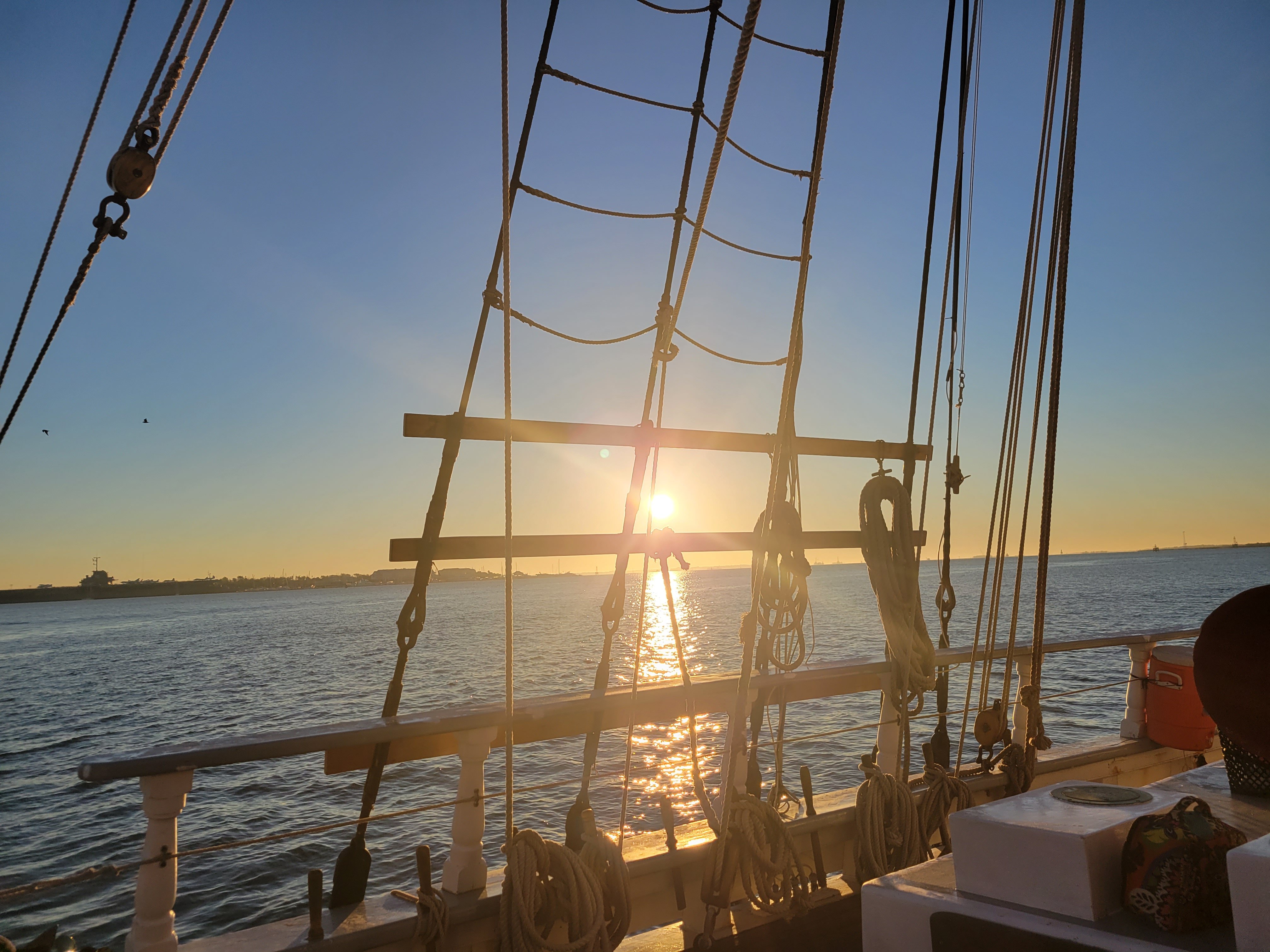 Day 55 | Friday November 5th
N 32° 47.321' W 079° 55.422'
With winds reaching force 8, we were all very grateful to be docked. Wearing every article of clothing we owned, we got down to cleaning and chores. We spent lots of time warming up in the galley (and salon) with all different types of card and board games to rotate through. We took a trip to the post office where we had a room full of mail waiting for us. It is always great to hear back from family and friends. After receiving our letters, we went to class and did our work. Watching the waves pick up around us, we were appreciative to have lots of below-deck time. Afterwards, we toured The Spirit of Carolina, another schooner on the deck across from us. With the temperatures dropping as quickly as the sun, everyone was creative with ways to fight the cold. Dances were made, songs were sung, stories were told, and joy was spread. We are a resilient crew here on the Harvey Gamage and even the cold weather here in South Carolina CAN'T BRING US DOWN!
--Sam '22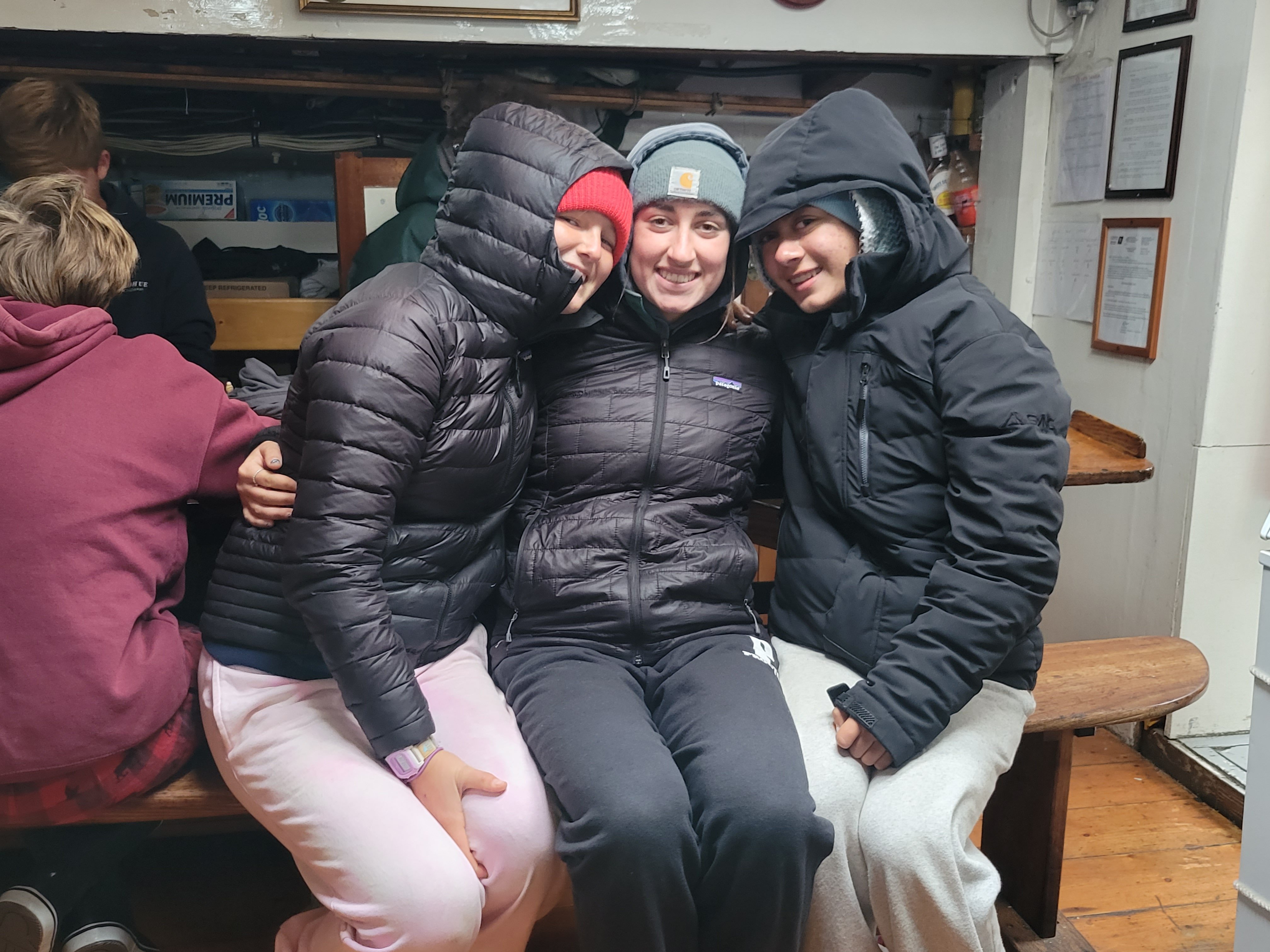 Day 56 |Saturday November 6th
N 32°47.321' W 079° 55.321'
Well, the introduction to the "warm and beautiful south" has not been exactly what we were expecting, as it has been cold, damp, and dreary. F6 and F8 winds and unrelenting rain has forced us to stay on the boat and in our cabins and in the salon. While we were not looking for this beginning here in Charleston, we are determined to make the best of it. Most of the shipmates spent the day in the galley playing cards, Phase 10, or Catan. I was wondering what positives I could write about on such a dreary, negative day. I realized that while most of us were wishing for a sunny, 70 degree day that would have allowed us to explore the city of Charleston; we really did make the best of the situation. There was not a negative tone between the students and crew, just the constant yelling of "OPENING HATCH" or "CLOSING HATCH" as students raced across the deck, trying to avoid getting hit with the pelting rain, and opened and closed the hatch as quickly as possible to get down below. The other thing keeping the spirits (from dipping) up was being able to get a full night's sleep, without worrying about watch or being tossed out of your bunk due to rocky seas. Having time to ourselves and being out of the eat-sleep-watch routine was a nice relief for me. Even if it was pouring, it was not gonna rain on our parade. Sorry, that was cheesy, but I WANT TO BE CHEESY, DARN IT! The one thought that comes to mind as I sit writing this at the end of the day is tomorrow is a new day and hopefully full of excitement (not rain), but everyday seems to be surprising. If the prospect of land time comes up, then good luck Charleston because you got 22 land-longing high school kids chopping at the bit to see what makes you so famous.
--Will '22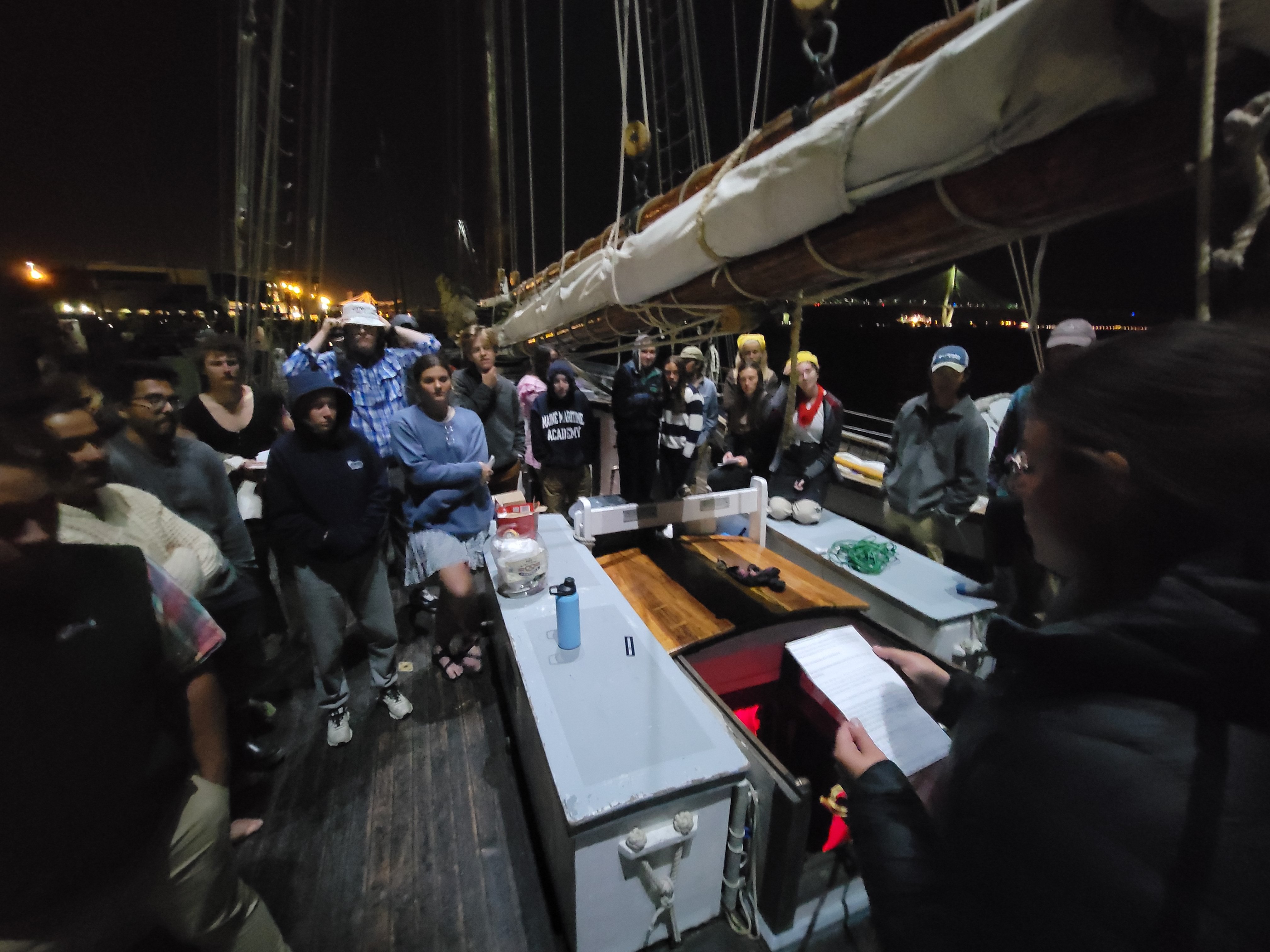 Day 57 | Sunday November 7th
N 32° 42.321' W 079° 55.421'
I awoke at 8:30 to another rainy, cold day in Charleston, SC. It turned out that it was daylight savings so at muster, and before chores, we changed our watches back one hour so it was 8:30 again. Weird right? Anyway, at 9:15 we all had Navigation class on shore. We learned how to calculate our longitude using the sun and moon. After class, the sun decided to finally make an appearance after three days of almost freezing rain. Everyone was glad to see the sun and wave goodbye to the gale force winds. After tacos for lunch we were given shore time! See into the palmetto trees was a weird experience after the last few days felt like winter. Charleston is an interesting town. Along the harbour you can tell that the homes are post Civil War. Meanwhile, further in town, there are many old churches and buildings. I found an awesome hat shop in town, They had nearly every variety of hat you could imagine. At 1700, we all gathered to play Murder at Sea, similar to the game of clue but with us acting out the parts. Everyone had a grand time figuring out clues to the murderer, but no one guessed it was the character played by Gunnar. Thank you to Holly for all her hard work planning it. The rest of the night everyone snacked on Domino's pizza and played games in the galley. It was a pretty awesome day all the way around.
-Cara '22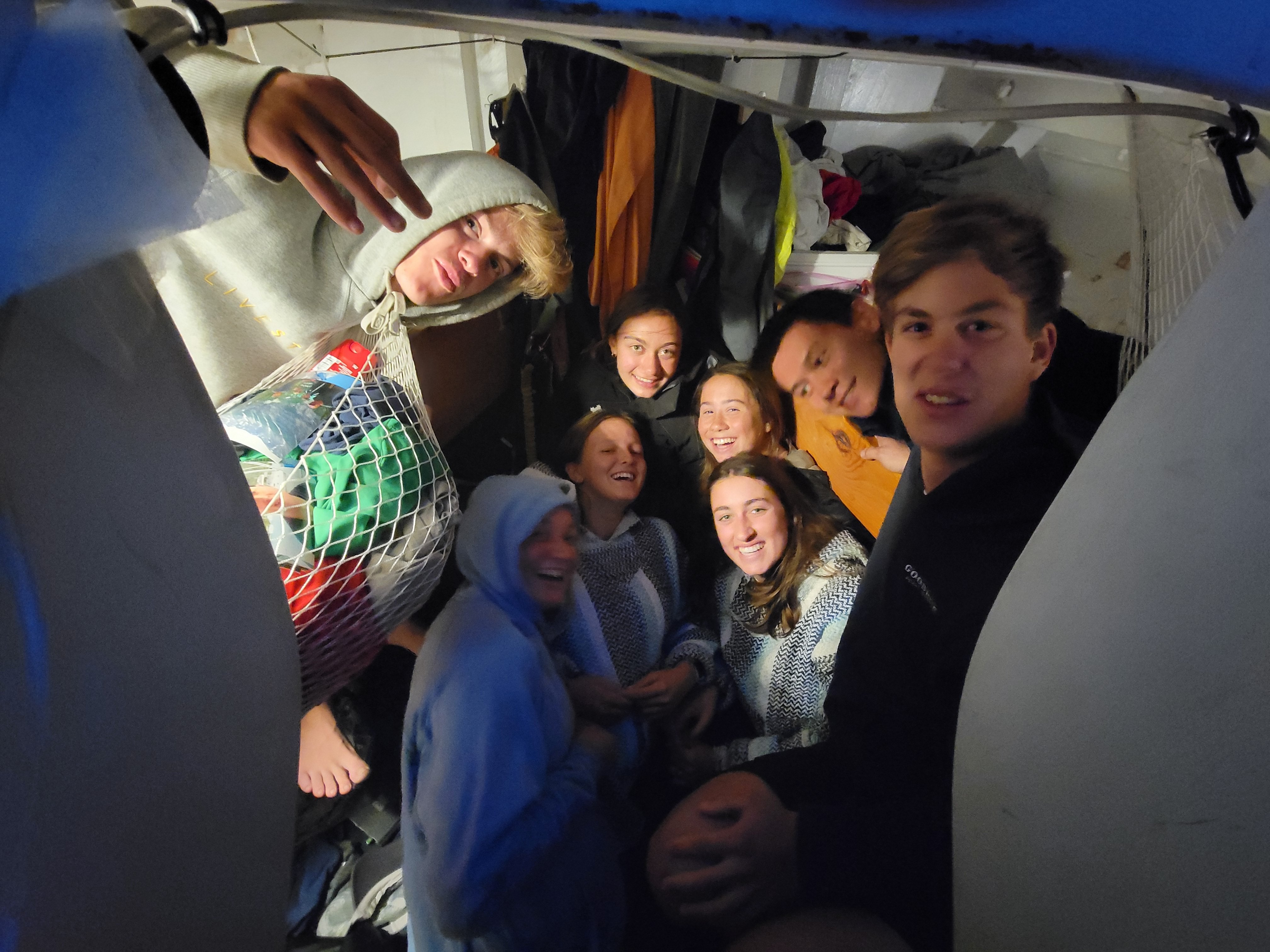 Day 58 | Monday November 8th
N 32° 42.321' W 079° 55.421'
This morning I did not get out of bed until muster. I missed quiche but I didn't care because I was so tired. Next, the provision that Tyler ordered came to the vessel and then after helping get them down to the galley, we had a Marine Science class with Holly. This class was very interesting. We talked about sharks and their different orders, which could be mistaken for a family of fishes. After class, we had a student kickball game and Sam filmed some of the game. Next, we had a lunch that consisted of Mac n Cheese and ICE CREAM! SO GOOD! Then we were given a few hours of free time to run around Charleston and have real free time. Cara and I set off to a few clothing stores where I was able to buy some much needed socks because my old ones were a little nasty. We then saw a 5 Guys burger shop and I went in for a burger and some fries and of course a Mr. Pibb. I was extra appreciative that it was extra cold with ice. We then met up with Reid and Jillian and we popped into Walgreens to stock up on snacks. We then saw a doughnut shop where Cara got one for herself, and Reid decided to buy enough doughnuts so each person on the boat could get one each, which was a very nice gesture. We headed back to the boat to drop off the surprise, and then we headed out again with no legitimate plan. I found a free moon ball in the park which was a score. We tried to go to the aquarium but it was closed. We then decided to head back to the boat content with what had been a wonderful day.
--Connor '23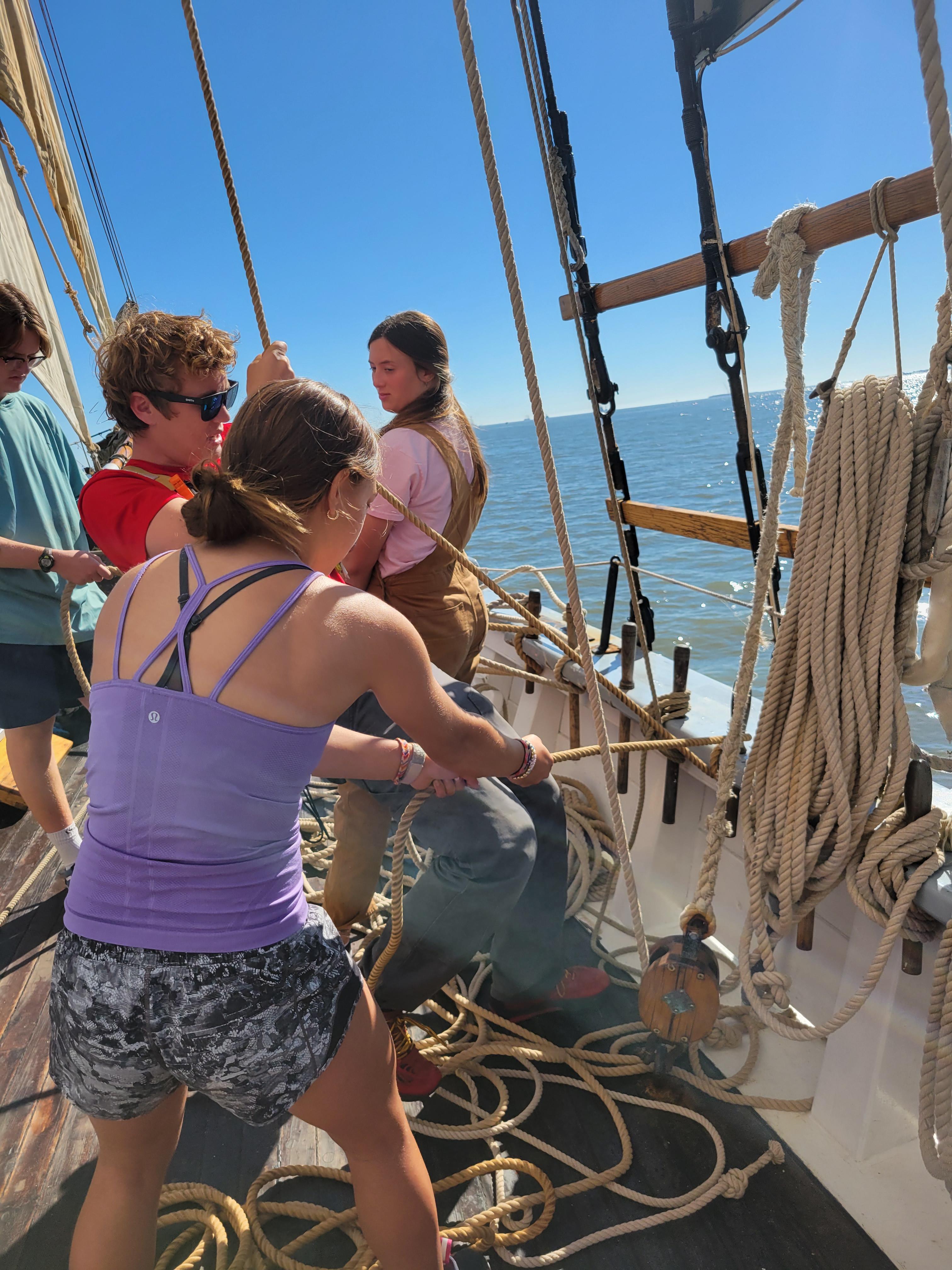 Day 59 | Tuesday November 9th
N 32° 23.710' W 079° 54.649'
My day specifically started off early, with 5:00-7:00 AM deck watch. Although certainly my least favorite watch, I did get to see a beautiful sunrise which made the early wake up worth it. Tyler, as always, had a delicious breakfast waiting for us and it consisted of eggs, sausage, oatmeal, fruit, and cereal. We then had an "all-hands' ' muster at 0800 to fly colors and breakdown the next couple hours of the day--starting off with preparing to get underway. Next destination: Cumberland Island, Georgia. Once the vessel was safely underway, C Watch took the deck and A and B Watch stood down to rest and catch up on their sleep or take the time to focus on school work. The sun came out, more and more, as the clock moved closer to 1200, and by then most of the students were in shorts and t- shirts: the goal being to suck up as much warmth as possible (time to get that tan on)!
LUNCH TIME! As A Watch took the deck from C Watch, the students chowed down on some soup and biscuits. Things settled down again until 1400 which is when classes began. Today we learned about the slave trade, specifically in South Carolina, and all about a language and culture named Gullah, which is directly descendent from West Africa. 1600 rolled around and B Watch took the deck and I would be the JWO today, my first time. It was obviously stressful in the beginning but I got the hang of it quickly and I believe that I was able to keep everything organized during those hectic 4 hours. Also adding a little stress to the day, dinner is always served during this watch period, but by 1900 everyone who was not on watch was snuggled into their bunks for the evening. The day ended with a marvelous sunset that then gave way to some beautiful stars that illuminated the night sky. Before we knew it, our watch was over and C Watch took over the deck once again, allowing the entire B Watch crew to go straight to bed. This will be my last opportunity to write in the Voyage Logbook, but it was definitely a day to remember fondly. With only 12 days left, everyday counts. Although I miss my family very much and cannot wait to see them, I wish I could turn back time and start this trip all over again. I will always remember this experience and all the unforgettable memories we have created. On that note, Peace Out!
--Ali '22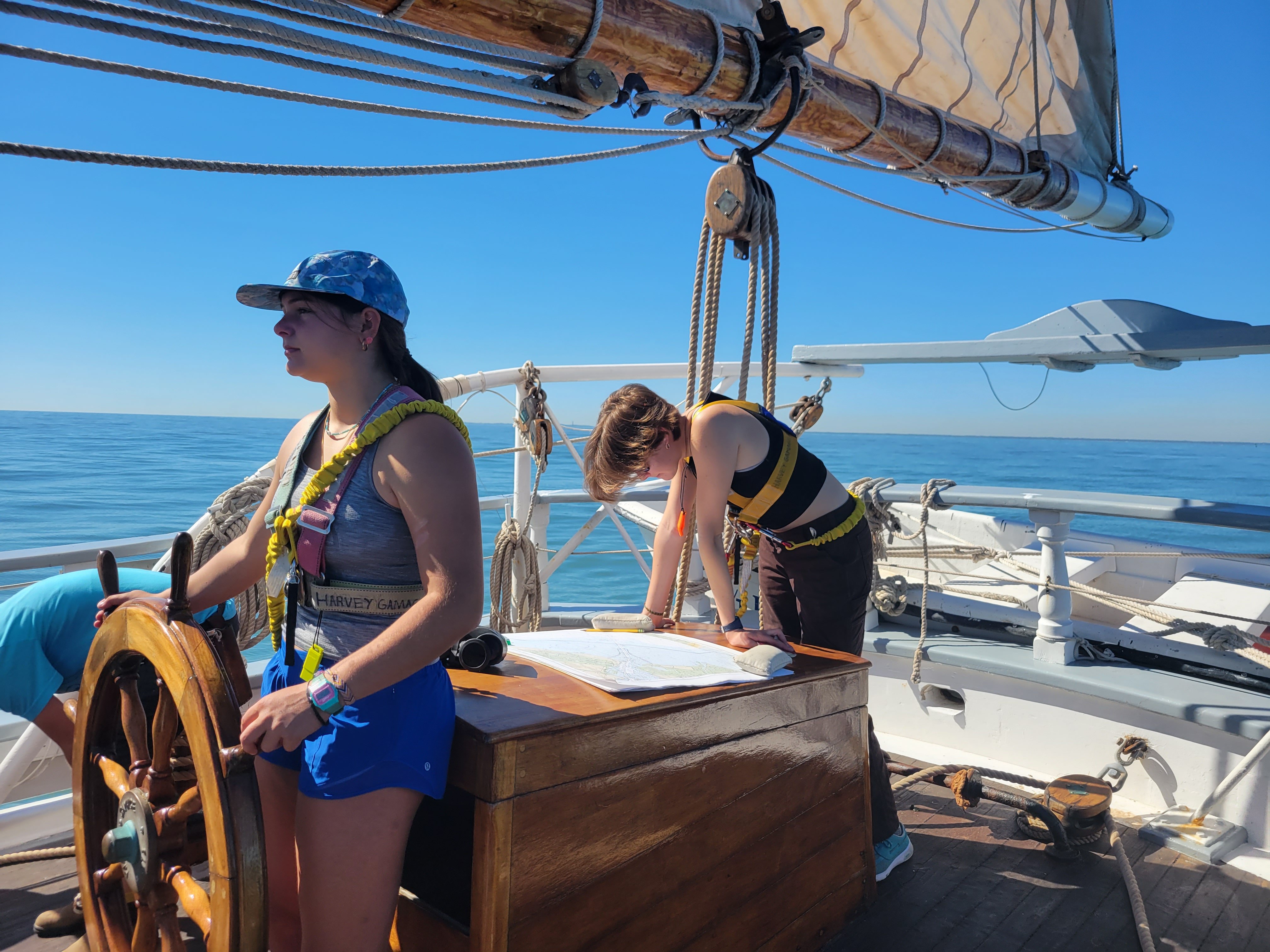 Day 60 | Wednesday November 10th
N 31° 03.054' W 080° 25.700'
The day started off with River, Will, and I witnessing a meteor! We stood there in awe, and words failed us, as the entire sky lit up with a blinding white flash. Later on that morning, we watched our first Georgia sunrise--so beautiful! The glassy, pastel tones, on the water, reflected from the cotton candy colored sky was majestic. In the distance, we spotted what looked like a capsized boat. The vessel took a slight detour to find out that there was an abandoned hobie cat just floating in the water; luckily, there were no persons onboard and thus, no danger to be reported. The morning consisted of a marine science class where we learned about and discussed sharks! This was quite fitting because after our delicious lunch, we had a swim call. Everyone was excited to cool off by taking a plunge into the LIGHT BLUE WATERS! There was a 2 foot Remora fish swimming right along with us. They are dark grey or green in color, have a flat head, and they eat by suctioning food off a larger fish that they attach to. It was really cool to be close to them, almost like swimming in our own personal aquarium with water as warm as a BATHTUB1 All the students had the time of their lives and we are so appreciative. And just like that the Harvey Gamage was underway again with a rejuvenated and refreshed young crew. 1700 brought our nightly Almanac that was supported by a beautiful sunset. We had a delicious dinner as the sun went down majestically as we sailed with a warm soothing breeze.
--Libby '23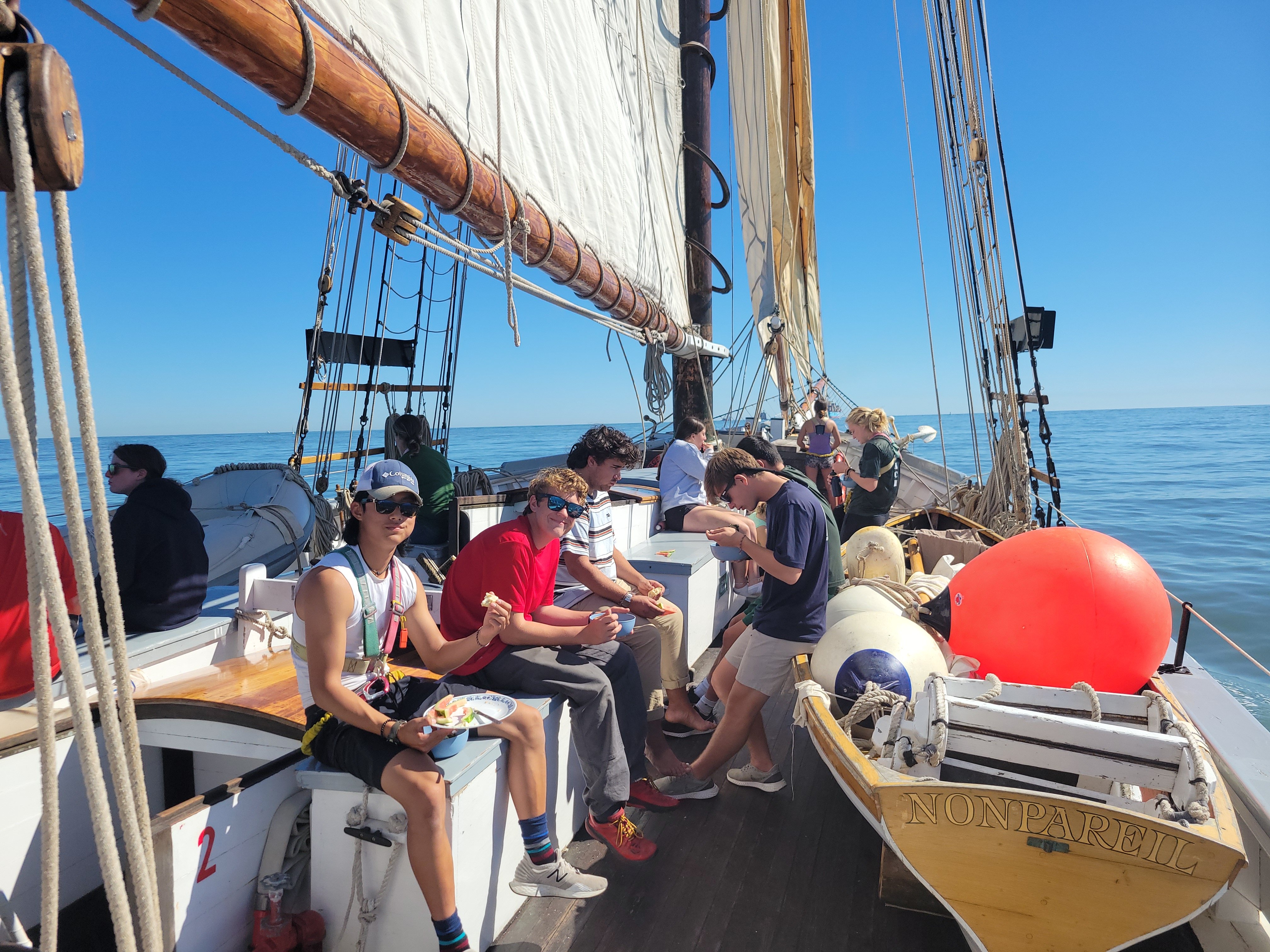 Day 61 | Thursday November 11th
N 30° 51.989' W 081° 2.821'
Coming out of the focsle this morning I was welcomed by calm winds and the sun glistening through the clouds over the horizon. C watch and I ate breakfast quickly and transitioned into our morning duties while the sun was still trying to fully break through the clouds. Although the watch began slowly, the wind picked up suddenly and the Harvey Gamage was finally sailing! In the span of 30 minutes, we picked up speed and were sailing at a consistent speed of 8 knots and topped out at 10.2 knots! With the wind and swells picking up, we switched watches and were greeted by a phenomenal Chinese inspired lunch with dumplings, fried rice, and assorted veggies. I then walked on deck to the sight of Sam catching his 7th fish of the voyage: a king Mackerel. While Sam and others began to filet the fish, I prepared myself for a three hour siesta; which was much needed. At 1500, I attended music class where we discussed music of the slaves and its origin back to Africa. After class, people dispersed into their watches, study groups, and meetings with educators to finalize the last few assignments and projects. After a very quick Almanac, we all patiently awaited dinner the dinner bell as the smell of freshly prepared ribs filled the ocean air. After a full plate of ribs, mashed potatoes, and salad the students and crew either went to bed, played card games, or got ready for watch as the Harvey Gamage continued to sail with calm winds and relaxed swells through the bright night sky.
--Joshua '22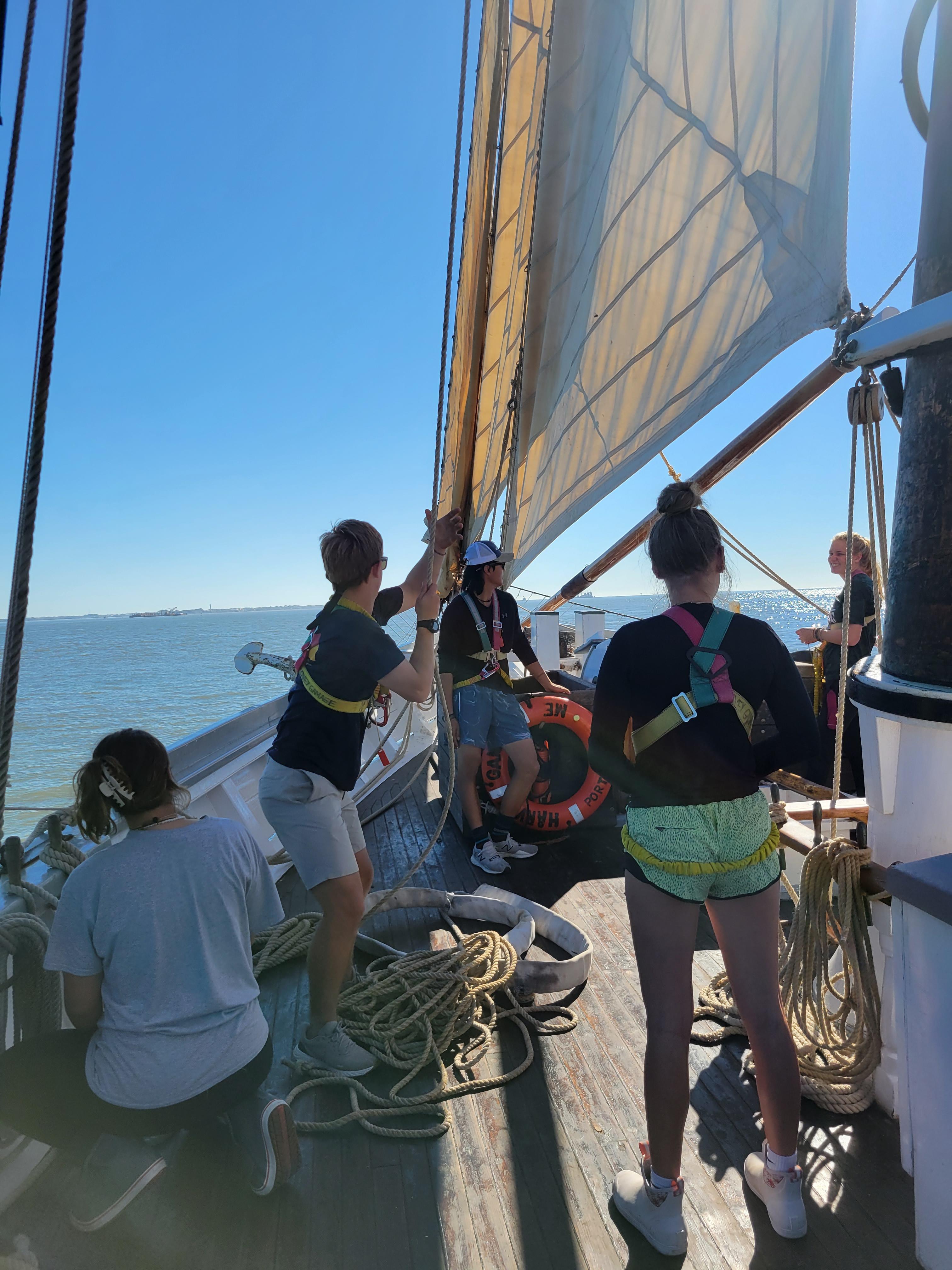 Day 62 | Friday November 12th
N 30° 45.142' W 081° 28.531'
Cumberland Island!! After a lonely few days voyaging on the open ocean, the Captain made the call to head to Cumberland Island. C watch was on deck as our JWO (Junior Watch Officer), Josh, navigated us through the narrow channel. Today was our last day with our watch leaders until we return to our original teams and times. Naturally, C Watch decided to do squats for exercise as we worked our way the 5 nautical miles. After burning off some calories, cookies for lunch was our reward. Our last morning science class was about rays and everyone is anxiously preparing for our final. Coming through the canal, we passed the Florida-Georgia line and found a comfy spot to anchor alongside the island. The wild horses kept us entertained as we watched the sun sink down below the horizon, leaving a sky full of brilliant oranges, yellows, and pinks that slowly faded into black. The tide lowered and the smell from the marshes rose into the air making sure that everyone knew we were in Georgia. After dinner, we fell into a game of human knot and began the seemingly impossible task of untying ourselves in the dark. We ended an exciting day by hunkering down to watch a movie as a united crew.
--Natalie '22