Proctor's Ocean Classroom winter program continues their eight-week exploration of the Caribbean. Check out the past week's Ship's Logs to see what this crew of eight students has been up to!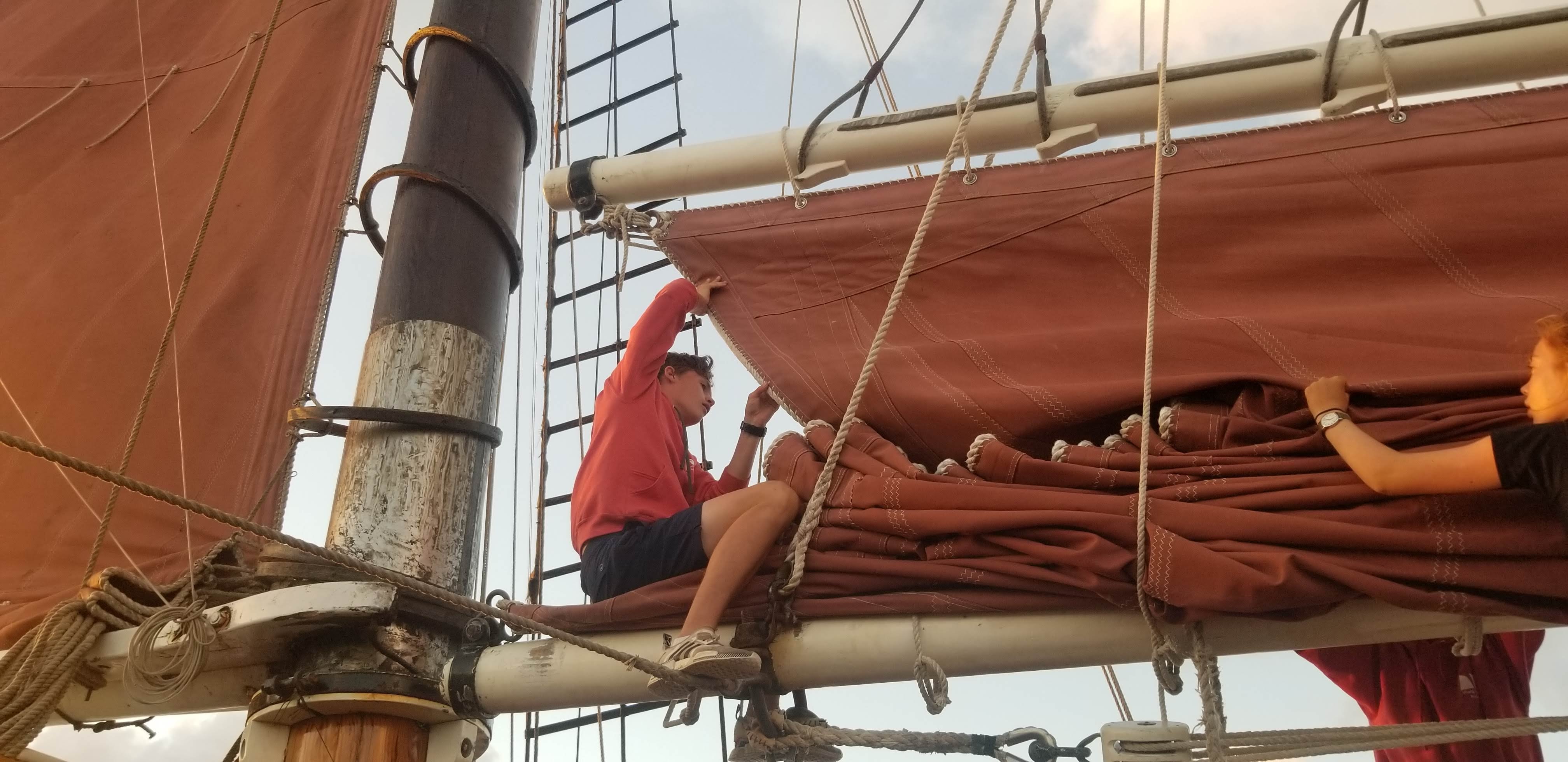 Tiege '21 | February 5th, 2021
Taco Night
Today started anchored at Green Cay, our favorite little island off St. Croix. After keeping good watch of the boat during anchor watch, the crew woke up hungry for Adam's granola, peach, and apple cobbler and scones! Safe to say that was devoured quickly. After breakfast and morning chores it was time for navigation class, we covered some new topics, including dead reckoning and then set sail for Christiansted. Midway through our journey we were greeted with Chinese food. Noodles, pork, and rangoons headlined lunch and were gobbled quickly by the sailing crew. Then chores began. If you are not familiar with chores while underway this was my schedule: Dip below for 5 minutes, sit by the rail seasick for five, dip below for five and repeat! We rolled into Christiansted and parked right on the pier in anticipation for our sunset sail at 1600. After we had prepped the deck we got some time to swim and lounge. Then, it was time to sail once again! We boarded up and got underway for the two hour sail. After the sail concluded, it was taco night. And if I'm being honest, after taco night, I went into a food coma and passed out. Until next time.
Signing off,
Teige
Ang '22 | February 6th, 2021
Jamming Out
Helloooo from Christiansted. Here at our lovely mooring we started our Saturday morning off with a Marine Science midterm. YAYA *Insert fat eyeroll* Wasn't my favorite way to start the day but we got it done. After getting a snack and finishing the test I had a dance party with one of the crew members, Mahalia, AKA my homie. We listened to our favorite songs with the boat speaker and had so much fun. While Mahalia was doing maintenance work we were jamming out and I also helped her out with dishes! She also taught me how to rust bust which is pretty much just getting rid of rust from the davits that hold our small boat and then paint it to protect it. After chilling out and doing some work we made our way to our favorite beach. DOG BLESS! We took the small boat to shore, which Morgan, another dope crew member, taught me how to whip around and then started our walk to the beach. Once we got to the beach we jumped right into the water and swam around for a while. Then we relaxed on the beach and pretty much all of us took a nice long nap on the beach. Then we had to leave Dog Bless because the beaches close early because of COVID. We headed over to the fort and chilled out on the grass under the clouds and watched boats drive by. We chatted and relaxed some more! Once we got back to the boat we had a college themed dinner with cereal, ramen, and chips. Which was so FUN! Then after having some down time to play ukulele and guitar we started a movie on deck to top off the night. Another awesome day aboard Roseway! Ang out.
Forepeak closed,
Angelina
P.S. Morgan's senior superlative in high school was class best dancer.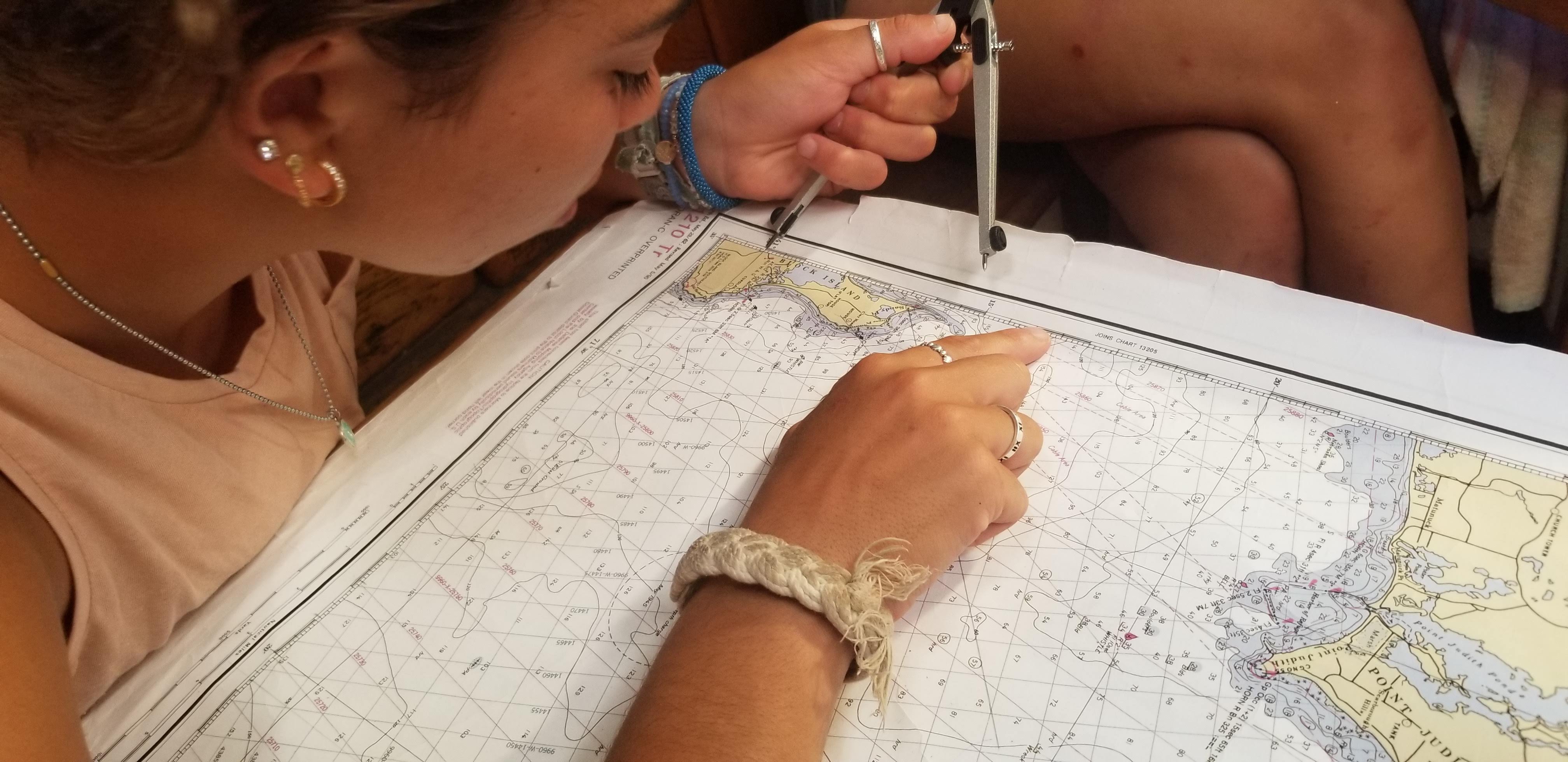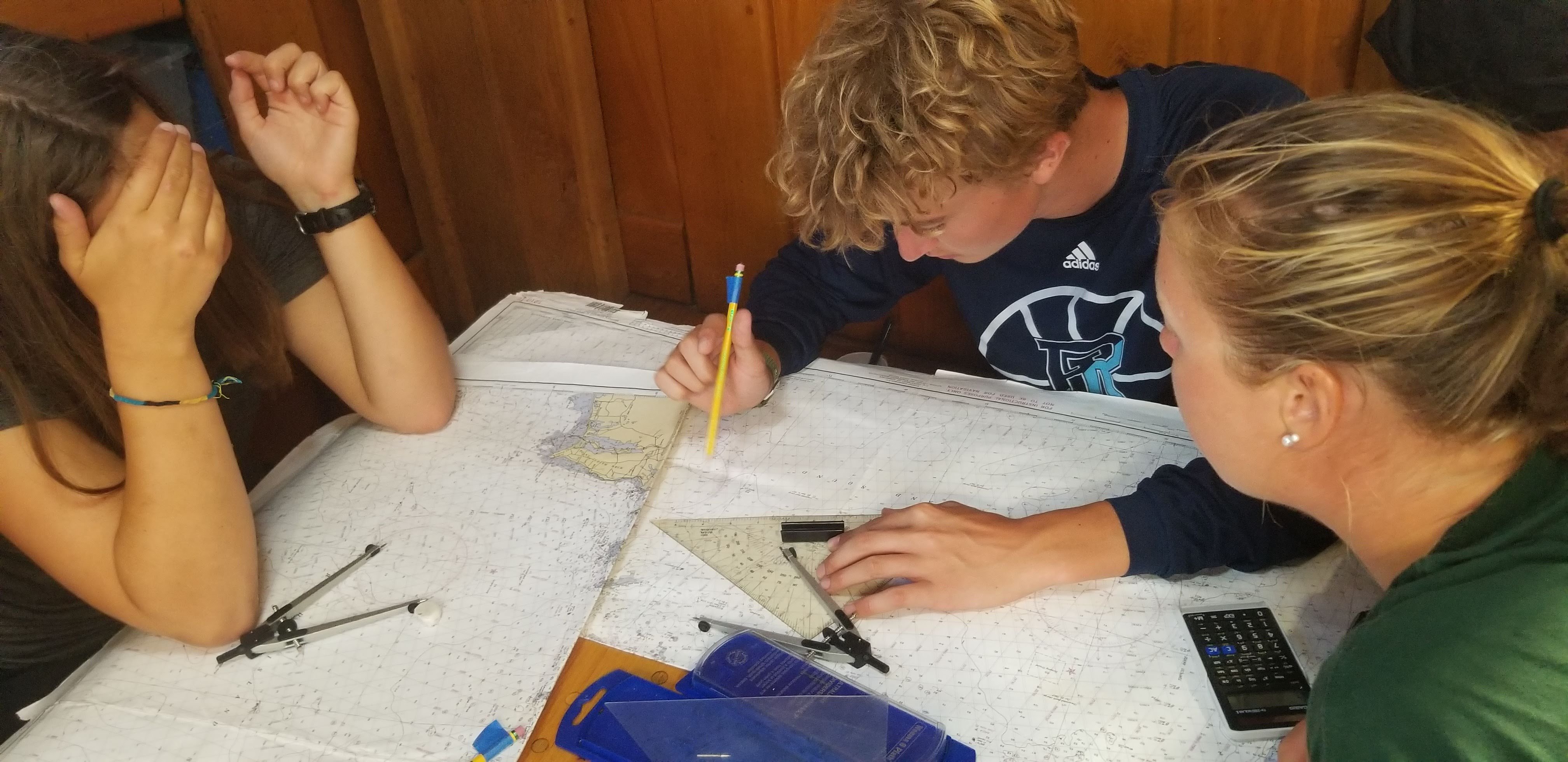 Cam '21 | February 7th, 2021
Never Dull
Another beautiful day on Roseway! We were all woken up at 1030. The sleep-in on Sunday is one of the biggest perks of Ocean Classroom. We started off with some Cinnamon Toast Crunch. It was a slow morning until we started to prep to move to the dock at 1300. Once we got to the dock we got right to a deck wash. Once we had done a thorough job of cleaning the deck we all got to separate jobs. Me and Jack went to polish the bell and quarterbits with Never Dull. Once the boat was ready for passengers we all got together on the cabin top to set a reef in the mainsail. This meant that we had to shorten the foot of the sail, causing less of a luff in higher winds. We all got together to do a swim call and rinse off before getting into our Roseway Reds to await customers. At 1600 we cast off all lines and motored to the channel where we took up the small boat and hauled up sails. We tacked around for a bit before heading back to the Port Authority to drop customers off. Once we had cleaned the boat (disinfect) we got right to the mooring to settle down for the evening. We all got together for muster to discuss the day we just had. Dinner was set up and we all ate at 1930.
Best,
Cam
(Shout-out; Mom, Dad, Margot, EJ, love you guys.)
Casten '21 | February 8th, 2021
Dive Day
Good morning y'all! Today we woke up at 0715 to some of the best pancakes ever. Pancakes with nutella and peanut butter and syrup. After getting some delicious pancakes and finishing up eating, we worked on some morning chores. I, thankfully, did not have galley dish duty. After this, we did some class on the history of submersibles and depths in regions of the ocean. After class, we had some time before lunch to get ready for our dive. Finally, another dive! Once we ate and had all our stuff together, we small-boated to the dive shop on the boardwalk. We got our stuff on and had our tanks done for us because we are not certified. We took off for the first site at Turquoise Bay again. We descended and swam around before seeing a sleeping nurse shark, tons of colorful fish, and a huge sea cucumber. It was a nice calm dive that lasted for about fifty minutes. We ascended and headed for the second site of Cabana, our favorite. We descended again with a new tank and swam around. We saw TONS of turtles and sharks swimming with us, as well as 2 giant barracudas. We ascended again and headed back. We walked on the boardwalk and went to our favorite restaurant for takeout at Shupes. Burgers, wings and fries, and of course soft serve ice cream. We ate in the park before heading back to the boat for a chill evening.
Good luck Charlie!
Casten '21
Jack '21 | February 9th, 2021
Another Day On Roseway
Another morning waking up to the view of Christiansted. The best part of the day- waking up to Adam's breakfast. Today consisted of sitting around and waiting until all the crew got back from receiving their vaccines. When all returned, we prepped and headed for Green Cay. We sailed into the darkness so we could make it to anchor without motoring. Once anchored, we ate dinner and got our anchor watch times. We were all psyched for the next day at Buck Island, one of the top 10 rated beaches in the world. Tomorrow couldn't come sooner.
Best,
Jack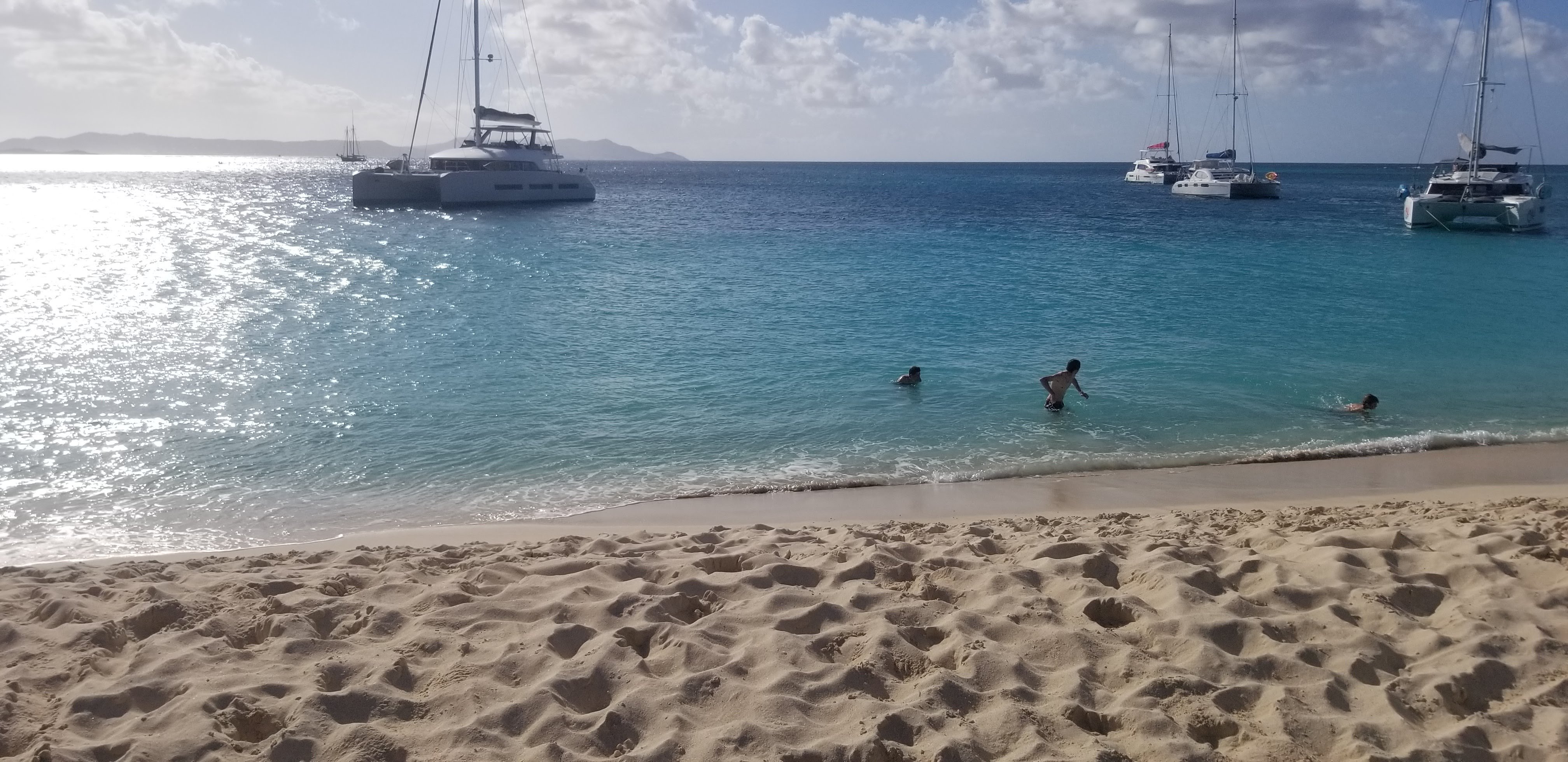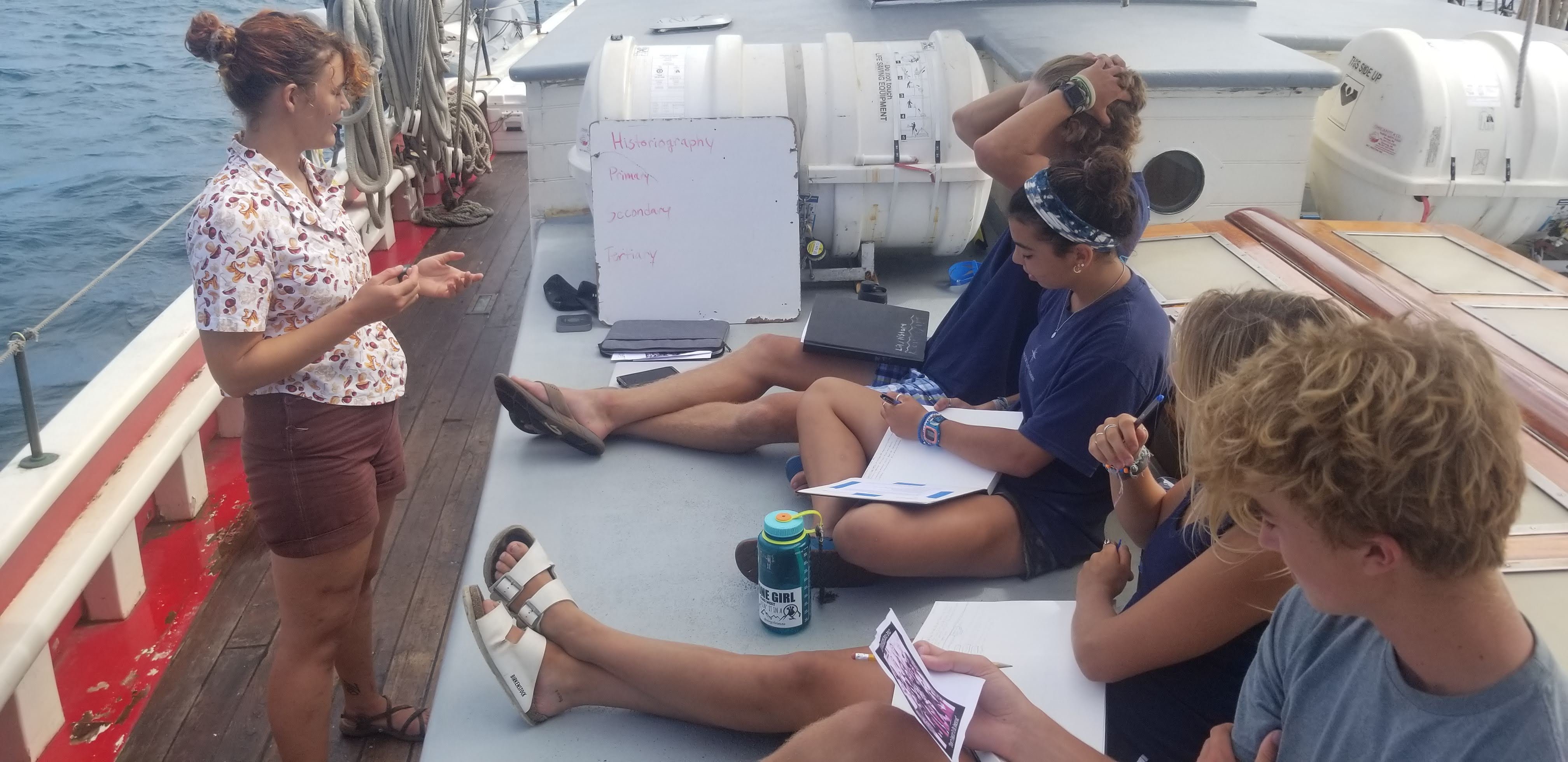 Louisa '21 | February 10th, 2021
Piña Coladas (virgin)
We woke up this morning in Green Cay. It was beautiful, but a little windy. We ate french toast and bacon, but sadly Adam (our dope chef) got a nasty burn. After breakfast we cleaned and prepared the sails to get ready to sail to Buck Island. It was super windy and perfect conditions for our sail. We had both a science and navigation class underway. We anchored off Buck Island and small-boated in small groups to shore and jumped in the beautiful water immediately. When everyone got to shore we started a hike around the island. We saw pelicans, land crabs, cacti, and a bunch of cool air plants. We stopped at the top of Buck Island and took it all in. The view was beautiful, and the water was even prettier. We hiked back down and around the island to a pier, where we jumped off and did tricks. We swam around and snorkeled. Groups small boated back to the Roseway, and Cam, Holly, and I were in the last group. We were the last people on all of Buck Island which was really cool. We were greeted by piña coladas (virgin) by Morgan when we got back. We set sail back to Green Cay and had a great dinner, followed by a fun game of Adventure Island. Overall a great day!
(Shout-out Grandma Minnie, I love you!)
Signing off,
Louisa
Sam '21 | February 11th, 2021
"Chain Monkey"
Heyyo ship's log! Today was another wonderful day on the ol' schooner Roseway. We started our morning off at the usual 0715 to eggs and potatoes! Yum. We transitioned into an all hands sail back to Christiansted, St. Croix. The headsails were to be set and I hopped down into the forepeak to assist the chain as it settled into its home. I was called the "Chain Monkey". I came out covered in grime. We got after it back to our home on the mooring with high hopes for clear skies. The squall passed over as we pulled into St. Croix! We hopped into a sociology class with Eli, then navigation with Susz. After class we had some downtime, and Kara and I went out on the headrig to hangout and talk. It's so nice to be able to hang out on the bowsprit while everyone else is on the deck. Best spot on the boat for sure. I was welcomed by a Valentines day package from my Momma. Love you so much Mom! Call you soon, I promise. We wrapped up the night with a "Questions with the Cap" since he's doing a turnover soon. He is such an awesome guy and really knows how to get the crew in a mindset focused on the ship's well being first. It's going to be sad to see him go... Anyways! Time for movie night, people! Love you Steevo and Mama. Malcom and Billy y'all are cool too...
Best,
Sam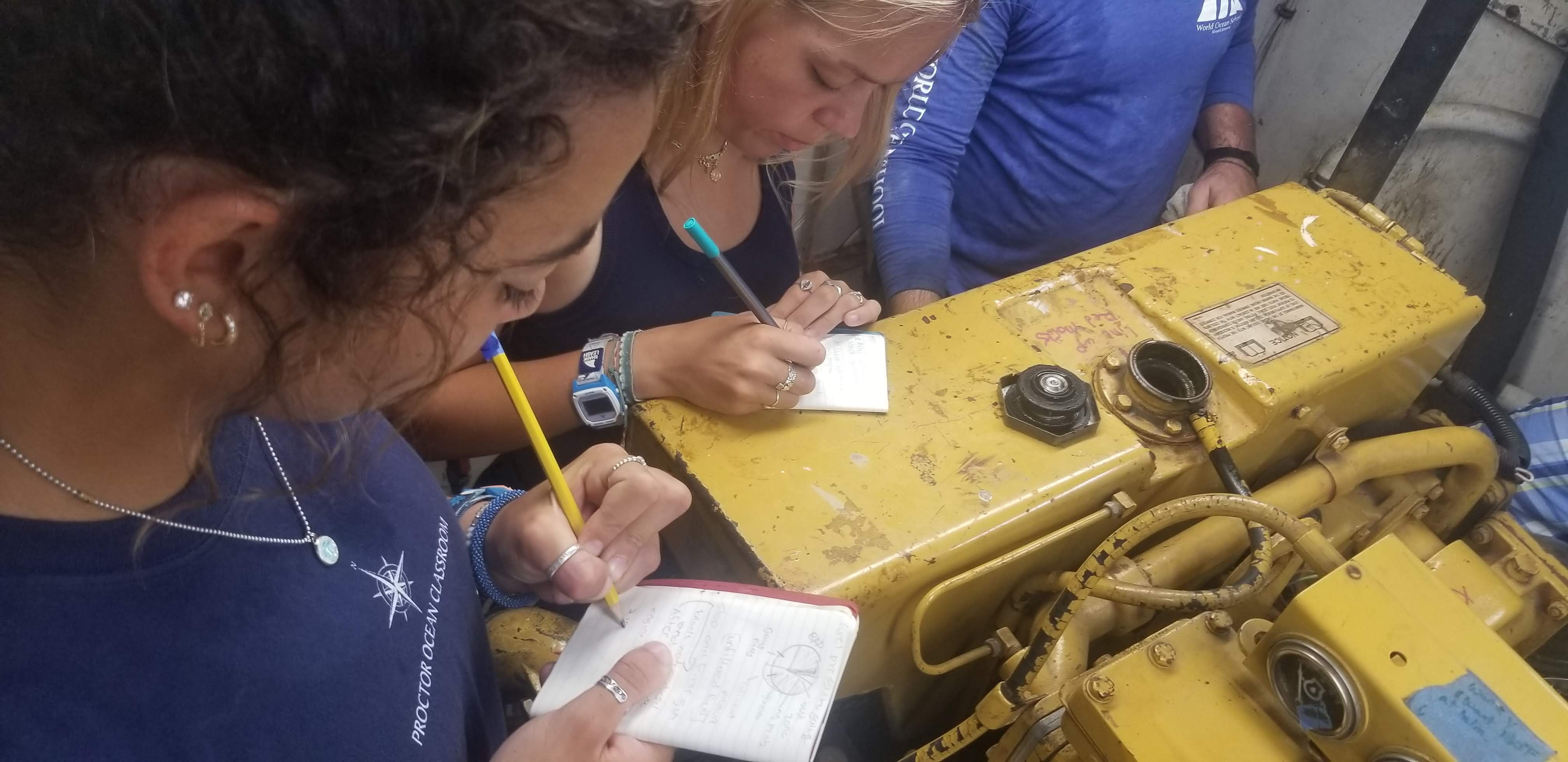 Kara '21| February 12th, 2021
Coffee
Today marks the day, February 12th, that we are now finally allowed to drink coffee. During and after our sunset sail this afternoon the remaining Junior Crew passed their last clearances and are now officially headrig cleared. Now that I got the good news shared and out of the way, we started off the day with our usual (coffee-less)(not anymore) morning chores and went straight into marine biology class with Holly. We learned about marine invertebrates and walked through a phylogenetic tree of invertebrates and how they are classified into kingdom, phylum, class and so on. As we saw how they all connect to each other. Then we had a brief short break before we dug out our ditty bags and got back to work on sewing the first few folds. Several needle pricks and re-done stitches later we ate lunch and moved the boat over to the dock for a deck wash and prep for a sunset sail. After this we had our new Captain Wells come aboard and meet the crew. (Fun fact: He works in Juneau over the summer so we've probably crossed paths.)(Wild) Then, we went out for a great sunset sail and before we left the dock and after the sail we had two scientists board Roseway. They gave us a buoy that we will release into the ocean on our next sail. They talked to us about what they do and what the purpose of the buoy was, which was very cool to see firsthand because I've just finished a unit on marine technology. We went back to the mooring and had a goodbye/ thank-you-for-being-awesome muster with Captain Sikkema where he out of nowhere sprinted across the deck and dove off the side of the boat and we all went WILD. That was the craziest, most fun thing yet to happen and we're all sad to say goodbye. But we're very excited and looking forward to our plans in the upcoming weeks and sailing with Captain Wells. Today was another amazing day in St. Croix and I can't wait for tomorrow.
Coffee,
Kara
P.S. Hi Jaime, Mom, Dad, Annabelle. Hope you guys are doing great, miss you lots!