Each week, or as often as we are able, we will share a Ship's Log from Harvey Gamage capturing the essence of Proctor's Ocean Classroom program. Each student will take a day to share a brief journal entry highlighting the excitement of living and learning at sea. Check out the first week of journal entries below as Ocean Classroom 2021 begins their voyage.
Day 1 & 2 | September 12 & 13
The 28th Voyage of Ocean Classroom is officially underway! Our students are enthusiastic, positive, and eager to get started. Delightfully, everyone seemed to look forward to giving their technology a break for the next two months. Beautiful weather at Camp Kenwood let us all get to know each other in a sandy volleyball court and frisbee field where we all got excited and got moving. It was fun to put faces to names and see personalities shining. Excitement is definitely in the air. After a long day in the sun we had a pizza party outside and later invited advisors to come out to a roaring bonfire overlooking the pond, where the newest O.C. Crew got one last taste of Proctor before we made our way to the sea. We rang a bell to celebrate.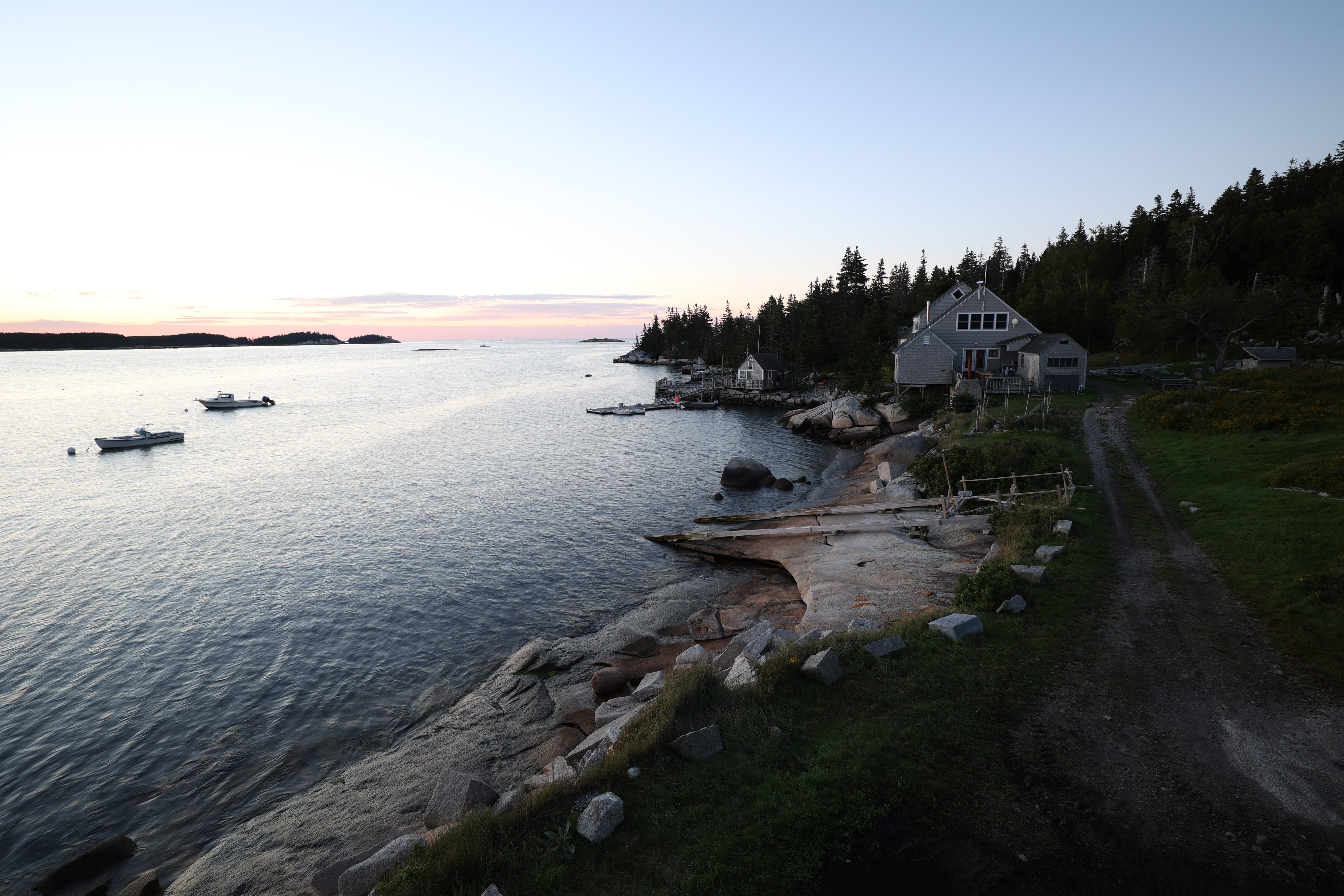 As we write now, we're sitting on a giant hunk of granite at low tide where the smells of the intertidal zone drift on the breeze. Jeff drove the Proctor bus that took us from Andover, NH to Rockland, ME where John took us across the Bay to Hurricane Island. It's been light breezes and sunny skies - the best weather we've ever had out on the island. We met Kyle and Tigris, who took us on a history hike, a swim off the pier, and a sunset hike looking out to sea. It's been a smooth beginning to our journey together and we're feeling lucky to have this time out here. So far, it's been a lot of hauling about of big, heavy bags and we're looking forward to nesting soon once we come aboard the Harvey Gamage.
Many of the students are looking forward to waking up to watch the sunrise early in the morning. We're soaking up our days here and bonding as a crew. As the educators who've known - and are getting to know - our students fro day one, we know how precious this time is.
Holly and Matthew
Day 3 | September 14
They say the best days start with sunrises of a blasting orange and end with campfires of the same. That's just how it went. We woke at 5:45 to River's gasp as Holly shook him awake. It was a frigid night, but those of us in the yurt got up to see the sunrise anyway. As we stood around watching the sun peek over the Vinalhaven hills, a few of us went in search of coffee and a following breakfast. The galley at Hurricane Island treated us to scones, bacon, and eggs, a sociable meal for the day ahead. Activities started shortly after breakfast with a hike around the island in search of marine debris. Tigris, one of our instructors, led the hike. She gave an interesting perspective on where litter can come from explaining that most of it is likely from innocuous accidents rather than on ignorant fishermen.
The day continued with a game of mafia and a following exploration of the island's intertidal zones. We caught crabs, found sea urchins, and learned about problems facing the soft shelled crab population. The afternoon hosted lunch and another band of activities.These seemed to be the team building sort as two groups of 5 took Vixen and Siren, Hurricane Island's very own row boats. Captained by an instructor we learned to row in sync and on time with a number of sea shanties. The hour of rowing was followed by a raft building contest. We were given an opportunity to test our cooperation and knot tying skills. Using only 8 planks of wood, 6 ropes, and three large plastic barrels we needed to construct a raft suitable to transport 3 people across a small pond. Of this challenge few were successful. As the sun began to nestle behind the ocean horizon, we finished dinner and prepared for the evening campfire. The night brought s'mores and campfire songs ranging from Katy Perry to Fleetwood Mac. We sang for hours accompanied by an ensemble of stars. A perfect day.
Tucker '22
Day 4 | September 15
What a day! Today we woke up to rain hitting the window right above my head. We had breakfast sandwiches to start off the day. We got divided into watch groups and headed to our first activity. Watch A headed down to the pier to open up the "spat bags." We sorted out the scallops and any other living thing in the bags. We learned how they use the spatt bags to collect baby scallops to put them in their farm. It was a muddy but very fun activity. We then rotated stations with Community Service. The task was to move w huge metal tank out of the woods and drag it to the metal scrap pile. The only materials we had to move it were some old bamboo and wood poles. We worked as a team to make a trail out of the wood and used ropes to pull the extremely heavy tank out of the woods. It took us a while but with the hard work of everyone we were able to get it out. Tigris, one of the instructors, taught us a bit about plankton and how important it is for the ecosystem. We had our last supper on Hurricane Island and celebrated Will's birthday with an amazing cheesecake for dessert. Tomorrow we head back down to Boston to wave a final goodbye to our parents! Everyone is excited to finally board the Harvey Gamage! Til next time!
Kass '23
Day 5 | September 16
Position @ 2142: 42°21.424'N x 071°02.010'W
The students of Proctor Academy's Ocean Classroom were woken up bright and early at 0630 as we prepared for an early departure from Hurricane Island. The crew ate bowls of oatmeal for breakfast, consumed their last cups of coffee (for awhile) and loaded up all of the gear onto the Equinox. At approximately 0800, the crew left Hurricane Island for Rockland. Then, the students loaded up the bus for a long but eventful bus ride to Boston where the Harvey Gamage was waiting. Despite missing the friends from Hurricane Island and the experiences made, the crew was jumping out of their seats with excitement for their big journey. After a couple of stops and a pizza lunch, we finally made it to the Harvey Gamage in Boston. Everyone unloaded their packs and were very satisfied with their cozy rooming situations. The official crew of the Harvey Gamage showed the students everything there is to know about the boat. Then, the parents of the students arrived and said their last goodbyes to their children. The Gamage eventually left port and travelled a whole mile before anchoring down next to the airport. For the rest of the evening, the crew went over emergency protocol, basic rules, and Tyler the cook cheffed up a gorgeous meal. Everyone is excited to start their anchor watches and set sail to Gloucester tomorrow!
Patrick '22
Day 6 | September 17
Position @ 2219: 42°36.271'N x 070°40.234'W
After a long night of restless sleep, loud footsteps from above and first anchor watches…a hazy morning over Boston awoke. A delicious breakfast made by our cook Tyler stirred up much chatter about the night before. Talk of watches, airplanes, and the barge we almost hit anchored filled the deck of the Gamage. A morning of drills, survival suits and ropes made the morning go by fast. At 10:00 we cast off and started heading for Gloucester. I think we are all missing family and friends now due to the sudden loss of the outside world.But, the good news is my new family is the crew. Everyone on this vessel is so dedicated, kind and loving. For lunch, we had an amazing soup to compliment our grey cloudy day. Underway watches started as we got closer to our first port.
For a twisting turn in our story at 1900 we got the news of a positive Covid case aboard our ship. Sue Norris and Michelle rushed down from campus to our anchored in Gloucester harbor. Quick shoutout to the Health Center for being so freaking awesome! We love you guys. We all had rapid and PCR tests done. Good news is that so far all the rapid tests came back negative. PCR results will have to wait the night. We are now anchored in the middle of Gloucester harbor awaiting our next adventure.
To my friends and family at home, I love and miss you all. ❤️
Nina '23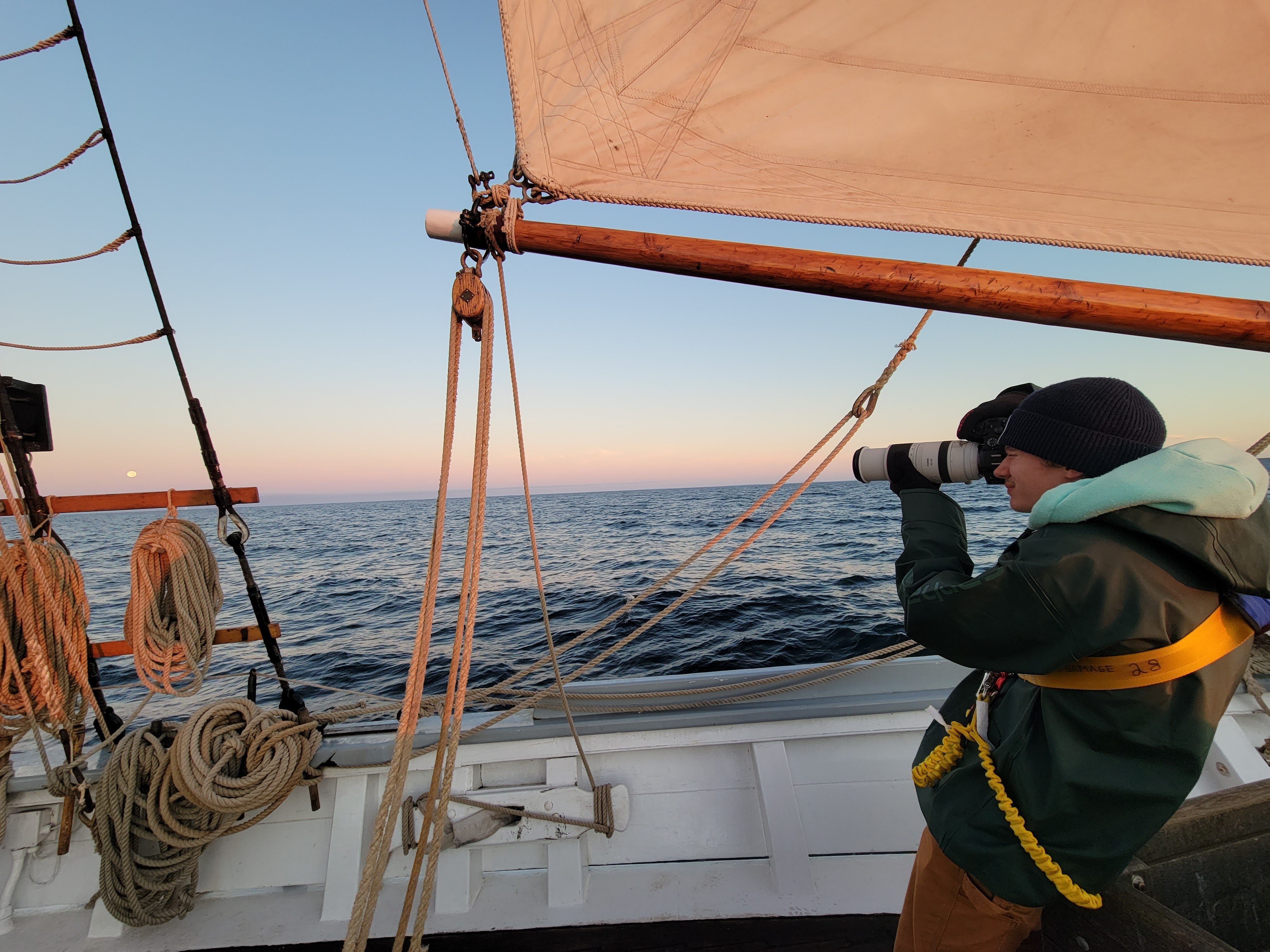 Day 7 | September 18
Position: 42°36.327'N x 070°40.169'W
After a long gloomy night of anchor watch we woke up to an even gloomier morning where we couldn't see the shore of Gloucester. Despite the fog and an expected gloomy mood from the sad news of a positive COVID-19 case from Hurricane Island, everyone was actually in a great mood. Especially after getting some of Tyler the cook's delicious scrambled eggs down the hatch. As our trip North is postponed until we all receive a negative PCR we did a day sail through the fog. We started off by doing a man overboard drill which took us twelve minutes from man overboard to back on the ship. We aim to get it down to six minutes in the future. No, we didn't actually throw a man overboard, we used Oscar, a soccer ball wrapped in a net. After the man overboard drill we moved into tacking drills and practice. The fog started to clear and everyone cheered up after getting to actually do something while tacking. When the drills were overweight started back towards Gloucester at a blistering 1.5 knots. All hands helped lower sails while I took some epic action photos. The sun was now fully shining and everyone was overwhelmed with joy. We feasted on lasagna and breadsticks for dinner. Now we are watching Life Aquatic and winding down for the evening. Earlier I took the first Polaroid to be added to our best photo album. It didn't turn out great; I much prefer my mirrorless camera. At this moment we are still eagerly waiting on our PCR test results.
ALL PCR TESTS NEGATIVE!!! We are celebrating with a hearty breakfast.
Gunnar '22
Day 8 | Sunday, September 19th
Sunday marked the start of a day filled with new adventures. After a filling and amazingly good breakfast of toad ina hole and oatmeal, the sky finally started clearing up. Chores were done and we learned that Sundays were maintenance days on the ship. Holly called us together to start our very first marine science class. We went over the syllabus and learned about our classwork and homework for the upcoming weeks. All hands was called by the chief mate where we were told we were allowed to swim! An avalanche of students jumped off the boat and into icy waters. A ball was passed to the swimmers, who decided to try their hands at water polo. All too soon we had to get out and dry off and warming up, we lifted the anchor to make our way to another schooner in Gloucester, the Adventure. After we were alongside the Adventure and tied down, to tour the (much) larger boat. There we learned that their sleeping compartments were also much larger than ours and slight jealousy made itself known. However, we (apparently) have much fancier Sundays than expected and an (obviously) amazing cook! The chief mate had called us together once again to tell us that for Sunday dinner we dressed in our "Sundays Best." Everyone rushed to get ready and came back looking fancy. Gunnar brought out his camera and everyone had a quick photoshoot. Dinner was eaten and I took a quick polaroid of everyone in their Sundays Best! After that I asked a few people what their favorite parts of the day were and found that swimming and dressing up were the majorities favorite parts of the day. Soon after, nearly everyone gathered to play a quick game of mafia before heading to bed. Tomorrow we plan to set sail once again to head toward Rockland, ME.
-Lillian '23
Day 9 | Monday, September 20th
On to the next destination! Today was another fun filled day that had perfect weather. We started off the day with a great breakfast and then of course daily chores. After that we started to go underway. I was really excited to go to Rockland, ME as it's a 26 hour journey where I get to experience watches. Setting our sailings up with clear blue skies and the sun glimmering on the water was the perfect starte to the first long trip. Being out in the open ocean was amazing and fleeing the sight of the shoreline felt good. It feels very refreshing to be out at sea and the wind has been perfect. The seas also have been quite flat so everyone has been quite satisfied and the sea sickness hasn't been much of a worry! I'm excited for tomorrow as I can watch sunrise and see the stars. Today was a terrific day with a great crew. On to tomorrows journey hopefully with clear skys.
Ava '23
Day 10 | Tuesday, September 21
The resilience of this group never ceases to amaze me. Just 10 days in to Ocean Classroom we have already faced a variety of physical and emotional challenges, but the energy remains impressively high. The last 24 hours have been some of the most enjoyable yet. Last night on watch, as I stood in the bow on lookout, I was fortunate enough to witness a pod of whales on our starboard side. As if this wasn't mesmerizing enough, we were greeted earlier today by several porpoises as we sailed north to Rockland. Soon after, we gathered for our second class of the voyage going over the history and literature syllabus, singing sea shanties, and organizing our assignments for the rest of the voyage. However, I think the best part of the day occurred in the last couple of hours before sunset. As we began to see the lights of Rockland in the distance, we gathered in the center of the deck singing classics from Jason Mraz and Elvis as Holly strummed softly on the ukulele. Although a polaroid was taken, I don't believe a photo could ever fully capture the emotion of this moment. Not even two weeks into this adventure, I am confident that many more like it will follow.
River '22