For the first time ever, Proctor Academy offered a winter Ocean Classroom program. Based in St. Croix, the program partnered with the World Ocean School to offer eight students the opportunity to study, explore, and serve others within the St. Croix and surrounding island communities. Read student journal entries from the past two weeks below. A huge thank you to the World Ocean School, Holly, Ocean Classroom director Brooks Bicknell '77, and the crew of Roseway for making this adventure happen!
Cam '21 | February 23rd, 2021
Culabrita to St. Thomas
I awoke at 0700 to Jack's wakeup and the sound of the main engine. I get up on deck at around 0725 to jump on hauling lines as everyone had started hauling away on the peak and throat halyards of the mainsail. Fern raised the anchor as Capt. Wells put us in forward. Myself and the crew frantically ran around deck securing loose lines and manning the sheets. Once we got headsails up and trimmed we sailed away from Culabrita. Once things had settled we got to breakfast as the sea state grew to 5-6 feet. After an amazing Arepas based breakfast we were broken up into our watch groups which were 4 hours long. I ran to the foredeck to admire the beauty of Culabrita and its surrounding islands. We got into our Buccaneer/pirate presentations at 0900 which was a huge success underway. Once everyone had ran through their presentations we got back to watch where I took over at the helm on course to St. Thomas. At 1200 we were relieved by starboard watch and I went below to get some trolling lures ready. After, I set up some hand lines. I took a nap and when I woke up we were in Lindbergh Bay, St. Thomas. Port watch got ready for the beach as starboard watch furled and set the anchor. We lowered the small boats in the blue water. We were all shuttled to the beach by Susz and enjoyed some much deserved beach time. At 1730 we got back to the boat and enjoyed an amazing burrito dinner prepared by master chef Adam. We ate dinner and got into anchor watches for the night.
See ya,
Cam
Casten '21 | February 24th, 2021
St. Thomas to St. John
Good morning! Today was another day of sailing from Lindbergh Bay, St. Thomas to Christmas Cove (or so we thought). We woke up at a normal time and ate a breakfast of breakfast bowls. We prepared to set sail right after breakfast and ended up setting out around 0930. Today was closer to land, so smoother seas, kind of, and a lot of tacking. We were going an average of 6-8 knots depending on the tack. The creepiest thing was we sailed by Epstein Island, also called Little St. James. Definitely an eerie feeling sailing by. My watch, port watch, was on for about 3.5 hours working on boat checks, helm and forward lookout. I helped teach the 3-point bearing fixes where you find the ship's location with compass measurements and intersecting course lines. As we started making good time and progress, we decided to sail to the west point of St. John instead of east St. Thomas. It is a beautiful cove with lots of white sandy beaches and blue water. We finished off our night with some swimming off the boat, a formal Wednesday dinner with a beautiful sunset and a Moana on deck movie night. Super excited for a hopefully beach filled time tomorrow.
Good luck Charlie,
Casten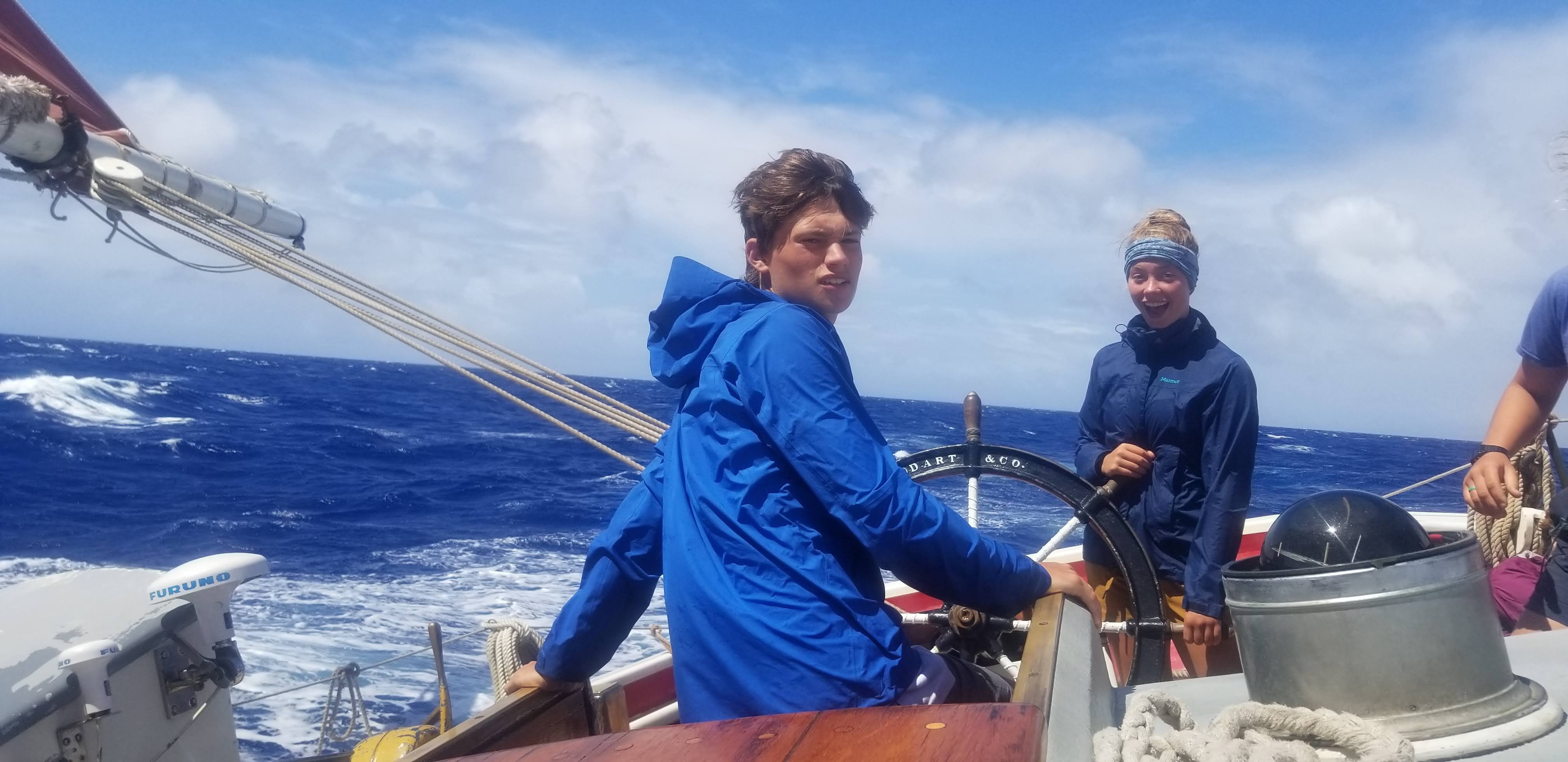 Jack '21 | February 25th, 2021
Shanty Night
After our breakfast and muster we got chores done as quickly as possible so we could make our way over to Francis Bay, St. John. We left our views of St. Thomas after a perfect sunset and tacked our way over. We passed a bunch of cool islands including Jost Van Dyke. We got to anchor surrounded by crazy yachts but wilder views. We were all super excited to finally get to the beach. We spent a couple of hours on the beach and had a writing class with Adam. It was a great time to reflect on some aspects of the trip, while sitting on a beautiful beach. We headed back to the boat where we had some off time while the sun set. Then we had dinner and eventually that led into our shanty night. 4 groups of 2 performed for the crew and students. Something that some were looking forward to, and others not so much.
Signing off,
Jack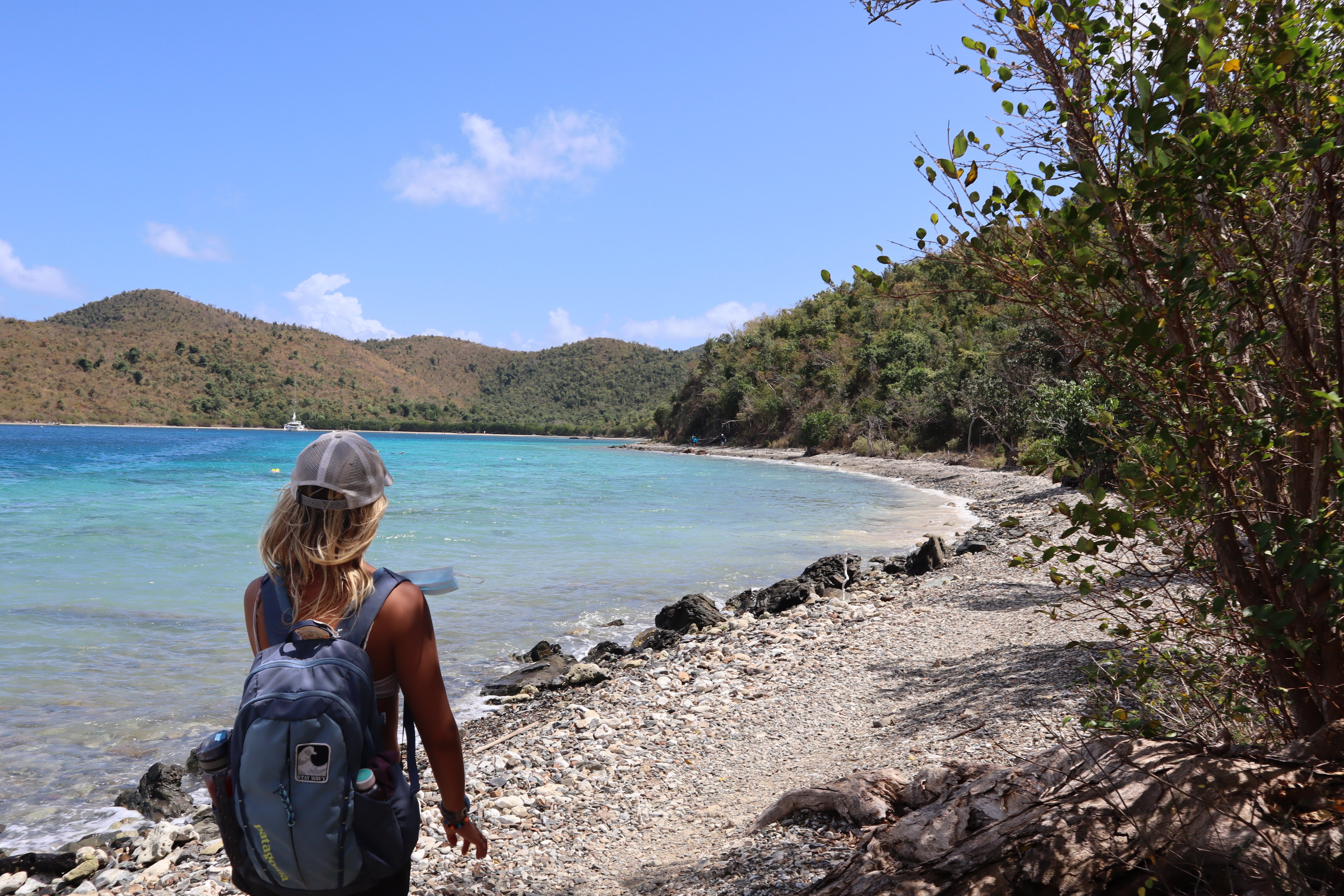 Louisa '21 | February 26th, 2021
A Busy Day In St. John
Today, we had our usual wakeup at 0715. We ate breakfast tacos, had some coffee (of course) and got together for muster. We quickly got our morning chores done, made bagged lunches and started small boat rides to shore. We walked to the beach and from the beach we walked to the Annaberg Sugar Plantation. Today there were demonstrations because February is Black History month. We met Yisrael Petersen who is a Moko Jumbie. A Moko Jumbie is a traditional stilt performer that signifies a deity that watches over his village for danger, traditionally coming from Africa and Trinidad. We danced with Yisrael to the beautiful live music. We got to see around the sugar plantation and met a lot of people along the way that explained the history to us. We got to try fresh sugar cane and gooseberries. Sam and I made friends with the man with the sugar cane, so we walked away with a lot of sugar cane and berries. We can all agree that fresh sugar cane is amazing. We said goodbye to the people at the sugar plantation and hiked down and on the beach for some swimming and snorkeling. There were SO MANY sea urchins there, so that was a little scary. We then went up on a hike to some ruins and saw some goats. The view was gorgeous, and we took in all of the views. We hiked down and back to the beach to be picked up by Nick. We came back to the boat and had some free time; then we had delicious dinner -once again- shout-out Adam!! We finished up the night with some games as a whole crew. A good day in St. John! Ok, bye for now!!
Louizzle out,
Louisa
P.S. Happy almost birthday Sam. See you soon kid, love you. Also shout-out Lu, miss you buddy.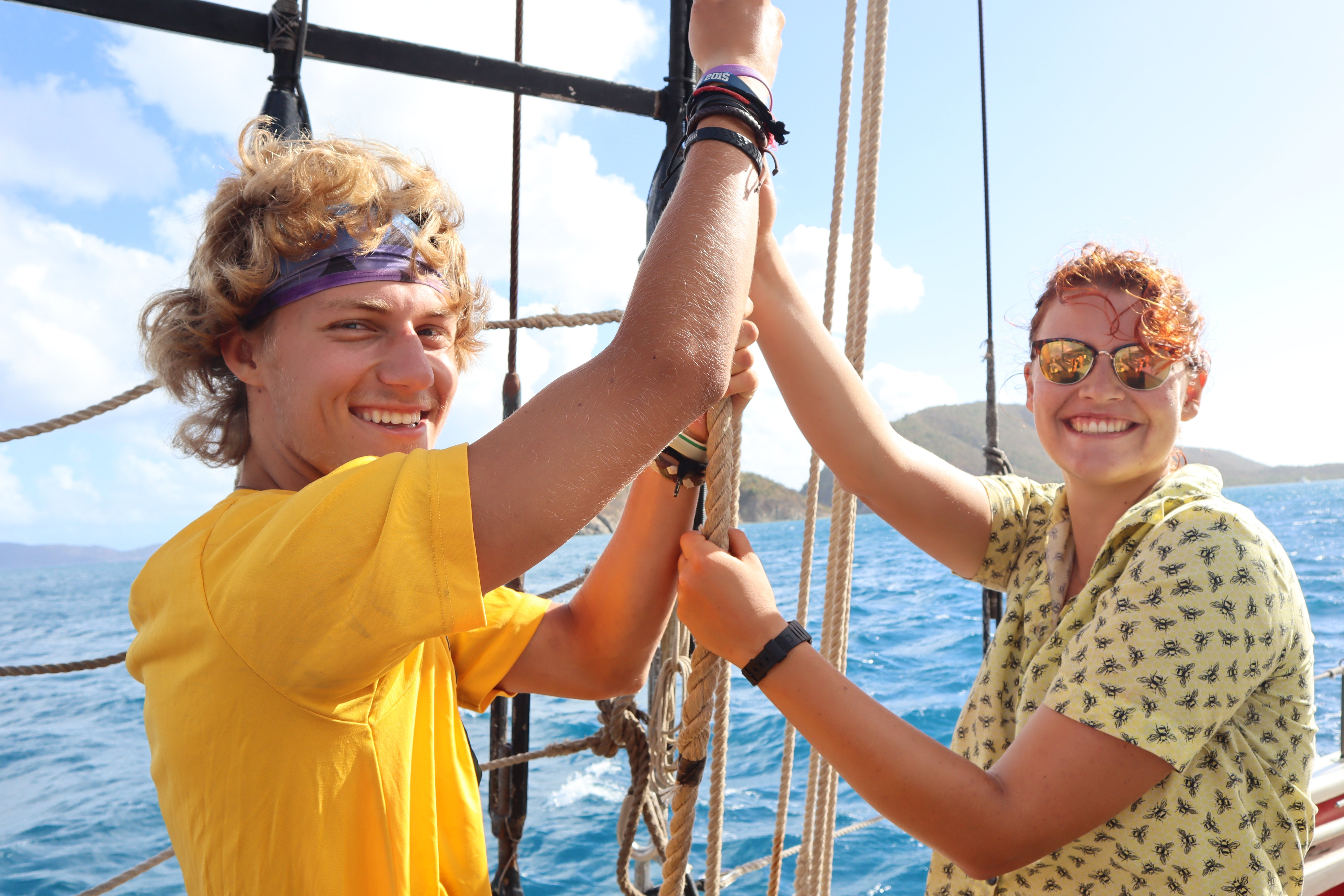 Sam '21 | February 27th, 2021
Last of Many
Today marks the last of many for me on the Roseway. Not to start this ship's log off with a damper, my apologies! -Hellooo ship's log! Today we prepped the fore, staysail, and a reefed main on our departure from St. John. Port watch was on first, so starboard watch, including myself, caught some 'x-tra' Z's. We awoke to a sea state of 7-10 feet! 20 knots winds, and waves crashing over the side. Many of our soldiers were sick due to the conditions, but I was loving it! We went to grab some chow and the biggest swell hit our port side; a wild bowl of A-yo mayo flew across the galley and all over the sole. Slip-and-slide initiated. Jack hit the splits, Kara slid into the sink and I only had two hands to try and hold everyone up. This continued for 15 minutes and we could not stay up enough to escape! That was hilarious, and the waves really picked up during our watch. We averaged 9 knots the whole way to Christiansted, when we average 6.5 on a good sailing day. It was so awesome to feel the waves crash against Roseway and see the crew fly around. Picking up where I started off, today marked the last of many for myself on Roseway. Primarily it marked the final day of transit, the last day on the open ocean, the last day in St. John, and my final ship's log of Winter Ocean Classroom 2021. On that note...for the last time...peace out yo!
Best,
Sam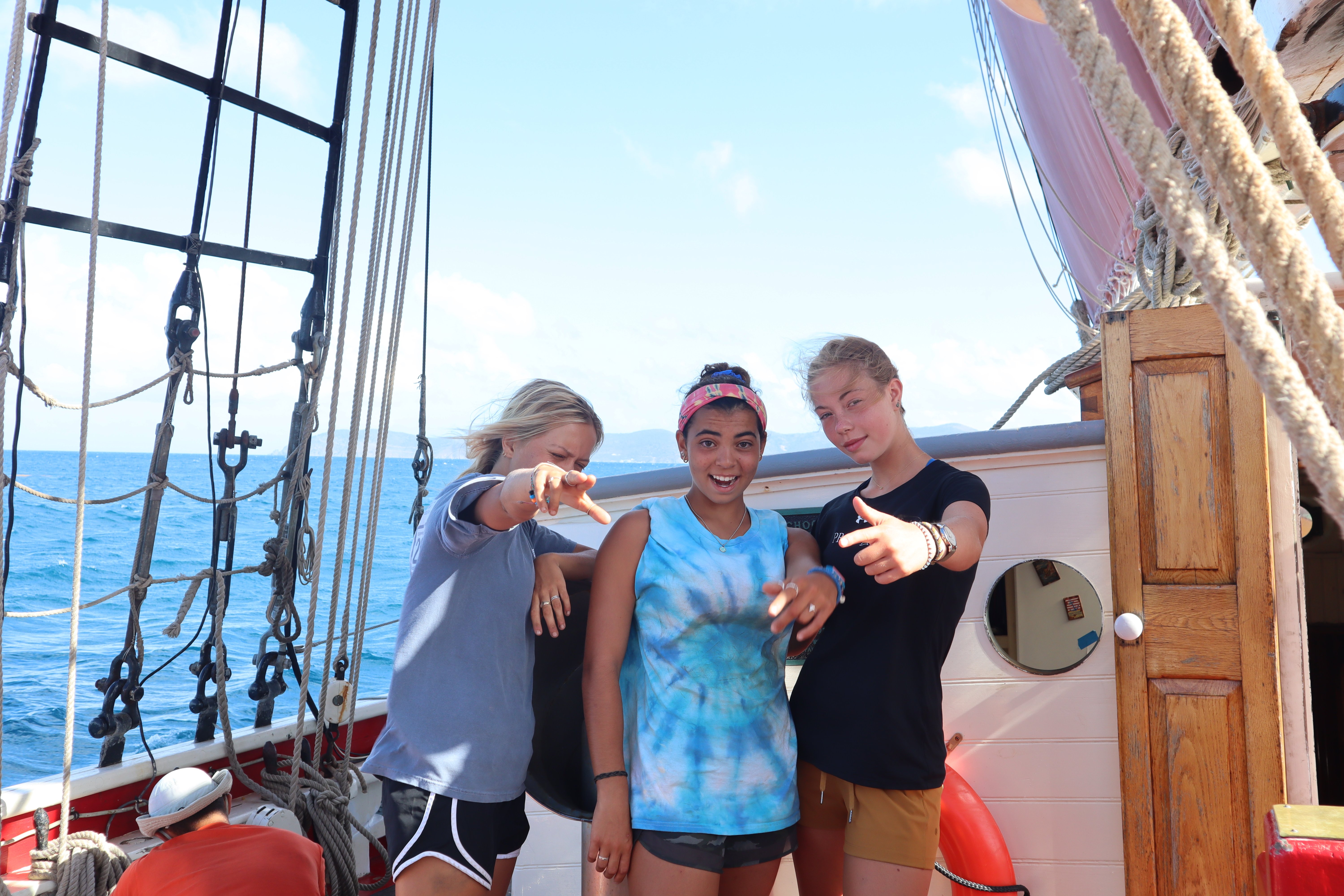 Kara '21 | February 28th, 2021
School of Rock
Today started out with a much needed and appreciated sleep-in after the excitement filled voyage back to Christiansted yesterday. Some of us used that free time to journal, work on our ditty bags, or get as much sleep as possible. After having a relaxing and productive morning we ate lunch and transferred over to the dock. We did a deck wash (our first in a while) and made the boat all set for the Green Cay Yacht Club to sail tonight. Shortly after the Jr. Crew gathered our things and any work we had and walked over to the World Ocean School office. We realized once we got there no one remembered to bring the sail thread for our ditty bags so we couldn't work on those. Instead we watched School of Rock! Which was word for word excitedly commentated by Sam and Adam. Also Adam went and bought us all delicious pizza during the movie so shout out to him for that! After the movie ended we all talked about our favorite and least favorite moments on the trip so far. We walked back and caught the dock lines from the sail and went back to the mooring. We ate dinner and ate the best banana bread I've ever eaten and most of the Jr. Crew prepared for our Marine Bio finals that we'll be presenting tomorrow. We all came up with a class to teach on a topic we have learned about. Louisa and I did ours on the "Life cycle of a plastic water bottle" and how microplastics are affecting our oceans. I'm excited to see what other groups come up with! I also can't believe we only have 5 days left in sunny St. Croix!
Off to the last few adventures,
Kara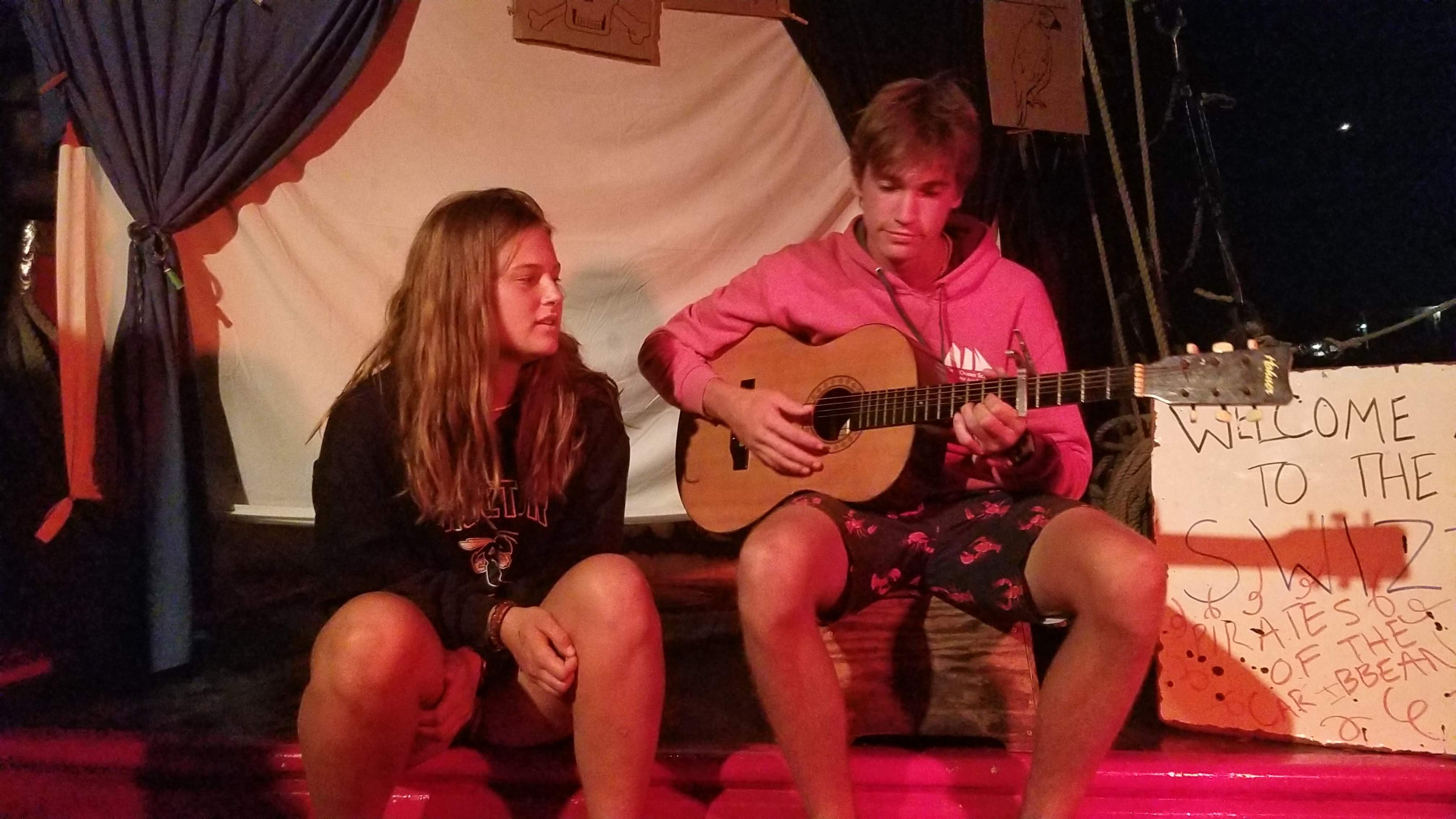 Teige '21 | March 1st, 2021
Everything Is Flying By
It's March! Which means there are 4 days left on our adventure on the high seas. :( Although we are all excited to take some much needed real showers and flush a toilet, I think I speak for the Junior Crew when I say we aren't ready to leave Roseway just yet. However, I must say that I am extremely excited to finish Marine Science! Today we have our final presentations about a variety of different Marine Science subjects that we have been taught over the course of the winter term. Sam and Jack started it off with a zoomed in analysis of a 1x1 meter of coral. Then Lou and Kara talked about the life of a water bottle and what you can do to stop polluting the oceans. Cam and I were up next to talk about the ecology of fishing in the Caribbean, and Casten and Ang finished with a class about waves. After class we welcomed the CCBGVI kids aboard and had a great educational sail until 1500, the Junior Crew then stepped off the ship for some off time at the park. It's honestly shocking to me how fast everything is flying by right now, we only have 4 days left. Wow.
Signing off (for the final time)
Teige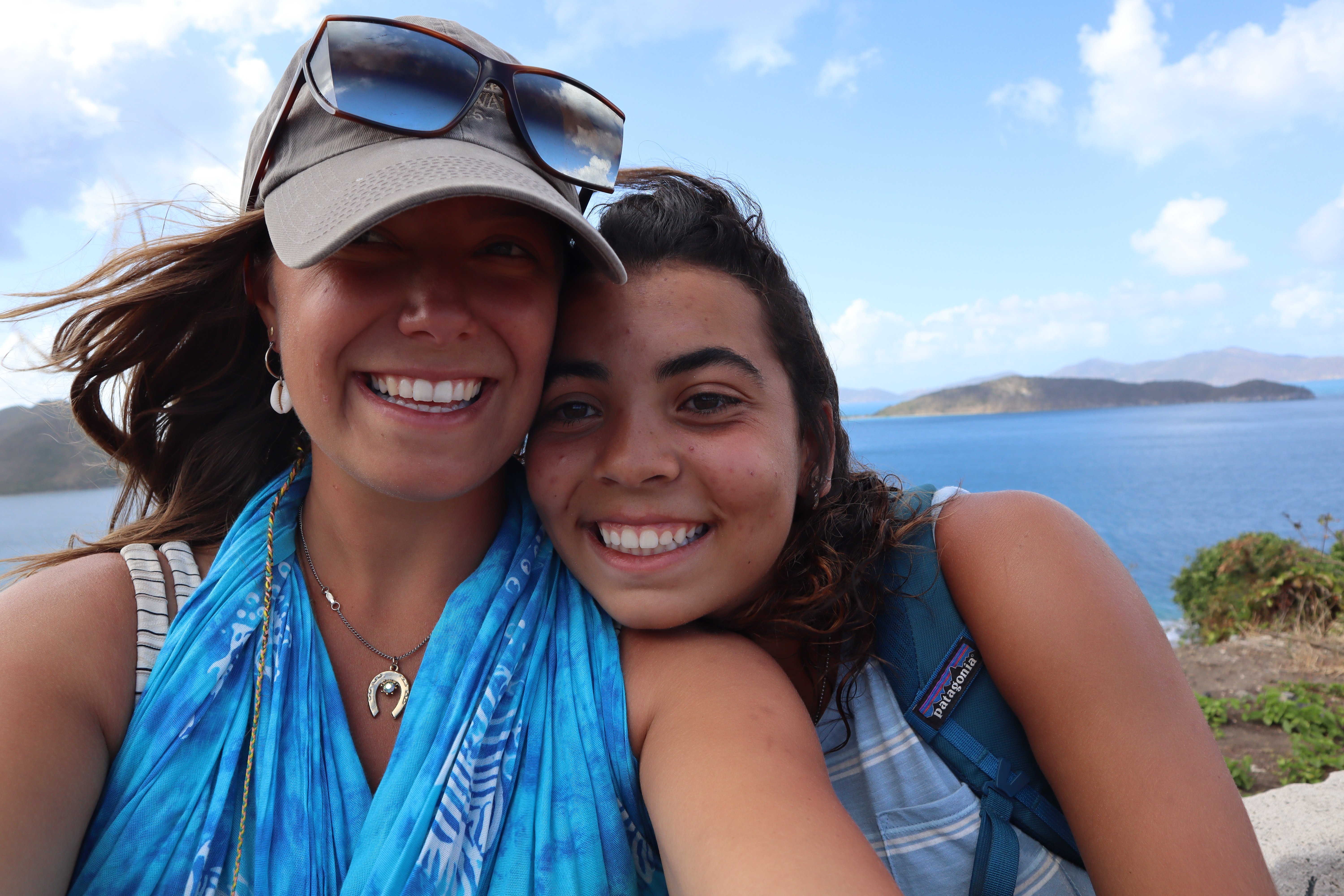 Ang '22 | March 2nd, 2021
Night Kayaking With A Twist
Hello from Christiansted! We started our morning off with a quick shift to the dock so that we could start our field day. When you hear the words field day you were probably not thinking the same thing so let me clarify. Our field day consisted of thoroughly cleaning the galley, salon, and deck. We tore it all apart and cleaned/organized everything which sounds like a lot. It was. Although it was a huge chunk of work we all worked together and got it done. Now let me tell you about our real adventure of the day. After eating lunch, swimming, and relaxing for a bit we headed over to Salt River Bay for a night kayaking *tour. Before we knew it we were all in our kayaks zooming around the bay; it was awesome. My kayak buddy was Kara and we were having the best time pedaling around and even going under a catamaran. Then our group headed over to the Bioluminescent Bay after exploring the mangrove forest. At the Bay we saw so much bioluminescence in the water and it was so awesome. Kara even caught a Moon Jelly and we got to touch it. Then when we were heading back Kara and I were pedaling and the next second we were in the water. Our kayak completely capsized after we got T-boned by Jack and Cam. Although the rest of the ride back was cold (and trust me, I'm still cold writing this) it was still such an amazing memory that I will always look back on and laugh. Only two more full days left and we are going out with a bang. Signing off one last time.
Forepeak Closed
Ang
P.S. Can't wait to see you Sagerrr
*Once we got to the Bay we instantly became friends with the cutest puppy, Marley who loved all the attention. She was so cute and loved giving us kisses.
Cam '21 | March 3rd, 2021
O'Doyle Rules
Another early morning with wake-ups around 0730. Sam and Kara (the duty people) gave us good questions and we had a cold breakfast of corn flakes. After we ate we shifted over to the dock and got ready for our educational sail. We mustered with Colin and got the plan for the rest of the day as well as the lesson plan. We got to work getting ready for the arrival of the students. Once the boys and girls arrived at 0900, we got right into casting off from the dock and headed out of the channel. Cap headed into the wind and we got to work hauling the main, peak and headsail halyards up. We got out of the channel at 7.8 kts with a reefed main. Once we got out of the channel Colin broke the kids up into three groups and me, Sam, and Eli started our sea shanty class with our "For The Night" themed sea shanty. The kids loved it. Once everyone cycled through the Dutchman's Log class, Navigation class, and Sea Shanty class we headed back for the mooring after a quick tack. We lowered sails once we got back into the harbor and started getting dock lines and fenders ready. Once we got to the dock the kids headed off the boat. We had some downtime to have a quick swim call and I went fishing for a bit on the Port Authority dock. We got our things and headed off the boat and headed for the office to watch Billy Madison. We enjoyed Adam Sandler's stupidity and some time on land. We headed back to Roseway at 1800 and got back onboard for the night.
Signing off,
Cam
Casten '21 | March 4th, 2021
The End Of An Era
Final day here in St. Croix. We woke up at 0715 for the last time all together. We got up on deck for a breakfast of breakfast burritos which were delicious. After doing dishes and morning chores, we began field day part 2. Starting by packing up all of our stuff and clothes before taking all of our beds and mattresses apart to clean. We swept, scrubbed, sprayed, munged and reorganized every inch of the fish hold, our home for the past 2 months. We even replaced the moldy diapers! It was a long and sweaty 3 hours of straight cleaning and sweating before eating a lunch of sandwiches and veggies with hummus. Right after, we went to town for some shopping before we leave. First stop, my favorite stop, Sonya's Jewelry Store. We all (the girls) bought matching hook bracelets, which are traditional Cruzan bracelets very prominent in the culture. We were all so happy to get these new souvenirs. We stopped at a tourist shop, Purple Papaya, as well as a surf shop, long awaited. We got back to the boat for a quick dip and tanning (last bits of fun) before a deck wash in our swimsuits. Last deck wash! We changed into our Reds for the last time for the last sunset sail. This sail was super relaxing, with a beautiful sunset and calm waters. It was so much fun running the sail by ourselves for the final time. After dropping off the passengers, we had a muster, where at the end, all the Junior Crew jumped off the side of the boat in clothes as the final send off. Wet and dripping, we came on deck and had an AMAZING dinner of BBQ brisket, mac and cheese, (which was literally the best I've ever had), and cornbread with salad. We had to clean up then....SWIZZLE (talent show). There were so many amazing acts ranging from singing to skits to poetry and exotic dances. So much fun. We had fruit juices and key lime pie and everybody hung out as a group for the last time. Such an amazing experience with the best people. Love you all!
Last time,
Good luck Charlie,
Casten
Jack '21 | March 5th, 2021
Fair Winds and Following Seas
This is the final wake up, we were all headed to the airport today. Some of us taking a little vacation first, others heading home. The first group said our goodbyes at 0615 to the rest of the students and some of the crew. We loaded our bags all onto the small boat and took off as we saw our last view of
Roseway
during sunrise. Other students had a few more hours on her before they had to leave for the airport. We had our highs and lows on this trip, some times that will stick with us for the rest of our lives. We got to experience things that few will ever get to. Between diving, voyaging, working with the Community Center for the Boys and Girls of the Virgin Islands club, and exploring the Caribbean we're all going to take something away from these 2 months. Everyone had their own ups and downs and at the end of the day we all had each other. People we weren't close with at the beginning are now best friends and that's something we can take back to school this spring. We all got home safely, with all of our flights on time and some coming in much earlier than expected. Some of us had our final goodbyes in the airport as we left the people we had been with for 2 months. Very bittersweet, ready to have some privacy but also going to miss waking up in the morning and having everyone right there. Whether you loved it or hated it, we all came back with a tan!
Best Fishes,
Jack AKA Mr. Fedele