Proctor Academy's Ocean Classroom program aboard World Ocean School's Roseway is now two weeks into their adventure down the eastern seaboard. As Hurricane Matthew makes landfall in Florida, Ocean Classroom waits out the storm in Baltimore where they will be engaging in community service projects with local school groups. Enjoy this update from Roseway as students reflect on the sail from Mystic to Baltimore!
September 30, 2016 - Alex '18
After a fun-filled day in Mystic Seaport, the Roseway was underway by 08:30. Since the weather forecast called for high winds, Captain Paolino ordered a deep reef in the mainsail, shrinking its surface area by almost half. In order to avoid the open ocean, we headed through the Long Island Sound towards New York City. Even though we were in protected waters, the sailing was intense. Steady winds of 30 knots with gusts up to 40 kept all hands on deck. Seas 6-8 feet required all crew to wear harnesses and remain clipped to jack lines running from the bow to the stern. It was a very wet, tiring, but exciting day. Due to the strong winds out of the NNE, Roseway covered roughly 90 miles tacking her way through the sound. It was awesome, scary, and we were all thrilled to finally drop anchor at about 23:00 hours after sailing all day steadily at 10 knots with just three of four sails raised. Everybody's spirits stayed high even when taking 8 foot swells to the beam. Tomorrow we set sail at 03:00 hours in order to make up time lost by avoiding the open ocean.
October 1, 2016 - Lucien '18
This morning our B Watch crew woke up at 03:00 to set sail early. The previous watch on deck, A Watch, who had been on duty since 23:00, was not allowed to go to bed until our anchor was raised and all sails were set. Then B Watch took over and sailed Roseway down into New York City taking our way through the sound.
At 11:45, Roseway passed under Brooklyn Bridge. Many of the crew witnessed the Statue of Liberty for the first time and Roseway received many waves and honks as it passed through Ambrose Channel and set its course order at 190 degrees, the winds picked up to 15-20 knots from the NE. At 16:30 the captain rigged up the mainsail preventer so the boat would not jibe while sailing at a beam reach down wind. After a full rotation of watches throughout the day at 19:00 A watch was again relieved by B Watch, the bilges were pumped, the jib was struck, and the wind was 20-25 knots NE.
October 4, 2016 - Dennis '18
07:00 - Breakfast - Breakfast Burritos with Peaches
09:00 - We lifted anchor and raised four sails
13:00 - Lunch - pasta with beans and biscuits
13:30 - We began to motor into outer Baltimore Harbor
18:00 - We dropped anchor in Baltimore near the shipping docks
19:00 - Dinner - pork mashed potatoes, bread, and brownies
20:00 - All hands muster on deck. We talked about things that went well, things to work on, and our plans for Baltimore and waiting out Hurricane Matthew
21:00 - Everyone is in the main salon studying and catching up on work...we have a lot of assignments due this week.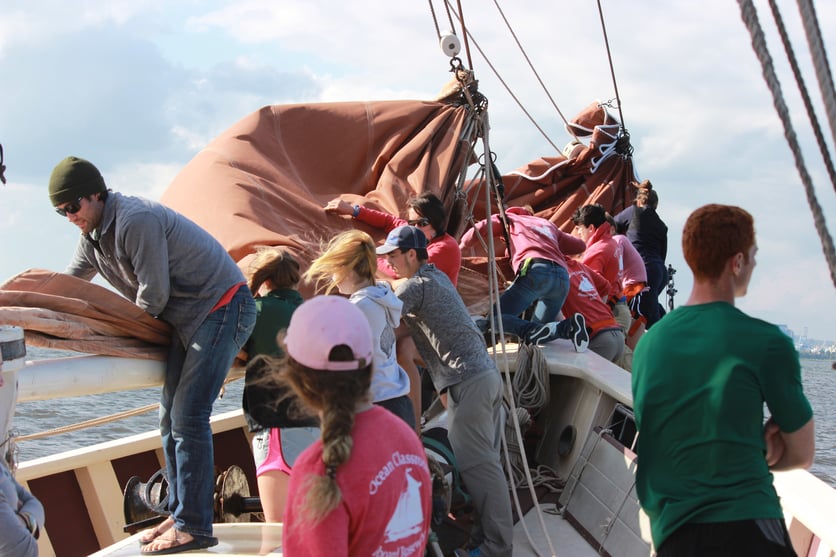 Today my watch (B Watch) started our watch at 03:00, however, today was my special day and I didn't wake up because I had galley duty. Galley duty is boot language for being the cook's helper. Every student board has galley duty twice during the voyage. That being said "galley duty day" is a little different from the average day aboard Roseway. This morning I woke up at 05:30 and trudged up from my bunk to the kitchen to help prepare breakfast. I enjoyed a cup of coffee as I began to bake biscuits. Coffee is only given if you are on galley duty, so it is one of the benefits I looked forward too! Caroline is the cook on board, and she is a pleasure to work with. One thing I realized today is that the dreaded chore of galley duty isn't as bad as it is made out to be. On another note, I'm excited to be in Baltimore tomorrow!
It is always exciting to arrive at a new port, and Baltimore is unique in many ways. Tomorrow we have small boat sailing trip planned around Baltimore Harbor. I'm interested in how different it will be sailing s small boat versus the 137 foot Roseway. So far the ports have been my favorite part of the voyage, and I want to stop in as many different places as possible. Today was a good day, the voyage is already flying by and I'm trying to take in as much as possible before it concludes.