Proctor Academy's Ocean Classroom program enters their fourth week at sea aboard the schooner Harvey Gamage. As students engage in classes, begin to get headrig clearance, and learn the ins and outs of life at sea, the crew prepares to head out of the waters of coastal Maine and begin their journey south where warmer weather and new adventures await! Read more from the past week aboard Harvey Gamage below!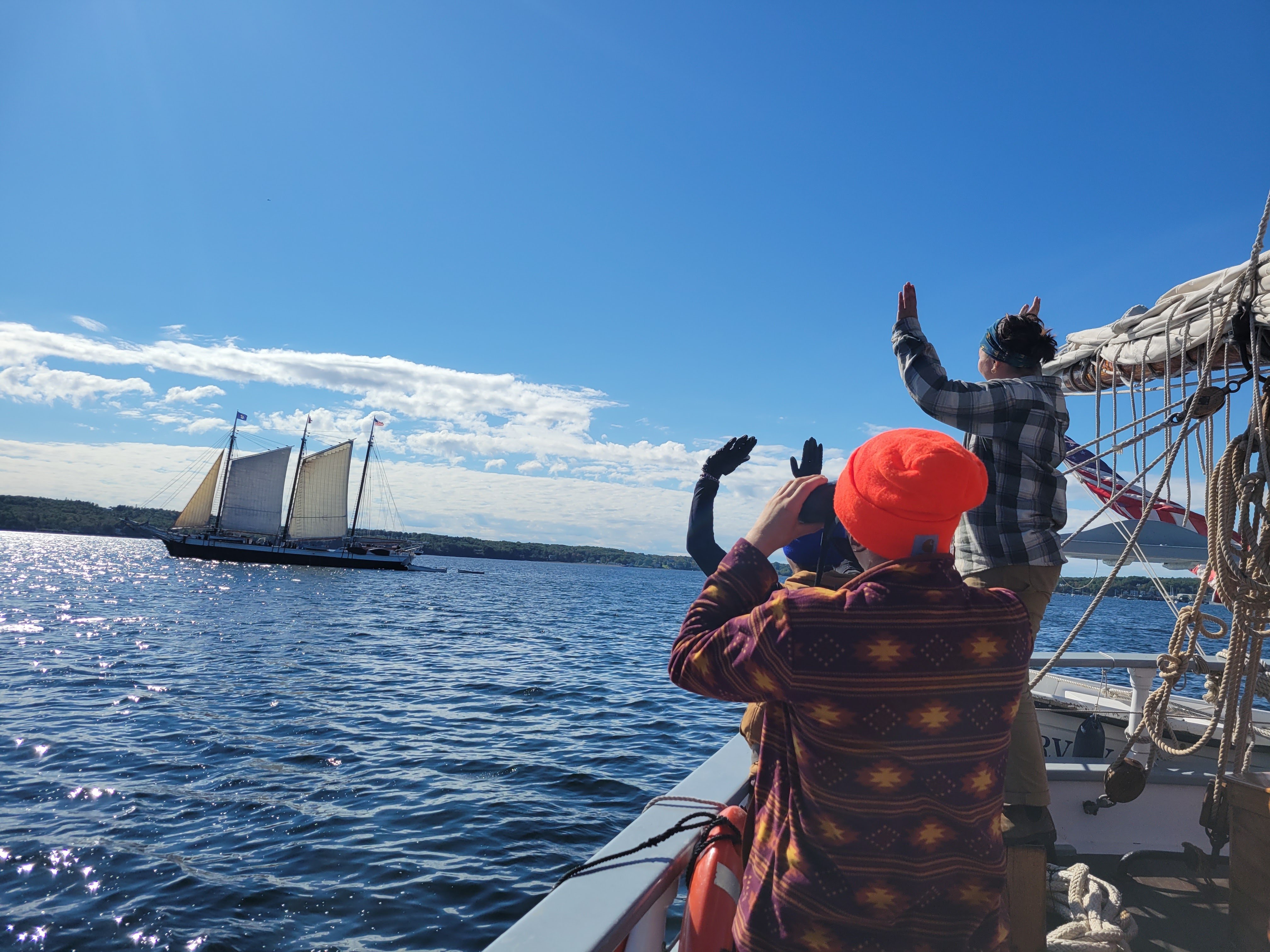 Day 18 | Wednesday, September 29th
N 44° 06.356 W 069° 06.420
After sailing around Maine for about a week, we landed back in Rockland. A chilly night of watches lead to a beautiful sunrise above the breakwater lighthouse. The cold Maine mornings make the crew crave the warmth of the south. Following our morning marine science class, we pulled up anchor in preparation to dock in Rockland. Captain pulled a quick 180° reverse in the narrow harbor that landed us perfectly in-line with the dock. From then, our day continued to get more exciting once we handed in our week old clothes to get cleaned, all packed into one pillowcase. Venturing into the quaint downtown of Rockland was a nice reset. After an hour, we ran back to the ship where hamburgers, fries, and strawberry shortcake awaited our arrival. Full stomachs, clean laundry, and three hours later, we mustered to learn about a "friendly" game of assassin in our future. We'll be watching our backs as our fellow crew members try to trick each other throughout the week. Curveball after curveball, this group continues to enjoy each other's company through late night poker games and impulsive dance parties. We are ready to see what tomorrow brings!
Natalie '22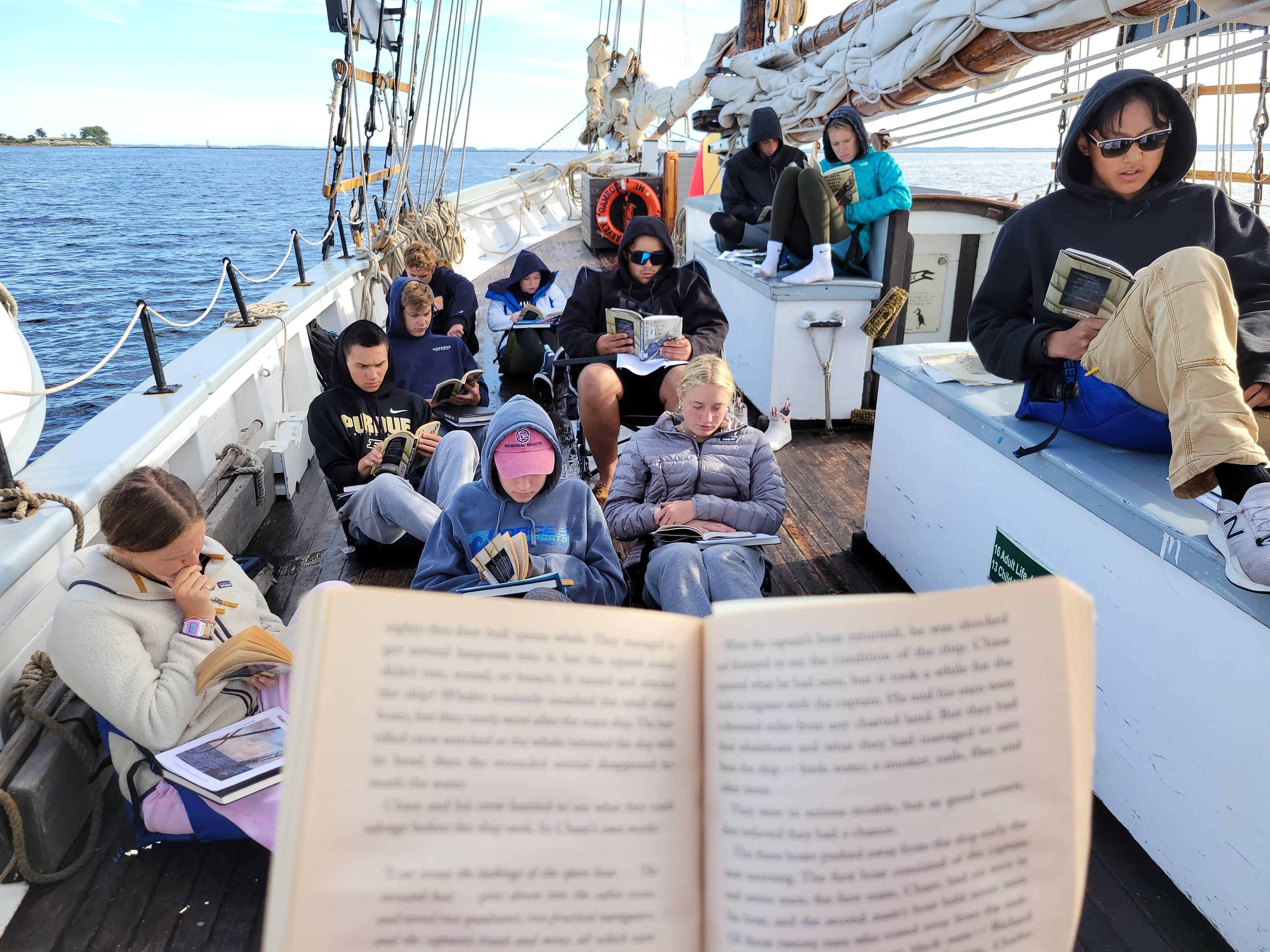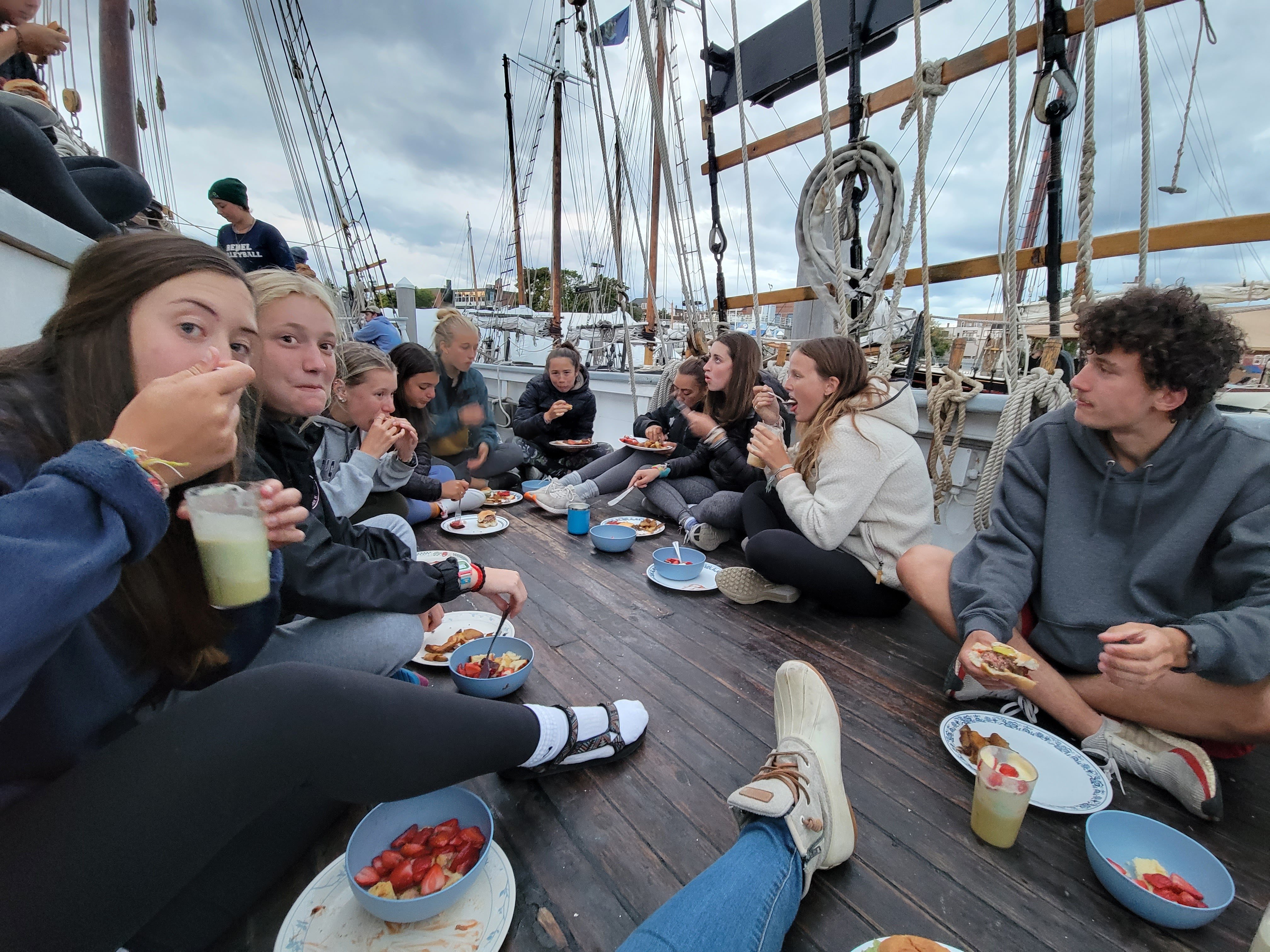 Day 19 | Thursday, September 30th
N 44° 06.356 W 069° 06.420
With every day that we've spent in Maine, the weather feels more and more like fall. Unfortunately, we woke up to the pitter-patter of rainfall hitting the deck, and reluctantly rolled out of bed into the cold and wet morning. Thankfully, we were blessed with Tyler's amazing breakfast which included fresh-fruit, sunny-side up eggs, golden cornbread, and a base of oats and honey. After fueling our bodies, we rolled into Literature and listened to Holly read "The Sea Journals." We then were instructed to reflect in our personal journals about the last two weeks of our voyage, and our transition to "boat-life." While the second sitting of class began, the rest of us took turns rowing around Rockland Harbor. After lunch we were informed of a "field day" at 1300, though we were disappointed to find out "field day" meant a deep clean of the ship. After scrubbing every nook and cranny while bopping to some tunes, we were rewarded with 18 of Dominos FINEST pizza. We ended the night with a "watch" meeting to collaborate and finalize our "watch" flag!
Kai '22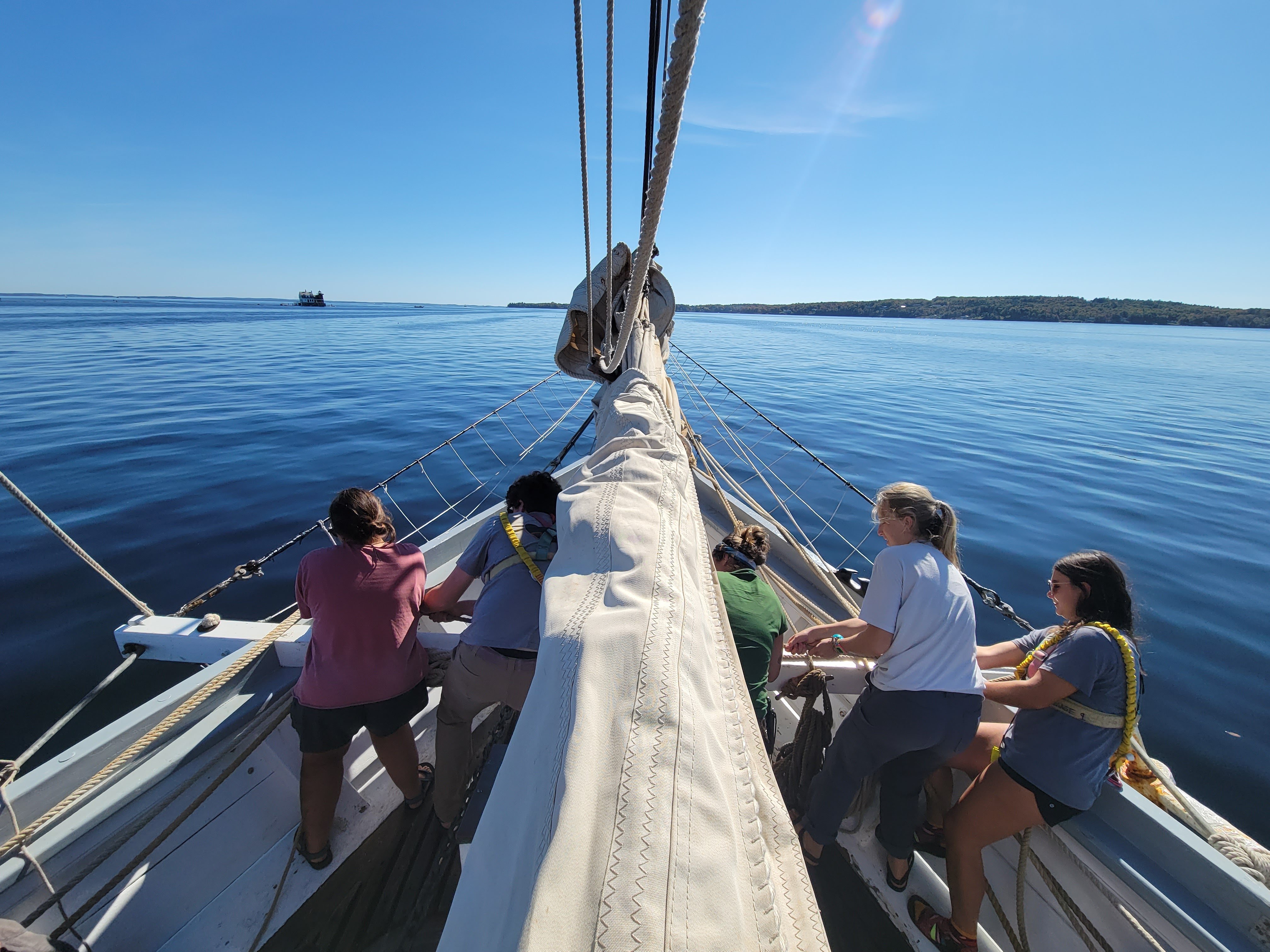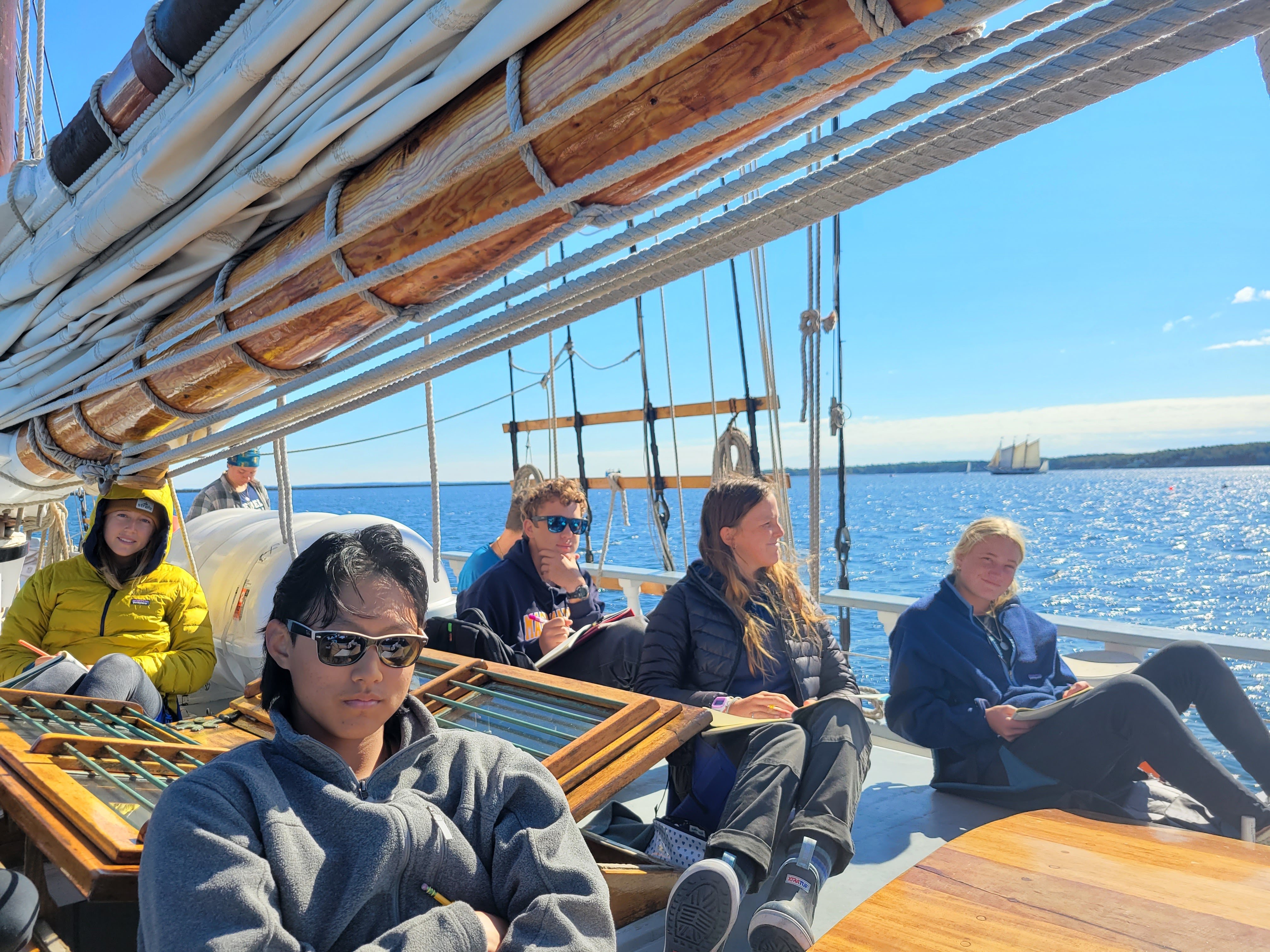 Day 20 | Friday, October 1st
N 44° 06.356 W 069° 06.420
The brisk fall we all know awoke on the early morning of October 1st. We packed on the layers and headed towards the salon for Tyler's amazing breakfast of pumpkin spice french toast and a side of skillet potatoes. We headed towards midship for daily morning muster, rose the flags, and rang. After the typical morning routine, we were split into two different classes, marine science with Holly and ditty bags with Ms. Van der Leest. After all students completed the class-rotations, we ate lunch, and all rejoined Holly to analyze data from the class experiment. When class finished, we threw on nicer clothes, a mask, and tossed our wallets into our pockets for the unknown afternoon excursion. We walked along the coast of Rockland, Maine to the Steam Power and Sail Museum where we were introduced to Captain Jim Sharp. Jim shared personal stories, explained diagrams, and even showed pictures from his lifetime experiences of sailing and owning historic schooners like the Roseway and other sailing vessels. After the informationally dense and well appreciated tour, we roamed about the welcoming coastal town. In need of caffeine, we stumbled across a cafe filled with delicious coffee, cupcakes, and pastries. After indulging and taking a quick polaroid photo, we went on our way to find a post office box then we quickly realized there was a consignment shop across the street. When we entered the well designed shop, we were greeted by the nicest employee who later helped find something we all desired. As the curfew came about, we headed back to the Harvey Gamage for dinner at 1800. Once the crew and students crew had all returned, the girls held a much required "fashion show" for crew members Nate and Morgan to show off our newly thrifted finds. As the sun fell behind the horizon, we all pilled into the salon to finish up assignments for the following day.
Ella '23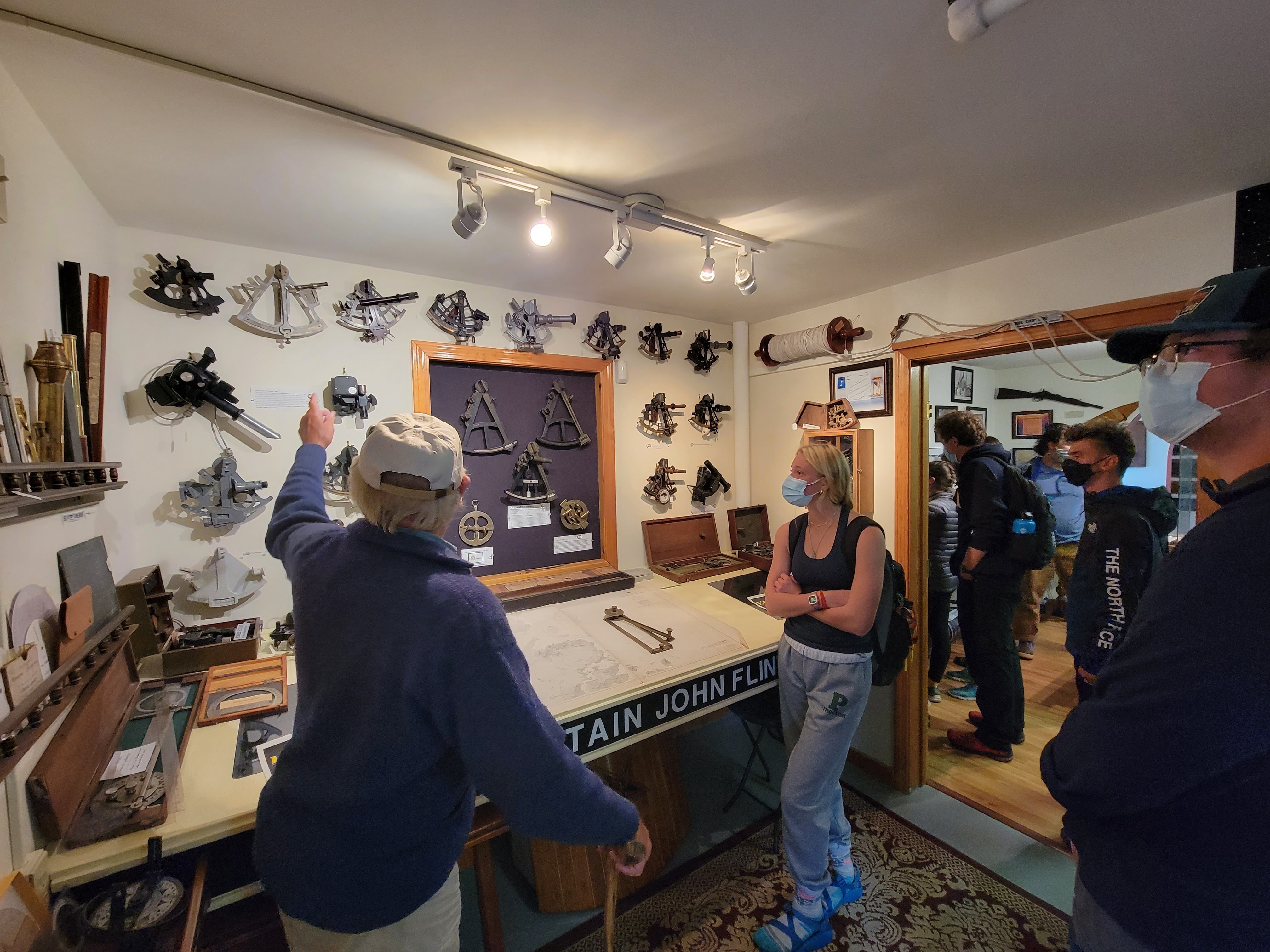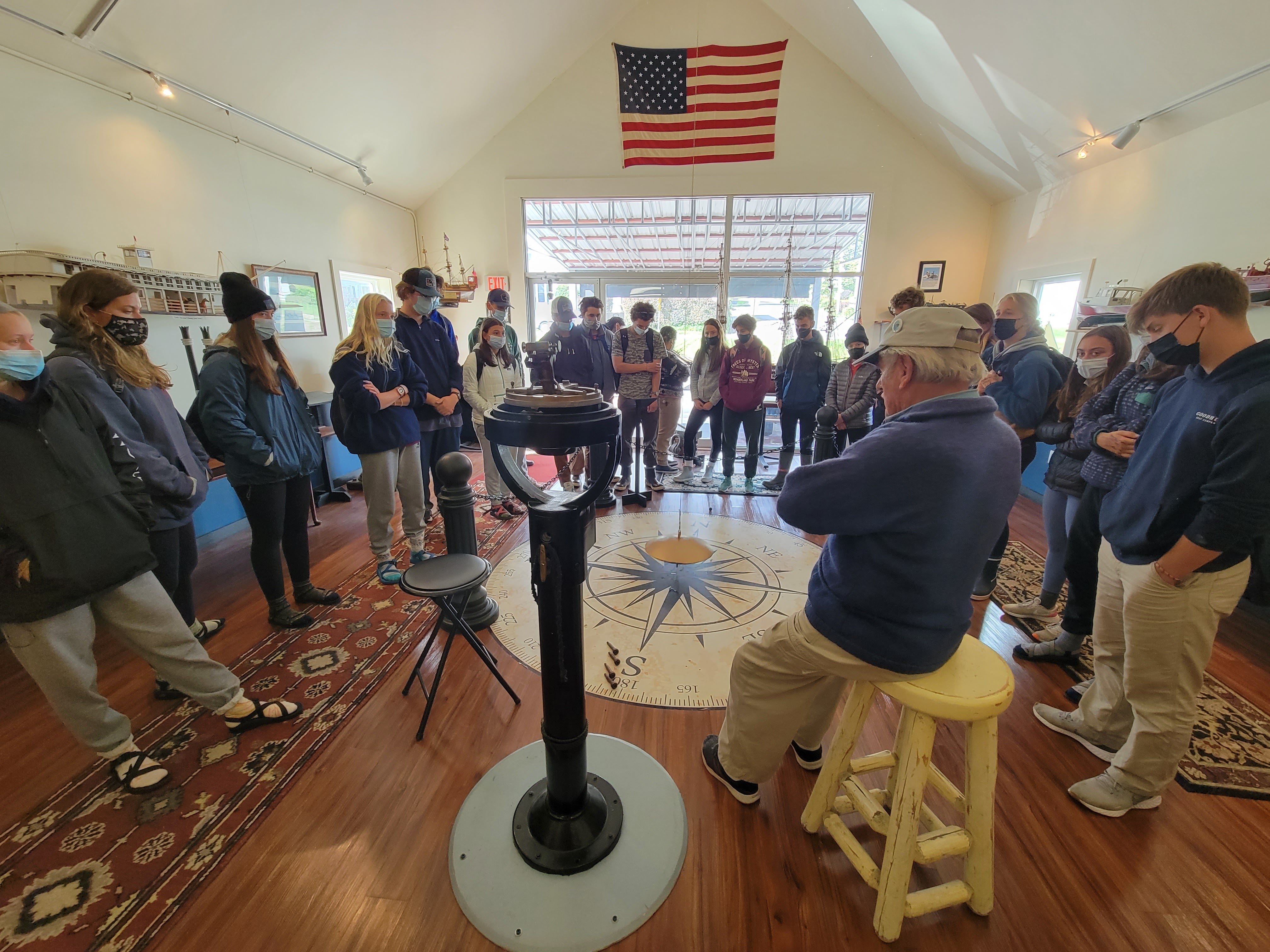 Day 21| Saturday, October 2nd
N 44° 06.063 W 069° 03.259
Today started out with a delicious breakfast of omelets, oatmeal, and cranberry bread courtesy of Tyler. We then mustered to hear any news about the progress of the rewiring of the radios and our plan for the day ahead. We got good news about the radio. We have nearly finished repairs and are only waiting for a new antenna before we can start heading south! We are also leaving the dock today because the Victory Chimes is returning after her final voyage for the year. Chores have to be quickly done or put off so we can quickly leave the dock. The first mate then called us to standby the docklines and fenders so we can cast off and move the fenders if need be. Finally we cast off moving slowly away from the Victory Chimes' dock. We inched to where we would be spending the day in the middle of Rockland Harbor. Then we got called to drop the anchor with one shot of chain (90 feet) at 1000 so we cold be in class by 1030. Class started with two sea shanties, 'Rolling Down to Old Maui' and 'Paddy, Lay Back.' They were a blast to sing! The first song was led by the first mate and the captain led the second one. The rest of the class focused on the book Black Hands, White Sails. After class, we had a fantastic lunch of chicken noodle soup. Then the captain said we would be getting the part we needed to go south on Monday night or Tuesday. This means that soon we will be able to head south! We were then broken up into watches until dinner. Dinner was a masterfully crafted ham with mashed potatoes and cranberry stuffing. After dinner, we started to get underway. We first raised the mainsail while using the windlass to haul up the anchor. After that, we hauled up the foresail before we broke into watches. The staysail was raised soon after the break. We are hoping for a nice, fast wind to speed us on our way!
Reid '22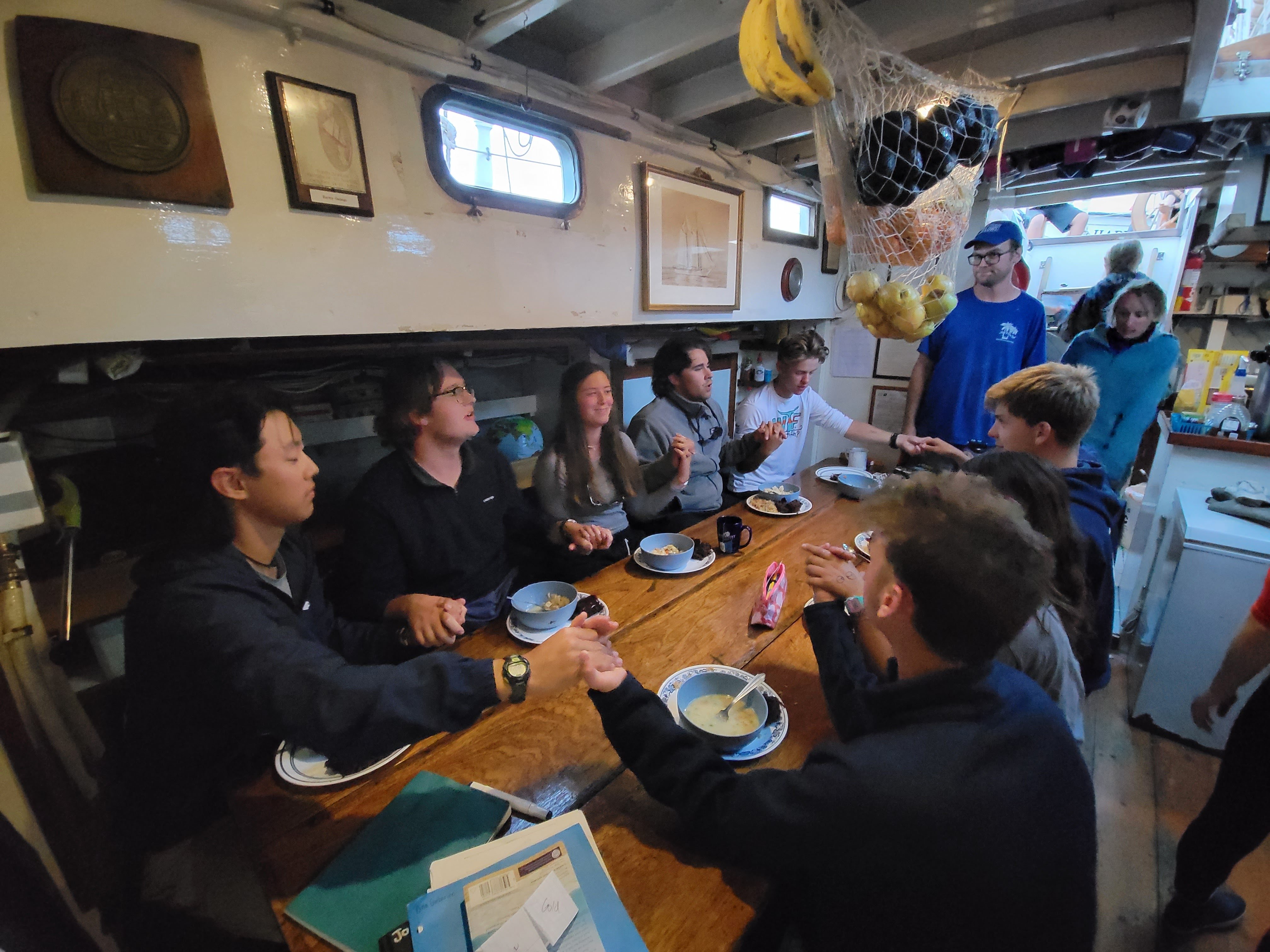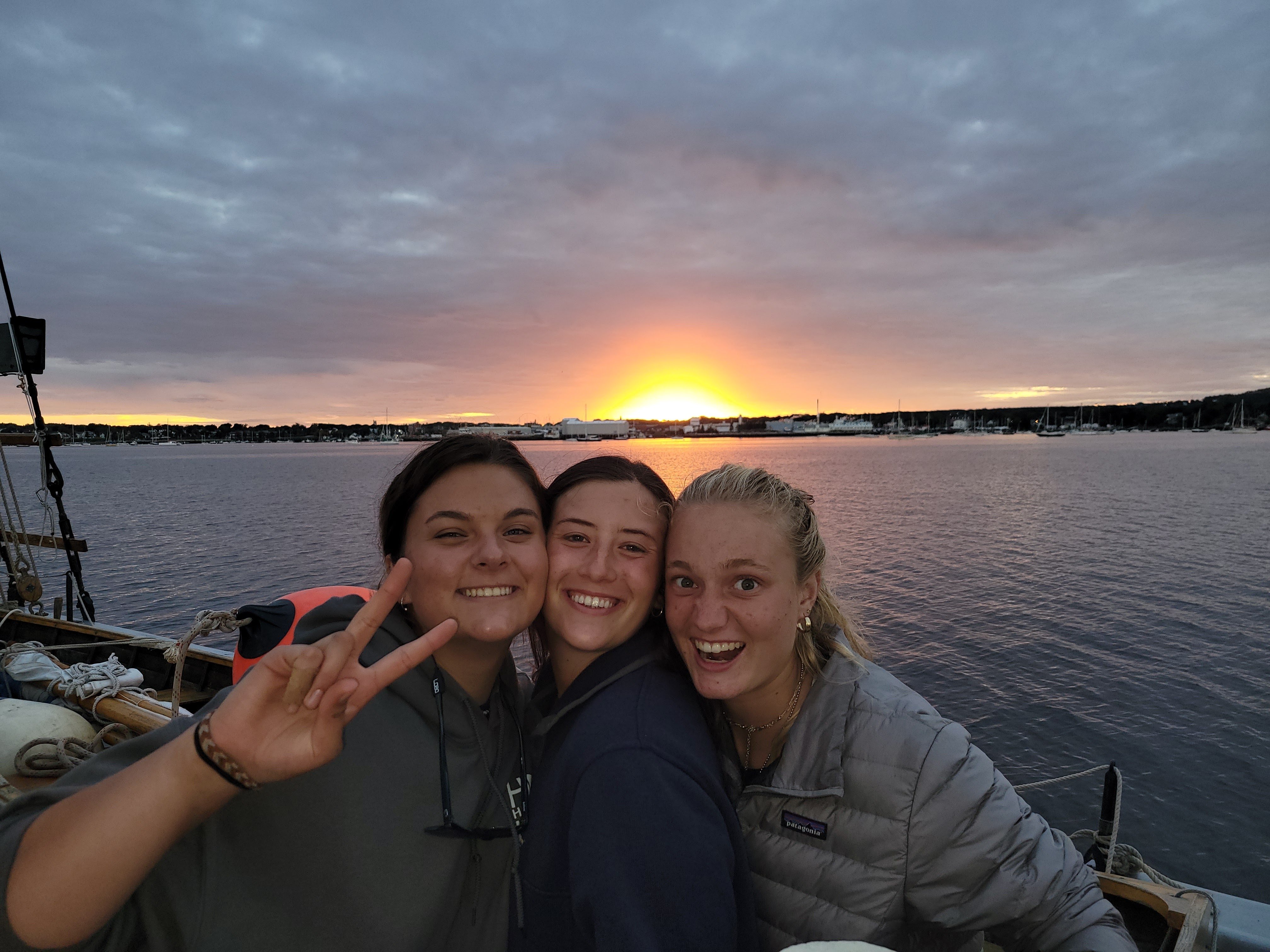 Day 22 | Sunday, October 3rd
N 43° 33.431 W 068° 47.928
Today was easily one of the longest days so far. C watch started their day as early as possible for our 0000 to 0400 watch. During our 4 hour watch we were lucky enough to watch bioluminescence enlighten the dark ocean, and experience a sky full of stars. Immediately after, A Watch relieved our watch, we rested until lunch with watch following after at 1200. After throwing on our heavy foulies, we were beyond grateful when the rain came to an end. Throughout our watch we rotated between lookout and the helm, along with tacking to ensure we stayed on course. We also completed hourly boat checks and worked on our headrig clearance. After a long, tiring watch, we were relieved by A Watch at 1600, and continued to complete assignments due later this week. Before dinner we had our first almanac meeting. During this time we discussed the past 24 hours of sailing and listened to the captain read a story aloud. At 1800 we rushed into the warm saloon excited for Tyler's amazing dinner of lasagna. As soon as dinner and dishes were finished, B and C watch were stood down to try to get sleep before their next late night watch.
Ella '23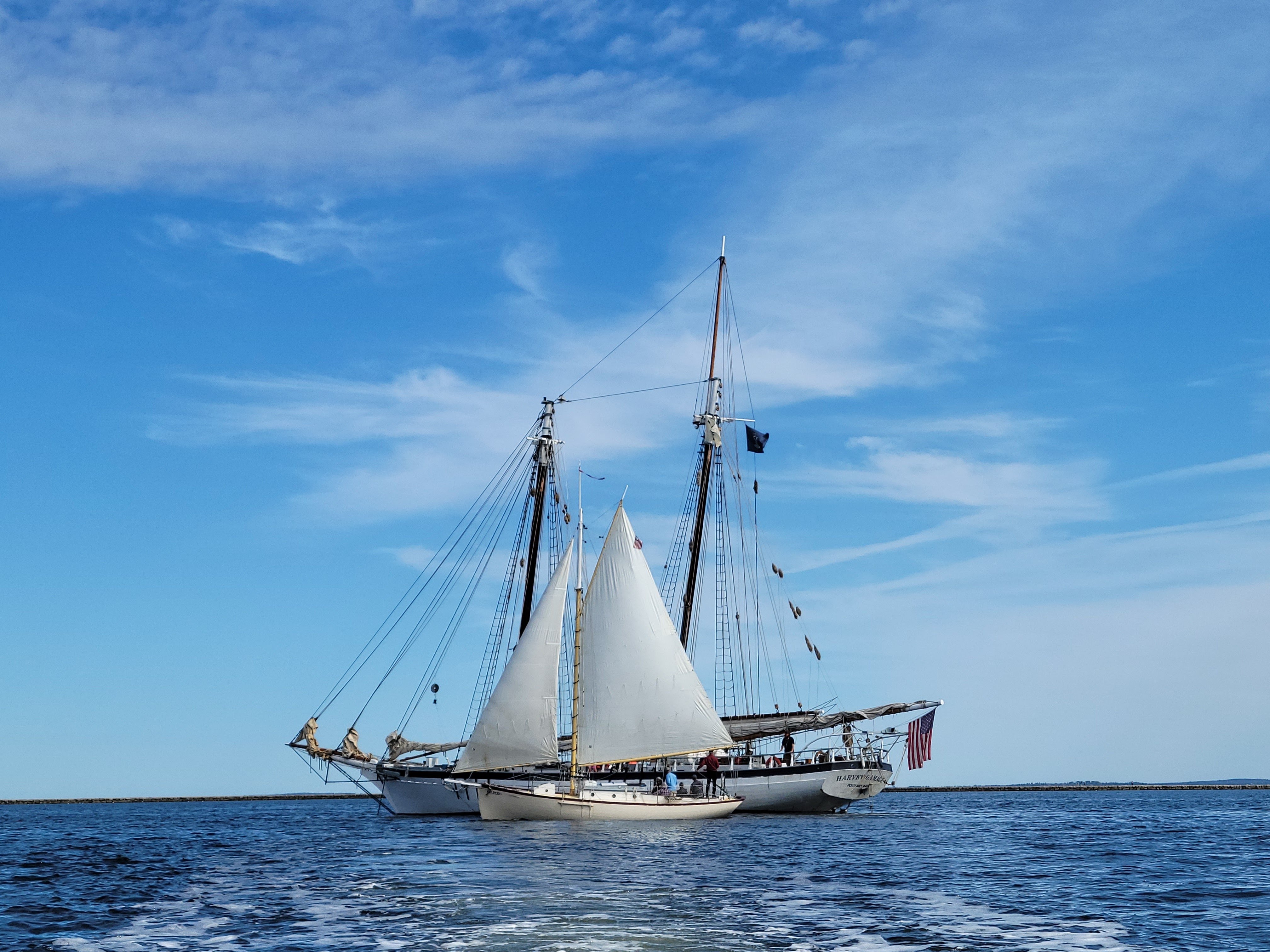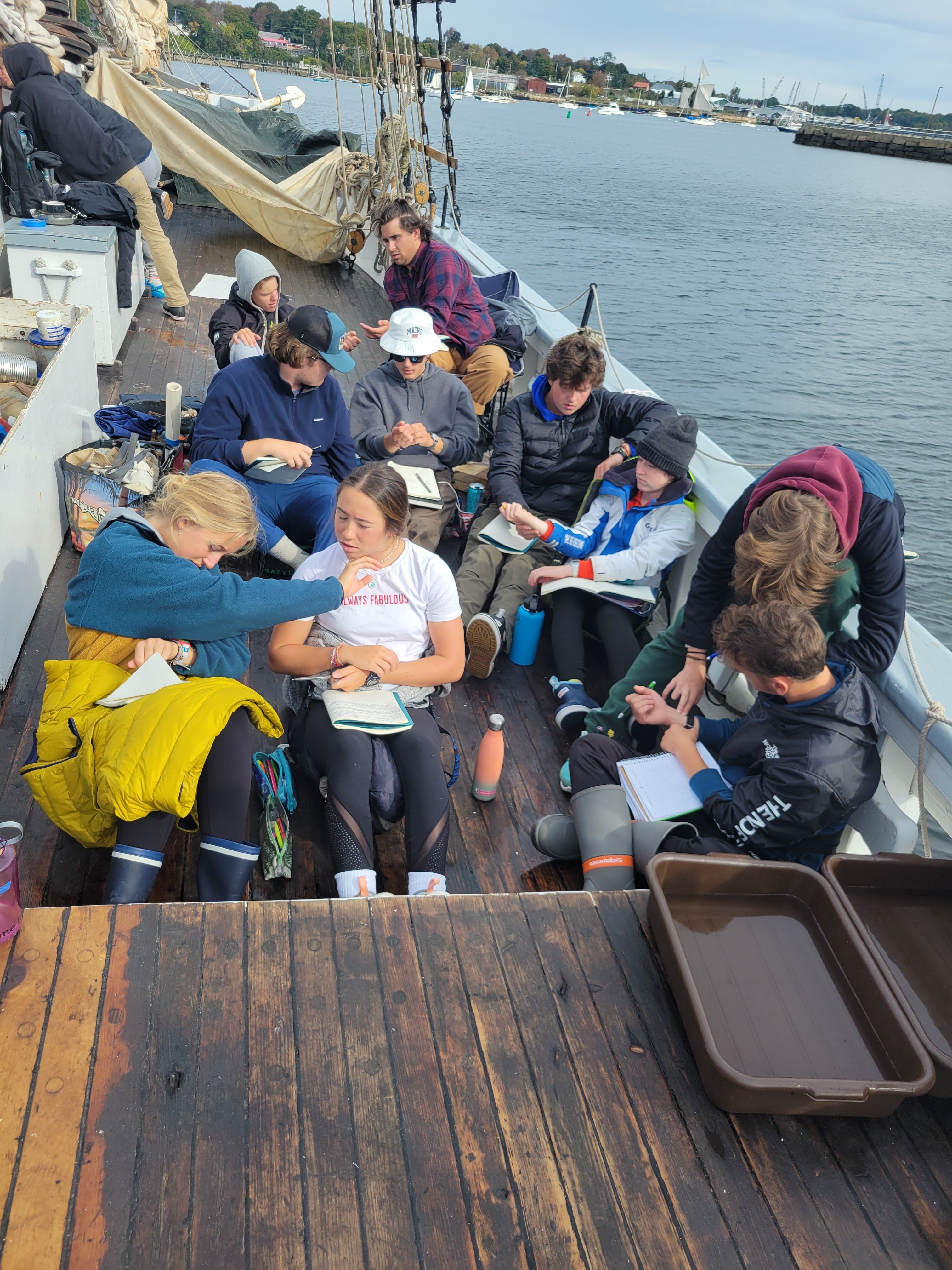 Day 23 | Monday, October 4th
N 44° 06.386 W 069° 05.425
I awoke from a long night of watch filled with beautiful sights of bioluminescence and a sky full of stars. The day started as a brisk October morning. The cool breeze early this morning made me miss my warm sleeping bag. Minutes after coming on deck, I heard my favorite chime, the breakfast bell. There truly isn't anything better than the delicious smell of Tyler's cooking wafting out of the galley. As always Tyler out did himself making a delicious spread of eggs, bagels, cream cheese, and yogurt parfaits. After breakfast, we completed our daily chores. A little after chores, the sun's rays beamed across Rockland Harbor and increased the warm temperature throughout the day. After we all diligently worked on completing our headrig clearance, we were rewarded with the opening of the "pool." Shortly after, marine science class began.We discussed water quality and how it affects marine life growth along with how water quality can be impacted by so many other extremities. After a long night of watchs and early mornings, they allowed us to step down to rest and work on assignments. We all ate supper as the sun fell behind Rockland, revealing vibrant, warm colors. The day came to an end and everyone was exhausted, except for the nightly poker gang. We all got some rest and now await tomorrow's adventures.
Sam '22