Proctor Academy's Ocean Classroom program departed Key West and made the transit up the gulf coast of Florida to St. Petersburg, and on to Panama City where the student crew was interviewed by the local news station. Read more below from Molly '24 and Winter Ocean Classroom and the once in a lifetime experience students from both Proctor and the MET School (Providence, RI) are having during their 65 day voyage.
Key West:
Last week, our plan was to arrive in Key West around Thursday morning and be there through the weekend. We ended up being ahead of schedule which we were all very happy about because the past 6 days had been very long, hot, and tiring. We ended up getting to the area on Tuesday. Over the next four days, we would have a lot of time to explore Key West. Most of us had never been. I think the overall consensus from our group was that Key West is a one and done kind of place. It was very touristy and pretty much always busy. There were a ton of bikes, golf carts, scooters, and unfortunately you had to be 26 to rent most things. The water was so pretty.
We were anchored in the middle of everything, outside the main channel for coming in and out of Key West. On the right was the main island, where the cruise ships would come in and hotels lined the shore. There was also a big music spot where many people gathered at night, which we could see and hear from the boat. On the left was a small island called Sunset Key, made up of huge homes, a really pretty beach, and a nice restaurant.
One of the mornings, we had a tour of the Coast Guard Station and all the facilities. It was really cool to hear and see what happens behind all the scenes and what kind of thing they are up to on a daily basis. We also held a prom on the boat one night, everyone got dressed up and there was music and pictures. It was Neveah's idea, and everyone had a lot of fun. We are now on our way to St Petersburg, FL. We were supposed to go to the Dry Tortugas but due to weather we ended up not going. We are excited to see what is coming up!
St Petersberg, Florida
From Key West, we headed to a city called St. Petersburg, which is about 45 minutes from Tampa. We sailed day and night to arrive in about 3 days, covering around 90 miles. It was pretty cold and windy but calmed down during the last stretch. We docked behind this huge, really cool cruise ship which everyone was very excited to check out. None of us had been to St Pete either, so again we were excited to explore. So far, the weather has been super nice. We have visited the history museum as well as the aquarium. St Pete seems to be a city that prides itself on the accessibility to the outdoors and the things they have to offer. The St Pete pier was a really fun spot to hang out and seemed to be very popular. Due to weather we are leaving on Monday morning, so we will have had 3-4 full days in port.
Our next stop is Panama City, with about 3 weeks left of the program. Everyone is excited about reaching the end, but as always after a good adventure, you always miss it more once it is over. I am really excited to have been able to experience what ocean classroom brings, and am excited for both MET and Proctor kids to enjoy this adventure in the future.
Students learn about a Panama City Community Restoration Project of the Schooner Governor Stone built in Pascagoula, MI in 1877.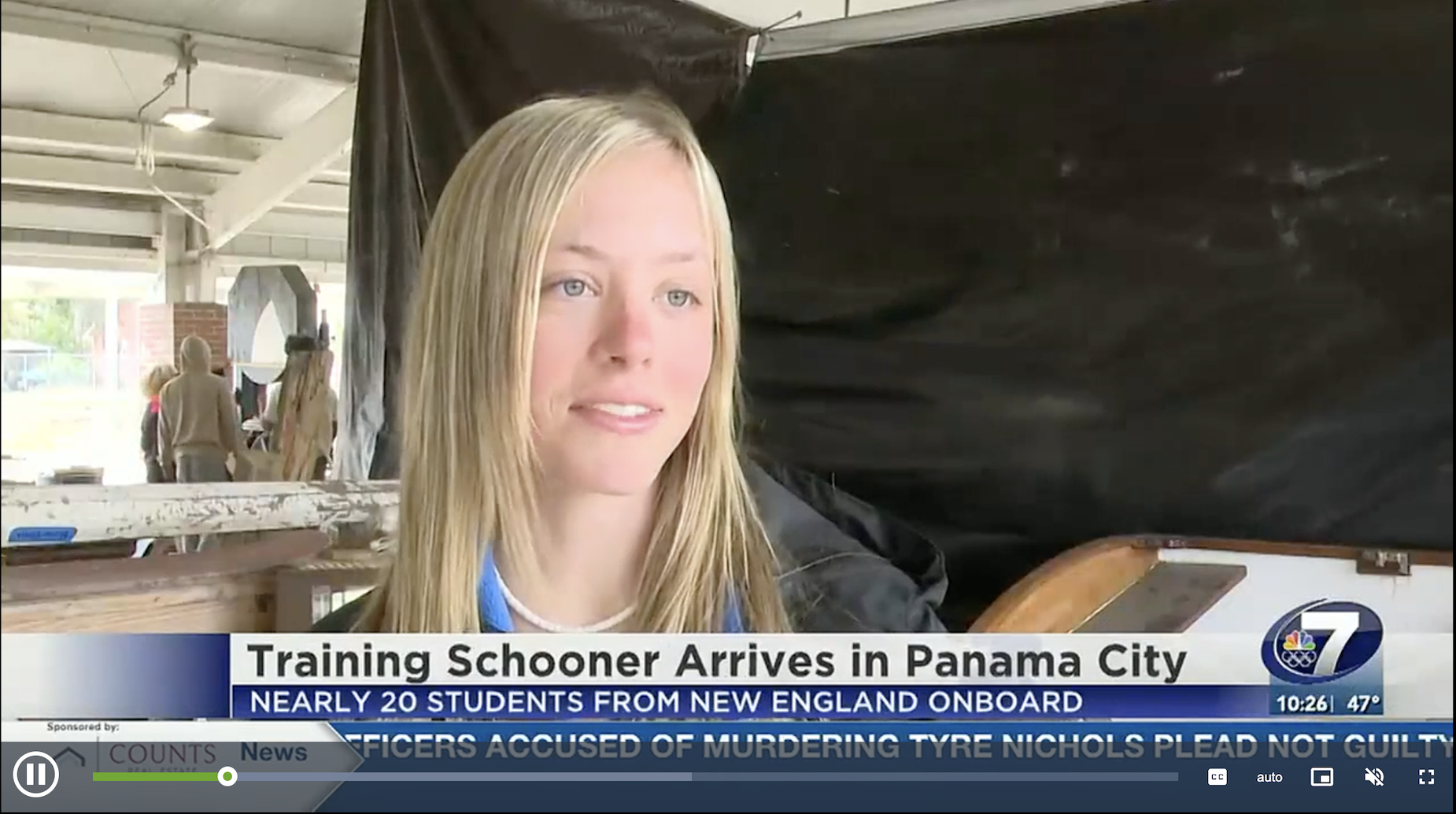 The local NBC news station in Panama City interviewed Proctor's Winter Ocean Classroom in THIS piece.