Proctor's Winter Ocean Classroom program took on a new theme this year as we joined forces with the MET School of Providence, Rhode Island and Sailing Ships Maine to design a shared trimester at sea program that would sail from Charleston, South Carolina around Florida to Mobile, Alabama. Along the way, students from Proctor and the MET School studied historic Southern ports, involuntary servitude, and the lasting impact of slavery on both economic and social systems throughout America.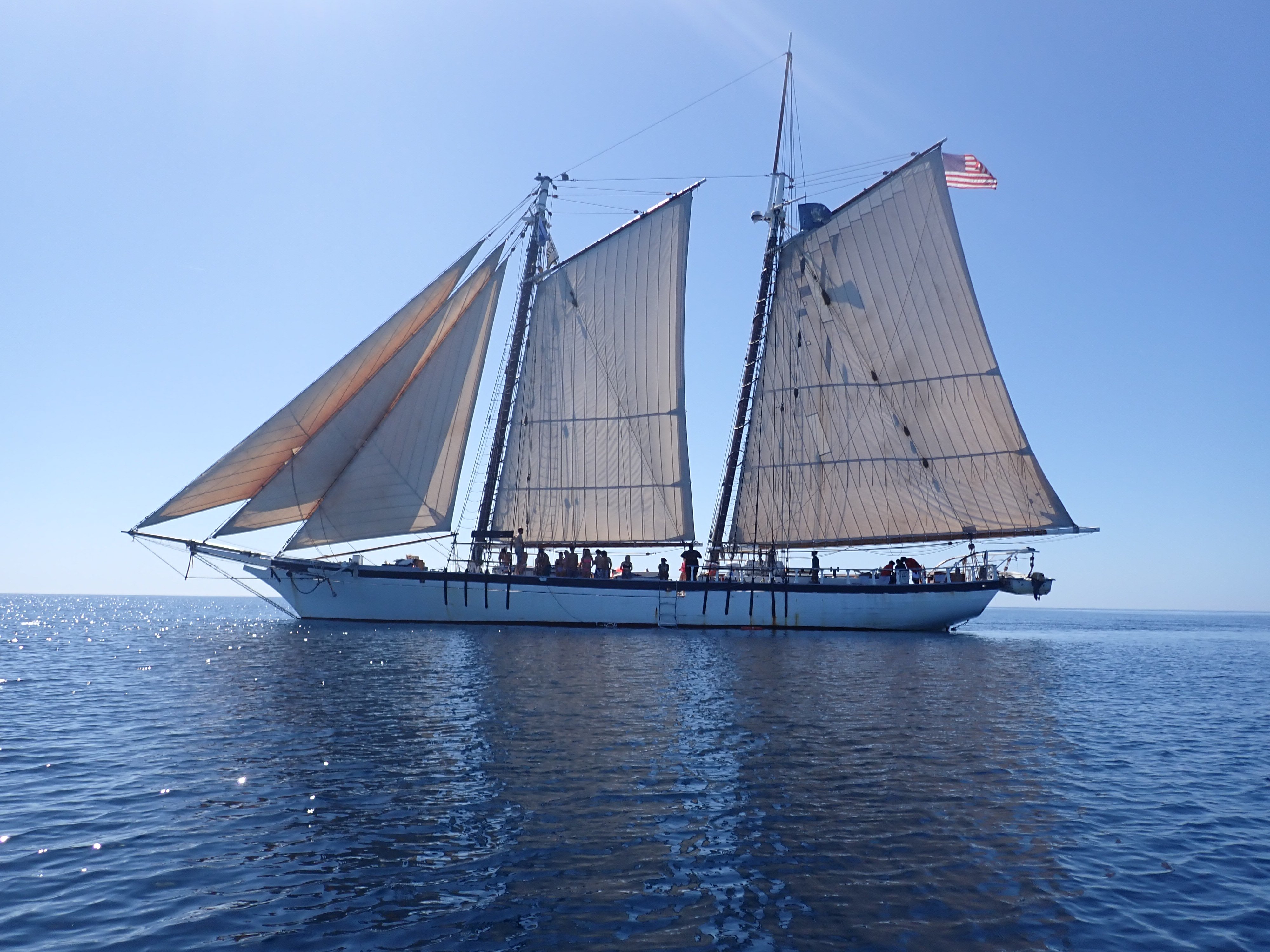 When the Harvey Gamage arrives in Mobile, the crew will be joined by Head of School Brian Thomas and Ocean Classroom Director Brooks Bicknell for the remainder of their time together. As they anchor above the wreck of the last illegal slave ship to transport 110 enslaved people from Benin, West Africa to Mobile in 1860, students will learn about the recently discovered, long-lost wreck of the Clotilda in the Mobile River. Their experience sailing together as a group of students from varied, diverse backgrounds, for the past two months will have a powerfully unique context for this moment. The lessons of Ocean Classroom lie not just in the novels read, marine biology learned, or knots mastered, but in the relationships that are developed. This group's experience has taken that learning to a whole new level for trimester at sea programs.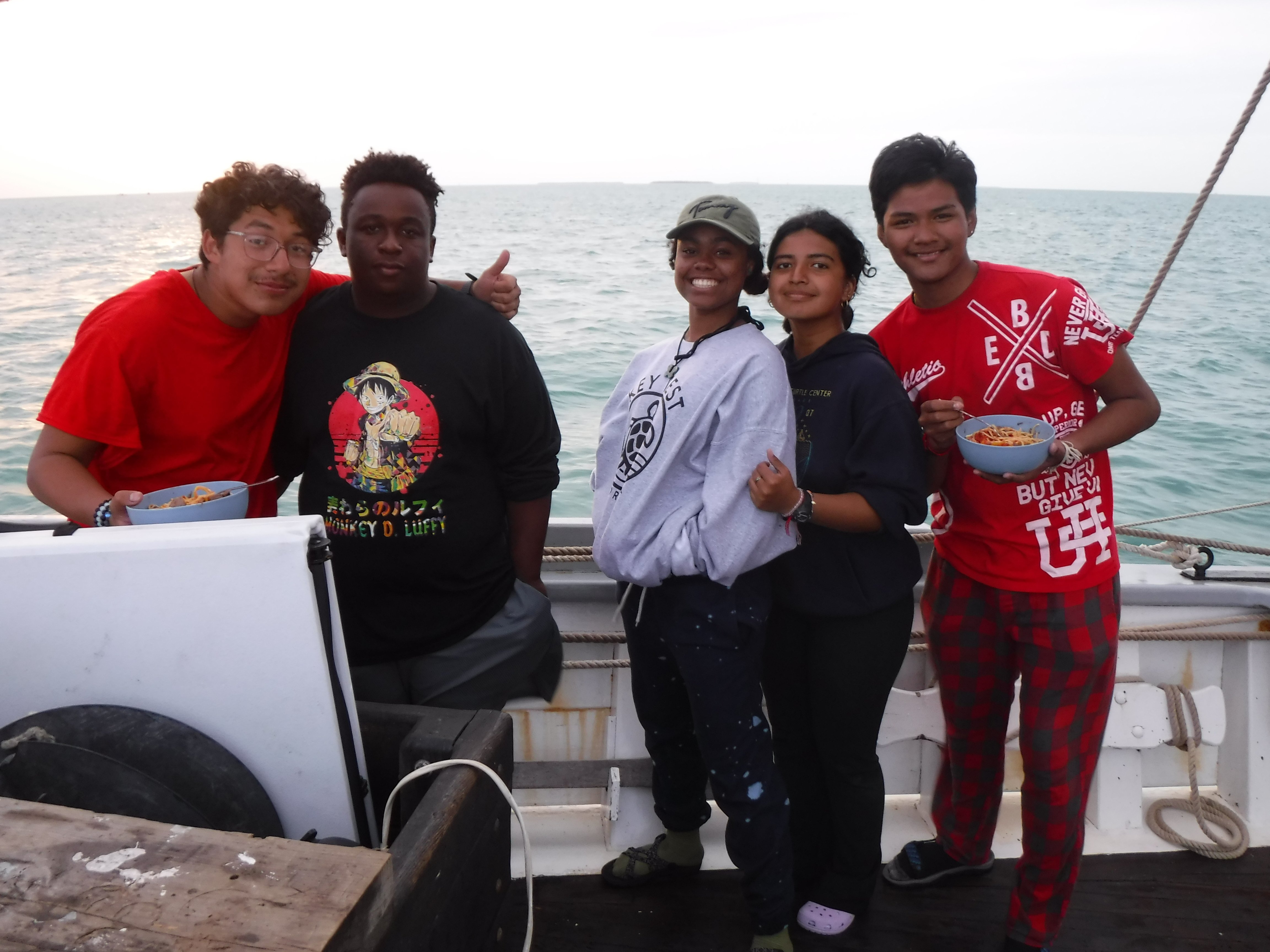 Below, students share reflections from their voyage to date. Stay tuned for another blog post soon following the student's arrival in Mobile.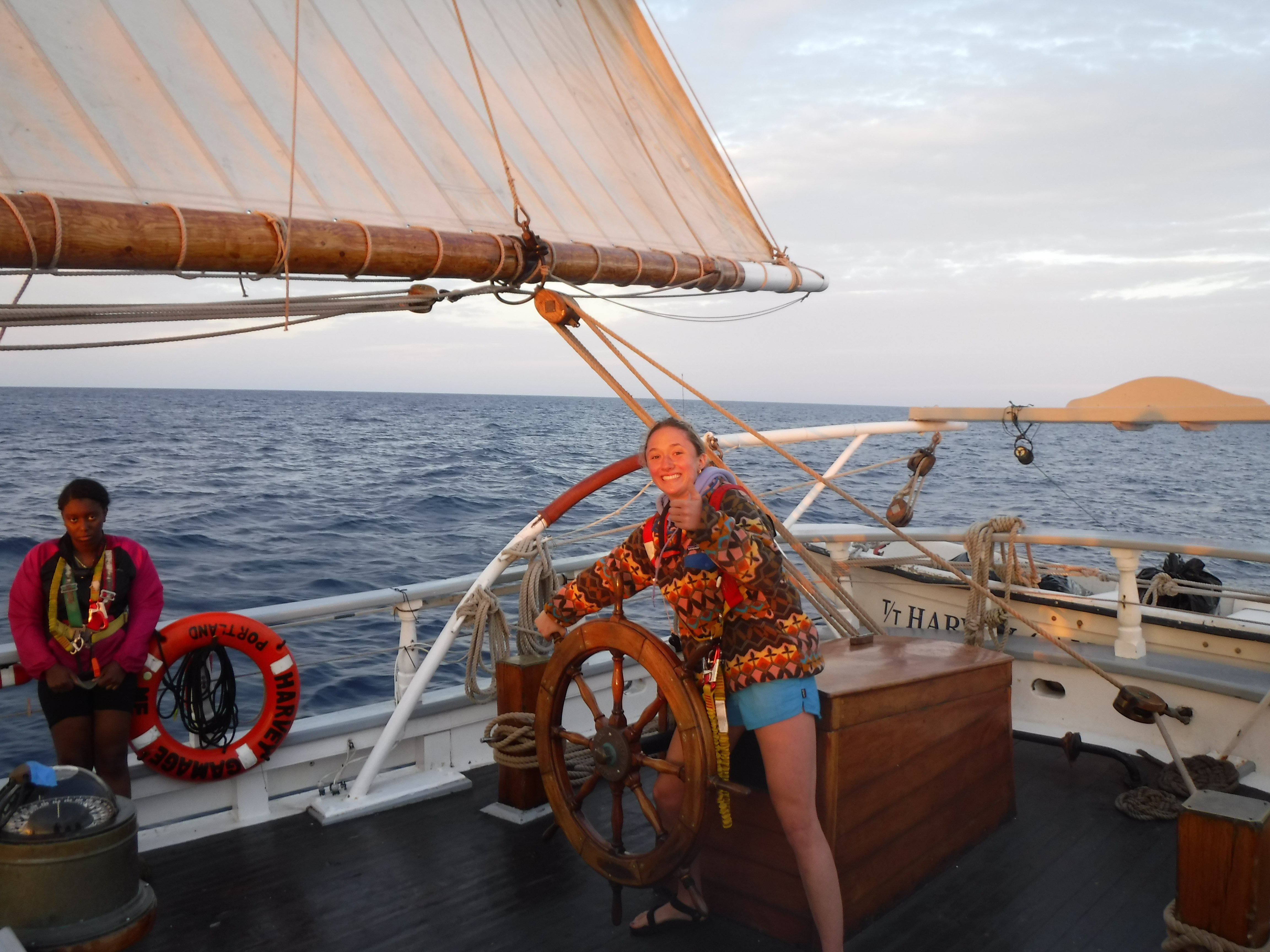 Nora '22 | St. Petersburg | March 1, 2022
Arrival in St. Petersburg saw a wave of red trainee t-shirts, navy crew t-shirts, and warm sunshine state weather. On the way to St. Petersburg, my watch hours were 8-12. This was my first time standing this watch and contrary to popular opinion, this was my favorite to stand. I woke up to sunny mornings and breakfast. After lunch, my watch-mates and I had the entire day to do as we please until 8pm (besides class at 1300-1400). Anyway, as we arrived in St. Petersburg, I went out on the headrig and furled the outer jib and staysail. I always enjoy going out on the headrig, whether for conversations with another friend, reflection time alone, or to furl the sails. It is one of my favorite spots on the boat, for when you face the boat from the headrig you can see everything, and all the moving parts and people working in unison to keep our water home afloat and moving forward with vengeance.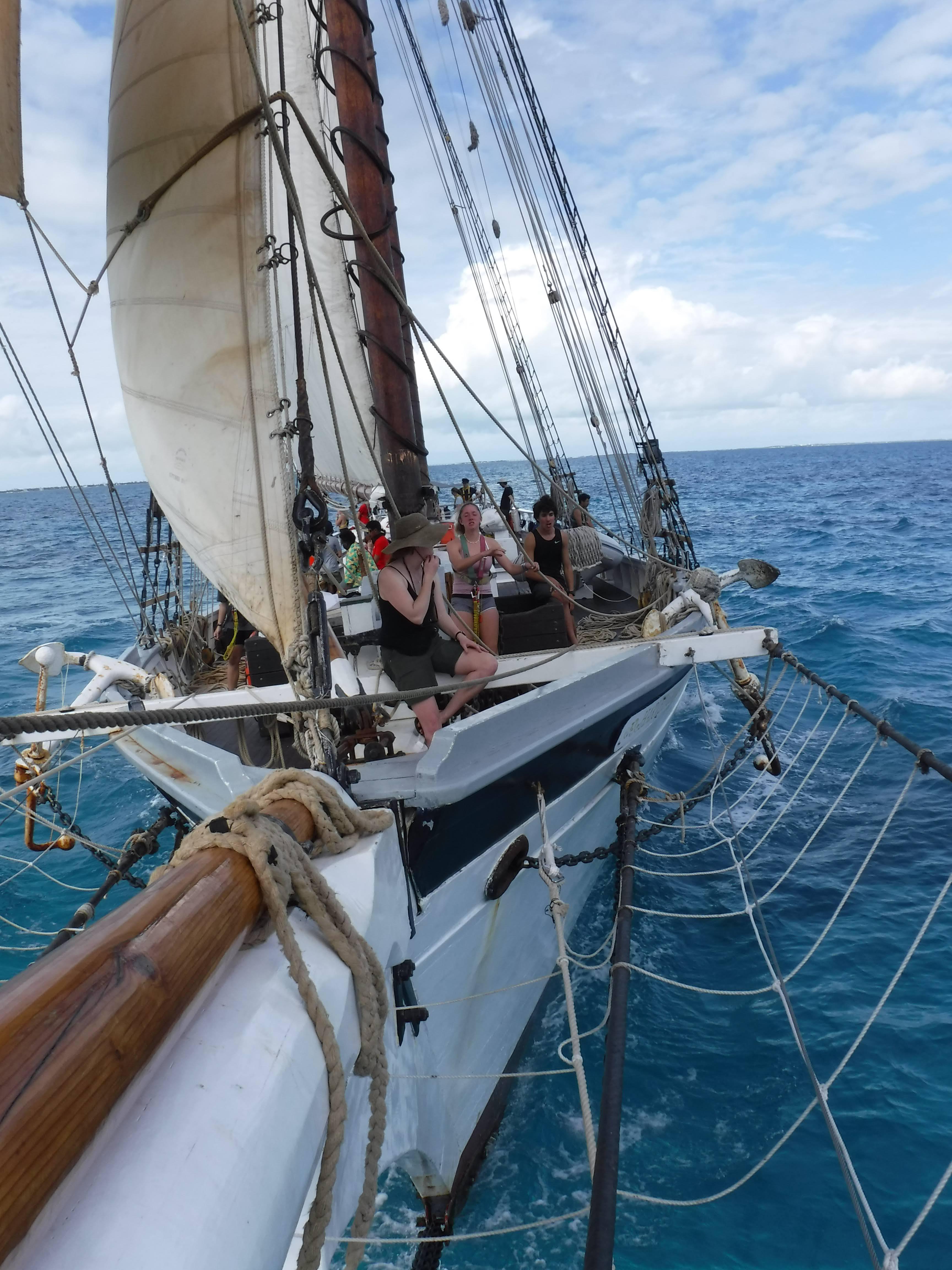 When we officially docked, we were met with immense heat, and set up the awning for the first time. The shade was for sure a blessing to have. After a few hours, we leaned into "boat appreciation". Boat appreciation consists of three stations: cleaning our living spaces (forward, focsle and midships), the salon and galley, and doing a deep cleaning deck wash. I was assigned to the galley/salon. With some speed and diligence, everything was cleaned and the heat of down-below could finally be escaped! The rest of the day we settled in, showered for the first time in a bit. The night wrapped up with watching the short movie "Around Cape Horn '' and looking at some stingrays near our boat!
Everyone was pretty tired from a few days of being underway, so most of us went to bed early, eager for a night of just one hour anchor watches, and our first sleep-in, until 8:30 am! The rest of the time in St. Petersburg was an interesting experience, filled with a historical tour, and exploring of the port. With only 10 days left, we are all soaking up the last moments and our time together on the sea.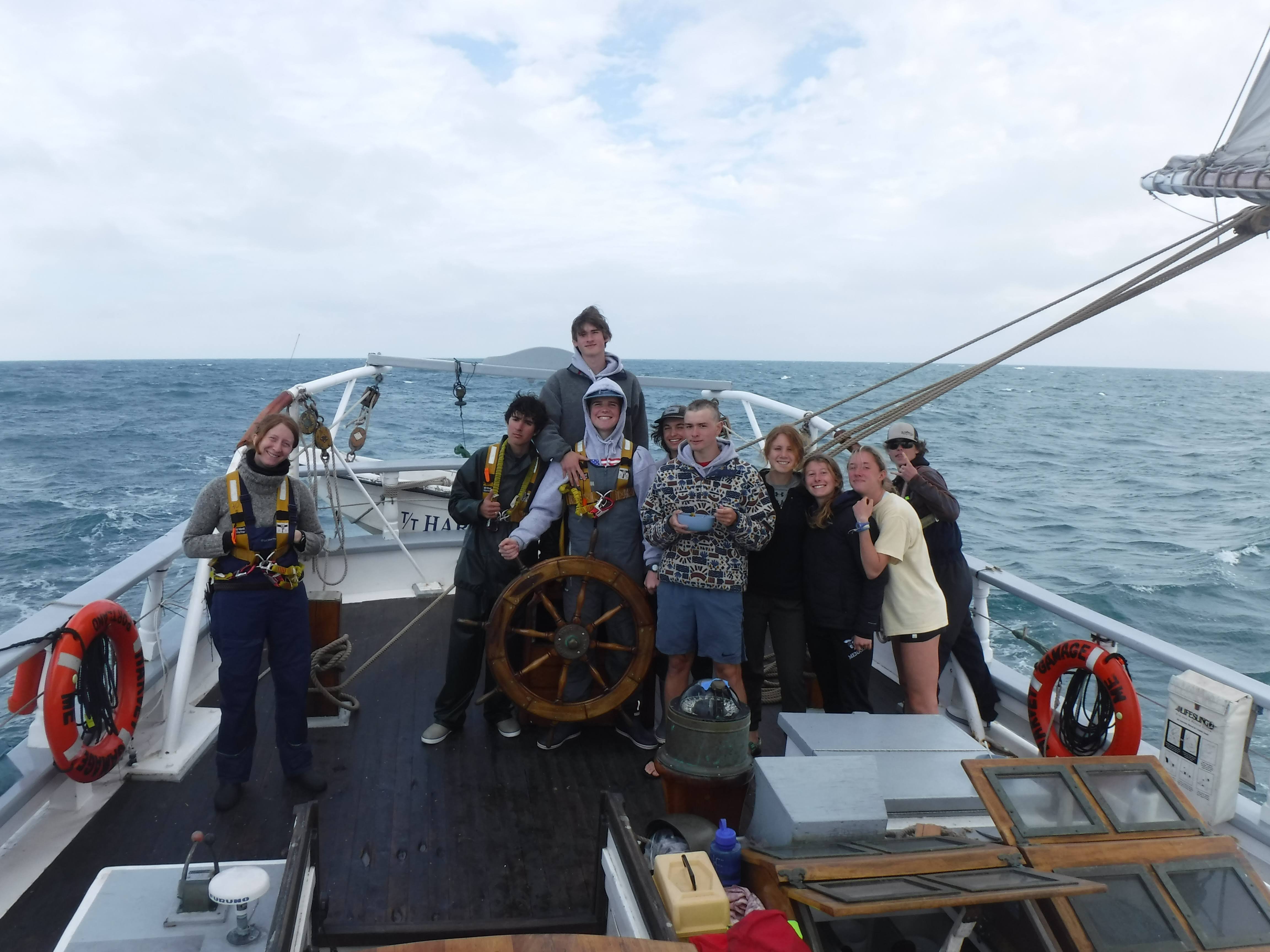 Lily '22 | St. Petersburg, Florida | February 23, 2022
Today, wake ups started at 0830! The crew so graciously gave us a treasured sleep in, so everyone woke up ready to tackle a full day in St. Petersburg. After breakfast and our daily chores, our group met with the lovely Ms. Reece for her to give us an historic bus tour of the city. We all piled into a bus and listened as she educated us on the history along the African American Heritage Trail. We learned about the rich history of the Civil Rights Movement and how St. Petersburg went from building baseball stadiums that displaced hundreds in Black communities to supporting murals and the African American Heritage Trail that commemorates Black history. She also left us with an important sentiment, saying that if "you don't stand for something, you'll fall for everything." And with that, we were set loose to explore the city, where most people found lunch and shopping. Personally, Mason and I walked around, found some delicious gelato milkshakes, and even got lost in the staging area of the Indy Car grand prix race that was happening the next day. Returning to the boat at 1700 we were welcomed with pizza for dinner, freshwater deck showers, and a relaxing night at the dock.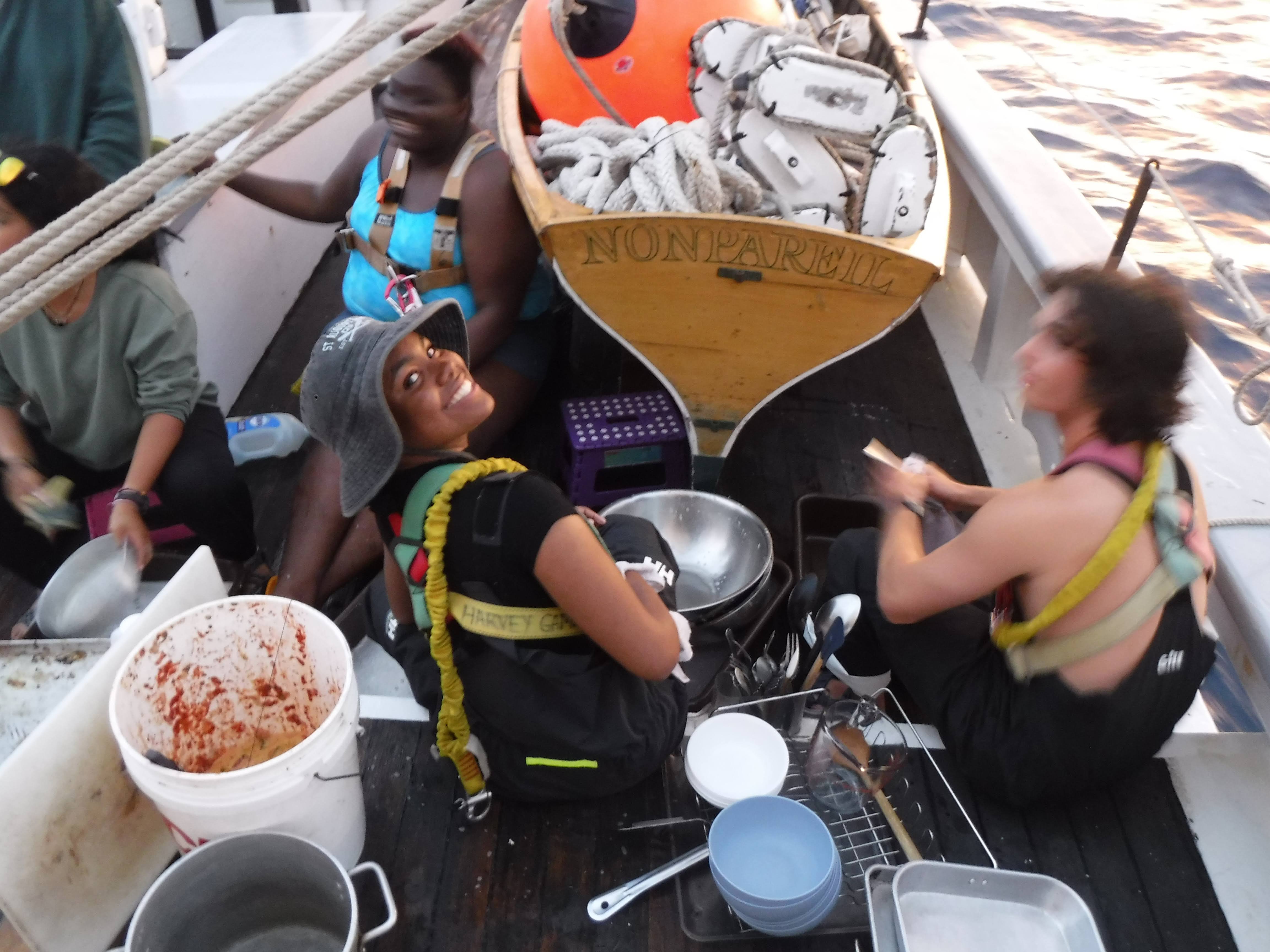 Niko '22 | Dry Tortugas | February 19, 2022
"All right, now turn through left. OK now even it out" Captain directed me. The shout of "we're on" is belayed back to the helm from a series of callbacks yelled from the bow. We had just successfully hooked onto a mooring a couple hundred yards off of Loggerhead Key, one of the islands that makes up the Dry Tortugas. The approach to the mooring had been very precarious, shallow waters with scattered reefs made for a tense sail. Not to mention the abandoned lighthouse enveloped by fog creating a scene straight out of a horror movie, or postcard, depending on your mindset. Luckily for us the sun was coming out and shining on a piece of rusted, black metal jutting from the surface about 1 foot off the starboard bow. In front of us was the wreckage of 155 year old, 200 foot long steel boat. Groups of five were taken to snorkel around and inside the cracked hull. Waiting impatiently for our turn, Meg, Lucy, Annika, Cap, and I got on the fourth boat. Dropping backwards off the side of the skiff diver-style, we were transported to a whole different world. Thousands of fish schooled all around and inside the wreckage. Yellow, orange, blue, red, black fish darted around us in a symphony of color. The wreck itself was incredible, overgrown with coral, and other sea-plants. It was home to a myriad of aquatic life. Swimming with barracuda, exploring over a century old wreckage, and taking a much needed bucket shower all before lunch made for yet another incredible and once in a lifetime experience to start our next transit.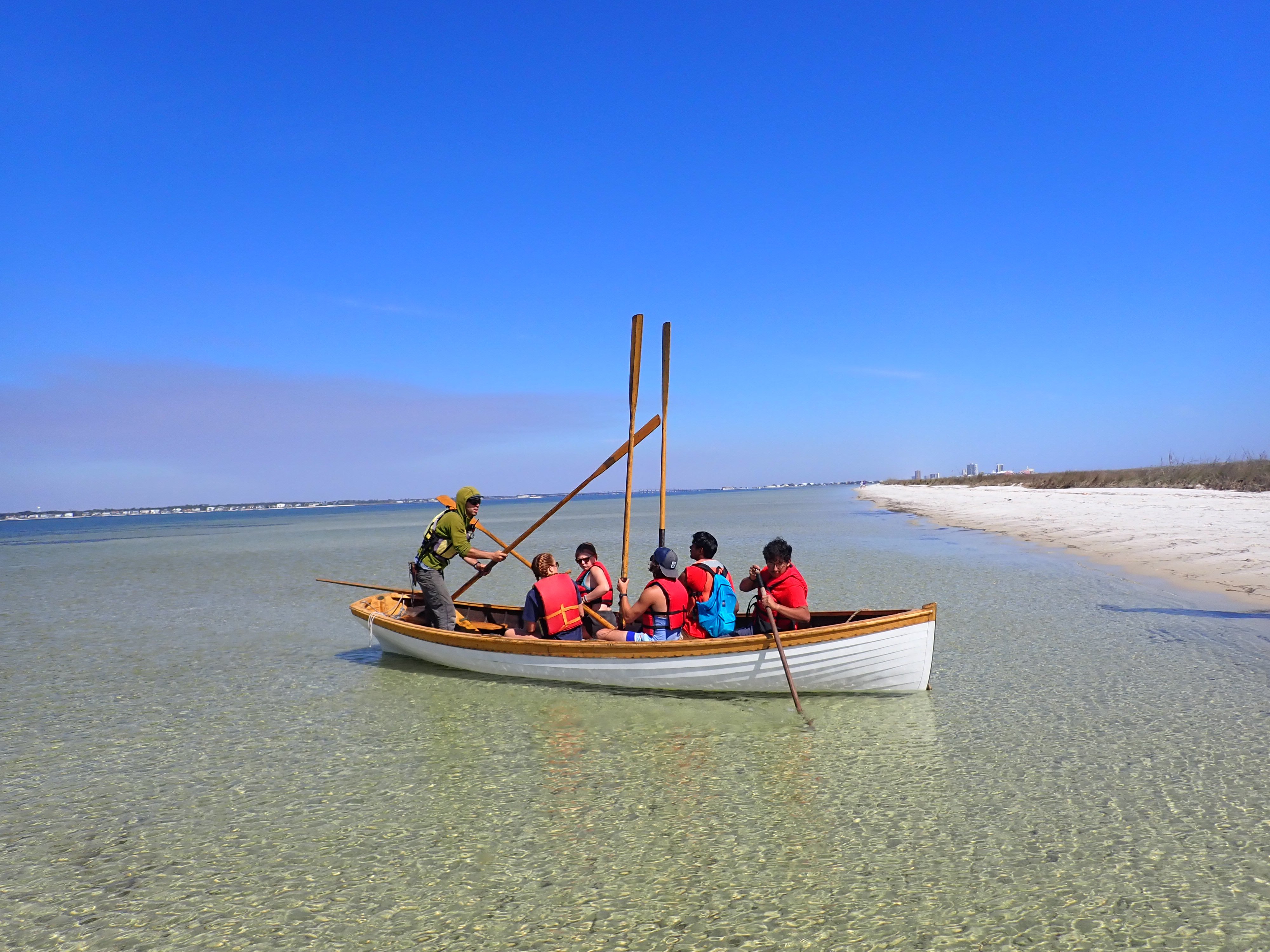 Katherine '22 | Key West | February 13, 2022
Today has been a great day! After anchoring last night I was very lucky to have a full night of sleep, without an hour long anchor watch. After being underway for about five days, with four-hour night and day watches, it was very exciting to anchor in Key West today! At 0700 this morning we woke up to about 30 knots of wind and heavy rain. Annika and I were nearly blowing away trying to brush our teeth. Today was a Sunday so we did not have classes, except for our Humanities midterm that was due today. A Watch had the deck as we sailed the last ten miles to our final destination. As a B watch myself, I was able to hang out on deck, and although it was still raining it was so fun. Sometimes rain can be the best weather on the boat, it's really all about your mindset.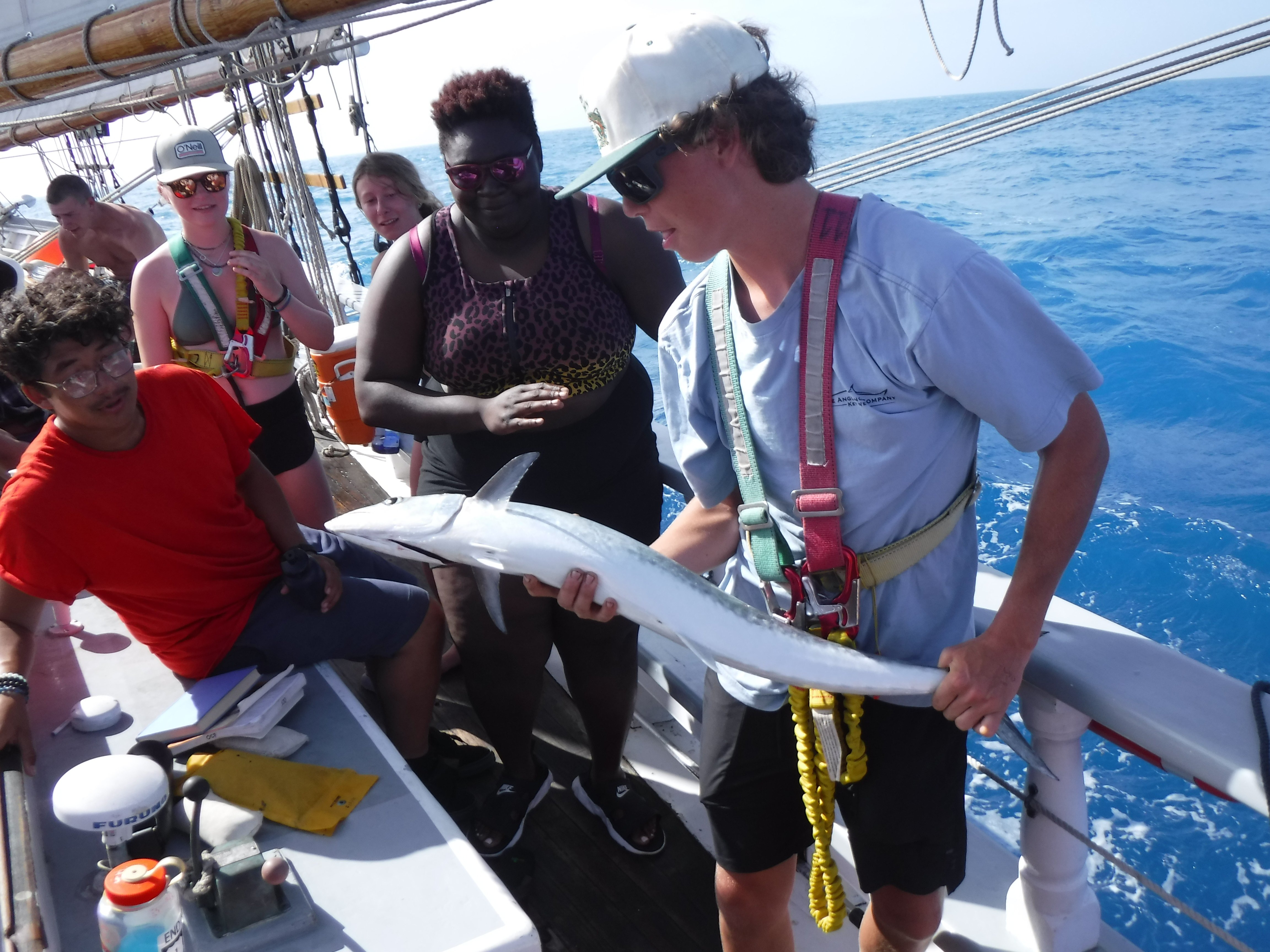 The rain started to stop and the sun came out again, and it became hot very fast, probably about 75 degrees. B watch went on watch at 12 and Meg and I took bow watch, where we looked out for boats and anything else that we should report to whoever is on the helm. After three drills and a lot of heaving on sails we anchored. We have had free time for the past two hours, to catch up on homework, letters, journaling, or napping after having limited time for anything but sleep and standing watch for the past week, which was honestly fun. The first five minutes of watch or right when you are woken up can be tough but it always ends up being so worth it. The stars, bioluminescence, moon, dolphins, and the peacefulness of watch are amazing. I am very excited for the weeks to come and I can't wait for more memories and new places!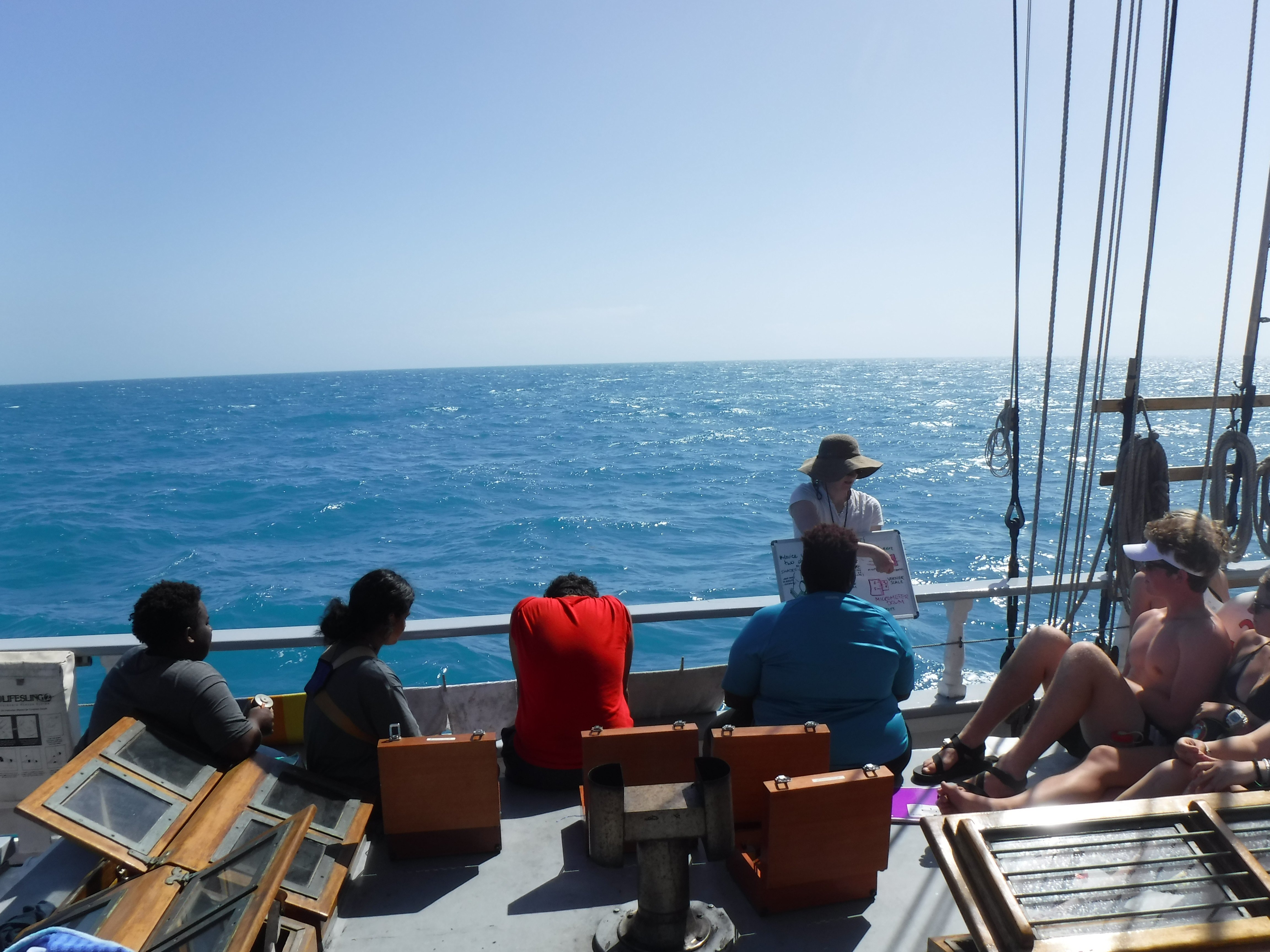 Griffin '22 | Heading Toward Key West | February 12, 2022
The Harvey Gamage is about one day away from Key West today with some time to spare. We hove to, causing the ship to sit parallel in the wind, essentially not moving. With this maneuver we were given our first official "swim call" of the trip. With the temperature in the mid 80s, the crew and trainees couldn't wait to take the quick dip and even take a makeshift salt water shower after our 4-5 day transit south from St. Augustine. Captain Matt Glenn gave us the "OK" to finally jump in. We were around 3 miles off the shore of the Keys sitting with multiple fish species and even dolphins that occupy this local reef. With the majority of both crew and trainees jumping from the taff rail in the mid to stern of the boat about 7 feet above the water below. We had around 45 minutes of swimming before we packed up our swim supplies and headed on our final stretch of this voyage. As a couple of storm clouds were coming in we packed up and headed on our way to Stock Island to pick up packages tomorrow morning and finally to Key West the day after!