A week ago, family, advisors, and friends waved goodbye from Gloucester Harbor as the Roseway sailed into the Atlantic and Ocean Classroom began its term at sea. Tomorrow, the group departs New London, Connecticut and sails into the Long Island Sound, keeping a careful eye on Hurricane Joaquin as its path unfolds along the eastern seaboard. Already, the lives of the twenty-two students aboard are being transformed. Read student reflections from the first week below.
Taylor Methven '16:
Caroline lovingly interrupted my dream at 0430. I opened my eyes expecting it to be 0600. I had been up three hours earlier for Anchor Watch. I insisted that I already did my anchor watch and that something must be wrong. My shipmates calmly informed me that all of C Watch was to be awake at 0430 to help Roseway get underway at 0500. I grudgingly swung my legs out of my bunk and placed my warm feet on the damp sole of the fo'c'sle.
What used to be a clear star filled sky was now blanketed (or rather we were blanketed) by an intense fog, blinding our watch crew and Captain Pao from seeing 100 yards in front of the bow. After raising the anchor, Eliza and Cavo put five of the seven crew members on bow watch to try and increase visibility. We were as blind as if we had no one on bow watch.
JoJo and I stood on the starboard bow, trying to keep ourselves awake by singing the Pirates of the Caribbean theme, the Star Wars theme and excerpts from other musical artistry.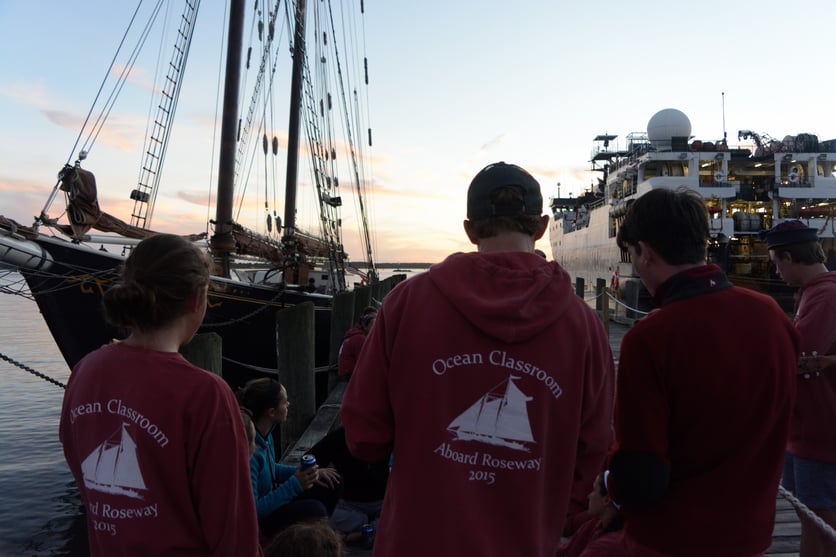 The fog was thick. Our watch, now all on "Bow Watch" were all hoping we would see whatever was lying ahead of us before it ran into Roseway. Jojo used the word ominous while staring intently ahead. The fog was equally ominous as it was calming. Our watch was working hard to see any obstructions or ships to no avail and yet the fog graciously blocked any worries to be had by the crew or captain.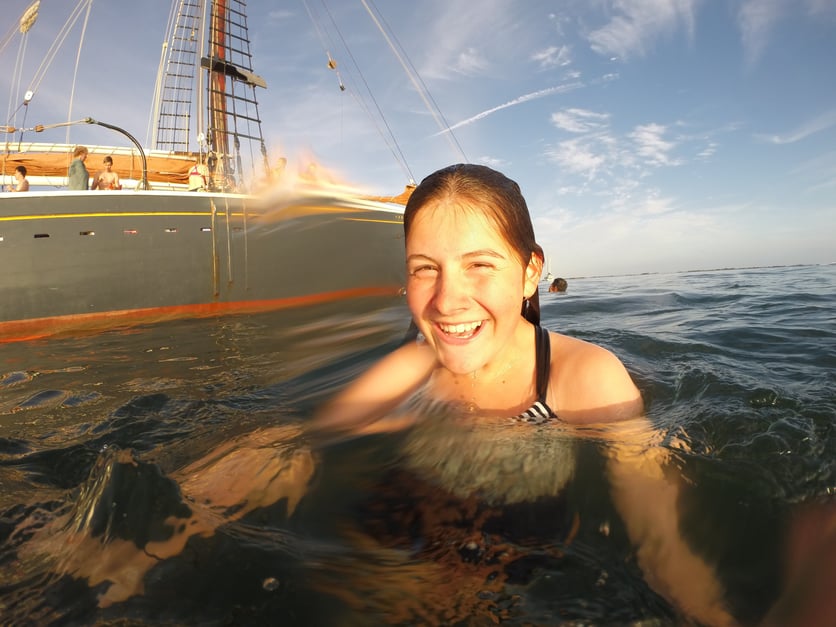 The fog allowed us to admire other, closer aspects that one does not normally notice while straining one's eyes for the distant waves. C Watch observed bioluminescent jellyfish in the wake of the Roseway. Although the fog blocked the stars in the sky, it forced us to observe the stars in the sea. The luminescence only appeared when water was moved. One of the many secrets of the sea revealed to us because the fog blocked our view of the vast ocean ahead.
Moral of the story: look closely at what is close to you
---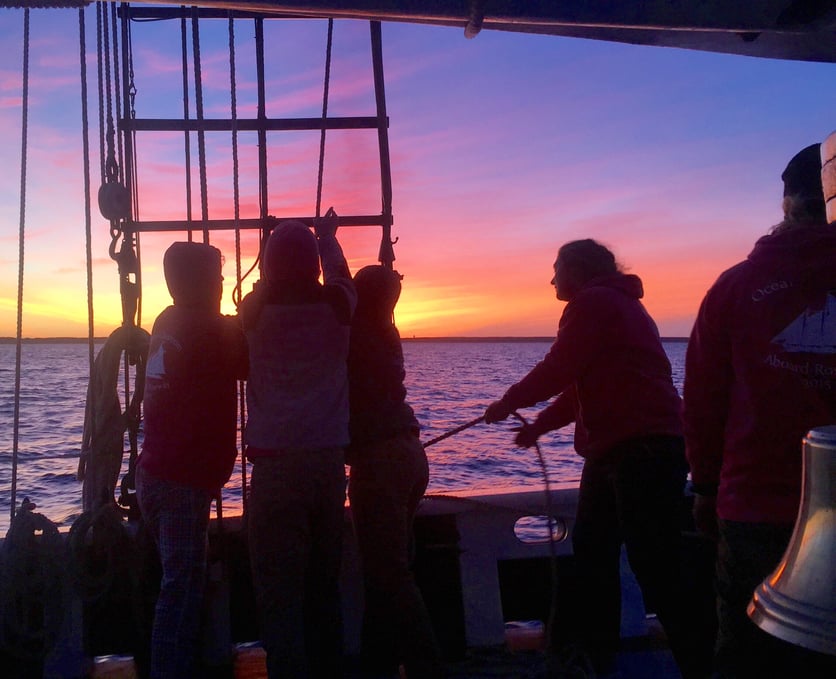 Carl Hubbard '17
0455: My watch glowed that number this morning. I awoke the earliest yet and headed up on deck promptly after wakeups. After scrubbing the 'soles' of the fish hold, and doing a boat check, I joined Noah and Jojo and Taylor at the bow. We called out boats with the little visibility we had through the morning fog. Around 0600 the fog deepened and Taylor and Jojo let Cap know we couldn't see much off the bow. Noah and I continued to chat about our brothers and and Proctor life; BWAHHHHHHH! The foghorn sounded. I immediately thought the world itself was ending and hit the deck in a split second. After the horn finished sounding, I realized the world wasn't in fact ending. I got to my feet and started dying of laughter due to my dramatic reaction to the foghorn, while Noah, Taylor and Jojo had only jumped a bit. Perhaps my instincts will save me one day, but today they only got me a bruised knee.
---
Wind on a boat sounds like water getting clogged in an ear, or someone flapping a bed sheet up and down. It makes eyes feel fresh, as if chewing mint gum, and they water a little bit. It blows salt and scent into greasy hair and pulls back sweatshirts to stick as tight as a second skin. Throats feel icky and tummies queasy and feet unsteady and there are too many knots to count. Everything is big and strong and yet fragile and precarious and everything depends on everything going according to plan, which nothing will.
The calendar slides from left to right with the rocking of the boat, and just a few feet below the bed and waves that carry and shake. Noodles and soup get cold and upset tummies get emptied and filled and nerve and anxiety wrack every bone with so much force and intensity that comes in waves almost as rolling as the ones beneath. And yet sitting on the plastery, sunny cabin top while listening to the ukulele and hearing shouts of joy and sprays of salt water is the happiest she's been in a long time, and the most whole she believes to be possible.
- Anonymous