Proctor Academy's Ocean Classroom program has entered week four at sea, voyaging through the Long Island Sound and past New York City bound for the Chesapeake Bay. After five days docked in Mystic, Connecticut, the student crew of 21 was eager to get back on the water for the next leg of their journey. Read more from the past week's Ship's Logs below!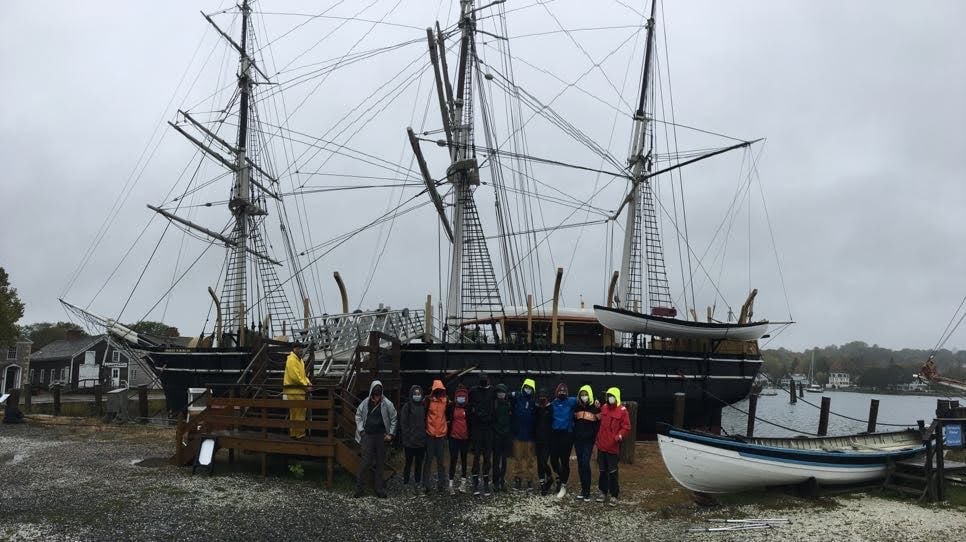 Torie '21 | Mystic, CT
Saturday, October 10, 2020
It has been lovely being docked here in Mystic, Connecticut. The seaport village is very quaint and quintessential Connecticut. We can see small stone buildings on the water and looking out across the Mystic river there is turning foliage. Today was our make and mends day, so we have had the whole day off to catch up on sleep and projects. I spent most of the day working on my ditty bag. Ditty bags are made out of old sail cloth, and it becomes very time consuming pushing a needle through the thick sail material. This afternoon I sat out on the bowsprit and worked on completing the first seam of my bag. Everyone has been enjoying spending our bubble social distancing time on land, as after we leave Mystic we will be underway for a larger amount of time. Roseway fits in here as well as we are surrounded by other beautiful old tall ships, some being much bigger as us!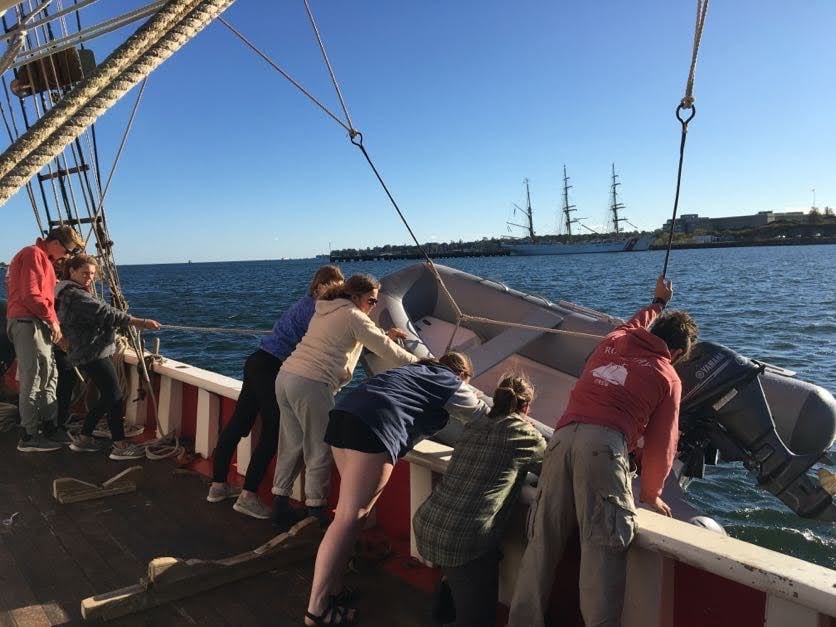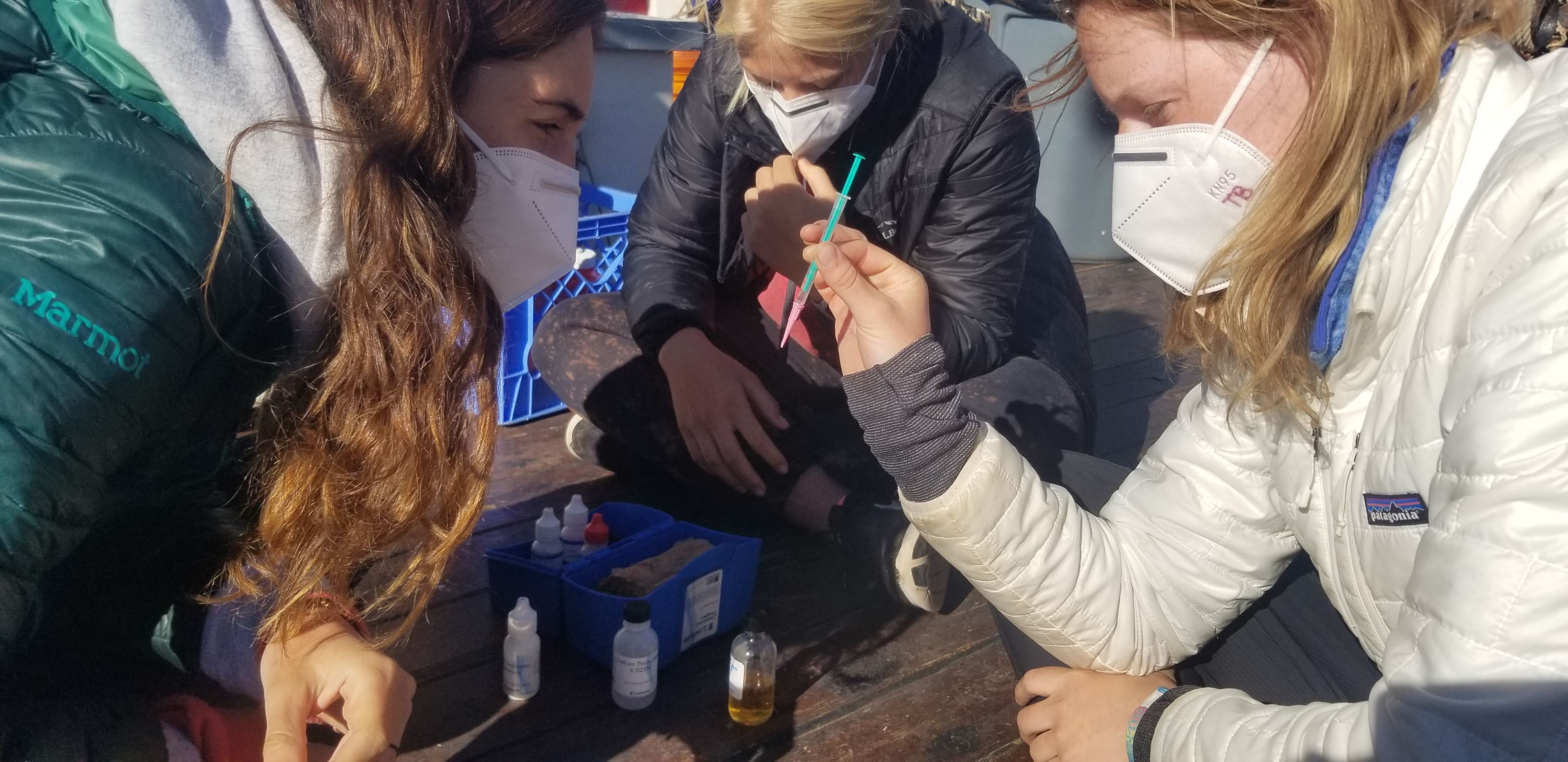 Aubrey '21 | Mystic, CT
Sunday, October 11, 2020
A sleepy fall day docked here at Mystic Seaport. This morning we got a lovely delivery of croissants, cinnamon rolls, and scones from a Proctor Alumni and former Ocean Classroom student. Students and most if the crew had the day off so a good amount of time was spent napping, working on homework, working out, or laying in the sun and embracing the day. This evening we took a 15 minute walk to Jason's house who runs the education programs aboard Amistad, a former cargo ship that carried slaves, for a social distancing educational lesson. The boat is docked right next to us at the seaport. He gave us a fascinating presentation on the story of the Amistad which revolved around a successful revolt off the coast of Cuba, and the landmark supreme court case that followed it. I am never one for history but I found the story to be impactful and I think the whole group would agree. Jason and his family were so sweet and set out pillows and blankets in his backyard for us to sit on and they also picked up some pumpkin donuts and apple cider from their favorite local farm for us to try. Walking back, we passed beautiful New England houses, many of which had pumpkins on their front porches and Halloween decorations scattered about their lawns. It was the epitome of a warm fall day. Getting back to the boat tonight we arranged a student and crew wide game of verbal assassin that will start tomorrow at 12:00pm tomorrow. We were given a slip of paper with a person's name and a phrase that we must get them to say. When they say it, they are assassinated and out of the game. I'm pretty nervous as I have a word I've never even heard before and had to look it up in the dictionary. It seems like a big ocean tradition and can apparently take weeks to narrow down the winner. Night watches are spooky here as there is many suspicions of ghosts aboard the Amistad. I start mine in 10 minutes at 22:00 so goodbye and good riddance! Shout out to my family and happy 21st to my older sister Erica! Love you all, love Daisy more though.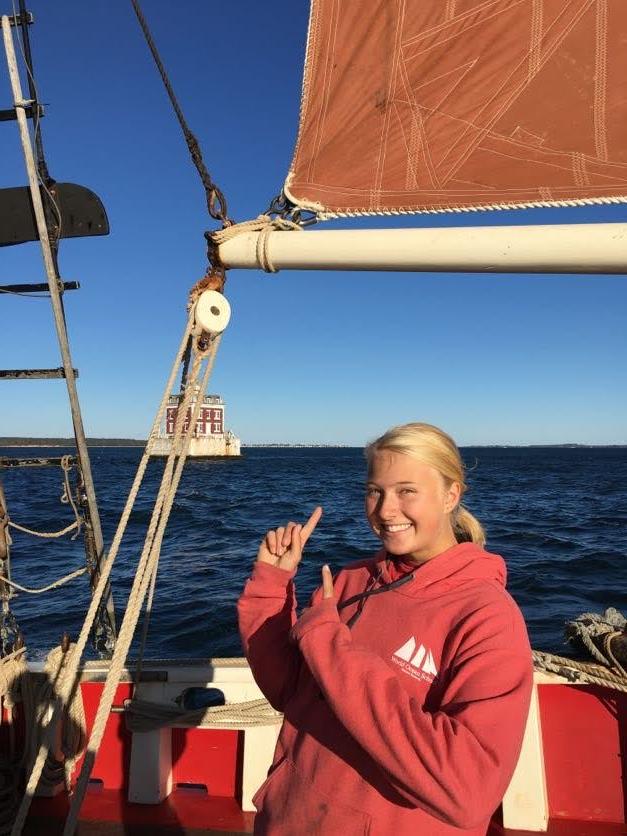 Hannah '21 | Mystic, CT
Monday, October 12, 2020
Today was our 4th day docked at the Mystic Seaport. This morning was our first field day and much to our surprise, that did not mean running around on land all day. Instead, it meant we were going to clean every nook and cranny of Roseway. After being split into our groups based on music taste, we got to cleaning. It was one of those perfect rainy cleaning days where staying inside is all you want to do. My group was in charge of cleaning the main salon. We were in the music melting pot group. We played a bit of everything and hearing music was something that doesn't happen very often. We cleaned every inch of the room including the ceiling. When I walked from the bow of the ship to the stern, the music would slowly change. In the Foc's'le they were listening to rap, the fish hold was listening to country, the galley was rock and roll, and the salon was a mix of everything. Hearing all the music made me miss it so much. Later in the evening, we had the whole seaport to ourselves and played an intense hour and a half long game of capture the flag. This was our second attempt at capture the flag since we have been together as a group and this time there was no holding back. After a long day of cleaning some didn't want to play but once the game started everyone was ready. This was the first time we have ran around during the trip and it felt so good. Having the whole group get into it made it so much better and it was a great way to end the day.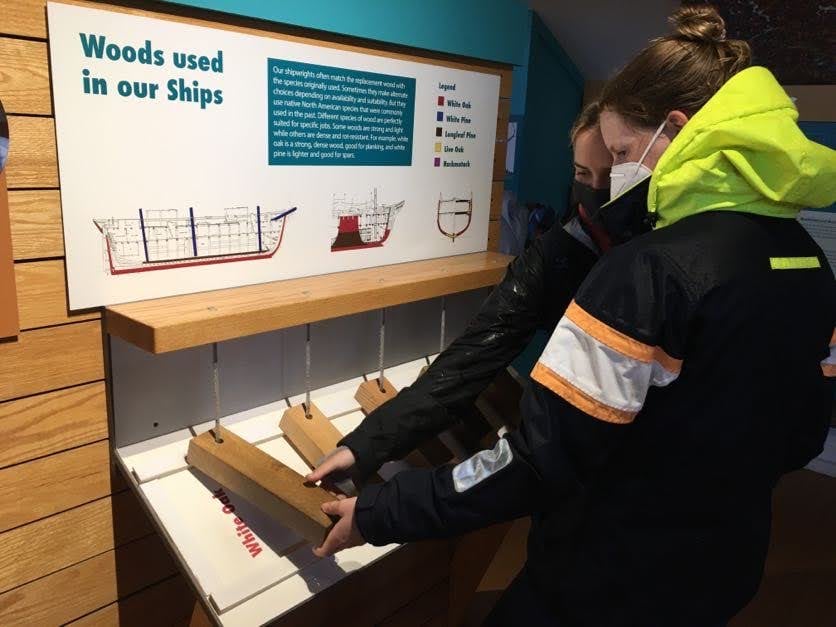 Jamie '21 | Mystic, CT
Tuesday, October 13, 2020
This morning, the rain hit the deck hard. After about a week of sunshine, the rain is overdue. We started off the morning by splitting into two groups for a tour around Mystic Seaport. My group started off with a walking tour of the "town" that has been recreated to represent the old Mystic vibe and the essential stores needed to keep a seaport operational. We were also allowed inside a house built in 1790 and renovated in 1830. The house was quaint, and everything inside had a purpose. There were also real dried fish and spices hanging from the walls. There were chamber pots in the bedrooms and an array of cast iron pots and skillets for cooking over a fire. Next we were allowed on the Charles W. Morgan, a whaling boat who had 37 voyages, but since retired and lives full time in Mystic. Roseway looks quite small compared to the whaling boat. Inside, the low ceilings posed as a challenge for anyone over 5'5". These low ceilings allowed heat to remain in the room where the whales would be processed and aid in the boiling of blubber. The foc's'le, where the deckhands slept on the Charles W Morgan, was very compact and seemed like a snug fit for 20 grown men to sleep. I am very thankful that we have a bit more space in our sleeping compartments. Next, we went to the planetarium within the seaport museum and were given a demonstration on celestial navigation and calculating LAN (local apparent noon) and DR's (dead reckonings). Finally, we entered a building which held over 500 historic boats. These ranged from kayaks, small sail boats, and large motorboats. There was even a model of one of the first water bikes! Each boat had a tag with basic information about it, but our guide clued us in on some of the more amazing stories. We all learned a lot today but also ready to continue down the coast to warmer weather!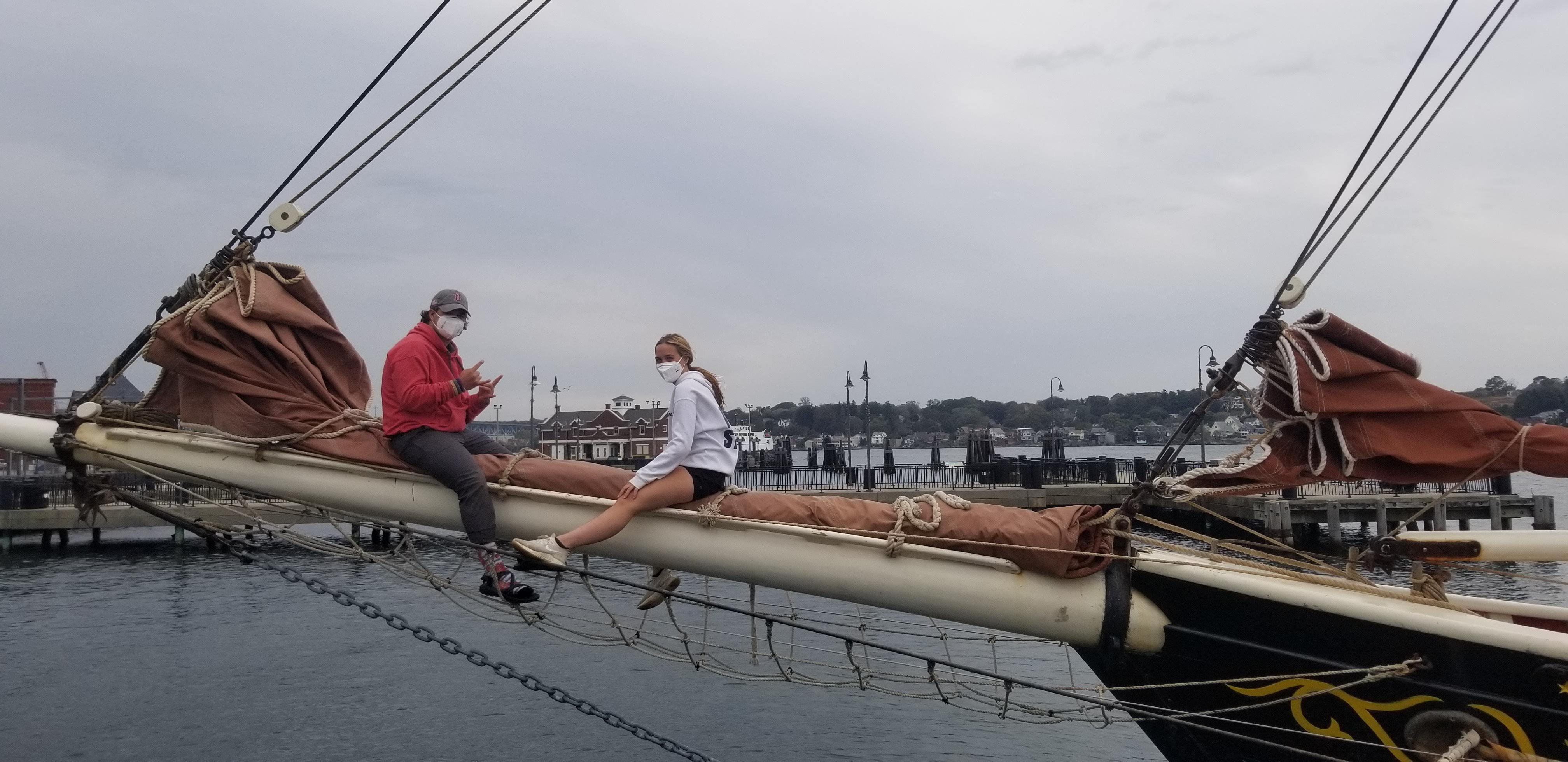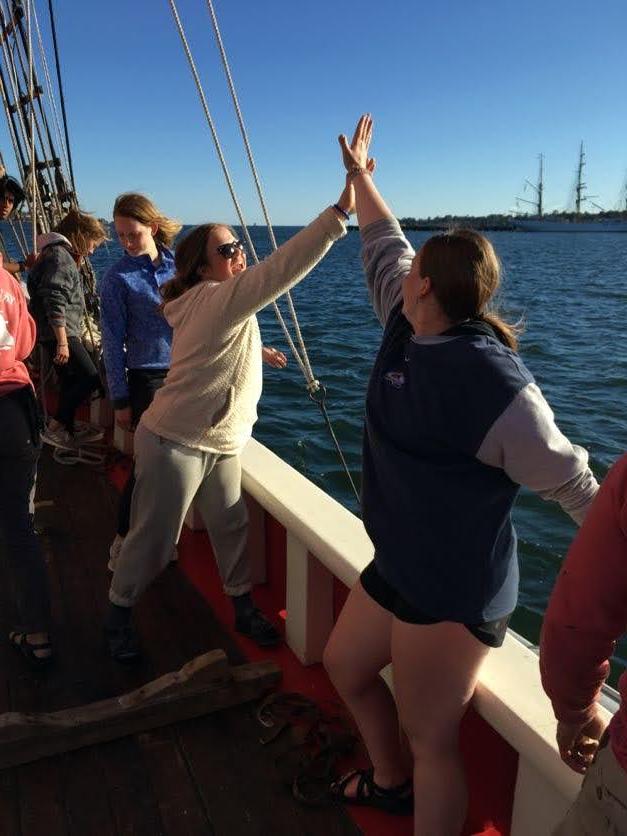 Katie '21 | Long Island Sound
Wednesday, October 14, 2020
As I stepped onto the slippery grey boat named shrimp, my feet almost slipped out from underneath me, but luckily they did not. I sat down by the tiller and got ready next to Susanna to steer the boat. I looked up at Roseway, and Ollie was laughing at my driving skills as Holly smiled at me like I was her child taking my first steps. My job was to stay right next to Roseway and although the task sounds easy the boat turns the opposite way you turn the tiller. Once I got used to it, it was so much fun! I had to pull up next to Roseway while moving. Waves splashed up and hit my face. Once again I fell getting aboard, but I made it. We set sail and are finally underway. While eating dinner I remembered we were playing word assassin. Our cook Sean came to help me write this, but quickly slipped my word into it and now I am out of the game. We are underway for New York and then Maryland.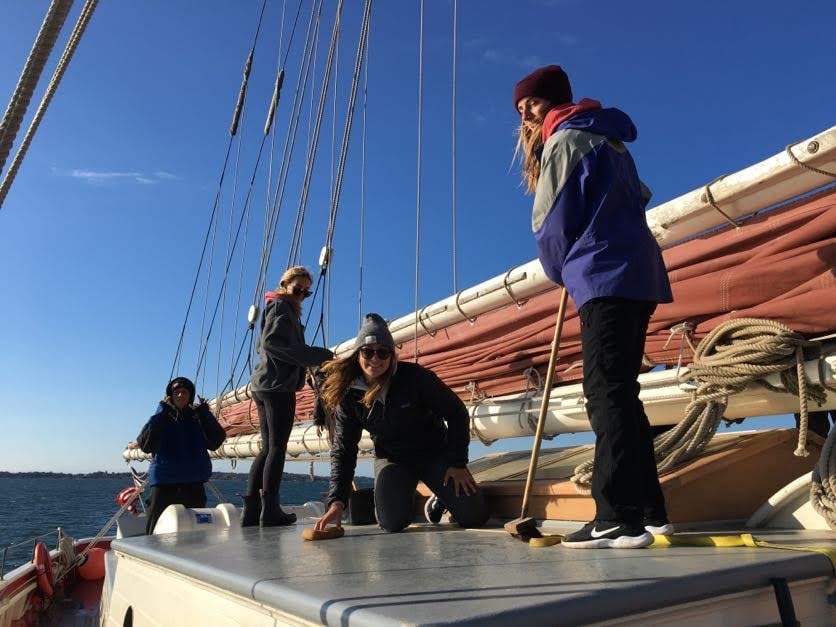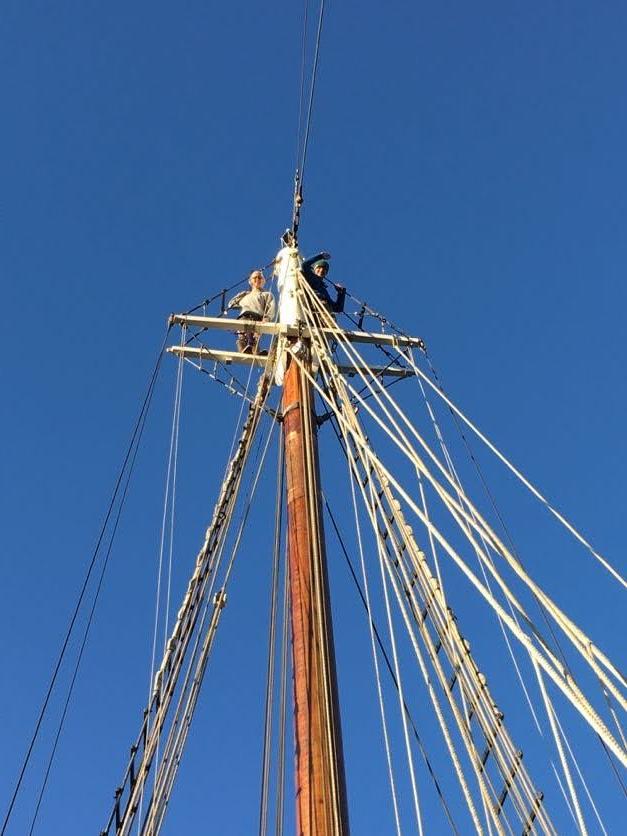 Mitchell '21 | Long Island Sound
Thursday, October 15, 2020
With the New York City skyline off the starboard bow, Roseway sailed down the Long Island sound. It was one of our first days sailing with no motor and with the boat perfectly heeled over. After being docked in Mystic for five days it was nice to get back on the water. The sun was shining, the wind was blowing hard, and the sails were full. Since we had all gotten used to anchor watches and not four-hour watches, a lot of people spent the day sleeping. Sean had one of his few days off, so Ms. Miller-Shelley had a build your own breakfast sandwich station for the morning. For lunch Nick, our engineer made a mac and cheese meal with chicken strips and coleslaw that went beautifully with barbeque sauce. Susanna made chicken pot pie for dinner and our very own Hannah Stowe made apple crisp for dessert. Fun fact, both Susanna and Nick used to be chefs before they came to Roseway. So even with Sean's day off we're in good hands. Even with protection from Long Island, the waves got pretty big and I got soaked a few times while on forward lookout. Normally I would have welcomed rinses like that but, being close to New York, I was a tad suspicious about the quality of the water. Another thing about coming to this city is it's bringing out the eternal Boston vs. New York debate. I hope we get out of here before it gets too heated. Shout out Boston.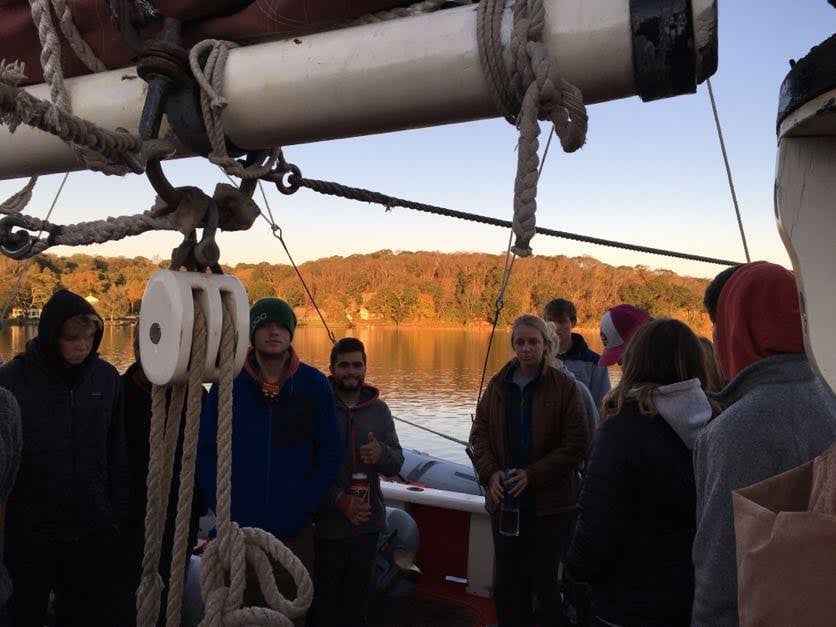 Ollie '21 | Long Island Sound
Friday, October 16, 2020
It t'was the day before the Big Apple and the boys in the focs'l where all sound asleep. Suddenly we all awoke to the strumming of McKenzie's wonderful wake up song. After morning chores and a deck wash in the rain we were greeted by a great breakfast from Sean and our first galley assistant Jake. After dishes and being stood down for the morning most of the students caught up on homework and sleep. Suddenly Thane spotted his boat Rose on the horizon and Matthew, a former Ocean Classroom educator and also skipper of Rose, came along side to sing us the sea shanty "Patty Lay Back". We from the rain in the salon where we had literature and history class for the afternoon. We were greeted by our third meal of the day and Sean's amazing French bread. After a sunset with red colors and now night, hopefully tomorrow will be a delight. Peace and love.