Proctor's Ocean Classroom program continues its journey south along the eastern seaboard with stops in New Bedford to New London, and eventually to Norfolk, Virginia. The reality of life at sea - night watches, early mornings, cramped quarters, academic courses, and physically demanding chores - have settled in and our crew of 22 Proctor students is becoming a cohesive unit. Read reflections from the past week below.
Day 9: Saturday, September 30 - New Bedford, MA - Ian '19
Today marks the closing day of September. The morning was rather wet but not rainy. Chad had said it was raining during wake up so everyone got foulies on without needing them. But that's ok because a cute dog appeared on the Roseway this morning. That was fun and exciting. Lunch was super good and included soup and sandwiches. Oh wait! I remembered the morning activities. We went into port and had a walking tour on whaling history and that was really cool. After that, Aidan and myself watched birds surf and do sick tricks. After lunch we went on another walking tour about Frederick Douglas this time. The guide had an awesome coat. There was a cafe where a bunch of people got cheese rolls and coffee. I got cake and hot chocolate. Overall, New Bedford is really cool and has awesome whaling history.
Day 10: Sunday, October 1, Anchorage outside New London, CT - Ivy
Today we made way from New Bedford to New London. We will be making a quick pit-stop to pick up supplies for the boat, and then we plan to sail south towards Norfolk, VA. Students were very attentive and excited to be on active watch today, to learn their lines and knots to get bowsprit and aloft certified, to catch up on some much deserved rest, and to gear up for their classes for the week. The crew has been very impressed by their desire to learn and engage in this program--we have 22 budding sailors on our hands!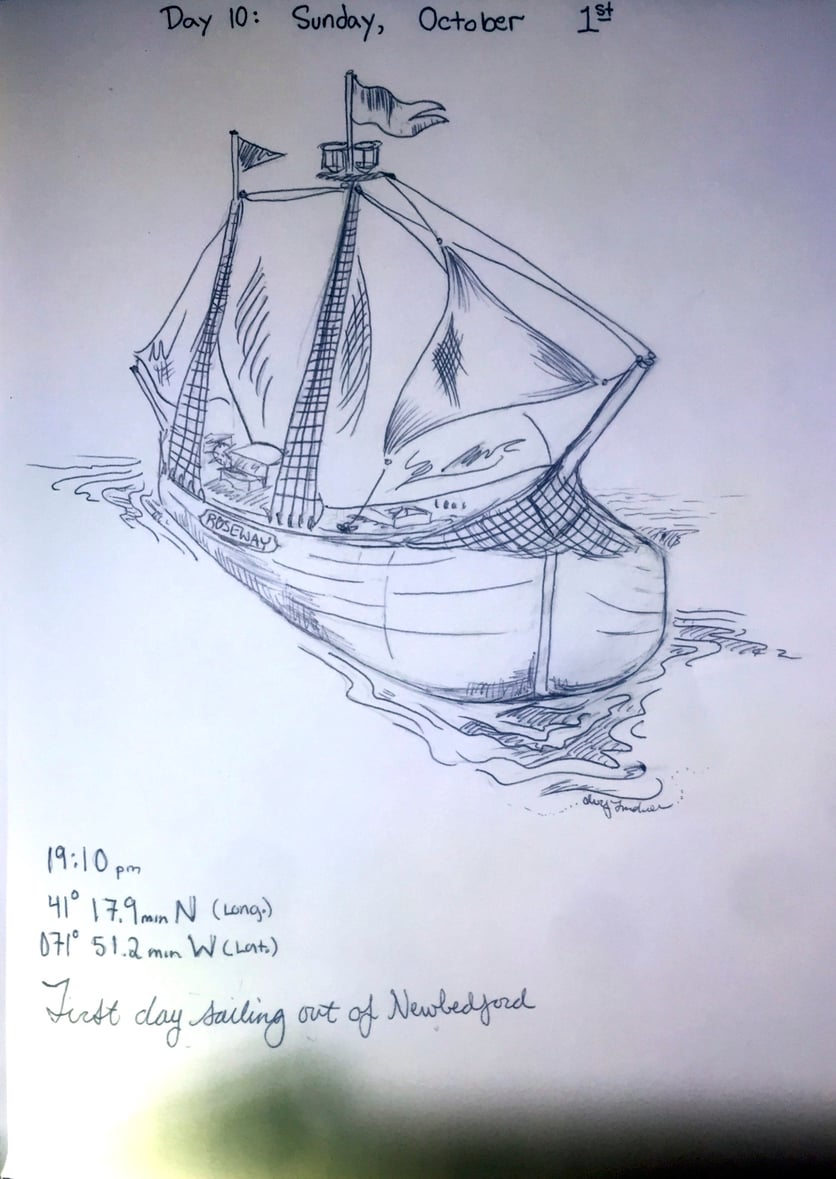 Day 11: Monday, October 2nd - New London, CT - Ethan '18
Today we were forced to make an unexpected stop in New London, CT. The coolant pumps for the generator stopped working, so we have been moored since around 10:00, and as it turns out, we seem to be spending the night. It feels odd to stop in a town and still have no idea about the people and shops in it. Coming from our previous port stops, where we were spending days looking at the history of different environments, I could feel myself trying to compare the towns from just looking at the "Hot Rod Cafe" it occurred to me how silly a notion it truly is to try and understand an entire town and its way of life by one single street. Upon realizing this, I also thought about my base assumption that after spending a mere three days in town, I knew about as much as someone who actually lived there. I believe that everyone has moments like these, when they assume something that doesn't really have much of a basis. I want to try and learn from my realization, but what if some idea has been deeply rooted in my brain since I was young, and something I think I know is based entirely on fiction?
Anyways, today has been mostly uneventful. The biggest thing that happened was a very big change in temperature. I got woken up at 04:30 for watch, and came out wearing two pairs of pants and three coats. As the day progressed, I began shedding layers. By 12:00, it had reached a pretty acceptable temperature and I was able to move about looking like a relatively normal human being. All in all, despite the general lack of activity amongst the student body, it was a good day aboard Roseway.

Day 12: Tuesday, October 3rd - At Sea - Katherine '18
Today we woke up in New London, Connecticut and immediately raised the sails. Today marks our first official day voyaging. We went about our day as we always do, but every day we spend on Roseway is busy, rich, and beautiful. The evening was filled with the melodic strumming of the ukulele. It really set a pleasant tone for the sunset. Overall, the third of October was another lovely day on the Roseway. We are currently passing through Long Island, and we are slowly drifting off into sleep and into another wonderful day. Read Katherine's full graphic novel passage HERE!
Day 13: Wednesday, October 4th - At Sea - Connor '18
Today was an extremely exciting day for the students and crew aboard Roseway. This was our second day of voyaging to Norfolk, Virginia, and we hit two major firsts for us. One of them was that we had our first real night watches last night and this morning. We have been doing night watches since day one, but all of those were either at the dock or at anchor. This was our first night sailing. One thing I noticed while on my watch was that with everyone but my watch asleep, there is less going on than during the day. This lack of stimulation allows your mind to wander when you are on standby, waiting for another task that needs to be accomplished. While looking out over the moonlit ocean, a sense of tranquility floods the body and mind. During this brief moment of peace, you come to realize that without contact to the outside world, there are only three things that matter while you are aboard Roseway. This ship, your shipmates, and yourself. Little did I know that this same day would show us all why these three things stick out. Around 14:00, the nice sailing breeze picked up into fierce winds with speeds up to 26 knots (30 mph). This created large swells that violently rocked the boat. With waves crashing over the bow and the spray coating the deck, everyone grabbed their foul weather gear and prepared to battle the winds. What followed is in my opinion something you can only experience to fully grasp the nature of what happened that afternoon. Everyone helped out each other who, in turn, cared for the ship. From the brave who ventured out onto the headrig to take in the jib, to others who all pitched in to care for the seasick. The only way to sum it all up is that if there were ever a day for the books, this would be it.