After a week of unexpected obstacles and quick pivots, Proctor Academy's Ocean Classroom program began their journey south with a high winds passage through the Cape Cod Canal as they sailed toward New Bedford, MA. Morale is high on board Harvey Gamage as students begin to fully appreciate and understand what it means to live and learn at sea. Read more from the past week on Ocean Classroom below.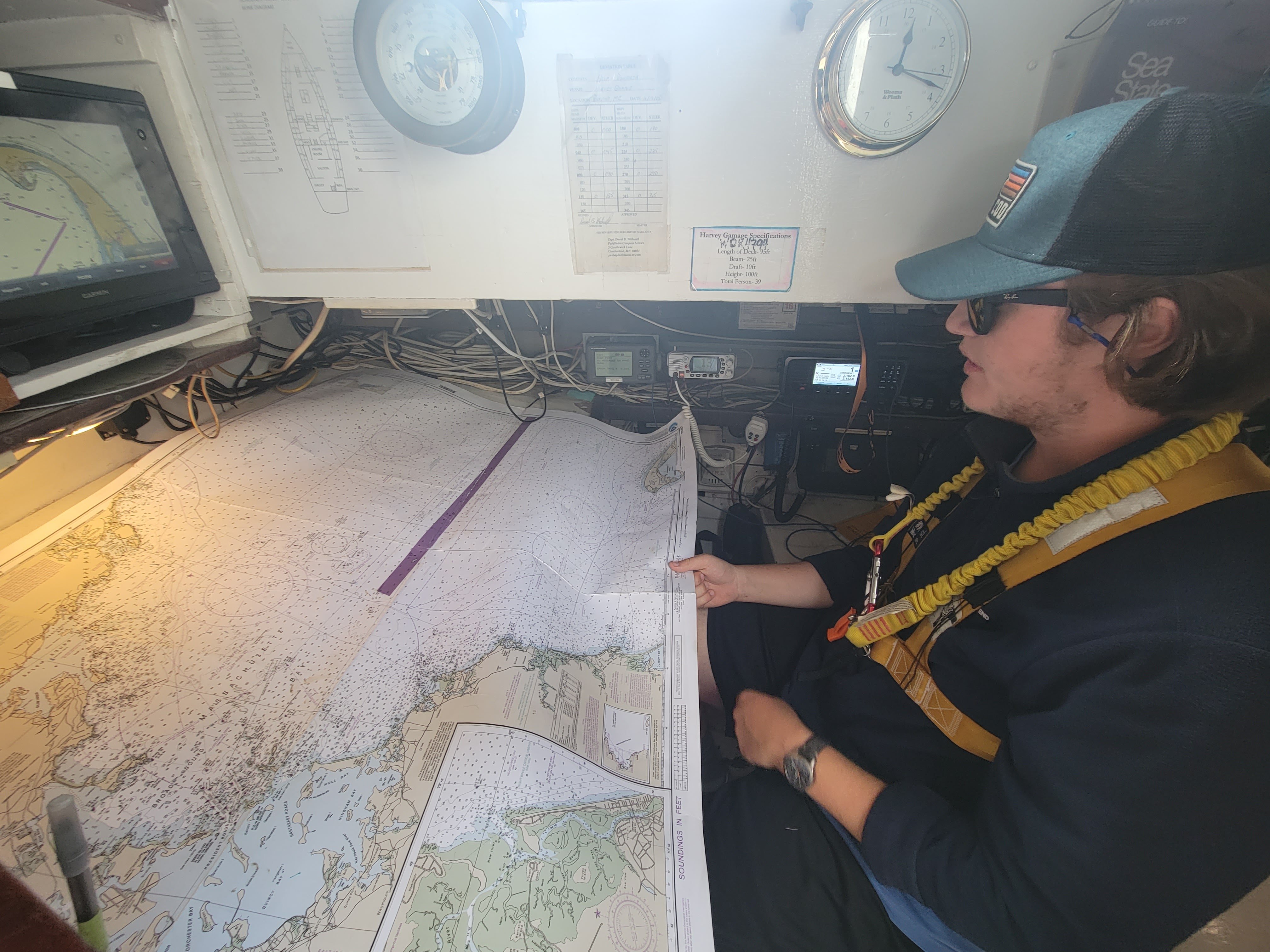 Day 24 | Tuesday, October 5th
N 44° 06.400 W 069° 05.376
Tuesday morning began with a beautiful sunrise and some delicious pancakes! After eating, we began our daily chores and discussed what our plan was for the day during muster. There was lots of gratitude towards a few of the student crew members on how well all of us have been during these past couple of days sailing around Maine. After class this morning, everyone was getting excited as the sun shined down on our faces hearing the good news we were heading into town for freetime! The ride to the park on the small boat was fun while we all talked about the crazy big yacht in Rockland Harbor. Once we reached land, everyone sprinted over to the park field and began playing a huge game of soccer, which was nice because we were all longing for exercise! The day went on as everyone got to do more exploring in the town of Rockland. I know there was lots of excitement knowing we could get a refreshing cup of coffee. We arrived back at the Gamage at around 1730 to hear it was Taco Tuesday which was such a great way to end the day. While eating our tacos, there was an exquisite sunset over the mountains in the distance. This was a great reminder that taking a break to watch a sunset and to breathe is always the right way to end a day of laughter and fun!
-Lily '23
Day 25 | Wednesday, October 6th
N 43° 19.760 W 069° 53.701
They say a sailor rots at port; and for the crew of the Harvey Gamage, we were beginning to feel inklings of such. Needless to say, the news that we were to leave Rockland astern was all but ill received. Morning muster brought word that we would be welcoming a new History/Literature teacher aboard. The bounty of good news provided all the more reason to get underway. Thus, following a breakfast of biscuits and gravy, the crew was swift to heave around. We navigated the lobster pot laden waters outside the Rockland breakwater remembering them as though they were the freckled face of an unforgiving teacher. We were so happy to say goodbye. Shortly before lunch we passed broadside to the Lewis R. French. We continued what seemed to be a long-standing friendly rapport between captains by throwing leftover biscuits at them. Our fire was met by a cannon blank, which scared many of the crew.
Marine science took place after lunch at 1400 where we dissected a scientific article titled "The timescales of global surface ocean connectivity." While the contents of the paper were as dense as the title, Holly's breakdown of it led to class making a lot of connections to what we were covering in prior lessons. The sun continued as the afternoon rolled into almanacs where Nate (deckhand) gave an insightful presentation on the green flash. Green flash is a weather phenomenon where, through the inexplicability of science, a flash of emerald can be seen as the sun dips behind the horizon. Naturally, as the crew ate dinner we waited to potentially see the flash. Unfortunately such was to no avail. As the evening gathered around us, the sunset faded away to the sound of the guitar. Nevertheless, the Gamage continued to make headway as A watch took the deck for the 2000-0000 watch. In triumphant fashion the day was concluded watching a pod of porpoises streak through bioluminescent water leaving ghostly bullet trails. A fantastic end to the day.
-Tucker '22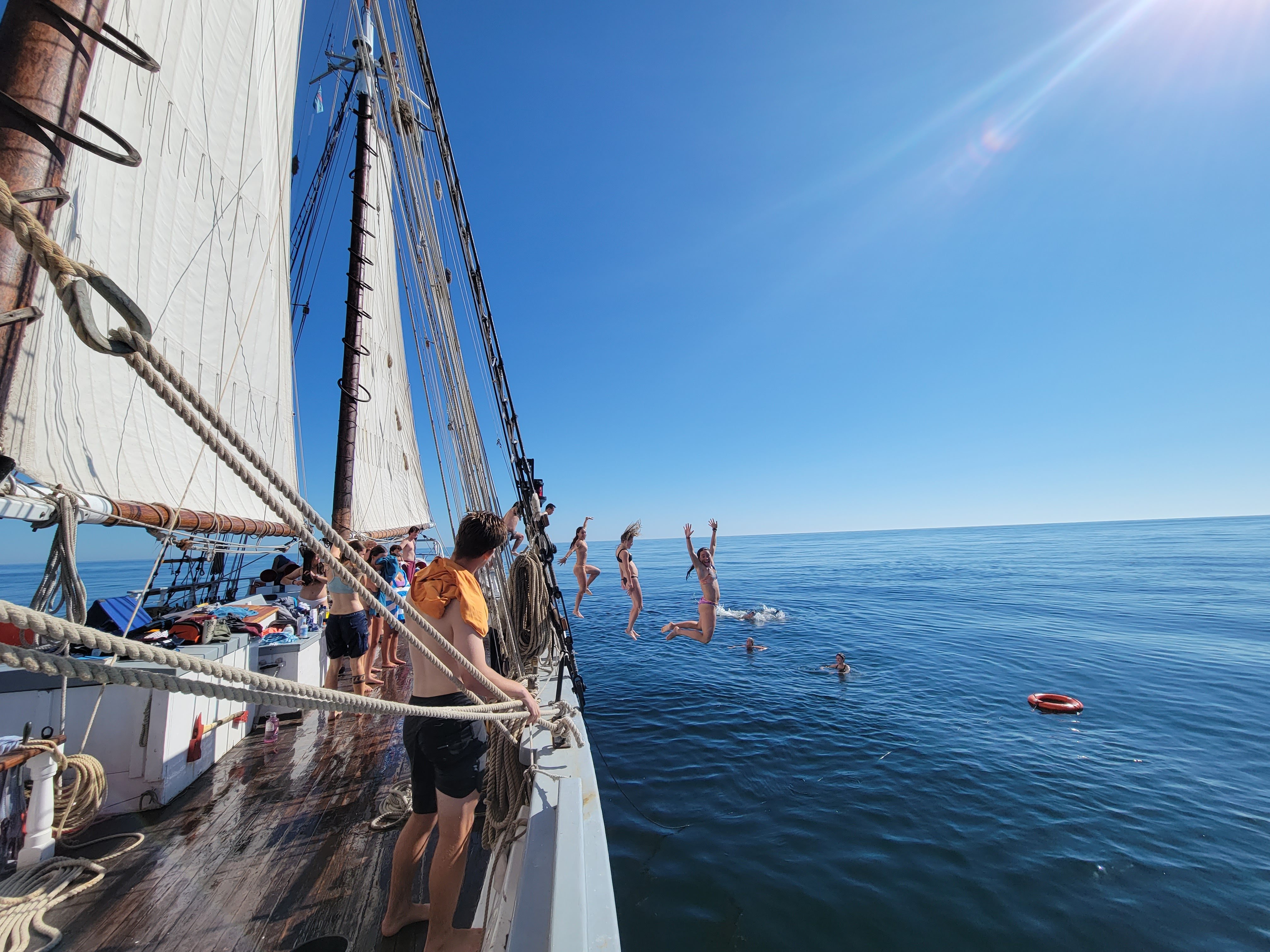 Day 26 | Thursday, October 7th
N 43° 18' W 069° 56'
"We came from that way, we are going that way, we are going to end up that way." Words said by Captain Goldman. Last night's watch was filled with constellations and shooting stars. We had some visitors, a pod of porpoises swam next to the boat kicking up the bioluminescence in the water. We went to bed but shortly after we woke up for our next watch. We have been underway for 32 hours now bound for New Bedford, MA. We couldn't have asked for better weather. Nice sunny skies and deep blue seas. With 513 feet below us and no land in sight, Ms. Van der Leest suggested we have a swim call. Ms. Spring announced that we had swim time. Everyone rushed to put their bathing suits on and shortly after everyone jumped into the freezing cold Maine water. Whilst the "pool," also known as the great North Atlantic Ocean, was in session, the students and crew members participated in the activities of bathing, swimming competitions, and tanning on the headrig. At 1700 began the first student-lead almanac on the vessel Harvey Gamage. Each watch expressed their unique talents, such as B watch writing numerous spelling mistakes for the comedic effect, as well as C watch creating a lyrical masterpiece. As we sail into Gloucester, we hope for the weather to continue to be fair and the winds to be strong.
P.S. Feliz cumpleaños papá. I love you with all my heart. Te extraño demasiado mamá. Los quiero! <3 A ti igual Kael.
-Kassia '23
Day 27 | Friday, October 8th
N 42° 35.504 W 070° 40.087
Hear ye, hear ye, alas, away from the state of Maine we are. Hear yay, hear yay, for the Harvey Gamage is back in Massachusetts today, oh the beauty before my eyes" I whispered to myself as I gazed upon the millions of shining stars, of which are made brighter without the presence of the moon; or the Rockland light pollution. What magnificence I have experienced so far; sailing and motoring and tacking and jibing and doing so many other things that few have the ability to have partaken in themselves. During the time of night in which the stars will present and the sun prepared to reveal itself to the New England coast, the Harvey Gamage had her sails taken down and her anchor dropped in the harbour of Gloucester. In the morning, with an exuberant amount of energy and excitement to learn, the students took copious notes in marine science on the subject of plankton; more specifically, the classification of plankton, what each class does, in their overall significance to marine life. Once again our Gordon Ramsey like cook, Tyler, concocted a breakfast of corned pork hash and eggs as well a lunch of corn chowder, fresh rolls, and fried risotto balls, all of which would make a salty sailor look like a successful Wall Street businessman taking advantage of the little he has to treat his wife to a michelin star dining experience on a crisp November evening in midtown Manhattan.
As the winds picked up and the sun shone bright in the afternoon, with the busy town of Gloucester in the background, so picturesque that it was practically begging for Gunner's camera, Holly arrived back to the Harvey Gamage with a new crew mate. The gentleman, whose name is Alan Mercer and shall become the educator on the subjects of maritime history and literature, poses the looks and personality of a surfer, scuba diver, and individual who spends his days in the Caribbean doing what he most enjoys. It would be safe to say that the vibes (that's what all the kids say nowadays) he gives off are of those that excite the students and the crew; he surely made a good first impression. Tonight, the Harvey Gamage and her crew will stay anchored in Gloucester in order for the captain, as well as everyone else, to obtain a plethora, or some may even say exuberant, amount of Z's. When the sun rises, the Harvey Gamage shall raise its majestic sails and cruise southward with New Bedford, Mass as its next destination.
P.S. Ms. Keyes, it was a pleasure to sail with you and we all wish you good health. Fair winds and following seas for your next adventures!
-Patrick '22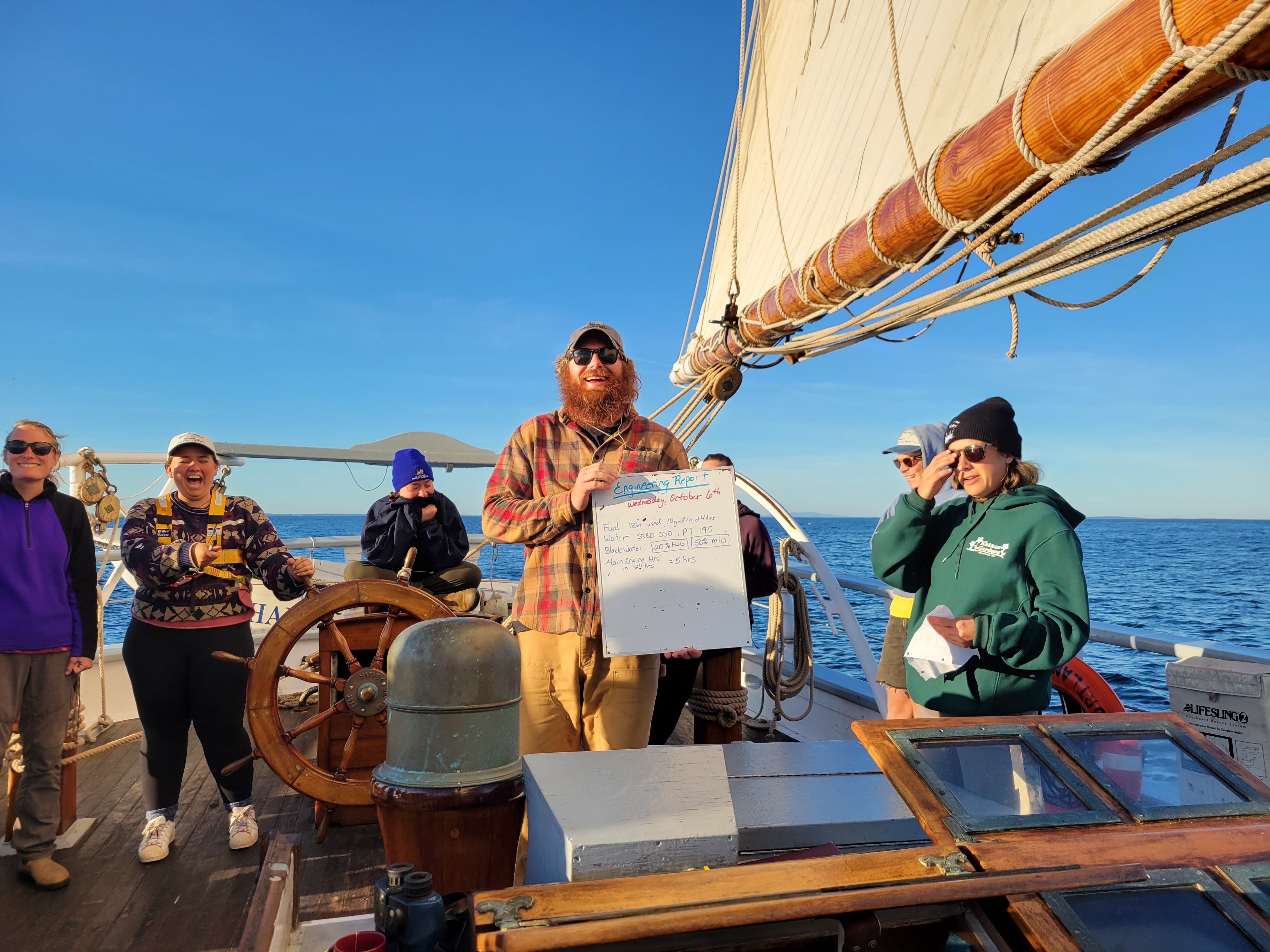 Day 28 | Saturday, October 9th
N 42 11.801 W O70 32.351
Not sure how I'll top Duffy's entry from yesterday but I will try my hardest. Today marks our third Saturday aboard the Harvey Gamage. I can't believe how fast the time has been going. This morning, the ship said fair winds to Ms. Keyes as she steps off the vessel for medical reasons. My watch officer is now Captain Goldman. Scary stuff. Just kidding, he's awesome. We are losing our favorite third mate! We love you Ms. Keyes. Leaving Gloucester had never seemed so hard yet so easy. The crew set sail for New Bedford, Massachusetts making our way down the eastern seacoast. Strong winds carried us down the north shore of Massachusetts. A favorite activity today among the students was sitting on the headrail and riding the sea roller coaster. The swells were big enough that some of us got wet. Around 1700 the vessel got some large visitors...WHALES. What we think were minke whales came right up to the boat to say hello. You could almost reach out and touch them. They do smell very bad though. Many of the shipmates were having trouble with the rougher seas, but being seasick is a right of passage! Hopefully, they'll feel better tomorrow. Gamage is ready for a rocky night underway. We even got to be clipped into a jackline tonight. The winds are very strong and will continue to be picking up as we thack down to New Bedford.
Now this is sailing.
Nina '23
Brian, Sharon, and Sweet Norah,
I love you guys so much. I miss your love so much. I miss Norah's kisses. See you soon in shorefront park. Keep watch on your mailbox.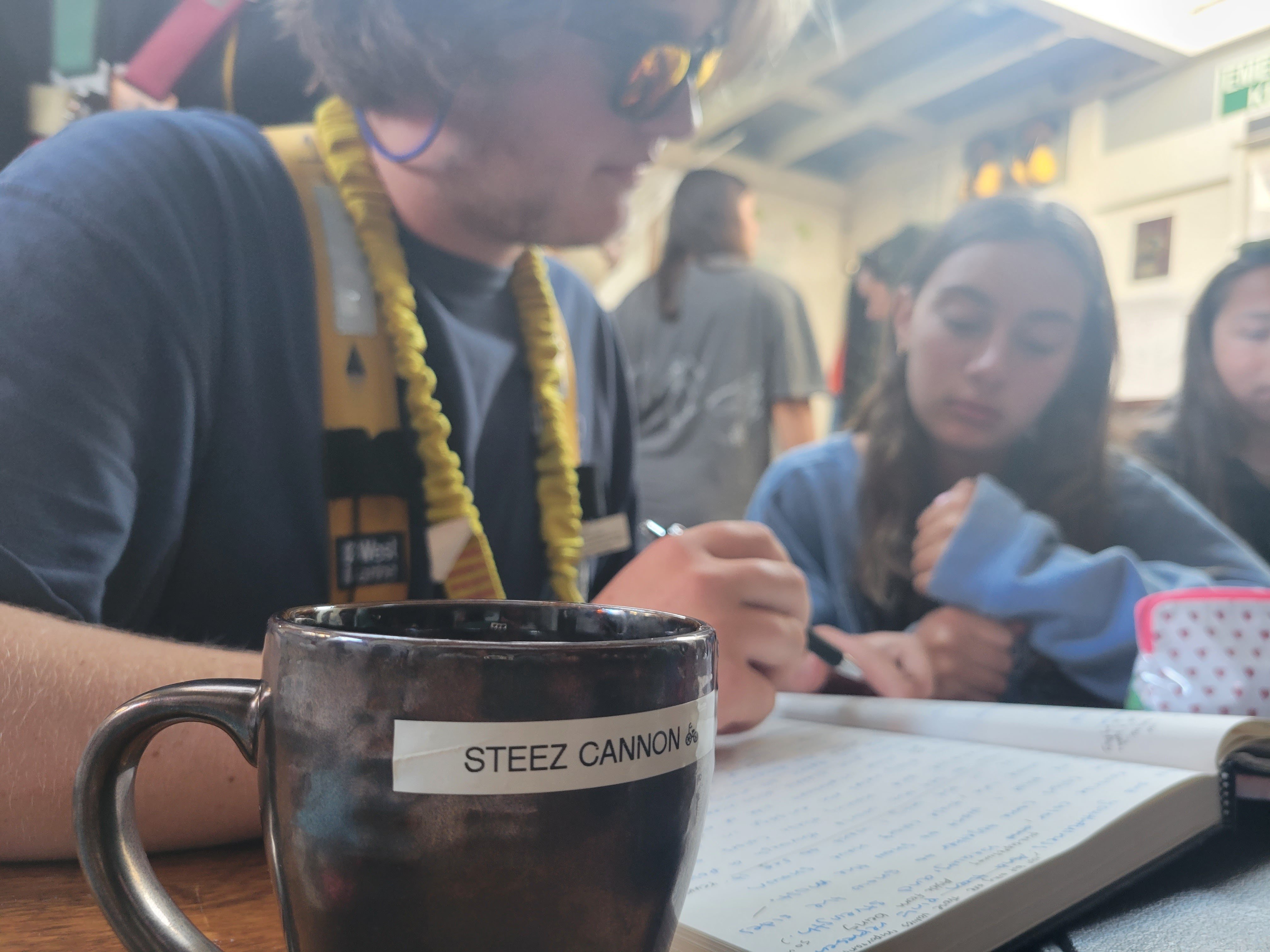 Day 29 | Sunday, October 10th
N41 38.066' W070 55.097'
"You're doing God's work Gunner" - Captain Goldman.
My day started at 1AM when I awoke with a raging headache caused by my episode of seasickness the previous day. It began around noon and didn't go away until I forced myself to fall asleep about 7 hours later. I can't say that there are any highlights to consistently hurling over the side of the boat but if there were, it was in that as I was located perfectly leaning over the rail to see the Minke whale that surfaced about 8 times mere feet from the hull. I saw it blow which may have been in acknowledgement donations to poseidon. At 1 AM this morning we were still at high seas but I managed to hold out until the Cape Cod Canal where I instantly felt better on the smooth water. I could not fall back to sleep because of the headache but I also could not get out of bed to get more water. At 6 AM Kai came down to wake up Patrick and me for bringing in the sails. I was so relieved because Kai brought me a bottle of water and Patrick got me a wet paper towel to place on my blazing forehead. I still didn't dare sit up until about 8 AM when I replenished my electrolytes and I finally got some solids back in me with some gatorade and some delicious pineapple. I still felt queasy and had a wicked headache that was only truly fixed by saltines and some Excedrin. I felt well enough to have some of Tyler the cooks potatoes with an excellent mildly spicy mango sauce.
When I first came on deck this morning I had no idea as to where we were but I was happy to see that we were in the sheltered harbor of New Bedford where the 6 foot seas couldn't reach me. Now I know that Bonine is a necessity for me when on the high seas. When the fishing boat on the town dock left we were all pumped that a space on the dock was available for us. After a stressful experience on a non-floating dock certainly not for fragile schooners we put up the awning in preparation for rain. Then the lazy watchers did their chores and A watch set up to sanitize commonly touched surfaces in hopes of preventing the sniffles, organizing the galley, the bosun boxes, and our personal space. After chores everyone was hanging out in the main salon while I was helping VJ, our engineer, figure out a solution for our potable water to fill our tanks with. We then mustered and presented each of our watch flags to the entire ship's company.
After muster we had a fantastic dinner with Boston Creme pie for dessert. We also dressed in our nice shirts for Sunday's best. The boys decided that it would be funny to wear their foul weather gear over their dress shirts. It definitely sounded better in theory than reality, but it made for some epic photos. After a mini-photoshoot we watched a documentary called "Chasing Coral", it was about how much of a threat climate change is to our oceans. They showed their techniques for doing extended underwater timelapses. I really appreciated the complex camera rigs that had a windshield wiper to keep the housing clean and was all controlled by a microcomputer called a Raspberry Pi. It was a great day of recovery after standing sea watches, especially me considering where I started at 1AM.
- Gunnar '22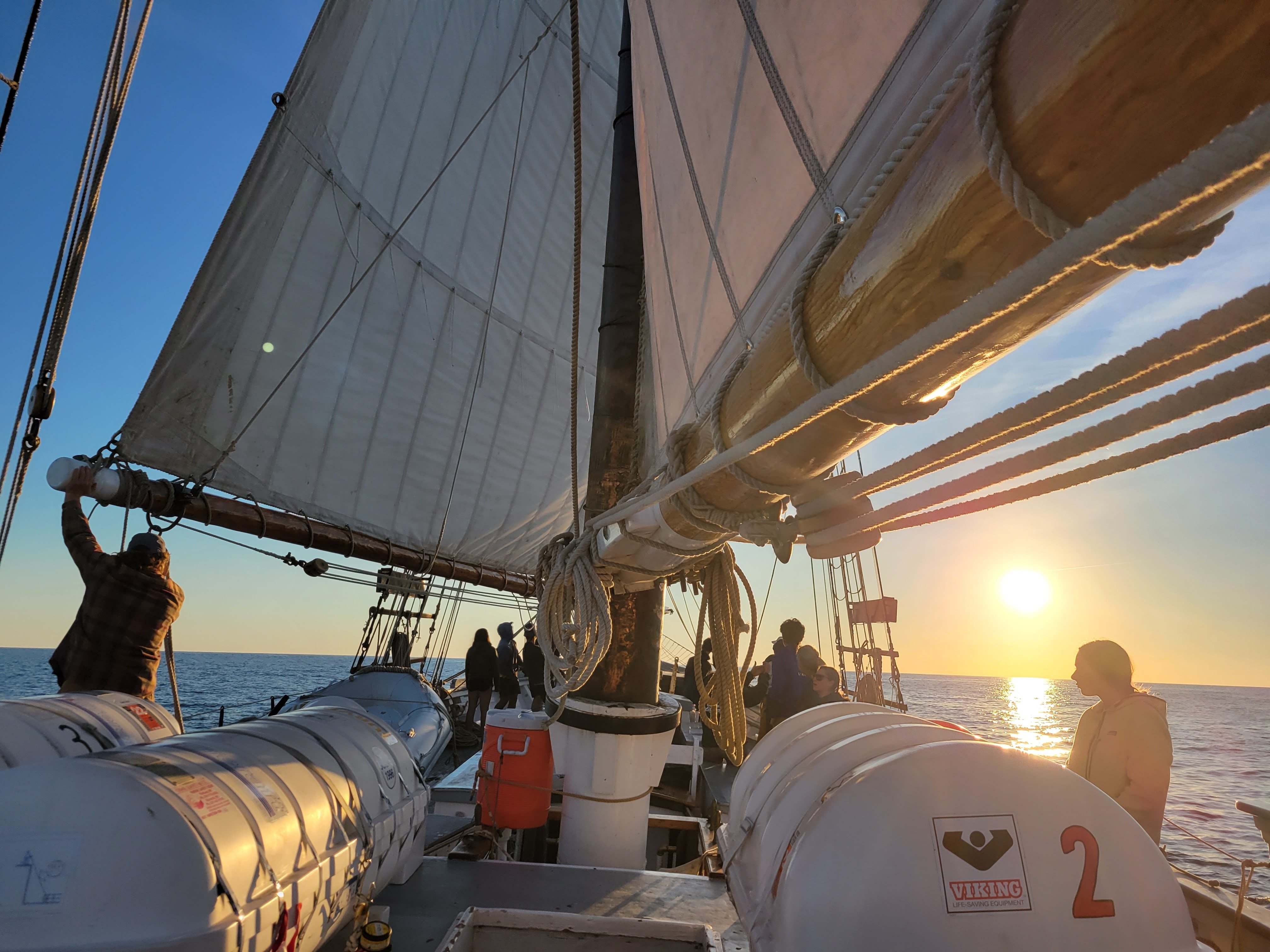 Day 30 | Monday, October 11th
N 41 38.066' W 070 55.09'
After the first full night's sleep in what felt like years, we all woke up to a day of new adventures in New Bedford. Breakfast was an amazing but simple meal of scrambled eggs, rice pudding, and cereal. Colors were raised and muster was called. There we learned that we would be going to the New Bedford Whaling Museum. Chores were done in a rush as we hurried to get off the ship and on land. In the museum, we were faced with a great whale heart and other bits of history. We looked at a room that was filled to the brim with beautiful scrimshaw and wondered what the whalers who made them would have thought of their art in a museum. Time flew by and eventually we headed back to the ship for lunch.
After lunch, we separated and many of us started working on our ditty bags and others focused on galley cleanup. After an hour or two another muster was called and we were allowed to go ashore, but first we had to help put provisions away. We had the food delivered to Harvey by a woman and her sister, we had gotten so many groceries that she had gotten her sister to help bring it all to us. After packing the provisions away, everyone separated and went to shore. Cara, Connor, Reid, and I went on the hunt for a bookstore.
After coming across only closed bookstores we learned that it was Columbus Day. We despaired at the thought that nothing would be open until I looked to my left. There was a bookstore Holly had said would be open and we rushed over to find that it was actually open and went inside. I went into a different room than the rest of my friends and found the owner of the bookstore, an old man who talked about his love for the bookstore and how much he loved silence. Inside there was a woman I talked to about the author Madeline Miller and her works "Song of Achilles" and "Ciree" After buying a book on flowers and the history of how they were used, I met up with my friends and we headed to the small store next to the Whaling Museum. In it we found matching hoodies with coordinates on the sleeve and a tuna fish tail on the back. We headed out again, after buying our hoodies, and found a small gift shop. In it, we looked around before the owner of the store came by, selected two racks, and told them we could have anything on them for just $5. Grateful and wondering why we asked, she told us that since we were on the tall ship in the marina we would need to save money for wherever we were going. Soon a conversation sparked between us and she shared some life stories and some life advice, and finally she ended with the wonderful words, "I feel free, I feel alive, and BOOTY SHORTS!" Laughing and thanking her for her time we bought our things and left to head back to the ship. Eventually, the evening settled down and everyone took their time to relax, shower, and eat.
-Lillian '23
Day 31 | Tuesday, October 12th
N 41 22.751 W 071 15.242
TACO TUESDAY!! Woke up thinking it was my favorite day because of TACO Tuesday! Turns out many other factors played in making this an incredible day. It for sure seemed to be another cloudy, foggy day but it had a huge turn around . Eventually the fog rolled away revealing the stunning and bright sun. This made me smile and the day turned out to be the most perfect fall day! We left New Bedford, MA after 12:00 and are on our way to Mystic, CT. As we made our way south, we passed Martha"s Vinyard and the Elizabeth Islands. Venturing past Massachusetts and into Connecticut is very exciting. The sun, seas, and wind were perfect for an autumn day. Who knew on Taco Tuesday that I would be watching the rolling waves on the headrig while the sun kissed our skin. Days so amazing as this make you step back and appreciate all the details in life and make you want to live to the fullest. Tuesdays are typically bland but today it brought the dolphins, sunset and warm weather. I couldn't ask for a better day when I can stare at the beautiful ocean in awe of the sunset and watch the dolphins jump and play. Nothing is more spectacular than that. I can't wait to see the ocean's beauty everyday. Taco Tuesday is typically my favorite day; however, today it wasn't just because of the tacos.
- Ava '23