Proctor Academy's Winter Ocean Classroom program continues to navigate uncharted waters from their home base in St. Croix, US Virgin Islands. While the waters are metaphorical for the time being (due to an extended quarantine period), the lessons remain powerful: patience, perseverance, and making the most of a difficult time. Read more from the past week on Winter Ocean Classroom.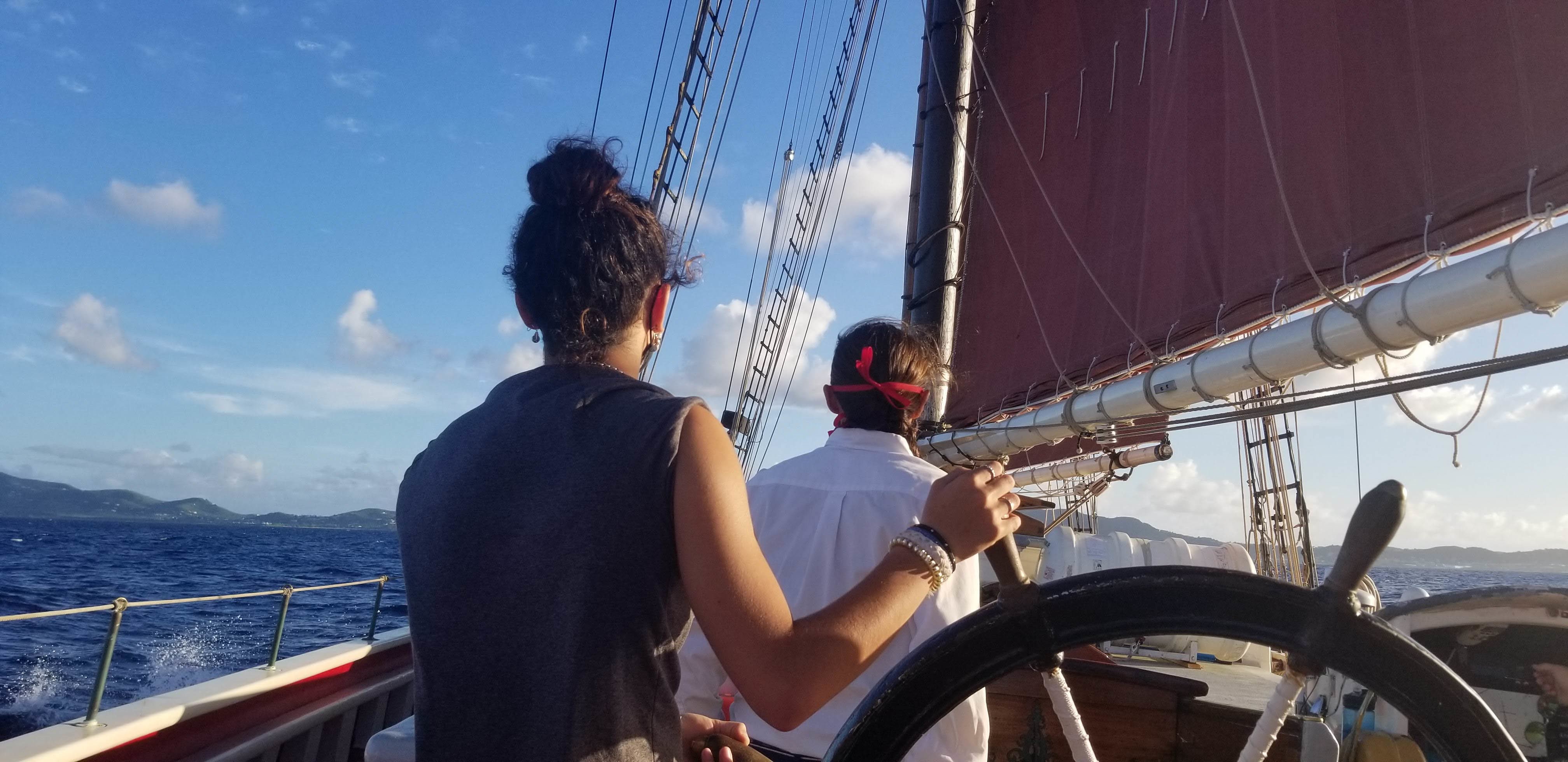 Ang '22 | January 10th, 2021
Sunday Best Day
If you were to ask me which day has been my favorite, even though we've only been here for 4 days, today would have definitely been my answer. We started our morning off like all the other ones, with a knock on our door from Holly. Except this was at 0545 not 0730. You're probably wondering why the heck we were getting up so early on a Sunday and trust me I was asking myself the same thing. But we were heading to Point Udall to see the sunrise. As we shuffled out of our rooms half awake we grabbed our stuff and made our way over to the east end of the island. As we drove through the empty streets of Christiansted we were getting more and more excited as we saw the sky start to get lighter with hints of pink in the clouds. Once we got to the Point we sat on a stone wall and watched the sun poke through the clouds and dance on the water. Not trying to sound cheesy but it literally looked like a scene from a movie. As the view got better we were getting hungrier so we enjoyed some nice OJ and amazing banana chocolate chip muffins, courtesy of our B&B. Once the sun had finished putting on a show for all of us it was time for a morning swim. We hiked down to the beach and stopped to take a few pictures at the most amazing cliff with waves crashing right below us. Don't worry it's not as nerve racking as it sounds. After finishing up at the cliff we finally made it down to the beach and of course we were all in the water as soon as we dropped our bags. The water was a perfect way to fully wake us up and we were all enjoying it together! More sunshine, snorkeling, and sunscreen filled my time at the beach and sitting in the sand enjoying the breeze coming off the water was amazing. Everything felt surreal. Once we got back to the B&B we went for a swim in the pool and then ate lunch. After that we spent the afternoon relaxing and catching up on our work. We got dinner at around 1900 and dressed up for our first Sunday Best while enjoying burgers, fries, wings, and of course each other's company. Tomorrow is finally the big day. The energy is high and everyone is so excited to finally get on Roseway. I can't wait to see where this adventure takes us and I am so excited to see how we all grow, learn, and share new memories.
Fair Winds,
Ang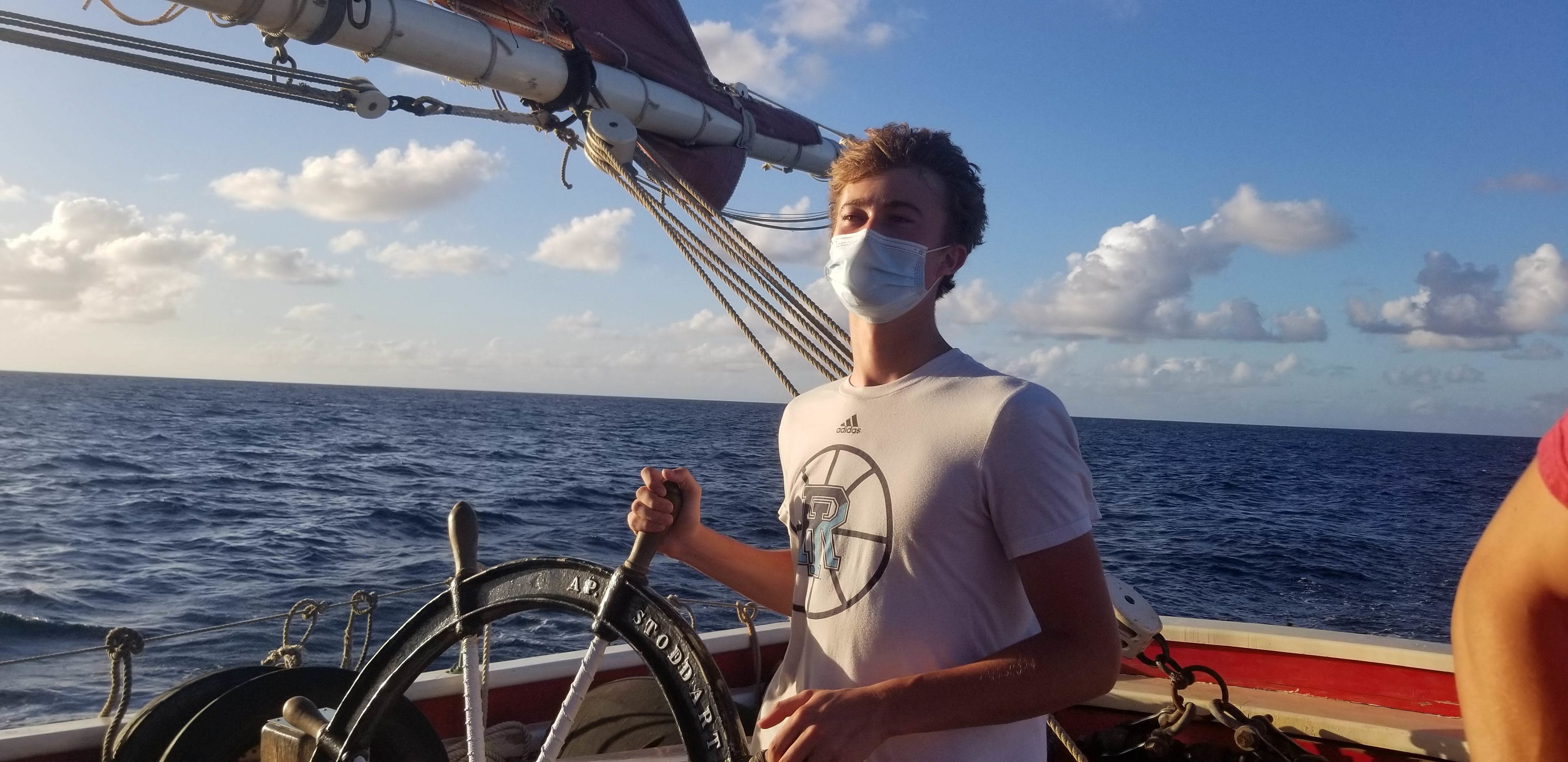 Cameron '22 | January 11th, 2021
The Big Day
We started the day off a little earlier than normal. Holly came around 0630. We split up into two groups and went into town to get our COVID tests out of the way. I was a part of the second group going to get our tests. Luckily we didn't have to wait more than three hours for our test. After receiving our test and IDs from the nurses we headed to the World Ocean School office to await boarding Roseway. We waited in the office enjoying the last bit of Wifi and music as we ate Pizza Hut. As soon as Holly got the all good from Brooks that we all were negative we started for the wharf. We walked to Roseway which was docked at the end of the wharf. We were all greeted by the crew, Captain, and engineer. We boarded Roseway and headed to the fishold where all of our bunks are. We settled in for a bit and made our bunks. We were all instructed to come up to deck to prep for our first sunset sail. We casted off from the dock untying our bow, stern, and spring lines. And our time aboard Roseway had finally begun. We motored out of the channel and mooring field.
As soon as we were clear of the channel we started hauling up the sails. We started with hauling the mainsail, then the foresail and then the jumbo. Finally, we hauled the jib and we started on our course. The crew taught us 3 different ways to coil lines or sheets. We learned how to ballantine coil which is the most useful because it allows the line to handle easier. While underway on the beautiful deep blue waters of St. Croix we learned some basic sailing terms. Our captain and crew notified us that it was time to tack which means that the sails travel to the other side. As the sun started to fall behind the horizon we headed back to the mooring field for the night. We took down the sails as we motored up to our mooring. With sails furled, Bernie got to work cooking up some chili which was amazing with his homemade tortillas. After dinner we showered in the water and watched tarpon circle around the boat. We settled into our bunks and went to bed. What an amazing first day aboard Roseway!
Fair Winds,
Cameron
Casten '21 | January 12, 2021
Info Overload Day
This morning was the first on the boat, starting our day at 0715 by Sam whispering his wake up call of, "It's nice outside, time for wake up." We all hustled out of bed for our first breakfast of an absolutely delicious bagel with melted cheese and eggs. Shortly after, we did dishes and began our morning chores of dishes, scrubbing and sweeping the salon, and cleaning tables. After that we took an in depth tour of the boat and every working part that we will eventually need to check. This includes the forepeak, for all the chemicals and one of six bilges, as well as a few of the sleeping spaces, engine room and quarterdeck. We took a little break for a lunch of tuna fish sandwiches, salad, and super sweet melon. We continued our information overload by going through emergency protocols for the worst situations, from fires to the abandon ship protocols. We went through the different roles everybody plays, in order to be completely prepared for anything! We then had time to prepare our bunks and get more settled and comfortable. I folded my clothes to hang in the hammock and found spaces to put my stuff in the abundance of storage above my bunk. For the first time in the day, we had a little 2 - 3 hour break. Me and the girls took this time to go lay above the salon on a little tanning deck to warm up before jumping off the boat for a swim. We all changed for a dinner of a delicious and spicy spinach and pork broth over rice. Followed by that, we had a delicious moist cake for Rudy, a crewmate's birthday. Finishing off the night with homework before heading off to bed.
Good luck Charlie!
Casten
Louisa '22 | January 17th, 2021
Quarantine Part 2!
On Thursday, we found out that the ship was exposed to COVID, so we packed up all of our things and cleaned up the fish hold. After that we all jumped into the water to cool down and then headed to shore.
We've been tested for Covid, and are continuing to quarantine for a few more days. We have been eating well!!! We had Schupes for dinner a few nights ago, which is our favorite! We also got some virgin pina coladas to enjoy after a stressful few days. We had class by the pool and talked about the history of Europeans coming to the Carribean. After that, we got some amazing pizza for dinner and called it a night.
Today started off slow. It was pouring in the morning and again a few hours later. As soon as the sun came out we masked up and headed to the dive shop to get our snorkels and masks. It was the perfect day for snorkeling. We headed off the boardwalk and swam out as a crew looking for creatures. The snorkeling was great!! We saw lionfish, sea urchins (that were massive), rays, turtles, and a bunch of little fish. When we got out deeper, we saw some familiar faces spearfishing. Rudy and Mahalia were looking for lionfish when we found them. Then, when we were out there it started pouring. It was so, so cool to see the warm rain come down under the water. Then we swam back to home-base and had a big pizza dinner and watched Pirates of the Carribean. So far, Quarantine Part 2 has been good. We miss the crew but we are happy to have each other.
Bye for now !!
Louisa
P.S. Hi Lucy and Grace! I miss you both!!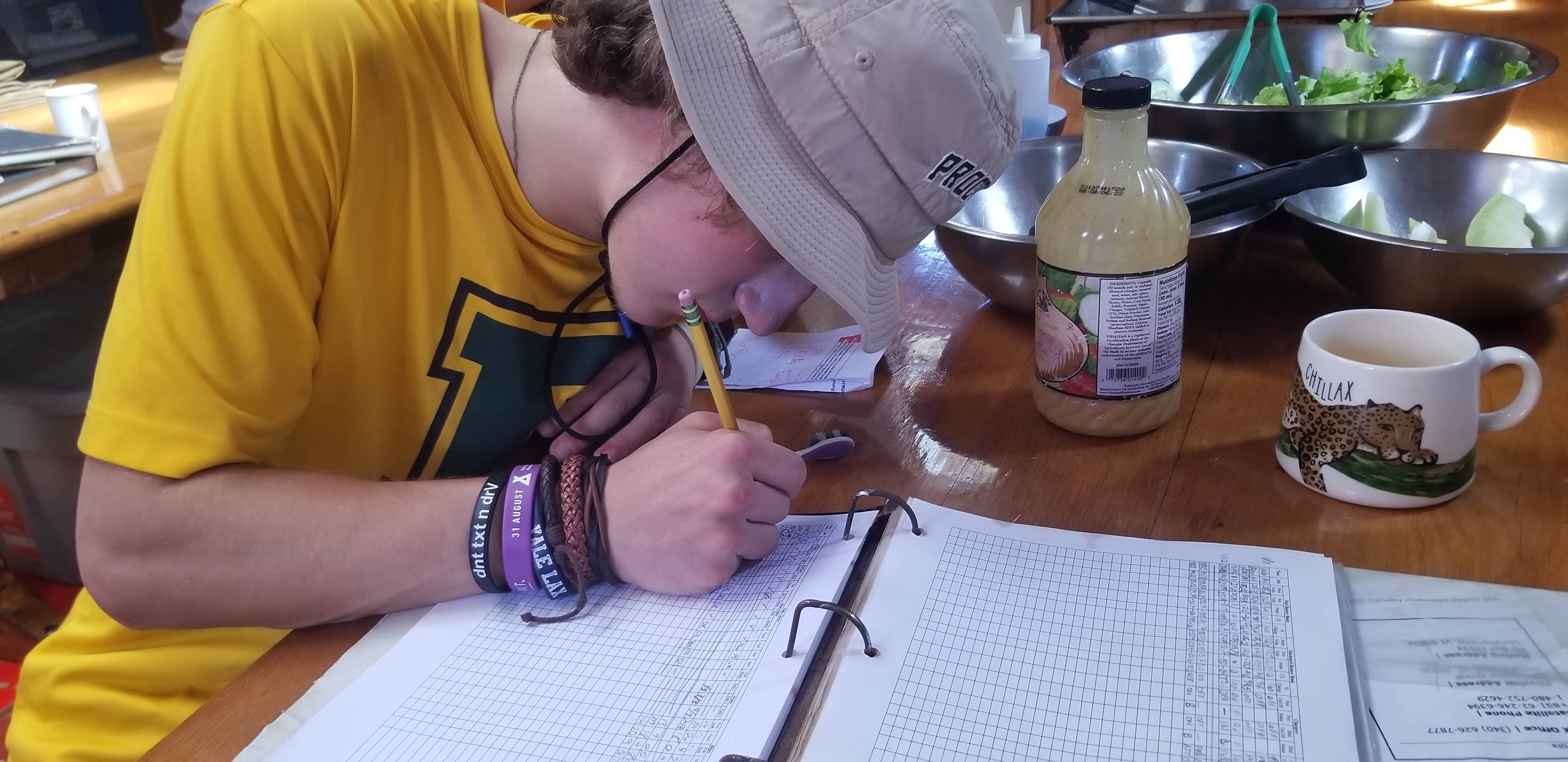 Sam '21 | Monday January 18, 2021
A Day to Relax
Today was another relaxing day at the Holger Danske. Wake up was at 0845 and we had a muster at the pool at 0900. We discussed the plan for the day while enjoying some fresh baked, local pastries for breccy. Holly knows her breakfast goods and knows where to get them! We had time to sit by the pool and read our marine science book. Jack, Cammy, and I sat in our hammocks while we enlightened ourselves about the thermohaline conveyor belt and the ocean's interesting circulation. We learned about the trade winds and even atmospheric cells of rotating molecules. As we wrapped up class, some chose to stay outside by the sun, but I jumped right in the pool. I miss the "big pool" and the Roseway diving board. We mustered and and one-on-one meetings with Jolly Holly. It was nice to be able to hear and give feedback on how things are going so far. Then we had our favorite dinner, Schupe's! Also, we met Captain Sam (great name) and he joined us for dinner. He gave us the scuttlebutt and some of his experiences as a captain for about 20 years. The clouds filled the sky as it began to open up upon us. We decided to watch Pirates of the Caribbean II. We are getting very close, not physically, but feel empty without the Roseway crew. Hopefully our tests are negative tomorrow and yoga can let us all relax :). Also, we are all unrecognizably tan from the beautiful Caribbean rays. That's all I got!
Best,
Sam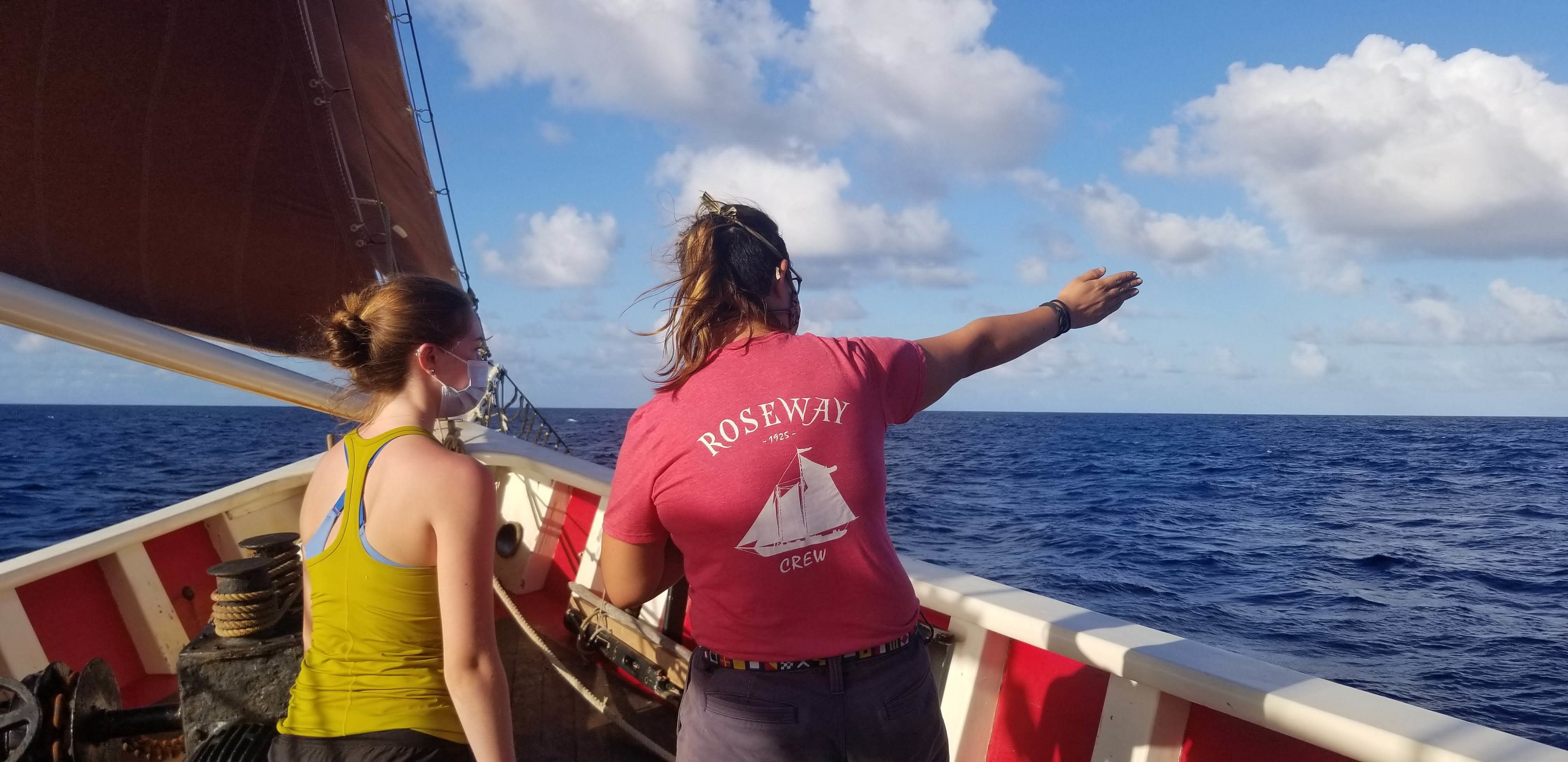 Kara '22 | January 19, 2021
With an earlier than usual wakeup at 0745, we mustered for another round of delicious baked goods like coconut drop and amazing pineapple and coconut filled tarts :) We then walked through downtown Christinsted to the fort by the water. With Roseway close by, we practiced yoga with Shera, who we saw instructing a class at the Sugar Apple. We started off with some breathing and touching our toes and eventually graduated onto bridge pose and even did partner stretches like lizard on a rock. The crew attempted a 4-way boat pose and without fail pulled off the balancing act. We then ended our time by meditating before we headed back to the Holger Danske for a lesson on the second part of winds and currents out by the pool. We learned more about gyres and tradewinds and how they affect the water beneath the surface. Then it was time to have our second round of Covid tests since we've been in quarantine and were finally reunited (6 feet apart) with the rest of the Roseway gang. After Captain Cassie declared we were all negative, we stayed in the same park, where we did yoga this morning, and played games like Bang!, Mafia, and Spud. We then had to say a goodbye and see ya soon to the crew as they headed back to the boat. Then we headed over to the dive shop on the boardwalk where we completed our last bits of paperwork. (One step closer to diving!) Grabbing some Shupe's forms on the way back, we had some R and R before enjoying a yummy dinner and continuing the nightly routine of all coming together and watching Pirates of the Caribbean. We're all so excited to be one step closer to being back on and part of Roseway.
Heading out on more adventures
Kara