Ocean Classroom 2020 is making its way along the Connecticut coast toward New York City as we publish this recap of the past week aboard schooner Roseway. For the 21 intrepid sailors who once merely called themselves students, this voyage is teaching them how to live, learn, and work alongside each other unlike any other experience could.

Julia '21 | Gloucester, MA
Sunday, October 4, 2020
Another day underway! We left our anchorage outside of Portland at around 0800. The winds and sea decided to be very calm today, maybe a little too calm, so we have been motor-sailing all day. My watch (A watch) had an easy day, only having to stand watch for about 2 hours today due to our 0400-0800 watch this morning. I got lucky enough to have the very last anchor watch from 0600-0700 which consisted of a very beautiful, orange sunrise and many funny wake-ups of both the crew and students. Because Sundays are our days without classes, we used it to catch up on homework, reading, and various projects like laundry and ditty bag making. Our ditty bags are a canvas bag, made from the same material as our sails, that we will each spend the term making and customizing. In the end we should each have a practical work/tool bag that will sport our sewing progression throughout the next several weeks. One event that highlighted our day was a visit from Brooks. At about 1700 he pulled up alongside Roseway in a 10ft whaler with sweet gifts of fresh maple syrup and in return took some letters that are to be mailed out to our friends and family. It was nice to see a familiar face after about a week of roaming around the foggy islands of Maine. Spirits are high aboard good ole' Roseway as we head south towards Gloucester Harbor to anchor at some point tonight, followed by the rest of our journey southbound to Puerto Rico! With all the homework done and my watch at 0000, it is time to head to the bunks!
Kingsley '21 | Gloucester, MA
Monday, October 5, 2020
Hello from Gloucester Harbor! Roseway has finished her island hopping through Maine, and we are now on our way south! We arrived here last night, and are anchored to receive provisions. Despite the heavy rain we experienced last night during our watches, the sun shined through today, giving us class outside on deck. Our classes were history and literature. As a collective, we talked about our books we've been reading and holding discussions and debates. Later in the afternoon, we all hung about outside in the sun. The crew got us going underway a little after lunch, while the students were busy learning knots and lines for their headrig clearances. C-watch was the first to have every member checked off by a mate. A and B are close behind. Throughout the day students also spent their free time writing letters! It was crazy writing to my friends and family, realizing that I haven't seen them in exactly four weeks. Time is flying by and living on a ship has called for a lot of adjustments including meal times, bed times, laundry, etc. It is becoming (if it hasn't already) the new normal. Students are becoming close with the crew and our little bubbled community on board is already a little family. We have a four day non-stop journey ahead of us, can't wait to make it to Mystic, CT! Sending hugs! Love and miss you family.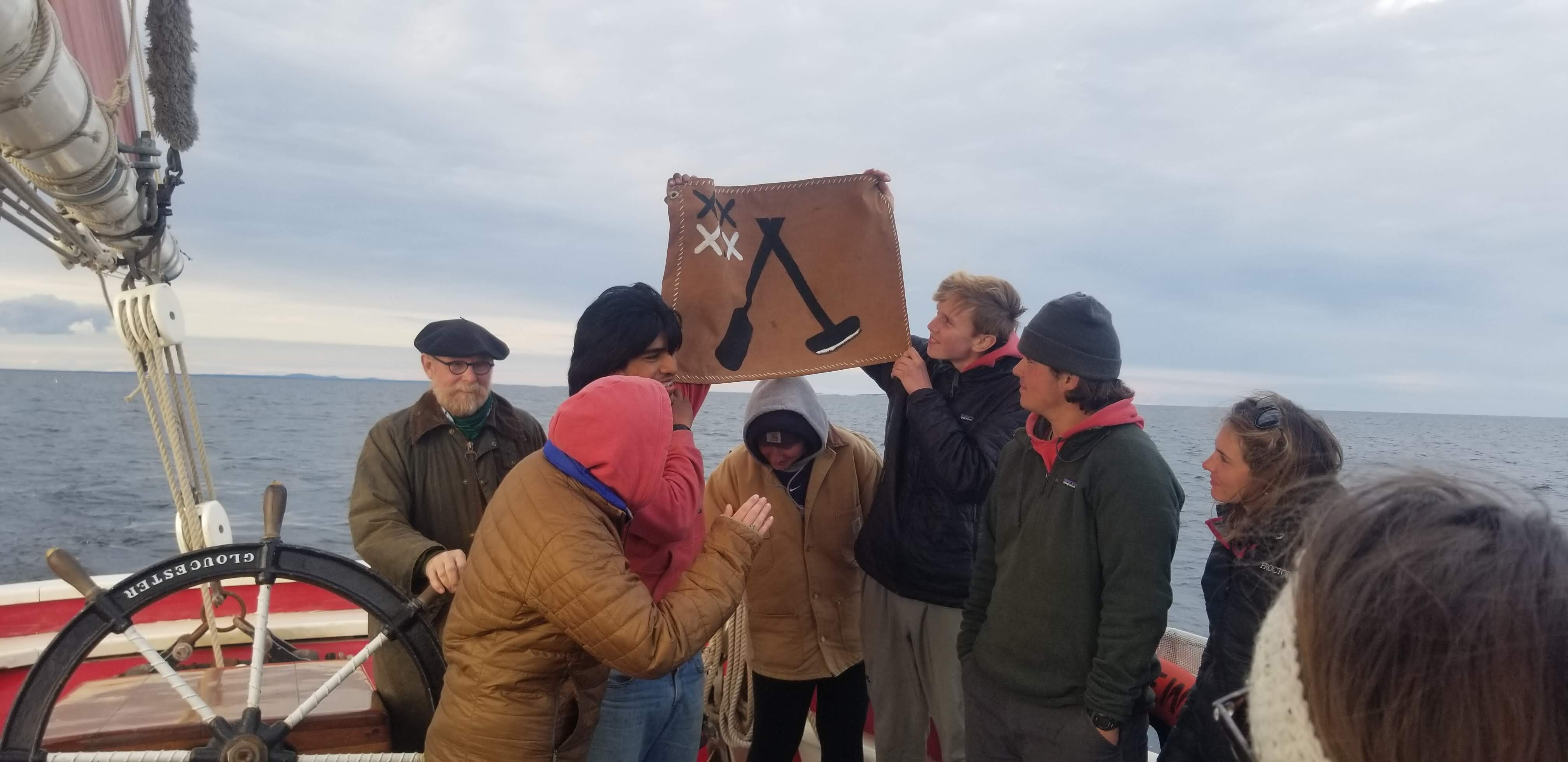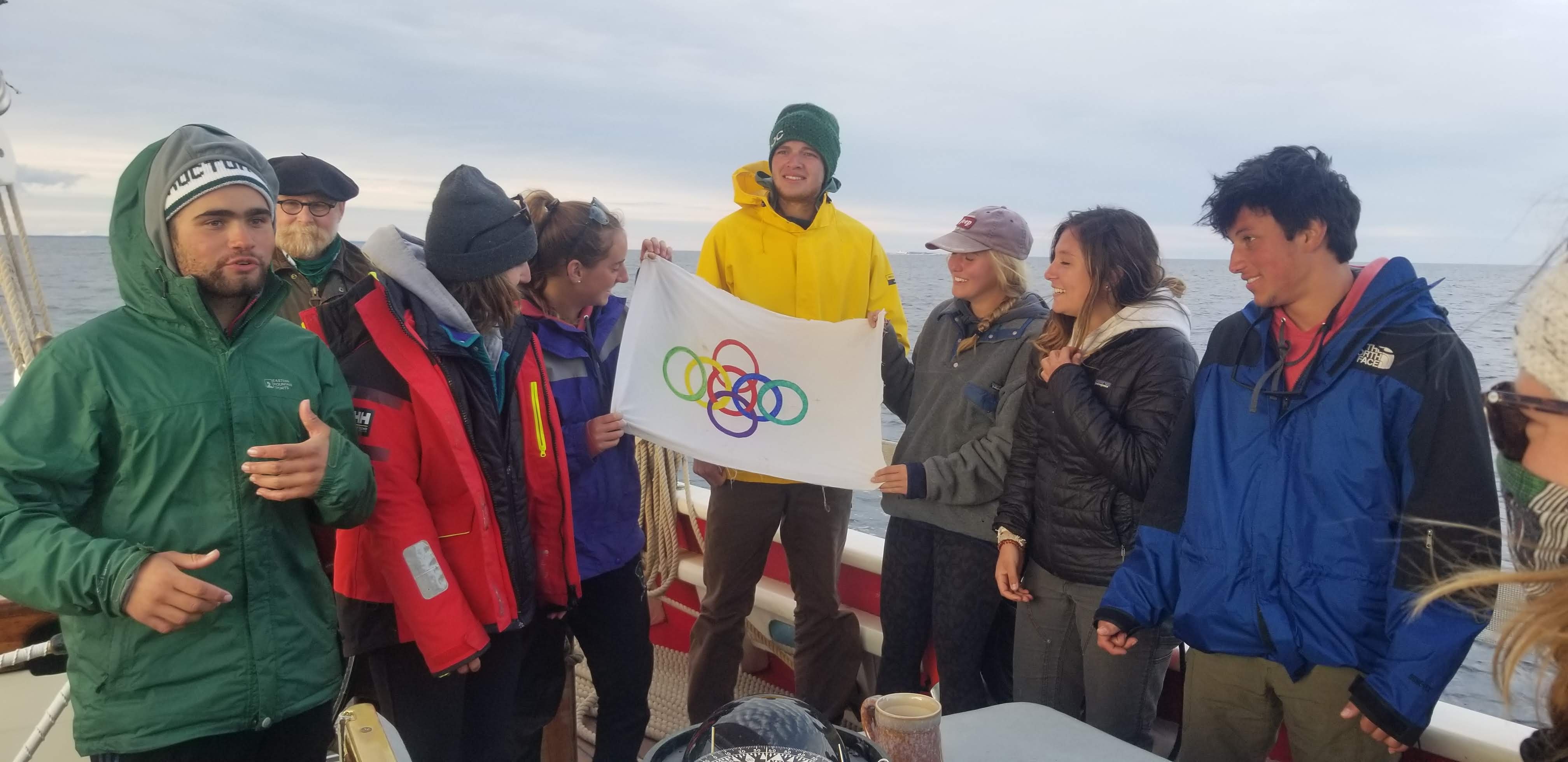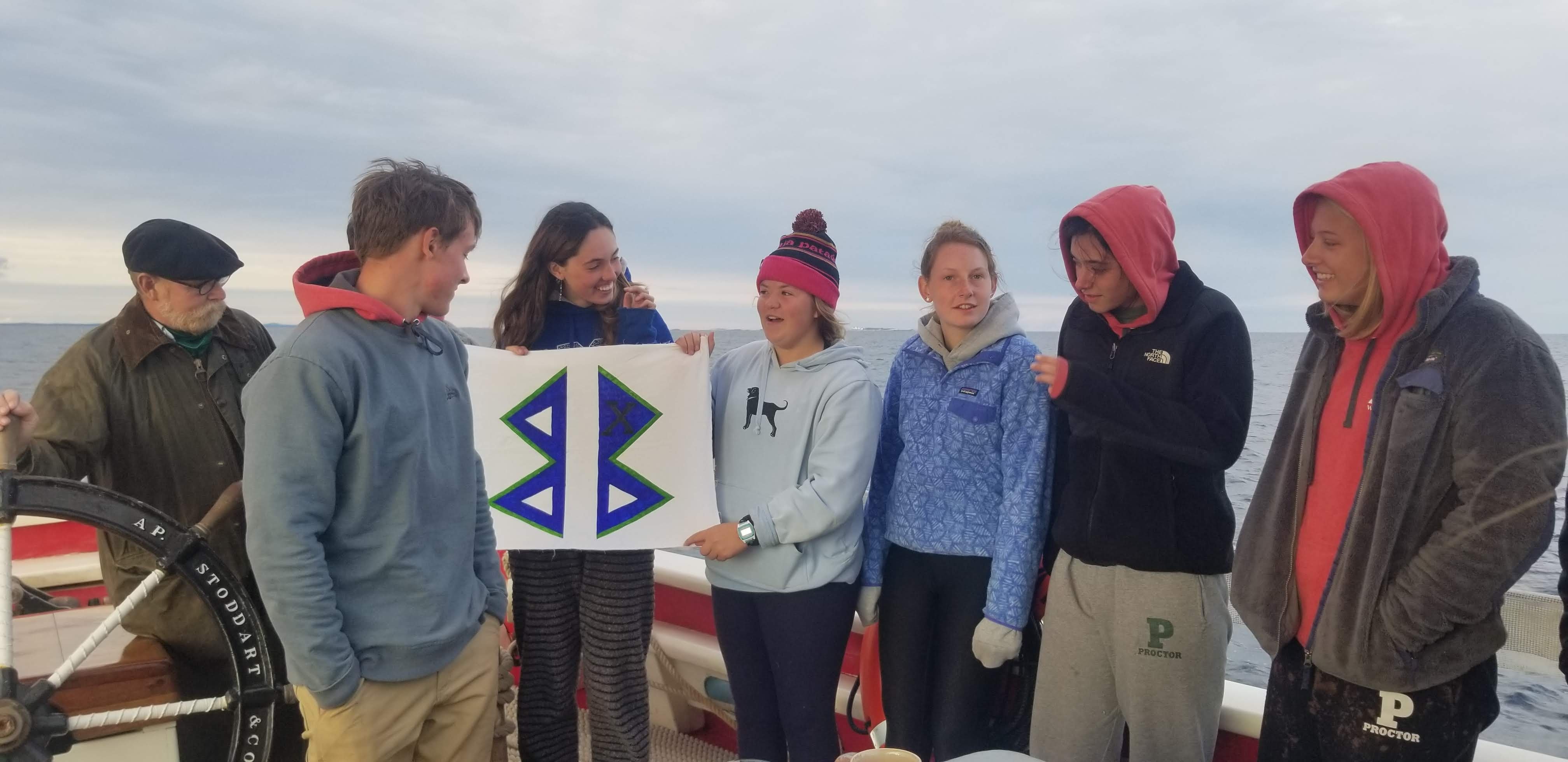 McKensie '21 | Groton, CT
Tuesday, October 6, 2020
We've had a packed couple of days here on Roseway! We have anchored in Connecticut, after a short time sailing. Last night my watch had the 0800-0000 watch, I think that's the best one because you get to sleep for a solid seven hours after. We're on our way to Mystic, Connecticut but we're waiting out weather before we can leave here. I think many of us have started to feel a lot more comfortable here though we're still trying to get into the rhythm of things. It's been tough to get into any rhythm at all because we haven't had the opportunity to sail for more than 30ish hours, so once that happens it'll be easier to adjust. Right now, we're getting ready for dinner! It's a "sin" to ask Sean what he's making so you never really know, but it's always delicious! I know all of us feel so full all of the time, but just having snacks has been making it easy to eat all the time. Rationing out our personal snacks has been SO HARD. Having them is hard, because you just want to eat it all the time. Anyways we're all so excited to get underway again. Hi family, I miss you all so much- check the mailbox and Breb, hello! I love you guys!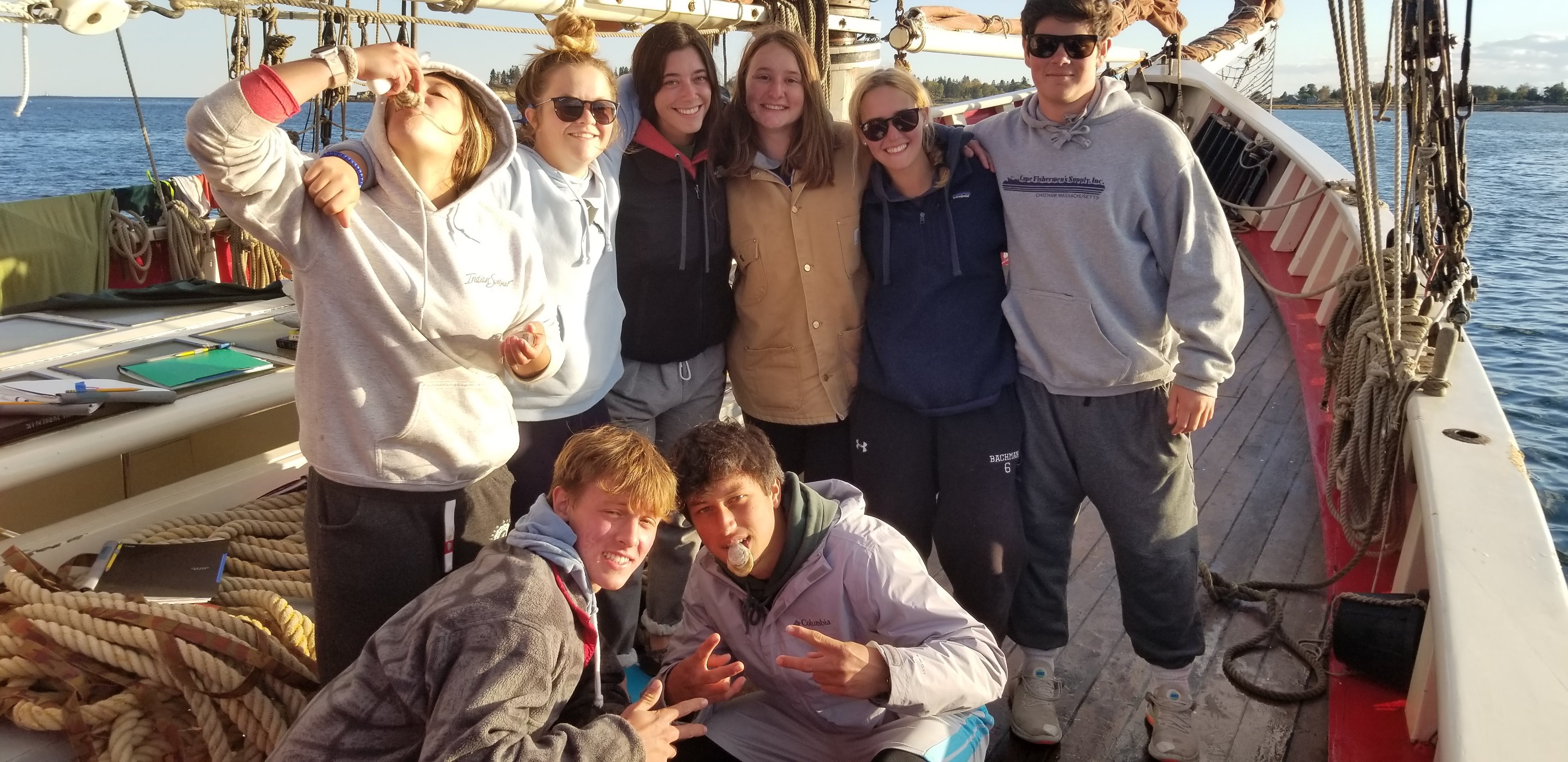 Brad '21 | New London, CT
Wednesday, October 7, 2020
After a busy past couple of days aboard Roseway we are in New London, Connecticut. Instead of being anchored as usual we are on a dock waiting out a gale that will come through tomorrow afternoon. It was our first time docking while aboard and it was a far more detailed process. While we are docked alongside the pier we have been lucky enough to use the restrooms ("land heads") on land. We were even able to take showers earlier today. The only bummer to being docked is there is some foot traffic along the pier so we are wearing KN95b masks, but that being said it is not too bad as we are still able to not wear them underway! After the storm passes, we will head up to Mystic Seaport where we will spend time learning about boats and enjoying time on land when people other than the ships company are not around. Sending love to the family, miss you! Toodles.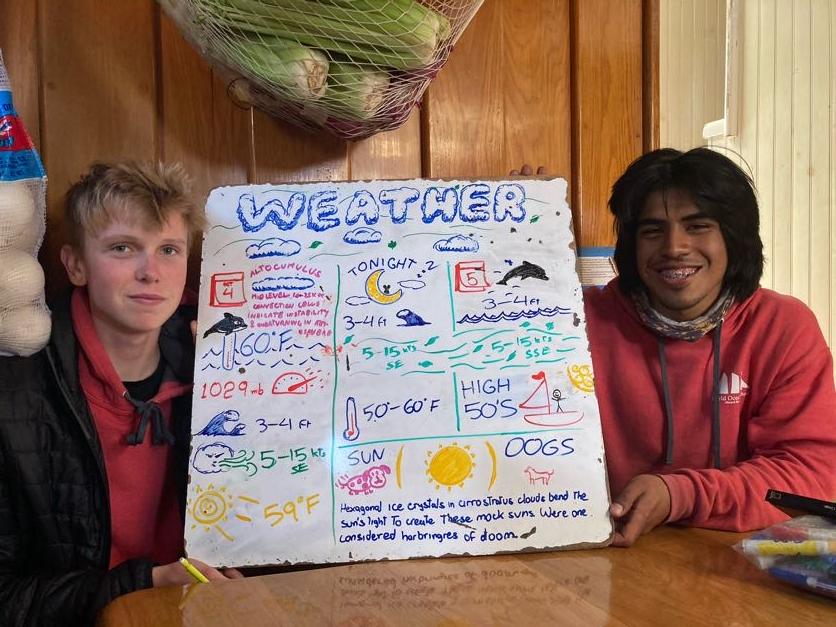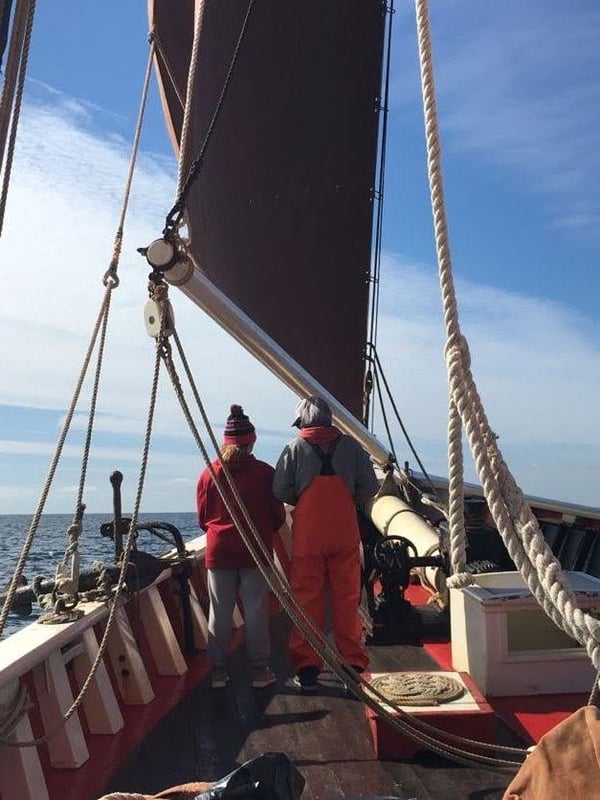 Ciaran '22 | Fishers Island, CT
Thursday, October 8, 2020
It has been a great day so far aboard Roseway as we are anchored in New London, CT. We plan to move spots later this evening and drop anchor near Fishers Island before setting sail for Mystic, CT and it sounds like we will have a fun few days there. When the seaport is closed to the public, we'll be able to go on land in our bubble and run around for a little bit. We are all really excited because Captain told us he has some fun games planned like capture the flag. This morning after breakfast a couple of us went and hung out on the bowsprit and could see jellyfish beneath us in the water- it was really cool! Almost all of us are headrig cleared which means we passed all our knots and lines so we can go out on the bowsprit almost any time we want. We had a class before and after lunch and now most of us are getting some homework done before getting underway shortly. It looks like Sean is cooking some Shepard's pie for dinner tonight which is my personal favorite from him, but everything he cooks is delicious. Had actually had fish that was caught by a Proctor alumni locally last night and it was really good! The fisherman's son was on Ocean Classroom a few years ago and he always tries to do something nice for Roseway while it is in the area. Thank you!
On our way to Connecticut from Gloucester we were all hand- on deck setting the sails and right after we saw some dolphins. This wasn't the first time we saw dolphins, but it was definitely the most we've seen. There had to have been at least twenty around us in every direction and some were right up by the bow. They were jumping in and out of the water and it was so much fun to watch them. We're all so excited to see more marine life as we sail south. One crew member told us that we'll see dolphins so often they end up feeling like squirrels by the time we reach Puerto Rico. We've had a great week so far and it's so exciting to finally be making progress south and we are all now starting to feel comfortable with all our responsibilities as they grow and grow!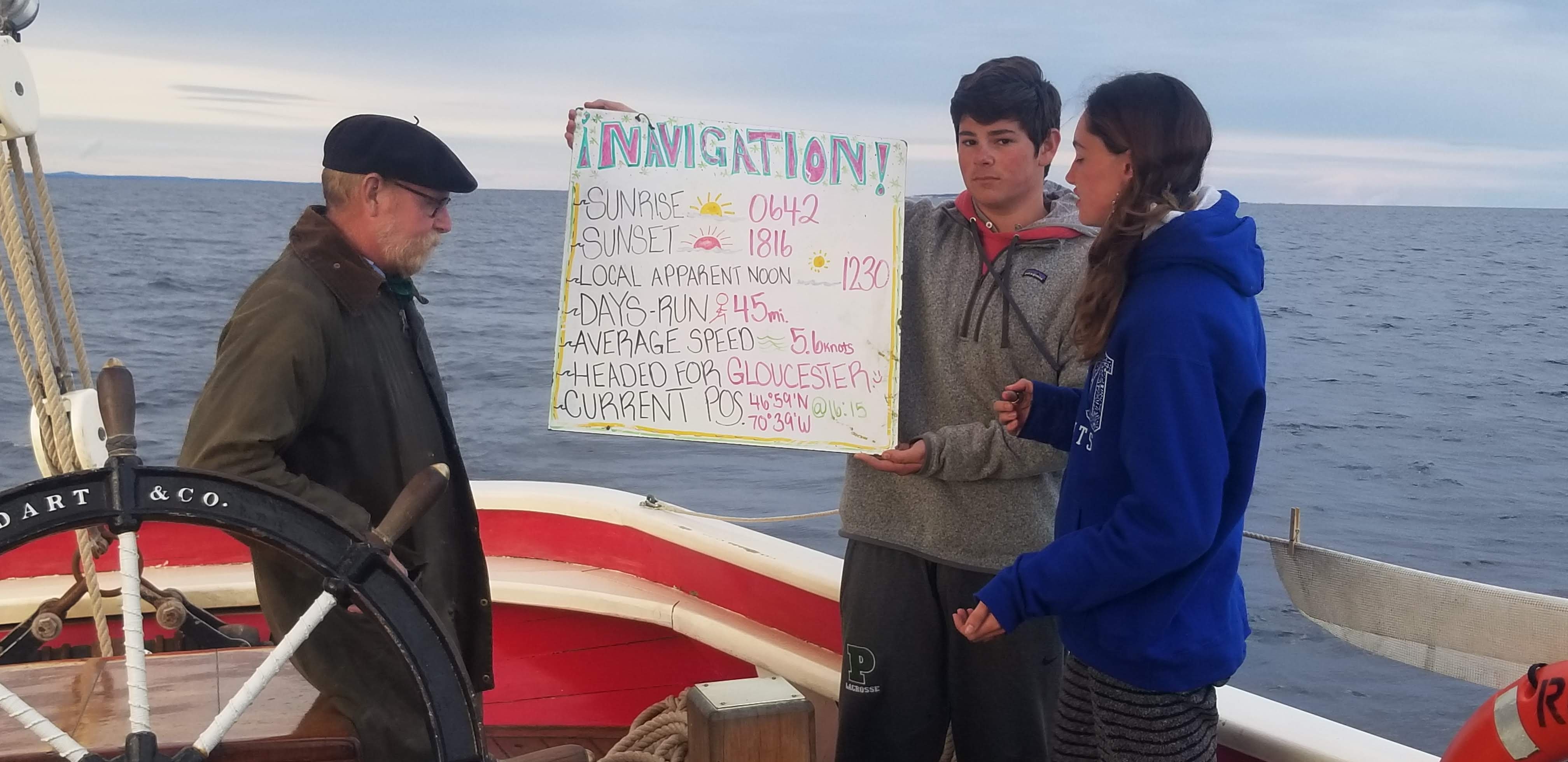 Saul '21 | Mystic, CT
Friday, October 9, 2020
Today we had the first deckhand turnover- I'll explain briefly what this means. The twenty students aboard Roseway are divided into three watches. Each watch has a mate and two deckhands assigned to them. Every third of the voyage the deckhands and mates rotate between watches, so everyone gets to know each other very well. So far, I've been working with the first mate Ms. Miller-Shelley, deckhand Tierney, and med-officer Cafferty. I'm not sure how I feel about the turnover because I really get along with my current watch officers. Everybody says same about their watches though, so I am not worried at all. Anyway, this morning we departed to Mystic, which is a big maritime town. There are high standards in a harbor with so many tall ships so we went all out in today's deckwash. We brushed, washed, and scrubbed every square inch of the boat, including the hull! We furled the sails in a weird and different way called a "fish furl" which looks really nice. After leaving Roseway in top shape we had a very short underway session. It was done mainly by crew because the river that leads to Mystic is shallow. The place is absolutely beautiful! It's full of tall ships, small boats, rowboats, and any conceivable type of vessel. We docked right next to an exact replica of Amistad, a boat we are going to study in our Marine History class, and another boat called the Charles W. Morgan, which is a gigantic whaler ship. It has three masts, 15 feet of draft, and 113 of length. The town is full is historic information about boats and has a very old feeling. We've been told that we are going to stay here for a little and do lots of fun activities. Also, we are getting snacks!