Proctor Academy's Ocean Classroom program, aboard the schooner Roseway, continues to navigate their way through the frigid waters of the North Atlantic toward Gloucester, MA. Check out the past week's ship's log as written by our student crew. More photos coming to Flickr soon!
Day 7 | Graham '19
As I was awakened this morning for our daily 0715 chores, I couldn't help but wonder what Captain Flansburg had in store today. For chores, A-watch had deck wash and our job was to wash the deck and the rails. After chores, the long awaited call for a breakfast muster was yelled, and the crew, students, and captain gathered around starboard mid-ships. For breakfast, Brandon cooked up breakfast sandwiches with bacon, spinach, and bean paste on an English muffin with sides of apples and peanut butter. The next thing we knew Captain was giving commands to prepare sails. The salty wet air sliced across my face as we hoisted the jib sheet, then the jumbo, followed by the foresail, and lastly the mighty mainsail.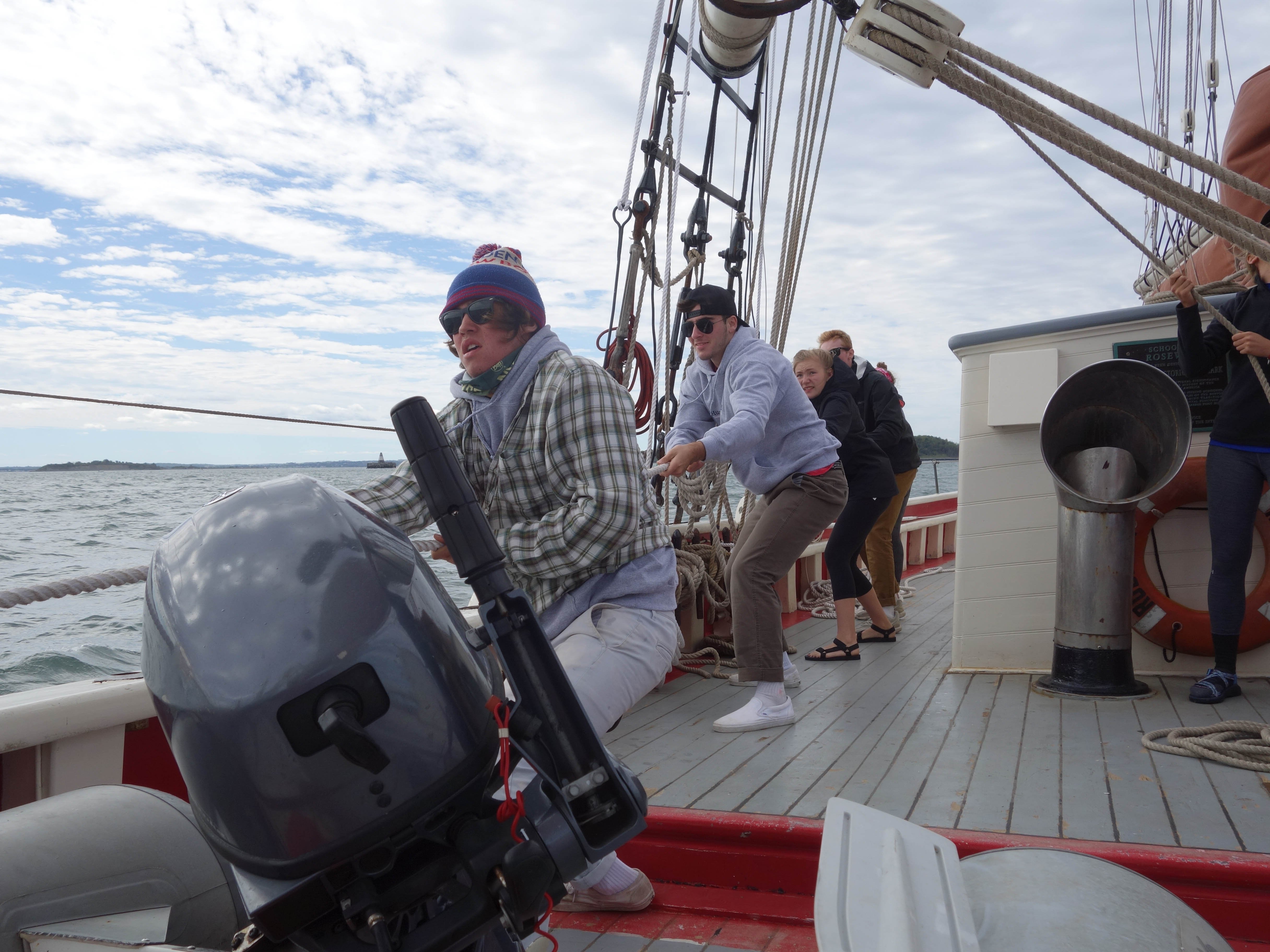 The students had an all hands history class amidships to go over and discuss the rubric for our Humans of the Port paper due on Saturday. Homework, for me, is starting to build up as I have to read, find time to start my H.O.P. paper, and finish my voyage logbook; sleep is starting to become a necessity. I don't think I've ever been tired for this amount of time for so many days in a row. Lunch is at 1130 for A watch because we have watch from 1200-1600. Hopefully I can find time to get some rest before my second watch of the day 2000-2400. The wind is blowing from the southwest which is currently blowing from the stern of the ship. We are sailing wing on wing with the mainsail and the foresail for the first time since we set sail almost a week ago…pretty cool.
Now we have dropped anchor near a mooring field in Rockland Maine for the night. Before dropping anchor, Eric had Cat, P.J., Renny, and myself put on harnesses to go out on the bowsprit and pull down and tie up the jib sail. At 1400 today, we had a knot tying class with our watch groups where we learned how to tie knots such as a bowline, reef, Ashley's stopper, and sheet bend. As I sit in the main salon, classmates and crew go for our first underway swim of the voyage. The sun is starting to set while we prepare for dinner; we will be doing anchor watch for the 4th night in a row tonight. We are currently anchored at 44∞06.042 North, and 69∞05.705 West. We will set sail tomorrow for Gloucester and hopefully make it there in a few days.
Anchored in Rockland Harbor Maine,
Day 8 | PJ '20
My day began suddenly when Cat peeked into my bunk and whispered my name softly. Typically, on anchor watch it had always been challenging to open my sleepy eyes and scurry up quickly into the chilling wind of the Maine coast. However, when Cat uttered to me gingerly I felt as though the past week of brutal wake ups was finally starting to pay off. We anchored in Rockland Maine, which was where we first began our journey to Hurricane Island earlier this trip; it practically felt like home.
Waking up this morning, our surroundings were the same as we'd left it the night before, which is always a good sign. To windward lay the harbor's brick lighthouse upon the horizon, and to the bow's portside was the marina, crowded with seagulls and ships. We had been hidden from the sun all morning by a blanket of grey clouds that cast a haze onto the port below. Along the horizon the blue sky slightly peered out, taunting us with a slight glimpse of the sunrise this morning. On deck it was desolate, except for my shipmate Nikki and deckhand Tim. Our minds slowly started to wake up while we were rocking back and forth to the steady pace of the ocean's strength.
We proceeded with our duties of anchor watch - boat checks and every so often devouring tiny spoonful's of Alex's birthday cake from the night before. Our watch was in charge of waking up the rest of the crew below. This is easily the most awkward part of our day, because a love of mornings is an acquired taste, which the majority of us don't happen to have. Somehow we all manage to climb up the ladders mindlessly, we muster, and we discuss the chores we must complete. The three groups of seven separate to wash the deck, clean the soles and set up breakfast. The amount of appreciation we have for our cook, Brandon, is endless, due to his creative culinary skills. The food is delicious!
This morning we squeezed together in the salon to consume our morning meal. Everyone has grown close to one another. Our group is so good. The people are just so different from each other, in a good way. I feel like these past few days we've stumbled upon so many subjects that different individuals have such deep knowledge about. For instance, Ryan and Tommy both happen to have a hobby and interest in the stock market. Over past meals, people began to join in and eventually have found themselves sitting in on one of "Ryan and Tommy's stock show" classes. Along with stocks, our group is scattered throughout the country, and even some countries away, so there's always fascinating things to learn about each other and our world. Also due to the fact there's very limited numbers of people to interact with on this ship, everyone constantly has genuine conversations that have brought us together.
We have begun our classes: Marine Science, Maritime History and Literature, and Navigation/ Seamanship. We have also begun assigned homework, essays and projects. All of us seem intrigued with our assignments and enjoy working during the time we have off. Our day wasn't too eventful; we were anchored all day, so we finished our chores and worked on assignments.
There are moments on this journey that are difficult to convey to others in words. Only the people with whom we share these moments on the schooner will completely understand these memories; that's part of this magical bond! Tonight was one of those moments. There were constant outbursts of laughter that filled the air as the golden light gently touched our faces. The water was composed of marvelous shades of blue that seemed to glow against the harbor of colorfully aged vessels. On the horizon glistened shades of pastel pinks and purples, complimenting the green pines along the shore of Rockland. Everyone here is just so deeply happy. Still, no words I could possibly use would completely make you understand how magical this experience truly is.
Anchored in Rockland, Maine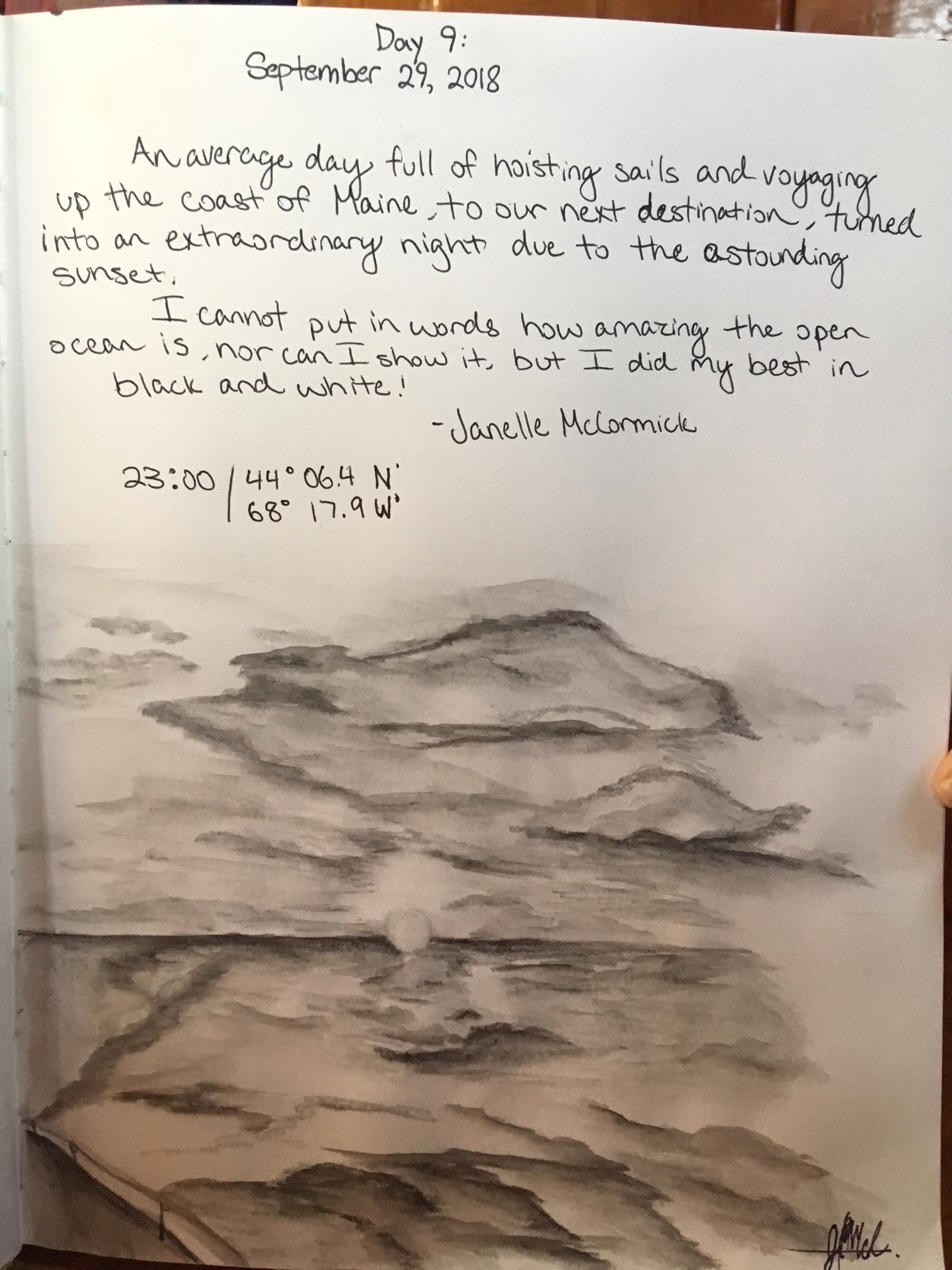 Day 9 | Janelle '19
An average day full of hoisting sails and voyaging up the coast of Maine to our next destination, turned into an extraordinary night due to the astounding sunset.
I cannot put in words how amazing the open ocean is, nor can I show it, but I did my best in black and white!
23:00 / 44' 06.4 N, 68' 17.9 W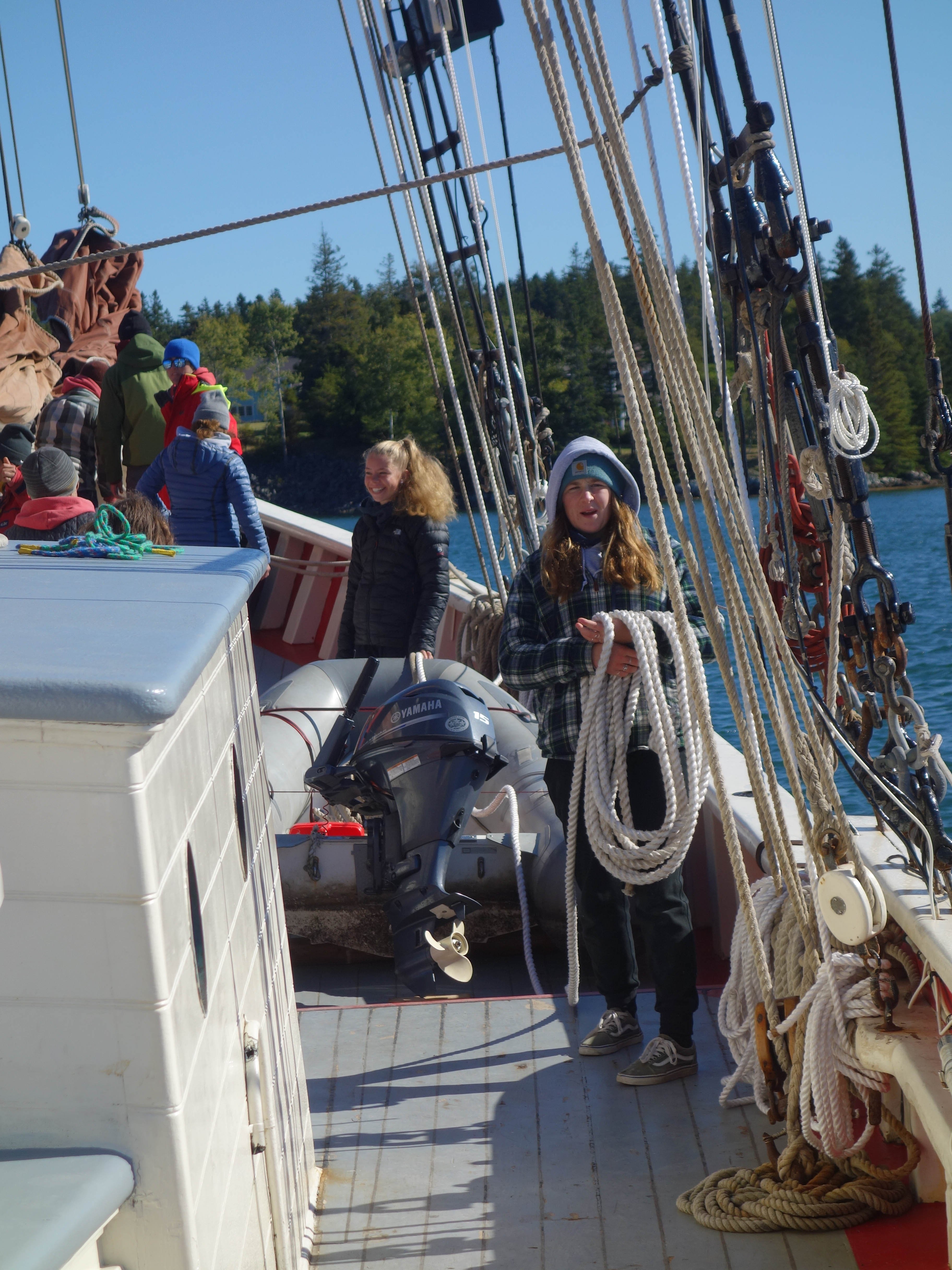 Day 10 | Frances '19
After reaching anchor in the middle of the night, our 0700 wake up called upon all sleepy sailors to rise and start the day. A classic round of chores and a delicious breakfast burrito, made by Brandon, seemed only fitting for our morning ashore in Valley Cove, ME. Jamming six people in each of the small motor boats, we anxiously prepared for what was told to be a "short but rigorous hike." Waiting for all the members of our crew to arrive at the beach, many of us passed the time skipping rocks under the warming morning sun. When we set out on the trail, we wandered back and forth a few times looking for our way. Later, we were informed by an older couple that in fact, our trail was closed. Instead of heading back to the boat, we turned around, and ventured up another path to a lookout in hopes for an overview of the Roseway. Sadly, we did not get a view of our floating home, but in turn, sat for half an hour and took a quiet moment to journal. I personally was not in a journaling mood, so I sketched the view instead. When we returned, Captain made a swim call, and several of us leapt into the frigid Atlantic, in hopes of getting clean. At noon, we hoisted our sails, and set off down the coast of Maine, headed for Gloucester.
(44∞06.63 N, 068∞04.17 W)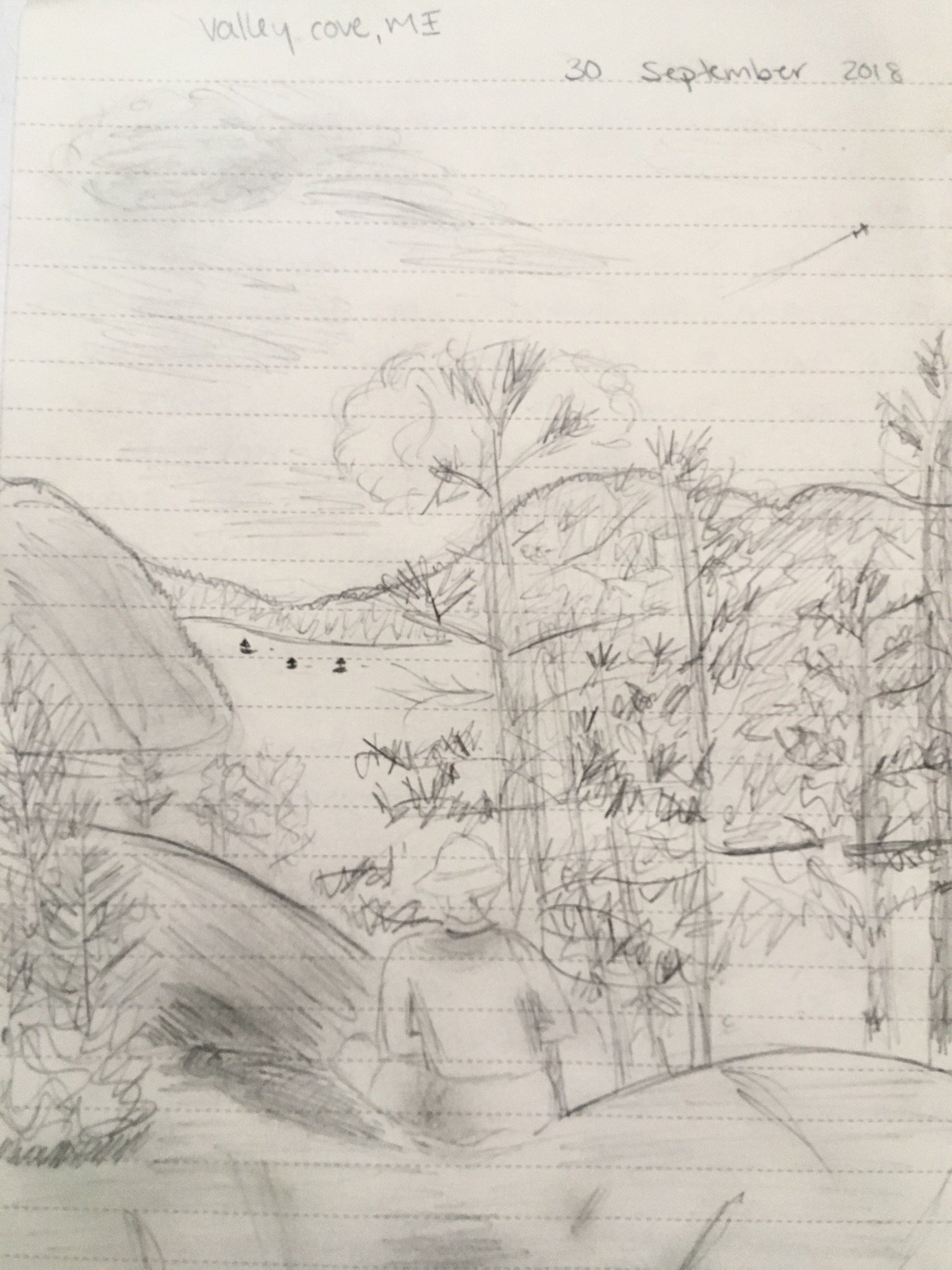 Day 11 | Van '19
It was 23:45 on September 30th, 2018. When I was silently sneaking out of my bunk to get on watch while trying very hard not to wake my shipmates who were peacefully asleep. As I creaked the fo'c'sle hatch open, I was woken up by a breeze of cold air blowing softly at my face. Our watch, B watch, started mustering at 23:55 where we were given our roles. At the top of the hour, A-watch was relieved and we started taking over the deck.
My first job was tacking, which allows the ship to turn into the wind. After that, I was at bow watch. With us being so far away from land, there was not much going on. In fact, there was little to no activities and so, I quietly hum to myself while keeping a careful eye for any movement or objects, like a ship or a buoy. After being on bow watch, I went over some pins with Steve, then did a boat check before turning our watch over to C-watch.
In the morning of October 1st, at 0700, I was awakened by Nikki softly whispering my name. Though it was a false wake up, I still got up to do some reading before eating the delicious breakfast. Then I did my Marine Science and Navigation homework with Nikki. My first class was literature. We started out with a shanty, as usual. We also discussed chapter two and read aloud chapter three of The Boat Who Couldn't Float, an interesting and humorous story. At 11:30, I rushed to the salon for my early lunch because I belong to the oncoming watch. Last night repeated itself, but in broad daylight. Except I was on dish duty instead of tacking. Then I also took over bow watch.
As Roseway glides swiftly through the water, the wind blew aggressively while I stand still as a rock trying to keep an eye out for any objects that might appear as a threat to Roseway and her red coat. For a while, I stood gazing into the distance before I was relieved by Frank so that I can attend a class. In Marine Science we talk about marine mammals, which was really interesting and helpful as we are heading to Stellwagon Bank for whale watch.
The day leads me to this moment, where I am attentively and quietly journaling with a growling stomach that demands food. The past two weeks have been a journey of building new friendships. This experience has been a journey of self-finding and growing, a journey which, if I could, I would relive.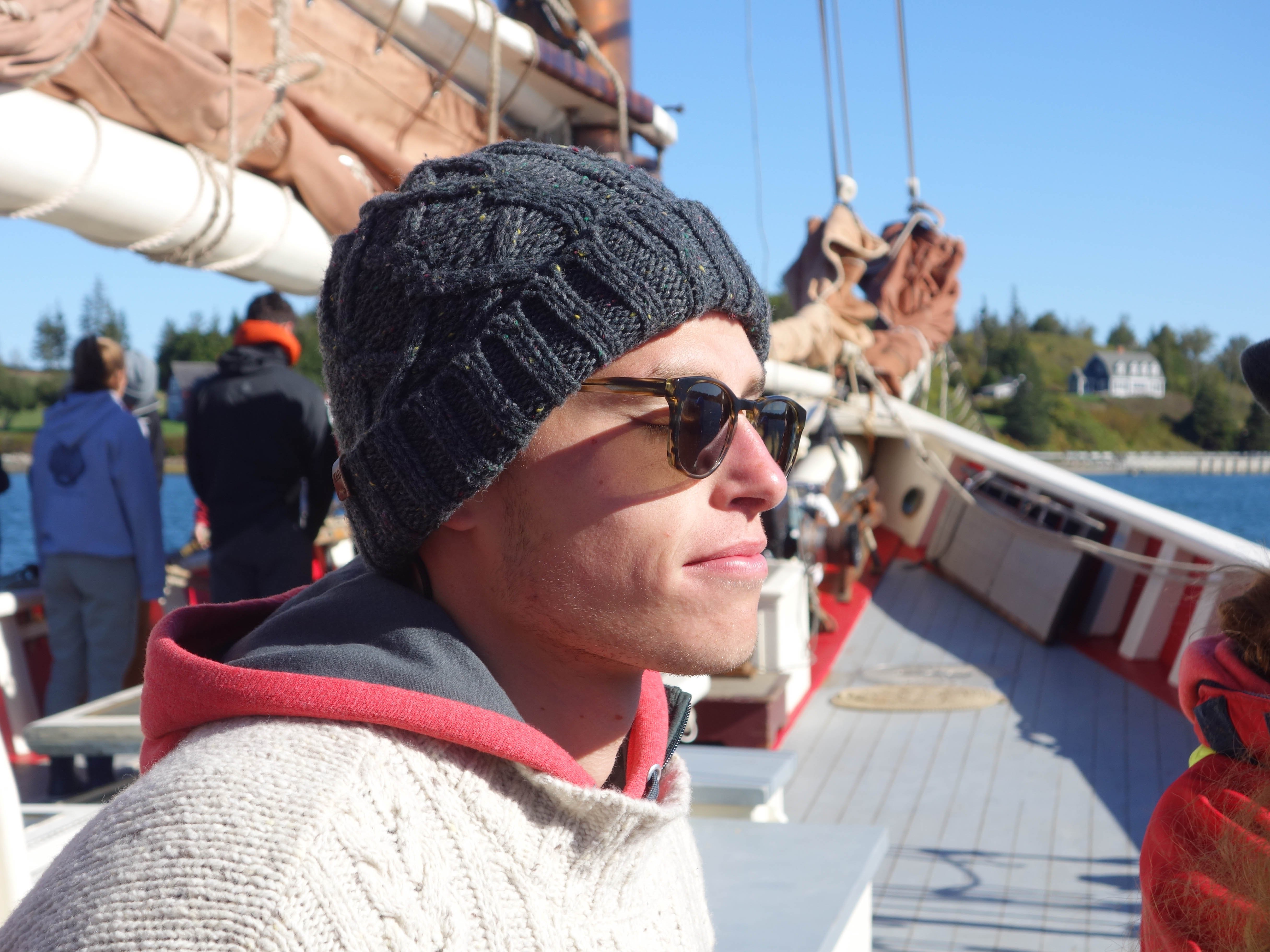 Day 12 | Tommy '19
Today B-watch had an early rise due to the lack of available hands on deck for coming about. It was very gusty, and coupled with the inclement weather, it was an eventful morning to say the least. Shortly after our tack, we had a fantastic breakfast of scrambled eggs, apple slices and cinnamon buns. Unfortunately, due to the fact that group B had first watch, we could not get seconds or thirds. Our watch was fairly uneventful except for the brief appearance of a small whale off of the starboard bow. Only its fin and the spray from its blowhole was visible through the impenetrable fog that seemed to follow our boat throughout the day. Our current destination is Gloucester, MA, and we are expected to arrive before nightfall. After lunch, the entire boat gathered to launch a message in a bottle filled with memories and thanks to Dave Pilla off of Stellwagen Bank. It was a heartfelt moment for everyone. We ended the brief ceremony with a sea shanty. At 14:00 we gathered for class, which was lead by Eric. The topic was fisheries in Gloucester, and we spent the time talking about its rich history. The whole group is very excited to go ashore tomorrow, and I certainly share that sentiment. It will be nice to stretch our legs ashore.