Proctor Academy's Ocean Classroom aboard Roseway has arrived in Cumberland Island, Georgia. Daily journey reflections can be viewed on the World Ocean School's website. This entry by Raizel '17 provided a beautiful window into the group's remarkable journey at sea. Enjoy!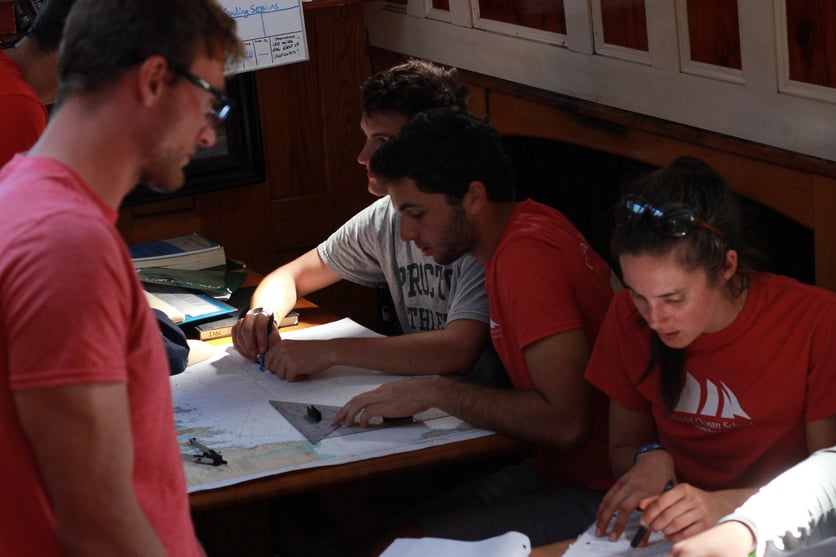 It was an early start for C-Watch today. We had the dawn watch. A proper start for our lazy day. When I took my place at bow watch this morning, it was as though I was seeing double. There were two skies full of stars, one in the ocean and one up above. The bioluminescence never ceases to amaze, but this morning, they challenged the stars. It was as if the bioluminescence and the stars were the living battle of the question: is it better to burn brightly and quickly or slowly and dimly. Seeing them, I would have to side with the ocean's stars, for their light, though short, was intensely beautiful and seemingly magical.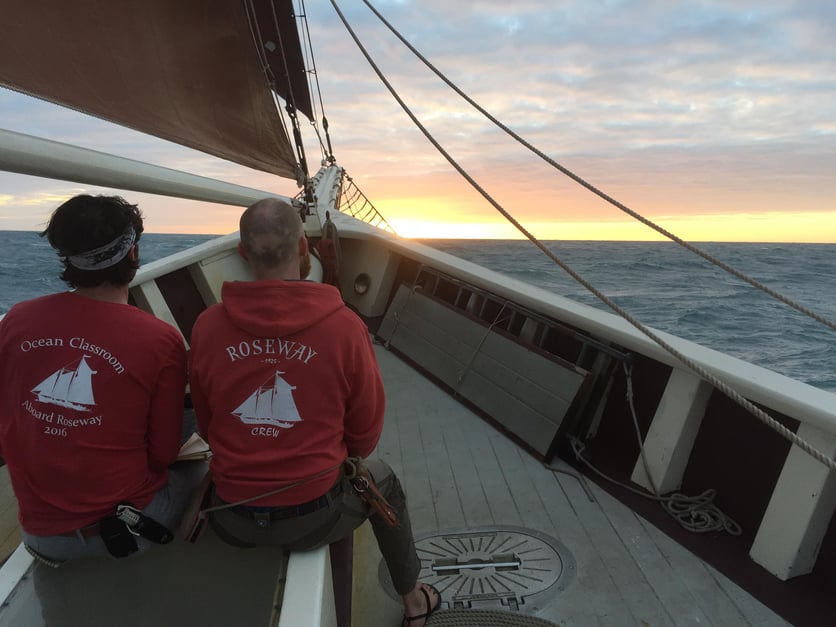 After such an auspicious beginning, there is no surprise that the day continued to astonish. Yes, breakfast was oatmeal again, but with the assortment of topping we had today (peanuts, M&Ms, brown sugar, maple syrup, mini-marshmallows, peaches, figs, and my personal favorite, peanut butter, it was hardly something to complain about.
As soon as you stepped out of the saloon, it was like you had been transported into the Japanese painting, Tsunami. The ocean had the picturesque white crests and a color that dared to have hints of green and grey though it promised to the watching skies to be the richest blues. I marveled at how wonderful the view we are constantly surrounded by is and then went to the comfort of my bed in the foc's'ole for a quick nap before class.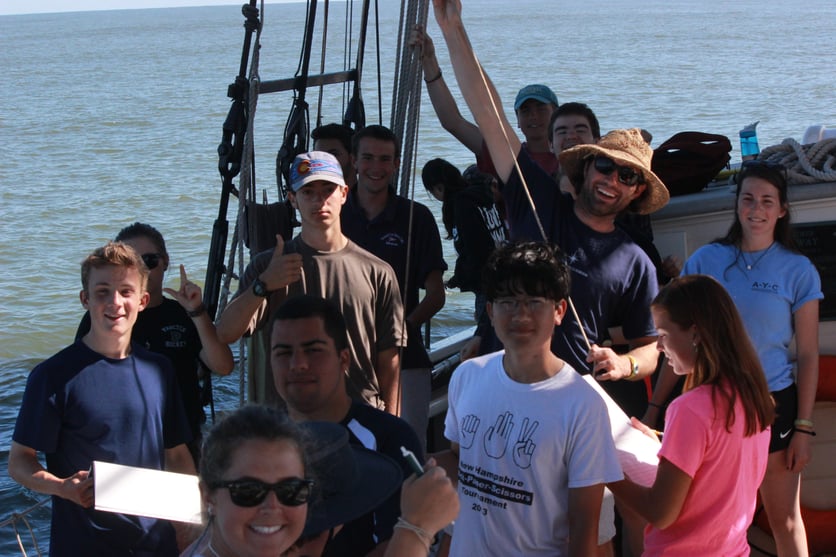 Luckily, the weather was night enough to have class on deck. The sun had come out to warm us and dispel our worries of the seas sickness that often comes when one spends too much time down below. The class was devoid of these tummy struggles but ripe with distractions. Every now and then we would have to stop and appreciate the fleets of flying fish all around us. The little silver slivers would leap out of the water in packs just slow enough to see their quick moving 'wings' and yet quick enough to that if you blinked you might only make out their splashes.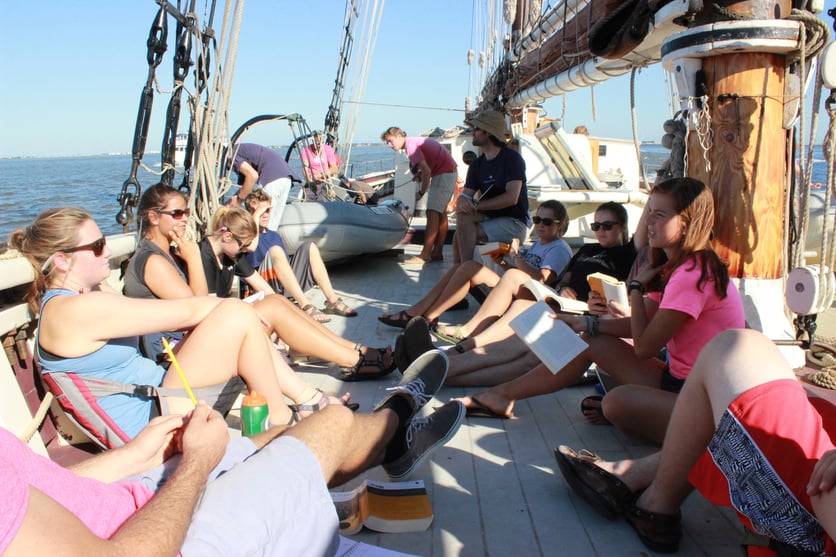 These weren't the only creatures that paused class. Everyone sprang from their Crazy Creeks to see if they could catch a glimpse of the shark that Addy and our teacher, Matthew, spotted. Though today was my lazy day, it was full of work. We have our first lab due tomorrow, as well as an upcoming midterm and quiz. Many of us were sitting in the saloon doing work when we were jolted with the excitement of Captain Paolino's calls of a dolphin siting. None of us were prepared for the spectacle we were about to witness. They were so close to the boat you could almost reach over the side and touch them. Following the excitement of the dolphin's, everyone's spirits were high. There wasn't a person on the boat who wasn't sporting a smile.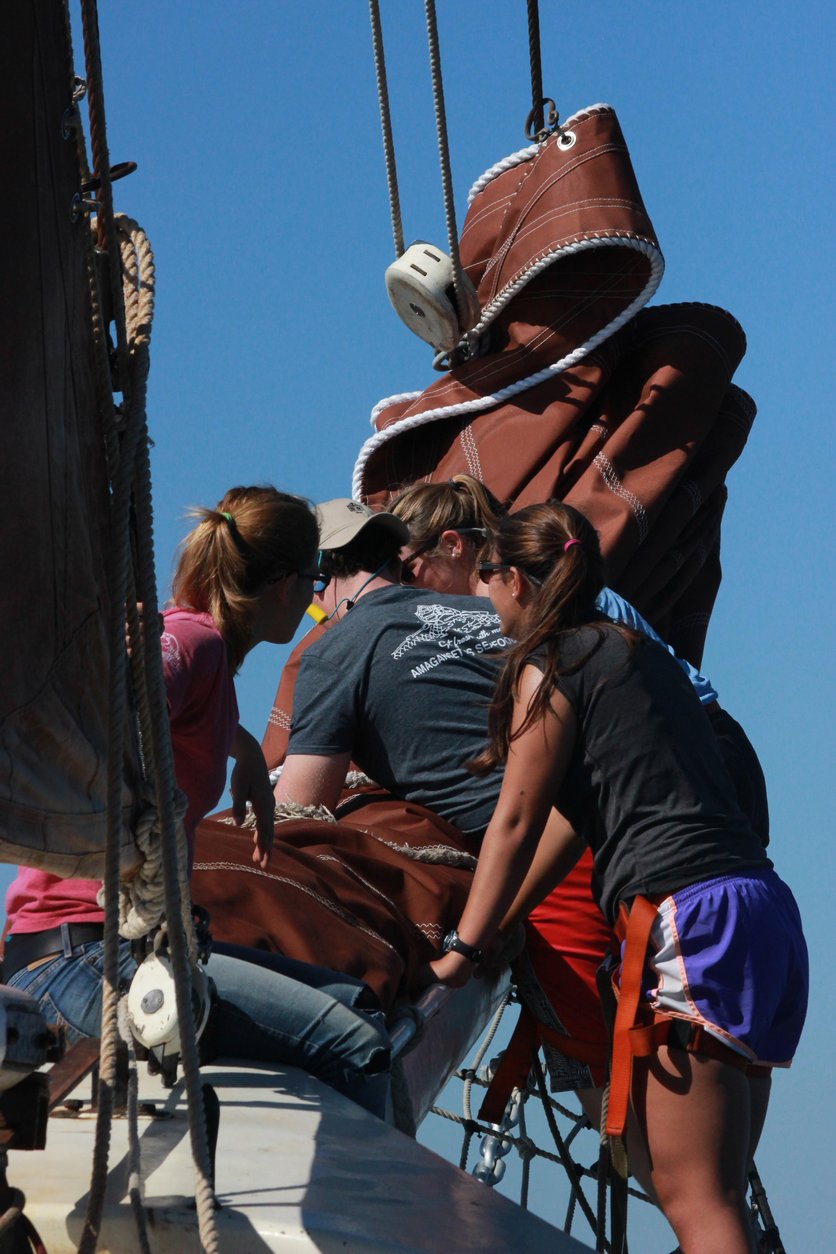 During dinner, there was one of the most beautiful sunsets so far. Everyone gathered on deck to admire it. Once the sun hid away, we dispersed and resumed eating. Returning full circle, C-Watch went back on duty and I resumed my place on bow watch. To my starboard side was the fading light of the brilliant sunset and on my port side was the glistening silver of the moon hidden behind the clouds. The stars and bioluminescence have yet to come out, but I am sure that their interactions tonight will be equally impressive. And this is where my day ends; tomorrow will hold its own wonders that I shall gladly await. Until then…
Over the mountains, over the sea.
Raizel '17