The twenty-one students aboard Schooner Roseway on Proctor's Ocean Classroom program have begun their third week at sea. They are settling into routines, learning how to live in close quarters with their classmates, and adjusting to interrupted sleep, middle of the night watches, and the unfiltered beauty of the open ocean. Read the past week's Ship's Logs from Roseway below.
Day 10: Tagh '21 - Buzzards Bay, MA
The 0400 wake up for dawn watch may have been mandatory, but sadly, it was not worth it. This watch is known to be "the best" watch, the reason being you get to enjoyably witness the sunrise, however, today's sunrise was just not cutting it. Surprisingly, being a week into the voyage, B watch (aka my watch or Best Watch) has never had the dawn watch due to the port stops interrupting them. Therefore, y'all can imagine my excitement for my first time on the "best watch". I truly was happy to finally have it, but the final product was not what I expected. My good ol' buddy Zach woke me up and just as he did, I just had no motivation to move and admit that my king's sleep was truly over. All I wanted was to stay scrunched up in my tiny, cramped bunk, and yes, if you were wondering if I lay fully straight in my bunk, my head pushes against one wall while my feet rest hard on the other.
Despite my unenthusiastic attitude, I pulled myself out of bed, remembering it was dawn watch, which, as you know by now, was a complete let down. Anyways, on that note, let's continue on with the day; the 08:00 breakfast following my watch was amazing as it always is when Tierney is cooking. She simply bakes like no other. Post-breakfast, a boring day, or so I thought, commenced, the entire day being used for catching up on homework, which included a lit paper and journaling. And so the day went on, before I even knew it, it was the afternoon. I had been grinding on my paper all day with my partners when I decided I needed a homework break. As I was exiting the saloon, I saw Jaimes, Kerri and Billy taking some buckies, and not gonna lie, I was deeply hurt that I did not get an invite, especially since I was long overdue for a nice cleaning. I jumped straight down to the fish, put on my suit, grabbed my soap and towel, then was right back on deck. A freezing cold shower had never felt so good, mainly because you have a good friend dumping a bucket of salt water on you. During our thorough wash, a tuna was caught and he was a big girthy boy. Holly, being the science dork she is (she takes it as a compliment, don't worry), dug her knife straight into it and filleted it.
After this, it was back to the saloon for more work, then came almanacs, then Tierney's delicious taco dinner, Madeline's birthday celebration with cake I could not eat so I got my own little dairy free cupcake, and finally back to the saloon to write this daily log. Just when I thought I could bang this out and hit the hay, Matthew came in and shared with the entire saloon his poo-ems. I have never laughed so hard in my life, I thought my jaw was going to fall off and my stomach burst. This one moment made the entire day great and all it took were some good, short poo-ems.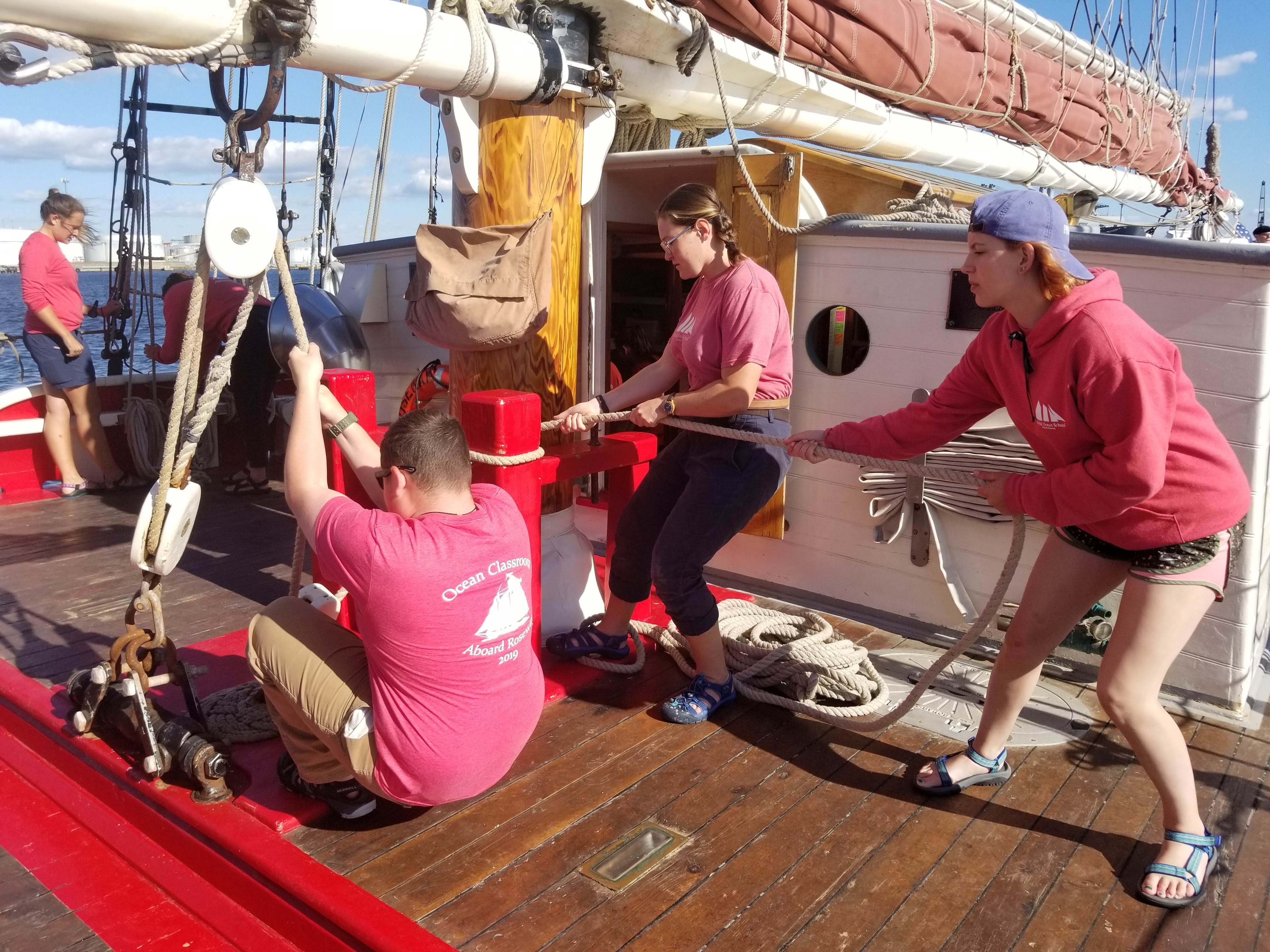 Day 11: Peter '21 - Long Island Sound
This "morning" I woke up at 23:45 for a 00:00 watch. I quickly got ready and got on deck. After 4 hours that felt like an eternity I returned to my bunk for a couple more hours of sleep before breakfast. After breakfast I had a little free time before science class with Holly. In class we learned about ocean circulation and ocean currents. After our class I had an early 11:30 lunch before a 12:00 watch. B watch was scheduled to end watch at 16:00, however, due to currents in the entrance to NYC harbor we had to drop anchor and spend the night just outside the harbor. During the process of setting up for the night I went out with Griffin, Jaimes, and Andy to furl the jib. This was the last step for all of us to get headrig cleared. This means that we can go out on the bowsprit without a crew member with us. Plus the entire B-watch crew is now headrig cleared. This means that we can start to study to become aloft cleared so we can climb the rigging. After this long day we capped it off with a reading from cap. We also got to play a game called Adventure Island. This game consists of two people who get tricked into thinking they have to guess a story that everyone comes up with. However the only rule was that every question they asked had to be a yes or no, and our answers were decided by whether the last word in their question had an "a" in it. It was very fun because they created a whole story from their imagination. It was one of the best days yet, and on top of that we could see the NYC skyline for the majority of the time.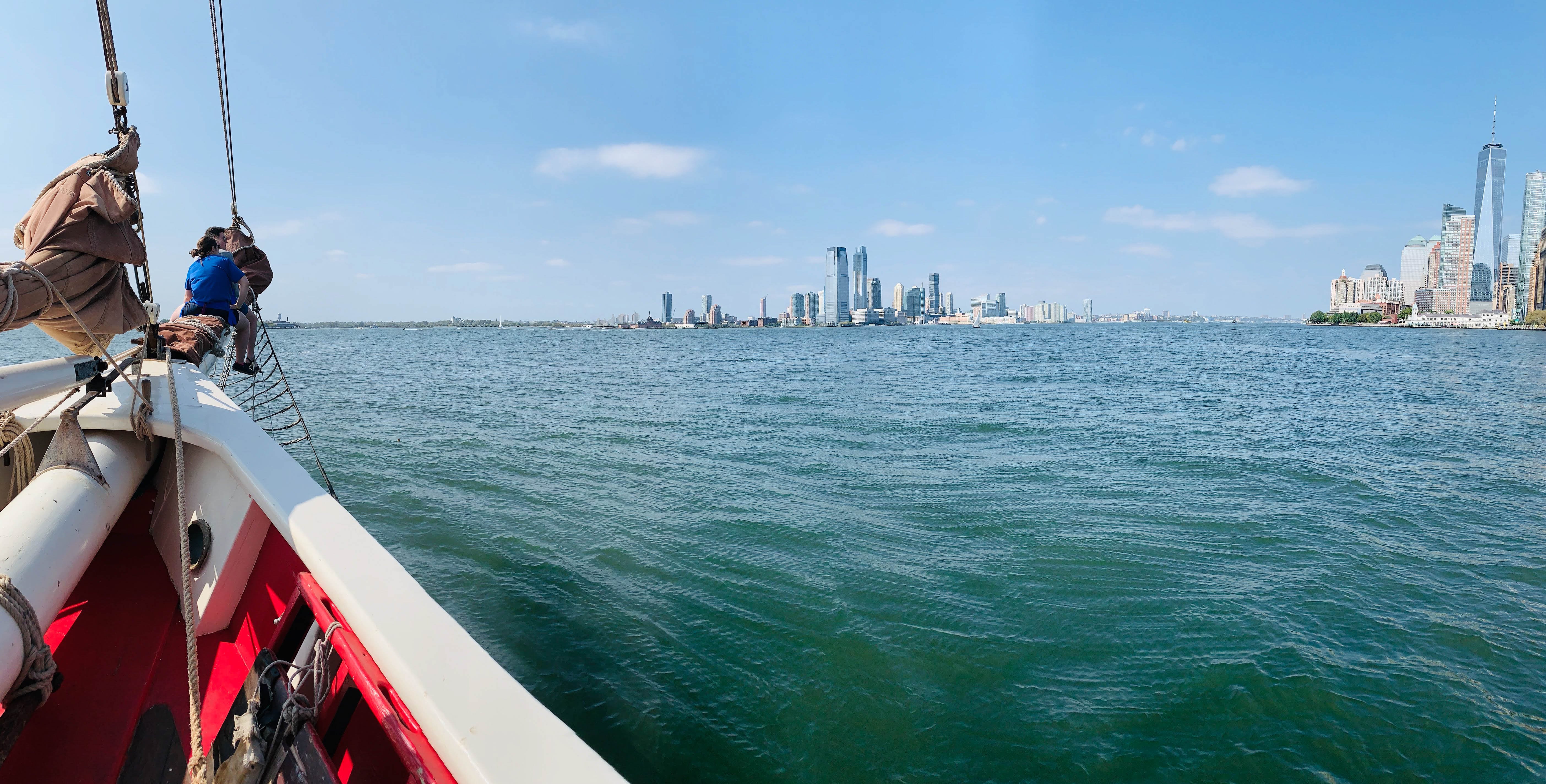 Day 12: Madeline '20 - New York City
Today was quite a day. I had a wonderful full night of rest. Because we were anchored everyone got to catch up on a little sleep, with only 1 hour and 20-minute watches last night. So our day started off with chores, a morning swim and literature class. The great part about being on a boat is that you always have your own pool. So this morning we took full advantage of it jumping off of the deck into the surprisingly warm waters of New York Harbor. Then, during literature class we got to start our sail through New York City. Everyone was so excited and interested, and our sail through the city did not disappoint. All through lunch we coasted, while those of us headrig cleared got to climb the rigging for a great 360 degree view of the city. When it came my turn I was ecstatic to get the best view of the city, however it was not the experience I was expecting. After patiently waiting for others to get their turn, it was finally mine, so I quickly scurried up the ladder. The fire was insane, with water all around every part of the city just as I had known, the huge city with tiny people quickly walking around. Just as I was getting ready to climb down from aloft Holly and I heard a big snap and thunk! It was scary and overwhelming as we looked down to see people on deck moving around and cap giving orders. Ultimately there was just a small rigging problem, but it was quite an event to experience at the top of the ship.
Day 13: Billy '21 - Off the Coast of New Jersey with Atlantic City in Sight
Usually, 0400 wake ups do not come pleasantly, however aboard Roseway, getting up at this hour means that the most relaxing day that our watch schedule provides is a comin'! Starting the day with a mandatory wake up at this hour forced me to witness a beautiful sunrise that I would rarely ever see. Following our watch, we were gifted with a delicious make-your-own breakfast burrito. However my morning soon faded away as I headed down to my bed for a long 2 hour nap. I was woken up abruptly by Chloe as a reminder that I had to be up on deck in 10 minutes for my history class. Here we were tasked to come up with our own design for a watch flag after watching a TED talk on what makes a good flag. It was a rather entertaining class if I do say so myself.
With the main throat halyard fixed and a sub-par lunch of leftovers in our bellies, we headed for the C and D canal off the entrance of the Delaware Bay. What came next was your average day sail, however Jaimes and I decided to venture out on the headrig for a lil' chill sesh to spice things up. From that point on, nothing really interesting came to light until the evening. We were gifted with one of the most vibrant, colorful, and bright sunsets that I have ever experienced. I walked out of the saloon to see the whole sky completely illuminated with a bright orange glow. This color cast shadows around each cloud in the sky, creating an almost ripple effect that reflected each shade of orangish-red on the color spectrum. We were all shocked in awe as the majority of us scurried down below to grab cameras of all sorts in order to capture this few in a lifetime experience. Despite our tired morales and rosy, sunburnt noses, we were all immediately lifted into radiant moods as we settled down for bed. However, my positive attitude was short-lived as I realized my 0000 to 0400 watch. All in all it was a good day aboard the Roseway and I ponder what is to come in the following days.
Day 14: Griffin '21 - Delaware Bay
My log is going to be different from other people's logs, in that I am going to show you what a day in a life on Roseway looks like...
0000 - On deck for the 0000-0400 watch. Running down wind along the NJ shoreline in around 25-30kts of wind and 6-8ft seas.
0000-0100 - Our watch had galley ancillary duties so we had to re-organize the galley pantry.
0100-0200 - Forward lookout... trying to hone your night vision to spot the smallest of lights out on the horizon for the nav team to plot on the chart.
0200-0400 - After being on forward lookout I moved back in the boat to start taking 3-bearing fixes, radar fixes, and dead reckonings.
0400-0700 - Sleep! Finally, you really get good at working off of very little sleep. I woke up when my feet hit the top of my bunk and then the boat suddenly rolled back and I smacked my head on the top.
0800-0815 - Breakfast consisted of an oatmeal banana bake with chocolate chips.
1000-1100 - Matthew taught lit class in the salon, until the rolling made some people feel uneasy so class suddenly moved out on deck in the wind and the spray. We started and ended class with sea shanties.
1200-1600 - Our second watch of the day going up the Delaware and into the Chesapeake and Delaware Canal to Baltimore.
1500-1600 - Nav class, we learned how to do a dead reckoning
1630-1700 Went aloft to take my picture on the Polaroid for the photo of the day
1700-1730 - Almanacs, where each watch shares their info of the day. Nav, weather, and engineering are the three different topics.
1730-1800 - Dinner! Burgers and fries!
1830-2000 - Hanging our in the salon after dinner before watch
2000-0000 - Watch for the last time of the day.
P.S. Hi Mom and Dad!!!
Day 15: Lila '20 - Chesapeake Bay
Today was a very good and special day for all of us here on the Roseway. Yesterday we were rocking and rolling all the way to Cape May and went through the Chesapeake and Delaware canal and we ended up anchoring right outside of it. Today was beautiful, especially as we rolled into the breathtaking city of Baltimore. We started off the day with a very energetic wake up: cap yelling "Fire in the forepeak!! Drill! Drill! Drill!" It was really quite the wake up. We all got into our watches and did exactly what the station bill said. We finished the drill and did our usual soles and bowls, main saloon cleanup, and and fish and fo'c'sle cleanup. Hana made some really good pumpkin muffins for breakfast and off we went to Baltimore! It took us a few hours to get to the city from where we anchored. As we followed the channel into the harbor we saw an American flag colored buoy, that is exactly where the man who wrote the Star Spangled Banner was when he wrote it. We are now in port tied up to a dock in Baltimore and we are all so excited and ready for the next few days ahead!