A prolonged stay in Mystic, Connecticut to wait out unfavorable weather patterns was made up for by a majestic trip down the East River through Manhattan. Check out updates from the past two weeks aboard schooner Harvey Gamage in this update from Ocean Classroom Fall '21!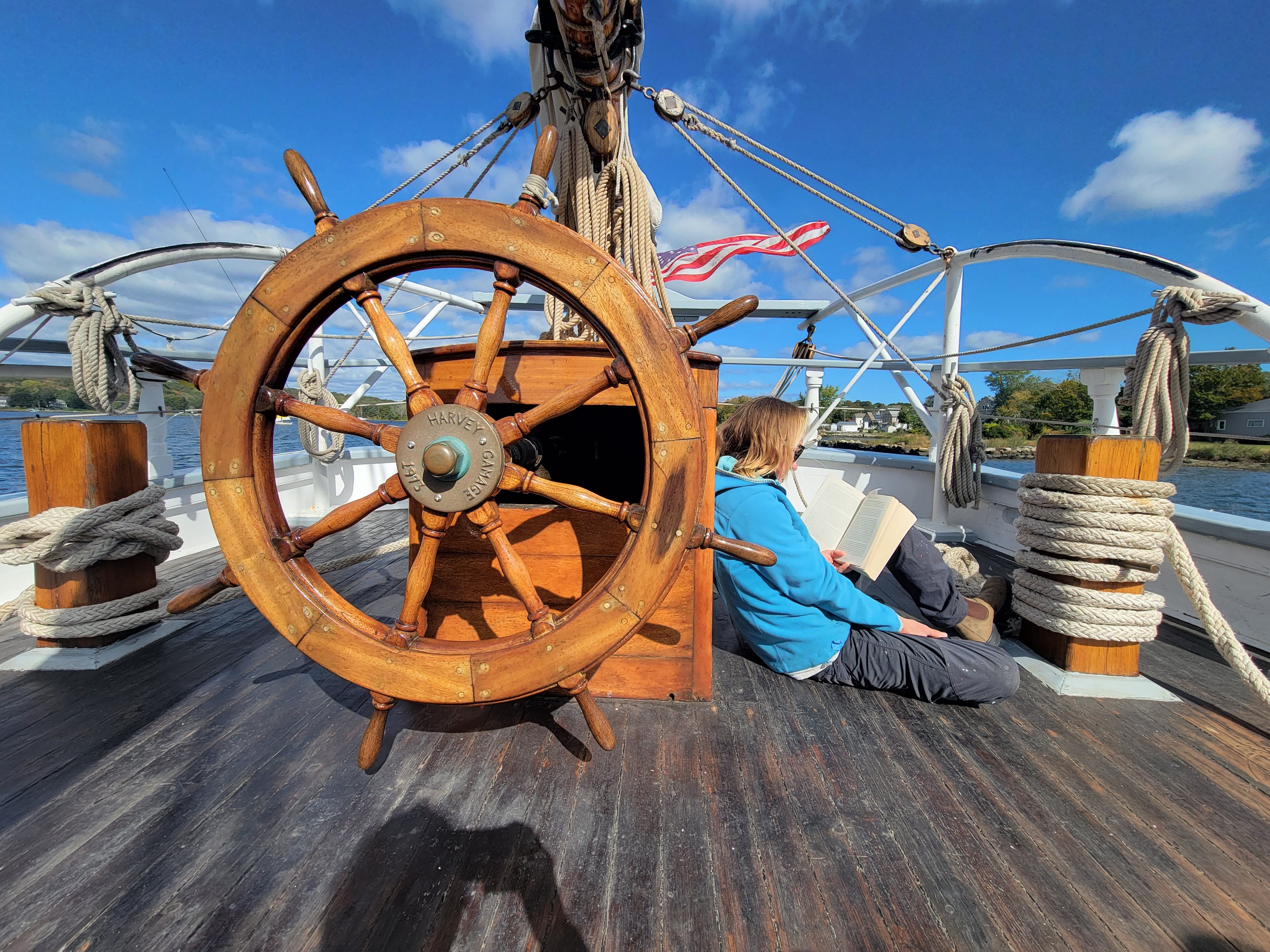 Day 32 | Wednesday October 13th
N 41 21.006' W 071 58.003
As the Harvey Gamage inched closer to Mystic this morning, I was pleasantly surprised to see several students working in the galley, a reminder that we will be taking the responsibility for cooking all three meals for the next few days. The ship's cook, Tyler, is taking a much deserved break and we are quickly learning how hard his job truly is. Today's group began cooking at 430AM so that omelettes, fruit, and english muffins will be ready for a 730 breakfast. Everything was delicious. After doing laps in the Mystic River for a while, we entered the river as Duffy manned the helm like a well experienced seaman...Sam Sewall, Holly and I hopped in the small boat to assist the ship as she covered the four mile stretch. In an impressive demonstration of skill by Captain Goldman, we docked next to the Mystic Seaport Museum, and an exhale of relief echoed throughout the ship's company. We explored the expanses of the museum, talked to some spectators who were intrigued by our situation and took full advantage of the accessible onshore restrooms. Soon after, B watch (my watch) began work on dinner and after a couple of hours of hard work, food was served: Pork schnitzel, a lemon caper sauce, kale and spinach salad, and blueberry biscuits for dessert. As the sun disappeared over the horizon and pastel shades of pink and blue expanded in the sky, we brought in our flags and prepared for a feature film aboard the Gamage. In the spirit of learning, we chose the most informational and relevant movie we could think of: Surf's Up.
Although we were stuck in Rockland Harbor for what felt like months, the collective energy and attitude of the group has improved tremendously. Southerly progress is undeniable, and the laughter and smiles are more contagious than ever. "One month down" is an accomplishment, but it is also a reminder that our time on this trip is finite. The best thing we can do is live in the moment and make memories that will surely outlive our time at sea. Until the next time I write in our voyage logbook.
River '22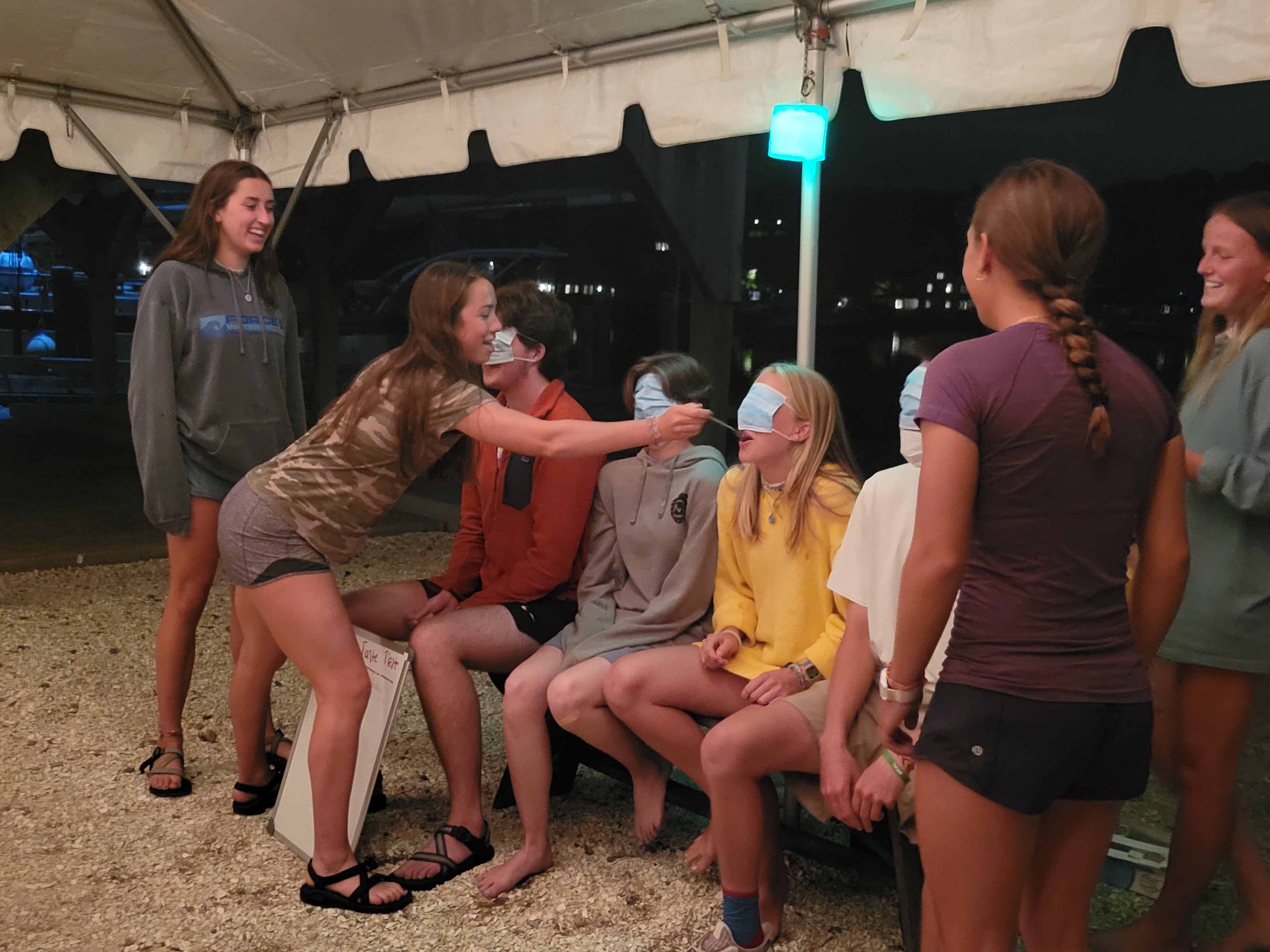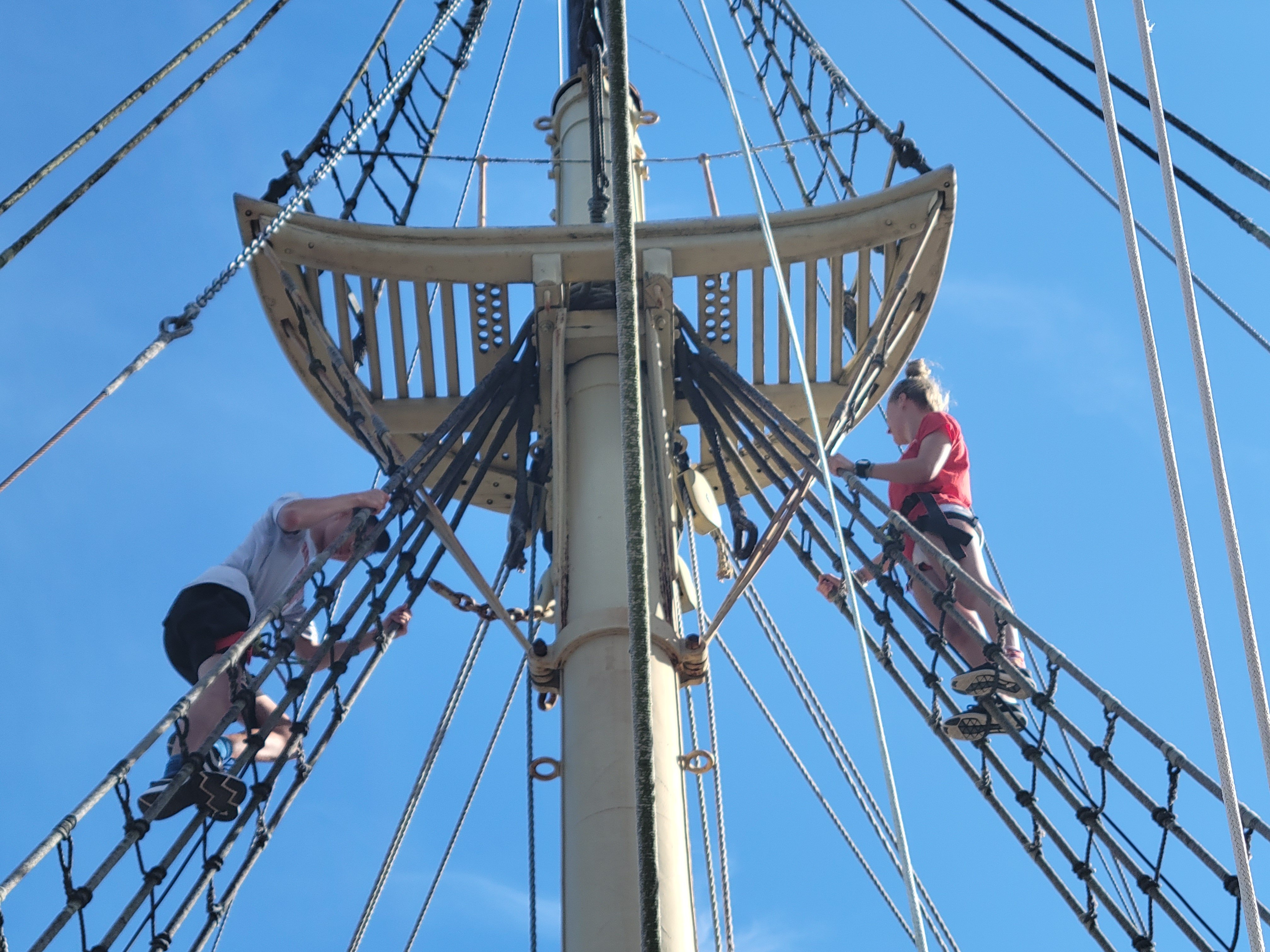 Day 33 | Thursday October 14th
N 41 21.666' W 071 58.003'
A few of us started the day at the quiet hours of 5AM. A few B watch members were in charge of breakfast this morning, which ended in pork and potato hash. I think we all have kind of shocked ourselves with the meals we have been able to pull off lately. After breakfast we got to tour the Mystic Seaport and even go aloft on an old schooner displayed there. As I got to the top I heard the guide remind me to take in the scene before coming down. Being so high up, I could see all the way down the Mystic River. Although it was just a few seconds, the moment is remembered with a thousand heartbeats. After a delicious crew made lunch, and A watch made dinner, everyone prepared for a "coffee house" night. When the time came, we gathered on the dock under the tent. With twinkling lights linen the stage, we listened to poems, songs, and stories. A blind tasting test got everyone laughing, followed by dancing and some group singing. Somewhere in this joy filled day we had some reflection time in history class and a relaxing rowing adventure in the many row boats in the seaport. Filled with smiles and laughter, it was a full day for many.
- Sam '23
Day 34 | Friday October 15th
N 41 21.666' W 071 58.003'
Josh's Birthday! Today was Josh Reed's birthday so we were excited for him. Breakfast was fried eggs and they were fantastic. We then toured the Viking Ship the Draken. Our first mate sailed her across so she knew everything about the boat. I think most of us were shocked at how different that boat's structure and living situation was. I and a few other B watchers returned to the kitchen to make American chop suey for lunch. It took longer than usual because the stove was out of fuel when we returned. Thankfully, the Captain granted my request to play some music while we cooked. So while I threw everything from Paprika to garlic powder in the beef, we were listening to everything from Damien Marley to Color Wall. After lunch we went into town and were surprised with ice cream which I think all of us needed. After that we had class and then we were bombarded with news of our new finishing location and the rationale behind that. While it was disappointing, I think the students agree "it is what it is", and we should just keep charging forward. We then moved onto dinner and sang happy birthday to Josh. To finish the day we played a game of capture the flag that took place in the entire seaport, which was cool, and involved a lot of running. Red Team eventually took the W - LETS GO RED TEAM - with Nat Daniels snatching the flag from the Green Team and handing it off to me before she got tagged at the line. I pushed the flag the last couple of steps and we celebrated. It's crazy how much happens in one day around here.
-Will M '22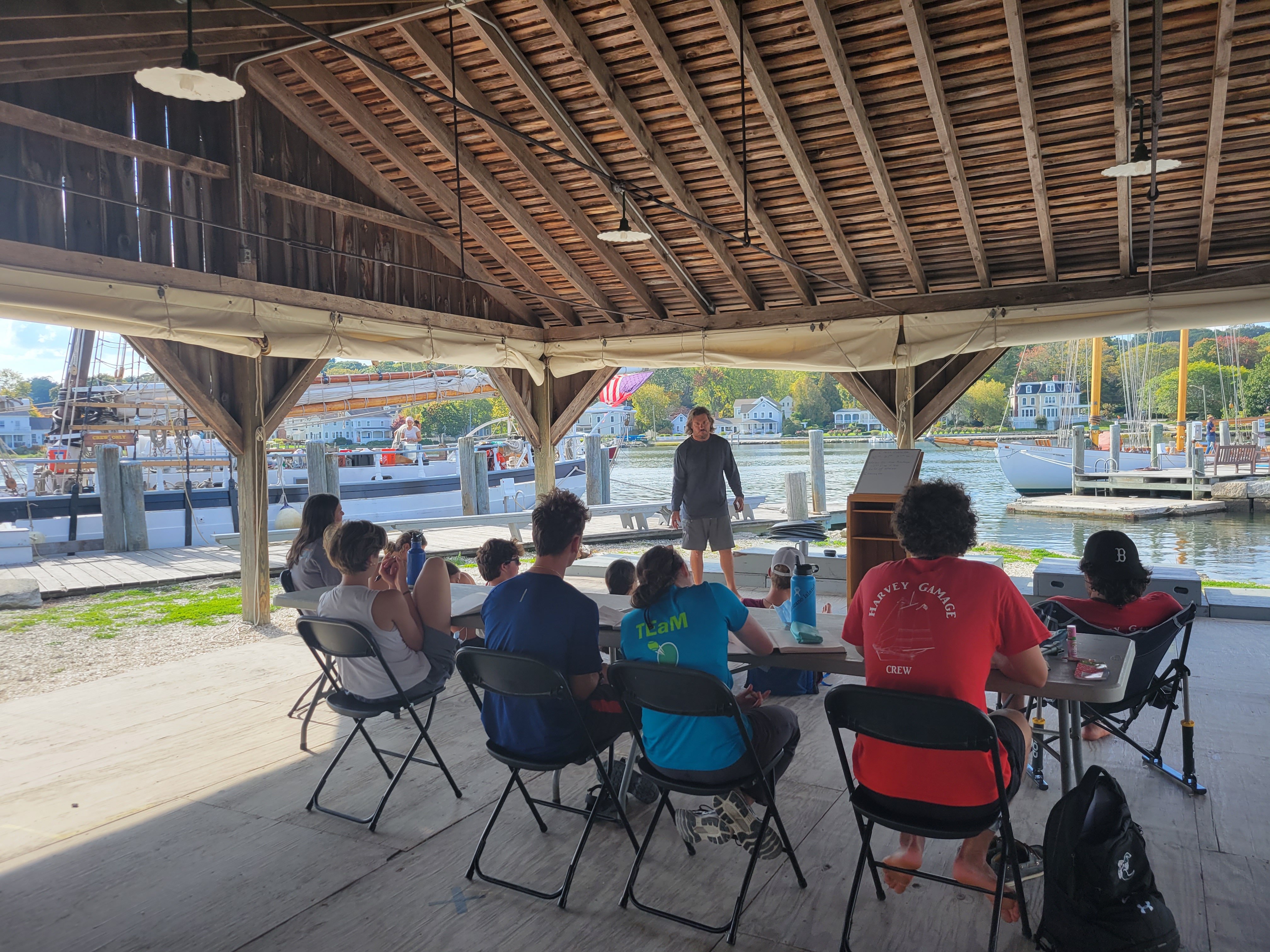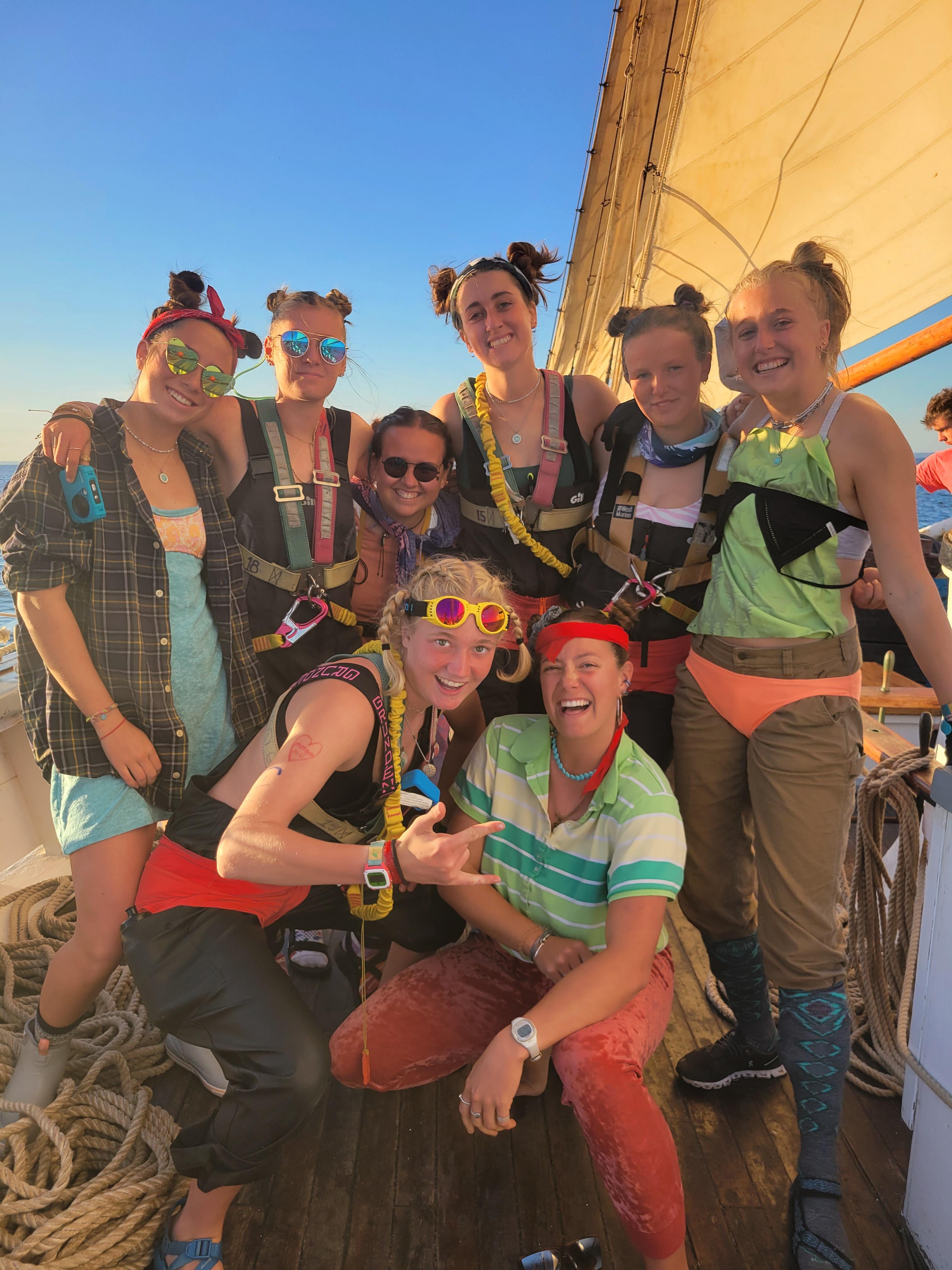 Day 35 | Saturday October 16th
N 41 21 W 071.58
I woke up today, still in Mystic, at 700 and at 730 the watch cooked fried eggs, chocolate chip pancakes, and fruit. Don't worry mom and dad, I didn't eat the fruit, I haven't changed that much. B watch cleaned the deck and washed it down with a hose. At 0900 numbers 12-22 went on a tour of the Roseway. This was bittersweet as we almost sailed on that vessel. It was awesome to see another schooner and what it looked like on the inside. Then the numbers 1-11 switched with 12-22, and we worked on our ditty bags. A watch cooked potatoes and Quinoa for lunch. After lunch, we split into watches to do 3 activities for 45 minutes. First, B watch helped clean a steam boat the Mystic Seaport Museum owns, called Sabino, that was covered in black soot. Then we went to class with Alan and learned about Poetry and started a watch poem. Lastly, we learned how to splice rope, a technique we will use for our ditty bags. At 1600 we received two weeks of provisions and since there was no room to cook dinner we ordered Dominoes. Then I prepped the wet and dry ingredients for making banana bread as tomorrow morning I will be cooking with River, Sam M, and Ali. After i prepped the banana bread i went and joined the game of manhunt we were playing. To finish off the night, i had early watch with Ali, River, and Sam M from 2000-2130.
-Cara '22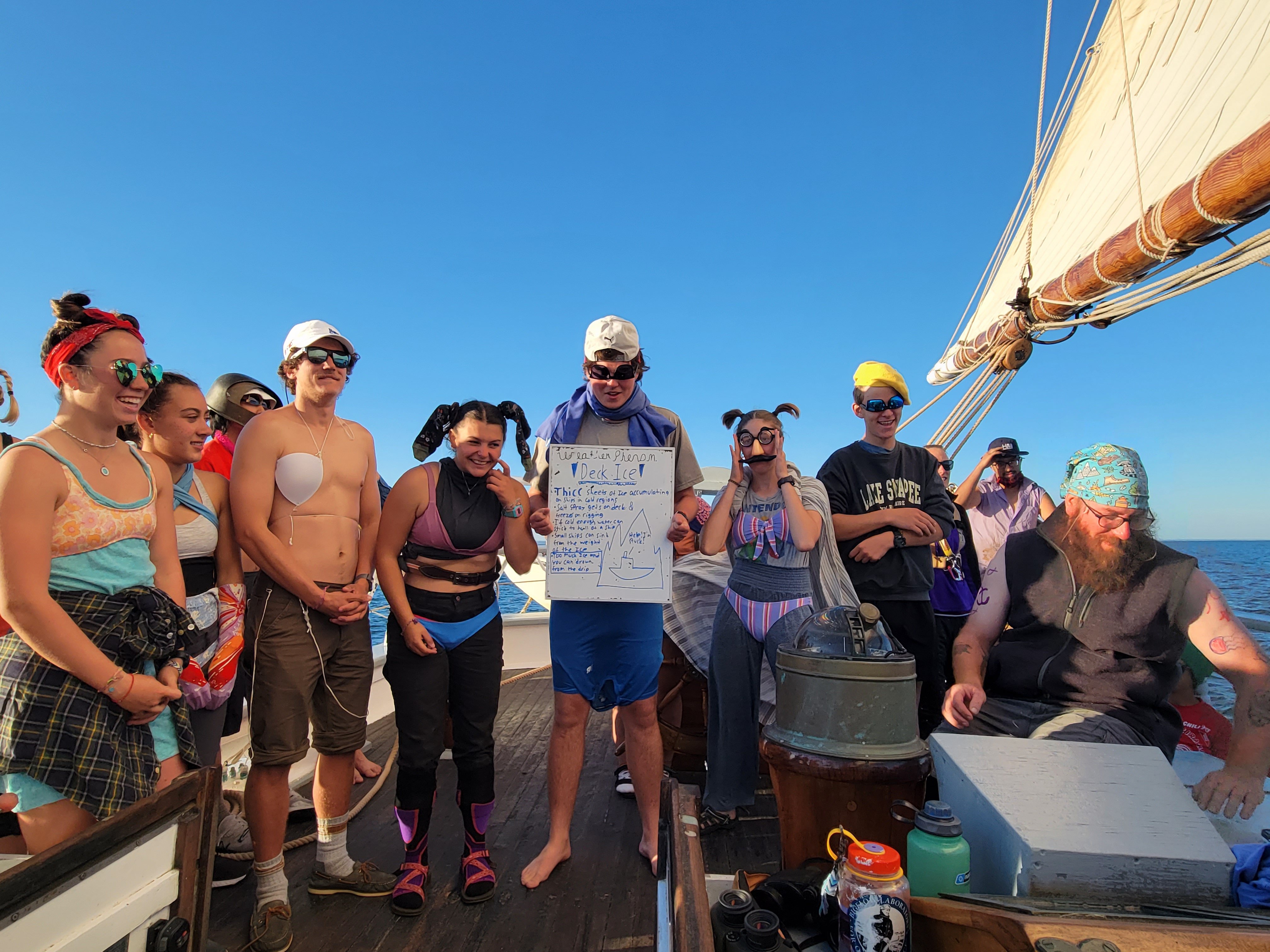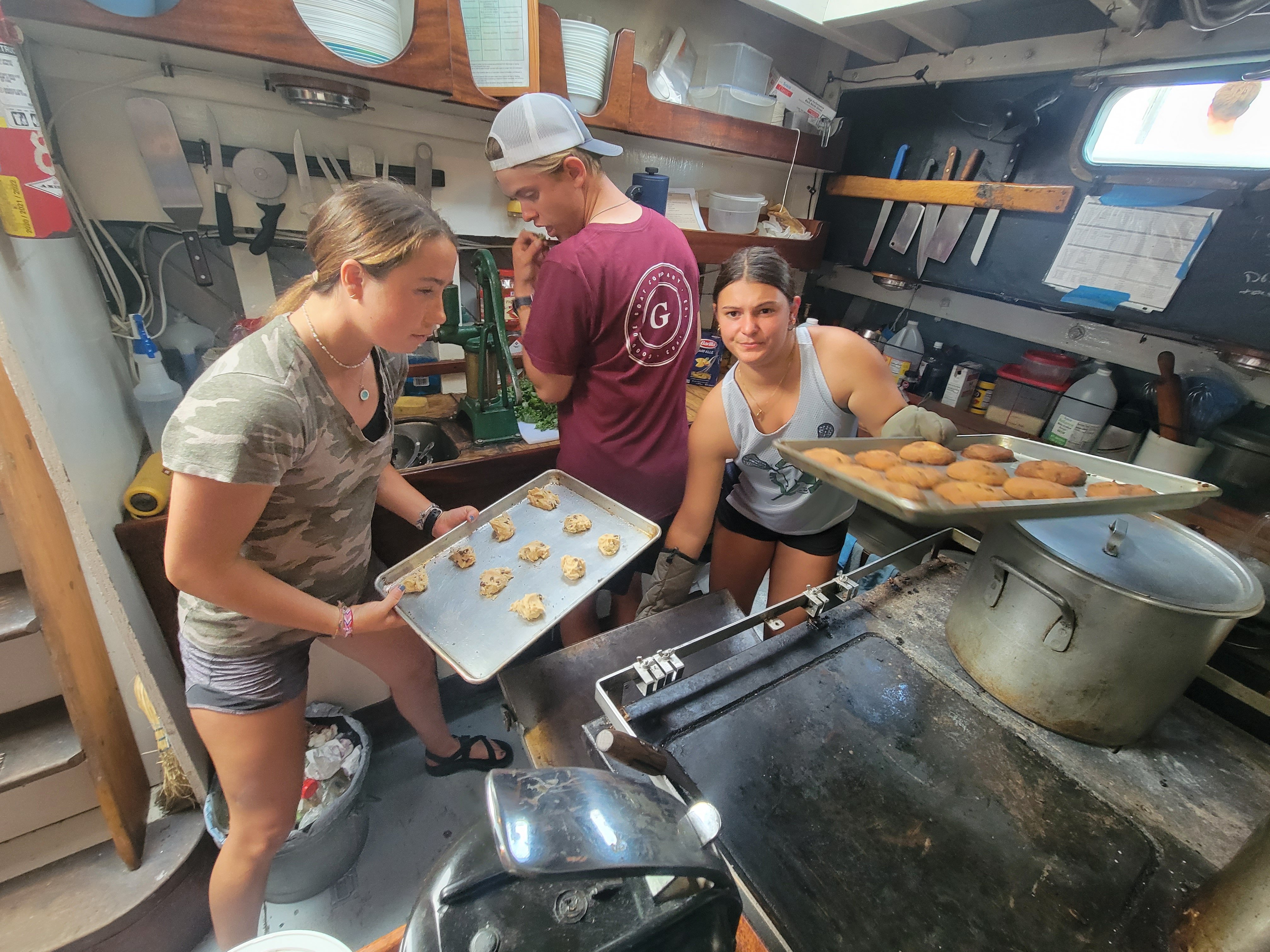 Day 36 | Sunday October 17th
N 41 21 W 071 58
I woke up today to pancakes. They were student made from my B watch and it was amazing. Then muster came up and it brought good news. This was good news because moral was low on the ship because of not going out of the US. They were letting us use the museum showers which were only for crew. They also let us have free time as long as we stayed inside the Mystic Museum as a way to get away from the boat for a little while. During the free time, Cara and I headed straight for the ice cream. A lot of people from the boat had the same idea. I got a small with two scoops of mint chocolate chip ice cream. It was very good. After that we went to check out the print shop of the museum since the guy who worked the printing press also had brought us up the shrouds of the Joseph Conrad, a square rigged school ship. This boat was a school ship where they taught young men how to sail. We checked the print shop out and it was cool. There was an individual piece for each letter. They also had to write it backward. Then we decided to head back to the boat. It was lunch and they were quesadillas and they were so good. After lunch, we reassembled and went to get ice cream again. I got cookies and cream but it hit different after lunch. Cara wanted a photo of the viking ship which we had seen earlier since Ms. Spring had sailed the ship for 5 months. So we got this full tour of the ship. It was so cool but nobody brought their cameras. So we went back to try and get a picture but it was blocked off. Then I finally got a chance to take my shower. It was fantastic. The warm water was just exemplary. I had not had a real shower since I had left Hurricane Island. My hair felt so clean and fresh after it; I also had a mirror so I shaved. After that, I finished off with a game of poker and then did my logbook.
-Connor '23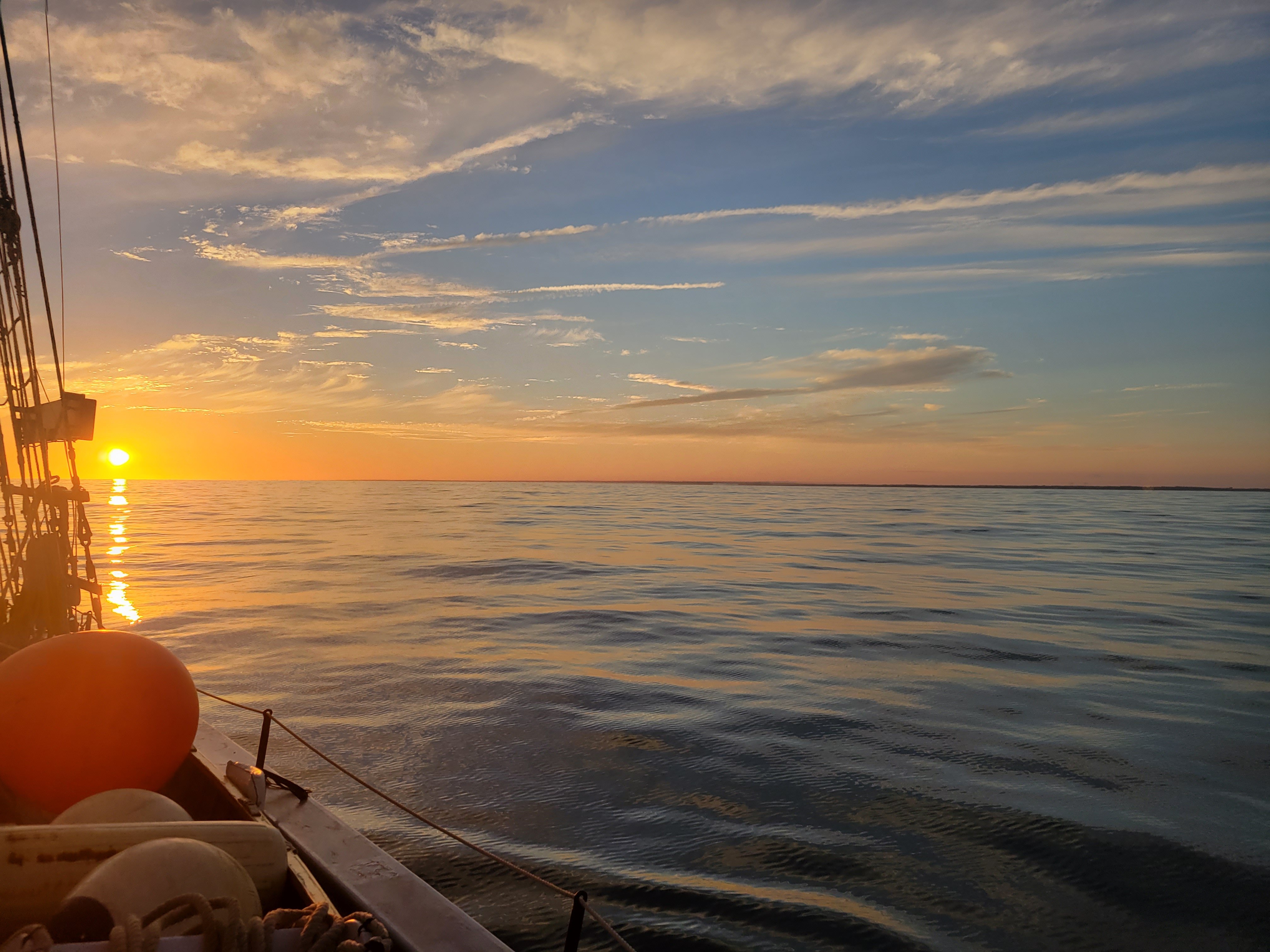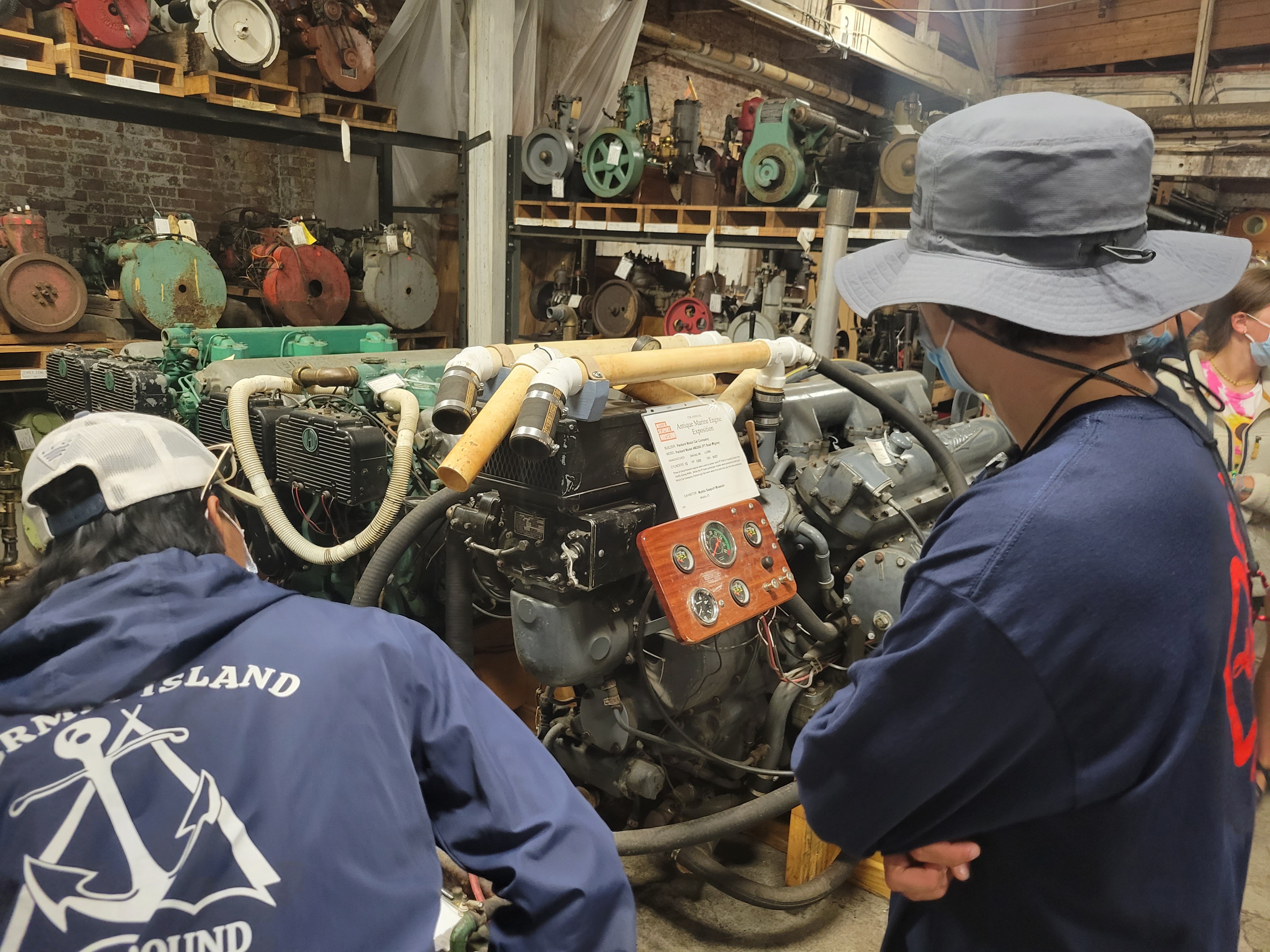 Day 37 | Monday October 18th
N 41 15.093' W 072 07.555'
The cold, brisk air of October that we were so dreadfully awaiting finally showed up this morning as we all slumbered sleepily out of bed to start our last day in Mystic, CT. We started the day off with some of Tyler's amazing french toast, all huddled up in the warm galley, as to try to escape the freezing mooring weather above deck. Once we mustered above deck, we started and completed our chores before finally throwing off all the dock lines. Off to start our voyage toward our next destination, Baltimore, Maryland. It was a busy morning to say the least.with calmish waves ranging around a force % and moderately good winds pushing us in a zigzag formation through the Long Island sound. Once lunch hit, we all gathered in the galley once again to try to consume as much warmth as we could. For lunch, we were served some pork and summer squash soup and with some delicious chocolate chip cookies on the side. Once lunch was over, class began and we were split into groups to learn about the Billion Oyster Project in New York City. We started off learning about the history of New York and its oyster population--how it was over harvested and about how the harbor that the oyster's, and much more marine life had once thrived before turning into a lifeless polluted body of water. The Billion Oyster Project's goal, as we learned, is to essentially bring a lot of the life back, and in doing so, hope to repopulate New York Harbor with one billion oysters by 2035. Soon after class, all of us gathered on top of the deck for Almanac to learn about weather, navigation, and an enigma report before settling down to listen to Captain read us some sea stories. Dinner was served shortly after and we munched on, or really devoured, some chicken and waffles, some mashed potatoes on the side. Night time soon took over and the winds and the water picked up suddenly, taking the ol Harvey Gamage for a rough spin of events including lots of tacking and lots of waves dumping onto the deck. Let's just say it was an eventful way to end the day, and sleep was not on our side for the night.
P.S. Happy belated birthday Mom! Hope you had an amazing day! Love you!
- Alexandra '22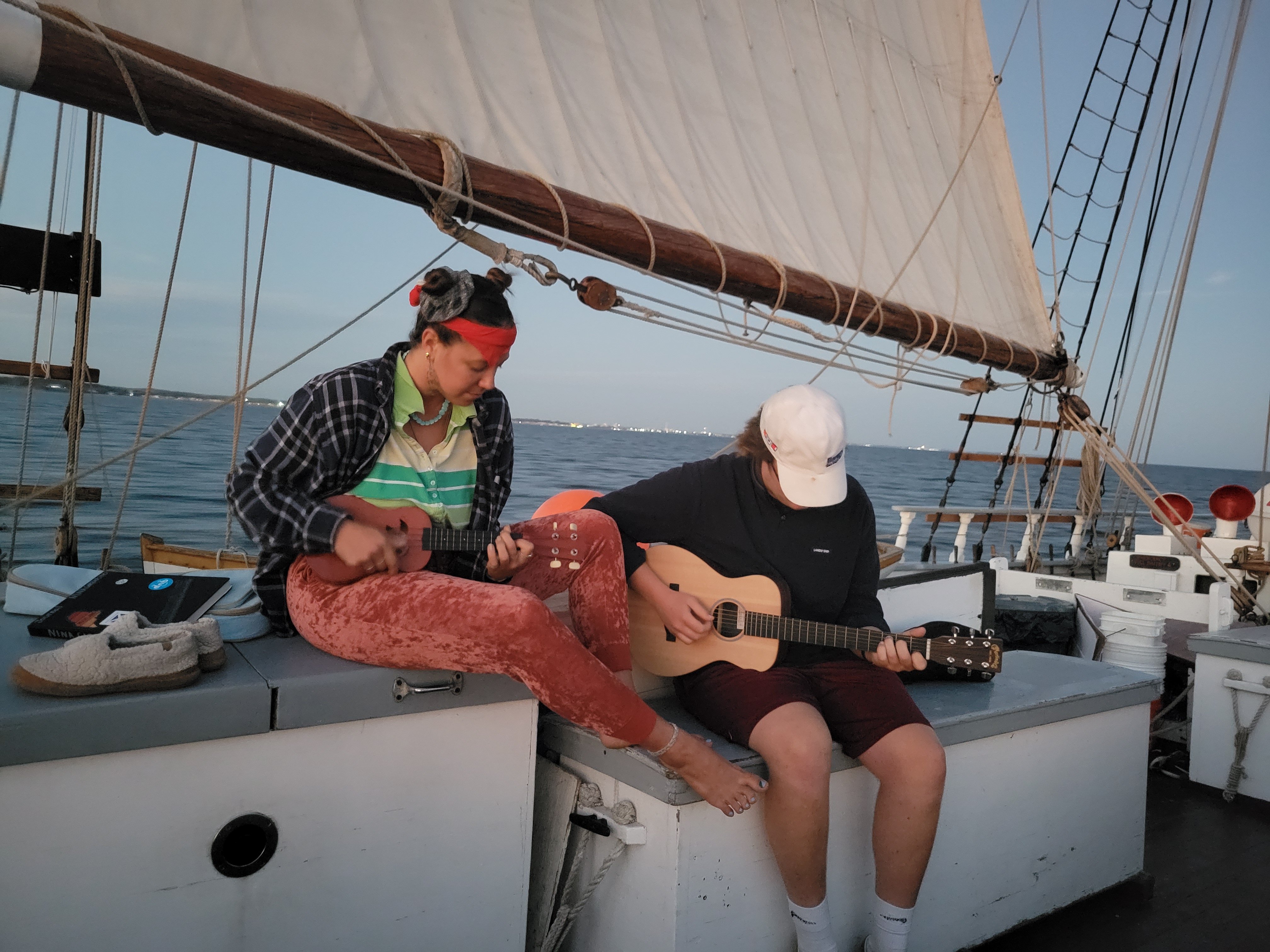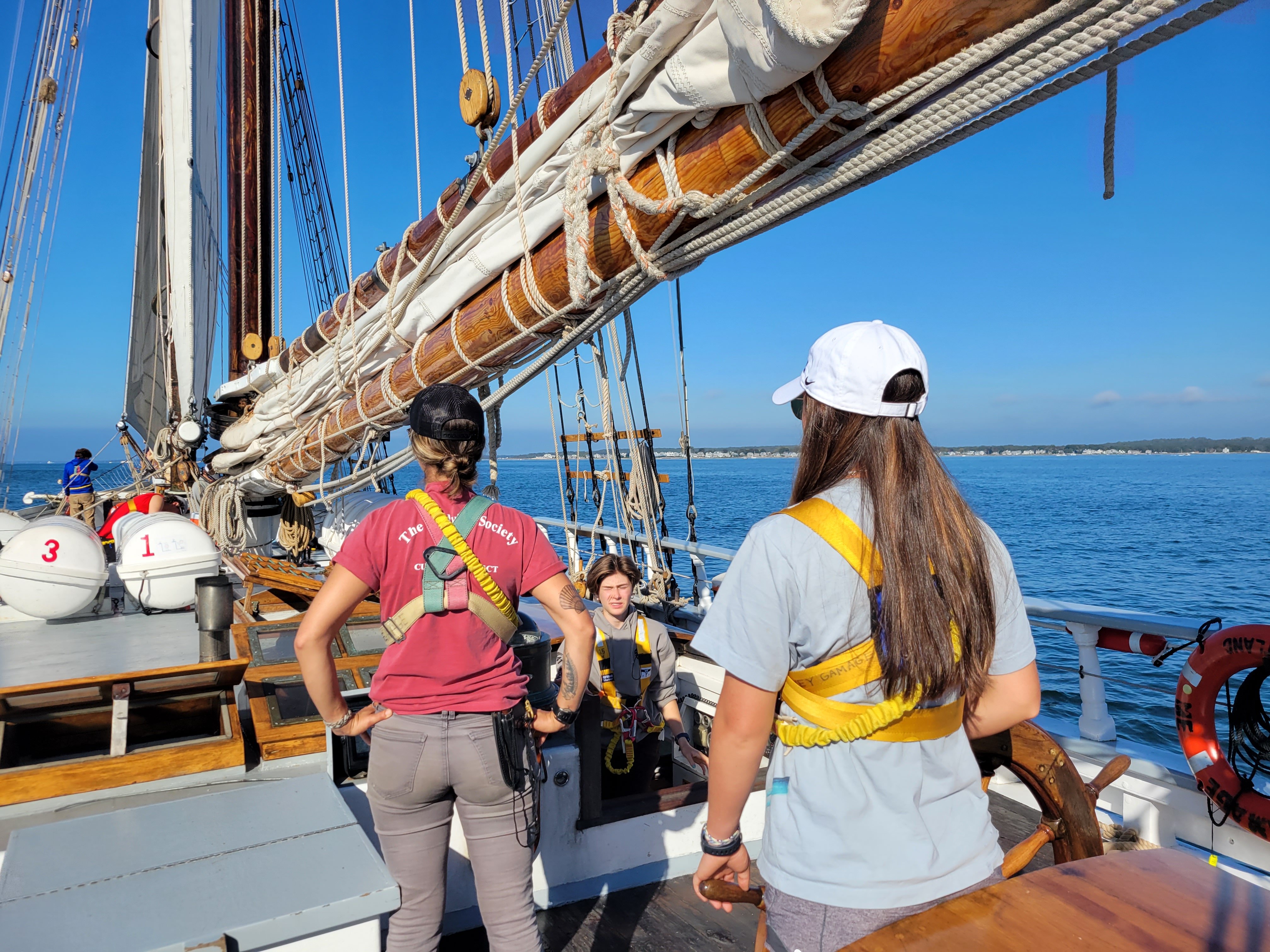 Day 38 | Tuesday October 19th
N 40 57.418' W 073 04.913
The day started at 0000 (12:00 AM) with the waves splashing all over the place. I couldn't believe the size of the waves and it felt like a scene from a movie. At one point we were going 8 knots and we enjoyed getting sprinkled in the face with water. Soon, our 4 hour watch was over and we were able to go right back to bed. Next thing I knew it was morning and I was getting woken up for breakfast. The wind hadn't changed much but the sun was shining now. After a quick breakfast, I decided that my bed was calling my name. After a nap, we had class, where we learned about how race, culture, identity, and ethnicity can define a person. We also talked about how music has the ability to bring people together. It was a very interesting class. B watch then devoured a delicious lunch and when we came back on deck we realized that we were anchored. We had anchored in Port Jefferson due to the weather not quite cooperating with us, the wind coming in the opposite direction at 20-30 knots. This was a surprise to me and it was cool to be at a place where we spent so much time visiting my grandparents. B watch did hourly boat checks during the down time. I enjoyed sitting in the sun and writing letters. It's still crazy to me that the letters I write are the only way that I can communicate with my friends and family. It's hard to capture all these amazing memories into one letter because there's truly no way. Anyways, we sat and had almanac while drinking some delicious tea that was kindly made by River and Sam M. We concluded the night with everyone's favorite, TACO TUESDAY!! We were all so thankful for tacos and it was a great way to close a relaxing day.
-Libby '23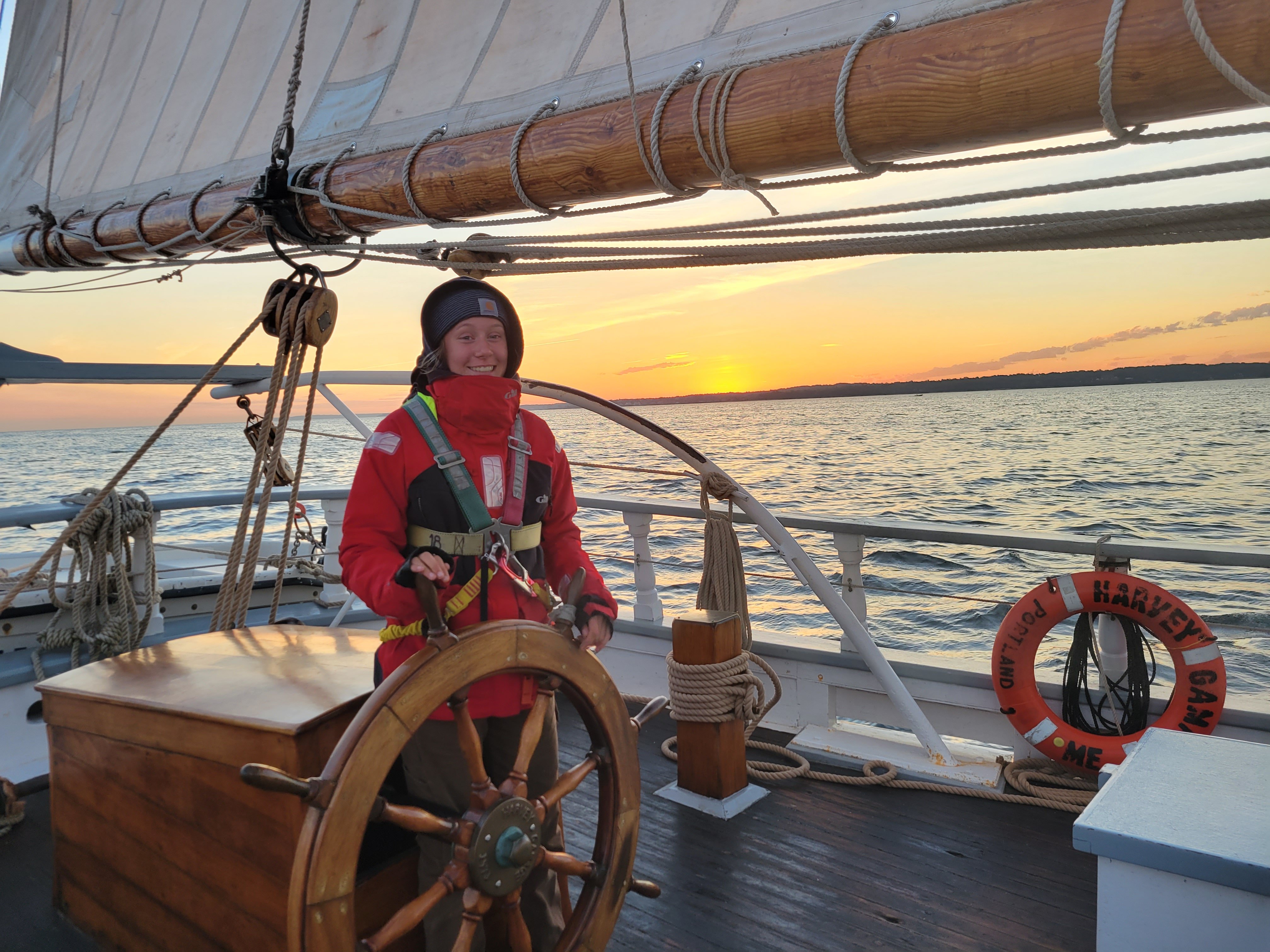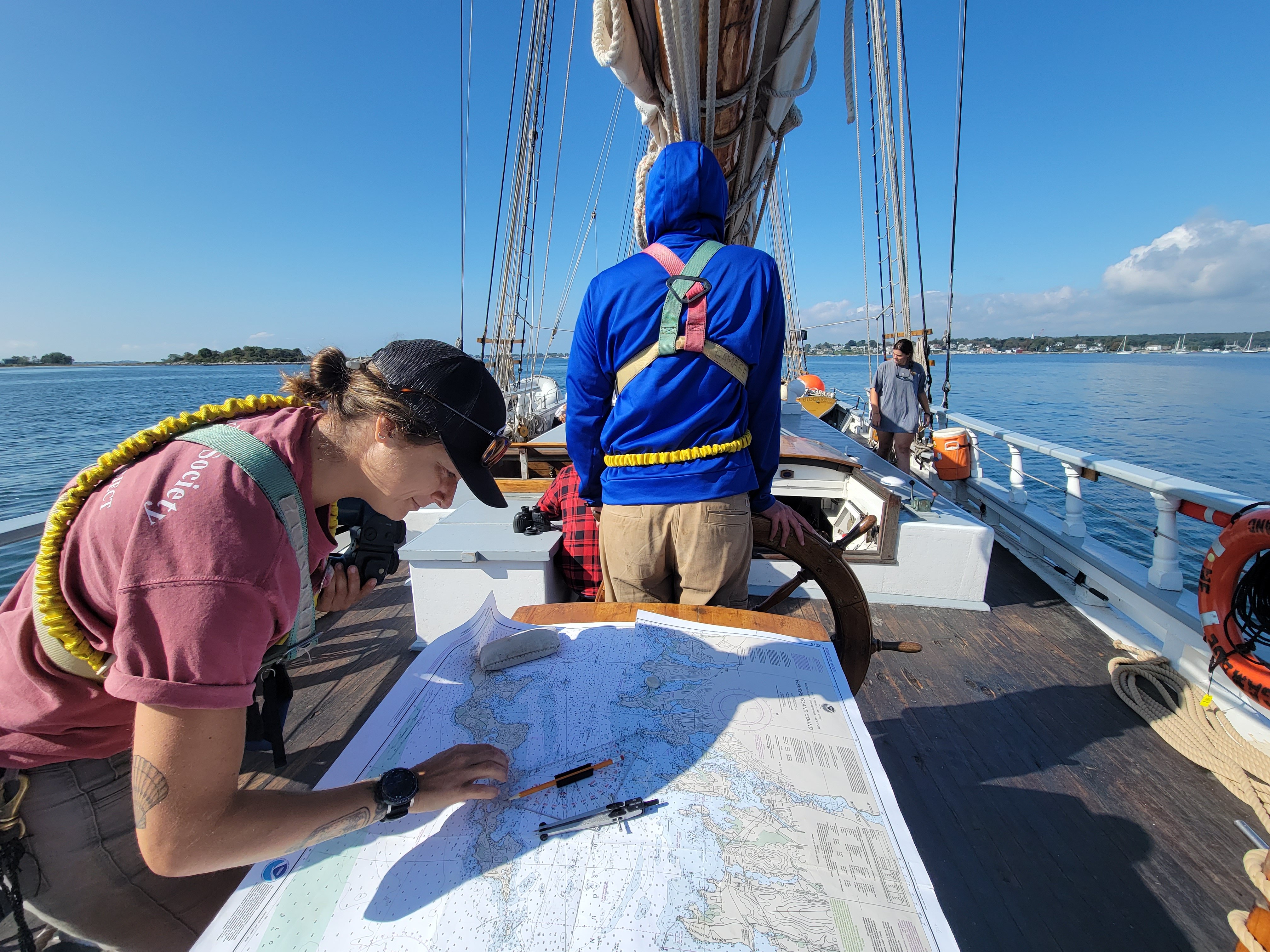 Day 39 | Wednesday October 20th
N 41 00.542 W 073 17.107
After a much needed night to catch up on sleep and homework assignments, the crew and students of the Harvey Gamage set sail early this morning waking up at 0700. As A watch mustered on deck, the two other watches ate an amazing meal from Chef Tyler and quickly cleaned up to begin setting sail. We hauled up the anchor and soon after began setting the staysail and foresail as we departed from Fort Jefferson. As we eventually raised all of the sails, B watch moved into their watch as A and C watch dispersed into a short relaxation period of nap time and study sessions. As the clock approached 1400, the first seating of marine science took place in the main salon as we discussed the exploration of the ocean and the evolution of submarines and other ocean technologies. After class I was fortunate enough to enjoy the shifter weather, from the morning, as the swells died down and the sun was bright and shiny. At 1600, my watch and I transitioned into our evening watch and took the deck. With spirit week also beginning today, students and crew began changing into their wacky Wednesday attire for almanac at 1700.
Presenting our reports and seeing all the different outfits that were assembled for wacky Wednesday was the highlight of my day. Everyone couldn't stop laughing and the vibe was amazing. After a quick almanac we progressed into dinner while some took pictures and some went back to sleep. As the night wound down there was a variety of music being played on deck with everyone still in an energetic and enthusiastic mood. Although a day filled with talking and moving slowly across Long Island Sound, the Harvey Gamage and the people on it were still in an optimistic and lively mood. Our group has remained patient and flexible and has adapted to all the challenges that have crossed our paths. As we enter the second half of the trip and are headed toward New York City, I am excited for what the future holds.
- Joshua '22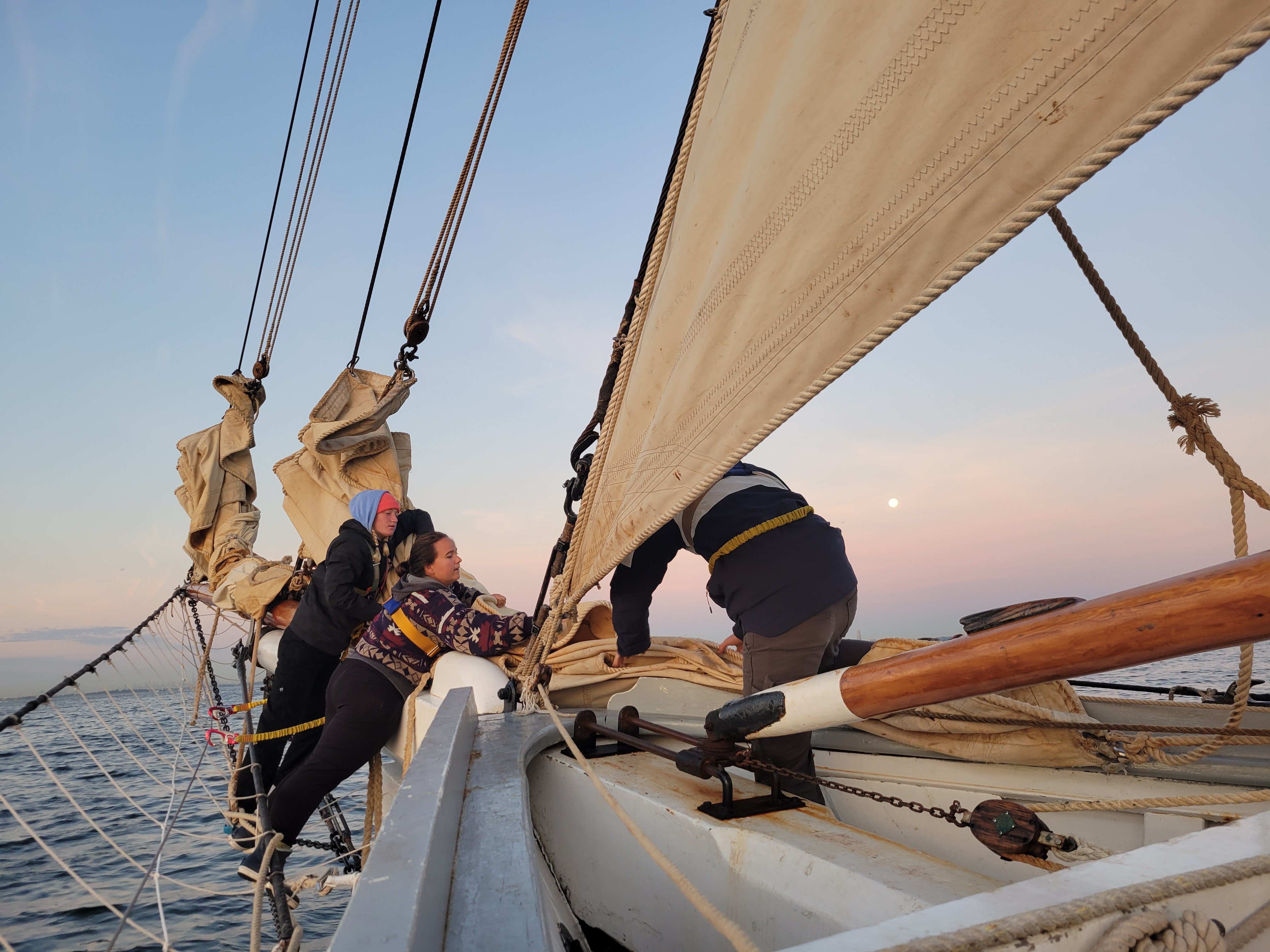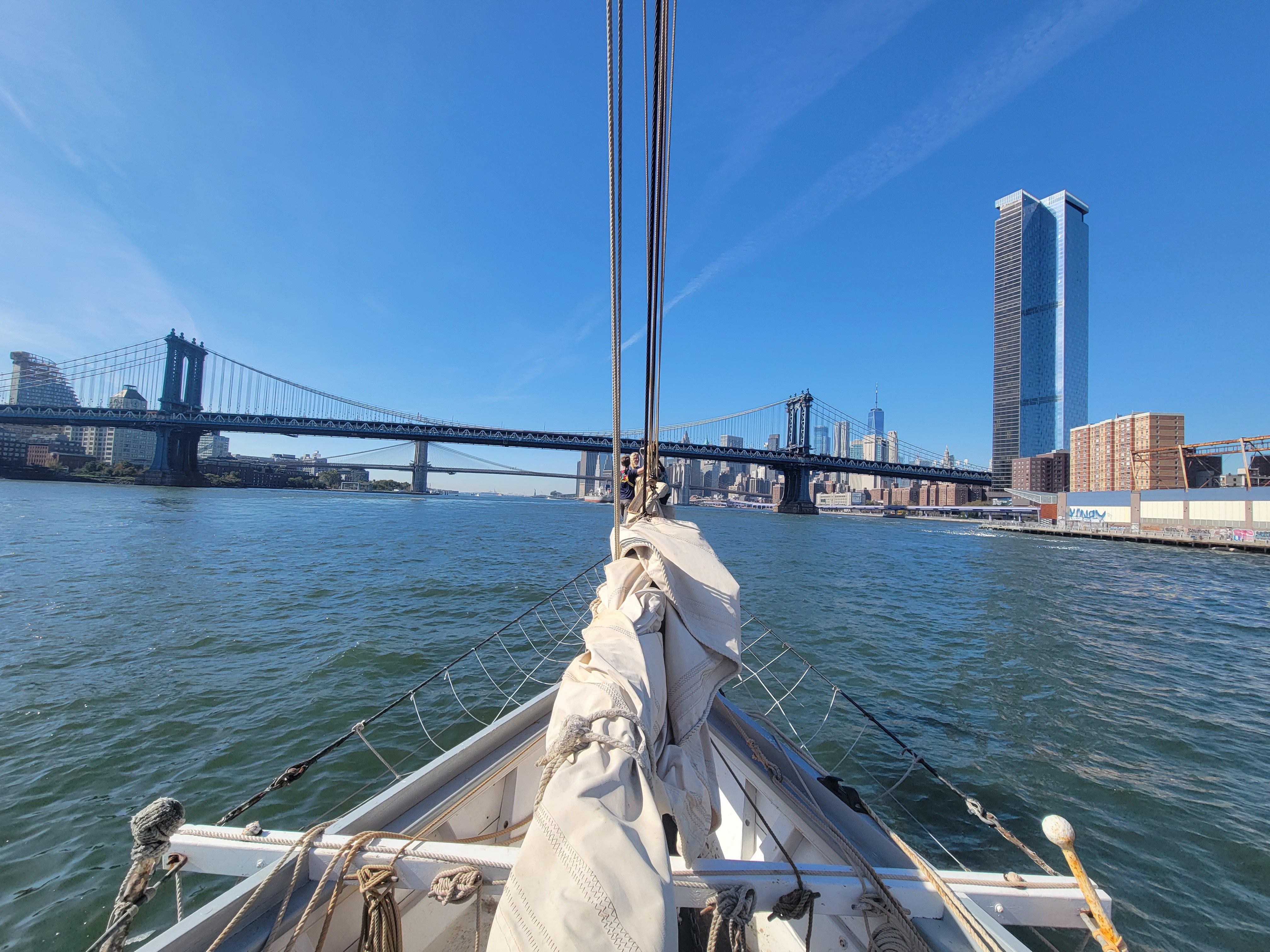 Day 40 | Thursday October 21st
N 40 25.667 W 074 01.477
Our night was filled with tacking and slow but steady progress through the Long Island Sound. The day began with a beautiful sunrise illuminating the NYC skyline. After studying for our marine science midterm with a word search, we cruised below the Throggs Neck Bridge and through hell gate into NYC harbor. Looking down at the water as trash and other miscellaneous items floated by was displeasing, and had no place in our oceans. Being on the headrig while maneuvering through the East River gave us a different perspective of the city as opposed to being on the street. Most people had never seen the Statue of Liberty up close so it gave us the opportunity to appreciate her. Passing through NYC today marked a special moment in our voyage and it was important to remember the hard work, exhaustion, and unwavering seas in the past couple of days led to a perfect sunny NY day. We have anchored in Sandy Hook for the night to let the weather pass by before we are underway again.
- Nat '23