With just three weeks remaining in their term at sea, Proctor's Ocean Classroom fall 2021 crew is thriving aboard the Harvey Gamage. Letters home from OC students recount the remarkable experiences they are having as they learn to crew a tall ship, all while taking Marine Science, Maritime Literature, Navigation and Seamanship classes. A once in a lifetime experience, Ocean Classroom is living up to its 28 year history as one of the most transformative high school programs in the world. The group is heading around Cape Hatteras for Charleston, SC right now. Stay tuned for more updates coming soon!
Day 41 | Friday October 22nd
N 39°55.00 W 073° 55.686
Today was the most eventful of uneventful days. The morning started off with the most beautiful red, orange, and pink sunrise that shined down on the NYC skyline. Shortly after was Tyler's breakfast. The rest of the morning was filled with chores, downtime and the wonderful marine science class where Holly talked about marine tracking devices and her experience in planting trackers in Bonefish somewhere in the Bahamas. Class finished up just in time for lunch. B watch needed to be ready because after lunch we would be setting sail for Baltimore. As B watched, the rest of the students did homework or just wasted time until they heard the lunch bell ring. We all quickly ate our lunches because we would be setting sail soon.
We all sat on deck and waited for commands to set the mainsail. We set the mainsail and forsail before we heard the command, "hands to the windlass"...it was time to raise the anchor. While raising the anchor, we set the staysail, inner job and outer jib. Shortly after we had finished setting the sails we heard Ms. Spring yell out "Fire in the forepeak this is a drill". (yes we do have fire drills on boats) Everyone scrambled to their positions, people were running out with fire hoses while others were handling the sails. We finished the fire drill in a matter of minutes but as soon as we finished the fire drill the captain yelled out "man overboard, this is a drill," Everyone yet again, everyone dropped what they were doing and proceeded with their duties. We handed out all the life vests, simulated launching all the small boats and simulated launching the life rafts.
After the drills, A watch and C watch stood down for the rest of the evening or until their next watch. We took the deck at 1600. Usually during our watches we have almanac, but today we didn't. Instead, we had a man overboard drill. Captain Goldman threw a soccer ball over the side of the boat, all while yelling man overboard. People below ran up on deck in a panic because just seconds before they were sleeping. The soccer ball was returned to the boat within minutes and the drill was wrapped up just a few minutes later. We mustered after the drill and talked about things that we could improve on. After we broke for muster, A and B watch stood down and C watch hurried into the salon to enjoy what I think was Tyler's best dinner, BBQ Chicken with pasta and coleslaw. The rest of the evening was pretty uneventful. We got to experience yet another wonderful sunset shortly followed by a beautiful dark red moonrise. Outside of that, the students went to bed and got some much needed rest.
--Kai '22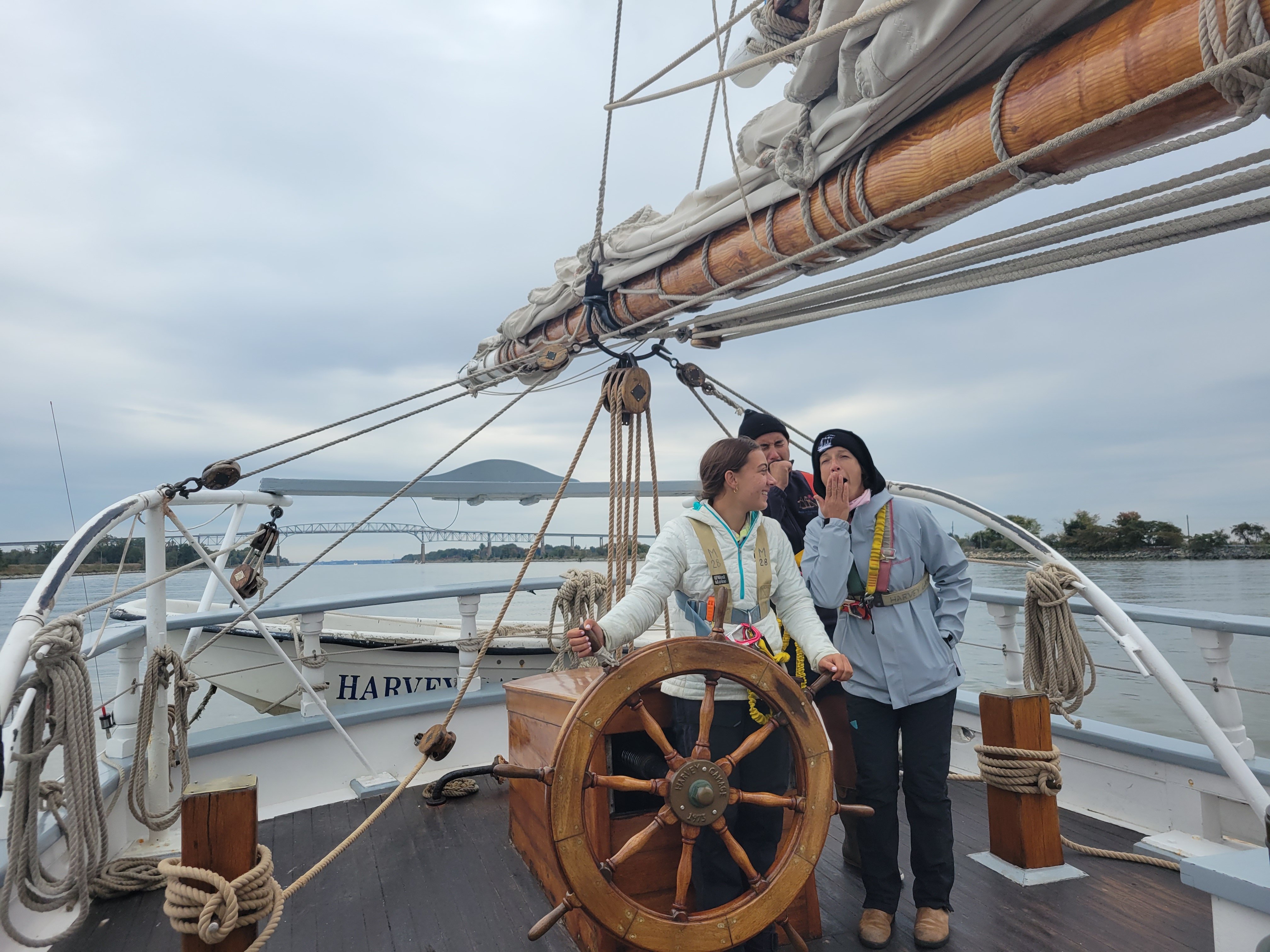 Day 42 | Saturday October 23rd
N 39° 23.828 W 075° 29.470
Farmer and Skaane, aka 'The Ellas", awoke early this morning, Saturday Oct. 23rd, at 330AM. C-Watch was relieving the B-Watch after they stood on deck from 12-4. As I climbed up through the forward companionway, I awaited the windy cold air to strike my face. I was pleasantly surprised to find the dark morning to be a comfortable temperature, and we had minimal wind throughout our 4 hour watch. We divide to conquer all of the tasks that our busy morning entails. Helm, lookout, dish pit, wake-ups, deck wash are all the jobs we must finish to keep a happy ship and happy mates. Once A Watch received the deck, we were stood down for breakfast and the much needed rest. Breakfast consisted of delicious egg quesadillas, sweet potato mash, and a bowl of cut peaches.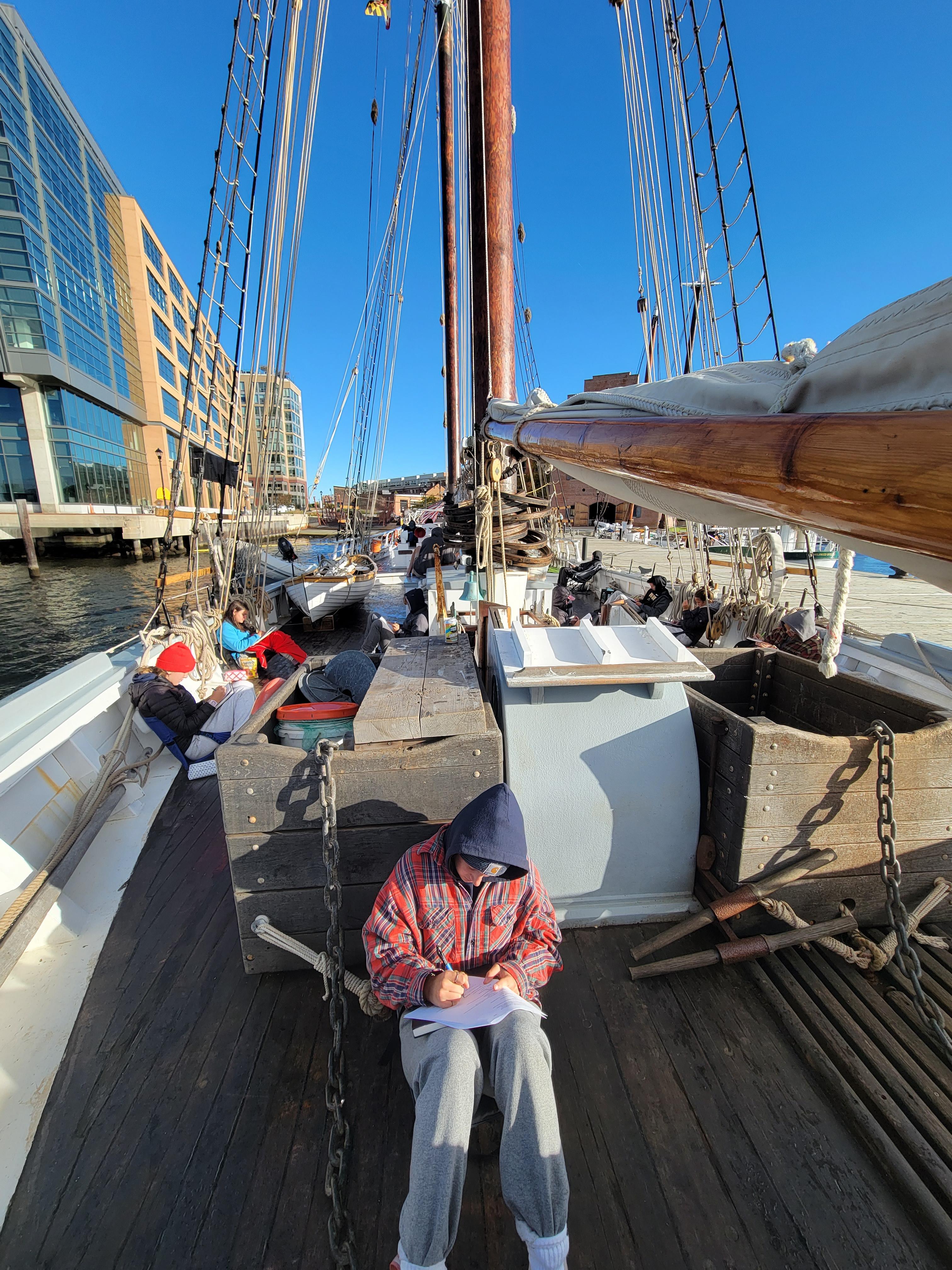 After we each took some time to ourselves, we all rejoined for lunch. We then followed that with an intense workout of squats, crunches, and planks, etc. This helped us feel revived with energy and a clear mindset for our upcoming class. In literature class we listened to, recited, and scribed such poems as "Sail Away'' and "By the Sea". We broke down the poems to find the true meanings and then class was dismissed. I went below deck to flip my pants inside out, wore my hat and coat backwards, and put my shoes on the wrong feet to prepare myself for the opposite day! Everyone dressed super awkward for the almanac and it was a great way to end the day; of course, not forgetting Tyler's awesome lemon squares. (got some sweet treats from Tyler...chocolate milk)
--Farmer '23
Day 43 | Sunday October 24th
N 39° 11.363 W 076° 16.595
Today started with a delicious meal of toast, oatmeal, and eggs. We were approaching the mouth of the C and D canal on the Delaware Bay side. After breakfast, we expertly navigated through the canal. The scenery was gorgeous. Everyone who was not on watch started studying for the upcoming midterm exam for marine science. Holly was answering almost all of the questions that came her way. Around 1100 the weather started to warm up so people could down layer. Lunch ended up being pulled pork, quinoa, and vegetables. Right after lunch, before people got back to work studying, a massive container ship "King's Quest" motored by us. We learned that it was called RoRo or Roll on Roll Off because it transports vehicles so they can just roll on and then roll off. We then continued out of the canal and left it around 1530. We had to steer through a channel because there were a lot of shoals and we did not want to run aground. Next was almanac, our daily meeting, at 1700. We listened to the Nav report, engineering report, and a weather phenomenon, and then the captain read part of the story "Youth" by Joseph Conrad. After this, the boat had an amazing meal of steak, mashed potatoes, and broccoli. We continued to Navigate the narrow channel following the blinking lights off the buoys We will continue this until we are closer to Baltimore. It was a very nice day even though we sadly had to motor the entire day.
--Reid '22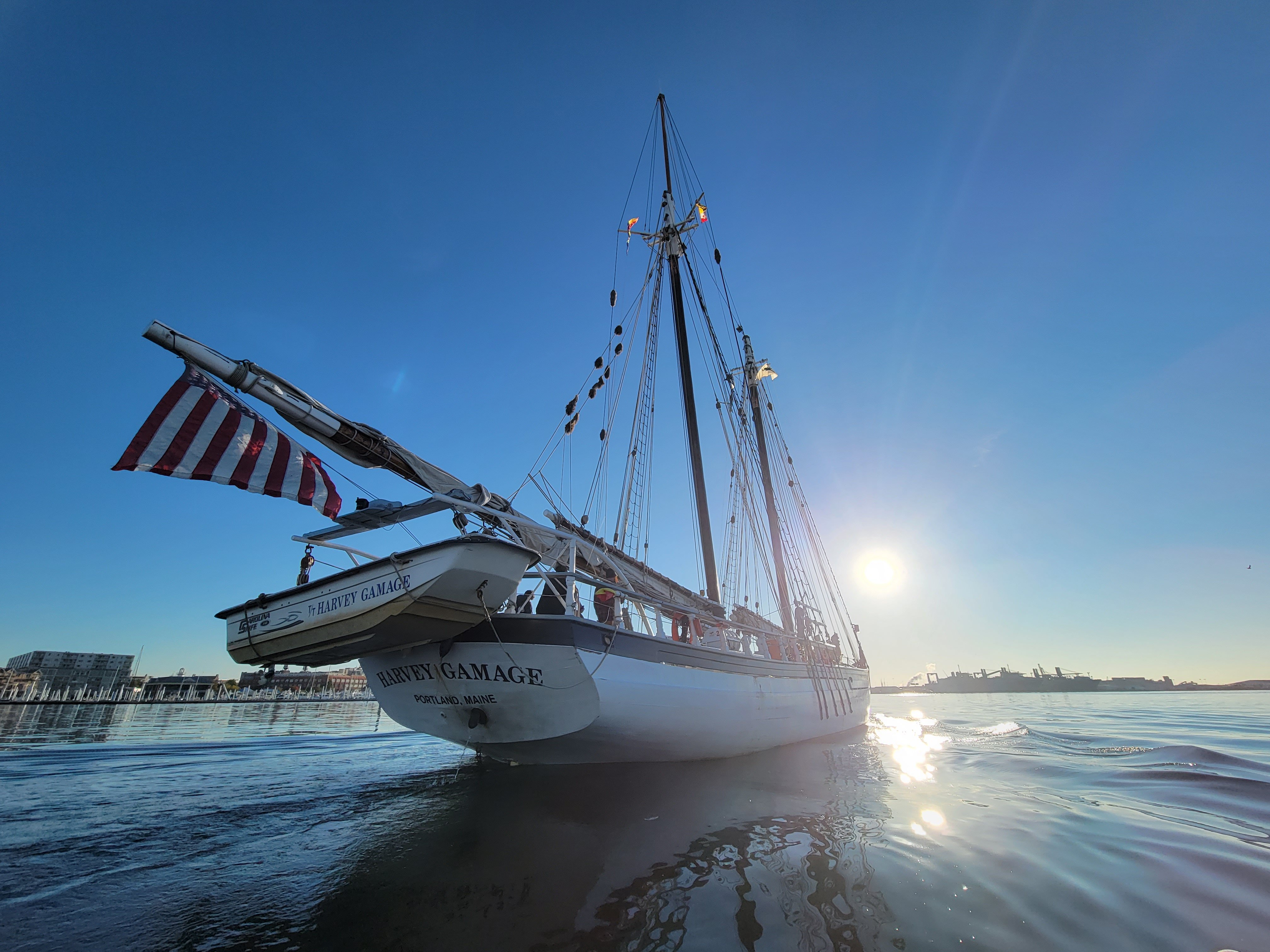 Day 44 | Monday October 25th
N 39°16.726' W 076° 35.793'
Our long awaited arrival to Baltimore is now upon us! C Watch received a surprise wake up at 0130 to the calm winds and bright lights of Baltimore City. We all quickly scrambled to correctly position lines and fenders to dock the Harvey Gamage. After successfully docking the boat, everyone from C watch was stood down until our actual watch later that morning. After breakfast and chores, everyone was again stood down due to the lack of sleep received the previous night. Instead of going to bed, everyone was full of excitement due to a surprise mail delivery! It meant so much to everyone to hear from their friends and family.
After lunch, we had a field day and each watch was assigned to a different part of the boat to clean. The warm sun and music throughout the whole ship allowed it to be a surprisingly enjoyable afternoon. Once the ship was clean, students were sent free to roam a section of Baltimore until dinner. At 1745, everyone returned to the boat ready to eat a delicious meal prepared by Tyler. Thankfully, Tyler was too busy cooking dinner that he didn't make a dessert, because everyone had already consumed enough ice cream to last them a full week! We luckily had a warm sunny day and the torrential rain, that was promised, did not come until the students were safe on the boat and ready for bed.
--Skaane '23
Day 45 | Tuesday October 26th
N 39° 16.776 W 076° 35.792
The day started with a cool, cloudy morning as we climbed out of our bunks to the chime of the breakfast bell. There is nothing better than starting the day off with homemade toast and scrambled eggs with a side of fruit and yogurt. We all gpt the announcement (at our 8 AM muster) that we were going to the Baltimore Aquarium. With the exciting news and what could be at the Aquarium, everyone scrambled to complete their chores with much haste. Once our chores were done, we walked through Baltimore toward our destination. When we entered the building, there were the classic "OOOHS" and "AAAHH'S". As we floated through the building, we saw beautiful, fluorescent fish and the occasional shark that made us freeze and stare like a deer caught in headlights. The students made their way through the aquarium with their jaws dropped and eyes wide open. On the top floor was the rainforest exhibit; there were birds chirping and sloths crawling around the trees.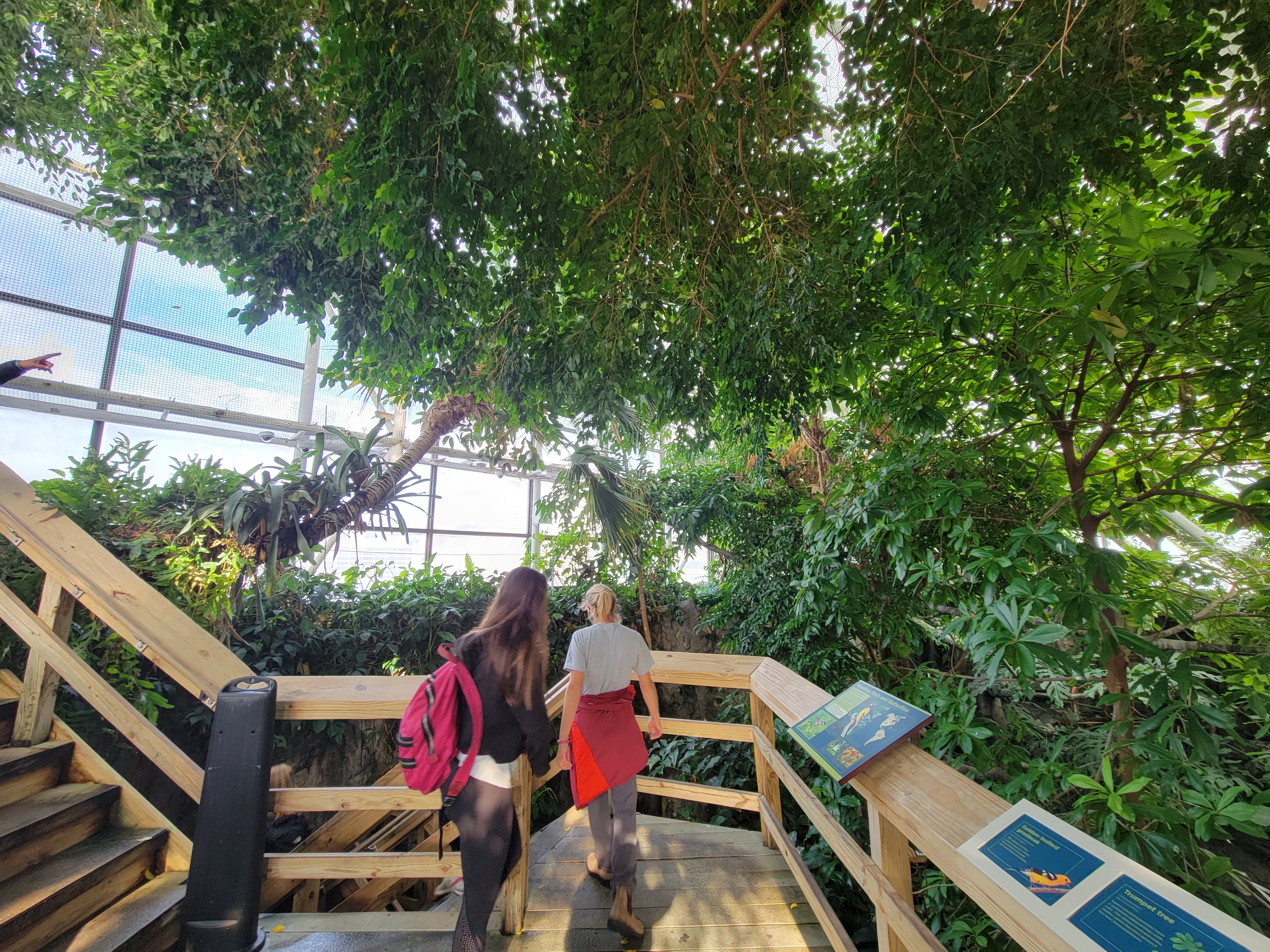 The building held exhibits full of fish and an immense amount of sharks that really made you second guess jumping in the water. The most spectacular part of this excursion was seeing all of the mind blowing, multi-colored jellyfish. Watching them pulse through the water, like there isn't a thing in the water bothering him, gracefully made me jealous. After an afternoon filled with Taco Tuesday and free time, we then settled into the evening. You would think that after a long day and a delicious super, everyone would be winding down and studying for the science midterm...well, not quite. As we finished cleaning up dinner, it turned into a late-night music party in the galley. Finally, there was some quiet time where the students could get some last minute study time before we crawled into our warm bunks for some much needed rest. The goal was to be ready for a new day of adventures.
- Sam '23