After an historic stop in Havana, Proctor's Ocean Classroom program is on its way to St. Croix and the final leg of its nine week journey. With just two weeks remaining in the voyage, students now have full responsibility for day-to-day operations aboard the schooner Roseway. Enjoy student reflections in this week's blog!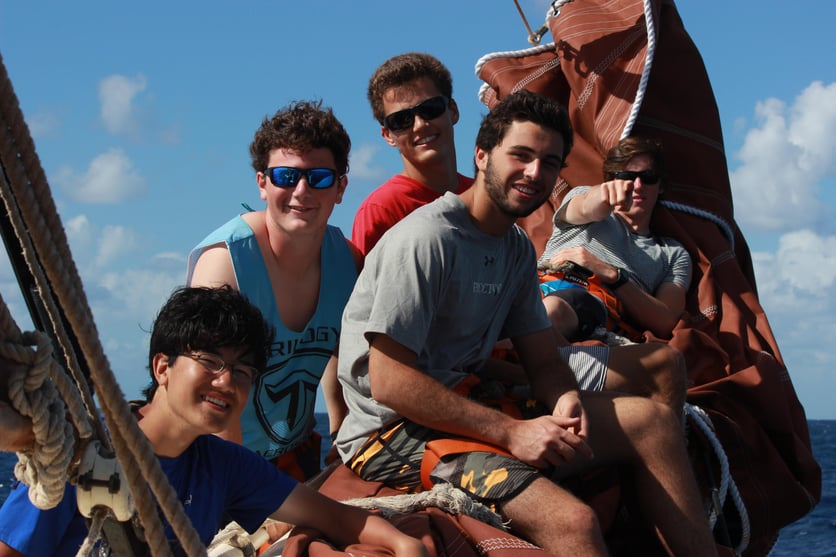 Teddy '18 - October 28, 2016
I was woken up at 2:45 am for watch. Weather had gotten bad and everything that was loose was thrown around by the swells. I scrambled around to get all my gear together for a long, wet night watch. On deck, it was the roughest weather I had seen aboard Roseway. Water was pouring over the edge and the wind was whipping up to 20 knots. Our goal was to get to some marina to fill up on diesel, but things were not looking good as both the mainsail and the foresail had bad tears in them. Along with the tear, all of the hoops connecting the mainsail to the mast snapped, requiring Thane to go aloft and repair them. In place of the main, we put up the storm trisail to keep the boat stable. Matt and Thane made the great decision to cancel class because half of us were extremely seasick. I happily decided to sleep for a bit in the afternoon, hoping things had calmed down, but once I got back on deck, I was slammed with a wall of water because of us bow plowing. Half of our watch was throwing up, leaving barely enough people to man watch positions and do chores. When I finally sat down for a break in the salon a flying fish flopped on deck and captain immediately grabbed it and started to filet it. An end to a chaotic, but fun day!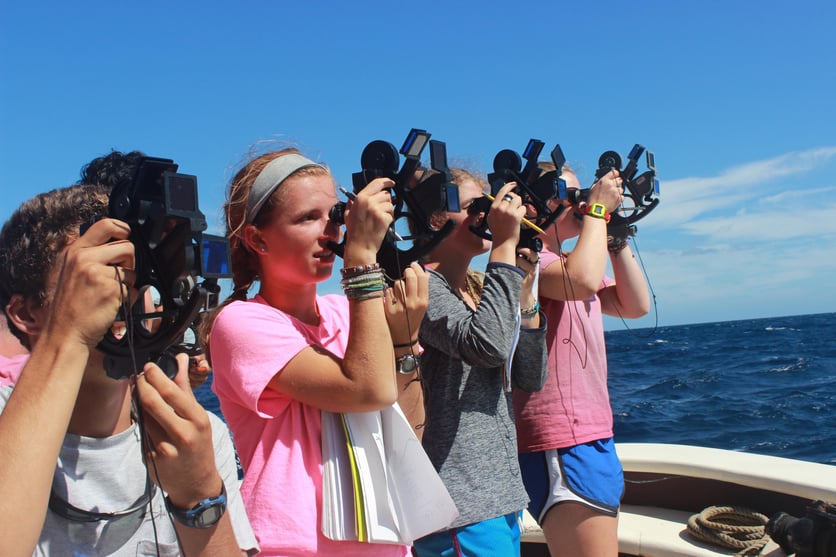 Tea '17 - October 29, 2016
Since leaving Havana, the seas have been the roughest we've had, but oddly we are moving rather slowly (1-3 knots). This morning I got to see some dolphins, which is always a morale boost. The rest of our trip is still very undetermined. Because of wind, we don't know know if we will make it to St. Croix so we may just be sailing right to San Juan. The unknown is hard for a lot of people, myself included, so being stopped at a marina for the next day gives everyone a much needed moment to breathe and hopefully a good night's rest.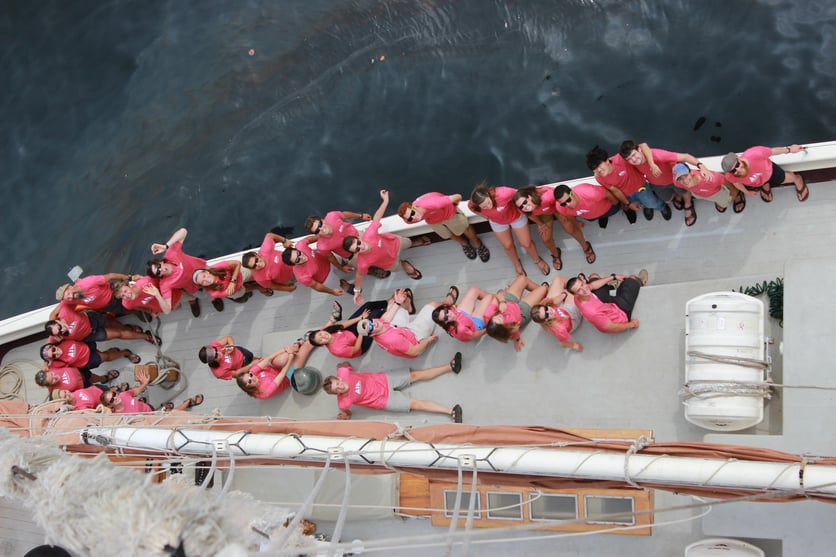 Cooper '18 - October 30, 2016
This morning we were treated to an extremely unusual gift - shore showers! The marina we had stopped at had a swimming pool and showers. I took advantage of both and it felt wondrous, but at the same time bittersweet as we all knew our longest sea tenure yet was looming on the horizon. After our departure from the marina, we motored into the open ocean and we all braced ourselves for high waves and conditions similar to how we first entered the marina, but it was not to be. The ocean was pleasant with only a gentle rocking that almost made things more comfortable.
We right away resumed our regular ship tasks. We had navigation class in the afternoon, worked on some homework, and then played cards. The night proved to be more eventful than the afternoon as Thane told a spooky story in the spirit of Halloween. Later that night (around 22:45), I went to check the bilge in the fish hold when I turned around to and saw Thane sitting in the corner menacingly looking over at me! My heart raced and later I found out he had spent much of the evening scaring others in the same manner!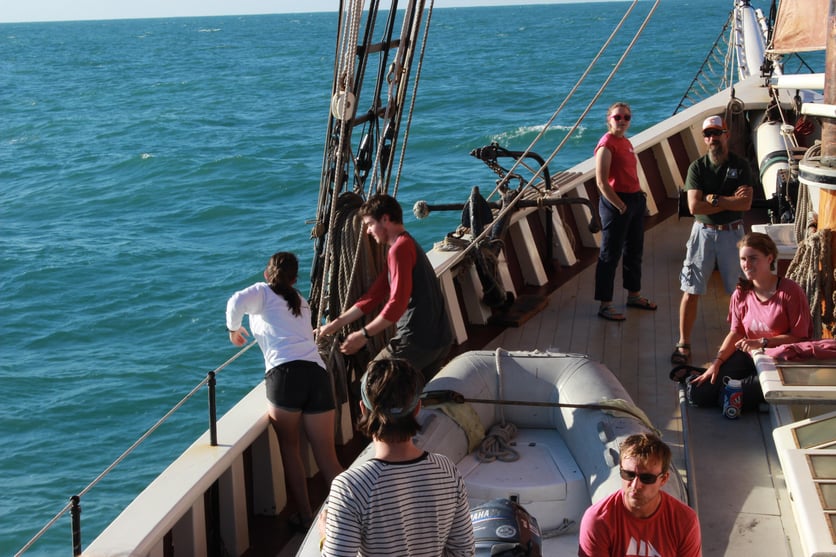 Liv '18 - November 1, 2016
We made it to November! Our 2nd full day at sea on our way to St. Croix was rather uneventful even though the weather has picked up and I'm losing my balance at random embarrassing times. My favorite moment from today was when we all raised the mainsail. It has been out of commision because the bad weather a few days ago caused a rip in it. It was finally ready to be raised after repairs were made and we all got hyped up to raise the sail. After we waited to pull on the hallyards, we got the command to hoist up the sail, and it went up quite fast. It was a nice moment of us all working together! There are some days or moments when weather, living conditions, etc. really get the best of me, but then something amazing happens and I remember why I chose to come on this trip. I know there will still be 'bad' moments, but I am positive that there will be as many if not more wonderful moments to come.
Pierre '18 - November 3, 2016
Today was a pretty eventful day. First of all, the sammon rion broke last night during one of the change overs. Because of that, we had to lower the jib, jumbo and foresail and started slowing down. Later in the day we turned around and headed for Key West, Florida to fix the boat. It's probably going to take two days to fix it. It's been nice sailing, the waves aren't bad, it's a little wet, but it's been really chill. We are making about eight knots and will be in Key West soon. In our literature class, we did our shanties. All of them were hilarious! Tomorrow we will have a debate in history class, which is going to be really fun even though I'm kind of nervous about it.