Proctor Academy's winter Ocean Classroom program continued its term abroad sailing the World Ocean School's 135 foot historic schooner Roseway out of a home base in St. Croix. Read student entries from the past two weeks at sea below!
Teige '21 | February 13th, 2021
Saturday Suave
The dreaded day is here: the NavSea midterm. Past-me would tell you he's prepared; present-me disagrees with that 100%. Although this is our off day for sunset sails, it unfortunately does not mean an off day from tests. The test consisted of a vocab and knowledge short answer section, and a chart work section. We all spread out throughout the boat and began. Then, midway through the test, we filed back into the salon because of a brief shower. After grinding for about an hour we turned in our tests and suddenly had an unusual amount of free time. I -for one- spent the majority of my free time sleeping, while some, probably smartly did their homework for Sunday, or next week. It's difficult for me to log this, as I ended up spending the majority of the day asleep, but I do remember waking up for a Morgan-prepared-lunch. When I did finally wake up, it was about time for our evening muster right before dinner. Tonight is Saturday Suave, which is our Saturday version of Sunday's Best. With the crew dressed up, Morgan gave an "introductory speech" to his very fancy crock-pot meal. It rounded out a very sleepy but enjoyable day. Until next time.
Signing off,
Teige
Ang '22 | February 14th, 2021
Valentine's Day In The Virgin Islands
Happy Valentine's Day from Christiansted! We started our day off with a late start and spent the morning working on homework and munching on cereal in the salon. After that we jumped in the water and got ready to shift over to the dock. Once we were all tied up at the dock we did our usual deck wash and I worked on my Balentine's Day card for my Secret Valentine. Since some of the crew is off today we are giving them out tomorrow. Then we got ready to have people aboard for our Valentine's Day sunset sail. We had thirty-three people on for the sail. The most we've had out of all our sails and it was a lot. We sold a lot of Roseway merch and had a lot of fun conversations with the guests aboard. I especially had fun talking to these two little girls who loved asking me questions about living on the boat and all of the fun stuff we've done here in St. Croix. After our sail we headed right back to our mooring and ate dinner which consisted of some awesome pulled pork with pineapple sauce, a yummy salad, and some bow buns. ADAM IS THE GOAT. Once dinner was all cleaned up everyone hung out and enjoyed some swimming, music, and each other's company. It's crazy to think about how this trip is coming to an end so soon. Time flies when you're on Roseway. Sending all my love to my homies back at Proctor. Can't wait to see you guys.
Forepeak closed,
-Ang
P.S. Shoutout Mom, Dad, and Carmela. Miss and love you guys so much.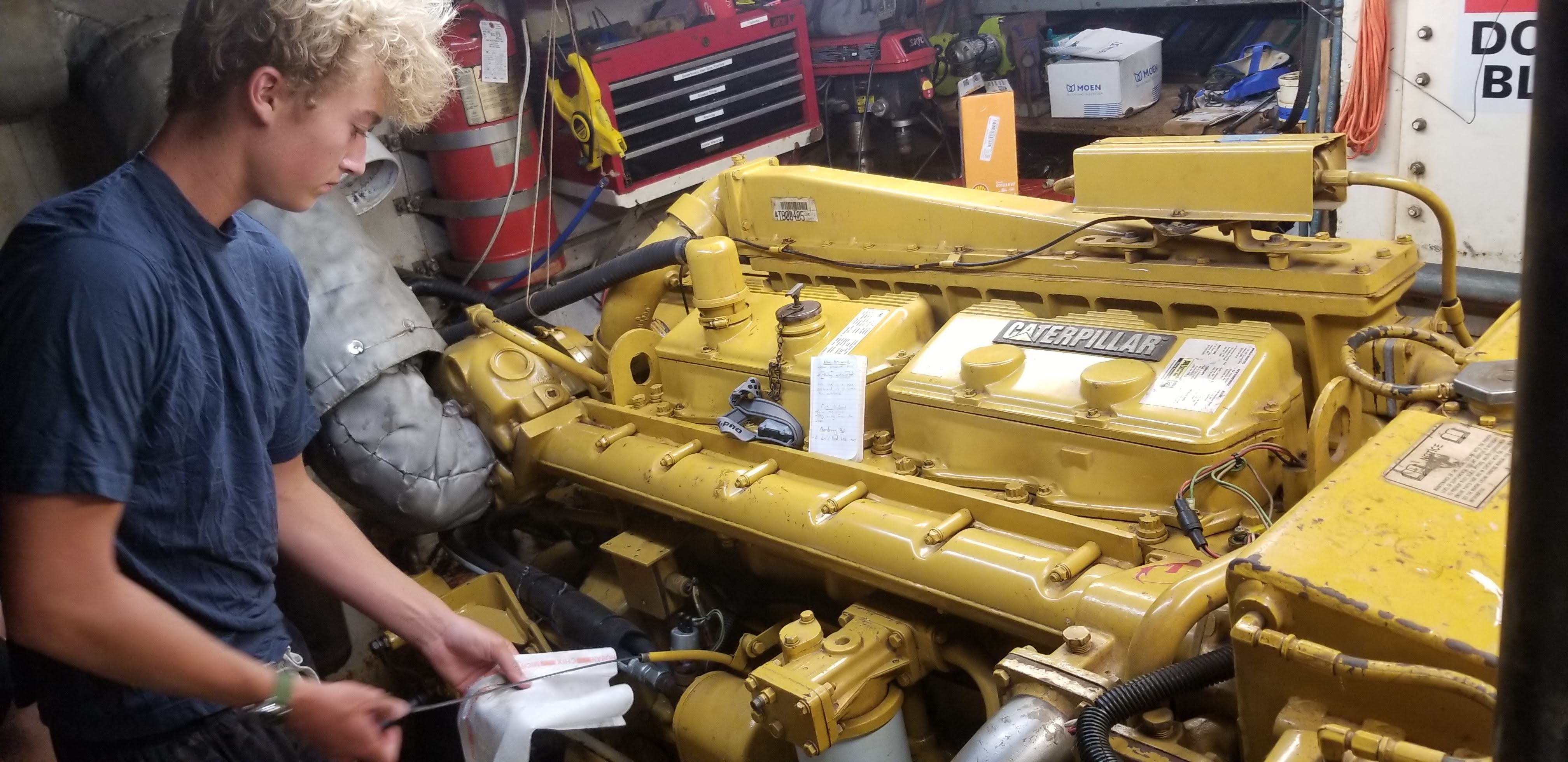 Cam '21 | February 15th, 2021
A Day Off
Another early one this morning, we were all woken up at 0715. Jack and Casten get wake ups done with some good questions. Adam had been hard at work cooking some amazing fried rice and beans. We filled our bowls and sat out on the cabin tops. We then shifted over to some classes on elasmobranchs (sharks). After marine bio, we got chores out of the way so we could start to head over to the dock. Cap fired up the engine and we got to our stations. Once Cap pulled up to the dock, dock lines 1-4 were sent over and put on the cleats. We then got to work on a deck wash cleaning every surface on Roseway. Once we were done we got a swim call going, we quickly got ready for a day at the park and we started walking to Shupes. We got to the boardwalk and saw our favorite boardwalk people (Jason). Once we got to Shupes we sat down and "Tennessee" took our orders. We had a talk with Colin and Holly and then once we got our food we went to the park. After some much needed time off we got back to our mooring for the night.
Cam
Shout out Nonni, Popi, Opa, and Lisa
Casten '21 | February 16th, 2021
School & Sail
Goooood morning log! Today was another 0715 wake up to Jack and Louisa asking questions to get us up. We got up and had a breakfast of biscuits, eggs and meat. We had chores, which we finished up pretty quickly. We had class with Susz about rules of the road (boat road) and talked about a case study regarding a boat collision, and we had to explain what rules were broken by the 2 vessels that collided. We had marine science after, for our second day of shark week. We learned about more species of sharks. We had lunch after and shifted to the dock for the sunset sail. We did a deck wash and swam before the customers came. Once everyone was ready we set sail and had yet another successful night. We finished up and ate dinner, a dinner of some yummy chili hot dogs (glucks). We had an early night and went right to bed.
Good luck Charlie,
Casten
Jack '21 | February 17th, 2021
Service and Soaked
Today was a day we had been looking forward to since we all arrived on the island. We woke up to a windy but warm morning at the mooring in Christiansted. After breakfast and chores we jumped right into the start of our voyage planning. We discussed the places we could visit in the U.S. Virgin Islands; St. John, St. Thomas, Calebra and Vieques. We ultimately ruled out Vieques but we still have some destinations on the docket. We will finish up our planning over the next couple of days. We then prepped dock lines and shifted over to the dock a bit earlier than usual to prepare for our first day with the Boys and Girls Club of St. Croix. We ate lunch, then we were stood down for a little bit before they arrived. When they got here we started with some games on the dock, then hopped on the boat. All of the kids loved helping hauling the halyards for both the foresail and jumbo; all super enthusiastic and happy to be here. After getting out of the harbor some of the other crew members taught some sailing history lessons. When we got back to the dock, we got right into a deck wash and prepped the boat for another sunset sail. It was an interesting one to say the least. We had 17 people aboard. Some crazy weather with 25 knots blowing from the north-east, and a wall of rain that about 3 miles out you could not see any part of the island. Eventually, we got hit by that, but as soon as it passed, we enjoyed some smooth sailing back to port.
Fair Winds,
Jack
Louise '21 | February 18th, 2021
Rudy
Today we woke up at 0715 like usual and had banana bread and baked oats and coffee. We did our morning chores and shifted to the dock to get fuel. After getting fuel, we jumped into classes and continued planning our voyage. We got into groups and looked at the best places to anchor for our upcoming trip, we also looked at possible activities at the anchorages. After class we had a "study hall" where we worked on homework and sea shanties. When we finished up study hall, we had a beautiful lunch waiting for us. Adam had made us bolognese, salad, and fresh bread. Shout out Adam; lunch was amazing! After lunch we had some free time, and some of us jumped in the water. We then waited for the weather to clear up, and walked to the fort park to meet up with Holly and have some time off the boat. We worked on homework, played soccer and relaxed and were reunited with Holly, which was exciting! We then made our way back to the Roseway to head back to the boat and eat dinner as a crew. We then headed off to rest and do homework and called it a night.
Bye for now,
Louisa (Louizzle)
P.S. Happy almost birthday Dad. I love you and miss you and can't wait to see you! Take a trip to La Luna for me. ♥
Sam '21 | February 19th, 2021
Holly's Birthday and JWO
Another day in Paradise! Today we woke up to an amazing day of new things and celebrations. It's Holly's birthday, baby! The vibe is immaculate of course! We started off with a class in the sweltering engine room, the last of our classes with Nick before our solo du-days!(scary!!) We learned about bilge pumping, using the manifold, and engine safety. Next, we welcomed CCBGVI to Roseway! I love these kiddos; we all do! They can brighten anyone's day, and watching them tackle their fears on the ratboards head on, warmed my heart! We wrapped things up by screaming "I'm a star!" into the harbor, the perfect ending to the program. Now, it was my turn to shine on the sunset sail. I was Junior Mate AKA Junior Watch Officer- for today's sail. First of many, but it was really cool to set the sails while everyone waited on my commands! I felt the stress, satisfaction, and "A-ha" moments of being First Mate today. Now we are celebrating Holly, as she deserves. She is the glue which holds us together, so, whoever reads this, you better shout her out! (Shout-out Holly! -Editor Colin) We are eating a delicious chocolate cake with a berry yummy frosting in honor of Jolly Holly. Today was a good day. One of the best for sure. Peace out people!
Best,
Sam
Kara '21 | February 20th, 2021
Night Dive
Today started off with a quiet morning, we had a sleep-in until 1000 and enjoyed a yummy breakfast of pancakes. Shortly after we got ready for the day and mustered before going into the salon with Cap to finish our voyage planning. We spent the time planning looking at wind direction and wave height and how that affects our sailing speed and point of sail. By the end we had a rough schedule of where we will anchor and how we'll spend our time and by the end we all felt the excitement and anticipation for the voyage. After that we had some down time, Sam and Cam went spear fishing and caught 3 fish! The rest of the crew swam, fished and enjoyed the sunshine. We shifted to the dock shortly after and did a deck wash and prepared for the Music at the Mooring event that was happening later that evening. Then the Jr. Crew gathered our masks and fins and were driven 35 minutes across the island to Frederiksted for NIGHT DIVING!! We sat in the park outside the pier that we would be diving under and waited for the sun to go down before we met Paul and Margie at the dive shop. We got our tanks and BCD's and walked over to the pier. The dive was incredible, we all had flashlights and saw sleeping turtles, a seahorse, a pufferfish and a ton of colorful fish and coral. We then dried off, said goodbye to Frederiksted and made it back to Roseway to end the night happy and so excited for the start of our voyage tomorrow.
Off to more adventures,
Kara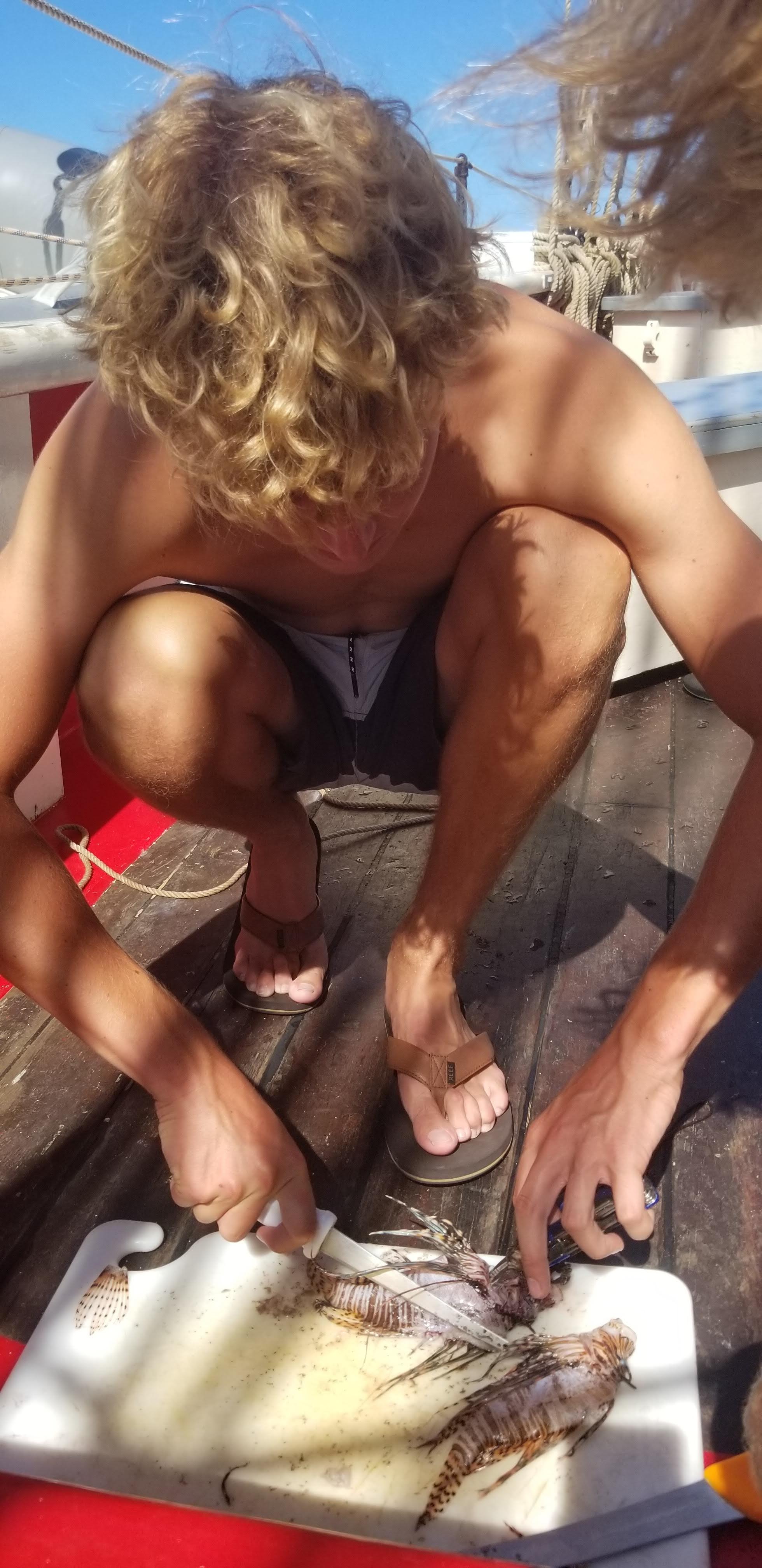 Teige '21 February 21st, 2021
Culebra
Today's the day we leave St. Croix! Although Christiansted has been good to us I'm pumped for a change in scenery. We woke up late at 0830 to the news that we were going to St. Thomas. But quickly after we set sail we realized that we could haul at 8 knots if we went towards Culebra, which was our original plan. Port watch was up first. Morgan, Fern, Eli, Mahalia, Ang, Cam, Casten and myself stood watch for the first couple of hours. We were then replaced by starboard watch. I used the next four hours to sleep, then port watch was back up. The entrance into Culebra is truly magnificent. We passed by a handful of lush, green and mountainous islands as we approached the gorgeous main island of Culebra. As I was at the helm taking in the beauty Ang was looking back at the trolling lines. We had not caught anything all day, but Ang spotted something splashing in the water. At first we brushed it off as some sarcasm. But Ang swore that there was a fish on. Cam and Sam began to haul in the line and sure enough, there was Mahi on! Adam turned the files into ceviche and yaki itori which was devoured very quickly. Ang had the honor of munching on the heart, and Holly dissected the Mahi for an impromptu Marine Science class. I'm glad I was able to transit without getting heavily seasick so I could enjoy Culebra more. Today was an incredible day, see you soon.
Signing off,
Teige
Ang '22 | February 22nd, 2021
We're in Culabrita!
Currently writing from Culabrita, a small island off of Culabra. This morning we were in Culabra for the start of our day where we worked on our ditty bags for a while and then went snorkeling. After our first snorkel we made our way over to Culabrita and ate lunch underway. Then after some down time we headed to our second snorkel spot! Both of the places we snorkeled at were awesome but so much of the coral was dead which was upsetting. We did see some amazing fish and a spotted eagle ray. Even though so much of the coral was dead the water was so blue and the view was breathtaking! There were so many moments during the snorkel where we were all just like, "Wow, we are so lucky to be here!" Which made today even more memorable. Then Morgan tried to prank us. So the girls and I were in the small boat with Colin and Adam. Then Morgan who was driving told us that we had no gas left and that we had to paddle back to the boat. So we were literally paddling for 3 minutes. We also knew it was a joke the whole time because Morgan was trying not to laugh with us. So after the radio from Roseway thought there was actually an issue we drove back to the ship. Then we showered and hung out until dinner at 1800. I ended the night listening to music and working on my shanty with Lou!
Forepeak closed,

Ang

P.S. Hi Sage and Kyle :) Miss you guys