When asked to write a piece on how Proctor prepared me for college, I couldn't help but chuckle because I couldn't think of just one way Proctor helped me. I look back at my three years at Proctor and realize that everything I experienced made me grow into a person who would be successful at a university. It might sound corny, but being a day student actually prepared me to live far away from home in college. I was able to see my boarding student friends live alone, some of them for the first time. Because I watched them grow as people through dorm life, I wanted to engage myself in residence life in college. I saw Proctor dorm parents building a community within the dorms and creating a family where people felt safe to speak their minds. Seeing that made me realize that I wanted something similar out of my college experience. Of course, there are no dorm parents in college, but being an RA is pretty close!
My advisor at Proctor, Lynne Kenney, was the first to suggest Drew University as a potential college for me. At first I laughed at her because the school is in New Jersey (no offense to those from New Jersey!). However, after visiting the school and talking to students, I realized Drew was a place I could see myself building my own life. I was an early decision candidate, and as of December 16, 2014 I was committed to spend my college career there.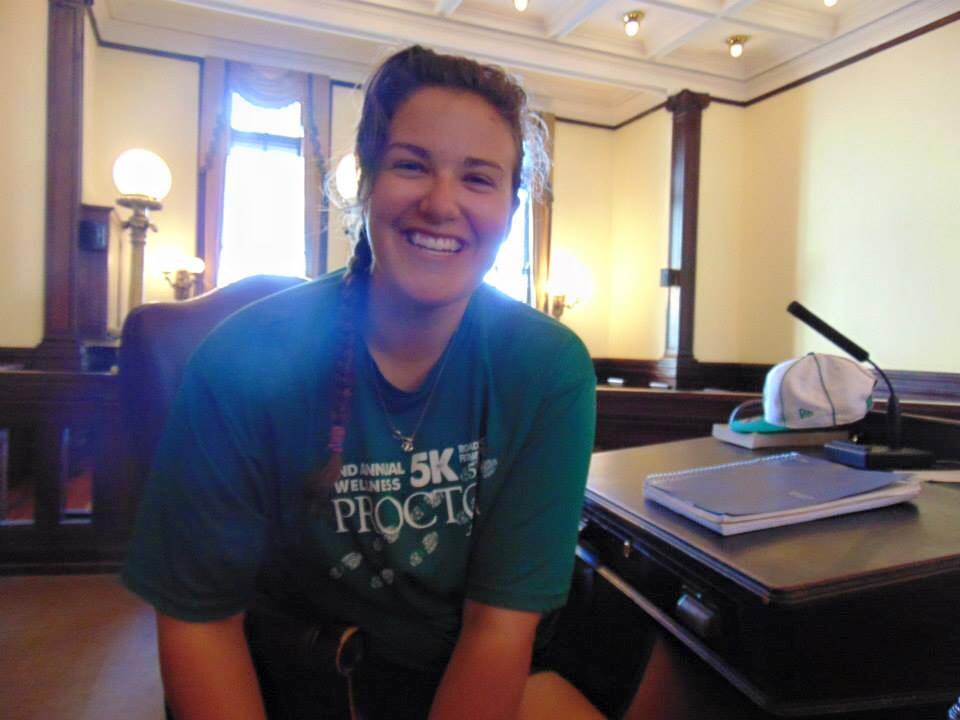 Now a sophomore at Drew, I am a Resident Assistant in an upperclassmen residence hall. When my residents first found out I was only a sophomore they were shocked for two reasons:
They were all older than me because my residence hall is primarily juniors and seniors

Because I'm so mature they thought I was a senior.
Off campus programs at Proctor like Ocean Classroom fostered the maturity I would need to be an RA. Proctor's Ocean Classroom taught me so many things that I don't have enough space to write it all. However, I will take time to tell you this: Ocean Classroom developed my leadership skills and my communication skills so much that I can relate being an RA to being on the ship almost on a daily basis. There is a prioritized rule established aboard ships which says "ship, shipmate, self." As an RA, this is very important to me and I apply it to my life ashore now that I am no longer aboard my ship. If I take care of my floor and my residents before myself, then I will be successful at my job. This is not to say that I can't have some "me time," it's more of a way to acknowledge that my residents come first.
At the beginning of my sophomore year at Drew, I officially declared a double major in Women and Gender Studies and Sociology in pursuit of my Bachelor's degree. With a double major comes a lot of work, as many know. Through juggling so many activities (homework, athletics, clubs, and social life) at Proctor, I knew I could handle many different activities in college; in fact, I craved the busy life that Proctor provided me. My friends on campus here at Drew tell me I'm crazy, and maybe I am; I currently have four jobs on campus, and I am in a club as well. I know that sounds stressful, and it can be at times, but my time at Proctor taught me I can handle it., and in fact, I thrive on it! I know when things get stressful, it's okay to take a step back, reevaluate the situation, and take it one step forward at a time. My advisor Lynne always told me, "Abbie, it's okay to let yourself have a break. It's okay to stop once in awhile and just breathe."
I am often reminded of the many conversations she and I had about putting too much on my plate, and being stressed. But she gave me the best advice an advisor could give a graduating senior, and it's the same advice I want to give current Proctor students: "When you get to college, join any and all clubs that look interesting to you. Experience what the college has to offer, don't just sit in your room. Get out and do the things that are interesting to you, create friends and those bonds will last a lifetime!"