The American Hockey Coaches Association (AHCA) 2022 Awards have been announced, and Proctor is thrilled to share that two Proctor alums—Caroline Heatley '91 (The Joe Burke Award) and Gary Wright '72 (The John "Snooks" Kelley Founders Award)—are recipients. Caroline and Gary will be recognized at the AHCA Convention this April. Please help us congratulate these two lifelong Hornets!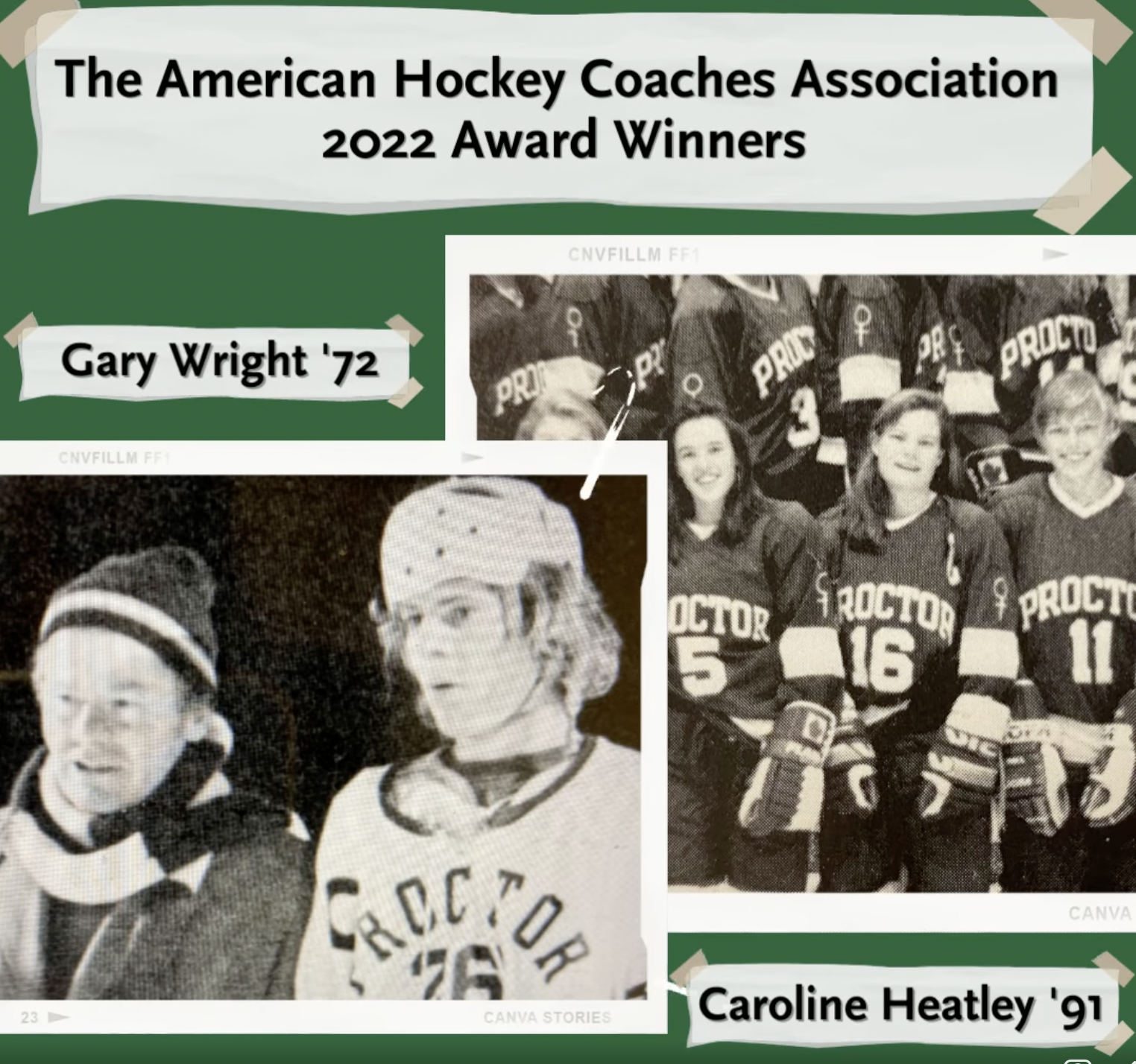 The Joe Burke Award is presented annually to the person who has given outstanding contribution, support, and dedication to women's ice hockey." It is named in honor of a girls' and women's hockey "superfan," Joe Burke. Caroline Heatley's '91 Proctor career was nothing short of spectacular. In 1989, Caroline led the Hornets to a Lakes Region championship. She would continue her playing career at Northeastern University, where she served as the team's captain her senior year. Her career in hockey has spanned several decades with coaching stops at Proctor, Lawrence Academy, Dexter Southfield, Northeastern University, and Boston College. Over the last twenty years, Caroline has had extensive experience with USA Hockey. From her involvement as coach, evaluator, and director at the Girls Player Development Camps to her role as director of operations for the Women's National and Olympic Teams, Caroline has had a significant impact on the U.S. women's ice hockey program. Currently, Caroline serves as the director of athletic operations at Lawrence Academy.
Photos Courtesy of Lawrence Academy and American International College websites.
The John "Snooks" Kelley Founders Award honors those people in the coaching profession who have contributed to the overall growth and development of the sport of ice hockey in the United States. After a stellar playing career at Proctor, Gary Wright '72 continued his career at the University of Vermont. After brief stints at the high school level and as an assistant at the University of Maine, Gary was at the helm of American International College's men's ice hockey program for over three decades. Throughout Gary's storied career, he coached 994 games, had 256 MAAC/AHA Academic All-Conference selections, coached 17 MAAC/AHA Scholar-Athlete of the Year award recipients, led the transition of AIC from Division II to Division I, and was the MAAC's inaugural Coach of the Year honoree. A leader in the ice hockey world, Gary has directed YMCA Summer Camp and a National Youth Sports Programs for inner-city youth, founded his own hockey school "Kids on Ice," and authored Pass the Biscuit: Spirited Practices for Youth Hockey Coaches and Players. Read more about Gary's career at AIC HERE.