A glance through old yearbooks and even photos from last winter reminds us just how much the world has changed over the past nine months. We yearn for the normalcy of assemblies in the Wilkins Meetinghouse, a packed Brown Dining Commons, hosting basketball and hockey games, and the impromptu dance party in the Wise Center. A return to normal may still be a distant dream, but the release of two successful vaccines has lit a light at the end of the COVID-19 tunnel through which we have all been stumbling through this year.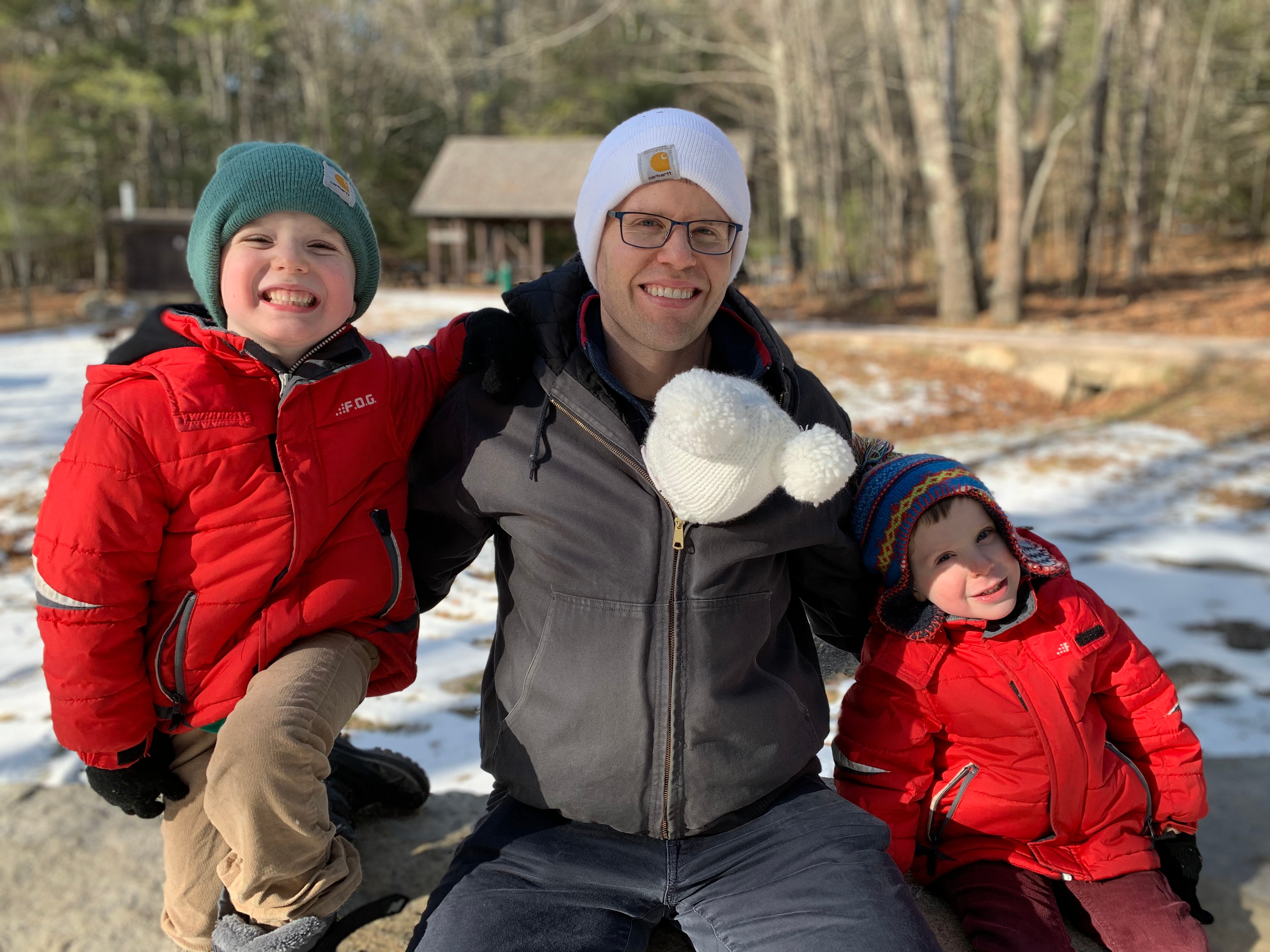 Mike Smith '03 with Oliver (7), Poppy (1), and Henry (4).
Since COVID-19's arrival, scientists worldwide have been working toward creating an effective vaccination to combat this novel virus. As the Associate Director at Moderna, Mike Smith '03, has spent this last year at the center of this work in a whirlwind of research, trials, hypotheses, 32-hour workdays, and sacrificing time spent with his wife and three young children. Mike was kind enough to share his experience on the front lines of vaccine development within the context of his Proctor experience in this alumni profile.
Arriving at Proctor in the fall of 2000 from South Freeport, Maine, a young Mike Smith did not realize how a group of talented educators would spark the inner curiosity that would eventually lead him on a path to combat a global pandemic. "I needed a new place for school. I was not happy at the school I was attending, and I reached a breaking point. It did not take much convincing of my parents to explore the possibility of attending a boarding school, and before you knew it, I was visiting Proctor. After my visit, I knew Proctor was the place for me to continue my high school education." Mike quickly made friends and navigated his new life in Andover, New Hampshire. From the very beginning, his science teachers recognized his talent and, more importantly, his passion for science. He notes, "I had amazing teachers. They were kind-hearted, patient, supportive, and had a great sense of humor. It was the perfect environment for me to learn." Mike adds, "Taking Biology with Heide Johnson and Chemistry with Sue Houston sparked my interest in science. In fact, Sue even told me on more than one occasion that I would like chemistry in college. Talk about an educator who knows her students and what will become of them!"
As Mike continued on his Proctor path, it was the relationships and experiences that became the foundation for his life-long pursuit of science. Having mentors both in the classroom and out allows students to be surrounded by the support necessary to unlock an adolescent's potential. As Mike notes, "The teachers and coaches at Proctor were engaging and supportive. Michael Littman was my advisor, and his calm demeanor and guidance helped me through my high school years and beyond. Where else can you study in Spain as I did and then return to Project Period and take taekwondo with Ross Young? Talk about an experience!"
After Proctor, Mike matriculated to Wheaton College, and as predicted by Sue Houston, gravitated towards Chemistry. Mike's passion for science continued as he went on to study at Georgia Tech, receiving a Ph.D. focused on nanoparticle delivery. His post-Proctor work led him to the frontlines of the COVID-19 battle. Mike's leadership role at Moderna has him tackling the biggest challenges of engineering, scale, and speed of developing the COVID-19 vaccination. Besides developing a safe vaccination, Mike and his team had to create a way to increase batches of the vaccine from milliliters to thousands of liters and transport them safely around the world without compromising the vaccination's efficacy. "Our research team looked at the science of the mRNA, how to deliver these particles and the technical development of the vaccination. It was a lot of dissecting of the technology, discovery, rediscovery, debate, and understanding what we can do at the most minute levels to get the mechanisms to work. The speed at which we were able to create a safe vaccination and a way to distribute it was remarkable. The science behind everything was not available five years ago, so in a way, we got a little lucky." As more of the vaccination is distributed and gains a footing, Mike plans to turn his attention to implementing many recent discoveries to combat some of the world's most horrific diseases. He added, "The science has produced a lot of promising ideas to treat diseases in the future. We are nearing the ability to create personalized cancer treatments and work to eradicate as much of the world's diseases as we can."
Collectively, we have experienced a year that we could have never imagined. Pausing to recognize and hear the impact that the talented educators at Proctor have had on alums like Mike Smith '03 empowers us to continue the impactful work we seek to do each day. As we welcome students back to campus on January 14th, we will continue to inspire the next generation of Proctor graduates to find their passion and work to make the world a better and safer place as Mike Smith '03 has. Read more about Mike's work on the Covid-19 vaccine HERE.