While the winter weather has been anything but consistent over the past few weeks, the one thing we can all count on is Proctor's girls' varsity hockey team being a scrappy, fun team to watch. Comprised of a group of girls filled with determination to compete against New England's best despite a relatively small roster, the girls show grit and passion every time they step foot on the ice. When combined with great chemistry on and off the ice, Proctor's girls' varsity hockey team has found success this winter even though the results in terms of wins and losses may not be quite what they desire.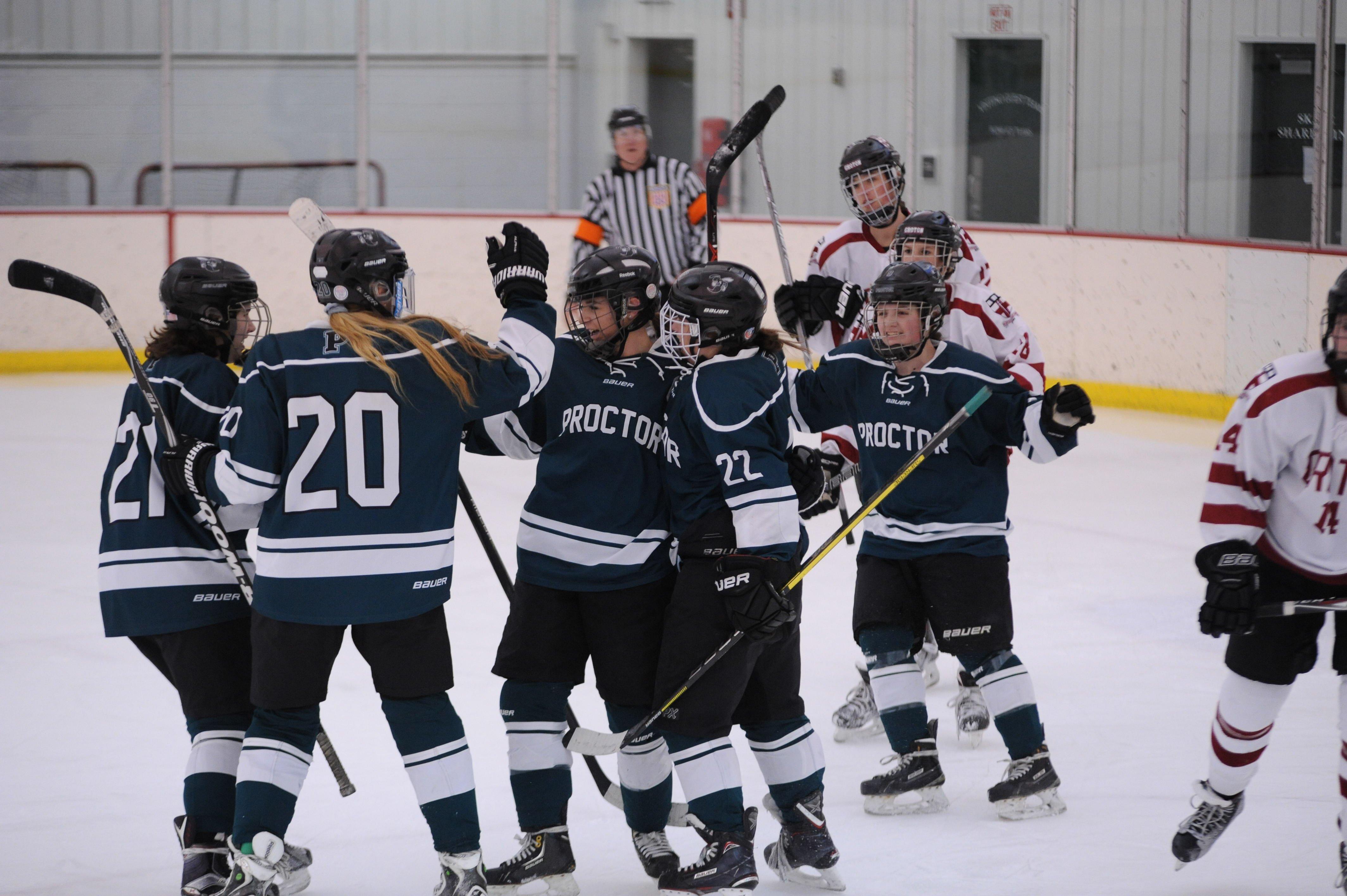 Photo: Mary Gettens '19
The team has some great talent, but NEPSAC Division 2, and the Lakes Region League specifically, ensures every game is a tough one. In her second season at the helm, head coach Maggie Kennedy focuses on her team's continued growth over the course of the season, "Yes, we definitely play against some of the best competition in New England. We have had some tough games against those teams, but instead of focusing on the outcome in difficult games, we really try to celebrate the little things. We desire to take care of what we can control and do our best at those specific things we are focusing on." She adds, "We take it one period at a time, one shift at a time. We all try to remain optimistic and supportive of each other, which can certainly be difficult in those moments of adversity. I think the group has shown a lot of resiliency in their approach to each game, and even within those difficult games. We believe we can play and compete with any team, and sometimes we need to remind ourselves of that mindset in the midst of a challenging game." Senior Captain Sophie Weintraub '19 adds, 'As a team, we have a saying that we tell each other before and during every game: find a way. To me that means even if you're tired, find a way to be the best you can be for your team, for your teammates. We always have to have each other's backs, and being such a close knit team on and off the ice is critical to us finding success and growing."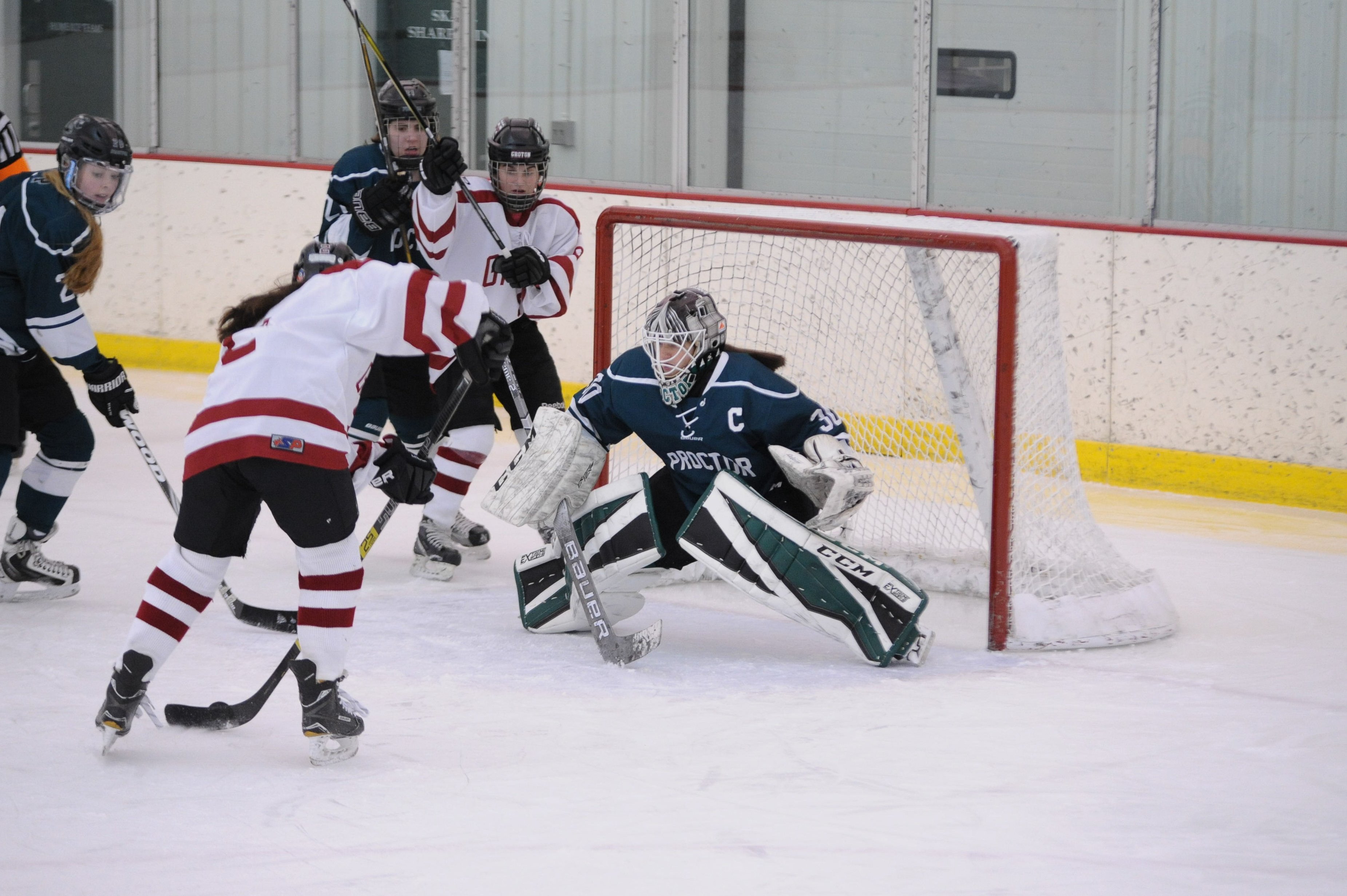 Photo: Mary Gettens '19
Emphasizing that growth mindset has begun to pay dividends for this team. After a highly successful set of holiday tournaments during winter break, the team's incredibly tough schedule to start the New Year resulted in a tough stretch. The last few games, however, have seen some great results against tough teams, including a 1-1 tie with Kimball Union Academy Saturday afternoon and an 8-2 win over Brewster Academy yesterday.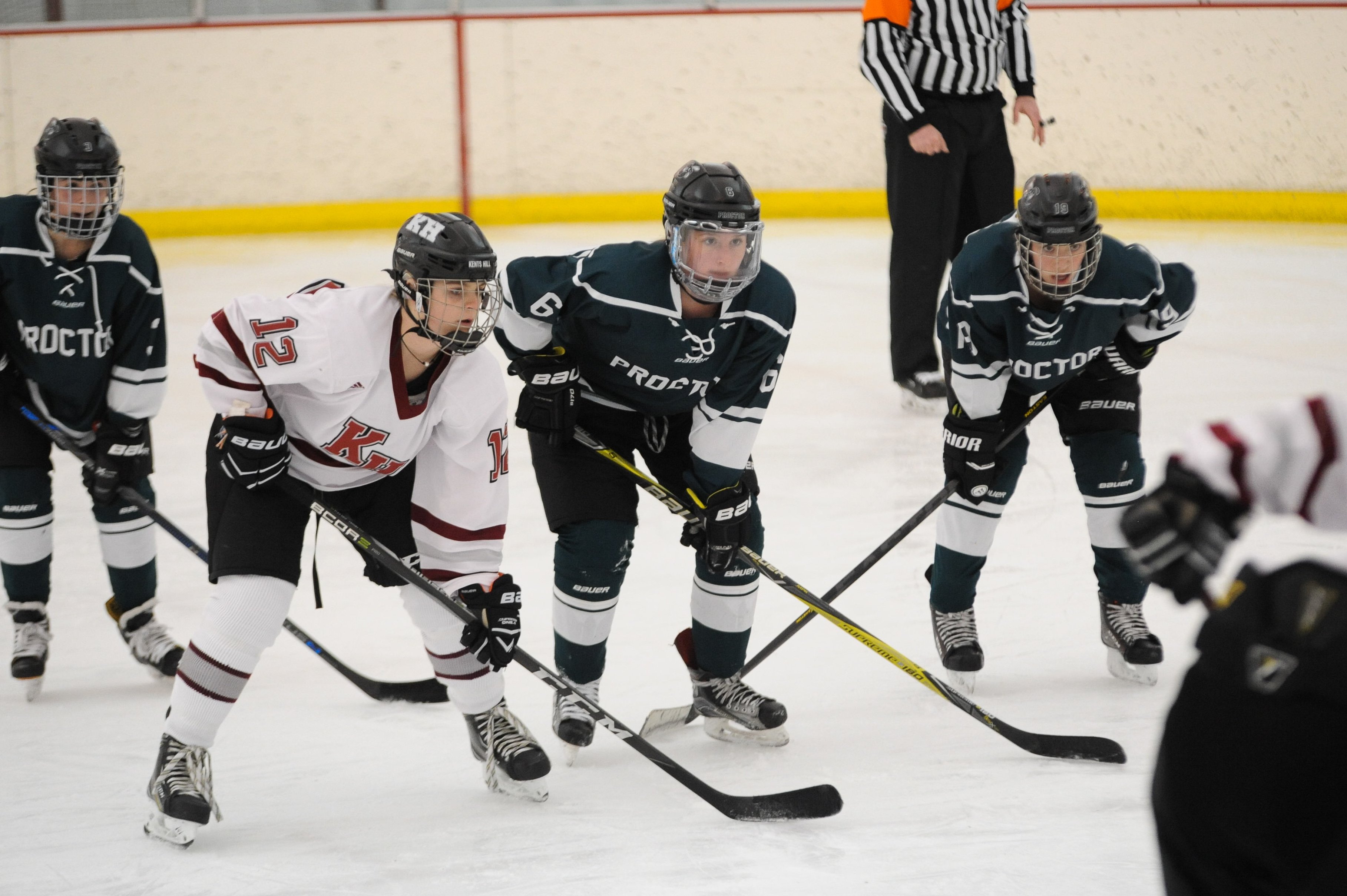 Photo: Mary Gettens '19
In the last six games they have only lost twice, and Maggie believes this team will begin to turn those close losses and ties into wins as the season progresses, "I think if we keep working together and stay disciplined, we can compete with the best and can hopefully steal a few wins from some of the league's top teams. Though it's been a difficult season, we really approach every game with the belief that we can win and are ready to compete to try do that." Sophie '19 adds, "Our team does a great job in finding the positives. Before everything game each player explains their personal goal and their team goal. This gives players something tangible to work toward during the game, and even if we lose, the team knows we made progress. I'm proud to say we do a great job of getting each other pumped before and during each game." Even with this difficult season that has happened the girls still can really make a splash in the Lakes Region, and anyone who has had the privilege of watching them compete on the ice knows this is not a team anyone can take lightly.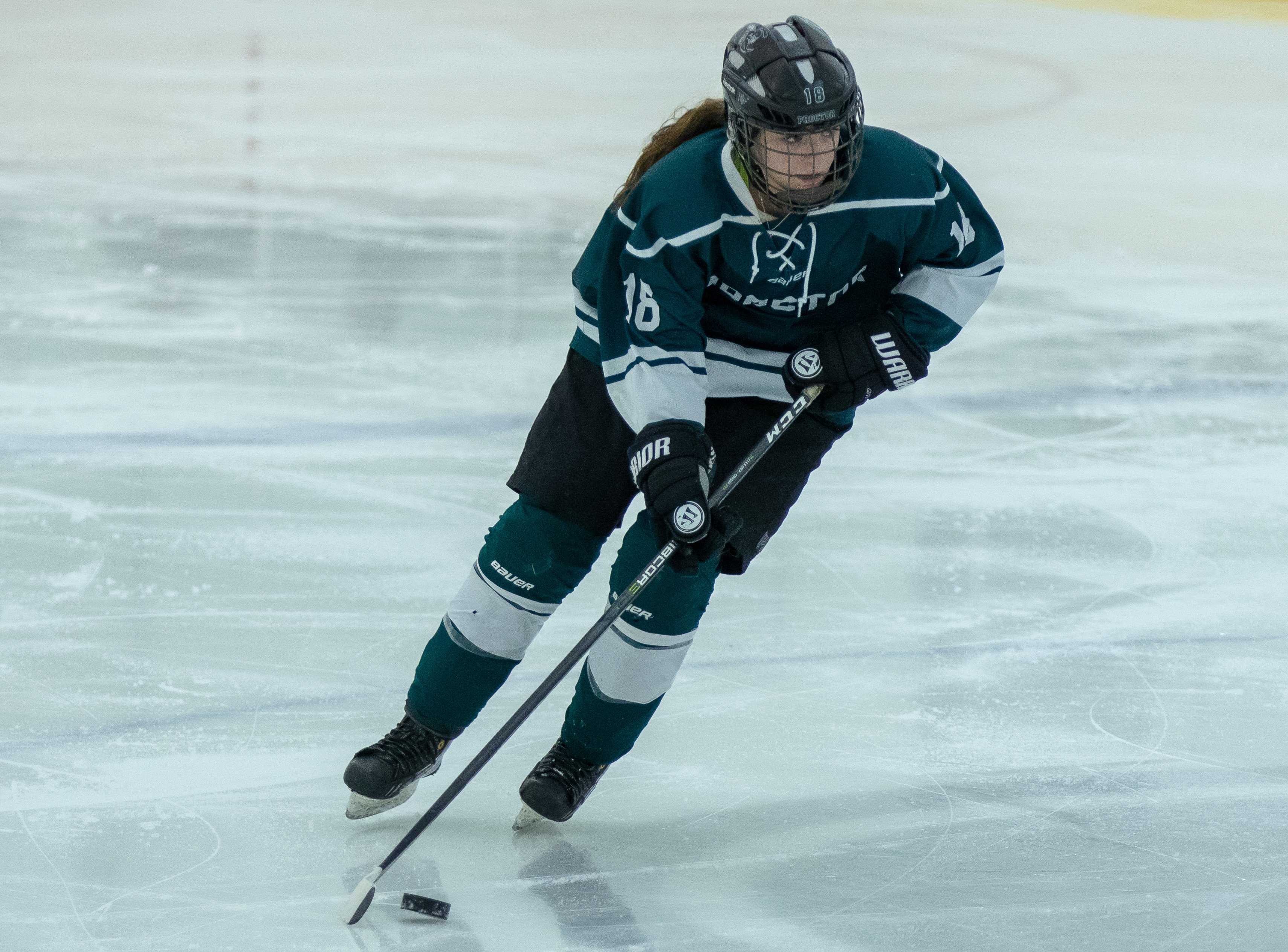 Photo: Mary Gettens '19
The core of this team is built on its culture and mutual support of one another. As the team has improved tremendously throughout the season, the players have learned to lean on one another and to trust each other and their coaches. Kennedy notes, "We want to get better each day, individually and collectively, and to make sure we are supporting each other and lifting each other up. We try to get the most out of every player and give them the confidence to learn and grow. Most importantly, we want to make sure they are enjoying hockey because with all the pressure they face for college, their academics, and just life in general, it's easy to lose sight of the importance of fun. It's supposed to be fun and that's always been a big goal of ours." With just three weeks remaining in the season, the coaches and players will look to continue their journey together and to earn some hard fought wins along the way. The girls are on the road Saturday at Dexter Southfield.