Coming off an impressive run to the an extra-inning defeat in the Lakes Region Championship last season, the Proctor Academy varsity softball team is back and ready to contend for another run deep into May. With a young roster and a new coach coming back to coach her alma mater, the Hornets have feared in the Lakes Region League due to their outstanding pitching, solid hitting, and great chemistry. After another dominating 15-0 win over Kimball Union Academy on Wednesday, the team sits at 7-1 and poised for a Lakes Region title run.
Former Proctor standout three-sport athlete, Erica Wheeler '00, has returned to lead the Hornets and hopes to bring back some Lakes Region hardware to Proctor. Erica notes, "Coaching softball at Proctor this year has been fantastic. Of course, I have so many wonderful memories of my time playing as Hornet and to have the opportunity to come back and lead the team this year has been great. Proctor's softball program has a lot of great potential. I am committed to bringing this team to the next level. It will take time, but we will get there. I love that the field is on campus now too, the girls are very lucky!"
Not only is Erica excited to be back, her players are happy, too. Senior captain, Haley Parker notes, "To me, Erica isn't a new coach, because my freshman year she helped out during the season. As a head coach, it's new to me. She has positively impacted the team because she gives a lot of good insight because she has played the game before at a high level." Fellow captain, junior Katelyn Barton, adds, "I have really enjoyed playing for Erica. Even though she is new to our program, I think we meet eye to eye and have really formed a great player to coach bond. She has impacted the team immensely, she knows the game extremely well… She doesn't go lightly on us and I think that's what we need to be a successful softball team."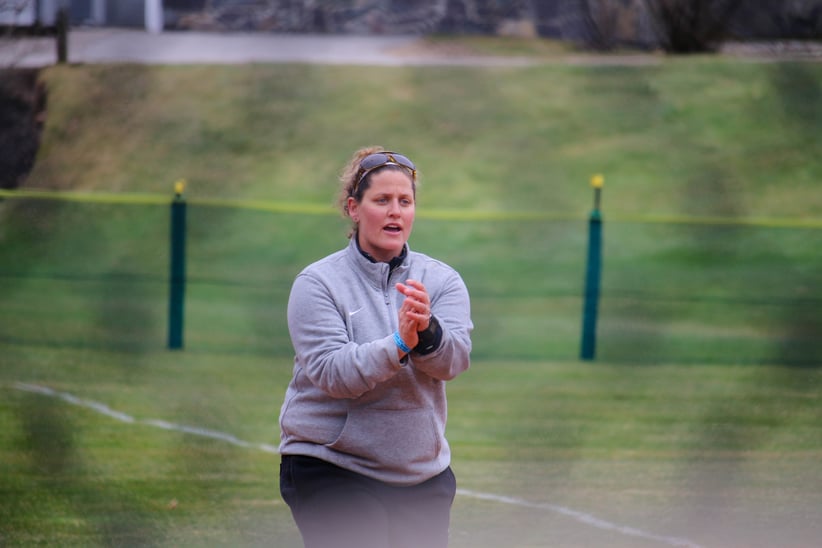 Due to the fact that there are only three seniors on the team, the role of underclassmen is essential to the team's success. Perhaps the most crucial underclassmen to the team this year has been Hannah French '19 due to her outstanding pitching. Parker reflects on French, "Our greatest strength has to be our pitching. Hannah has been playing insane with a few one hitters and a no hitter!" Teams clearly fear her as they step off the bus and see her warming up on the field as she has recorded 91 strikeouts through the first seven games of the season, while only letting up a staggering 9 hits through those seven games.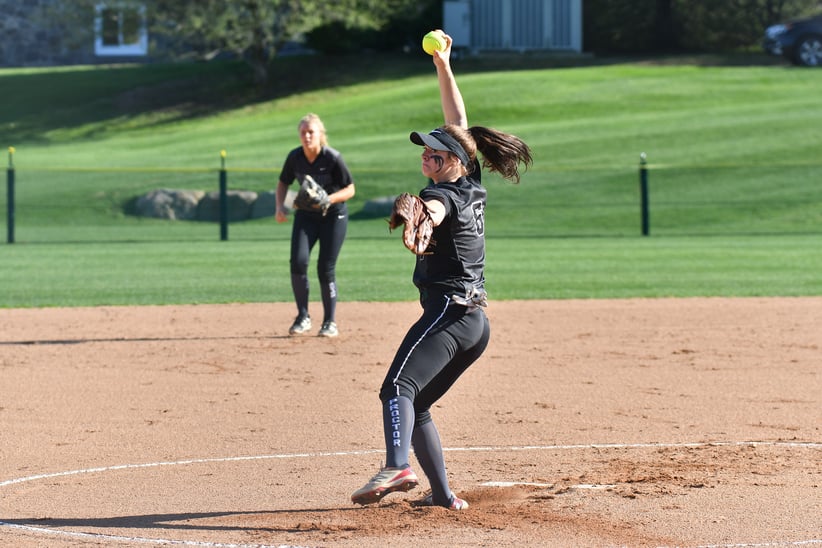 Photo Credit: Rich Tilton Photography
Not only is this year's squad loaded with freshmen, sophomores, and juniors, but the roster is filled with players who are new to the sport. Wheeler notes, "We have a very large bench this year. This can be both a blessing and challenge. The good news is we have great interest in softball and lots of new players who are trying out the sport. What we want to see over all else is effort, hustle and a positive attitude. If all of our team, regardless of their ability, comes to each practice and each game ready to give their all, it's a great day!"
Parker echoes her coach's thoughts, "The less experienced players have made a big impact on our team, because we have probably half the team that is new to the sport, but that hasn't stopped them from stepping up to the plate and doing the best they can! They have definitely helped in a lot of games, and without them the outcome could have totally been different." Barton adds, "The less experienced players have actually taught me so much over the past few years, they ask crazy questions that you would never have even thought of asking, and it seems really simple when watching, but there are so many aspects of the game you are constantly gaining new perspectives on."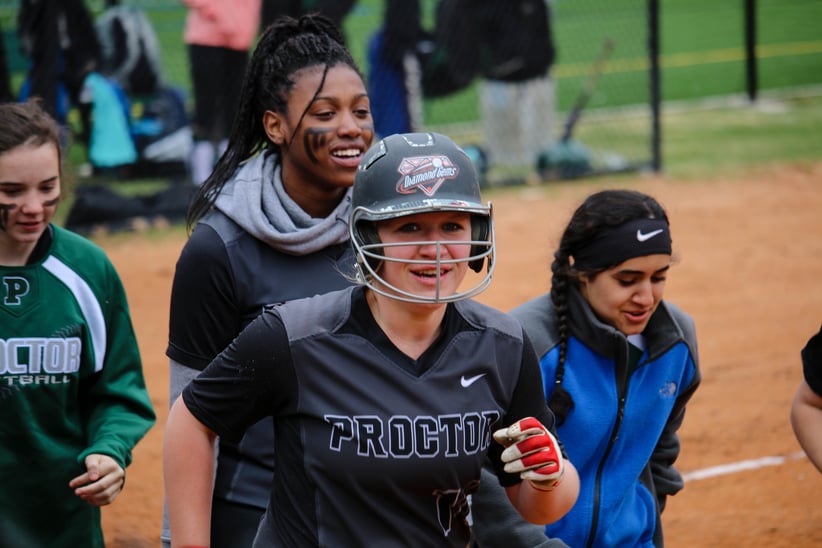 With a large group of newer, younger players comes the responsibility of leadership. Wheeler states, "We are just about mid-way through our season and the team has had its ups and downs. We are focusing on the positive, and, yes, the student leadership on the team continues to play a large role in keeping the girls up and working hard!"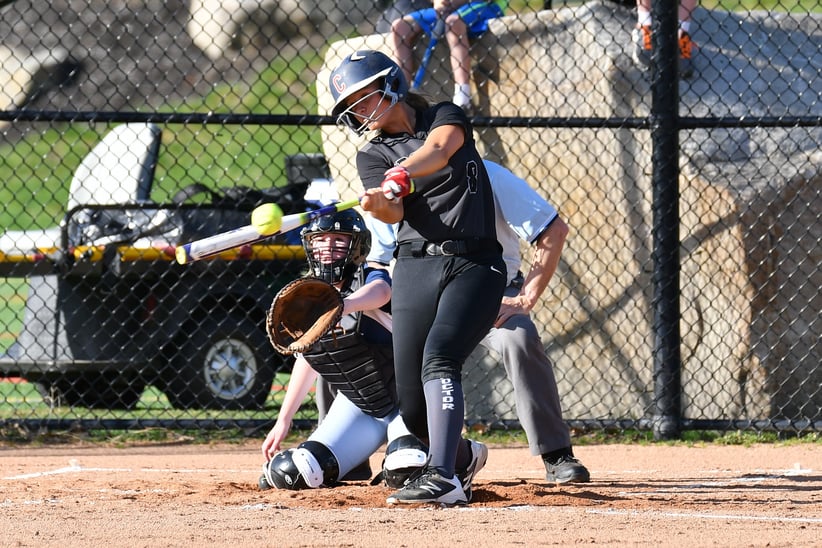 Photo Credit: Rich Tilton Photography
Tri-captains Hannah Friedman '17, Parker, and Barton have been three examples of players who have been in the system their whole careers. They have seen how it works and what good upperclassmen leadership does for a team. Parker, who is batting .460 and has been a steadfast force behind the plate as catcher the past four years, reflects, "Over these past four years I have seen my role as a leader grow since I started playing around 9 years old. I take that skill and my outgoing traits to be a good leader for the team." Barton, who is only a junior and currently batting .550 with 9 RBIs through the first seven games, notes, "There is only one softball team, so we usually play with a few girls who have never thrown a ball before and last year and this year, I have had the opportunity to really step up and try to help those girls learn the game as quickly as possible, and help them become more skilled and confident playing."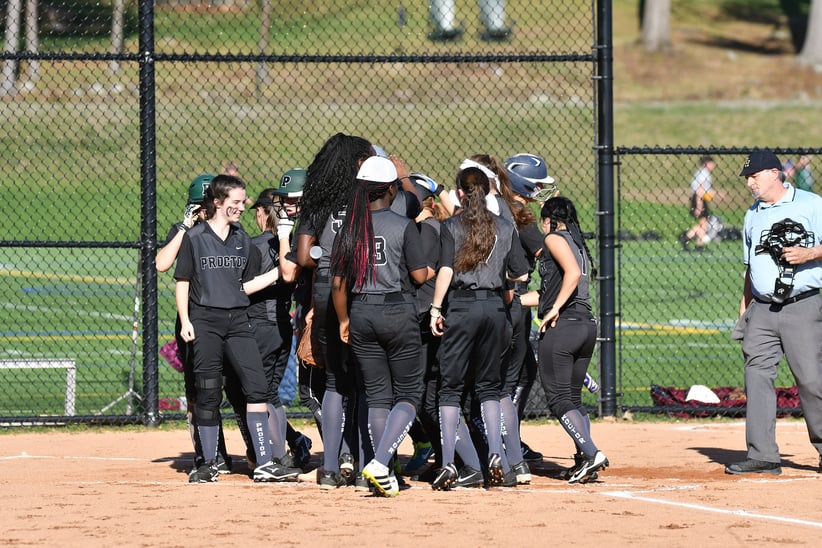 Photo Credit: Rich Tilton Photography
Every team has its strengths and weaknesses, and the great teams are the ones who recognize the weaknesses and work to make them strengths. Wheeler concludes, "Strength comes when we play well together and support one another. Challenges arise when we fail to see our potential both as individual players and as a team. I have very high hopes for this years team and believe, if we set our minds to it, we can be the best team in the Lakes Region!" The Hornets hope to stay hot against rival Tilton School on Saturday, May 6 at 3:30 pm. We hope to see you on Farrell Field supporting them!