Over the past ten weeks, Mikaylee '17, Sadie '17, Drew '17, and Hannah '17 have lived and learned in the Monteverde region of Costa Rica at The Cloud Forest School. They share reflections on their term off-campus and the relationships made with their host families.
Mikaylee '17
The day's adventure begins as we walk up the path to the line of red and black taxis waiting to take visitors to the Monteverde Reserve. We were all eager to start our day.
The ride up to the Reserve was beautiful. The silhouette of the mountains and rolling hills really caught my eye and made me appreciate being here even more than I already did. The first thing that I noticed was how colorful the land of Costa Rica is - from the darkest of greens to the reddest of reds. I noticed a white butterfly flying along with our car. I noticed the howler monkeys jumping from tree to tree. I noticed the laughter and smiles of the people around me.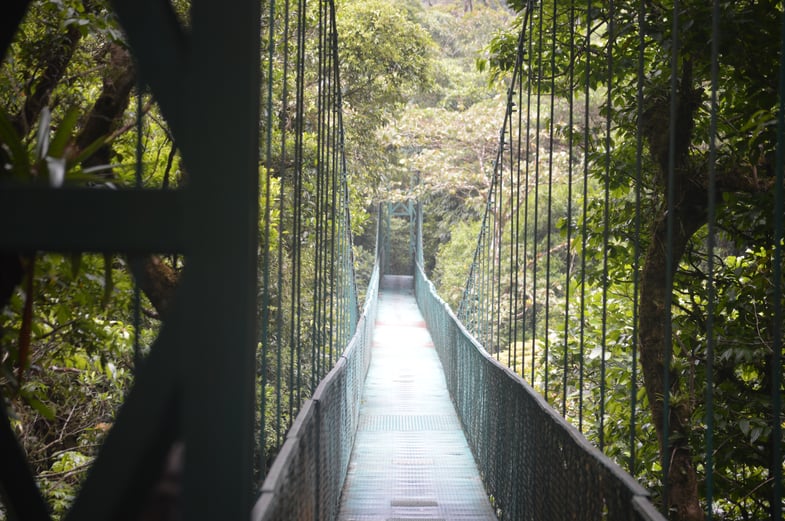 As we departed the car, we were greeted by our tour guide. We were given an overview of the revere and the different animals that are commonly found there. We then headed out on the trail.
We were surrounded by leaves that were bigger than my head. We were told to look to the left and we saw a hummingbird in its nest. We kept walking and we saw a huge tree that was almost vine-like. We paused to admire the giant tree and proceeded on our way a few minutes later. As we kept walking, the tour guide pointed out more animals. Soon we heard the sound of running water. We realized that we were approaching a waterfall. We all began to walk a little faster and with great anticipation. We could not wait to reach the waterfall. We soon reached the waterfall and our eyes were glued to the falling body of water. We took photos, then continued on our tour. As I walked away, I looked back over my shoulder once more to admire the beautiful scene.
We came across a stick bug which was something that I have never seen before. We then went to a place where there are lots of hummingbirds with beautiful vibrant colors. One of them buzzed by my ear. They were not afraid to come close to anyone. They were not afraid of humans like most other animals. As the taxis came in to view, we knew that it was time to leave this beautiful place.
---
As a young white male living in the United States I never thought I would have the experience of feeling like a minority. A minority - that word has been thrown around a lot but do most people really know what that feels like. My host mom, her son and I were leaving to go on a bus to San Jose, the capital of Costa Rica. I didn't really know what to expect as I was just excited to meet my host mother's family. Later that day my host brother and I went to the mall. As soon as walked into the mall I felt this feeling of curiosity as the stores all looked familiar, but I was the only white skinned person in the mall. As I walked through the mall I was looked at like I had done something wrong or they had not seen someone like me before. It was a powerful experience for me as my understanding of what it means to be a minority increased. Proctor's off-campus programs are built for you to have these experiences that force you to re-think your worldview.
---
Hannah '17 -
My time spent with my host family has been absolutely amazing. My host sister, Tracy, is sixteen, loving, hilarious, and I couldn't have asked for a better partner in crime during this trip. The first week, we decided to take a very lengthy night walk around Monteverde and we talked about our lives. She told me so much and I felt so comfortable and connected with her in only a few days. Tracy would always take me with her when she went to hangout with friends, and told me that she would incorporate me in as many activities as possible so I could get the most out of the program, and never have time to be lonely or homesick.
She is one of the most caring people I have met and my heart will truly break when I have to say goodbye to her. She has pushed me out of my comfort zone just the right amount, and has made me feel so welcome during my stay here. My host mom, Teresa, has been truly like a second mom to me. Over half of my time here, I have been sick and have gone back and forth to the clinic. She took care of me as if I were her real daughter - making me tea and asking me what my favorite food is to eat when my I didn't feel well. Along with always being incredibly understanding with my attempts at Spanish, and the fact that I knew none when I arrived here, my host mom has given me so much meaningful advice. My host dad, Eli, and I have only recently started bonding, but he is such a loving person. He loves my host brother, Esteban, more than life itself. Everyday he picks him up and just tells him how much he loves him - it is the sweetest thing. I will miss the warmth my home here has to offer. I love my home in the states, but here I can come home and just rest in my hammock. I look up above at the beautiful pastel blue sky, and just relax. As the ticos and ticas say: this is truly a place of tranquility and peacefulness.
---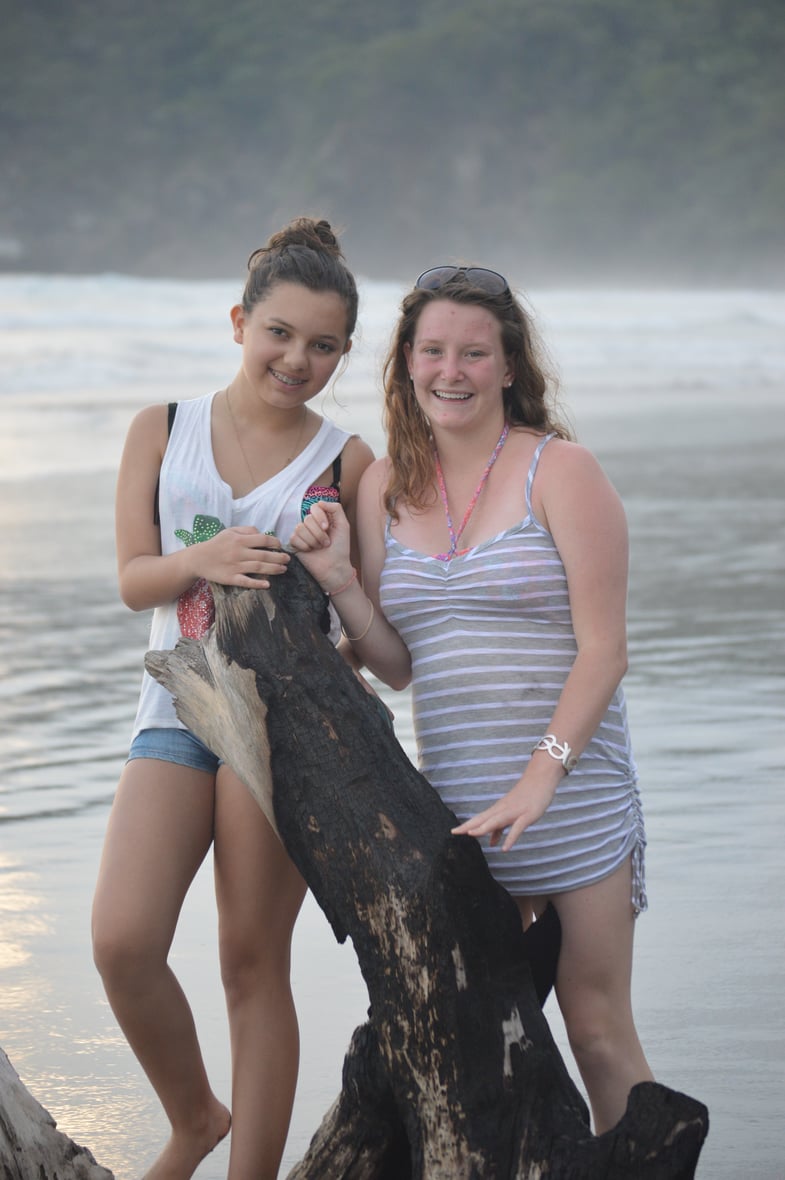 I had a great time in Monteverde, Costa Rica, this past spring. It was a lot to get used to at first, but then I got the hang of it. My host family was great, I loved them. Marjorie my host mom and my host sister, Veronica, took me in like I was already their son/sister. We were complete strangers for the first two weeks when I got here, but then we had a huge water fight and that broke the awkwardness and we became brother and sister. Also my host family has taken me in and brought me on excursions around Costa Rica like going to the beach at Tambor and going to a local farm in Monteverde because they found out my favorite animal was a cow. I am sad to be leaving them, but they are truly now my Tico Family. The Cloud Forest School has been incredible. At first when I pulled up to the school I was nervous because everything was brand new and I didn't really know anyone at the school, but that all changed and now I absolutely love it and don't want too leave in a week and a half.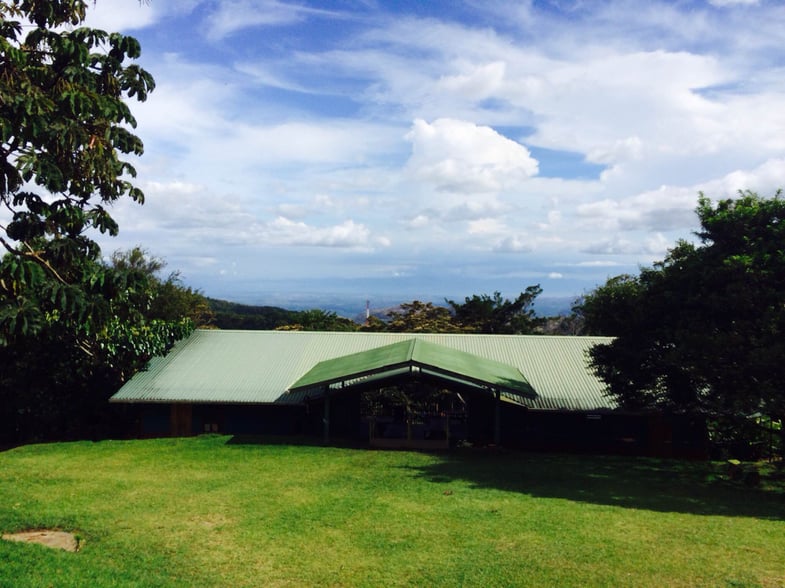 I have gotten to meet so many incredible people at school and through my host family. One of my favorite moments was when my parents came from the states and they got to spend time with my host family. They got to see how I lived here in Costa Rica and see how much I had adapted to the culture here. I am very sad to leave everyone and to leave the Monteverde area as my adventure of Costa Rica is coming to an end, but I will be bringing home a ton of memories I will never forget. I have learned a lot and am happy that I have really pushed myself out of my comfort zone by coming to Costa Rica this term!