Proctor en Segovia continues their exploration of their "home" town as they cross the midway point in their term studying abroad in Spain. Read about a typical day in Segovia in the journal entries below by Louisa '22, Jessica '22, Katie '23, Andrew '23, Lagan '23, and Annika '23.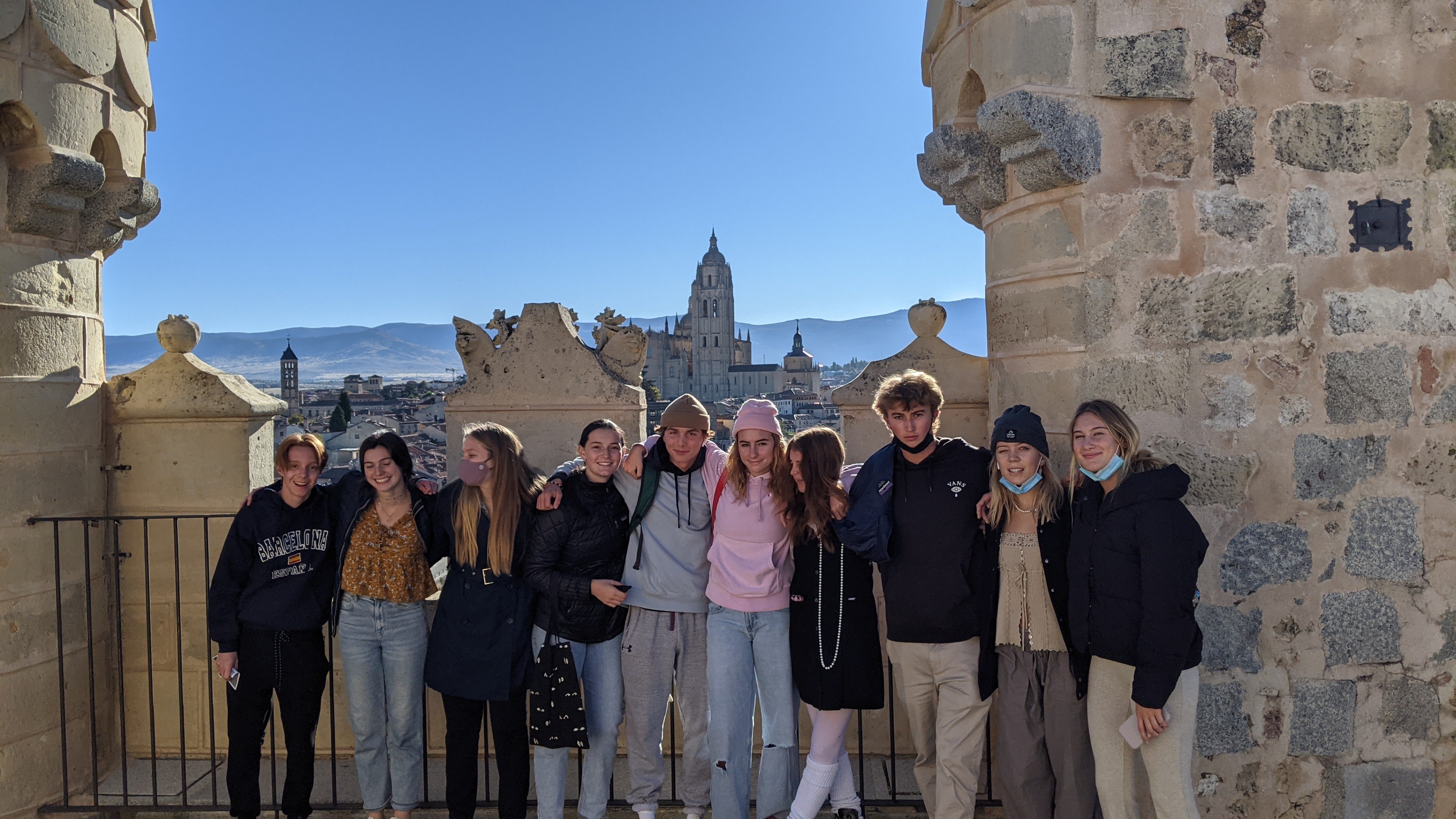 Lunes | Louisa Liddle '22 and Jessica Stanton '22
Louisa and Jess wake up at 8 o' clock to the sound of their alarms, blindly fumbling to silence the blaring noise. They quickly get ready and eat breakfast, grab their keys and head out the door. As they walk up the hill to school, they spot the colorful hot air balloons painting the sky, seeing them as a good omen for the day. They sat through class with Luis, explaining the ancient history of Espana. Next comes Spanish class with Rosa, where we once learned how to cook tortilla de patatas. We then have a long awaited break, which includes Louisa running for her coffee and Jess hunting for a chocolate croissant. While rushing back to class, the thought of aerial yoga crosses both of their minds. They sit through more Spanish classes and English class with Ellie, learning about literary hooks, their writing and sensory descriptions. When the bell strikes 2:00, they know it's time to make their way home for lunch.
Later on in the day Louisa and Jess walked to the aqueduct to meet Ellie and the other girls to grab euros for yoga class, and catch the bus. As they ride the stale bus to Pinar de Valsain ( the street where aerial yoga was), the girls talk about recent events in Segovia, from rumors to Spanish conjugations. France hits the stop button on the bus, and the girls hop out, and begin the short walk to the studio. As the girls greet José, they walk into the locker to get ready for the mysterious adventure of aerial yoga ahead. They grab the earthy- toned silk hammocks and are led through breathing exercises. As José says, "respira y exhala" the girls melt into the calming atmosphere. They quickly begin poses, first warming up to the hammock, and then hanging upside down, feeling the blood rush to their heads. Then they stretch their spines with inverted positions, with their legs in the air. They end class with a new pose, and graciously thank José. The girls go their separate ways to grab their books and computers for night classes, and leave the studio feeling tranquil and loose.
Typical Tuesday | Katie '23 and Andrew '23
The day starts with my tedious alarm ringing in my ear. I groggily walk to the shower to start the morning off on a clean slate. Next is toast and scolding hot cafe con leche. Thus begins the trek to the center, hot air balloons dotting the sky on occasion. History class is first, a great way to start the day. Every week we have a new time period to indulge in. Next up is Spanish, with Rosa! This class continues to surprise us every day with a new vocabulary list or verb. At 11 sharp we hear the bell in the plaza mayor ring, it is descanso. We spring out of our seats already tasting a fresh pastry or bocadillo. We hurry back to class with a full stomach for the remainder of Spanish class. After Spanish we say our goodbyes to Rosa and Maria Jose until the next day and say hello to Ellie for Creative Non-Fiction in Spain. Although, the last class always passes too quickly and is a fun way to end classes. Lunch is a very important meal in Spain, and a time to catch up with our host families about the day. The desert is a power nap known as a siesta. Next is our favorite part of the week, Metal Art with Jesus who has contagious enthusiasm for art. Our work is not over after Jesus's class; we have a study hall in the center with Ellie, Luis, and Fernando. After this we return home with homework done and topics of conversation for dinner with our host families. Dinner is always full of lively conversation and enlightenment. After dinner, it's time to prepare for tomorrow by getting a good night's rest.
A Wednesday In Segovia | Lagan '23 and Annika '23
On Tuesday morning, we grab a coffee from the bakery to help combat the morning fatigue and the morning chills before climbing the many flights of stairs to the classroom overlooking Segovia's "Plaza Mayor" and the extravagant cathedral. After our first class learning Spanish history, we split into our Spanish groups with Maria Jose and Rosa, our favorite people! Through the walls we hear each other singing, playing games, and sharing laughs. 3 hours of Spanish goes by surprisingly fast, and we finish with literature. We head home for lunch with our host families, sun blazing, and people filling the streets. After a quick rest, we rush to the gym for a quick workout before heading down a side street to the tiny storefront adorned with metal sculptures for a class with the eccentric character named Jesus. He welcomes us with warm hugs and a smile cemented on his face. He passes around his incense-scented hand sanitizer symbolizing that we're ready for 2 hours of work and most importantly, tranquility. After finishing with Jesus, we grab a quick snack at the cafe next to the school and say hi to the familiar face behind the counter. We scurry to the center for an hour of night literature class with Ellie. After class, we trudge home, exhausted from a long day and ready for dinner with our host families. We eat, socialize, and study until the late hours of the night then retire to bed, excited for what comes next.