This was our last excursion. It was the last time we were all going to be together in a house. We were never going to cook meals together again or go out for history excursions with Ryan. It was very bittersweet.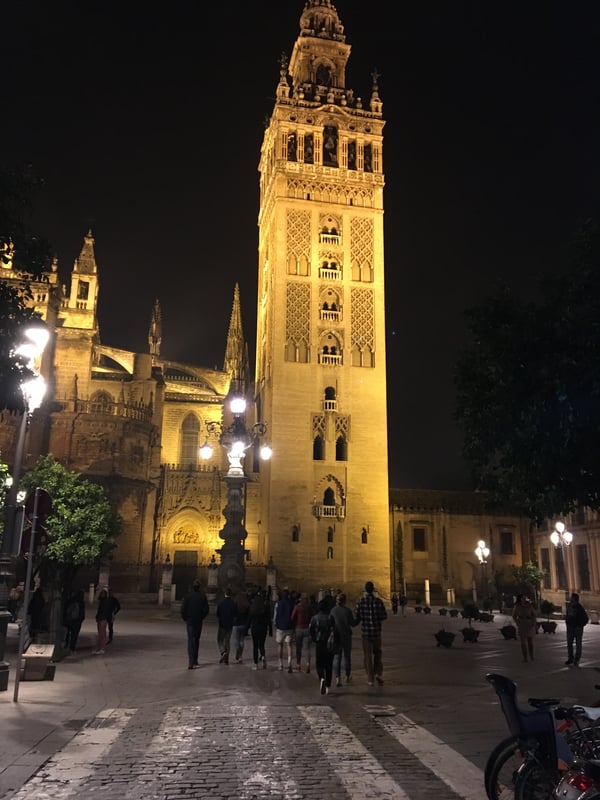 The bell tower of Sevilla's cathedral (the former minaret of a mosque), better known as La Giralda.
This was our last excursion. It was the last time we were all going to be together in a house. We were never going to cook meals together again or go out for history excursions with Ryan. It was very bittersweet.
On Thursday morning we all met at the bus station at 9:50 am. We took the hour long bus ride into Madrid where we then continued on the Metro and finally arrived at the AVE station, which is the high speed train. The fast train took about two hours to reach our destination in Sevilla. We had all been told that it was going to be in the 70s that day. I was very excited to get that taste of almost summer weather in Spain. My first impression of Sevilla was that it was a big city but it was not overcrowded with people; it was the perfect amount. Our hostel was about a 25 minute walk from the train station, so we all toughed it out, carried our bags, and took it all in. We walked through different neighborhoods and passed many different cafes and restaurants, and I picked out a few that I wanted to try.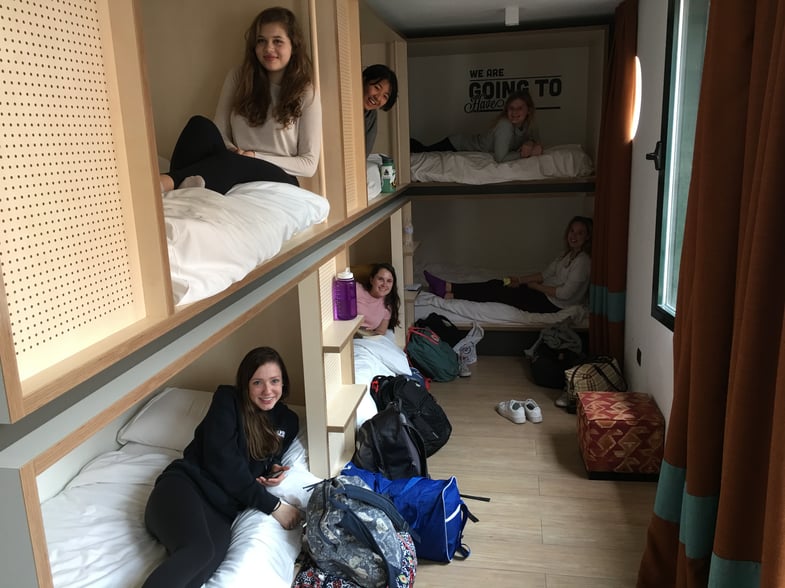 The hostel had a very modern vibe, but it was also very relaxed and clean. The front desk was made out of stacked books, and, to get into our rooms, we used our fingerprint. It was very cool. All the girls were in one room and all the boys in the other. We picked out our bunks, dropped off our bags, and were out the door exploring the city. Ryan took us to the Guadalquivir River. It runs through Sevilla, and it was very interesting sight to see. Ryan gave us a history lesson and then we continued on a the path along the river, ending at the Plaza de España. It was a beautiful day and a nice thing to do after a long day of traveling. After our walk, we went back to the hostel to get ready for dinner. We went out for Spanish tapas that night. I had not had the traditional Spanish dish paella yet, so I was very excited to be trying that. We also shared a couple of other dishes: solomillo al curry, a tomato, balsamic and goat cheese salad, and wild mushrooms. Our dinner was very delicious. After, we went for gelato to end the night and our first night in Sevilla.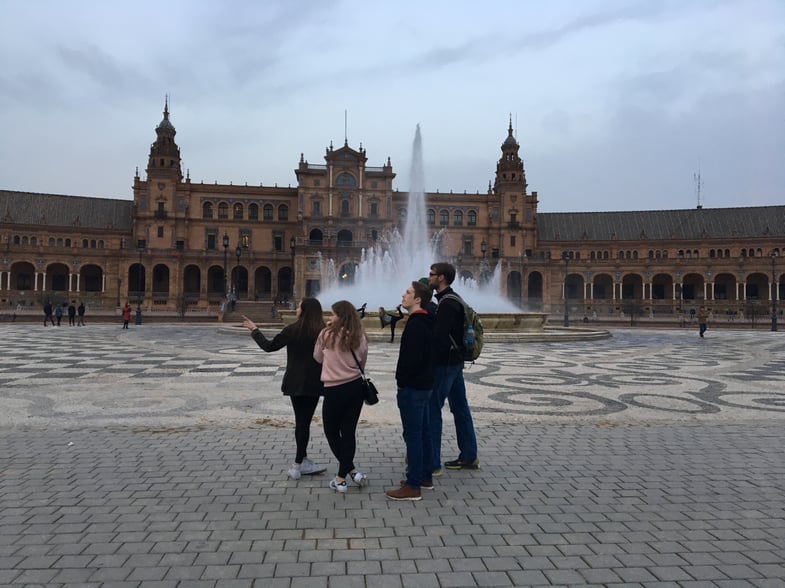 Sevilla's Plaza de España, constructed for the Expo. Iberoamericana of 1929.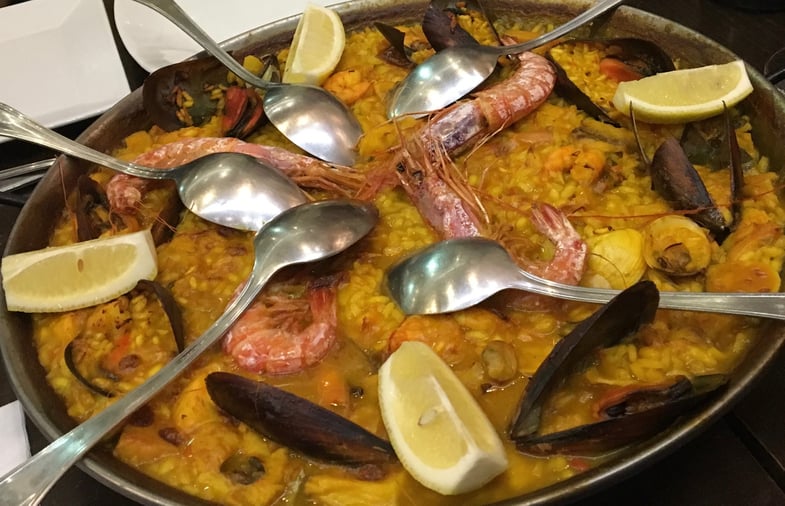 The next day we started out with a good breakfast to prepare for our history-filled morning. We started at the Alcázar (castle-palace) which was huge! There were colorful mosaics and arabesque decoration everywhere and breathtaking gardens. Caroline, Grifin, and Ian all gave their presentations in the Alcázar on arabesque, Arabic language, and the importance of water in Andalucía. I wanted to spend more time in the gardens because there was just so much to see. The orange trees, the different flowers and all the fountains were beautiful. After the Alcázar, we split up for lunch. I went to a Italian restaurant with Luke, Linnea, and Caroline. My margarita pizza was delicious, and way too big for just me. Everyone else got fresh pasta and we split panna cotta between the four of us. This was the first time I had ever had it, and it was pretty good!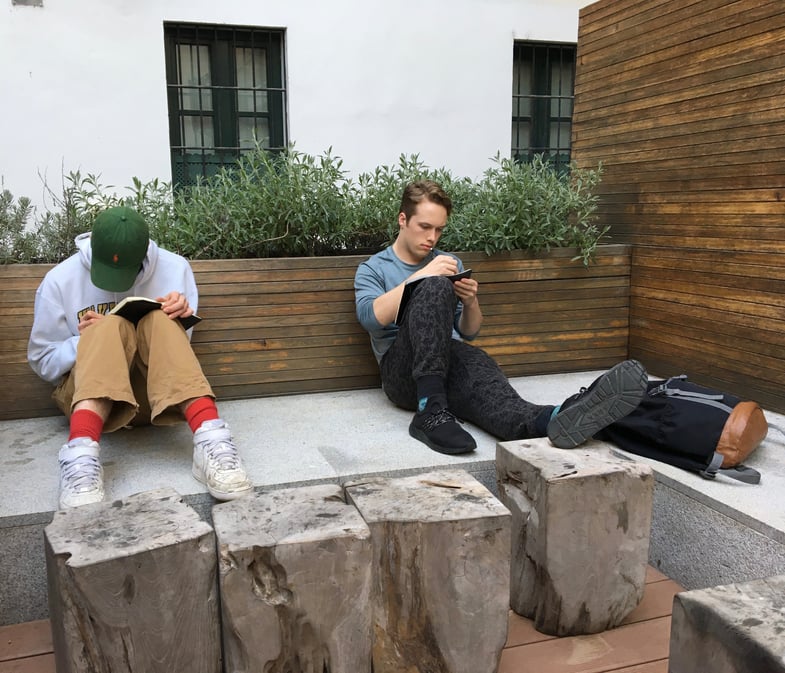 Ian and Grifin in the zone, writing in their journals!
The group met back up in the afternoon after a little siesta for some more history. We visited the cathedral which is the largest gothic cathedral in the world! We climbed up to the top of the bell tower. You could walk around all four sides and there were incredible views. After history, we had a little break to get ready for our late night ahead of us. At 8:30, we headed to our flamenco performance. I was able to sit in the front row and was very close to the the dancers. I was blown away by the whole performance combining guitar, singing, and dancing; it was like nothing I had ever seen before. The performers were so passionate. I am so grateful we were able to see that in our time here. After the show, we finished up the night with another Spanish restaurant and ordered more tapas to share. I enjoyed the chicken curry the most and also the tortilla española.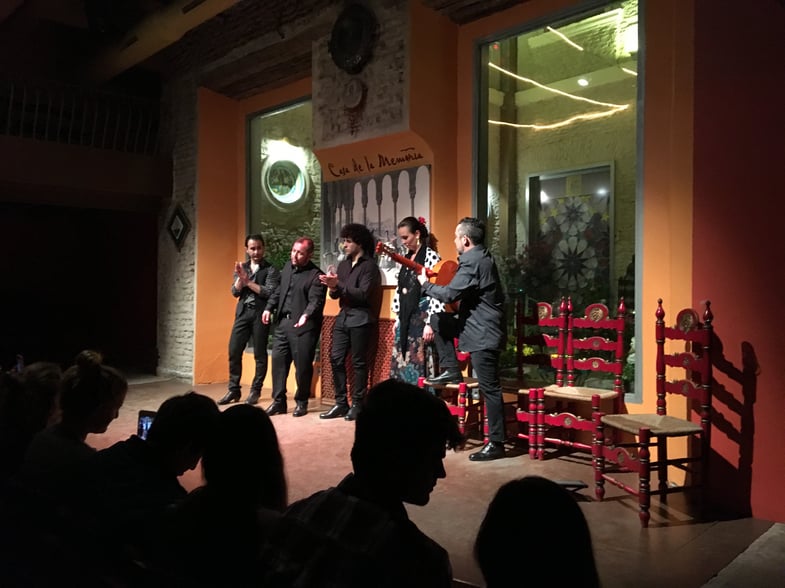 Our last full day in Sevilla began at the bullfighting ring. Here I gave my presentation on bullfighting, its history in the Iberian peninsula and the controversy surrounding bullfighting in Spain today. From there, we crossed the river into Triana. This is where the roma lived and where Emily gave her presentation this group. This side was very interesting and I saw my first Carnaval parade since this was the beginning of the festivities. All the little kids were dressed up in costumes and they were dancing to the live music. For lunch, a group of us went to a tapas market where there were different stands with all different types of food. I got a big salad along with a chicken empanada. Everything was so delicious. In the afternoon, we went on another little history walk and enjoyed some gelato at the same time. We had some free time in the evening before dinner where I enjoyed a little gift shopping in all the great shops of Sevilla. For dinner, we went back to the Italian restaurant I some of us went to for lunch the day before because the food was so delicious. I enjoyed some fresh pasta with tomato, and everyone loved their food. We ended the night with a little more dessert. We were all very excited to adventure to the countryside the next day after a couple of great days in a city that I will always remember!
~ Megan Casey
Intensity intensifies, the hands and feet mesmerize.

Clap your hands, slap your thighs, the crowd cries.

Stories told through expressive expressions,
smiles and sorrows through multiple sessions.

Blood, tears, sweat, and emotion,
Flamenco is one hell of a potion.

Excessive impressions turn to unified beats,
it's all coming from the heart, no one cheats.

With minutes passing, appreciation generating,
starting with subtle laughter, then the crowd chanting
One by one, the idea of more is sickening,
but the salt on the pork is glistening.
Plates passing and glasses clinking,
it's all a craze.

Finding delicious pastries and desserts in Sevilla's Triana neighborhood!

And fresh Andalucían produce in Triana's covered market.
Run, the city is still asleep.
We made it across the city and heard not one peep.
Walk along the train tracks, no need to be careful.
The cup is passed over the table and my name is now Refel.
~ Grifin Marshall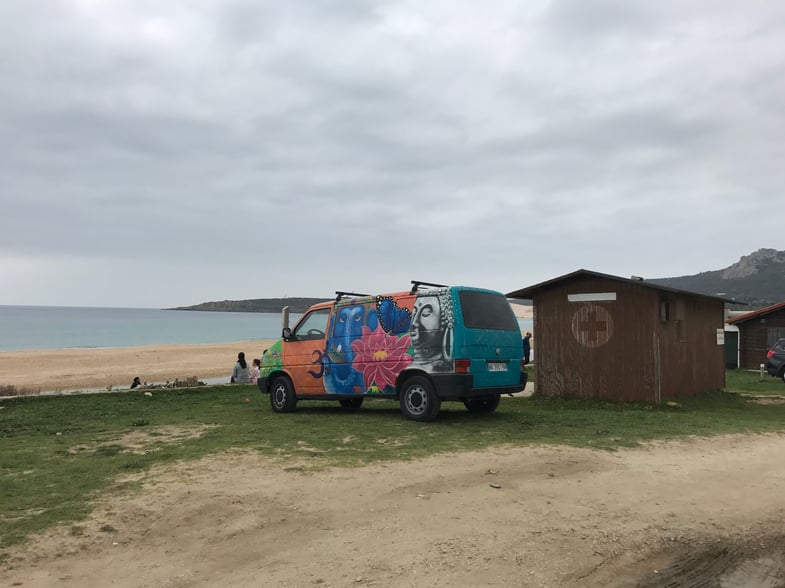 (Photo credit: Emily Patterson)
After our time in Sevilla, we headed out of the city to the Casa Rural in Betis, in the province of Cádiz. As soon as we arrived there, it was obvious we were in a laid back setting. The streets were filled with surfers and almost every car that passed resembled a VW bus/camper that you pretty much only see in movies these days. This laid back country mixed with ocean vibe was a scene we had yet to experience in Spain and made us realize just how diverse this country's geography and culture really is. It was apparent that the next couple of days were to be spent outside exploring this new place.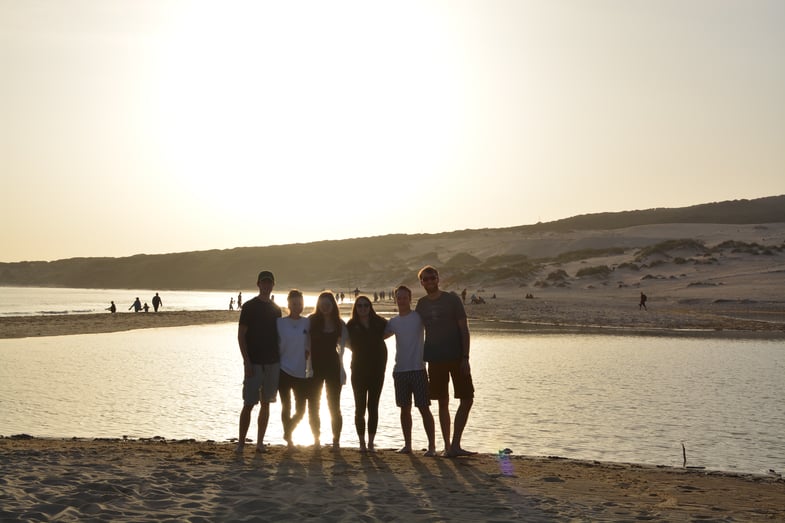 Playa de Punta Paloma on Spain's Costa de la Luz (the coast of light).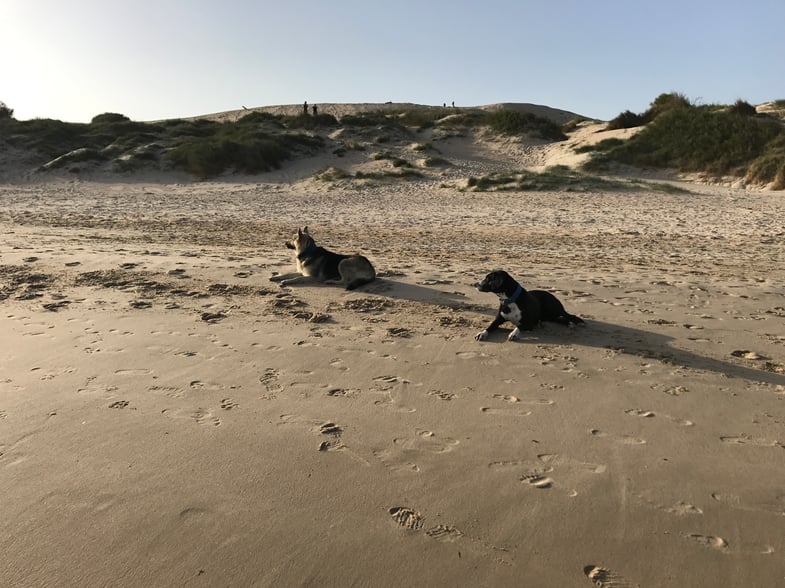 (Photo credit: Emily Patterson)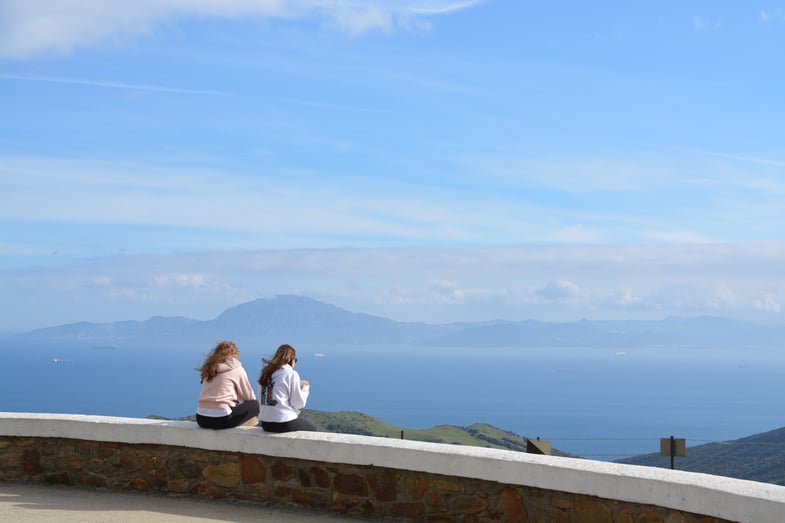 The narrowest point of the Strait of Gibralter with the mountains of Morocco in the distance.
Our first morning started when we were woken up by the rooster outside our house. One by one we all got up from bed and retreated to the dining room table where we ate our breakfast. As the morning went on, we got ready for the day. We departed our casa rural, headed down our driveway and a minute later ended up at a trail in a National Park, which overlooked the Strait of Gibraltar and the surrounding mountains and fields. As we made the walk up the mountain we were joined by a yellow lab which we named "Refel" (after the name written on Grifin's Starbucks cup back in Sevilla). Once we got to the top we had the option to climb up a steep set of rock peaks that towered into the sky, or, for those of us who were not too fond of heights, watch from below and stay with the horses grazing in the fields of flowers. Many of the students started the trek up to the top, but only two made it all the way. I thought the view was pretty great close to the bottom of the rocks; I can only imagine how amazing it was from the top.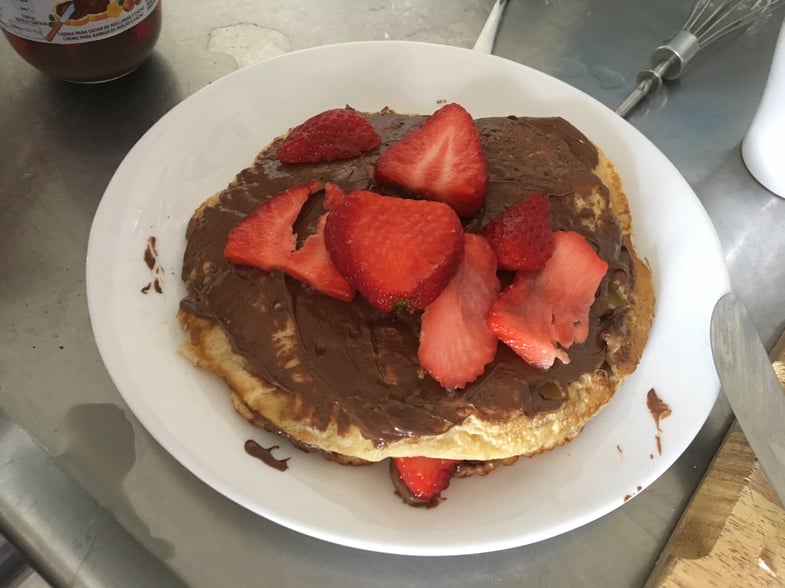 Tortitas con nutella y fresas.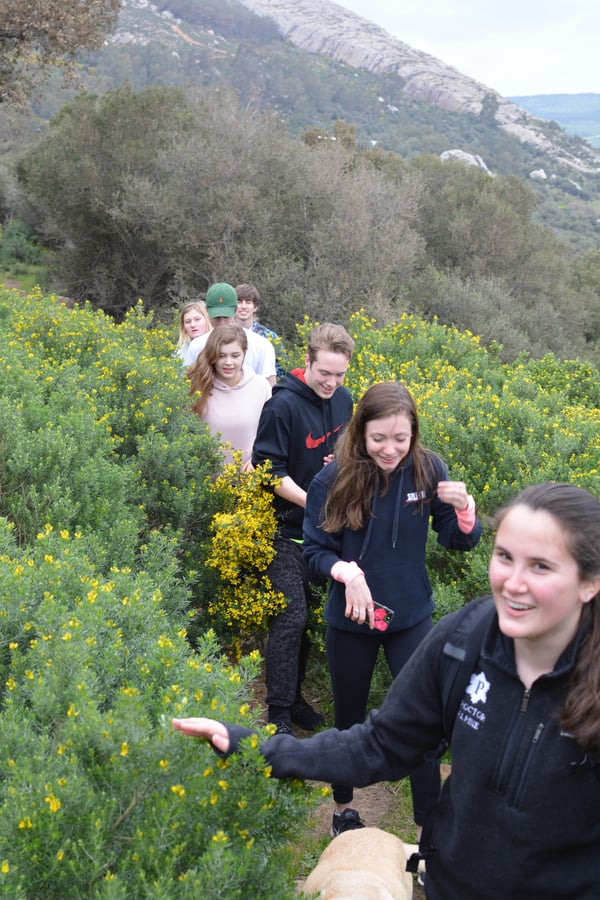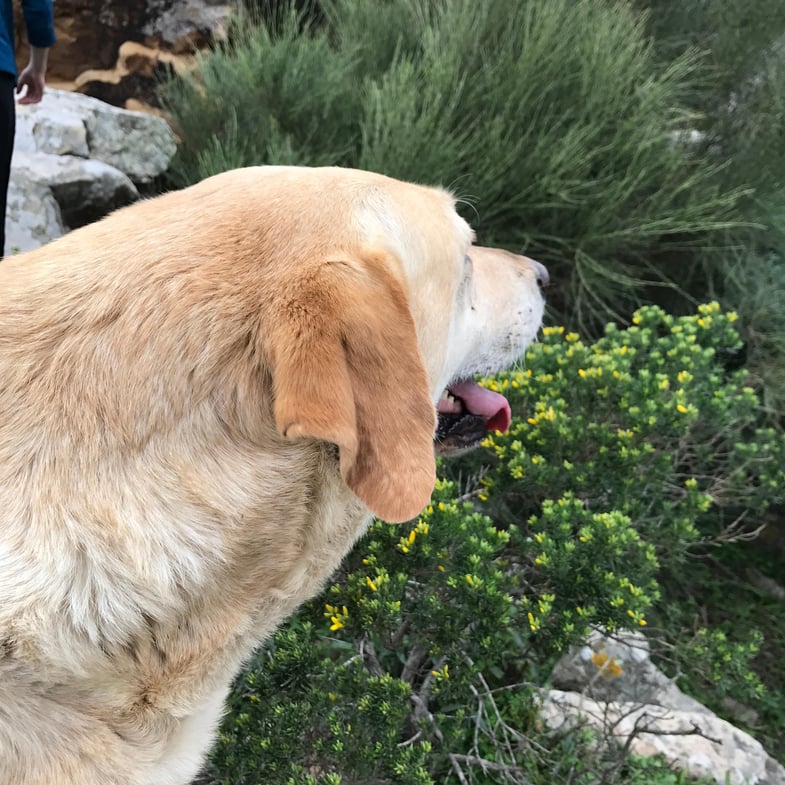 "Refel"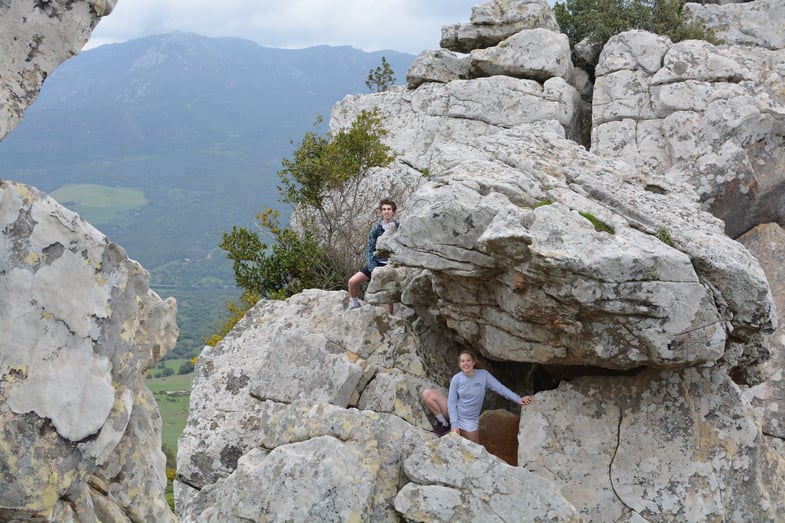 Climbing!
There was something extremely special about this spot up in the mountains, however it is hard to put a finger on just one thing that made it so special. This spot provided us with a sense of serenity and allowed us to just live in the moment and enjoy being together for one of the last times before we head back home and go our separate ways. We all were taken aback by the unexpected beauty of the views, just minutes from our house. Spain is an amazing place and to be able to have spent the last two months here is incredible. As the trip winds down, I have begun to appreciate Spain much more, and I became aware of how much it has to offer. Spain can accommodate anyone, and, whether you are a city, mountain, country, or beach person, there is no doubt that you will find your place in Spain.
~ Emily Patterson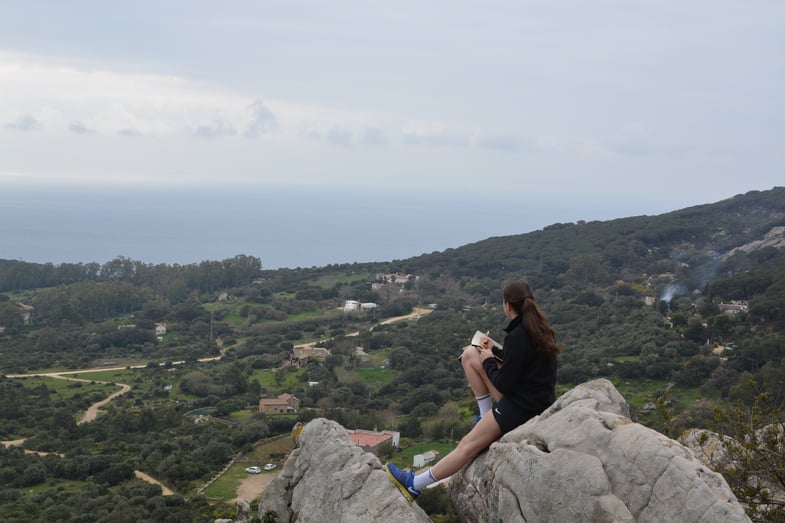 Finding inspiration on the Strait of Gibraltar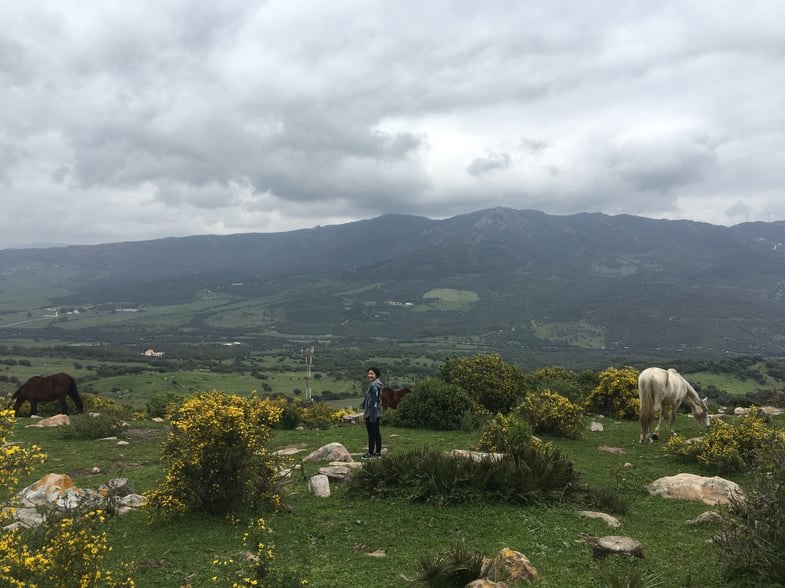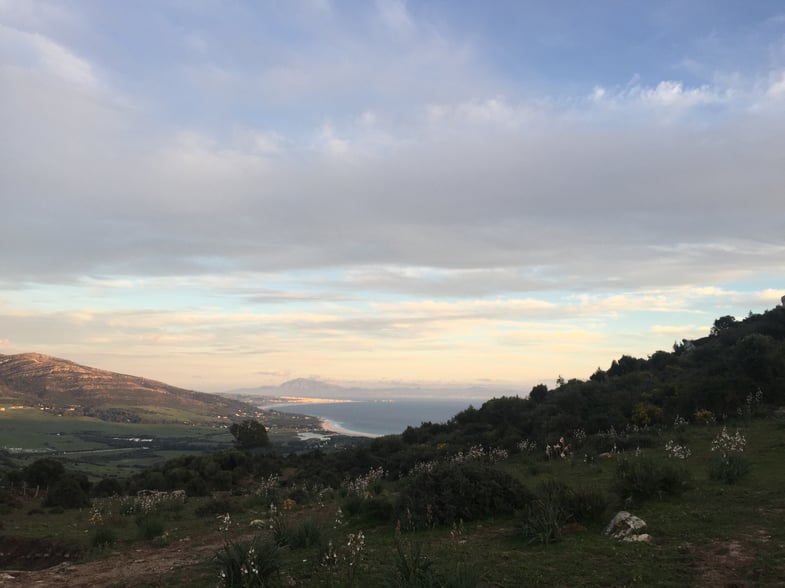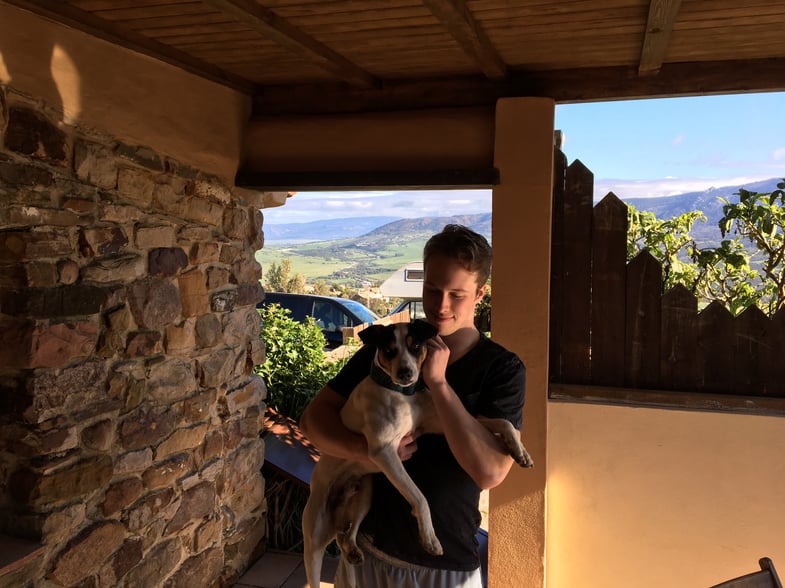 A happy ending! The Fall 2016 group befriended this abandoned stray dog, and we were ecstatic to see that he has a collar (and a new home)!
Look for our final blog post of the term in the middle of next week. Hasta pronto!
~ Proctor en Segovia Winter 2017