In this post from Spain, students travel to Barcelona, Catalonia and the Languedoc-Roussillon region of France to explore this area's rich art and architecture, linguistic and culinary heritage, and unique history. After our return from Catalonia we had visitors from the US, and they were treated to a week of gorgeous fall weather, a festival in honor of the Patron Saint of Segovia, and a trip to northern Segovia Province that included kayaking on the Río Duratón!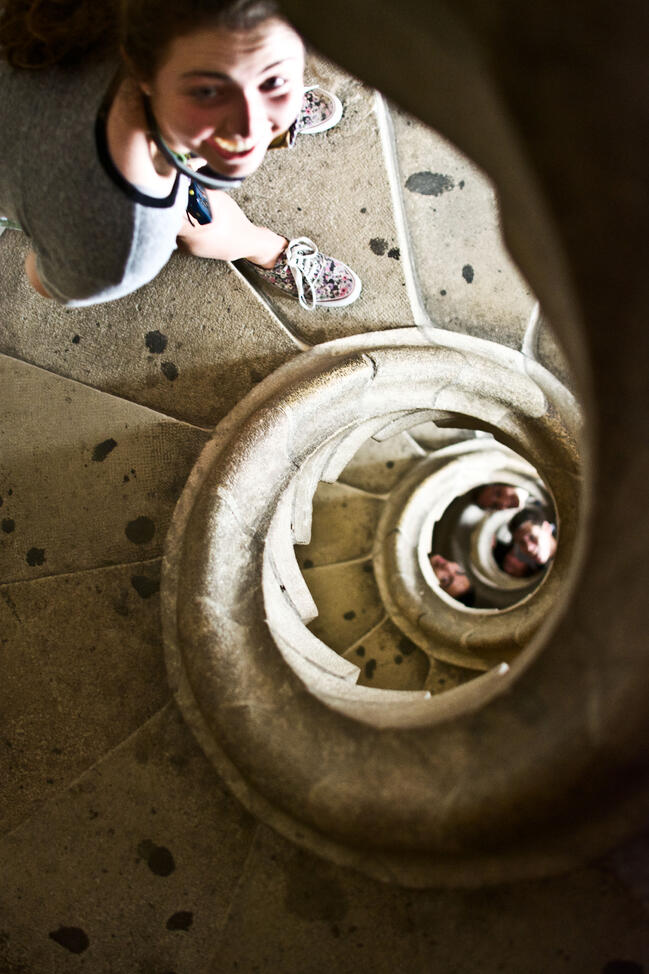 We believe that learning should be active, student-centered, and "experiential" whenever possible. We use Spain as our classroom to better understand and learn Spanish language, history, and culture! In this photo, students descend a spiral staircase inside Gaudí's Sagrada Familia Basilica, one of the most emblematic buildings of Catalan Modernisme architecture.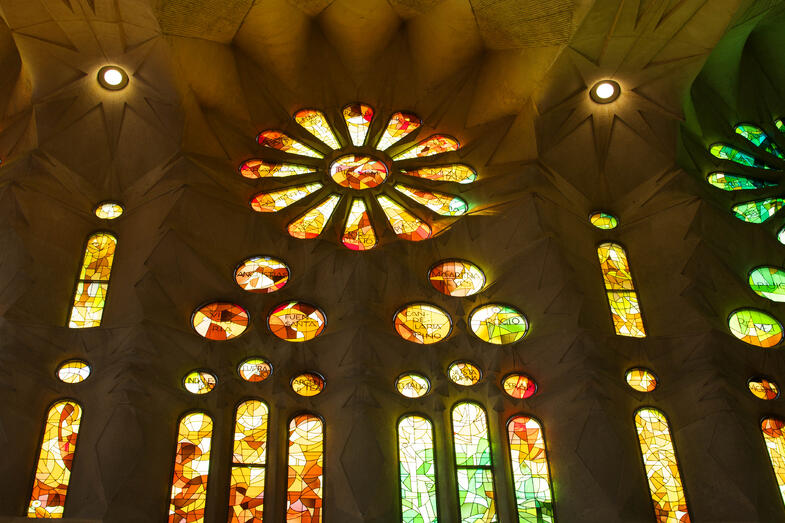 Stunning stained glass windows. In his design, Gaudí was inspired by nature and called for the light entering the Basilica to imitate light entering through leaves of a forest canopy.
It truly is a "small world." Proctor en Segovia Fall 2014 group runs into three Proctor Academy alumni at the Sagrada Familia, one of whom participated in the Spain program and another the off campus program in France. They were traveling together throughout Spain as they continue their journey of lifelong learning.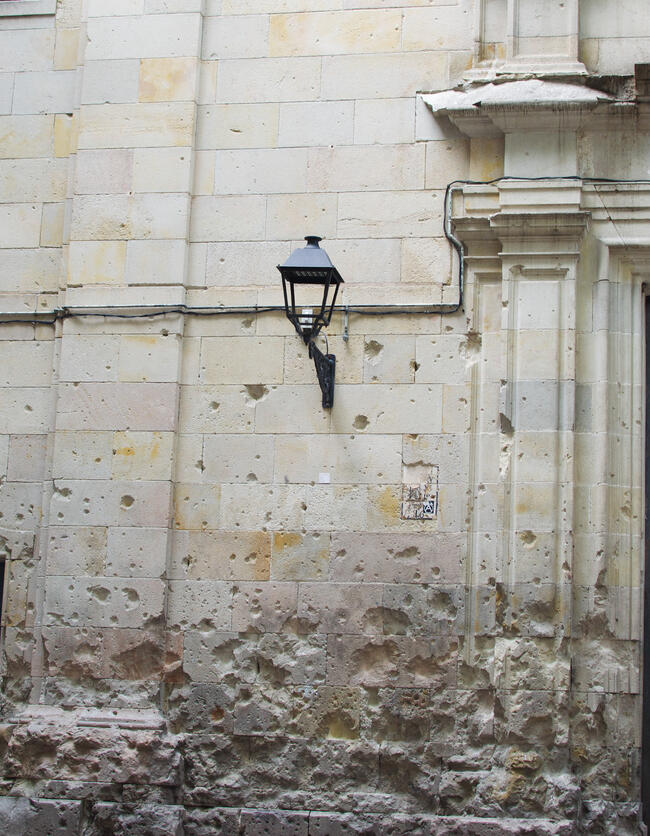 Plaça de San Felip Neri. Note the shrapnel-scarred walls of the the church, damaged by pro-Francoist bombers near the end of the Spanish Civil War. 42 people, the majority children, were killed.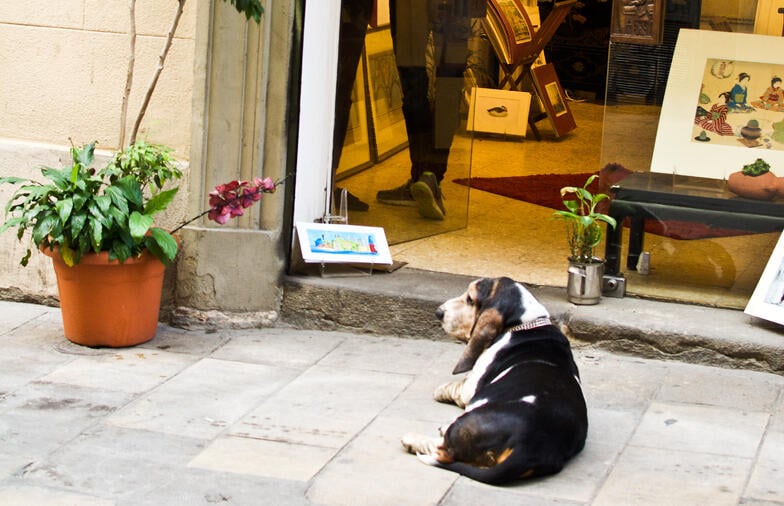 Typical sight in the Gothic Quarter of Barcelona. A dog patiently waits for its owner outside of an art gallery.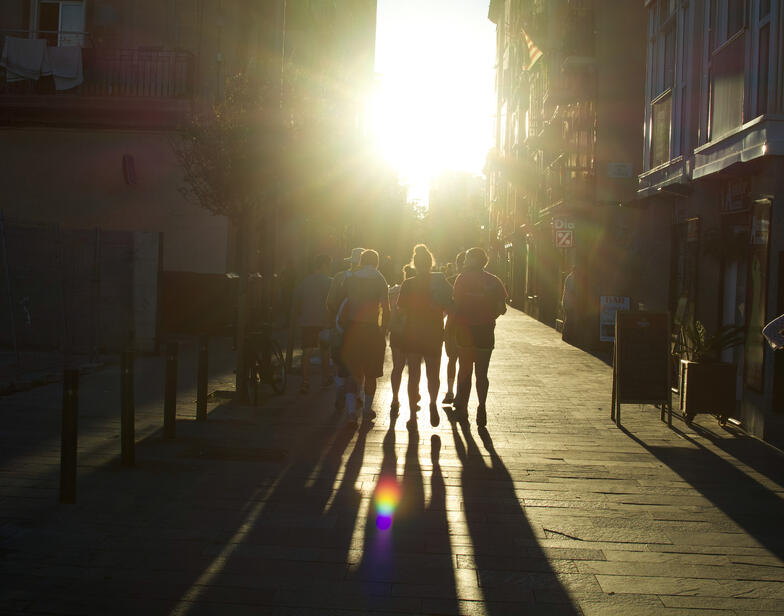 Cascada fountain in Parc de la Cuitadella. Photo credit: Cole Bickford.
Planted Palm Trees

Planted palms trees, popping up from the group
Panting puppies running for tennis balls
Pouring fountains sprinkling almost absent water on to people

Planted palm trees, hanging over the turquoise water
Prowling gargoyles spewing water from their jaws
Popping moss aging over the rounded marble

Proud Poseidon controlling the living water
Pecking pigeons scavenging for any bit of food
Passing pedestrians looking but not seeing

~ Cole Bickford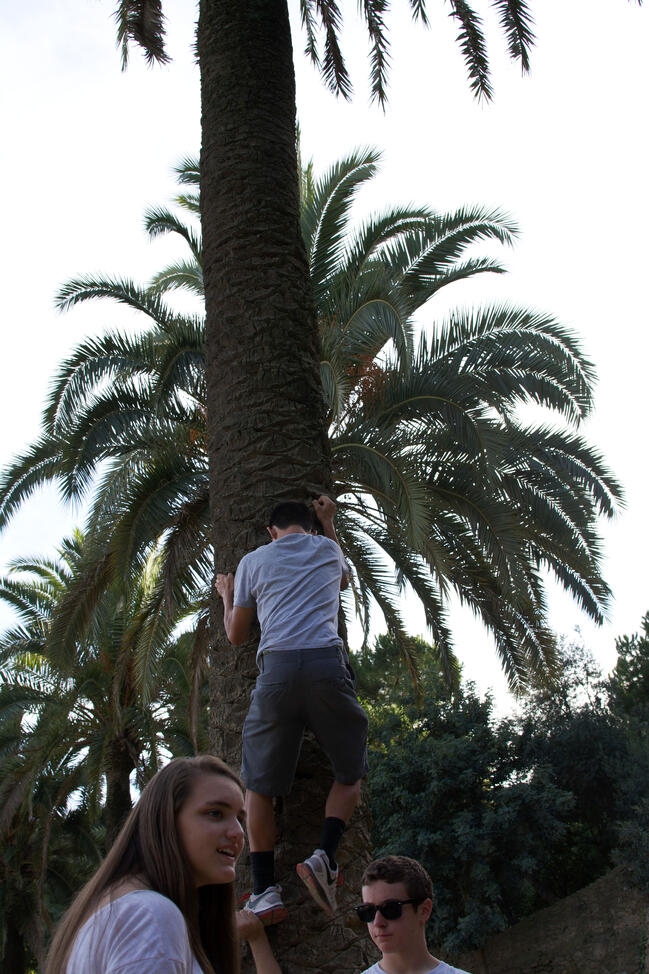 The mild, Mediterranean climate allows palm trees to grow (and provides perfect climbing conditions as well)!
Green
All I see is Green
Green is everywhere I look
Trees, Plants, and Bushes

Fountain
The rush of water
Shooting up into the sky
It makes me happy

Gold Statue
Grand shining metal
It's so confident up high
Shining in the sky

~ Nicholas Takahashi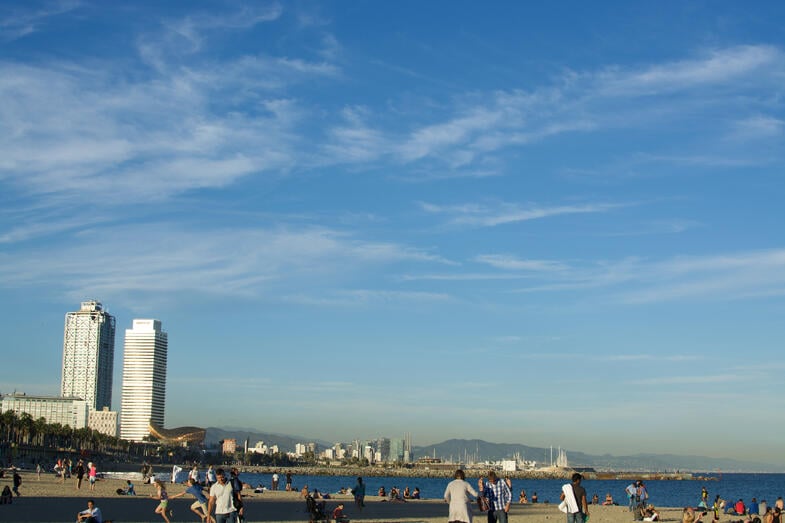 Beach of La Barceloneta with Frank Gehry's fish sculpture at the Vila Olympica (Olympic Village) in the background.
Ocean breeze is overwhelmingly strong. It's a sweet scent that wakes the memories of my experiences with the ocean. Tourists walk all around me, contemplating whether they are headed in the right direction. A man freely plays the trumpet in such a way that makes his audience upset. I can tell he is at a state where life no longer holds a true importance. He has nothing in particular that he feels is necessary for his survival, and his joy, other than performing on boardwalks is to collect enough change to enjoy a meal that night. This street is particularly hypocritical: tourists are lost yet happy, but citizens are happy yet lost. I sit here in the blistering sun, drenched as if I had just gone for a swim in the Mediterranean Sea. Cruise ships are surrounding us. They are taking over, tempting everyone around them. Green, blue and the black charcoal of the pavement are the distant colors that catch my eye. Crying of children, whispering of parents and the crashing of the sea crowd my eardrums. In the background, machinery, such as the engines of boats or construction, clash with the sweet melody of nature.
~ Paris Healey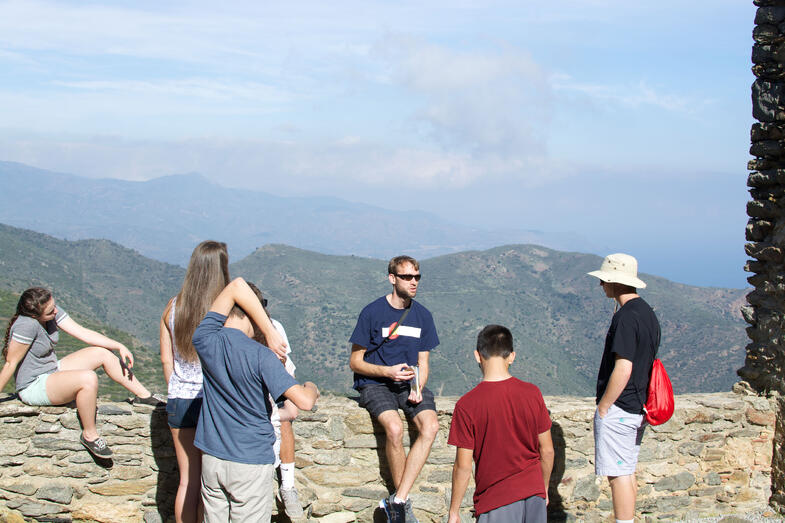 Outdoor classroom: a quick history discussion at the Monastery of Sant Pere de Rodes in northern Catalonia.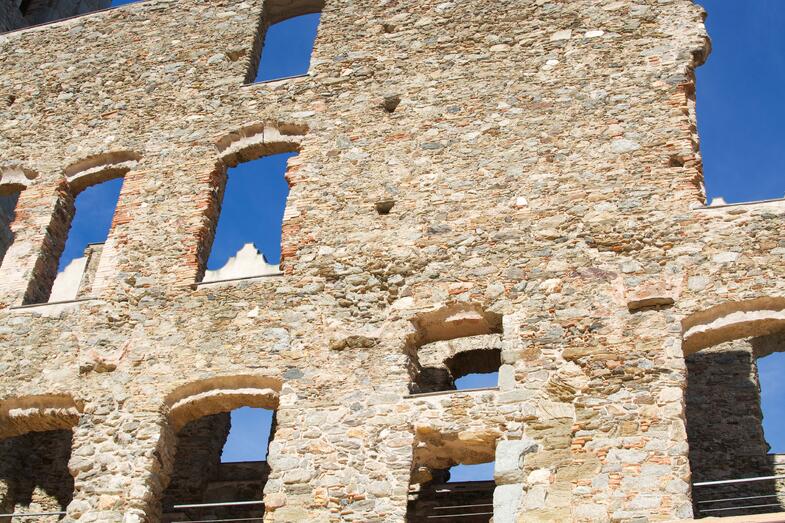 Chugging our way up winding mountain roads, the sun beating down on us, the trees and brush in abundance, I catch a glimpse of our destination. The border between northern Cataluña and France was unexpected. Rather than crossing the border of nations, it felt as though we were crossing the border of states. An unexpected sign appears reading FRANCIA. We had made it. The border of France and Spain is divided by the Pyrenees, a massive mountain range that for centuries was the unmistakable barrier between two great countries. The road hugged the mountains and wrapped the turns. Losing comfort in every turn, we fell onto each other every time. Green shrubs and happy trees covered the Spanish-French Pyrenees. Meeting them were sharp rock cliffs and canyons. A mere guardrail is what kept us from going over in every turn.
~ Stuart Hull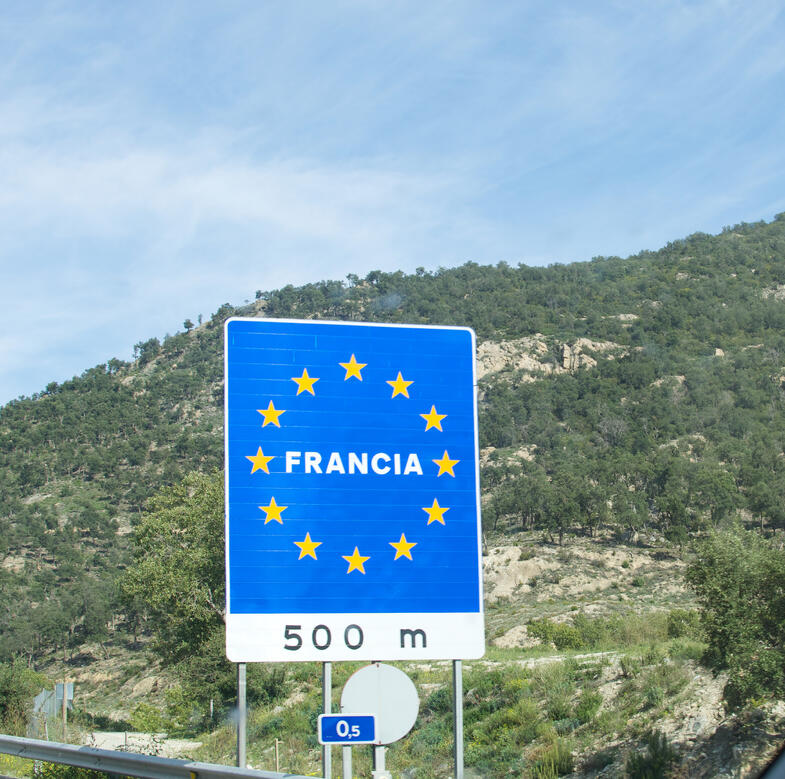 Although crumbling watch towers and remnants of border checkpoints remain, they are now abandoned. Since the signing of the Schengen Agreement, movement between most EU member states, including France and Spain is little different than crossing between New Hampshire and Massachusetts (except for the linguistic and cultural change, of course)!
And culinary differences as well! French crepes abounded in Collioure.
Mikaela, Allie, Ryan and Stu go off in search for French ingredients to prepare at our rented casa rural for dinner. Photo credit: Allie Clarke.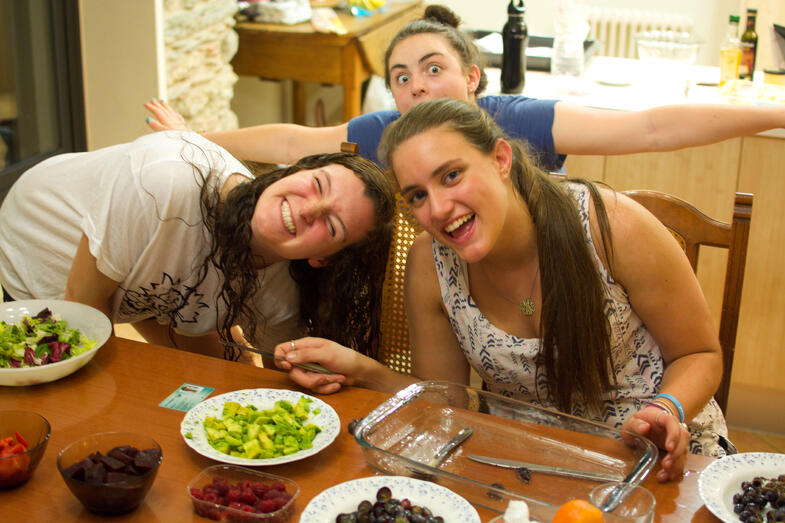 Everyone pitches in to create a delicious meal!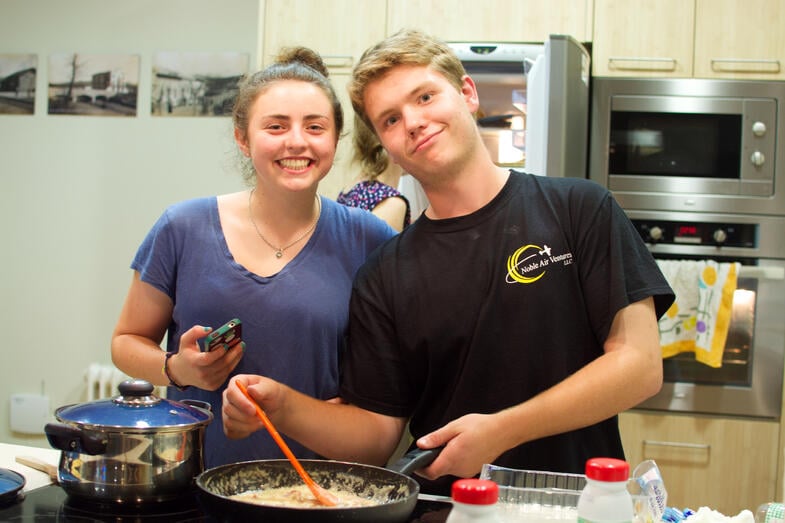 Perhaps Allie and Cole should try out for Spain's Top Chef television show?
After our return from Catalonia and France, Nick S.' parents, Paris' dad, and Nick T.'s mom paid us a visit. Posing in front of the castle of Turégano. Driving through Segovia province one quickly discovers why this region is called "Castilla."
Visiting the church at the Hermita de San Frutos on Día de San Frutos (a city-wide holiday to celebrate Segovia's patron saint)
Students also toured Segovia's castle, or Alcázar, during a Friday morning history class.
What better way to explore northern Segovia province than by kayak and canoe. Students and parents paddle through beautiful red-rock canyons carved by the Río Duratón over the course of tens of thousands of years.