The adventure began as the group embarked on the final excursion to Málaga. We all met up at Segovia's bus station and from there we made our way to Madrid. When we arrived in Málaga we were greeted by the warm air and ocean breeze. The city was full of light as we were guided through the stone streets to our hotel. On one side there were hundreds of tall beige buildings filled with city life and on the other side was the crystal clear Mediterranean.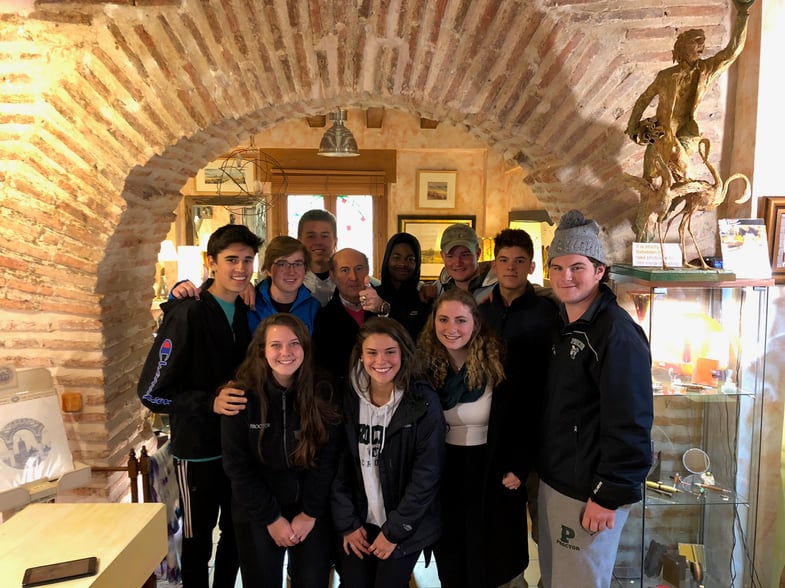 The walk from the train station to our hotel was about 20 minutes and everyone was eager to roam the streets of Malaga. As the day went on, we prepared ourselves for a fancier dinner. At the restaurant we enjoyed tapas and Spanish cuisine.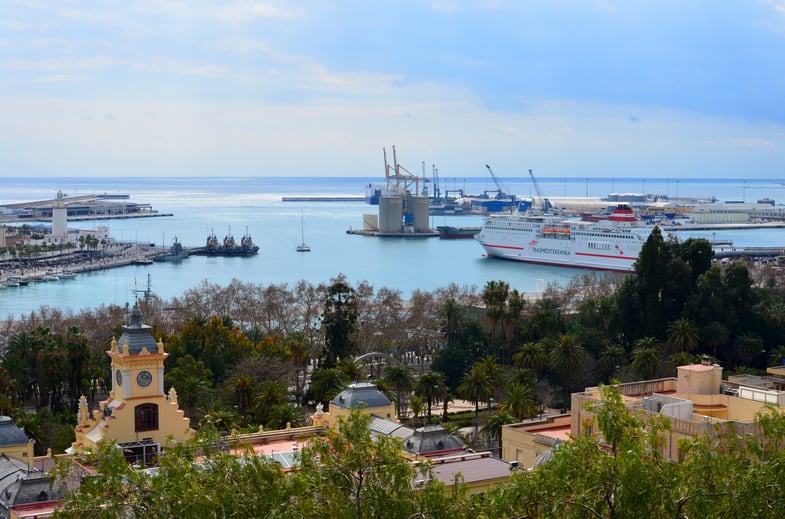 For almost three thousand years Málaga has been one of the most important western Mediterranean ports.

Roman Málaga or Malaca had a theater and other impressive public buildings and entertainment venues.

When the Islamic taifa state of Málaga constructed the Alcazaba they reused Roman columns and other building materials in its construction.
As Saturday morning arrived we had a packed schedule which included visiting the Alcazaba of Malaga, the Cathedral, and later that night a nice evening out for Italian food. Throughout the day small presentations were given on topics about the history and culture of Andalucía and Málaga. Towards the end of the night most of the group headed on a late night walk to the beach. Even during the night the air was still warm which is very different from Segovia.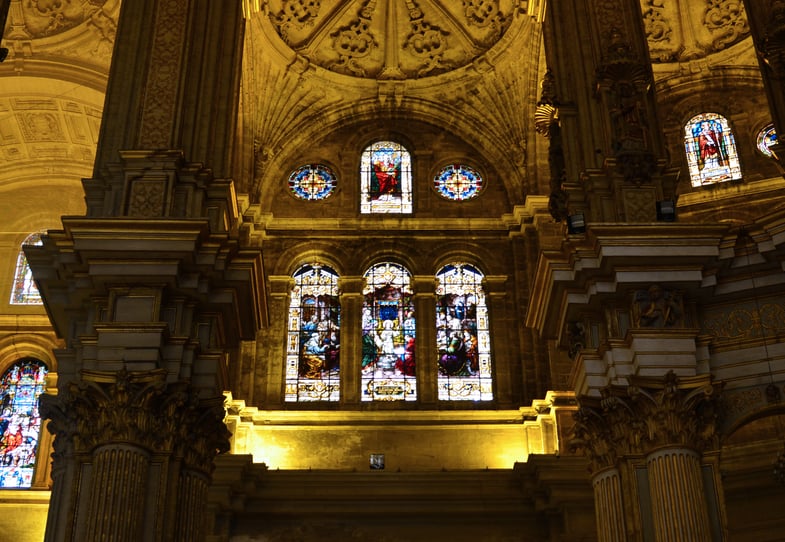 Visiting the Cathedral of Málaga known as La Manquita or "the one-armed lady."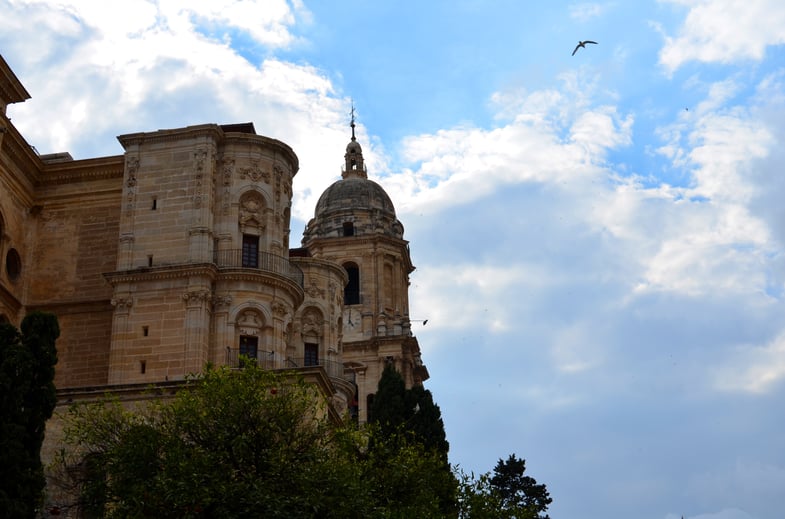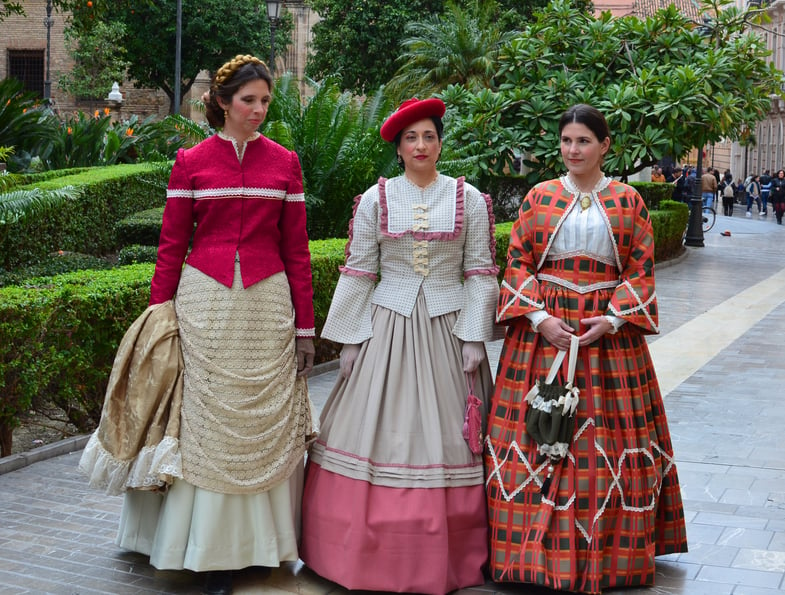 Traditional malagueña dress.
The next morning we made our way to Cabo de Gata, but along the way we made a quick stop in Frigiliana. We listened to Teddy's presentation about olive oil production and enjoyed a sample of bread and olive oil. It was a whitewashed town that overlooked a valley and, in the distance, the sea. We arrived in Cabo de Gata around 9:00 pm. We were all starving from the long six-hour trip and were ready to devour ten large pizzas. That night we made use of the ICE cold pool at the house.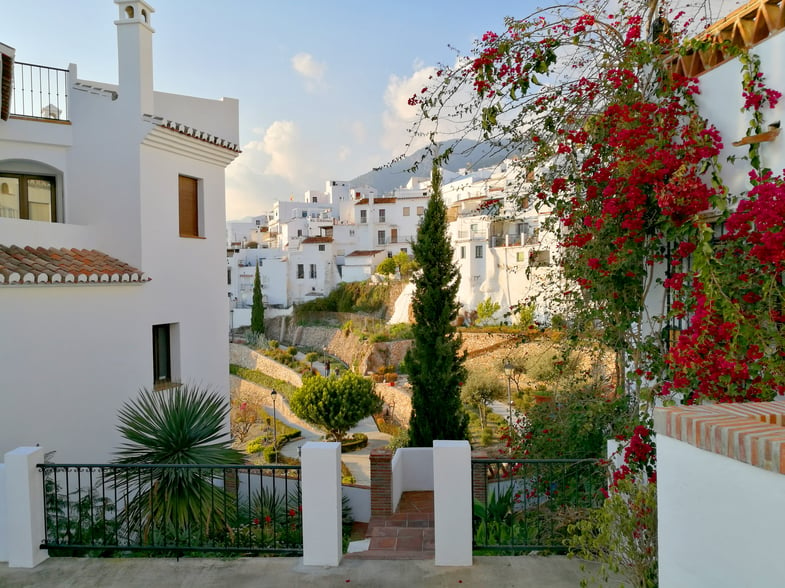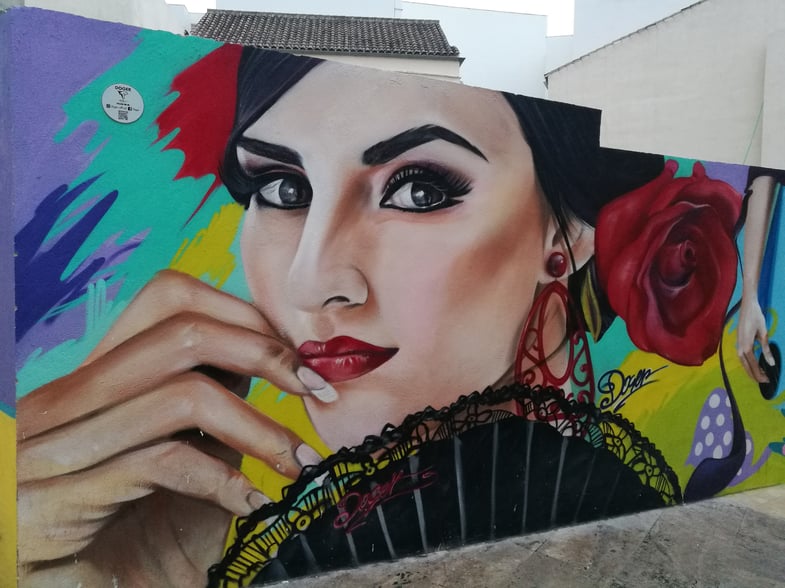 As time flew by, Monday morning came upon us. It was a beautiful day with blue skies and not a cloud in sight. A handful of the group went horseback riding. At first we were skeptical about the horses because all they wanted to do was eat. It was an extraordinary trail with yellow flowers lining the path to the ocean. As we were riding, the rest of the group went to the town beach where they enjoyed the hot sun. Later that day, we all got together and went to Playa Monsul where a scene from Indiana Jones and The Last Crusade was filmed.

In Cabo de Gata National Park, Almería province.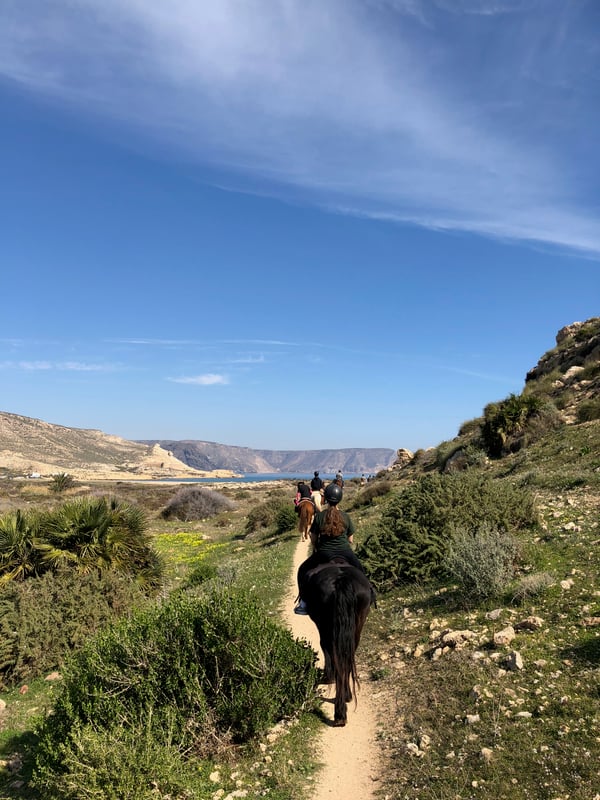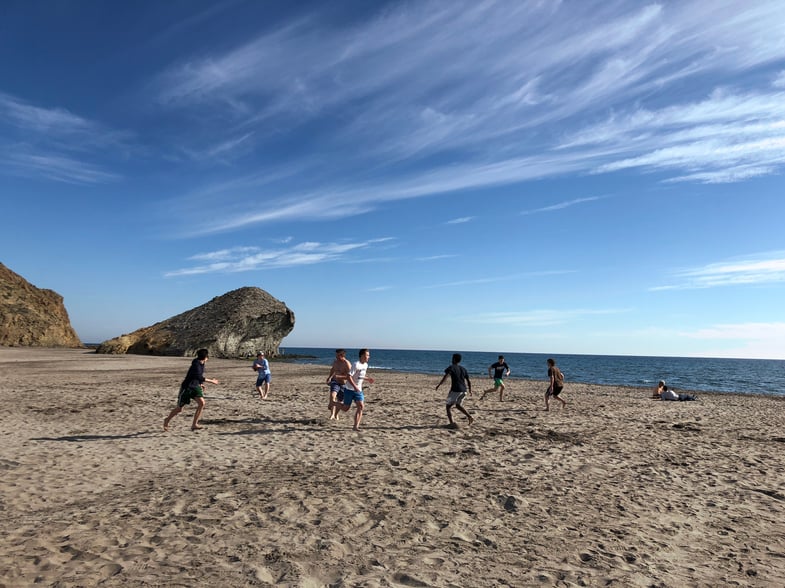 On our last full day in Cabo de Gata, we had one thing on our minds… and that was the beach! We ate a quick breakfast and drove to a small town nearby where we began our 30 minute hike to a secluded beach. We spent most the time swimming in the freezing cold water, jumping off rocks and exploring. By the end of the day everyone was burnt to a crisp. We hiked back and went back to the house that overlooks the dry valley. At the end of the day we made our own croquetas and fried calamari.

~ Samantha '19 and Emmie '19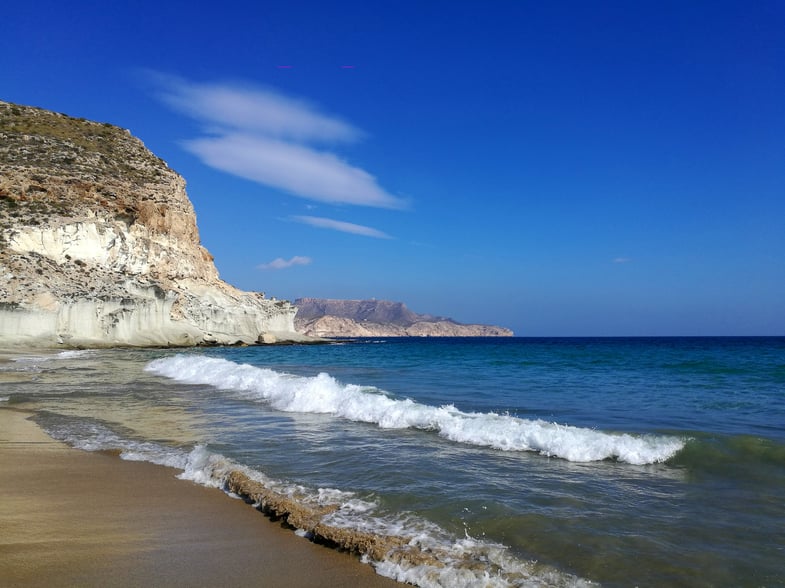 …I dragged myself to school and went through the first day of being an adult. I arrived at home in a grumpy mood, but it quickly went away. Sitting on the table was every single piece of food I told my host mom I liked, along with my host mom standing in the doorway waiting to give me a hug. She had prepared a huge bowl of shrimp, baked chicken, a salad, and sliced serrano ham which is one of my favorite parts of Spain. A chocolate cake was sitting on the counter in the kitchen with an eighteen candle on it. Jimena and Cesar arrived a few minutes later and soon we were feasting on the bounty of food that Olga had prepared. We all sat there for about forty minutes talking, cracking open shrimp and having a really enjoyable family meal. After this my day turned around. When the topic came up that I only had a few weeks left I actually saw a tear run down Olga's cheek. Someone doing something small for me like that meant so much to me after having a rough day.

~ Teddy '18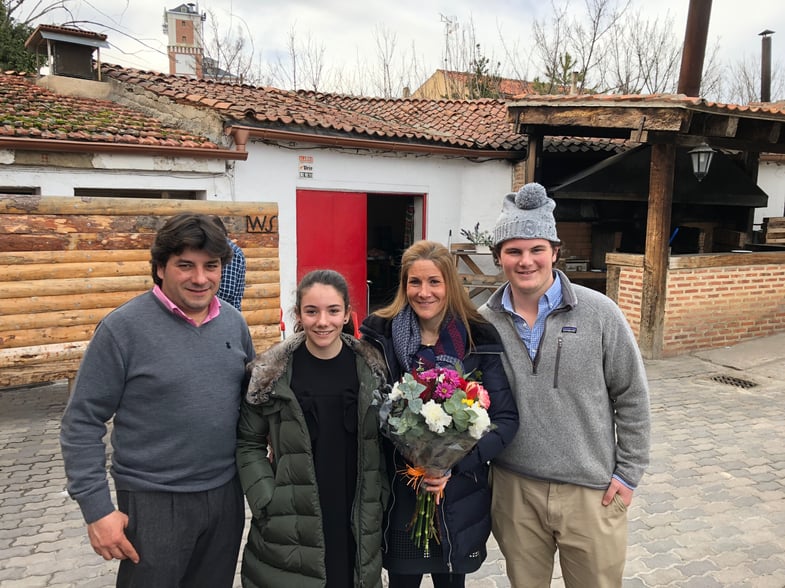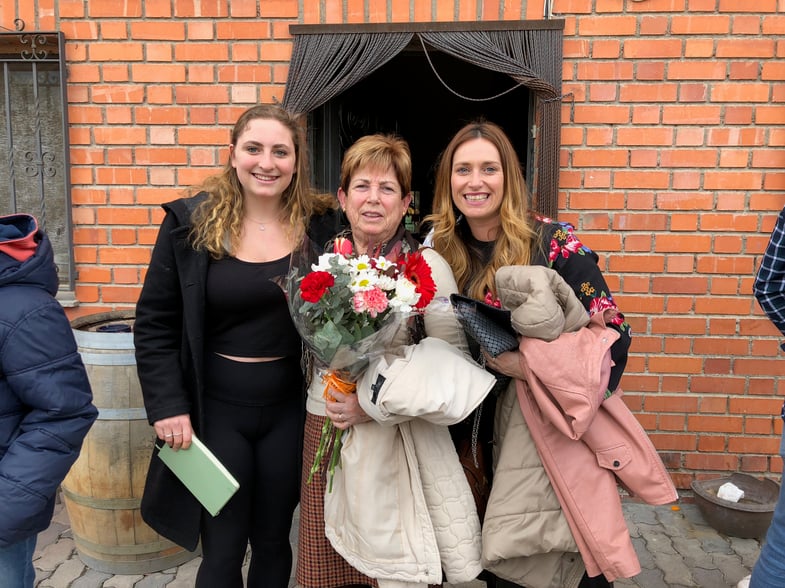 It smelled like fresh fish as I ascended the cold stairway, lit dimly by lights above. Using the keys they gave me I slowly unlocked the heavy light brown door and pushed the gold colored knob to open. The hallway was dark and I quickly came face to face with a tall young boy. "Hola! My name is Fernando, how are you?" he spoke slowly trying to pronounce all of the English words correctly. I replied with very slow English and some broken Spanish words, "Hola Fernando! Me llamo Nicole. Bien, y tú?" I was afraid that since I had not taken Spanish in two years he would not understand me. A soft smile was presented on his face and I could tell we would get along. Showing me the way into the kitchen I took a seat at the table. Shutting my eyes, taking a deep breath, I told myself it would be okay. The nerves shot through my body like a bullet through a target. I hesitated to speak Spanish for fear of being wrong. I was too scared to look at anyone because I did not want them to ask me a question and not be able to answer. Suddenly, I felt a sort of relief. As I slowly looked up from the sopa that sat steaming in front of me I met eyes with my host mother Cristina, host father Fernando, and my host sister and brother Isabel and Fernandito. I knew they were trying to figure me out, and, as I looked more deeply at them, I was trying to figure them out too. Without speaking, everyone went back to eating until Cristina broke the silence and asked me how I was, if I liked the food and if I had spoken with my parents. Using the little Spanish I know I replied: " Yo estoy bien, me gusta la comida, and sí, yo hablo mis padres." Nobody said anything, I thought I said everything wrong. "Muy bien Nicole! Muy Bien," Cristina and Fernando said at the same time. I smiled. It felt like the first time I had smiled in hours because instead of smiling I was trying to figure out how I felt about being here.
~ Nicole '18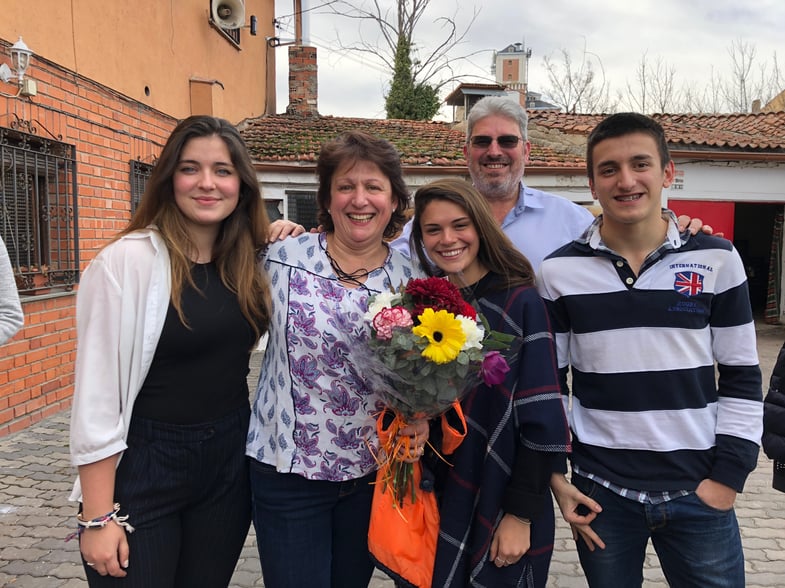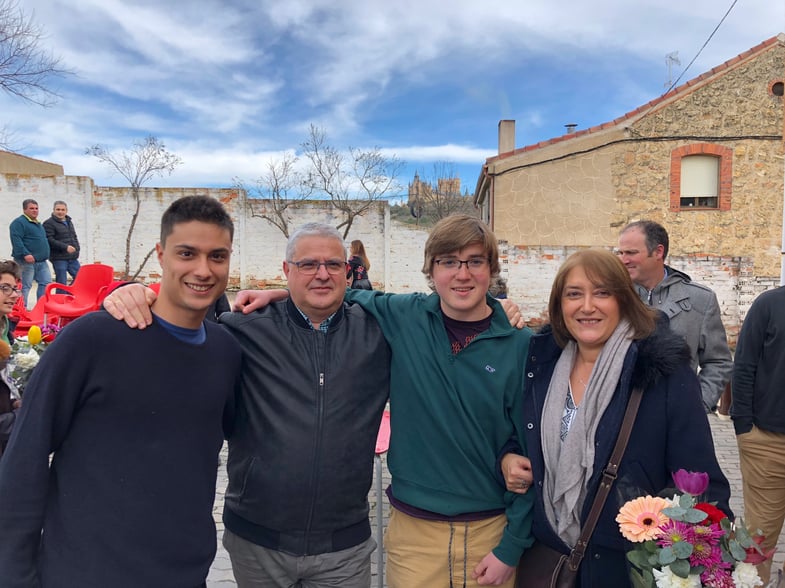 He didn't see how Americans were viewed from the outside until the final week. Watching TV with his host abuela had become a common occurrence, but that day he saw, or rather heard, something different. It was a Spanish program, with an American character. There was nothing wrong with her language or grammar from what he could see, but he almost immediately noticed her accent. For the first time, he heard an American accent. You grow up hearing everyone move their mouth the same way, and forget that you are not the normal ones, that everyone else thinks you different. You hear every accent but your own, and with that character he heard for the first time what an American sounded like. It was almost painful. After living in Spain for nearly two months, even though he spent most of his time with his friends from Los Estados, he automatically had a stereotypical judgement of her. She seemed ignorant, annoying, and he didn't like her.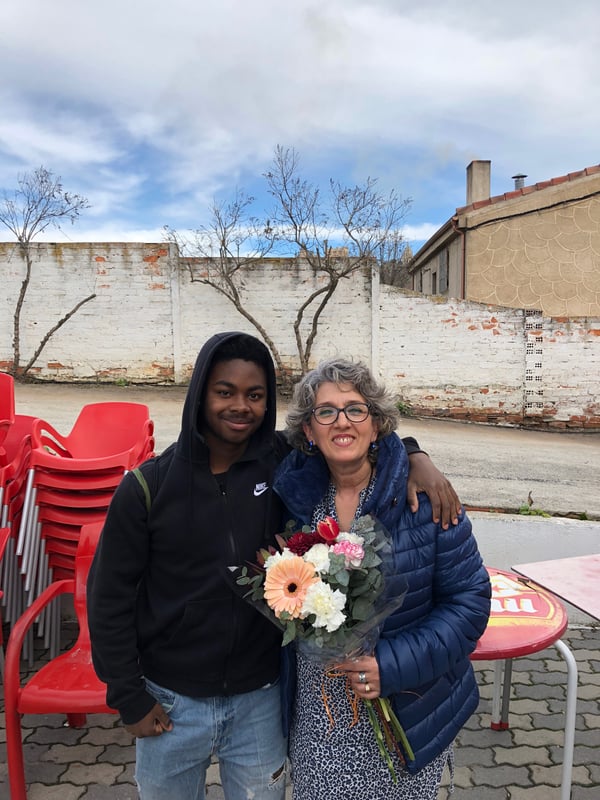 As he struggled with the lock an hour later and went to his apartment complex's elevator, he began to think. He pondered as he left the building, onto the cobblestones sidewalk, his feet padding along the same route as the other Segovians, some getting to where they needed to be, others simply enjoying the air, happy to be walking, and that is when he saw the difference. In the US, this would not happen. The route he took to school twice a day, a little over a mile, would be taken in a car. His people were so different, and he gained an outward perspective.
The many days, cumulative hours, footsteps, the enjoyable lack of efficiency were where he was finally left to his thoughts. The commute everyday gave him the time he needed, and didn't have before, and after a time, that was how he really began to see who he actually was.

~ Nelson '19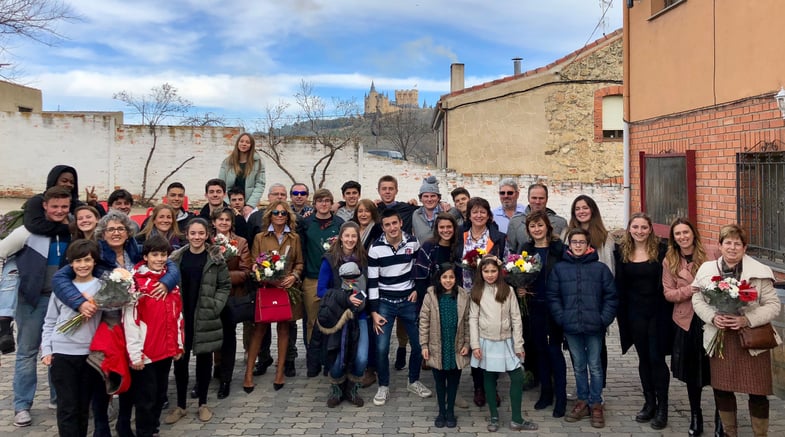 And, as they often say in Spain instead of the more permanent "adios," "hasta pronto" or "hasta mañana." "See you soon" or "see you tomorrow." If not a literal "tomorrow" then at some point in our futures.
~ Proctor en Segovia Winter '18