These paths hold memories that I can't even imagine. History has traveled this same path. This path goes for many miles, through mountains, valleys, woods, cities, and even farms. So much history is ingrained in this path. I have begun to realize that I am also a part of this history. Everyone that walks this path is part of its history. I am realizing how lucky I am to have the opportunity to become apart of history that goes back more than a thousand years.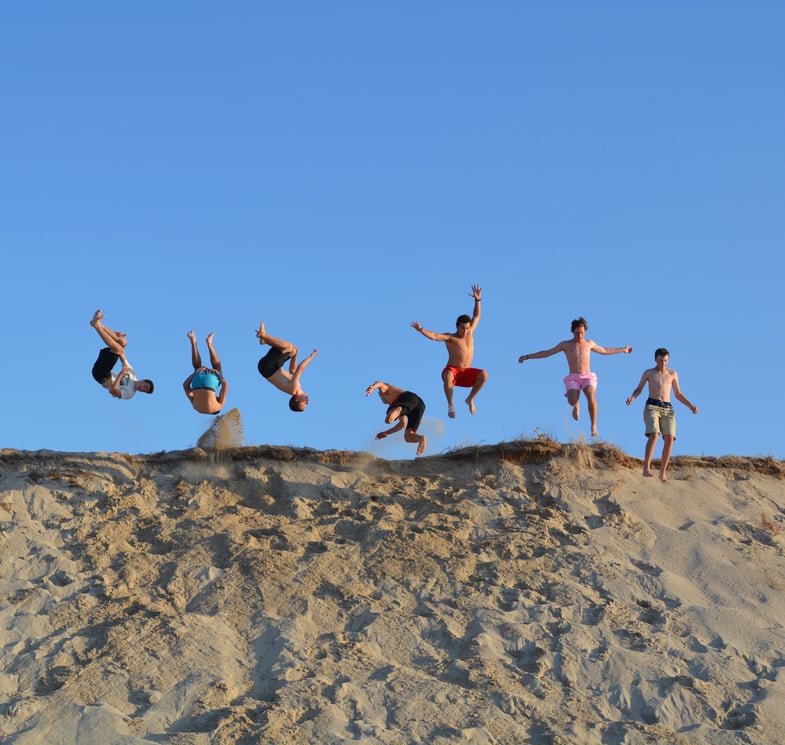 Many members of Proctor en Segovia fall 2016 celebrate when reaching the end of their Camino de Santiago journey in Muxía, Galicia!

Before beginning our trek on the "epilogue" of the Camino Francés to Muxía, we toured medieval Christian world's third most important pilgrimage site after Jerusalem and Rome, the Cathedral of Santiago de Compostela.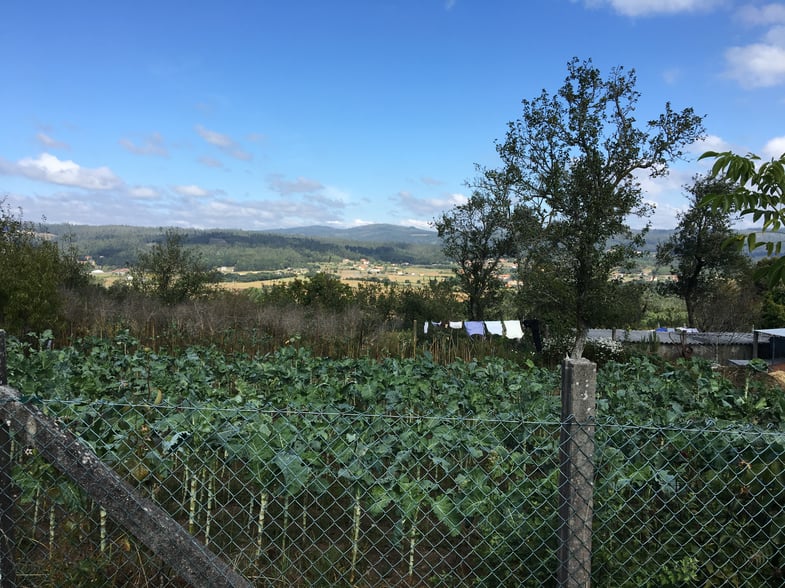 The Camino passes through beautiful Galician countryside including many small family farms. Here you can see brussel sprouts (and a clothes line in the background)!
This path has been used for religion, for exercise, for therapy, and it has been used to improve people's relationships with the world. Have there been battles fought on this narrow woods road? Have people realized who they are while walking through this ghost/farm town? Have people become one with God while walking through this small little city?

(Photo credit: Connor Berube)
The Camino de Santiago has impacted my life in such a positive way in just the three days I was on it. Though it sounds corny, I can honestly say that this path has brought me so much closer to four of my best friends. This Camino is so powerful that in just under 50 miles I feel like I have made brothers. I am part of the history of the Camino de Santiago.

~ Nicky Kurtz

(Photo credit: Nicky Kurtz.)

Students (carefully) examine graves in Santa Mariña, where we spent our first night on the Camino, before beginning their day two hike. Lifespans were short and children often died before adulthood before the modern infrastructure and hospitals of post-Franco Spain.
Camino, the path or the way in Spanish, is a perfect way to describe the Camino de Santiago as it was a experience that I will never forget. It is something I will always carry with me in the back of my brain because it was life changing.

Our group walked from near Santiago de Compostela to Muxía by the ocean. It was a 50 mile journey over 4 days, and it was time where my friends and I had long conversations and deeply bonded over the distance we were covering.

(Photo credit: Anymous Camino "pilgrim" using Connor's camera.)
Before we departed for Galicia, our group watched "The Way," a movie about the trek, and it put an image in my head about the walk that was certainly fulfilled. By the time I reached the ocean I felt a sigh of relief and a sense of completion, and because, well, it was hot and humid, I wanted to go swimming.

We stopped and visited Finisterre (Fisterra in Galician or galego), referred to as the end of the world [by the Romans]. I understand why people thought this because it (Cape Finisterre) has a lighthouse with sheer drop offs on either side, and it was as west as you could go.

Cape Finisterre (Photo credit: Connor Berube).
Going into the Camino I was saying to myself, "It's going to be orientation all over again!" Now I am wondering if maybe someday I will return and make the full pilgrimage.
~ Connor Berube
When I first heard we were going on a four day hike, hiking all day, every day, I was a little skeptical. All I was thinking about was getting food poisoning and having a very bad couple days. My mindset changed as soon as we got on the trail. Being with my closest friends, walking a beautiful trail, made me realize how lucky I am to have this opportunity in front of me. I said to my walking partners on the trail one day, "we are in school right now".
I did not think my friends and I could get any closer, but the Camino de Santiago proved all of us wrong. Every day we would simply walk and talk, nothing more, nothing less. Some of the conversations we had were bizarre but hilarious. Telling tales of our eventful summers made the days feel like seconds. The Camino was the first fun hike I have ever been on. Every minute of every day was eventful, and I would not change a thing looking back on the amazing experience. Nicky, Parker, Connor, Nick, and I walked together every day throughout the Camino and we all made a promise to go back one day and try to complete the whole Camino de Santiago.
~ Hunter Law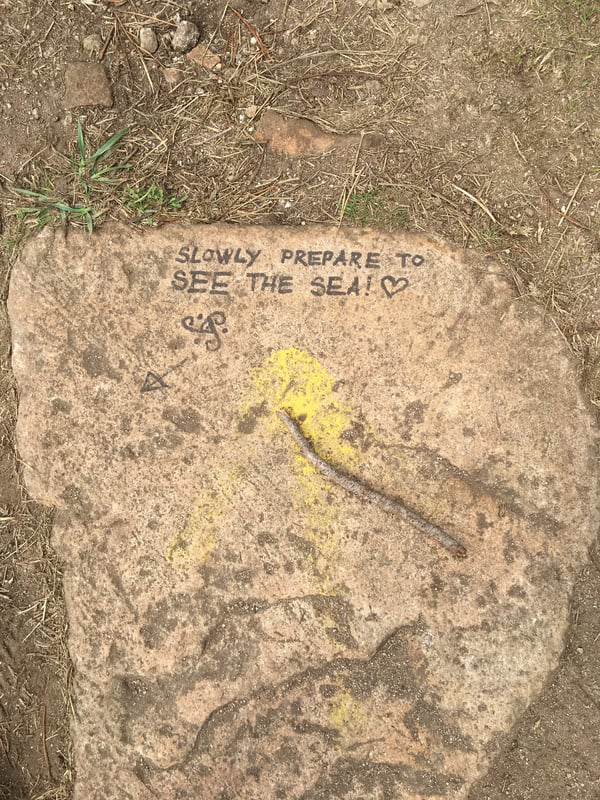 He silently waits, very agitated but very silent and respectful as all he wants these new coming students who are staying in his room is to leave. He would just love to open his favorite comic book, Calvin and Hobbes. This comic book means so much more to him than just a comic. This comic carries memories, the good and the bad. Memories of reading it to his son, laughing hysterically without a worry in the world. It reminds him of his son and brings him to a different place.
But here he was, in the middle of nowhere far away from his home in Venice, Italy. The kids finally leave the room, and as soon as he gets the opportunity, he opens his book up and starts at it. He enters his new world, with his headphones on, lying in bed, there is not a worry in his mind. The kids come back and storm into the room but he continues to read for the book brings him a sense of peace. He looks at his watch and it is nearing 10:30; he must wake up very early to continue his walk so he starts to wind down. He is at ease, nothing can stop him. The kids are talking and running around but it doesn't seem to phase him as he drifts away to sleep.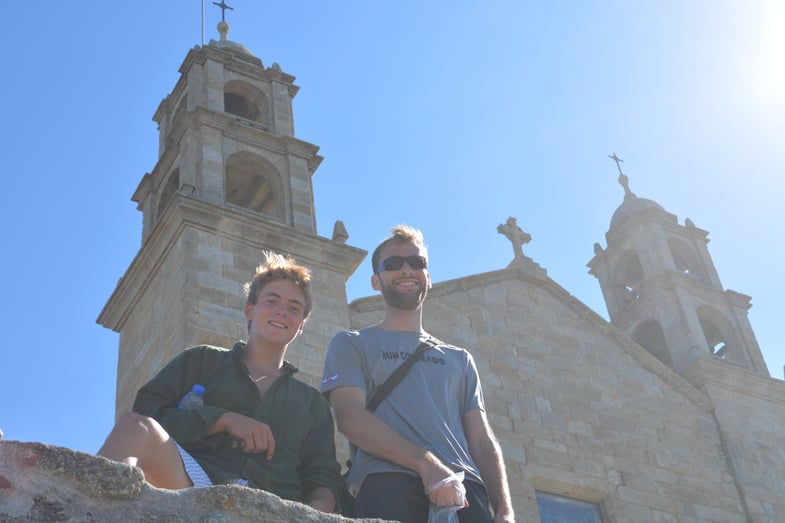 Santuario de la Virgen de la Barca (Santuario da Virxe da Barca) in Muxía.
He rolls out of bed, half asleep and looks at his alarm. It is 6:30, he shuts off the alarm and sits down for a second before he gets out of bed. Oh no! He dozed off and opens his eyes to see that it is 7:00! He is late. There is no time for breakfast. He throws his clothes on and is ready to go until he realizes that he forgot socks! How could you do this to yourself?! He frantically thinks of ways he can find socks to hike with. He is generally a shy man but he gathers up the courage to ask one of the kids in a language he doesn't know for socks. It works! Ready to go, he straps on his bag and continues on the Camino feeling like nothing can stop him.

~ Nicky Kurtz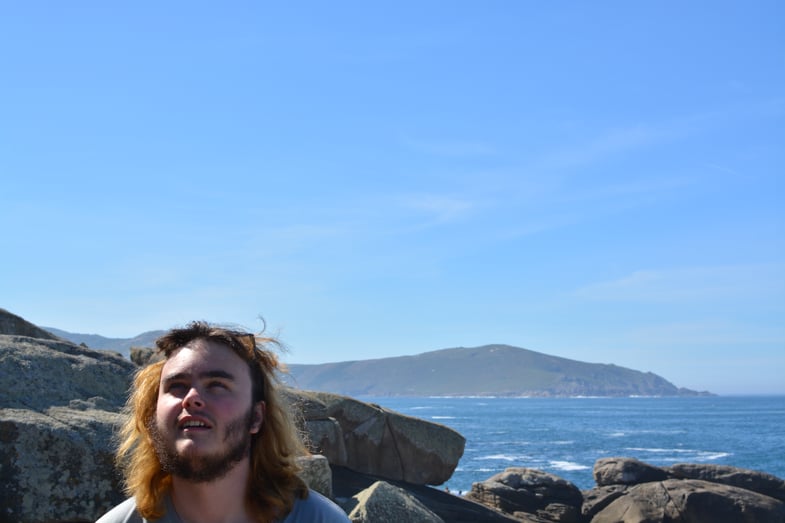 Pulpo a la gallega y verduras salteadas.
¡Buen Camino!
~ Proctor en Segovia Fall '16