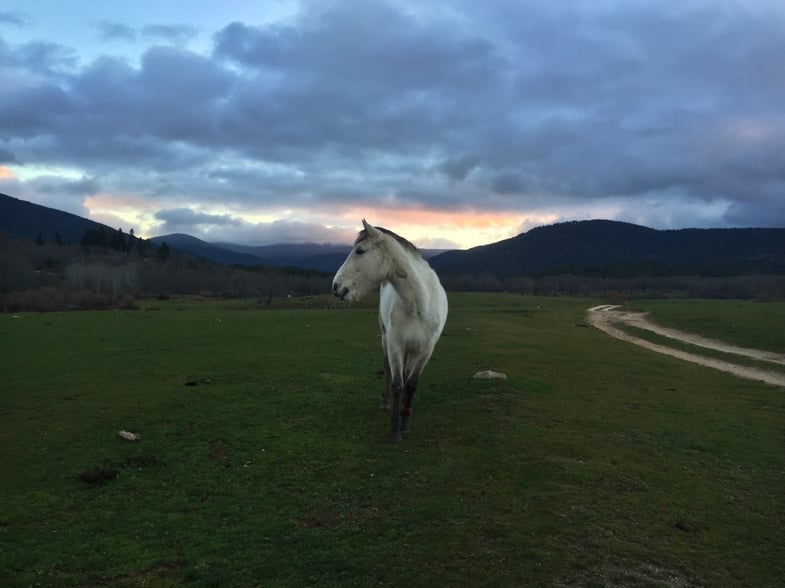 The Proctor en Segovia Winter 2016 group's first week in Spain is full of activity. Students start building relationships with their host families, discover natural spaces along the border of the city, participate in a diverse array of afternoon activities and begin their study of Spanish language, history and literature!
Enjoy poetry by AnnIe, reflections on modern art by Zack, and Grace's thoughts about cheese!
A Mile In My Shoes
Go out into this world not knowing a thing
and come back with not one thing
see:
where you go
how you do
what you do
and who you become.
you are innocent until proven guilty
you are fresh until bruised by the twists and turns of life
you are inexperienced until you take risks
and you are lost until found.

we take steps that add up to miles,
which lead to lifetimes
and each moment is a factor of this life we are fortunate to live.

there is this apartment,
down a side street alley
where the walls are thin
and the laughs are loud.

where they share the same words
as one would at home
but in a different "tone."

every time residents pass with an acknowledgement or purpose
like they have all had some of the same potion,
or maybe it's just the cigarette smoke
that emcompassas the paths
that give that notion.

we are meant to travel
to learn some things
but never meant to stay
because who's to know what the future holds,
day after day.

so here's to an adventure
and here's to traveling
here's to finding ourselves
in a greater way than just
what's on the bookshelves.
~ Annie Sedoric '16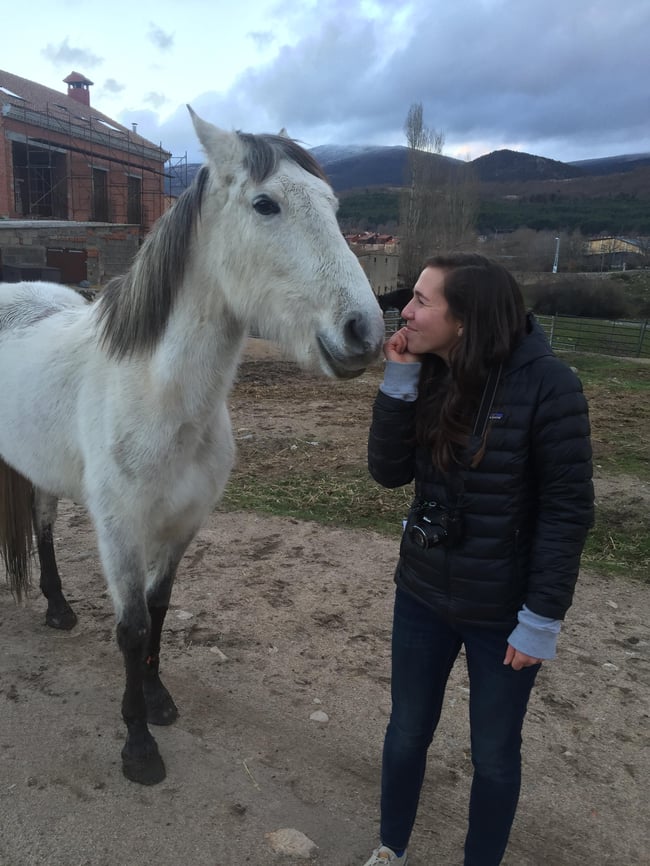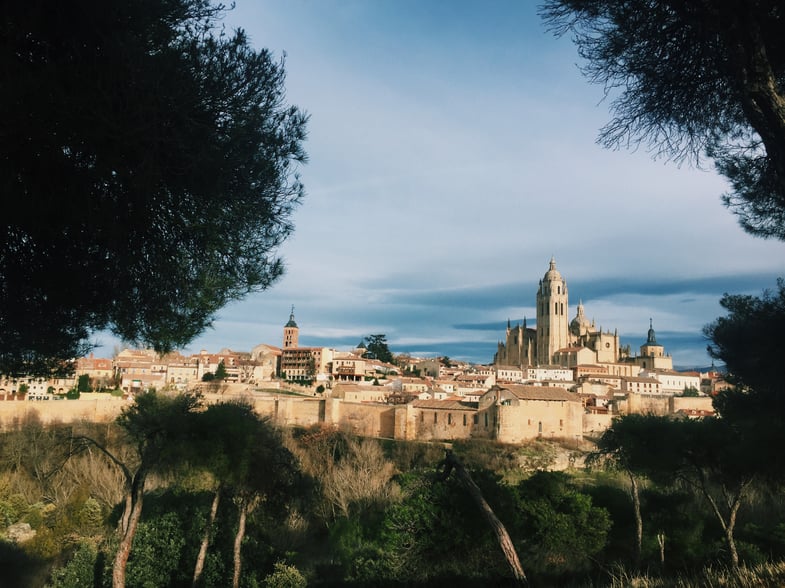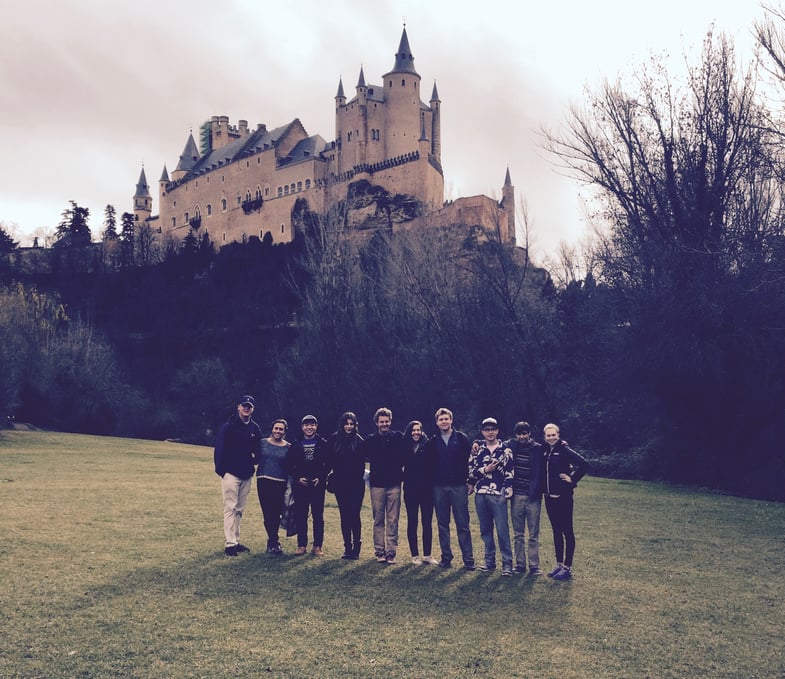 We arrived in Madrid, Spain on January 8th in the late morning, though we were all still convinced it was late at night. Arriving, I had no idea what to expect. I had of course googled images, but nothing or no one could give me a perspective of what it would really be like. The bus ride to the beautiful city of Segovia was one of anticipation. We grabbed our bags and crossed the street to the crowd of "Madres" who greeted us all with open arms. The first night consisted of sleeping, eating, unpacking, more sleeping, more eating in addition to trying to communicate using a language I know select words from. Once past the overwhelming moments of the first few days, we all seemed to find our routine. Some got lost, only to be found by the trusty Jesús (best metal teacher in the world), and some said some things in Spanish that in reality meant something far from what they intended.
We have walked miles and miles. It's hard to believe it has only been a week in Segovia. We have done a scavenger hunt around the city with the bowling alley being the destination, we have shopped in our school's front yard market and prepared a delicious meal in the classroom, we tasted café con leche at every café in sight and we have plenty more experiences to come.
After week one, I am even more excited for the seven more to come. We are going to explore Madrid, Barcelona, Catalonia's Girona Province and the Costa Brava, Málaga, Sevilla, Cádiz, and will finish up on the Costa de la Luz. With all those future adventures in sight I can reflect that this week has been a week of major adjustment. Adjusting to the late lunches and dinners, the narrow (one way or two way? I still don't know) paths of the city, and to the excessive usage of the words "sí" and "vale."
I have been at Proctor for four years and heard the phrase "experiential learning" maybe a few too many times, but it wasn't until this program that I was able to truly wrap my mind around what that means. It means waking up in a country, city and house that isn't yours, walking to class listening to a language that is unfamiliar, exploring unknown territory and learning knowledge that can not be confined in the textbooks that line school walls.
~ Annie Sedoric '16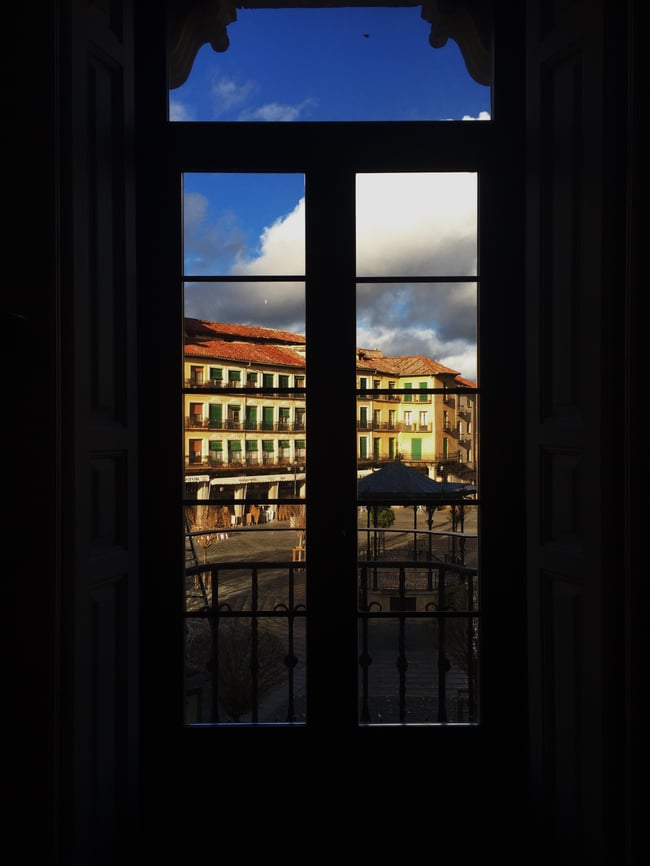 This first week in Spain has been a complete blur, it feels like I wake up everyday and it is suddenly over. Even after a few days it feels like we have trekked across so much of this country and yet we all seem to be falling into a normality of routines. Everyday I wake up, go to school, and go to bed (although quite a bit later than normal). Of course there is always the hardship of trying to communicate in a foreign language, especially considering how little Spanish I came in with. I'm sure the look of pure confusion on my face must be quite entertaining as my host family tries to explain something to me in Spanish. It seems like everyday though I pick up just a little bit more, just enough to get by for that day.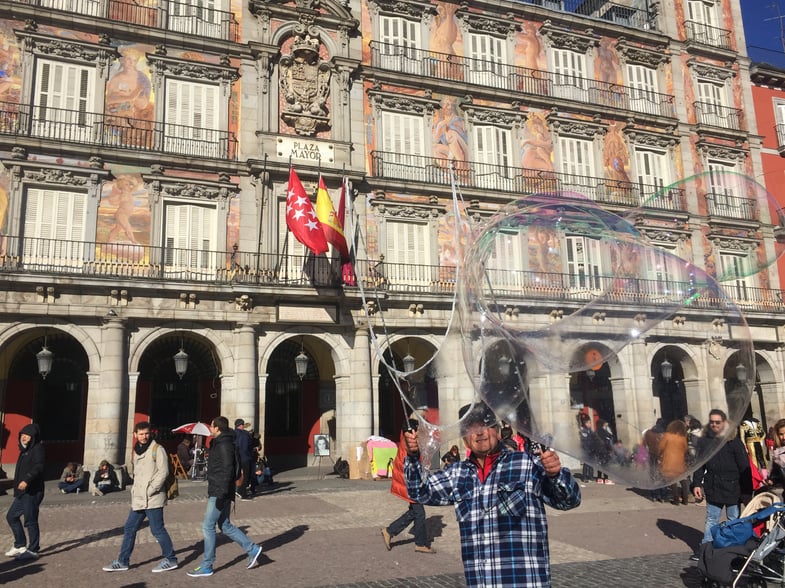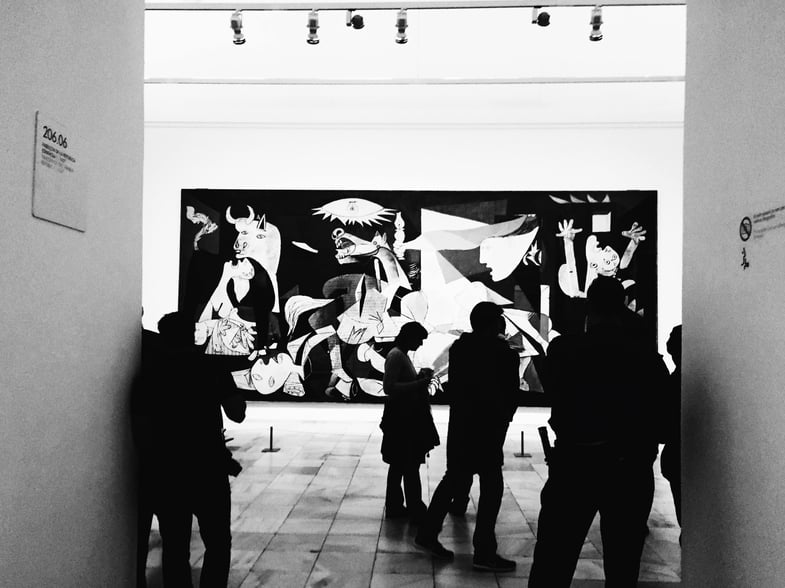 The most profound experience thus far was visiting the Museo Reina Sofia, in Madrid. This museum contains some of the most politically important and moving paintings I have ever seen in particular the mural-style painting "Guernica" by Pablo Picasso. This painting is one of the few I have ever seen to truly capture the horror of the human experience in such a vivid way. Somehow the abstraction of this painting is actually the most revealing part, as it can express the chaos Picasso intended in a way that realism cannot. In this way this painting truly captures what I believe was the artist's intention, to reveal to us the horrors of modern warfare.
~ Zack Doyle '16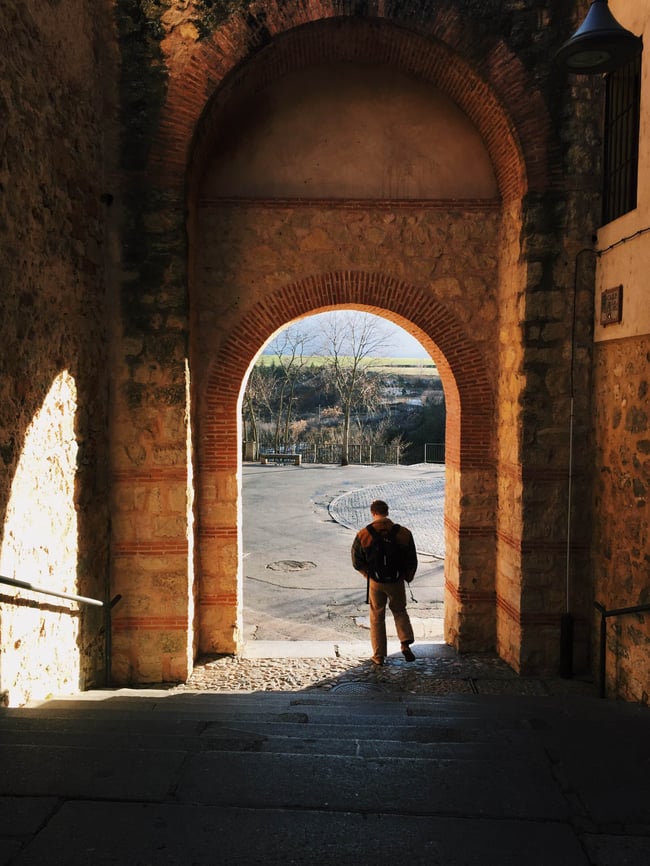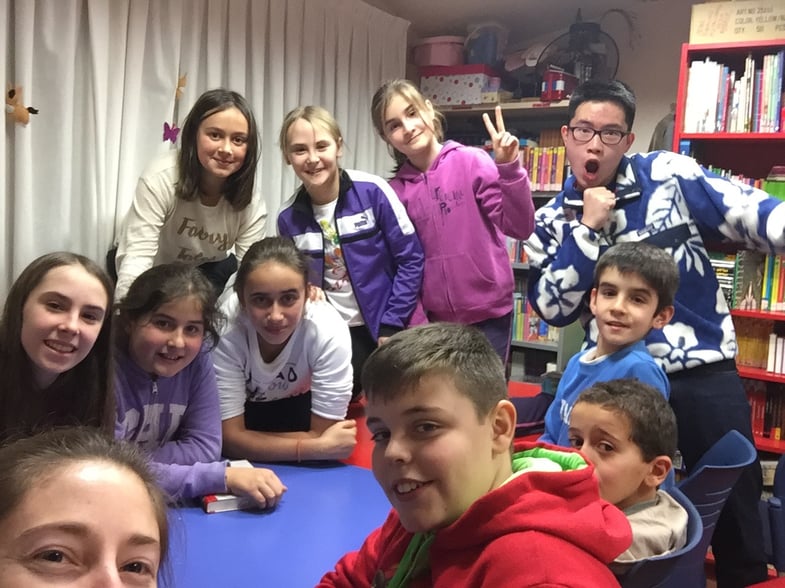 Coming into this trip I had my worries: do my host brothers practice the drums and trombone at home? Will I miss my flight? Will I get along with everyone? Will I get lost? The answers are: no, almost, yes, and YES (getting lost wasn't fun, but I found Jesús, our metal arts teacher, and it all worked out).

My two favorite moments so far have included cheese. One was when the owner of an Italian restaurant full out sang opera style a song from The Godfather while grating black truffles and parmesan cheese on my pasta. Another was when I bought a large block of manchego from the cheese man and have been eating it every day after history class and before Spanish class.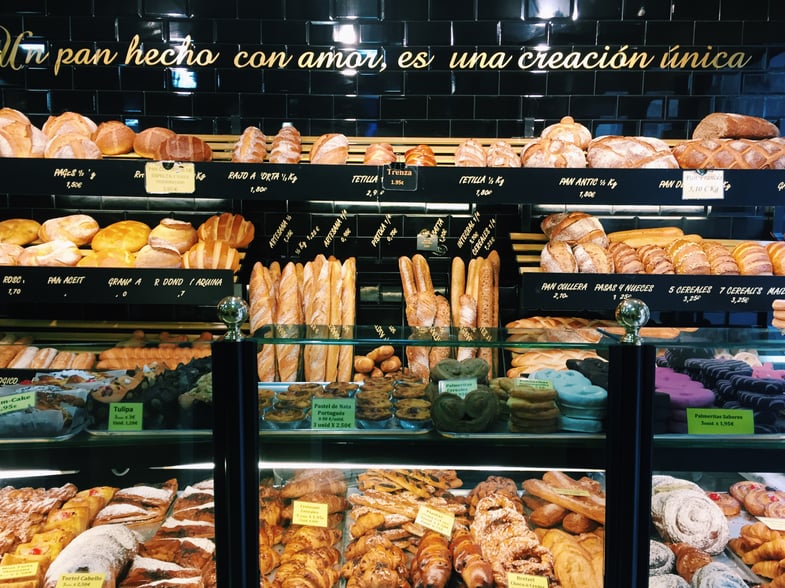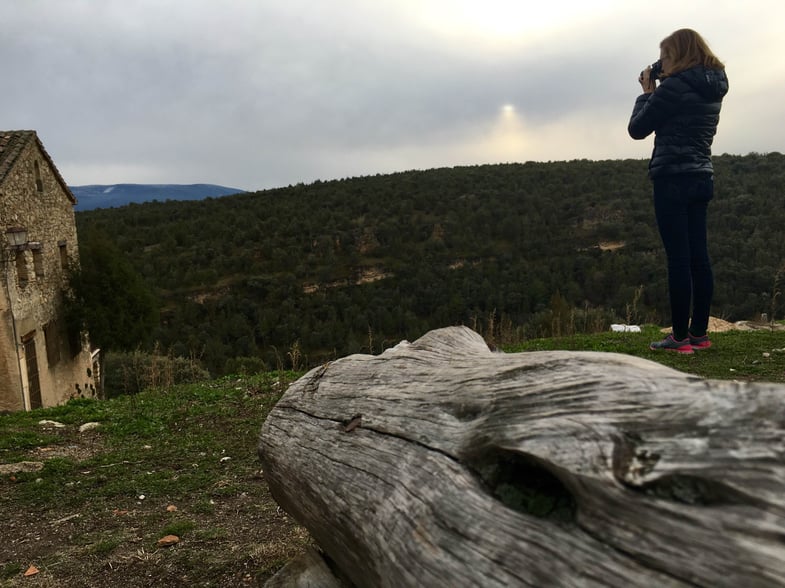 Though it has only been a week, it has felt like so much longer, but in a good way. I thought the adjusting would take much longer, but it really only took a few days. I've already learned to bond with my little brothers, to actually look at the flight numbers, to make connections with members of the group, and, best of all, I haven't gotten lost again (yet).

On a more serious note, I am realizing how unique this experience is. Being at Proctor, it feels like everyone goes off campus so it isn't a big deal or special. I was completely wrong. Every day I am experiencing things I never could in a classroom, things that I will carry with me for life. I guess that's why Proctor is all about experiential learning.
~ Grace Migliozzi '16