Ciaran '22 reflects on the Proctor en Segovia group's final long excursion of the term, to Sevilla and Córdoba and the southern region of Andalucía. Coursework in Proctor's off-campus programs employs place-based learning, and students explore connections between course material and experienced history, culture and, of course, language. In the case of Proctor en Segovia, this learning occurs in the home base of Segovia (Castilla y León) but also in several of Spain's distinct regions when students travel on excursions.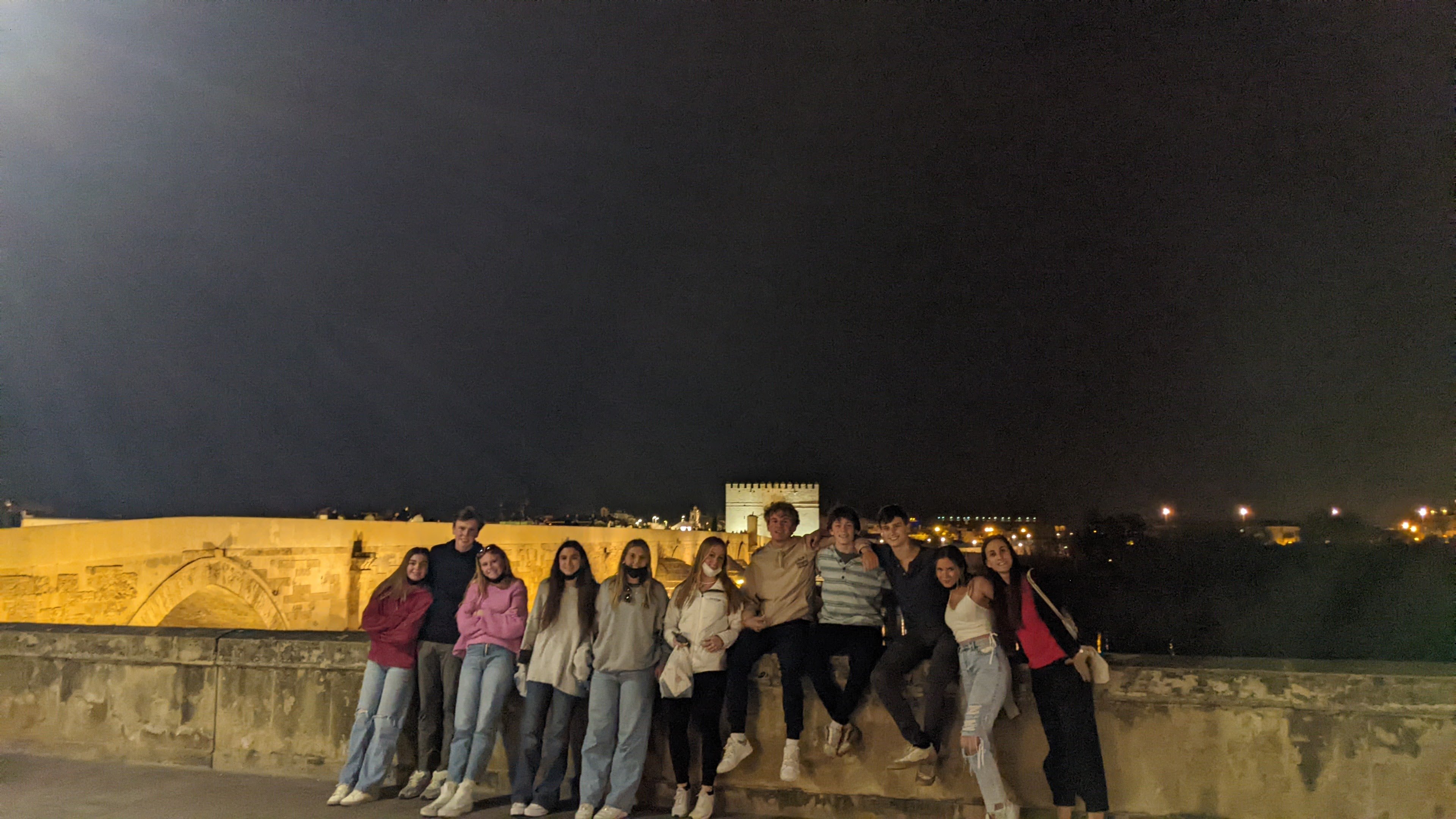 Excursion to Sevilla and Córdoba | Ciaran '22
I never expected myself to be walking through one-thousand-year old arches that felt like they went on forever. I also didn't think I would see a Cathedral built inside a mosque. Exploring the Mezquita in Córdoba was unlike anything else; one moment I felt like seeing any other European tourist sight, and the next moment I felt like I was in the Middle East. I'm grateful that I had the opportunity to experience the beautiful architecture and history of Andalucía through visiting places like the Mezquita in Córdoba and the Alcázar of Sevilla because it is completely different from what most people expect. Visiting Andalucía gave me a whole new perspective on how I view Spain, and it was fascinating to see how much the Muslims influenced the Iberian Peninsula throughout history.
Sevilla was picked as one of two cities we got to visit in Andalucía, and it was by far one of my favorite cities in all of Spain. We arrived early on a perfect, sunny February day and headed straight to the Alcázar of Sevilla as our main activity. I didn't know much about the Alcazar before we went but it didn't matter because regardless of what I might have expected, my expectations would have been completely eclipsed by the 11th-century fortress. Seeing the precision and detail in the geometric designs mesmerized me and the patterns could have gone on forever. Wandering from room to room, we were intrigued that each one seemed different from the previous. The gardens were no exception; they were never-ending and alluring at each turn. It was the first of many times in Andalucía where we saw orange trees were growing in every possible patch of dirt. Vincent even noticed "the most perfect orange ever." The beautiful gardens of the Alcazar paired with a truly remarkable day of sun left us wanting to stay forever. We were only drawn out by the tantalizing adventures that awaited us in the rest of Sevilla.

The most perfect orange ever? You decide. (Photo credit: Ciaran '22).

Posing in the gardens of the Alcázar de Sevilla.

A bird's-eye view of the Alcázar gardens (Sevilla).
Our next city was Córdoba. We were all dealing with some mild head colds but it couldn't damper our excitement because of previous students describing the city as the best place we visit in Spain. Those comments, paired with what we had learned in history class about Córdoba and specifically the Mezquita, I knew I was in for an enthralling and memorable day. When we headed into the Mezquita, I was instantly galvanized by the hundreds of arches that were perfectly illuminated by the late morning sun pouring in through the stained glass windows.
I needed time to just walk around on my own and take in the eccentric architecture that I couldn't believe was in Spain. The crossover of the Cathedral to Mosque was a powerful sight and one that truly illustrated Spain's culture and history. The differences in lighting between the two stood out to me. The Cathedral was basking in the glory of the sunlight as bright light poured through big windows that lined the dome. The Mosque was stuck in the dimly lit shadows on the outside of the Cathedral, and the little light that it was receiving came from the Cathedral itself. The Mezquita was a perfect visual of Spain's history and how it still affects the country today. Before visiting Andalucía, I couldn't visualize the 'Muslim influence' that I kept hearing about. After the Mezquita, I realized that Spain has a far different culture than what is seen on the surface as an American. Without traveling throughout Andalucía, I wouldn't have been able to fully understand that.
The Mezquita was a clear highlight of Córdoba for me, but as I've learned from traveling to a variety of Spanish cities, seeing the historical holy sights is only a fraction of experiencing a city. We pushed through our colds and headed to our highly anticipated cooking class where we made some local Córdoban dishes as well as paella. We had eaten mazamorra soup in a restaurant the previous night so getting to see how this uncanny cold almond soup is made was interesting. It was unlike anything I had ever cooked before in America. It only used stale bread, olive oil, and almond powder as ingredients but, like always, the end result was made more enjoyable with the knowledge that we made the dish. There was no doubt in the group that it was "muy rico." Our lunch was finished off with some seafood paella that took much longer than any of us would have expected. Our cooking teacher José passed the time by teaching us yet another layer of Spanish culture, telling us stories of family-style paella dinners. José left us with a great impression of Andalucían food and the experience reminded me that there is always another Spanish tradition that I never expected.
No matter how much time we spend learning about a region in Spain before we visit it, I will always be shocked by the never-ending traditions and history we see that are unique to that part of Spain. It felt like we could have spent weeks traveling throughout Andalucía and we would never be bored. From the architecture to the food, Andalucía was full of so many unexpected adventures and I truly believe that it is an essential part of Spain to see when visiting.

Soaking up that brilliant Andalucían sunshine.

Another casa rural (rented house in the countryside), another barbacoa!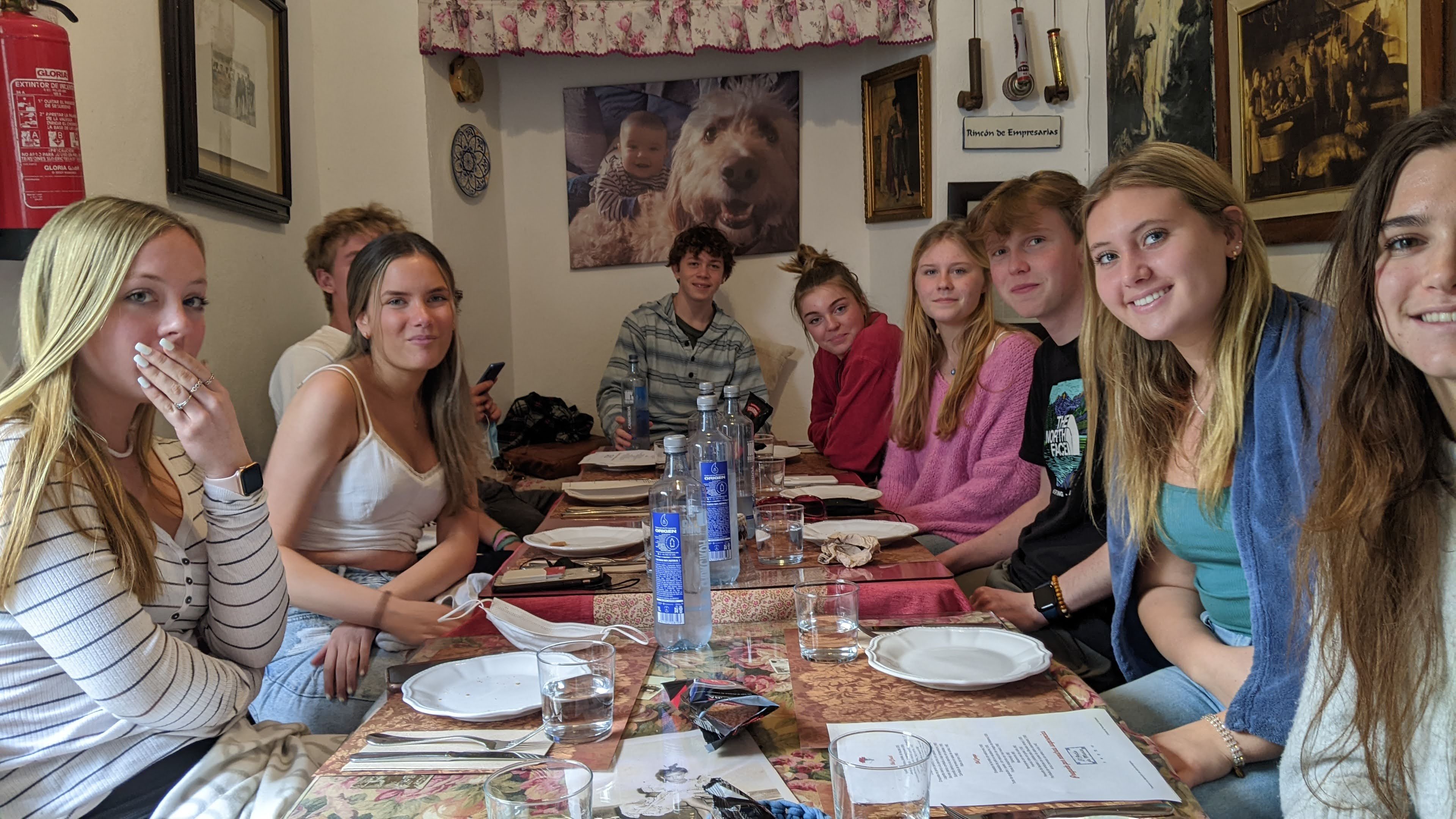 ¡Buen provecho!