My concerns with the host family in Spain vanished as soon as I stepped into the house. The house is not big, and, to some extent, kind of compact. Yet, it is Olga, Cesar and Jimena that make it super cute, adorable, and most importantly, a family in a completely different region and culture. Whether it is Jimena jumping around, "cheating" in our chess games, posing for pictures and "pestering" for more chocolate, whether it is Cesar playing music, cooking the best fish dish that I have ever eaten and preparing a large tortilla de patata bocadillo to share with my friends, whether it is Olga chattering about my everyday experiences, waking me up from my daily siestas ("Nick, Nick, wake up"), "censuring" me for the untidiness in my room and always asking me to eat more food, I feel like that here in Segovia, I have found my other, long-lost family. For the first time in my life, I get to know the feeling of having a sibling in my life, to care for someone unconditionally. She seems to bring me happiness; her laughter, her dance, and her gibberish have the power to bring a wisp of sunshine through the gloomy sky. For the first time in my life, I get to have two families located in different areas who love and care for me equally.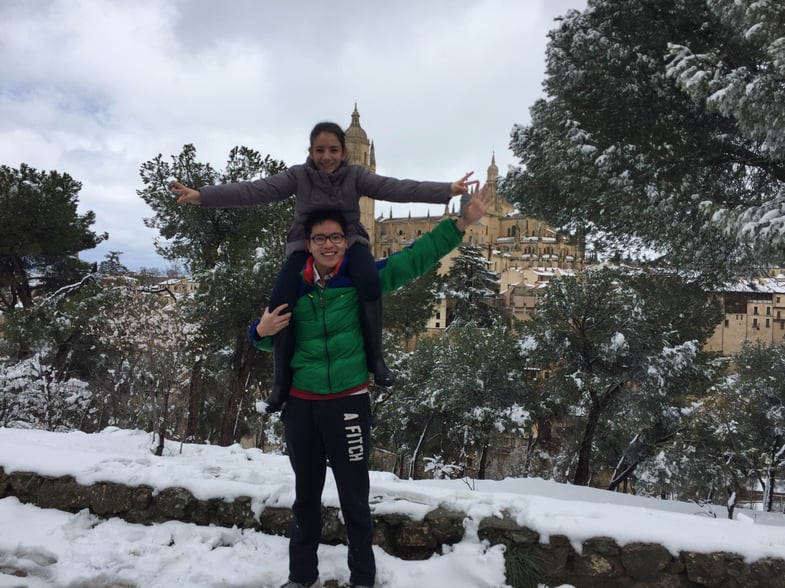 On the first night, Olga said, "Mi casa es tu casa." And, now, I want to shout out proudly, "Aqui es mi casa - una casa llena de amor y chocolate."

- Nick Zhou

Nick with his host family (Cesar, Jimena, and Olga).
hubspot-new-embed
Su Casa Es Mi Casa

There is a common proverb, "The home is where the heart is," and in my adolescent years my mom always told me, "The kitchen is the heart of the home." Even before knowing a sliver of Spanish I knew the saying, "Mi casa es su casa," quite clearly because of its usage in America as well. There is no better family than my host family to represent these ideals, as well as the all-encompassing feeling of "homey," and I have been fortunate enough to call them mine for these past 7 weeks.
Their apartment sits on the second floor in one of the many apartment complexes available in the beautiful streets lining the authentic city of Segovia. To unlock the door I have to turn twice to the right then once to the left, and, when the door swings open, I am welcomed into a small hallway that carries the aroma of freshly cooked food coming from the kitchen several steps away. The lock into this home is a complicated one, because not just anyone is lucky enough to enter into the essence of "homey."
After adjusting to the fact that my family eats eggs for dinner and has yogurt after an hour-long lunch instead of as a quick snack before class, I discovered that food in Spain is much more than just food; it is honorable. Cristina puts in hours on end to make elaborate meals everyday for her four (five if including me) family members, not only to fill their bellies to the brim, but also to leave them with a smile stretching from cheek to cheek.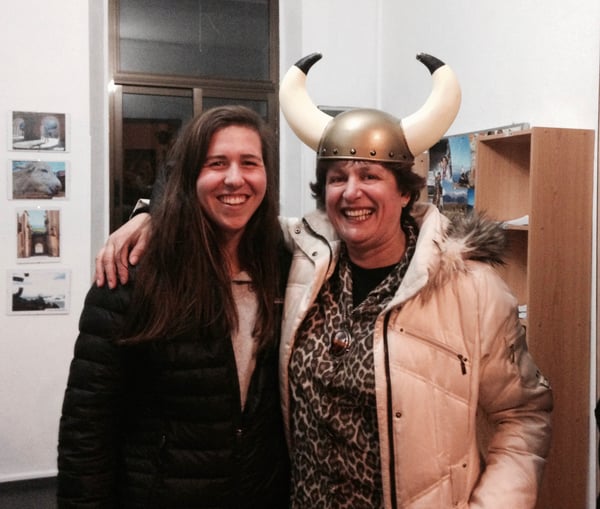 Annie and host mom, Cristina.
During three meals a day, almost everyday, I have been able to pick up the Spanish lingo quite quickly; that is because I wanted to be fed. I expected that the most learning here would take place in the classroom; little did I know the greatest learning opportunities are provided with food always within a few feet. The 5 yogurts consumed a day contain more than a tasty treat, the lids each reveal a letter with an image of a word starting with that particular letter. These words and letters broadened my vocabulary instantly, while bringing several laughs to the pull-out table.

Annie, Isabel and Marina
Within the first few meals with my new family I was assigned a job. My job was to tell little Ferdandito to eat. "Come, come, come," I playfully said erratically throughout meals, while the rest of the family reciprocated the same words towards me in between bites and giggles. Laughter is something that is not lacking in this small walled, but big hearted home. You crack jokes, you throw bread, and you pat each other on the head, each action adding to the familial effect.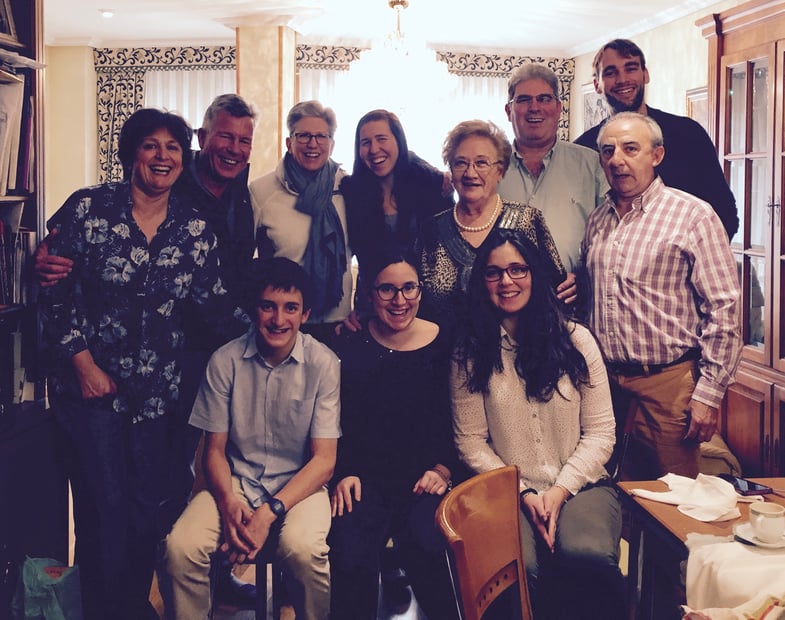 Annie's extended host family meets her mother and father on their visit to Spain and Segovia!
Each member brings something different to the table, physically and figuratively. Cristina is the master chef, and, similarly, seems to be the master of almost everything, maybe even the entire town. She has helped to teach me the definition of "homey" with her contagious smile and endless energy. Fernando's large personality fits him well. He hasn't taught me much relevant information yet, but he never disappoints with his boundless YouTube videos. He finds it necessary to remind me at most dinners that he does in fact have a six-pack, that is if he leans against a lined fence. Marina is definitely a mom in training, and she is succeeding to say the least. She is the perfect mixture of caring and silly, and she always takes it upon herself to make me a pro Spanish speaker. Isabel's facial expressions could fill a novel. She is engaging and beyond nice but with an edge of sarcasm and liveliness that keeps all meals entertaining. We share the same love for bread, so I don't have to feel strange when I ask, "Más pan por favor," more than once. Fernandito is a little more quiet, but when he does talk, it never fails to bring out a chuckle, even when I'm mid slurp of a delicious pork and potato soup.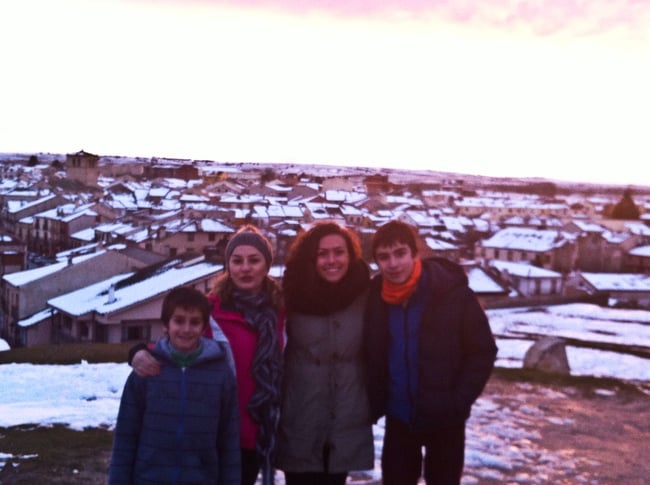 Grace with her host siblings, Alejandro and Rubén, and host mom Conchi.
The meals have been filled with more than delicious food, they have been filled with life stories, each story creating a better understanding between my temporary family and me. My home sits on the second floor in one of the many apartment complexes available in the beautiful streets lining the authentic city of Segovia. I have learned to unravel the complicated lock as I have become more accustomed to my two-month life. From Cristina attempting to speak English and lightheartedly fighting with Isabel for last pieces of tortilla with onion, to Fernandito sporting the jersey I got him and big Fernando saying he is on a diet but then eating more than I could eat in a year, every meal I am left full past my limit but with something more than food. I am filled with a feeling of home.
~ Annie Sedoric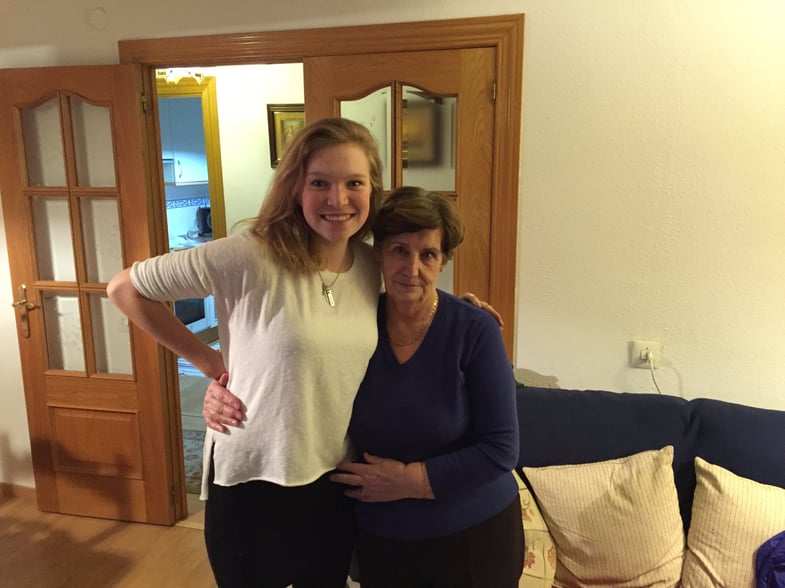 Kali with host mother Juana!

Con los vecinos, Our neighbors in the Plaza Mayor, part of the Proctor en Segovia extended family!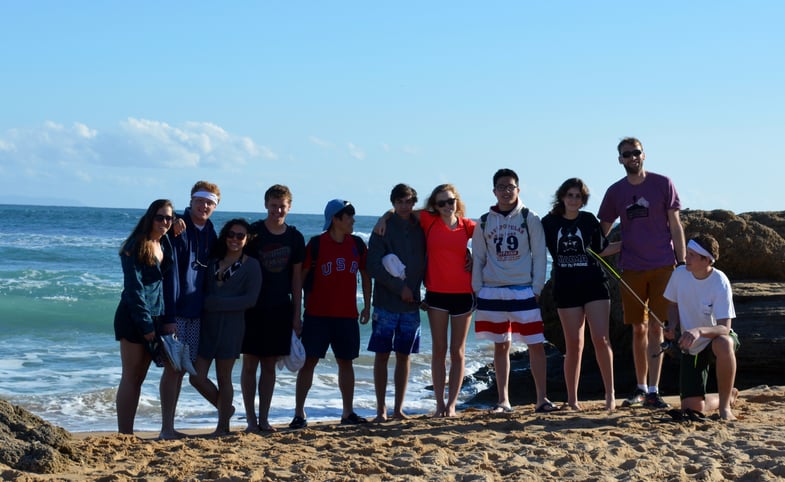 Un saludo from the Proctor en Segovia Winter 2016 family!