Students trekked, climbed, hiked, wandered, skipped, leaped, walked, and ran (yes, many of them RAN most of the way) nearly 50 miles across Galicia on el Camino de Santiago. First, enjoy Jaz's "portrait" of one backpacker on the Camino de Santiago. Tales from our "pilgrimage" by Will and Jaz follow.
The man just outside of Cee with the orange backpack is a journey man, traveling with no one else, and no camera. He wants only the experience from his travels, not some sort of photo evidence to post on his Facebook page after he is done. He is humble, but not tired, adventurous, and not scared of where those adventures might take him. He does not think about how many hours it might take him to go so many miles but rather how much he will learn about himself and the world around him in those hours and those miles. He is patient, willing to break his peace and solitude to help four American teenagers with broken Spanish, and just chat about life on the Camino, where it has taken him. Physically and mentally. He would not be a patient man without his curiosity. He is curious to learn, not only about the experiences of other travellers, but about what is possible to take away from his own experience. What exactly that is I cannot say. Maybe he wants to re-focus on what is important to him, or maybe he just needed to get away, then go back to whatever life he had, energized and empowered. Or maybe he can't find a life, or lost one, and the Camino is his way of deciding where he wants to take himself in however many years he has left. No matter who the man with the orange backpack is, he is, like so many others, on the Camino, an explorer of our world, and his world, inside his mind.
~ Jaz Salem
Mobs of people waited to enter the Cathedral, as security went through each and everyones' bags. Inside hundreds of people sat on the benches praying. Every seat was taken, and those who couldn't find an empty one sat on the ground. Everyone's eyes were in a gaze as we all looked upon the world's biggest incense burner hanging by a rope in the middle of the cathedral. Holding the rope was a group of priests who began to pull it, which sent the incense burner flying from one side of the church to the other. After a few pulls, and finally making its way over to us, the smell of sweet fruit and spices rushed into our noses. Soon after the priests let go and let the incense burner sway back and forth on its own. After some time, the burner came to a complete stop in the middle of the cathedral, while the incense continued to burn.
~ Will Slattery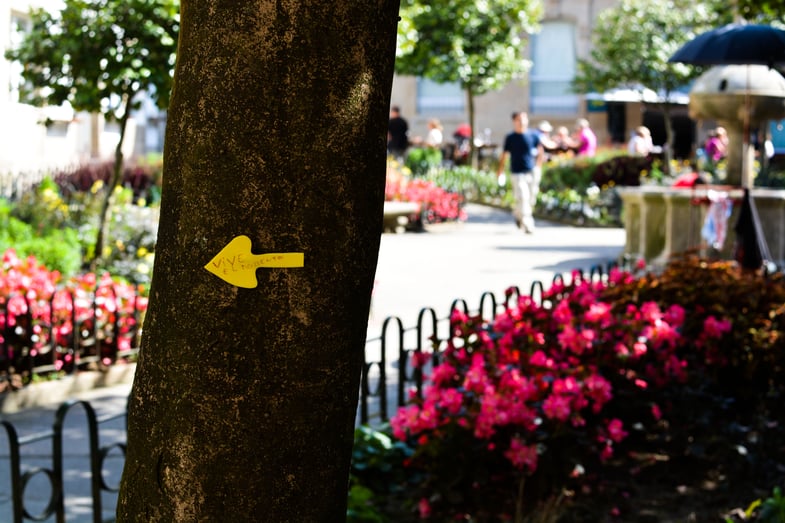 "Vive el momento" "Live in the moment"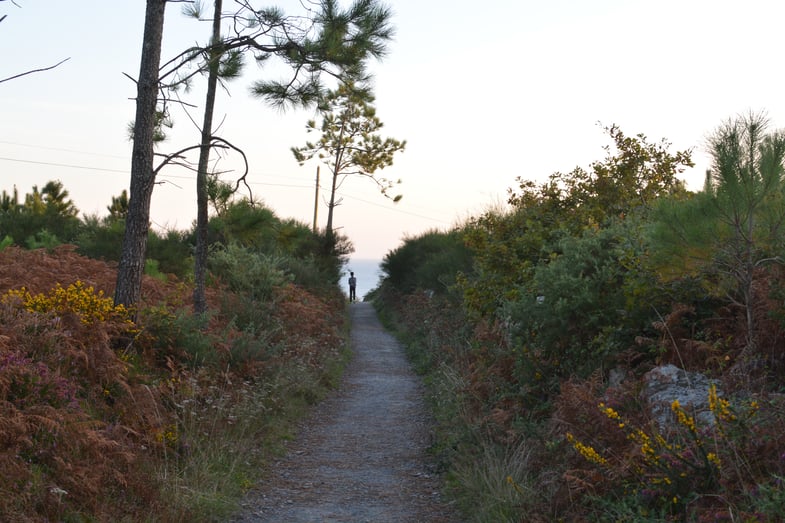 Reminiscent of the short story "Watching the Rain In Galicia" by Gabriel García Márquez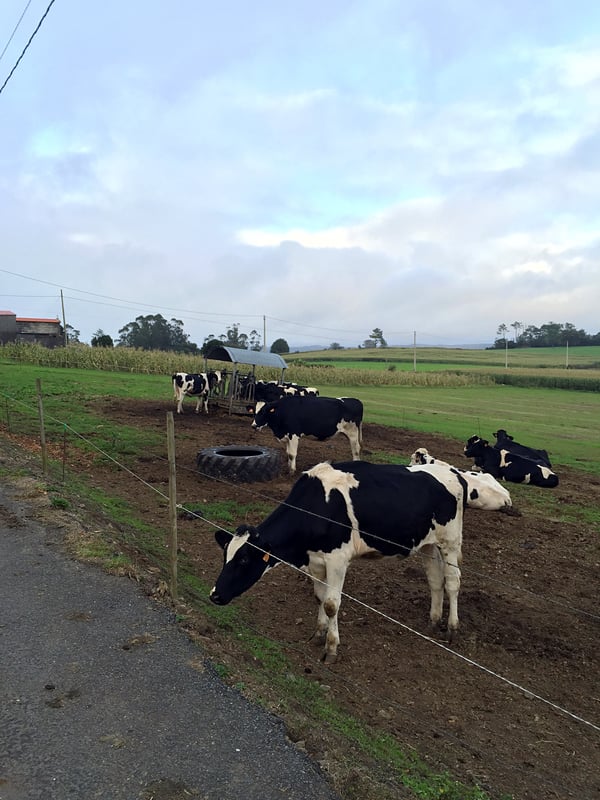 Throughout the Camino, various livestock could be seen and smelled. Despite their odor, the cows pictured here seemed very friendly, and they definitely did not want to harm anybody's noses. Photo credit: Vincent Luo
While following the path of the Camino we were led into a small farming town. The town only consisted of 4 quaint farming houses with fields of corn all around them. The corn was in perfectly straight lines and seemed as if it went on forever. In front of one patch was a pen of cows. As we observed the cows eating and walking around the pen, two of them became exceptionally curious as to who we were. With only a small piece of barbed wire separating us from the cows, two walked cautiously closer to the wire, in order to get a closer look. With very subtle movements Gray, Luke, and I moved closer to the cows in order to see if we could touch them. After waiting a while, one of the two cows suddenly lifted his head up and allowed us to pet him.
~ Will Slattery

Making new friends along The Way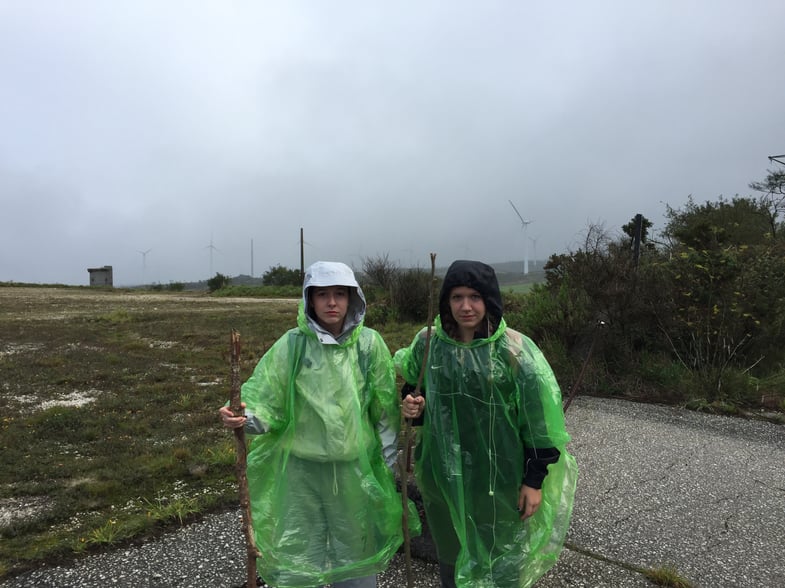 On our second day of the Camino, two of our hikers were not such happy campers as it had begun to rain. Luckily their ponchos kept them pretty dry and they survived without too much complaint.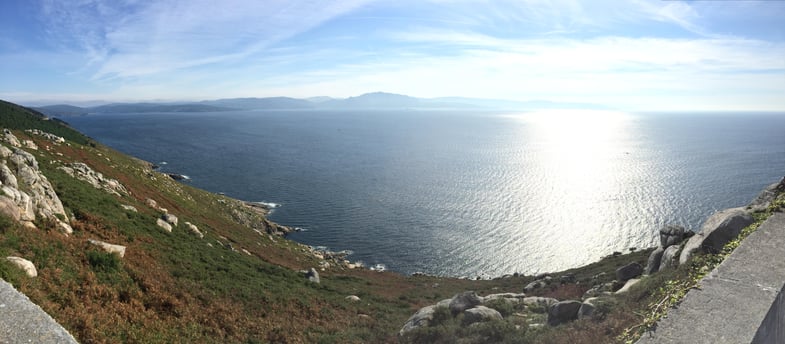 Photo credit: Will Slattery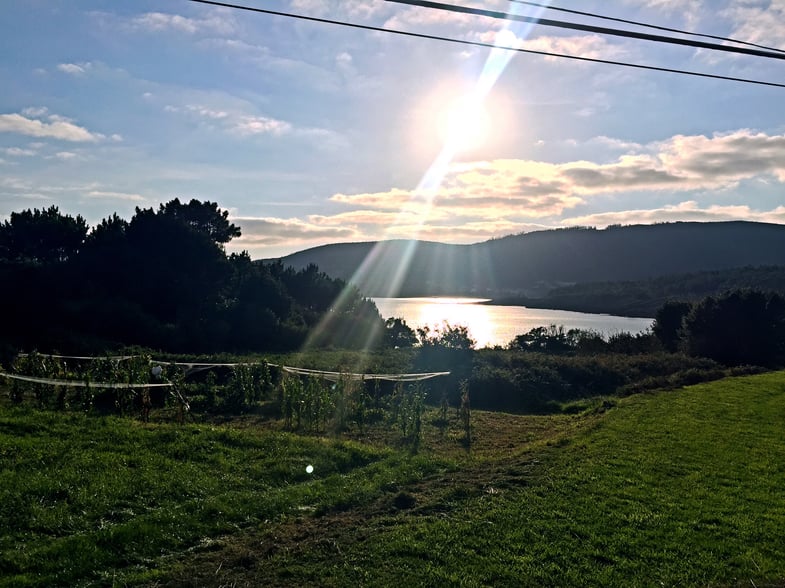 A stunning shot taken during the final stretch of the hike to Fisterra, on our second day. There were countless pretty views to be had after the skies cleared up and the sun came out. Photo credit: Vincent Luo
Having the ability to drive to the lighthouse in Finisterre before beginning our final day's hike was certainly a positive. As we got out of the car and walked along the jagged edges of rocks we saw the pale yellow light house. Ahead of the light house was a cliff which was met by the rough waves of the ocean slamming against the rocks beneath. Before the cliff was a statue of a cross. This statue was covered in writing as well as memorabilia from pilgrims' hikes. The writing consisted of mostly names and dates, signifying the date of which their journey ended and their names to provide evidence that it was truly them. For many Pilgrims this is the end of their voyage, but not for us. With the cool ocean breeze blowing against our faces, and the view of the lighthouse, we all gathered back into the car to head to the starting point of our final day's hike.
~ Will Slattery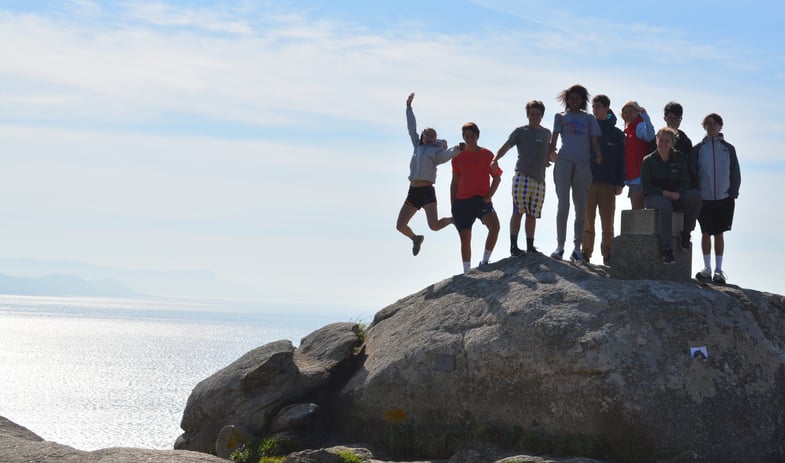 Fisterra (Finisterre)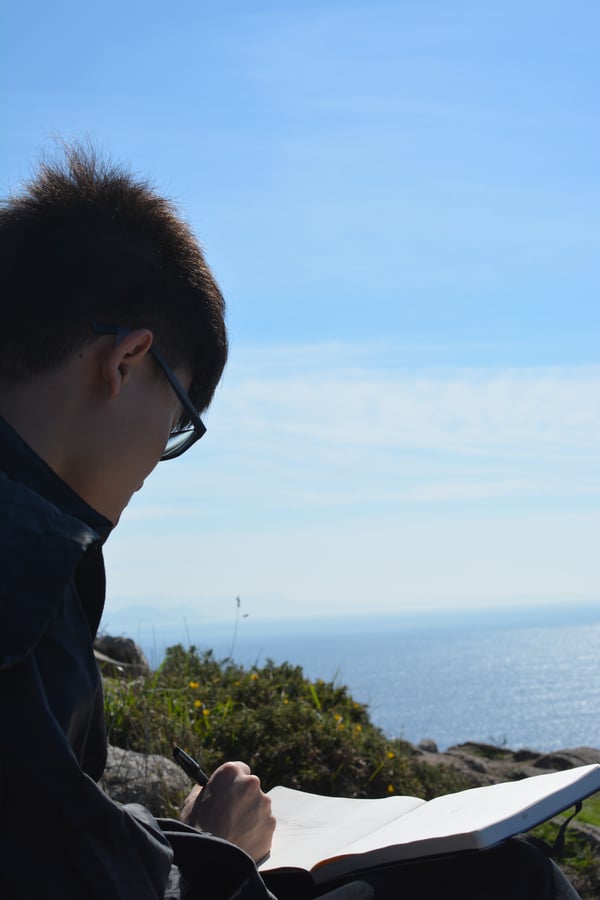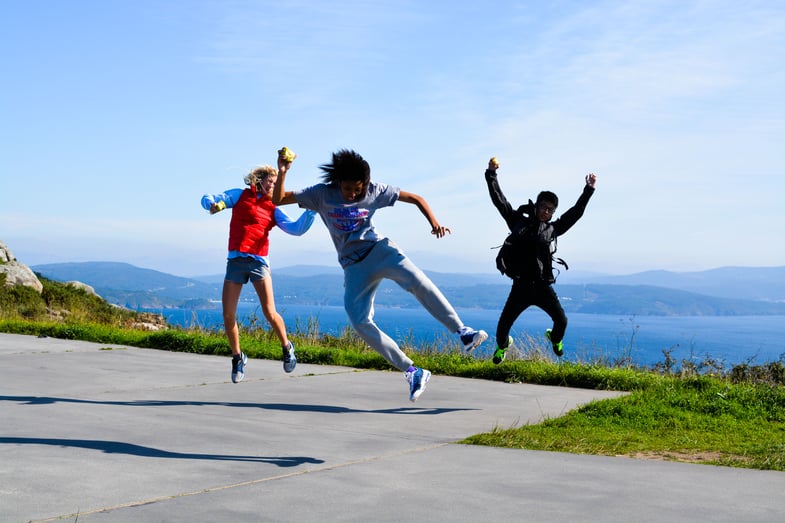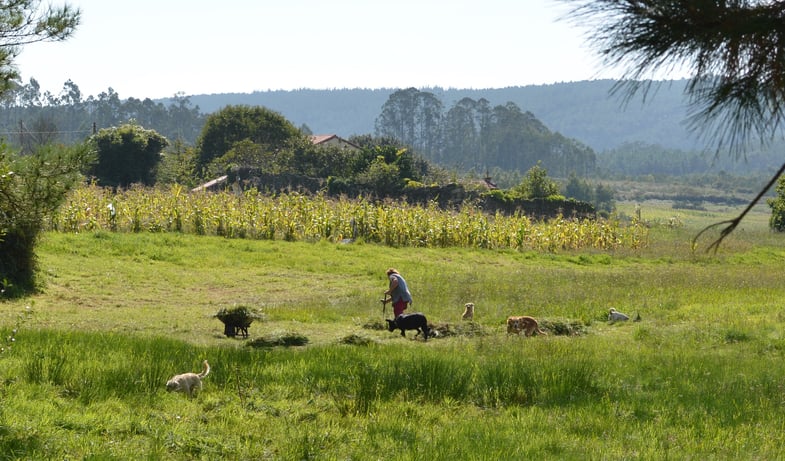 Final day's hike from Fisterra to Muxía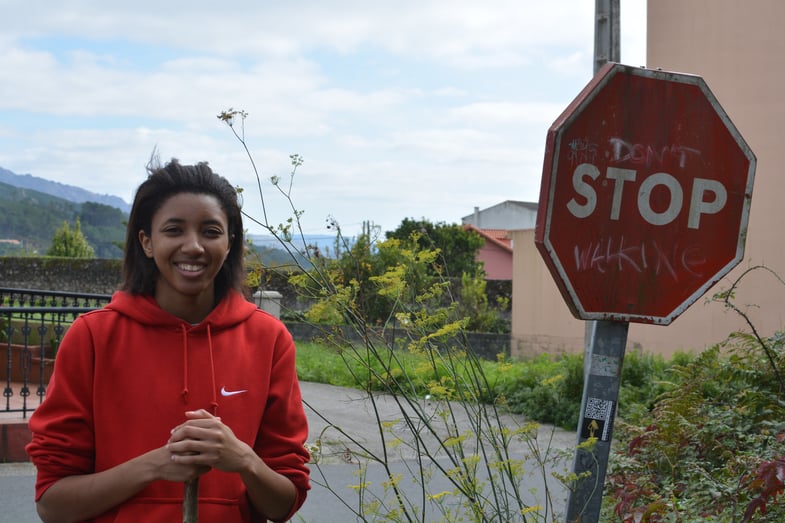 I let out a huge sigh of relief as I walked on the highway to enter the town of Muxía, our final destination of the hike. As I continued walking on the side of the highway with cars racing by, suddenly a beach appeared. After 3 days of walking/running over 40 miles it looked like paradise. With my legs and knees aching with every step, I scaled down the side of the mountain until I reached the beach. As I walked along the beach it looked as if it was out of a Corona commercial. Warm sand coated my feet with each step and a sense of relaxation spread throughout my body like a wildfire. After 3 days of nonstop hiking I was finally able to rest. I immediately laid down and fell into a deep sleep while listening to the crashing of waves against the sand.
~ Will Slattery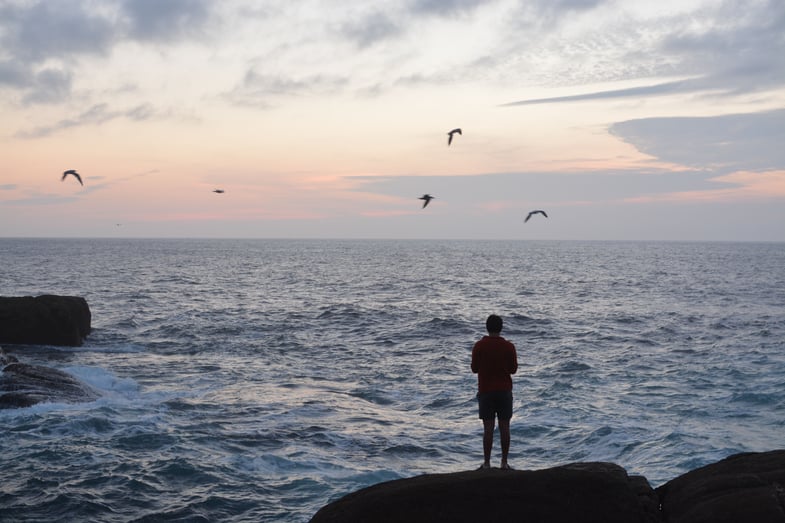 El Santuario de la Virgen de la Barca, Muxía Photo credit: Vincent Luo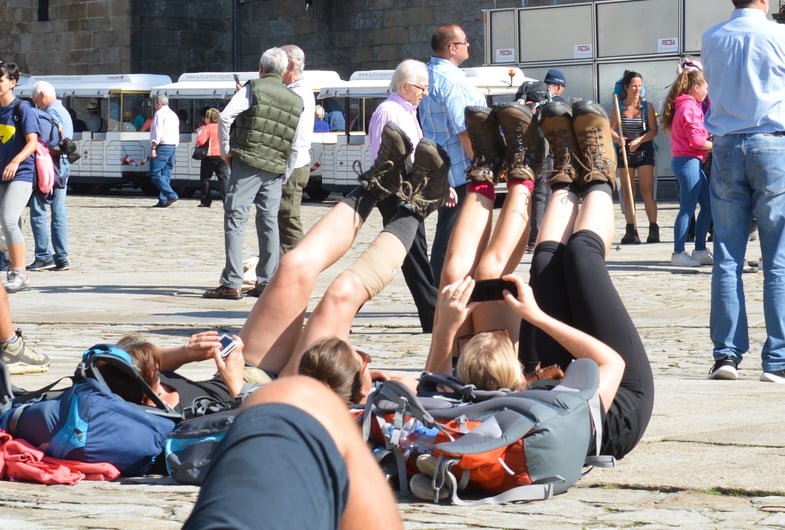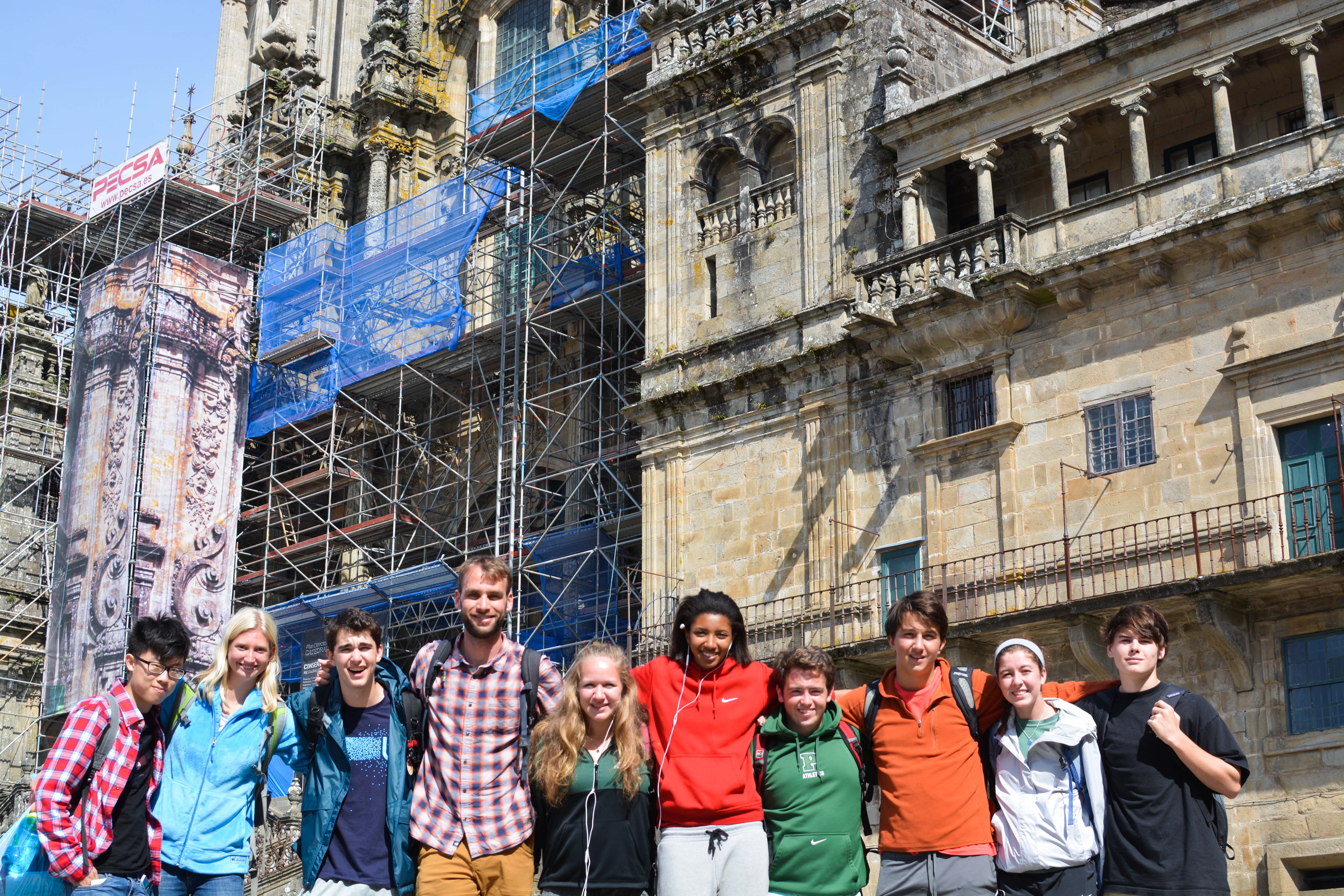 Back in Santiago de Compostela in front of the Catedral before taking the train back to Segovia. ¡Hasta la próxima!