Proctor's five term-long off-campus programs provide unparalleled experiential learning opportunities as students travel the globe, immerse themselves in different cultures, and learn more about themselves than they ever thought they would. For five of our sophomores, the decision to study abroad at the Cloud Forest School in Monteverde, Costa Rica has transformed their high school experience. Read mid-term updates from the Cloud Forest and try not to be jealous of their experience!
Jane '20:
My house in Monteverde is about a fifteen-minute walk from Santa Elena. At least, fifteen minutes to the start of my driveway. Once I walk along the windy mountainous road, I arrive at a delicious bakery. From here, I turn into the road leading to my house. Once I start on this hill, I have the pleasure of its company for another ten minutes. The only way I can think to describe this road is something straight out of the Secret Garden, but on Mount Everest. Although the hill is intense, once I arrive at my house, I realize it was worth the shortness of breath. Overlooking the ocean and countless mountains, my host family's house sits perched in a clearing, surrounded by thick woods. My favorite part about living so high up is the sunsets. Every night I get to watch as the magnificent Costa Rica sky changes colors as it says goodnight to the sun.
In my home stay in Monteverde, I have two little brothers, a mom, a dad, and a 20-year-old cousin. My two little brothers are 4 and 5 years old. In my own family at home, I am the youngest of seven children, so having two younger siblings is definitely a new experience. I don't have to take care of them, but we do play a lot of Spanish games that I am not quite sure I understand. It is nice always having two adorable smiling faces in the house wanting to spend time with you.
Monday through Friday, I wake up at 6:30, get dressed, and at 7:00, I go into the kitchen where my breakfast and coffee are waiting. At 7:20, my two brothers, dad, and I get into the car and drive down to the aforementioned bakery, also known as our bus stop. Then, we all get on the bus and go to school. La Creativa, as the locals call it, is, in simple terms, very fun. First of all, compared to Proctor, it doesn't have as much academic work, and the classes are less strict. This creates an extremely relaxing environment, which leads to less stress and more enjoyable time spent in school. Overlooking the ocean and even more mountains, the school is gorgeous.
Sasha '20:
It has been a roller coaster since I have been in Costa Rica. When I first got here, I'm not gonna lie, I was terrified that I found myself in another country with a family I couldn't understand and no WiFi (for a teenager this meant I was freaking out). It took about three weeks to actually get settled and to start to become comfortable with the language barrier and being away from home. As I started to get more comfortable, I made some Costa Rican friends I know I will have for a lifetime. After school we have sports, and personally every night I try to watch the sunset. On the weekends we have excursions off to different parts of Costa. We just came back from Playa Hermosa where we "tanned" went to a ranch and ate great food. I have learned so much and continue to learn each day. I'm definitely going to miss it here, but for now, I'm enjoying every minute.
Avery '20:
Thus far, I have absolutely loved the off campus Proctor in Costa Rica program. My host family is amazing and has helped my Spanish improve so much. Weekends are great because you do a trip with the Proctor kids and a few kids from school, and then we hang out with our Costa Rican friends the rest of the night. Being in 70 degree weather vs the snow and ice of New Hampshire is an additional bonus.
The beach trip to Playa Hermosa was so much fun. The school selected a great group of kids to join our Proctor group. We started with a crazy safari tour and I have never been so excited to meet a giraffe. We ended the day with swimming and dinner on the beach. The next day entailed a two hour bus ride to a mud spa/hot spring/waterfall/waterslide through a forest. This was great too as we enjoyed more swimming and water volleyball at the stunning beach with 90 degree weather and breathtaking sunsets.
Faolan '20:
Costa Rica has been great so far. My host family is really nice and welcoming. I have a Host mom, dad, and sister. The house is nice and homey with its three bedrooms, kitchen, and living room. Nothing really unexpected, just a normal house. They have a cat, Lucy and its very nice to have a pet around.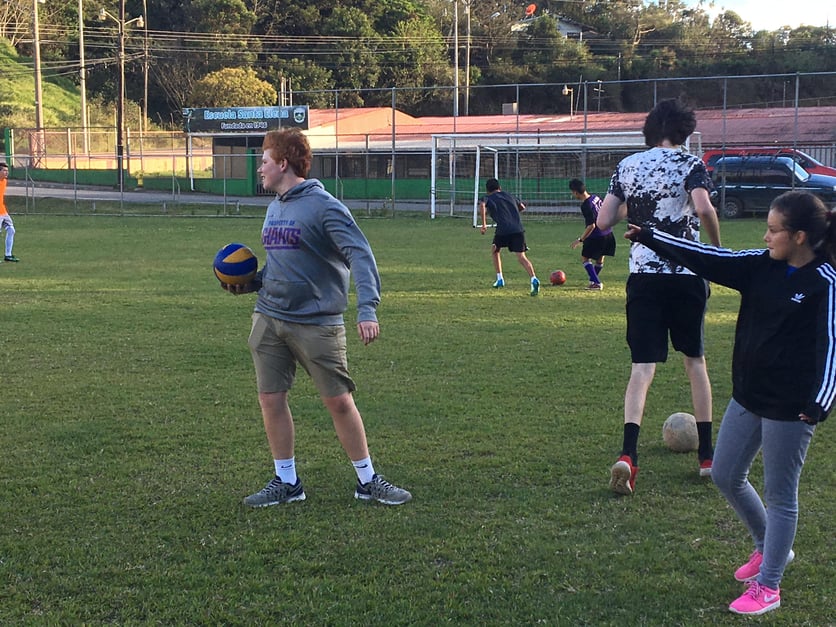 Hitch '20:
My Homestay family has been one of the best aspects of Costa Rica. I have a younger sister who goes to CEC and a younger brother. We play Spot It and Heads Up. I know that without my host family, Costa Rica would not be the same.
Our Proctor crew was visited by Assistant Head of School Karin Clough and Costa Rican resident Knox Turner '67.