At many schools, afternoon activities consist primarily of competitive team sports. However, at Proctor, we follow a different model, and if one were to talk to any person associated with Proctor, they would realize the true variety of options there are for students to pursue during the afternoons. If you're not a fan of competing in a traditional team sport on a field, you could always compete on the trails as a part of the Mountain Biking team. If you're interested in spending your afternoons helping preserve this beautiful campus and the surrounding area, you could join the Community Service Group. If being active and exercising makes you happy, you could become a weight room monitor in the afternoons and tend to that space.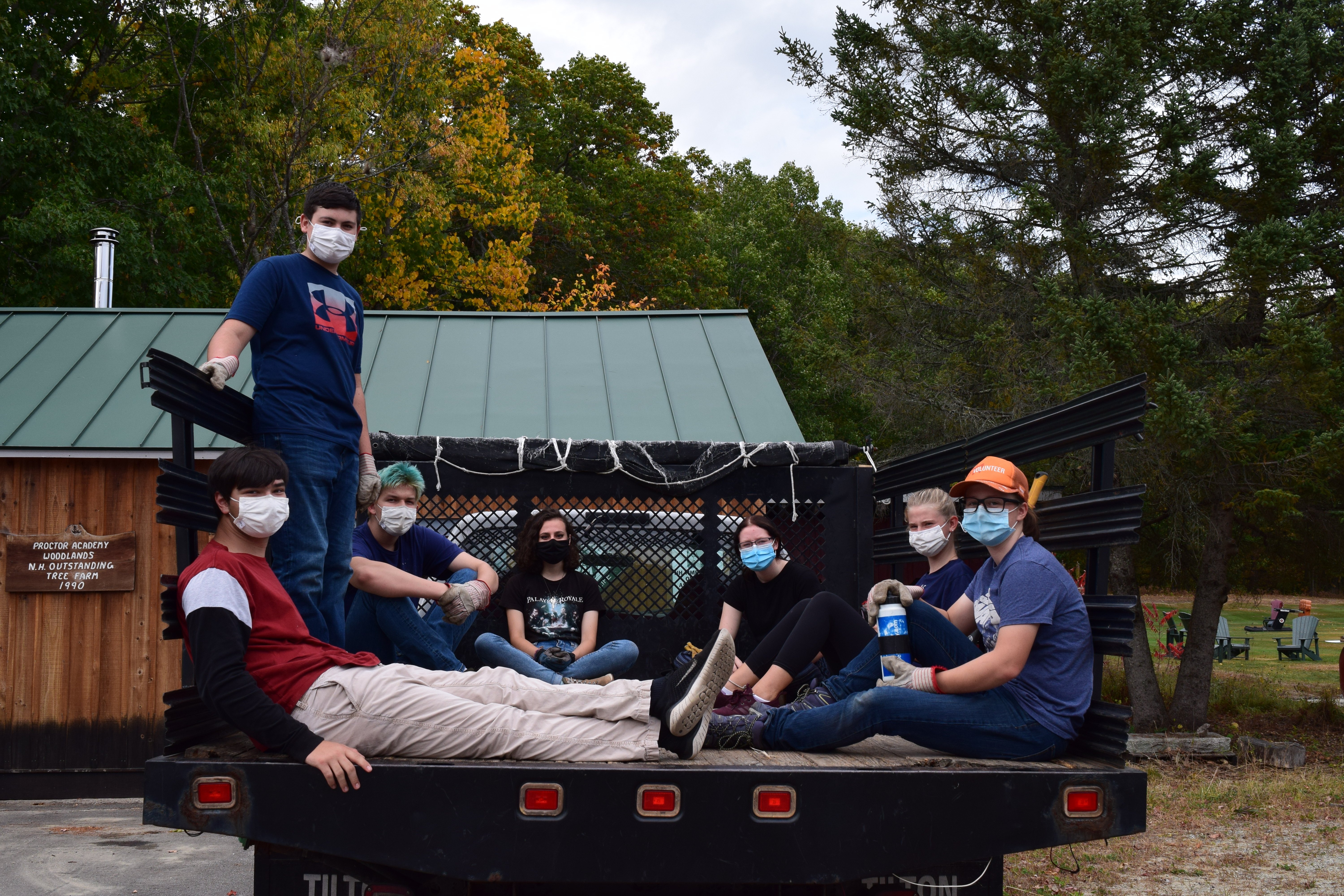 There are seemingly endless possibilities for how you can spend your time after classes, but one that has been a staple of Proctor's afternoon program for decades is Woods Team. Surrounding the bustle of classes, sports, and dormitories lie 2,500 acres of forest with numerous trails running throughout it. Originally known as the Improvement Squad, the Woods Team was created in 1936 by Roland Burbank, a former faculty member and true admirer of New Hampshire woodlands.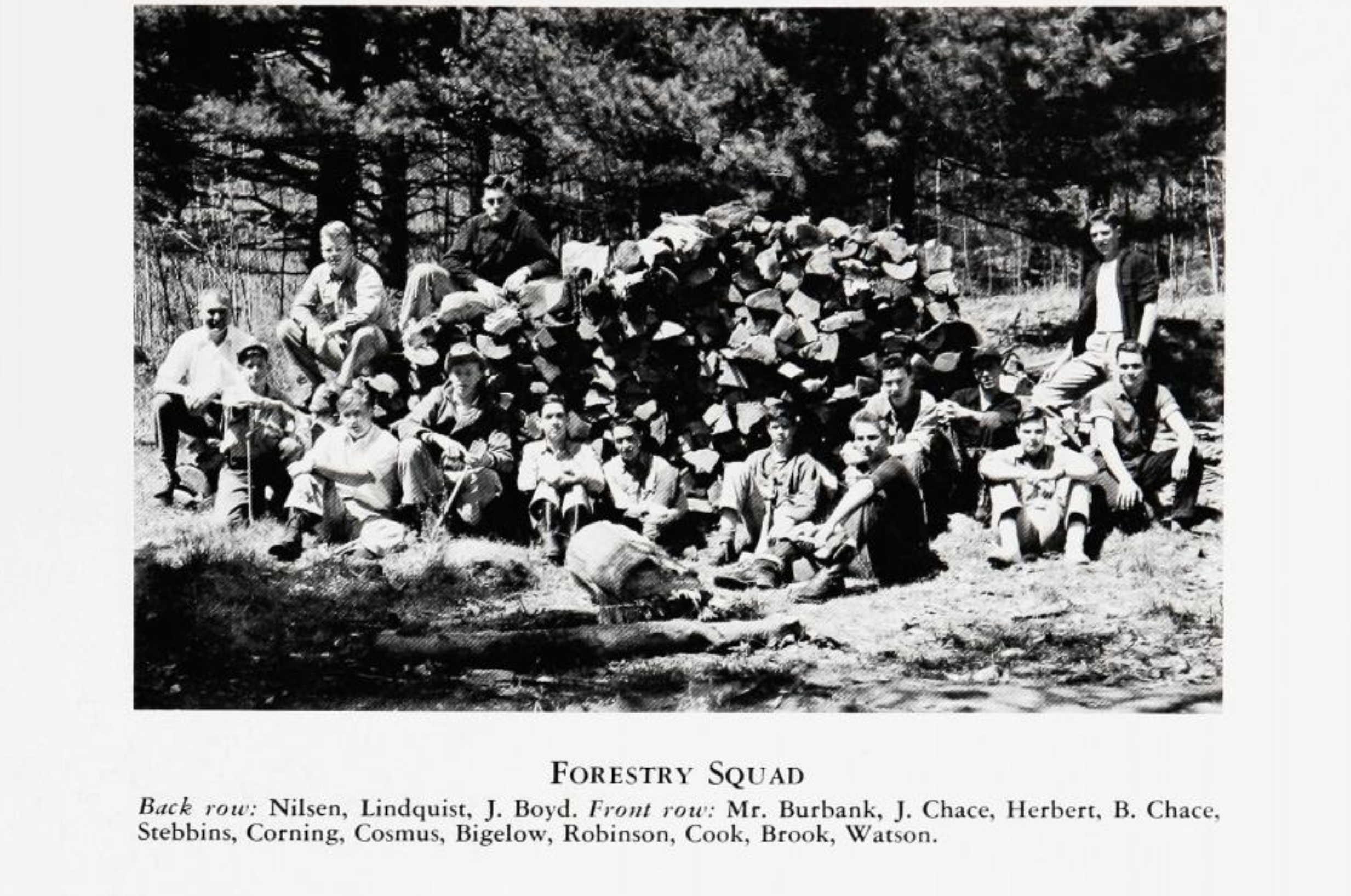 Forestry Squad circa 1955
Its original mission was to help manage gardening, forestry, and maintenance throughout the Proctor campus during the Great Depression when funding a full-time maintenance staff simply wasn't an option. In addition to this, Roland Burbank also created the Cabin Club and the Forest Fire Fighters Club which ended up being instrumental in defeating a four-day-long fire on Mount Sunapee in 1947. Over the next 60 years, Proctor expanded their land holdings until 1992, when the final 808 acres of land were acquired, completing the vast forests that distinguish this campus today.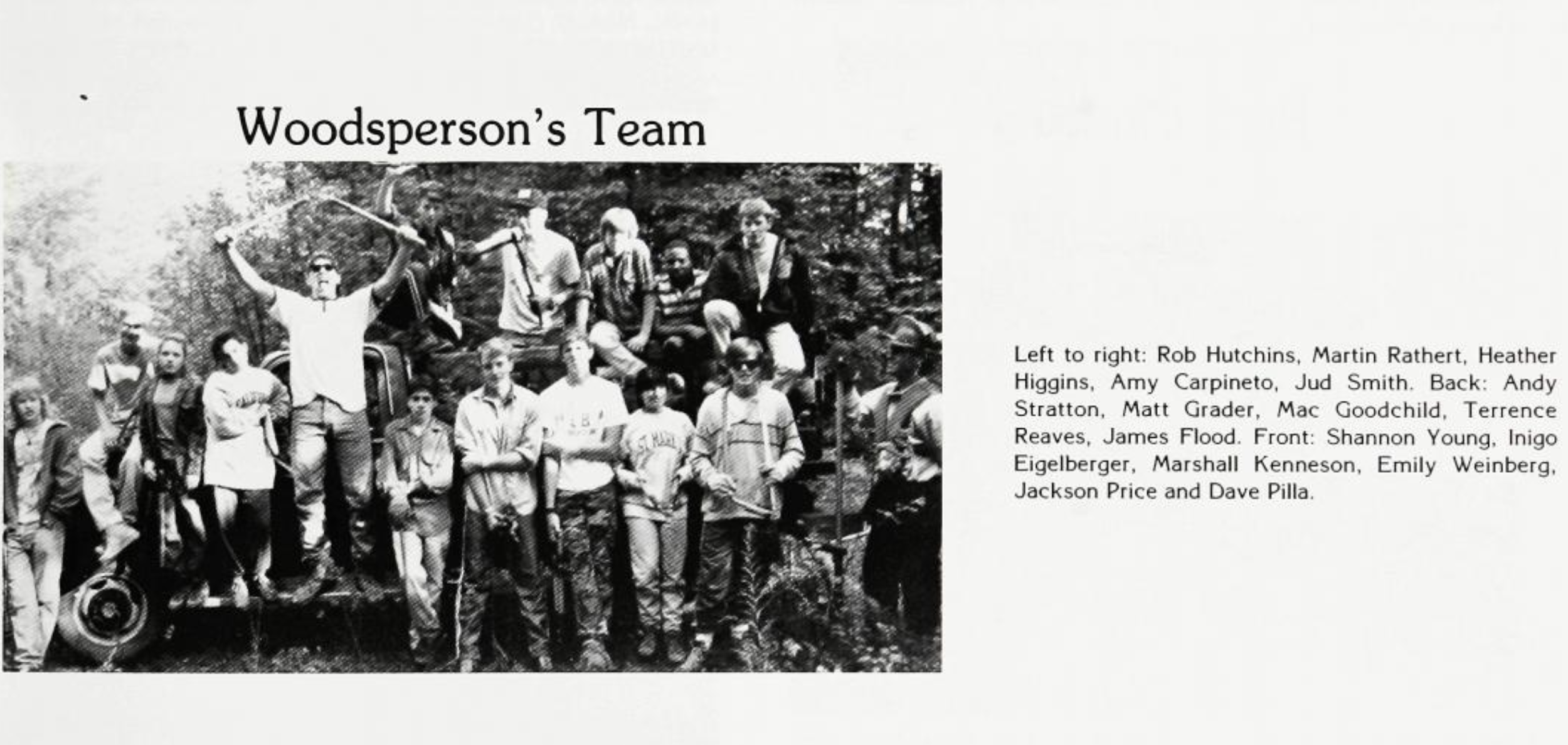 Woodsperson's Team circa 1990
The management of this land was first the responsibility of teacher Bob Wilson, and then later Dave Pilla for more than 30 years. Today, led by faculty member and forester Laura Ostrowsky, the Woods Team is responsible for helping manage Proctor's woodlands and that is no easy job. When asked what an average afternoon on the Woods Team looks like, Laura had this to say, "An average afternoon involves splitting wood that will be used to heat several dorms. We drive up to the log landing on Johnson road and split wood with splitting mauls and with the hydraulic splitter. We then drive the split wood down to the woodsheds behind the dorms and stack it so it is ready to be used."
Without wood provided by these students, a number of dorms would struggle significantly to stay warm, however, splitting and delivering wood is not the only responsibility the Woods Team holds. "There are many other jobs that Woods Team does as well," Laura continues. "We do trail maintenance, remove invasive plants in the woods, prepare for the spring maple sugaring season, care for the sugar maples that we tap to make maple syrup, and do other jobs involving woodlands management. It is a lot of work but very satisfying to get outside and contribute to this community!"
Although Woods Team is a time-consuming activity, it is unbelievably worthwhile. There are many aspects of the Proctor campus that make it so extraordinary, so managing the part which makes up the majority of its land is a very respectable and noble job. It has been almost 90 years since Roland Burbank began the program, but one thing hasn't changed: there are unlimited opportunities for students to contribute to this campus and this community; you just have to look in the right spots and be willing to get your hands dirty.