During a term abroad, Proctor en Segovia students build knowledge and connections as they work towards mastery in their history, Spanish, and English classes. They are also continuously learning about Spain and Spanish culture simply by living with a host family for two months and tapping into their curiosity and powers of observation when traveling throughout the country. Enjoy this selection of journal entries from Fall 2022 Proctor en Segovia students as they reflect on important moments and places on their Proctor en Segovia journey.
Henry '24 - A Favorite Moment with my Host Mom, Lujan
The door opens, and I step into the house after returning from tennis. I knew that tonight was the night we were making gnocchi. I told all my friends about what I was doing, and they were all jealous. They were having their typical dinner while I was learning the techniques to make potato pasta. I drop my bag in my room and rush down the stairs to prepare the gnocchi. Lujan hands me an apron, but I was not expecting this to be messy. She mashes the potatoes, mixing in flowers, eggs, and spices. We then knead it until it clumps together well enough without falling apart. We make smaller clumps so we can continue to the next step. She teaches me how to roll it out long enough to make little nubs of dough. She then teaches me the method to give it texture. I place a fork down and set the little piece of dough on the point furthest from the stalk. Lujan teaches me that I just roll it off the fork, and it gives it the texture. I slowly get it, but as I look up, I see Lujan doing it rapidly, whipping out one perfect one per second. By the time I have done around 10, she has about 40 symmetrical, perfectly rolled gnocchi. We finish preparing them, with hers flawless and mine deranged and uneven. Lujan boils them and prepares a tomato sauce as I work on my Spanish homework on the couch. Dinner is served with a thick, almost ketchup-like tomato sauce over a bowl of gnocchi garnished with a basil leaf. I loved doing this as I learned something new and connected with her doing something she loves: cooking.
Presley '24 - Segovia's Plaza Mayor
Perched on a small balcony, caged in by black metal curved and bent to form exquisite designs, with a set of double white doors behind, you stand leaning against the balcony. This apartment was built in an antique building before you were born. It is one of the many surrounding structures on the Plaza Mayor, one of the busiest places in the city of Segovia.
The view of lost tourists captures your attention for minor seconds. Looks of confusion overtake their face, eyebrows knit together as they try to find their restaurant with a reservation under their name. Throughout the days of the week you people-watch. It has become a routine, minutes to yourself as you find fascination and distraction in others' lives. The aroma of cigarettes drifts throughout your apartment. The scent of the city but also cigarette smoke from the older woman next door as she watches from another view, also finding peace in the city life.

People sit in surrounding cafes and restaurants, sipping lattes and vino. Tobacco rolled up burns in their hands as old friends catch up. Complementary tapas have been consumed, evidence left on their fingers and cheeks. This is their weekly routine. On Thursdays, a temporary market is set up. This is one of the highlights of your week. Fresh produce is placed out, and the rainbow array of colors captures your attention. Locals come far and wide to stock up for the week; their shopping bags are packed with fresh food. The woman in front of you is buying loads of potatoes. You wonder if she is making tortilla española for her grandkids. A favorite cart that visits is the pastry stand. Everything is extremely inexpensive -- hundreds of small treats to satisfy your sweet tooth. As you continue exploring, munching away on the fresh powered pastry, you admire the pickle stand. Anything you could imagine is in these buckets, pickled to perfection. You go through the new sets of clothes hung up around the thrift stands. Occasionally you find something designer priced cheaply. This plaza is filled with different stories and offers many different experiences. You're just glad you got to witness and live through some of it.
Mia '23 - Alcázar of Sevilla
After securing tickets, we entered the famous Alcazar. Walking through the building was beautiful in and of itself. The fountains were bubbling over with fresh spring water, the tiles were carefully protected by thick maroon velvet ropes and the sunlight was casting perfectly on the vibrant orange trees. However, the hidden gem was the gardens encapsulated within the walls. The group of students walked through, taking lots of pictures and chatting quietly, but when the doorway opened up to a luscious green garden, the excitement rose rapidly. Cobalt blue peacocks rushed to greet us at our feet. Pink, orange, and yellow flower petals scattered the ground, and the group was taken away by the beauty. The thick stone castle walls stood proudly and created a strong contrast to the luscious greenery. While the group wandered around, tour guides speaking different languages slowed the pace every few feet. Tourists filled the dirt paths with selfie sticks, visors, and fanny packs strapped on tight.

Inside the gardens, there was a feeling of being in a different world. There was no sense of cars or outside distractions, just the beauty of the garden and miles of paths to wander. The peacocks were a pleasant surprise and the group spent lots of time around the majestic birds snapping pictures and taking Snapchat videos to send home. The smell of their feces was a stench that wafted through the air occasionally. Within the gardens stood random pergolas covered with Moorish tiles. The buildings had thin white arches, fountains on either side, and millions of flowers scattered about. One girl sat perched upon the pergola taking photos in awkward and uncomfortable positions with a thick smile plastered across her face. We all worked our angles, trying to capture the beauty with our cameras.
Natalie '23 - The Proctor en Segovia Center
On the wall hangs a map of Segovia on a colorful background. There are two couches with a small hill of pillows on each. Many of them are the same geometric pattern of red and black, though there is a single pillow in white. A single lightbulb hangs from the middle, encased in an off-white lampshade. A long table rests against one side, with a folded grey blanket resting on top. As you step into the room, you can almost hear the laughter and friendly teasing from those who have been here before us. Speakers stand above one couch, waiting for someone to play music or a movie through them. The doors are wide open on both sides, inviting all who wish to enjoy the comfort it offers. The windows along one side are ready to be opened so that someone can step out onto the balcony and look down on the street below. The empty room feels more lively when students are enjoying its comfort, and it's always ready to welcome new people. As you step into the room, your eyes are immediately drawn to the dozens of pictures on the walls. These pictures, left behind by previous students, share small snippets of their term abroad. There are pictures with students and pictures without. Interspersed throughout are drawings and paintings. Some are by students or teachers, though others are posters of paintings by professionals. There are black-and-white film photos, but the majority are in color. Some are of a higher quality than others, but they all deserve their place on the walls. And although many hang in frames with signatures of students, there is a corkboard filled with more casual, everyday photos. There are photos from every time of day, from early morning to early night. They are a memento from the past, left for the present and future to gaze upon.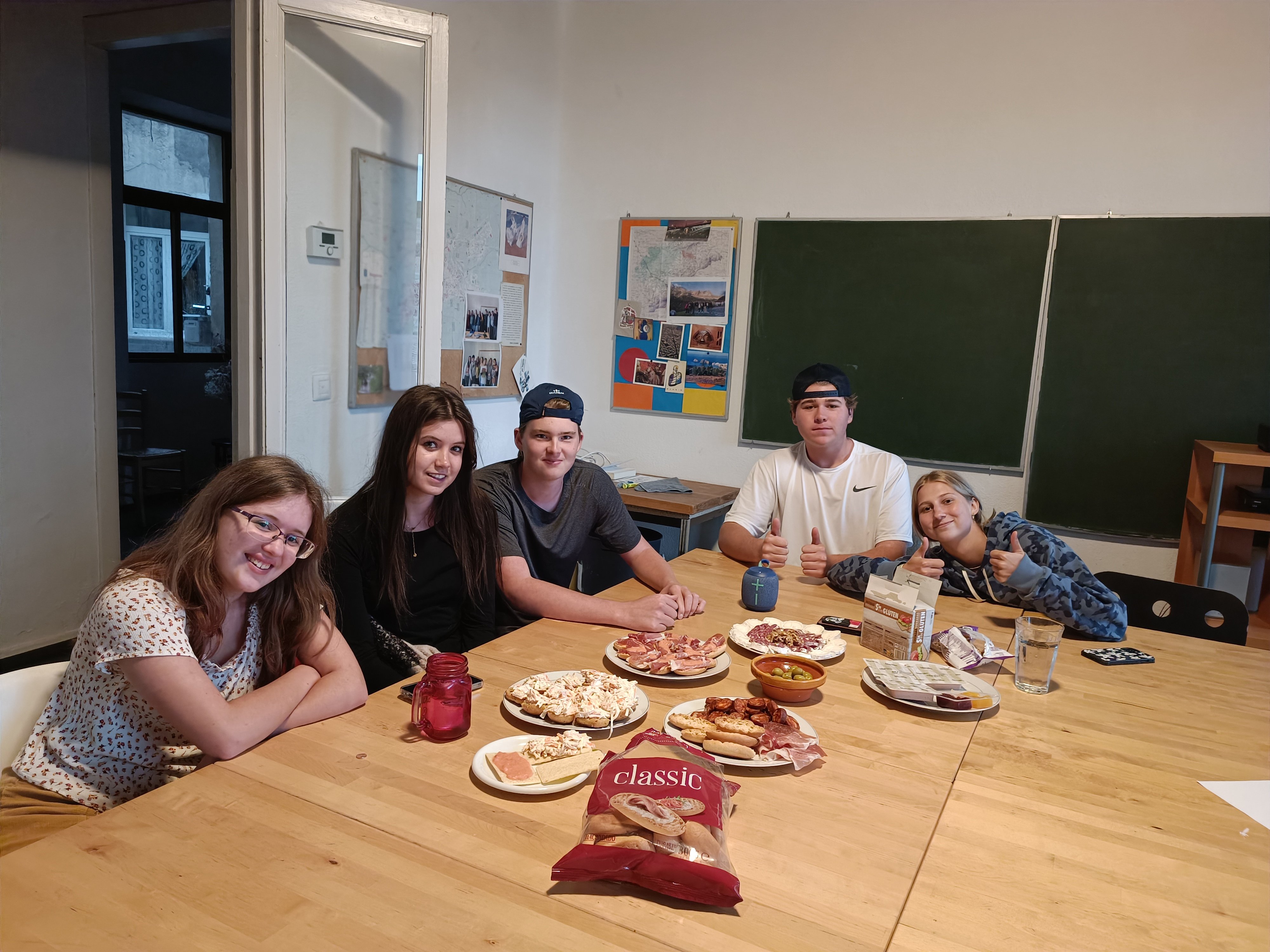 Lane '23 - El Valle de los Caídos
There were so many things that I could call highlights of my time in Spain, such as the places we visited and the amazing architecture we saw. Many of the places we visited were not at all what I expected. For example, I never expected to see art from the New York Street artist Jean-Michel Basquiat in a museum in Spain! That made my day. Another highlight was Valle de los Caídos. Again, when we heard we were going to see Franco's grave, I assumed we were going to a cemetery, but this was not a cemetery at all. We arrived at a massive mountain with an insanely large cross on top. Franco forced his prisoners of war to build this enormous tombstone into the mountain. This beautiful, dark, and twisted memorial to Franco was built by enslaved people who despised him. I would have thought it would be ugly, dark, and creepy - more appropriate for a man hated by the Spanish people rather than majestic and beautiful. Inside Los Caidos, we saw gleaming marble-floored hallways and gigantic cathedral ceilings of chiseled stone carved into this mountain. It was breathtaking.

But the real highlight of my trip to Spain was meeting many new people. I am a social person, and everywhere I go, I am always excited to meet new people and learn about their lives and what they do. I also enjoy talking about my experiences and what I like to do. What made Spain so great was the opportunity to converse with so many different people and the ability to do that in English and Spanish. I learned that while my Spanish was "OK" when I got here, it was not as bad as I thought it was. I never knew how much Spanish I knew until I used it when speaking with others on this trip. When I get back to Proctor, I am even considering taking another term of Spanish - which I was not planning to do this year. Overall, the experiences I shared with others and the relationships I formed were the most valuable to me.
Willem '24 - San Sebastián
San Sebastian was the biggest highlight for a lot of reasons. The trip there was exciting. I enjoyed the car ride with Will, Lane and Henry, even though it was a tiny car made for small people. It felt like I was cramped the entire 5 hour car ride in between two humans. When we got into the Basque Country, the last 30 minute drive was indescribable. It was a long windy road made for one car and it took us 40 minutes to get through because some construction was going on. Driving through the beautiful towns on our way to the house almost made me feel like I was back in New Hampshire with all the green trees and windy roads. It was like I was running through a bed of flowers driving up the final part of the road. I could see this magnificent house that had an old feel, and I loved it. The view of the mountains was mind-blowing. The soft clouds on top of the rocky mountains gave me a kind of view that I had never seen before. Our first day in San Sebastian was the best day. Walking up and down the boardwalk near the beach was awesome. Looking out at the sea was the best view I had seen in a long time apart from the view from the house. As far as the eye could see, it was crystal clear water and perfect golden sand. Walking through the city was awesome as well; getting small bites to eat at different restaurants was a great experience, and I would recommend it to anyone. Even though we had to walk 45 minutes because we put in driving instead of walking into our navigation app, it was cool to see 45 minutes San Sebastian and all of its modern buildings.