During all three trimesters of the academic year since 1972, Proctor has operated an off-campus program in Spain. Rather than experiencing Spain through the transitory lens of a tourist, Proctor en Segovia students live with host families, immersed in the language and culture.
They navigate Segovia's winding streets to Proctor's classrooms on the Plaza Mayor and take local buses to their afternoon activities. Students take classes taught by Proctor faculty on Spanish history and culture, creative nonfiction writing, and the Spanish language. Enjoy these snapshots -- both challenges and highlights -- from a first week living abroad in Segovia, Castilla y León, España!
Ingrid '23 - My Host Family
I have been living with Conchi, Roberto, and their two sons, Alejandro and Ruben. Getting off the bus on the first morning was so scary, and I didn't remember any Spanish at all. I sat in silence with my backpack on my lap, texting my mom even though it was the middle of the night for her.
When we got to their apartment, their dog Thor would not stop barking at me. Over the next few days, I got more comfortable with trying (and sometimes failing) to communicate with them. I made a lot of hand gestures and did a little googling. Conchi is such an amazing person, and the little things she does to make me feel comfortable go a long way. The other night she went out with Roberto and left me a sandwich to eat for dinner. She made a sandwich con jamón y queso and toasted it. She then cut the crusts off.
It's been a week here, and I've found myself getting excited to watch the Simpsons in Spanish with them while we eat dinner, even though I have no idea what the show is saying 90% of the time. We have watched a few soccer matches, and when their team Real Madrid played Valencia, the house was electric when their team won in penalties.
Emma D. '23 - Travel Day
Although Ross set our meeting time at the Boston Logan International Airport at 2 PM, we all arrived well before the meeting time, as we were so excited to begin our journey to Spain. After checking our luggage and having our last meeting with Ross and our family members, we said our goodbyes and eagerly walked to our gate. Despite being three hours early, we were still the last to board our plane, which was pretty funny considering we were all looking at the boarding gate once in a while to ensure it was our boarding group. Still, we were all relieved to make the flight and got into our seats; some were together, and some were rows apart. As an international student who is already used to ten-plus-hour flights, the seven-hour flight felt short to me, and I slept through the entire flight, only waking up whenever I heard the creaking of the service trolleys.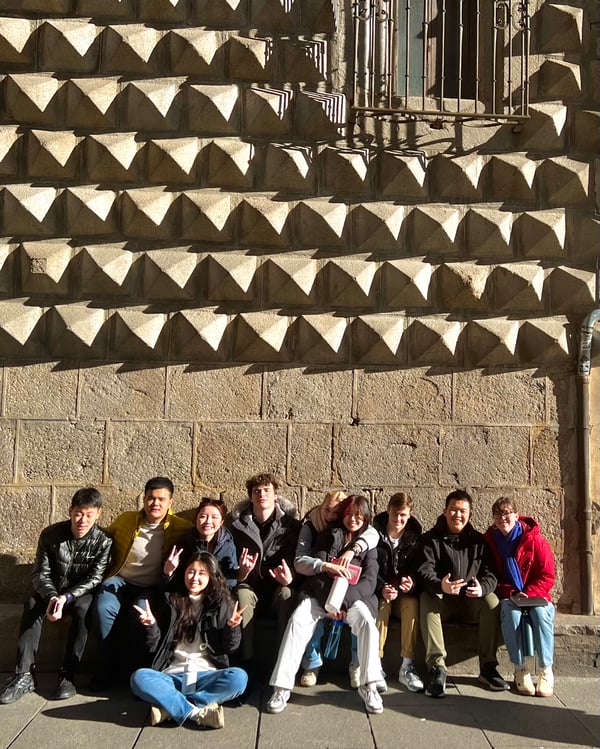 As we arrived at the Madrid Airport at 6 AM, we groggily walked to passport control and waited for an hour before stepping foot into Spain. Then, finally, we retrieved our luggage and met Luis. He then took us to our bus to Segovia, where we would meet our host families. The sky was dark and gloomy on the way to Segovia, making it the perfect setting for me to get some more sleep and prepare myself for the long day ahead. When we arrived, Luis told us to sit inside the bus while he talked with the host families, and he would call us one by one to go out and meet our family for the next few months.
Emma D. 23 - My Host Family
It's been a wonderful experience to have Julia as my host mom. When I first came, she asked me about my experience with Spanish, and she reassured me that she would speak slowly so I could understand better. Her reassurance helped me immensely, as I was very anxious about the language barrier since Spanish was my third language, and I was bound to mix up my three languages. Most days during lunch, her daughter Diana (who lived just a minute's walk away) and Diana's two daughters, Alejandra and Valentina, joined us. It's fun to have more people in the house since it's usually only Julia and me. During lunch, I would hear more about the Spanish student experience from Ale and Valentina, as they are elementary and middle school students.
It was awkward and a bit intimidating at first, but Julia made sure to help me feel more comfortable. Initially, it took a while to even form a sentence and respond to Julia in Spanish. Now, however, I feel more confident to have an entire conversation with my host mom and Diana after only being here for a week.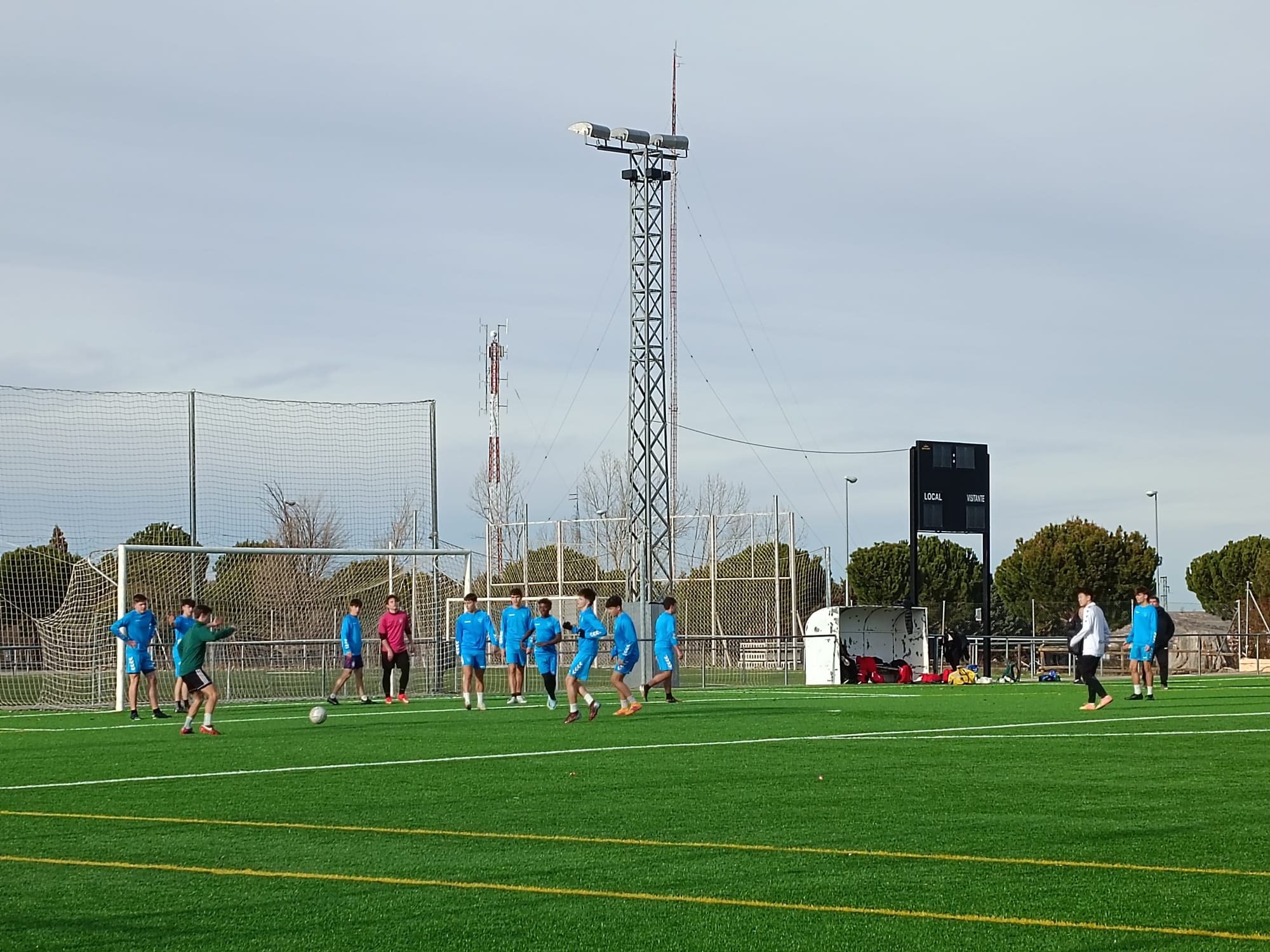 Ingrid '23 - My Walk to School
Every morning that we have had class so far, I have walked with Cosi. We are lucky to live only thirty seconds away from each other, so I just text her when I leave and she's waiting outside. I have come to enjoy being outside in the morning as it wakes me up. We walk down the street and take a right towards the aqueduct. There are always people outside in the mornings going to work or classes or getting a coffee. On the second day of classes, we discovered a shortcut up some stairs that takes five minutes off the walk, so we take a slight right and pop out onto the main street. And now the hard part: where do we stop for our morning coffee? Is it Granier, where we always see others from our group, there's music playing, and it's busy? Or do we walk a little farther to Limon y Menta, a well-known pastry shop underneath our school building that plays elevator music and always has cute old men enjoying their morning croissants? Most of the time we settle on the second one, as we are not usually ready to talk to a lot of people early in the morning. Maybe we'll go to Granier in the afternoon for our second coffee.

(Photo credit: Emma D. '23)
Emma D. 23 - Way to School
I live about 24 minutes from school. Thankfully, Ealing and Eric live incredibly close to me, so we always set up a time to meet and walk together to school. It was confusing at first, and I definitely thought the walk to school was way too long. I was set on taking the bus to school, even if the duration of school was similar. Yet, after only the first day of Diana showing me the way to school, I could walk to school on my own without getting lost, and walking to school made me feel a lot better than taking the bus since I was exercising and getting my steps in either way. Thus, every morning since I got here, I make my toast with butter and jam at home and rush to meet Ealing and Eric. Then, as we get closer to school, Eric, Ealing, and I stop by Granier to get our cafe con leche (chai con leche sin lactosa for me) and pastries, and where we sometimes run into others from our group and we all walk to class together.
Ingrid '23 - La Granja
The group took a short car ride to the beautiful palace and gardens of La Granja. After being told we definitely couldn't eat in the gardens, we walked up the stairs to view the palace with Luis carrying his son, Fernando, up with us to get a group photo. We split up and had some time to wander around the gardens. The dirt pathways led to stone, copper, and gold-leafed statues and fountains, and occasionally you could hear Fernando yelling in excitement in the distance. The group met Ellie, Luis, and Fernando, and we walked into the town of La Granja de San Ildefonso where we had some free time to explore. We met for lunch at the Posada de Los Embajadores where five of the largest steaks I've ever seen were ordered by our table. You should have seen the looks on our faces when they arrived at our table. After this huge lunch, we got in our cars and headed back to the main city.

(Photo credit: Ingrid '23)
Emma D. '23 - A Highlight
Since the group was an even ten people with five girls and five guys, Laura (the activities coordinator) divided our metal arts class into Tuesday for the girls and Wednesday for the guys.

(Photo credit: Emma D. '23)
The girls began our metal art lessons on Tuesday with Jesús in his shop. It was possibly the fastest two hours I have spent sitting in one place. We were all focused on our metal pieces, and Jesús would walk around (sometimes singing to the US/UK pop songs we were playing), to give us advice and help us turn our imaginations into art.