A little over a week ago, a group of seven Proctor students and three faculty departed for Proctor's annual summer service trip to Guatemala. Despite a significant earthquake and volcanic eruption that occurred just hours before their departure, all travel and activity plans have remained intact and on schedule. For the sixth straight year, the group completed the first service portion of their trip spending two days at a primary school in San Martin, a town to the west of Guatemala City. Read about their experiences and reflections below.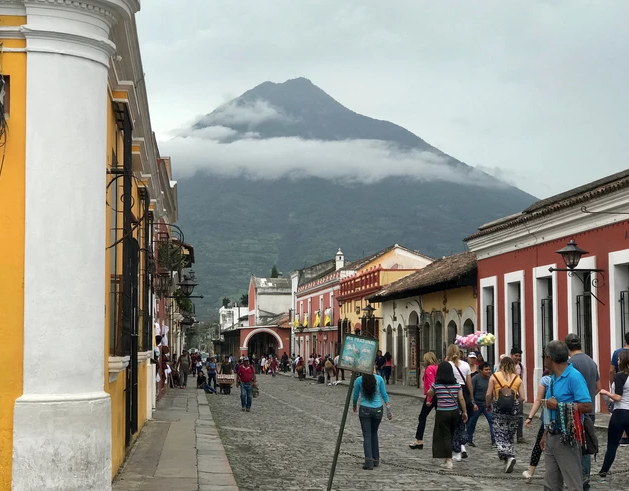 "On Wednesday and Thursday we launched into our work at the primary school outside of San Martin. The whole school buzzed with excitement as our bus pulled up; children peered into the bus, anxious to see the first foreign visitors ever to come to their school. Our group mirrored their enthusiasm. Our day started with introductions by the principal and the teachers and a presentation; choreographed dances by students from different classes. Our group was tasked to paint the three classrooms and outside walls of the small school.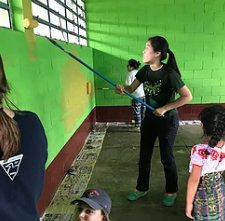 While our Proctor students waited for the paint to be mixed, Tim pulled out a soccer ball and the boys swarmed around him, anxious to play. At the same time, the girls took out sidewalk chalk and started to communicate with the Guatemalan students through pictures. We also blew up balloons and played catch with the littlest ones.
Duty called and the Proctor team went to work with paintbrushes and rollers. We were joined by a few mothers of the students, members of the community and some older students, who were eager to continue the connection that began earlier. In between changing painting positions, there was time to play with the students.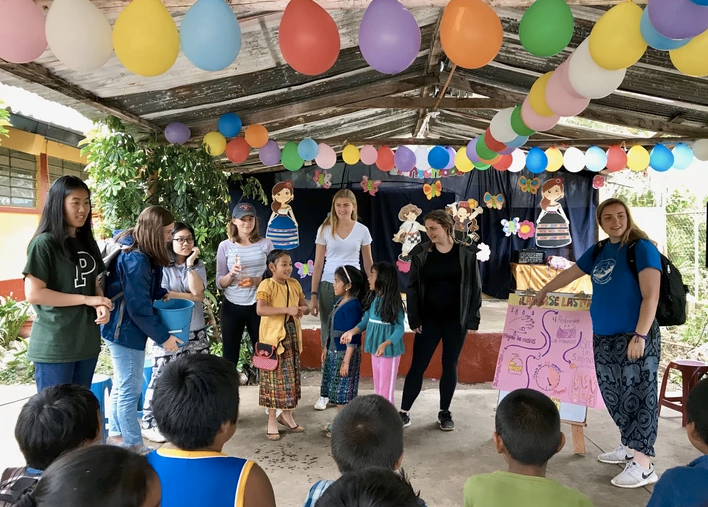 On the second day, Proctor students taught a lesson in Spanish on how and when to wash one's hands. Before leaving on the second day, each student received a bar of soap and a backpack.
We received an unexpected invitation into one of the mother's homes for a dish of homemade pepián, a spicy meat stew, and freshly made tamales. Although there were only mud floors in her home, it was spotless. She was a remarkably gracious host, and explained that meeting Americans was the fulfillment of a lifelong dream. Before leaving, she showed us how she weaved colorful cloth sold in the markets and told us that she started weaving at the age of seven." - Ilyena, Trip Leader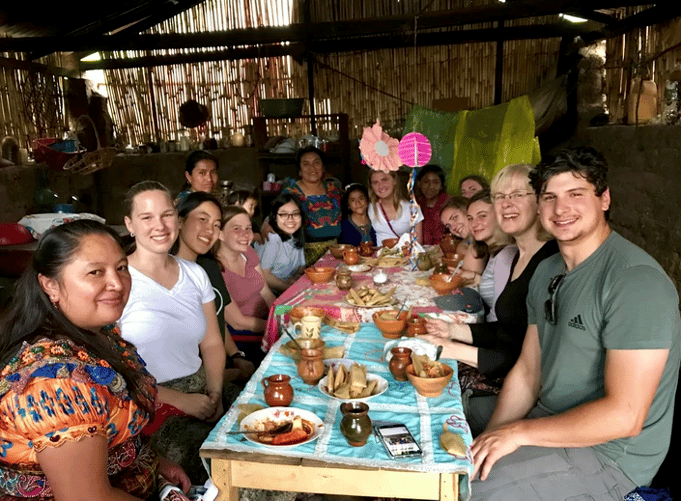 "I knew we were all about to experience something special in these next two days working at the school. When we arrived the first day, the kids were all a little shy and nervous. As soon as we got all of the bubbles and chalk out, they were finally ready to play and get to know us. We all quickly bonded with the students and the community. With the help of parents, we started to paint the classroom walls. What was truly amazing to see was the whole community coming together to help fix this one school. Even the kids came in and started to paint. We had finished the majority of painting in approximately four hours the first day. The second day, all of the classrooms were finished except for the red trim on the walls. With help before and after we left, we finished in about an hour and a half. It was truly incredible!" - Mackenzie '20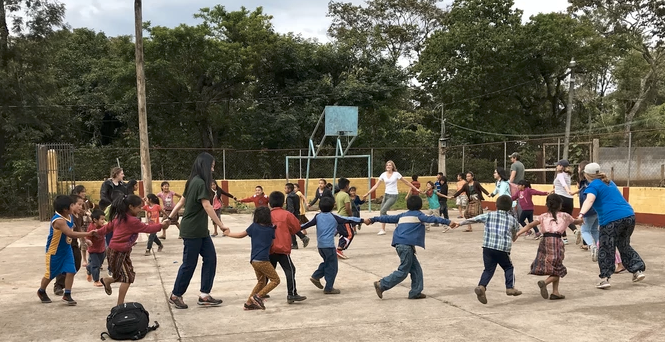 "Watching those kids for the last two days has impacted me a lot. I had never imagined a 7-year-old girl could carry her brother on her back all the way to school every day. I had never thought of primary school kids could hold a grass-cutter to clean plants at their own school. I had never been exposed that close to kids with poverty. They have given me so much power and courage. Their positivity, which helps them to overcome hardships, is just incredibly amazing." - Ngan '20