Proctor Academy varsity basketball team competes in the NEPSAC AA division, one of the most competitive high school basketball leagues in the country. After last season when the team was on the verge of breaking through in the league, this year's squad has a much different look and will rely on its determination, teamwork, and work ethic to make an impact on the league. Smaller in size than every team they will face, what the team lacks in size, they make up with technique and a fast paced, uptempo offense.
Bol Akot '20, one of the team captains, has this to say about the team's hard fought struggle in this very competitive league, "We're not that big, but we're fast and we know we need to work 10x harder than other teams." Bol and the others on this unheralded team really show how hard they work week in and, week out. A large part of there determination and work ethic comes from their relationships with their coaches Scott Allenby and Gregor Makechnie. Scott Allenby the assistant coach tells us the three principles they try to implement there team live by on and off the court. "At the start of each season, and many times throughout, Gregor reminds our guys of their three priorities as a member of our program: 1) pursue academic excellence 2) be a contributing member of the Proctor community 3) and pursue basketball excellence. It is critical our guys see themselves as more than basketball players. Seeing leaders like Terrell Brown '19 take a lead in the play, Sweat, this winter and others like Noah '19 stand up and share in assembly set a great example for the younger guys on the team."
Co-captain Bol Akot '20 leads the team in assists and is one of the engines driving the uptempo attack. (Photo: Mary Gettens '19)
It looks like these three principles that the team has to live by really pays off for them and makes them better and more humble people as a student and an athlete. Not only do they have the team work on the court, they also have come together as a group off the court, actually enjoying each other's. Bol tells us how he feels about his teammates on a personal level, "I like just being around them on and off the court, we're all unselfish and always include each other." With a team as well functioned and well managed as this one, the wins that have been so tough to come by early in the season will surely come soon, even against top tier opponents.
Co-captain Terrell Brown '19 sets the tone on the defensive side of the ball for the Hornets. (Photo: Mary Gettens '19)
These boys have had a long stretch of games with an extra game this week and almost every week from now on. We asked Scott Allenby on how they will cope with the fatigue of this long week and future ones to come. "Nearly every week from now until the end of the season is a three-game week, filled with league games that will stretch us and force our team to overcome adversity. The quick turnaround between games requires us to focus on the immediate, the challenge in front of us, without looking too far ahead. This past week we played defending NEPSAC AA champion Tilton School (Monday) and Worcester Academy (Wednesday) on the road before hosting NEPSAC AAA New Hampton School on Friday. Aside from Monday's game, we showed up ready to compete and focused on the task at hand. A couple bounces go our way against Worcester or New Hampton, and we win those games. Instead, we're still looking for our first win of 2019 and have our eyes set on Brimmer and May Tuesday night."
Mykel Derring '19 leads the team in scoring and is a deep threat from anywhere on the court. (Photo: Mary Gettens '19)
Having the team focusing on just the next game seems to be an effective way to keep the team positive and committed to their game plan. Quite simply, the biggest problem is height. The team is below average when it comes to size and it is apparent in the style of play they use (uptempo offense and zone defense) they want to use their (lack of) size as a strength. We asked co-captain Terrell Brown '19 how the team tries to cope with this problem. "We run out and we go fast. We like to go fast in transition and we're a good shooting team so we like to get shots up as quickly as possible and have a quick tempo offense." Terrell shows us that they can use their small size as a strength, because it means they are quicker than their opponents. This definitely can create problems for the other teams in the Lakes Region and NEPSAC AA as Proctor can drain shots from anywhere and pour in points in a hurry. The talent on this roster, while not deep, is apparent, and when combined with a sense of unselfishness, even though an undefeated season for these guys may be off the table, I would certainly not want to be their NEPSAC AA opponent this winter.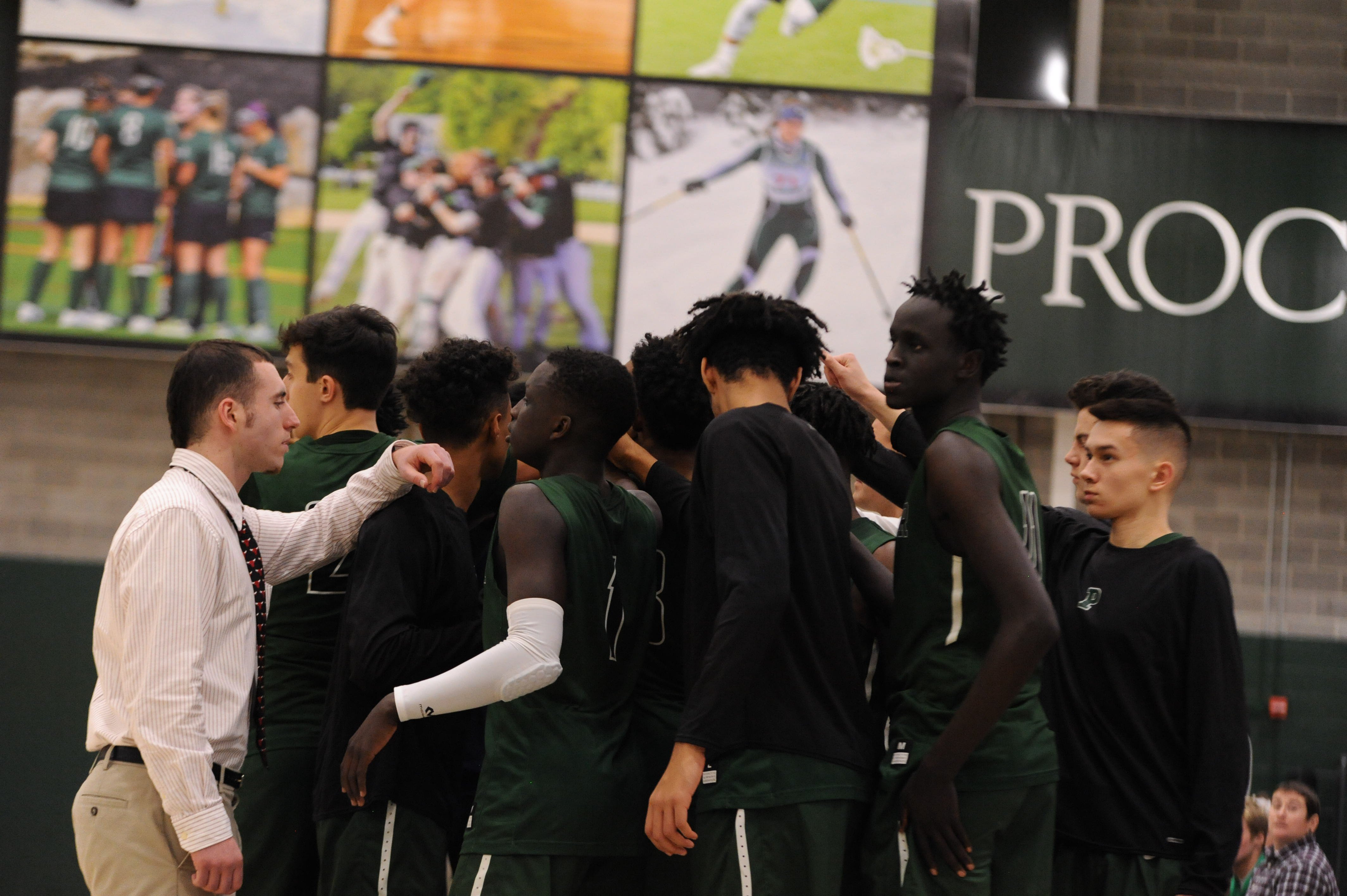 Photo: Mary Gettens '19