The first weeks of Proctor en Segovia are in the books! Getting adjusted to the Spanish way of life has been thrilling. Segovia's culture is so rich, and it seems every step I take, I learn something new about this historic city. From creative writing with a croissant in Café Colonial to Spanish class on the streets of Segovia, it's hard to imagine ever having to go back to regular high school class.

Evening light illuminates Segovia sandstone - the Alcázar and the Catedral - with the Guadarrama mountains towering in the background.

And the views from the other side of the old quarter!

The sun sets over the meseta. (Photo credit: Sarah H. '20)

A little senderismo to get to know walking/hiking/running/mountain biking trails and stave off the jet lag.
The options for an afternoon activity are endless from mountain biking to working as an apprentice in Jesus's metal arts shop.My personal favorite afternoon activity is photography!

Lila and Scotty both attempt climbs, with impressive results, on the Segovia climbing wall ladder, a Proctor en Segovia week one rite of passage.

One afternoon activity option is metal arts with Jesús!

(Photo credit: Alex '20)
On Tuesday (Ryan's Birthday) Ryan drove a small group of us to Palacio Real de Riofrío in San Ildefonso, around 11 miles from Segovia. As we entered through the gates, Ryan gave us a brief history lesson on the palace. It was built in the 1750s for Queen Elisabeth Farnese to reside during the reign of her step-son, Sadly this beautiful palace was never used by the queen. Many years later it was then converted to a hunting lodge and was only used when royalty hunted in the nearby forests.

(Photo credit Ellie W. '19).
As of Today Riofrío is the home of a museum containing paintings from the royal collection, period furniture, impressive chandeliers and furniture made in nearby royal "factories," as well as a section dedicated to the history of hunting. The lighting was immaculate, and we could not have asked for better weather. As we were heading back to the car, we spotted a little friend who seemed more than happy to let us get pretty close and take photos.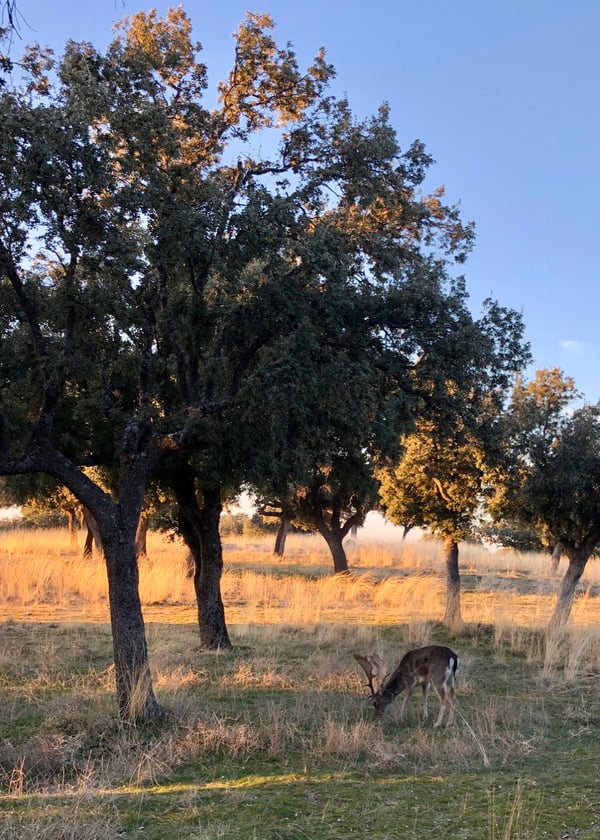 I'm looking forward to the following days as we head to Barcelona!!

~ Ellie W. '19
Without a doubt the greatest part of Proctor en Segovia isn't even in Segovia. Yes the day to day life in this city in incredible; you learn, laugh and most importantly you have fun.

Students participate in a scavenger hunt / information search. Here they are in the Plaza Mayor with the school building in the background.

Not to be outdone, Segovia's Roman aqueduct looms above the Plaza de Azoguejo, where it has stood for almost 2,000 years.
:
(Photo credit: Alex '20)
The greatest part is going on the excursions. Although short, going to Madrid was the greatest six hour class trip I have ever taken. I can't even imagine how incredible the longer excursions will be. At noon we got on a bus with bagged lunches prepared by our host parents and started the the one and a half hour bus drive to Madrid, which goes by really fast if you sleep. After waking up from the jolt of the bus stopping we got on the Metro and went into the heart of the city. We got off the Metro and walked to the nearest park to have lunch, and, wow, that was a good sandwich.

After bocadillos (sandwiches on baguette bread), the walking tour of Madrid's Barrio de Los Austrias / El Centro begins.

And ends at the Museo Nacional Arqueológico.
Twenty minutes and a very obvious magic trick later (done by a street performer) we were off for a walking tour lead by co-director Ryan. If you're not familiar with his walking tours they are the real deal, and if you attend one you might even learn something. A lot of walking later we found ourselves at a the National Archeology Museum. Historically museums are not my favorite place in the world, but, with the assignment given to us from Ryan, it went by fast and I actually did learn something.
~ Scotty '19

A Proctor en Segovia composition from Madrid's Plaza Mayor on a sunny winter afternoon. Can you pick out which group member appears twice?

(Photo credit: Alex '20)

A room with a view. The view from Alex's host family's apartment on Calle Gobernador Fernández Jiménez looking back towards Segovia's old quarter. (Photo credit: Alex '20)

(Photo credit: Alex '20)
Stay tuned for tales of our adventures in Barcelona and Catalonia coming very soon. Un saludo y hasta pronto!
~ Proctor en Segovia Winter 2019