School traditions that are hotly anticipated by the entire school community and that help to expand and amplify the thinking of all who participate are rare. The Hays Speaking Contest does both. The finalists of the event, selected by the participants themselves, serve as a state of the union of Proctor's current sophomore class. As the event's host, English teacher Tom Morgan, gives the audience members a glimpse inside of the window of the lives of our students who stand and deliver their speeches.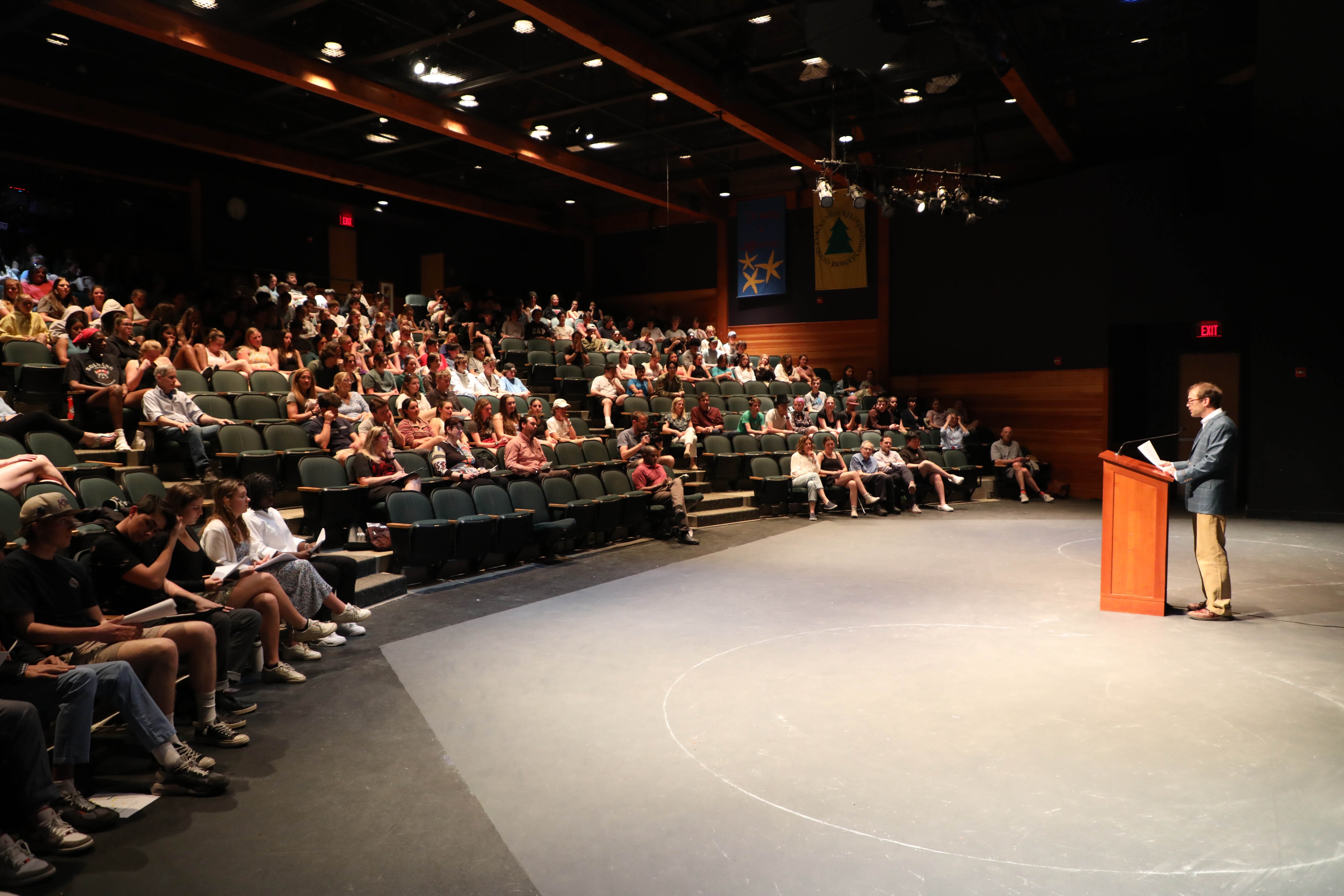 The Hays Speaking Contest was created by former trustee, parent, and teacher, John Pendleton, who passed away this past September. The competition was named in honor of Bill Hays who was a former Bowdoin College debate team standout and former Proctor Academy Board of Trustees Member. Each year, and for the past 24 years, the contest provides the sophomore class a vehicle to talk about the most pressing issues of their lives as well as a way for a larger audience to hear a smaller subset of the class listen in on the raw materials of those members of our community who are nearly half-way through their Proctor careers.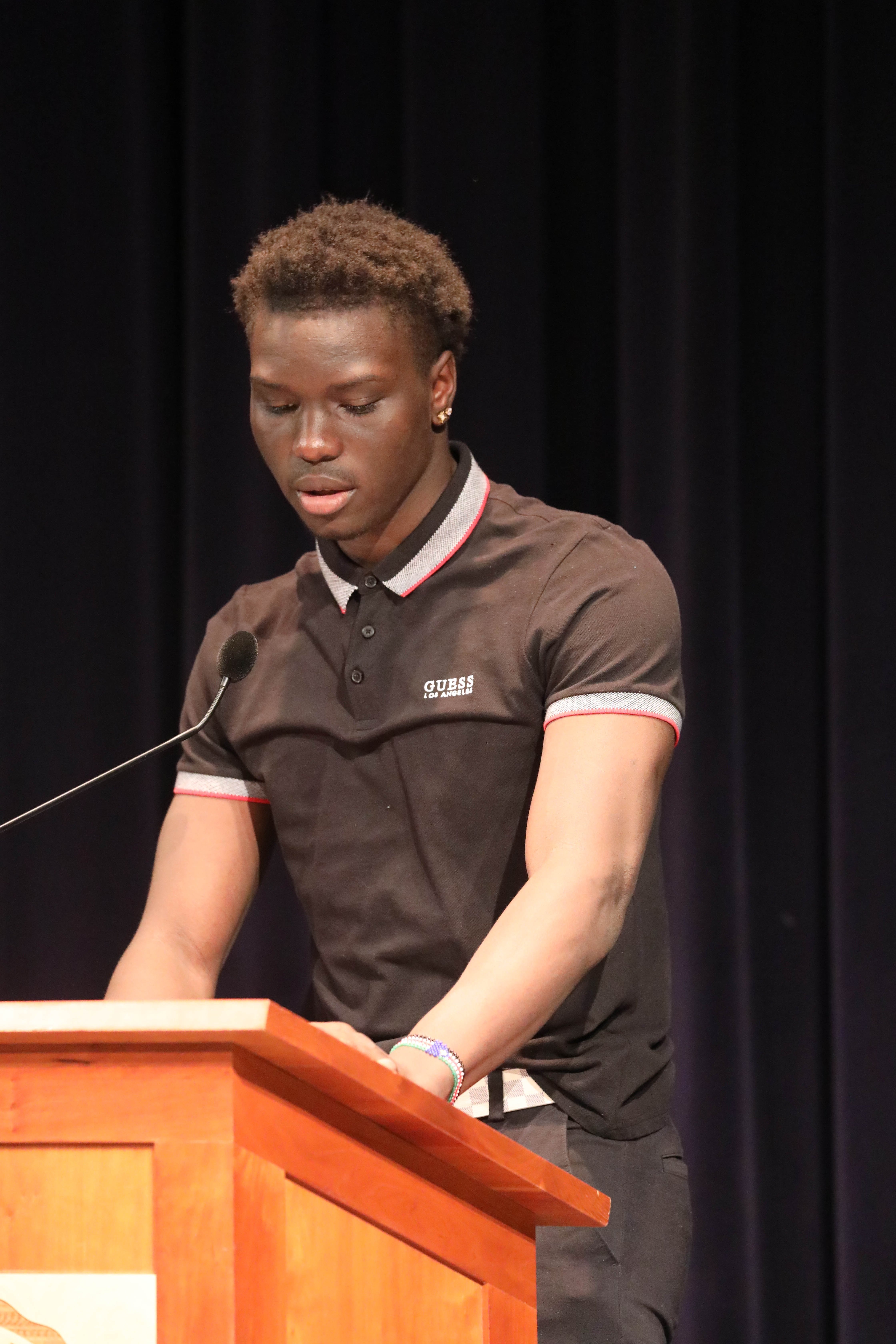 Ably moderated by last year's Hays Prize winner, Chris '24, the stakes were high from the outset, given the gravity with which the participants gave the proceedings as well as the length of time the competition has been a staple at the school. The speaking competition gave us all that momentary glimpse into the window of each of the speakers' lives.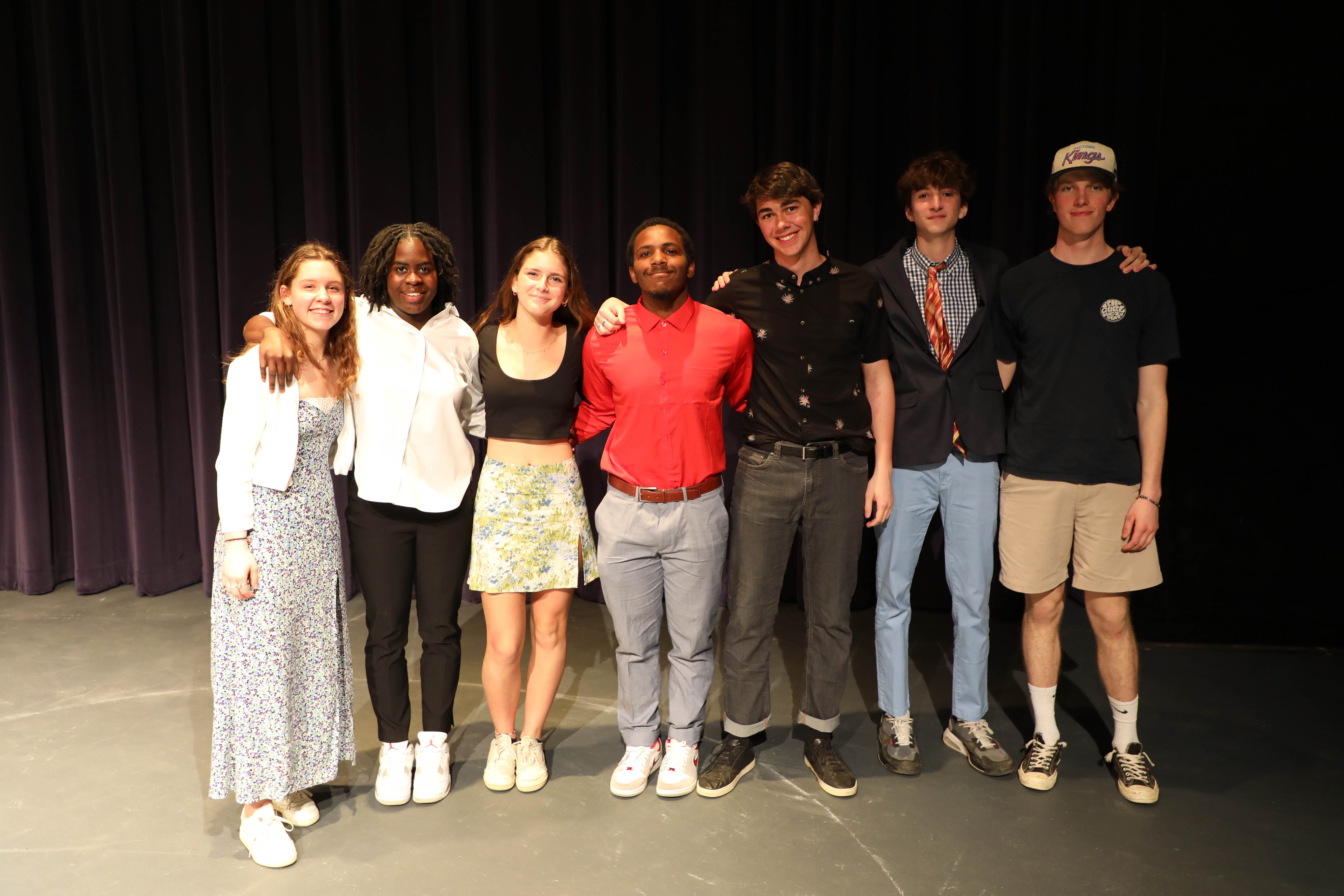 As Chris regaled all of the speakers with advice about how to collect their thoughts and channel their nerves into action, each person approached the podium with poise and confidence to discuss personal yet clear-headed memories from their pasts.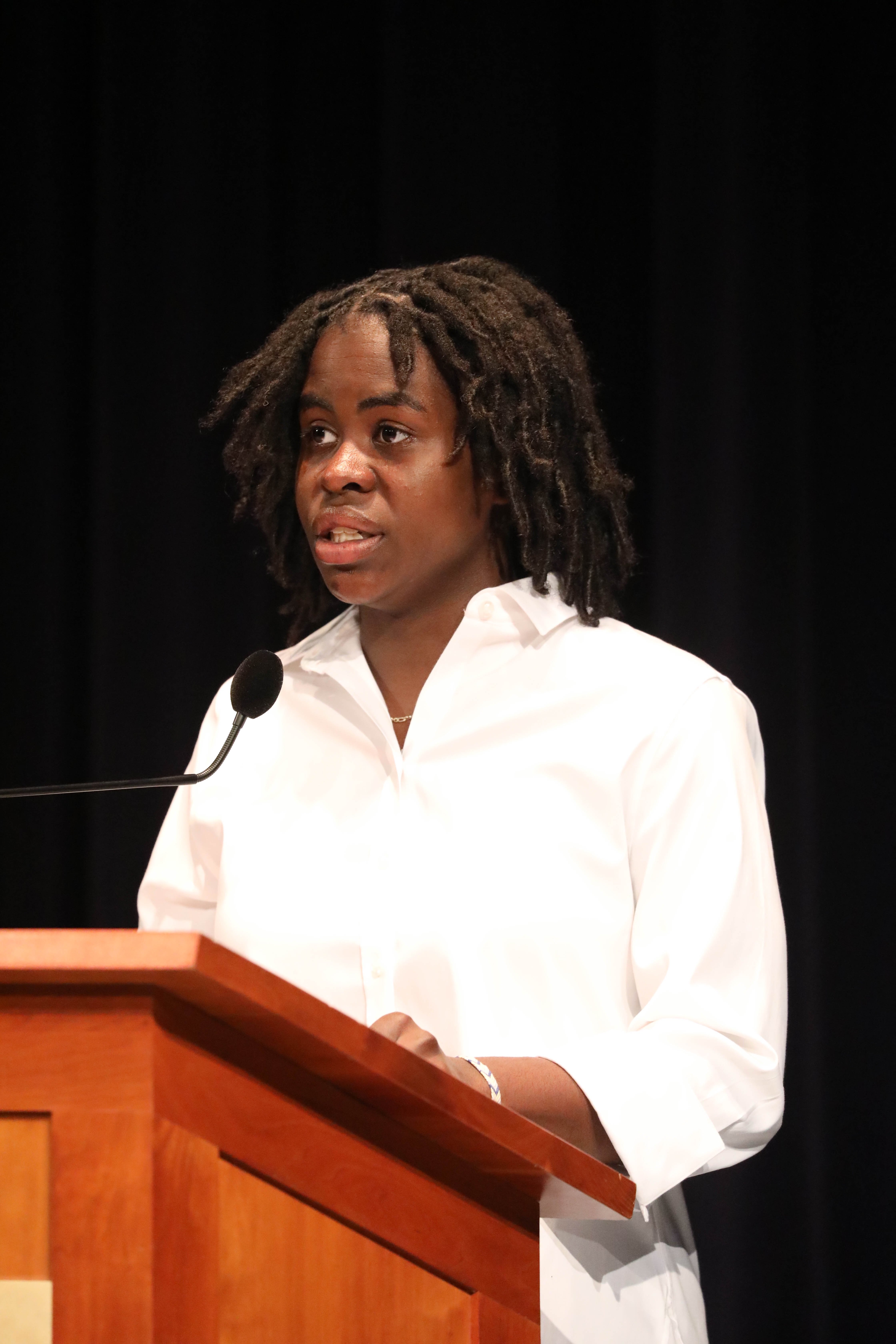 The first speaker up was Sierrra '25 who talked about a personal yet harrowing event. Her message of hope tinged with the clear conviction about adults, especially the ones she found at Proctor, being a good listener to young people is a powerful message that impacted everyone who heard her speak.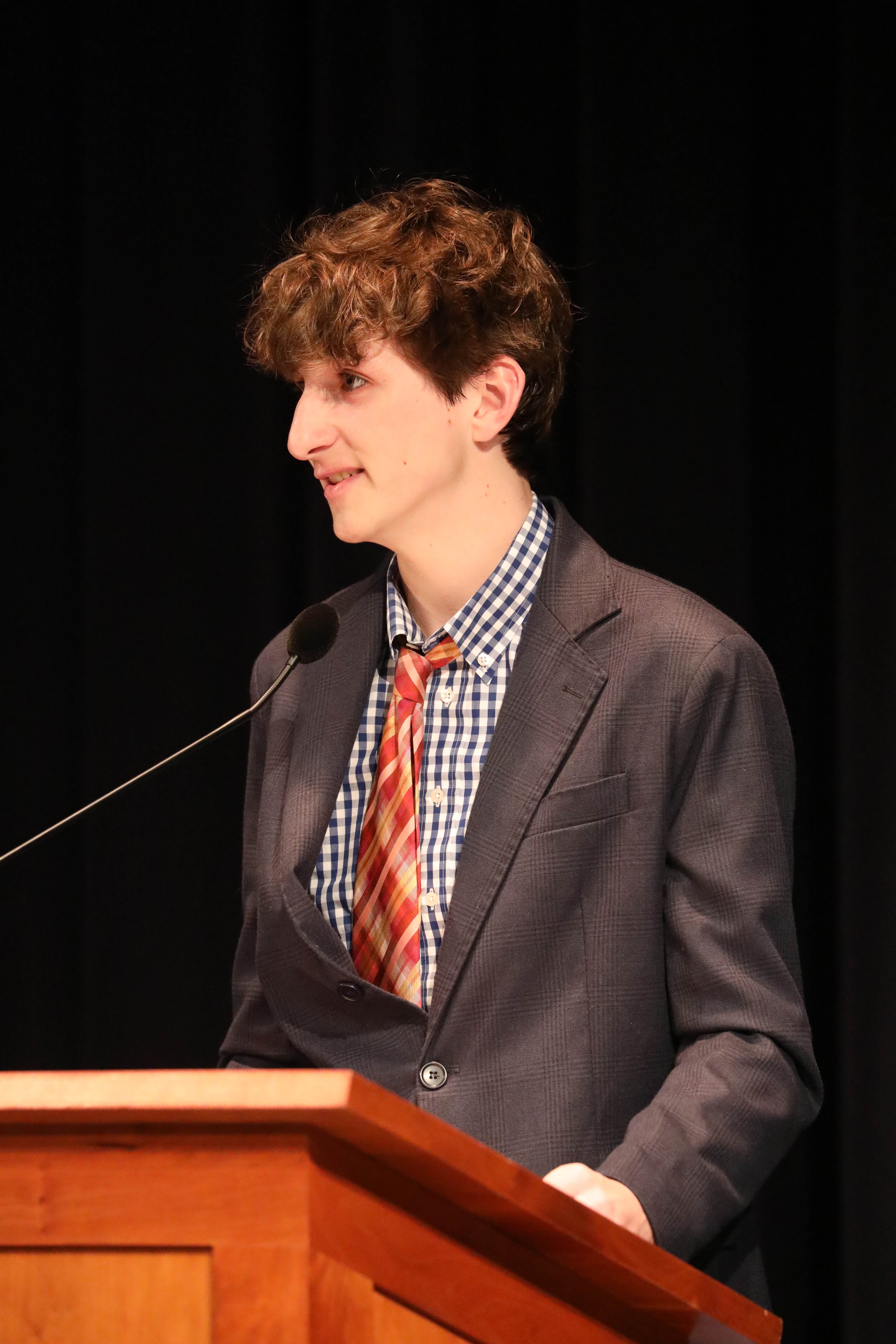 Next up was Will '25 who recounted his real struggles being among the one in four people who have a learning disability that he now realizes is a super power. Even though the complicated nature of having a super power that can sometimes impede or distract school work, or life in general, Will gave us food for thought with his story of his relationship with and acceptance of his super power. Will left us all with the impression that he is someone who knows himself and his strengths incredibly well.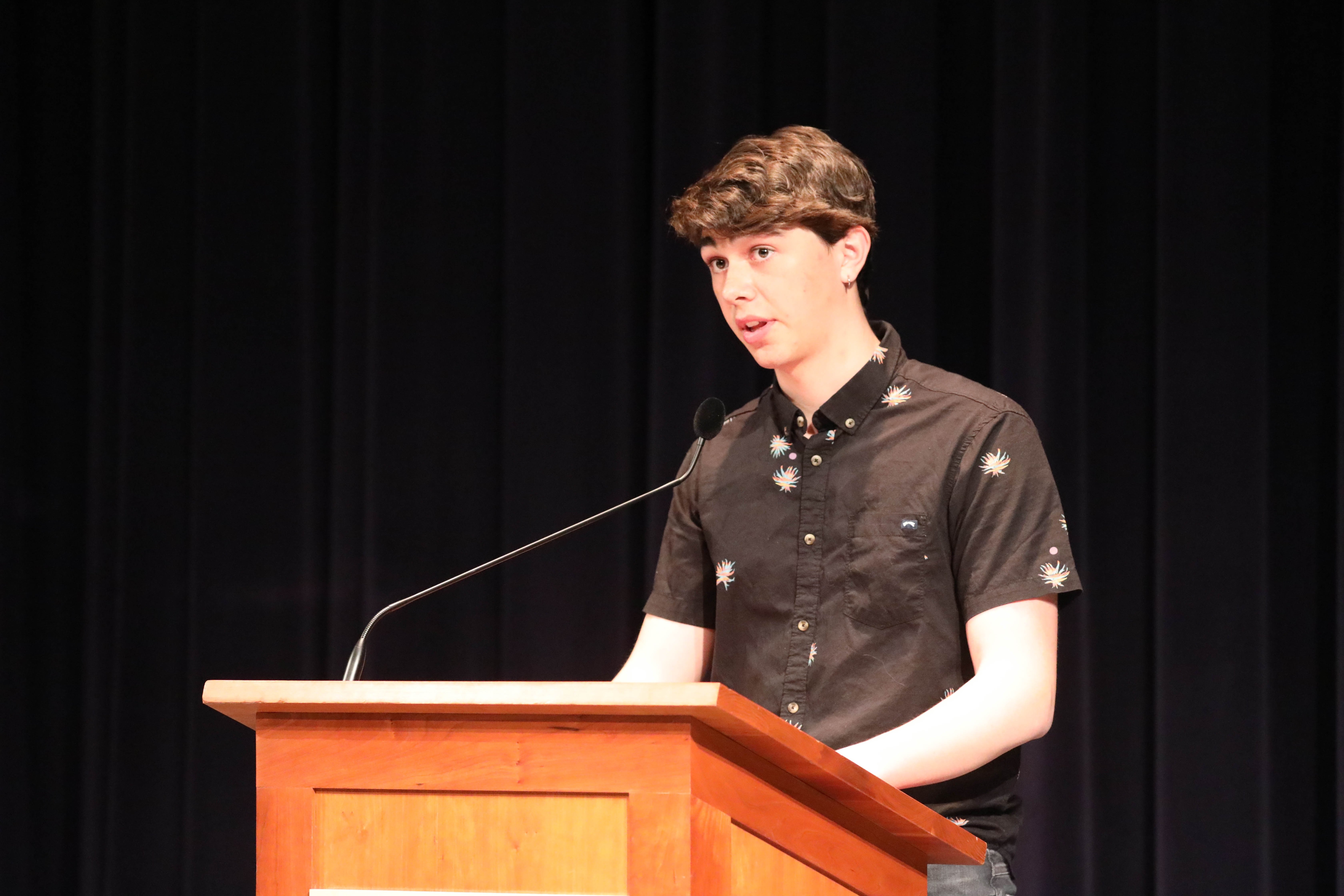 After Will spoke, Conrad '25 implored all in attendance to think hard about labeling and dehumanizing "the other" in our fractured political climate, particularly those with whom we disagree. Conrad described vividly a trip he took with his parents a few years back to Europe, watching a fringe political party rise to power again in Germany. Conrad artfully connected his own story of unexamined followership to last year's Supreme Court decision that struck down Roe v. Wade, deftly arguing how easy it can be to slip into the dehumanization trap with those with whom we are allied as opposed to those with whom we disagree.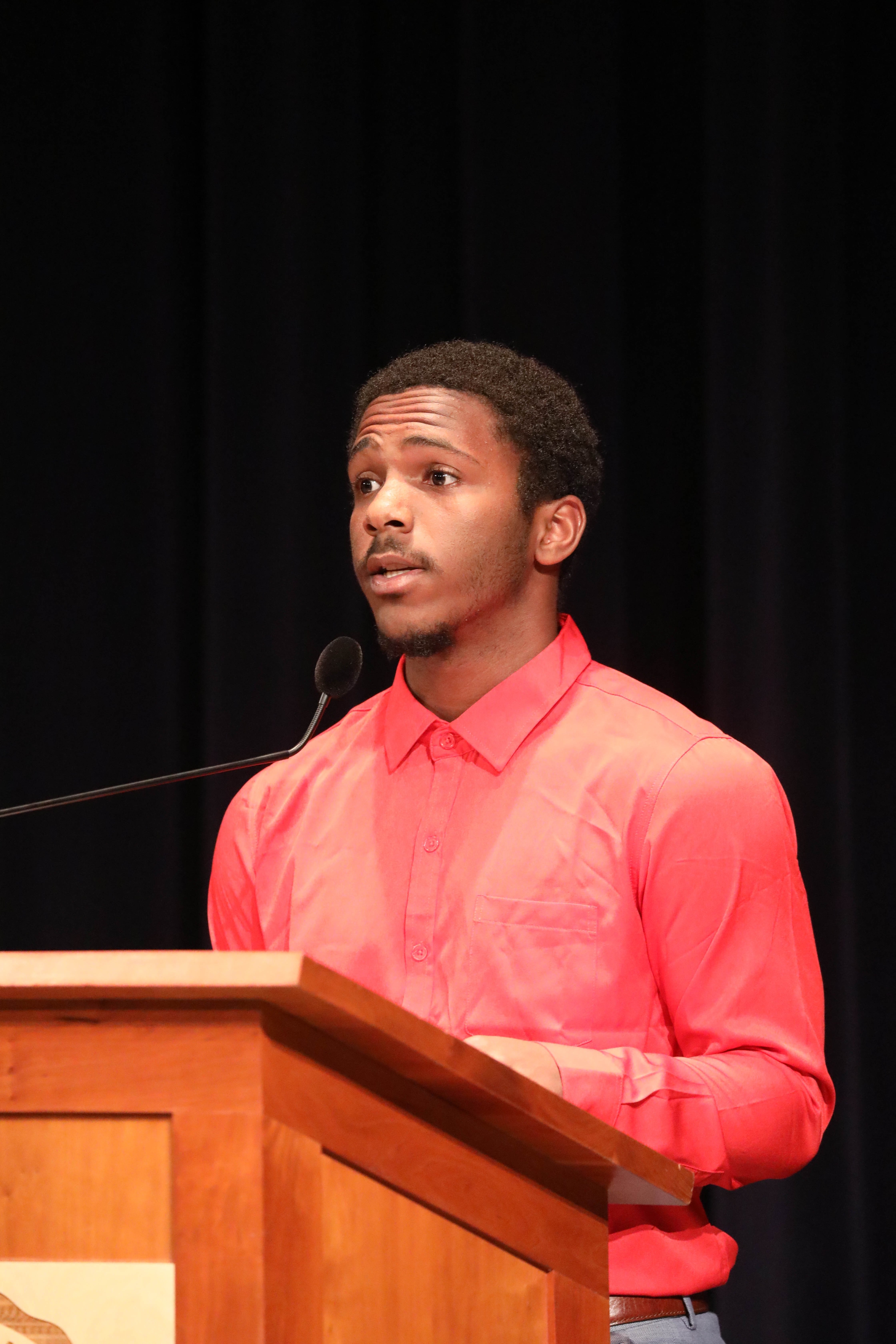 Jaden '25 was up after Conrad. While the idea of wrestling with one's conscience may have preceded Jaden, his appeal implored his classmates to look closer at the people behind the statistics when looking at victims of gun violence. Recounting an incident that happened in his hometown in the midwest, Jaden took the listener on a ride that showed the mundane everyday events of playing a video game that was soon punctuated by gun violence with its faceless, nameless imprint on Jaden's city and neighborhood that shattered his own home and even his own body.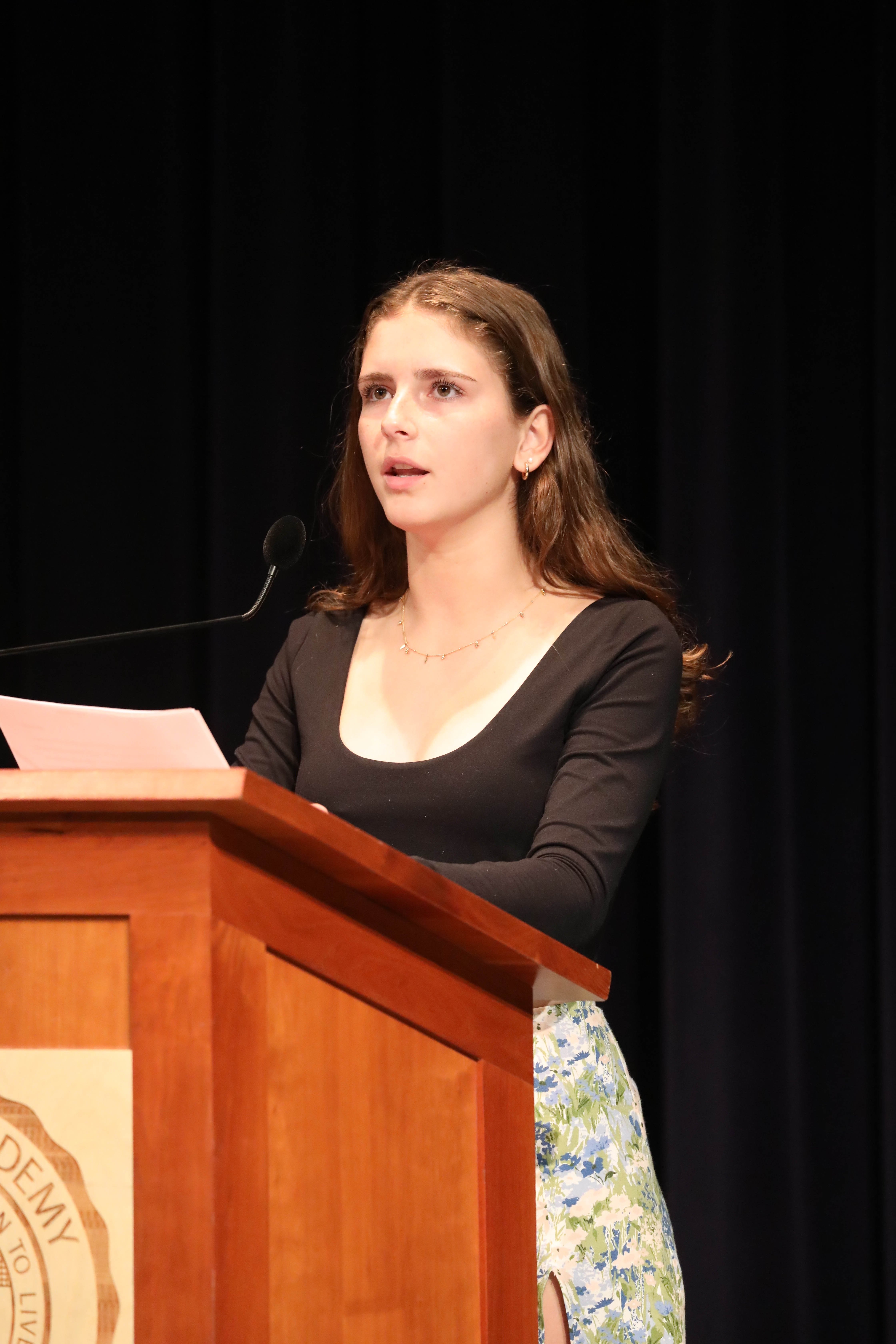 Yet, the external wounds that students often feel can be very hard to deal with, Morgan '25, walked the listeners through the life of a Proctor student dealing with the FOMO (fear of missing out), even at times when a student, especially a high school student, knows intimately the corrosive nature of social media and the inability to disconnect. The story that Morgan tells is one that many people her age deal with, which is how the ubiquitousness of social media wrecks a healthy self concept, creating a negative feedback loop of false equivalencies. Her antidote was in being offered a place on one of the off-campus programs at Proctor, which allowed her to disconnect and maintain a more focused and self-aware existence.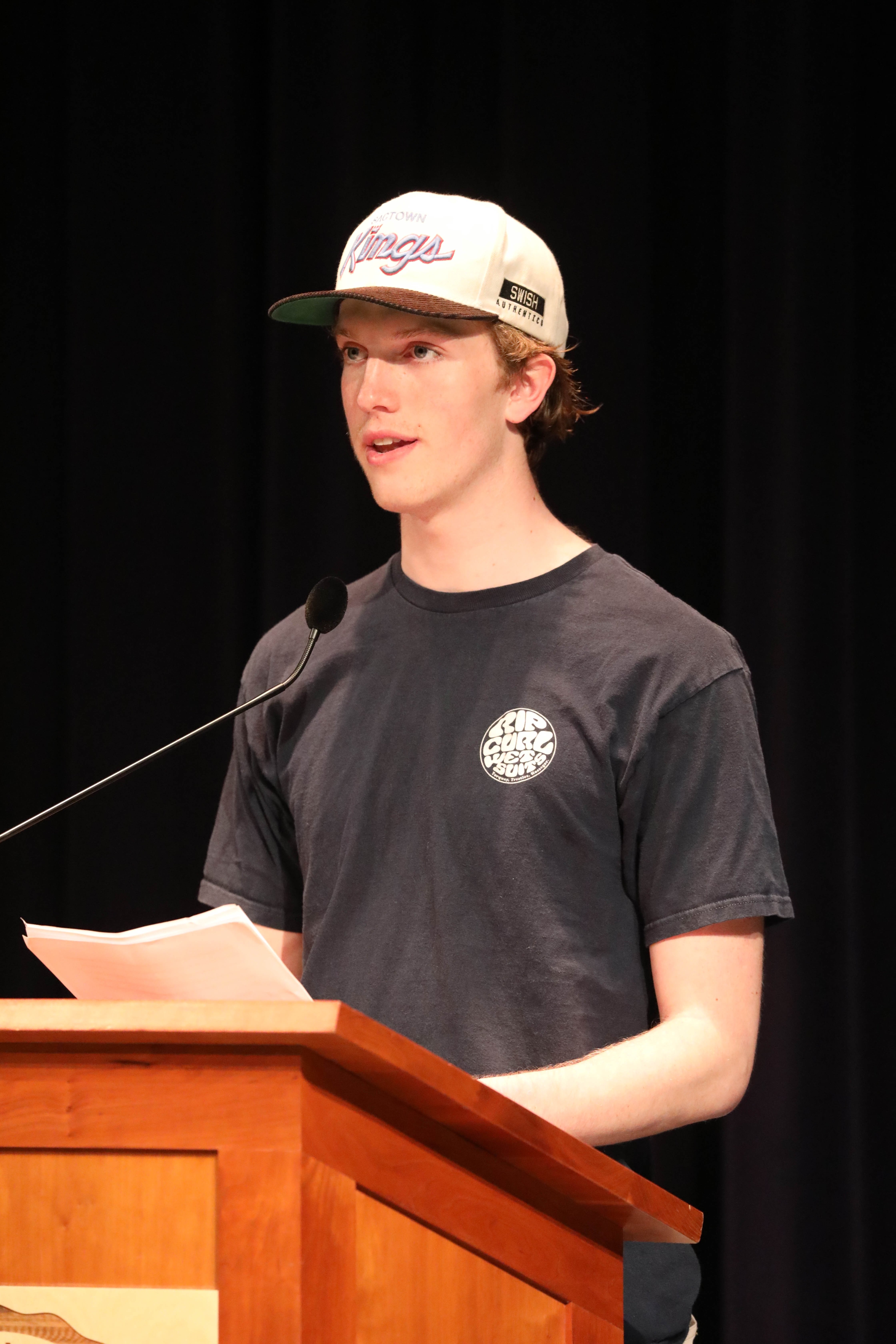 Next, Toby '25 took us all on a journey with he and his family in their Sprinter van through the region around the Alps in Europe. As in Morgan's speech, Toby wrestled with finding the meaning of living a teenage life with three other people in a van, his family, even on a milestone birthday. Toby came to understand how important and valuable the time away was from his technology and even other people in getting to know himself and his family better. Toby's realization that "nothing is everything" freed him from many of the tricky comparisons that people his age often make.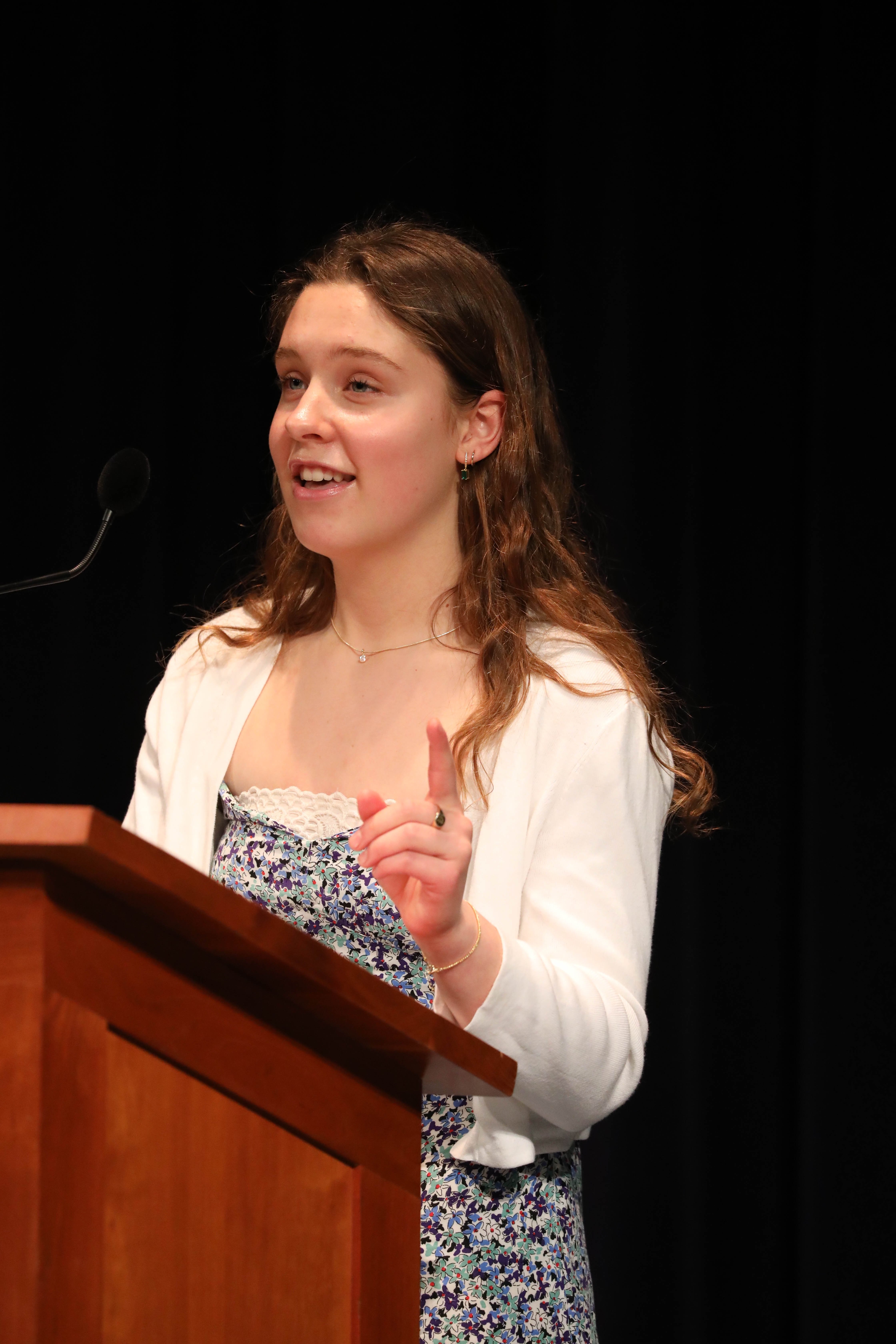 Last but not least, Paige '25, solidified and grounded the evening in Brené Brown's concept of vulnerability when she allowed herself to be trained by a family friend to become a better soccer player. With gales of laughter, the audience discovered Paige's soft spots of humility mixed with humor as she refused to acknowledge her own vulnerability until it literally leaked out of her after a soccer training session one hot day. Being vulnerable for Paige was about squarely facing her own humanness last summer while vowing to face the person who trained her, leaving her embarrassment behind.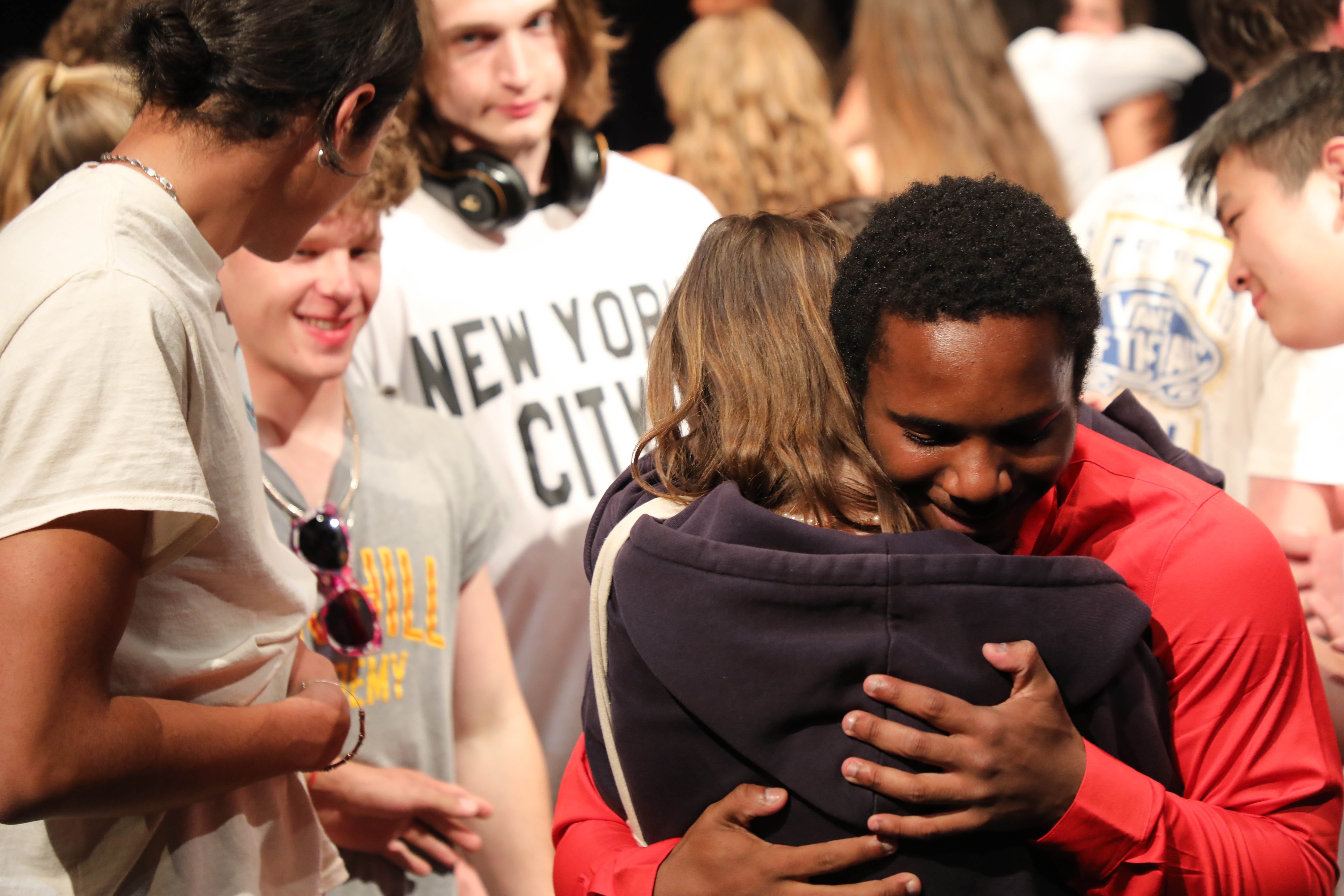 All of the Proctor students did what the Hays Speaking Contest was designed to do, which was to honor the memory of two Trustees and to provide a vehicle for human connection at a time in their careers when the end seems to be just a bit longer than the beginning.
Brian W. Thomas, Proctor Academy Head of School
Curated Listening:
The Hays Speeches reminded me of Brené Brown's powerful TedTalk on Vulnerability, which has over 61 million views. If you are not one of the 61 million, feel free to add to that total or revisit Brown's talk, "The Power of Vulnerability": HERE.