Throughout the month of March, we will profile different female faculty and staff members in celebration of Women's History month. Thank you to faculty member Kelly Griffin-Brown for spearheading this project.
How did you find your way to Proctor Academy?
I moved to the area in the sixth grade and attended Kearsarge Regional Middle School and High School and learned about Proctor from friends and my husband Dana who was a Day Student and graduated in 1986. Proctor proved to be an inspiring and transformative experience for him, especially Mountain Classroom, and I was always interested in learning more about the school. Dana and I had returned to the New London area in the summer of 1993 for our wedding. I was in between teaching jobs, and I noticed an ad in the Kearsarge Shopper for an opening in the Learning Skills Department. At the time, I interviewed with former LS Director Donna Jonas and was hired a few days before going on my honeymoon! I worked at Proctor for one year as a Learning Specialist from 1993-1994; it was David Fowler's last year as Head of School. I had a great experience, but I stepped away at the end of the year as Dana was planning on taking a job in Seattle, WA. Plans changed, and I ended up teaching sixth grade English and Social Studies at Cardigan for four years. I really missed Proctor during my time away and kept in touch with Donna Jonas. When an opening in the LS Department became available again in 1998, I jumped at the opportunity to reapply and was hired by Donna Jonas and Steve Wilkins to be a full-time learning specialist for the 1998-1999 academic year, and I have been here ever since, as this is my 21st consecutive year as a Learning Specialist and my 9th year as Director of Learning Skills and a member of the administrative team.

What is it like being a female voice and advocate on the administrative team?
While I would like to see even more female representation on the administrative team, I do feel comfortable sharing my observations and ideas. As a team of individuals with differing backgrounds, roles, and perspectives, we may not always agree on certain topics, but I do feel that we communicate openly and respectfully with each other. I also appreciate that Learning Skills is well integrated into the school and plays a very important role across the community. In addition to being a part of the administrative team, I am also part of the Admissions Committee, Academic Department Heads, and the Wellness Team. It says a lot about Proctor's model that Learning Skills has a seat at the table in all of these key areas so that the voices of students with learning differences are clearly represented and heard in many aspects of the school.
How would you describe your time working in the LS department?
It has been challenging, fun, and energizing all at the same time; I truly love what I do! I am very thankful to work in a department that is filled with dedicated, hard-working, and talented professionals who care about each other, are invested in the Proctor community and are unified in our mission to provide high-quality academic support to the diverse array of learners in our care. We have also experienced some very tough times together as a department, and we always have each other's backs. You can stop by anyone's office at any time for any assistance you may need, and you will always be welcomed with a smile, patience, and valuable advice. I would also like to acknowledge that
LS Office Manager and Non-Standard Testing Coordinator, Wendy McLeod, provides critical support to all of us in Learning Skills, and her professionalism and diverse skill set
contributes greatly to the overall success of the department and my leadership.
What do you love best about your job?
While I have many responsibilities through my role as LS Director, perhaps my favorite parts of the job include meeting with prospective families to help them better understand our educational model and working directly with my students and helping them uncover their strengths and tackle all aspects of their learning. Seeing their growth and confidence emerge in the community over their time at Proctor is so rewarding, and it's what drives me to continue to want to grow professionally and expand my toolkit as an educator. I firmly believe that w
orking directly with the students each day allows me to be an effective leader, mentor, and collaborator with my colleagues in LS and across the other departments as well.
In so many ways, you serve as a mentor and role model to other females in this community. What are the important things you want them to know about finding their voice?
I am introvert and was quite shy throughout high school and college and even during my first few years at Proctor. I have learned that you don't have to be an extrovert to be impactful. I have also come to appreciate the importance of being patient with yourself and not to judge yourself too harshly when you are new at something, whether it is learning a new job or being a parent for the first time. Finding your voice and trusting your instincts can take time. I also believe it is incredibly valuable to be passionate about your profession, have a strong work ethic, be an active listener, and speak with integrity. With these elements in place, I find that I have been able to confidently share my perspectives and contribute in a meaningful way both to my professional community and my family.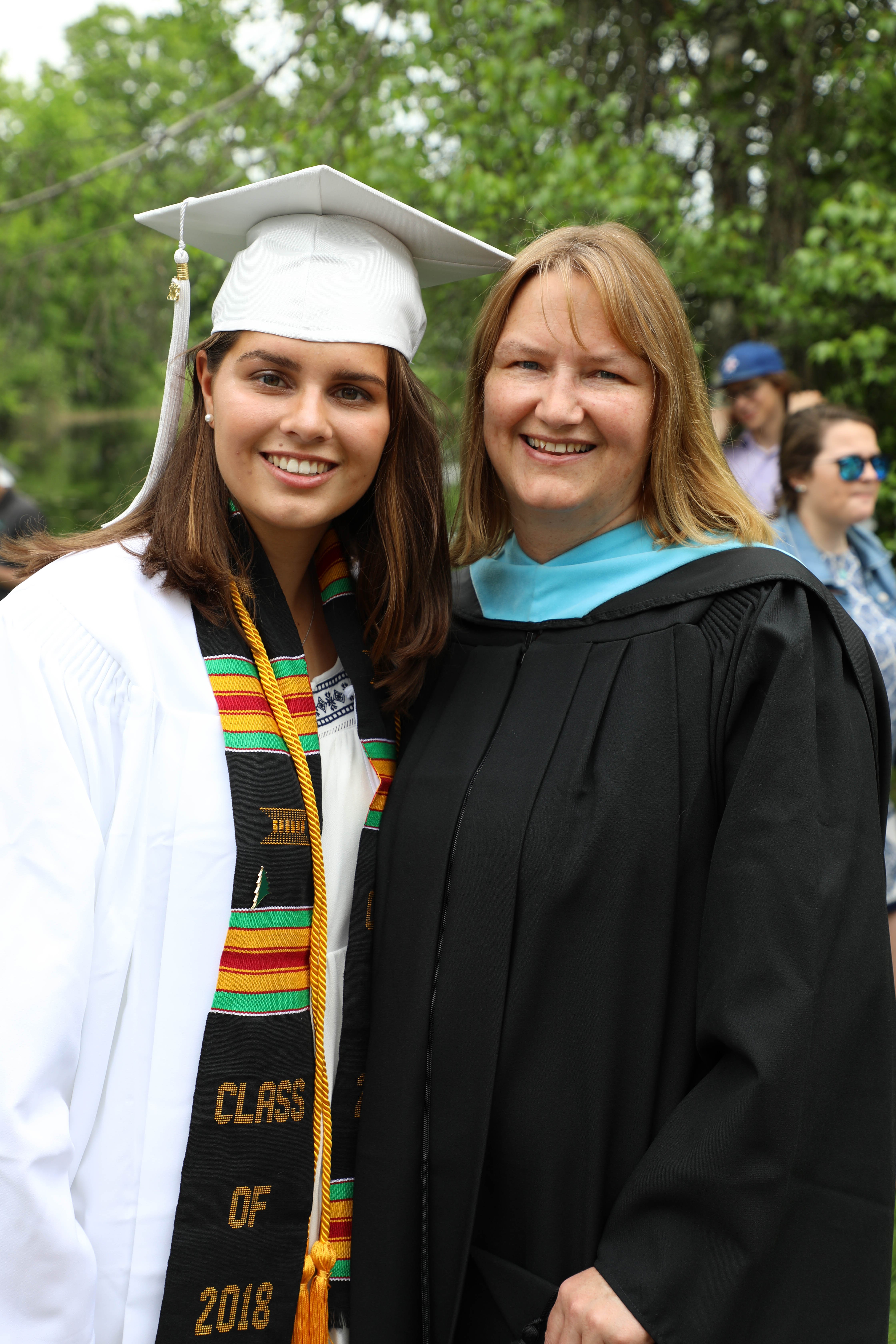 What are some of your favorite aspects of Proctor?
Foremost, I love the positive and long-lasting relationships we form with our students and our colleagues. In addition, I am always impressed by how the faculty, staff, student leaders, and volunteers from current and past Proctor families come together at the start of each school year to get ready for Wilderness Orientation, Registration Days, and Sports Camp. All of these experiences represent a tremendous amount of effort and planning, and it's just so inspiring to see how everyone comes together and plays a role in launching the new school year. I also love cheering on Proctor's sports teams each season and seeing the incredible artwork, theatre productions, and musical performances that are produced at the end of each term. They provide such a boost of positive energy and creativity when we most need it! The talent on this campus is really quite remarkable. Lastly, a seminal moment for me each year is graduation weekend. I think that Proctor graduations are quite special and poignant. No matter how challenging the year may have been, I know that if we can just all get together under that big white tent on the last Saturday in May, all will be well. Our collective stress becomes replaced with pure joy as we celebrate the accomplishments of our seniors and think about all the progress they have made during their time at Proctor. At that moment, nothing else seems to matter, and we can just enjoy being together appreciating our unique and supportive community.
Who were your strong female mentors? Favorite authors or other strong women in your life?
I
have been fortunate throughout my teaching career to have very positive female mentors in my life who have helped me reflect on my educational practices and pushed me to grow professionally. When I first came to Proctor, former LS Directors, Donna Jonas and Kathy Bianchi, not only helped me learn the ropes of being a learning specialist at Proctor, but they also believed in my potential and encouraged me to take on more responsibility,
even when I thought I might not be ready to do so. I am truly grateful for their wisdom and confidence in me. I
also admire my mother-in-law, Poppy Fletcher. She has endured significant physical challenges and losses in her life, and yet, she always puts forth a positive, never-give-up attitude. She is incredibly determined and strong. Additionally, she
has always been very welcoming and supportive of me, and I greatly respect her advice and family values.
Some of my favorite authors include Isabel Allende, Maya Angelou, Dan Brown, Zora Neale Hurston, Barbara Kingsolver, and J.K. Rowling.