Proctor Academy inducted its second Athletic Hall of Fame class at Alumni Reunion 2018. Congratulations to each of this year's inductees, and thank you to all those who were able to attend the induction ceremony Saturday evening. Read more about the inductees below, and be sure to submit your nominations for next year's class HERE!
John Schoeller P'95, '97
Football Coach | Learning Skills Department Chair | 1973-2002
A master educator, John arrived at Proctor in 1973, and made an immediate impact as a coach, mentor, and department head during his 29 years at Proctor until his retirement in 2002. A mainstay on the sidelines of Proctor's varsity football during each of those 29 years, John's guidance of the program was rooted in his deep care for each of the young men who put on shoulder pads, helmet, and Proctor jersey. He insisted each of his players were not solely football players, but members of the community. The Class of 1982 dedicated their Green Lantern to John, noting, "John Schoeller above all loves life at its most meaningful and basic level where honest human relationships exist. He cares for you, for his teams, his wife and children, and his Learning Skills students, for all of us."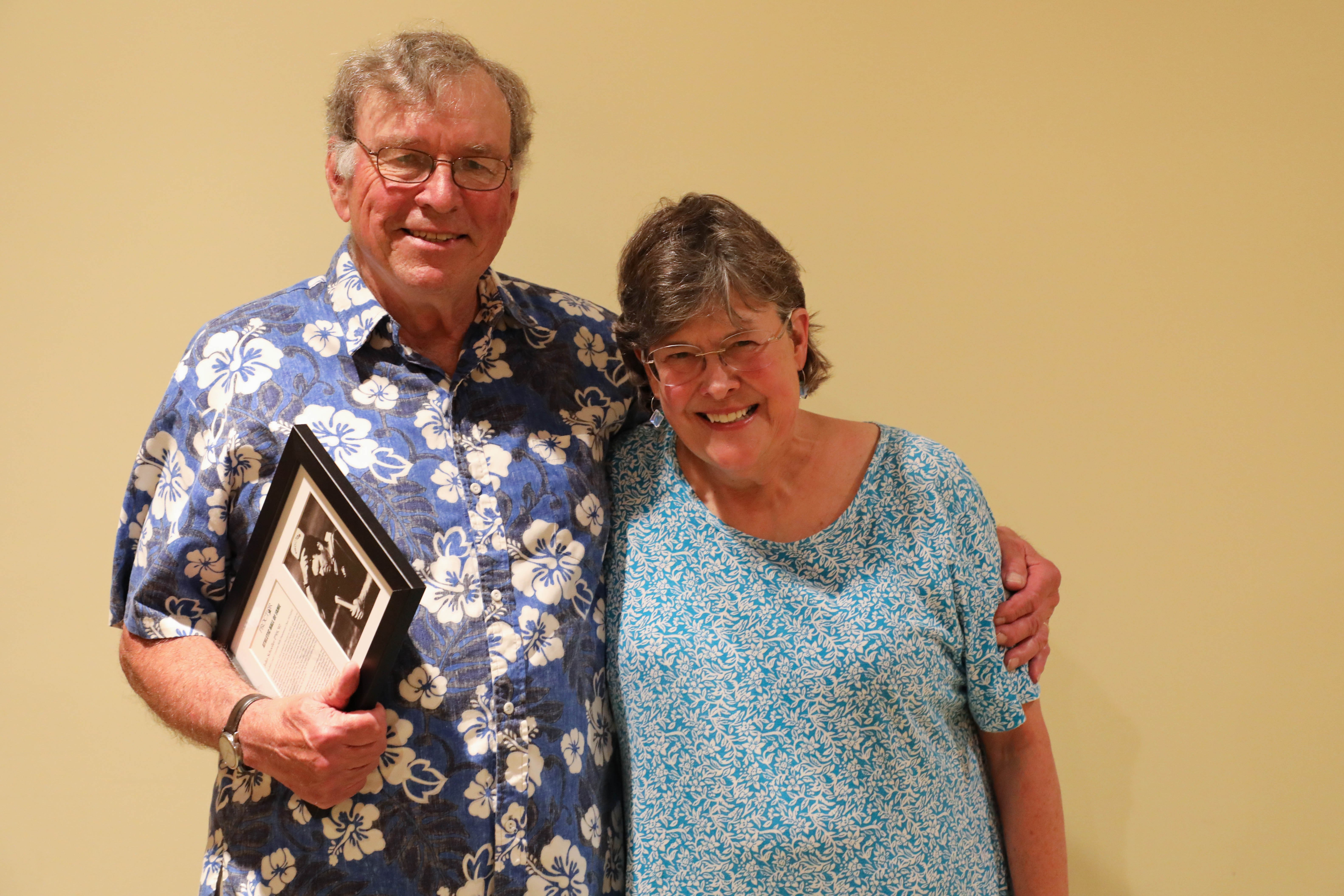 It is this deep caring for all aspects of the Proctor community that made him such an effective coach, not just to his athletes, but to his colleagues as well. John shaped the culture of athletics at Proctor by ensuring sportsmanship was always the priority, and by showing his team, colleagues and opponents how to be simultaneously fiercely competitive, honest, respectful, and true to the game and values of amateur sport. His focus on elevating the role trusting relationships play in team sports empowered his teams to perform at or beyond their potential. The bonds formed among Proctor's football teams throughout the 1970s, 1980s, and 1990s last today due to John's leadership and commitment to Proctor athletics.
1977-1978 Football Team
8-1 Record | Lakes Region Champions
Proctor's 1977-1978 varsity football squad posted a 6-1-1 record en route to a Lakes Region Championship, the school's first in well over a decade. In an era when soccer was king during the fall season, head varsity football coach John Schoeller developed a team culture that recognized hard work, determination, and fair play, while getting the most out of his team. Building on the success of the 1975 and 1976 seasons, the 1977 squad overcame an opening loss to Kents Hill School to remain undefeated the rest of the season.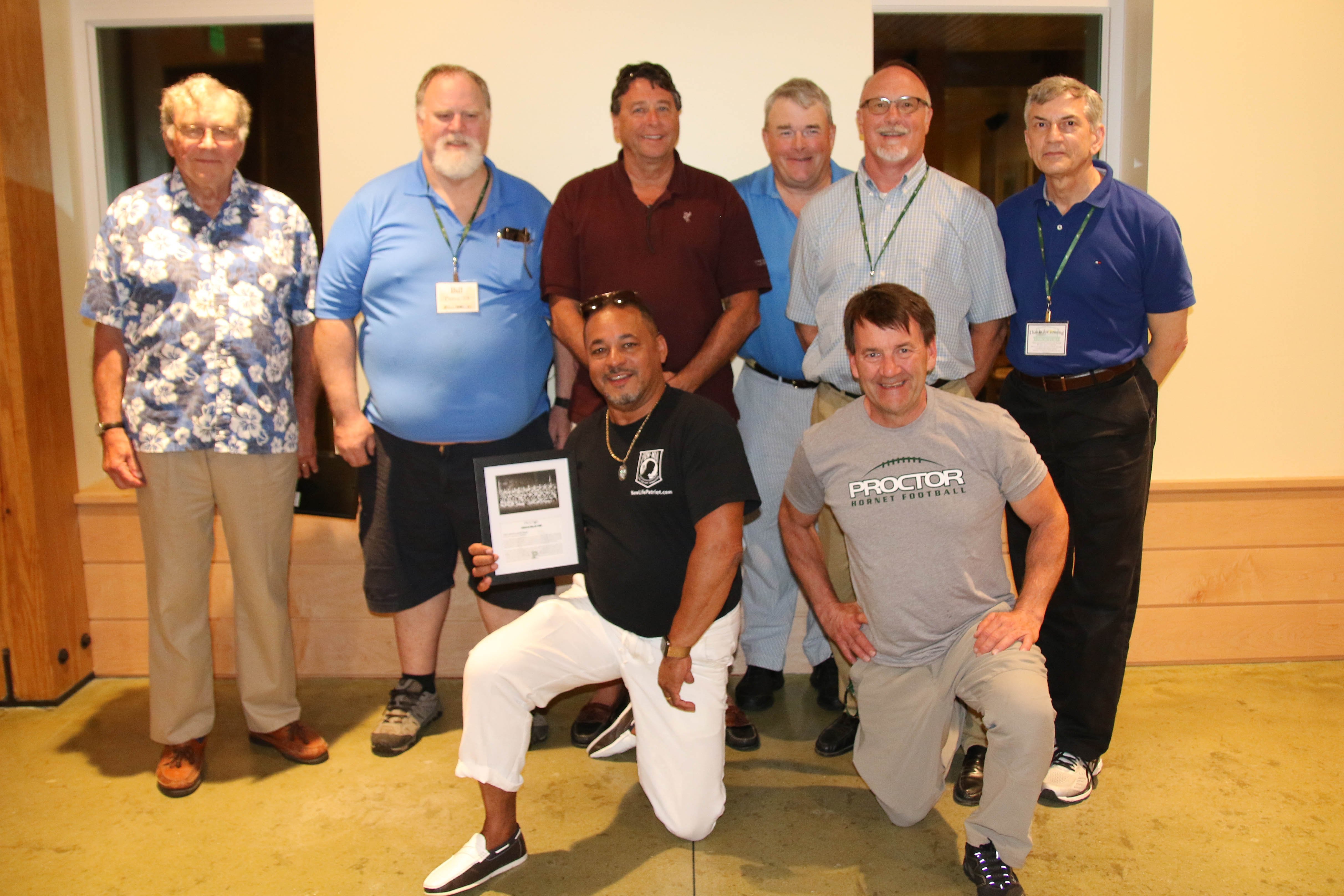 The Hornet's stellar defense held opposing teams to 30 combined points in the final six games of the season, and outscored their final three opponents 84-12. The season ended with perhaps its greatest highlight, a 28-6 thrashing of rival Holderness. Wins and losses will never serve as team's sole marker of success at Proctor, however, when groups of individuals set aside personal agendas and join together in a common goal, remarkable results are possible. During the fall of 1977, the varsity football team did just that, and in the process created memories that have lasted a lifetime for those on the field as well as those fortunate enough to watch the team play from the sidelines.
Frank Muth '82
Football | Hockey | Lacrosse
A native of Columbia, Maryland, Frank Muth arrived at Proctor in the fall of 1980 as a junior and made an immediate impact in three sports during his final two years of high school on Proctor's football, hockey, and lacrosse teams. An elite scorer who was equally stellar on ground balls, Muth was also recognized as the consummate sportsman, balancing his fiery competitive spirit with a sense of fair play that made him stand out among his peers. He earned All-American Lacrosse honors in 1982 and became the leading scorer in the nation during his senior year. After matriculating to Norwich University where he led the men's lacrosse team in scoring during his four years, Muth graduated as a second lieutenant in the U.S. Army and began a decorated career in the armed services.
The leadership, work ethic, and determination he brought to Proctor's athletic fields during his time as a Hornet transferred directly to his career in the U.S. Army. After graduating from the Command and General Staff College, Muth was assigned to the 82nd Airborne Division at Fort Bragg, and eventually went on to graduate from the National War College in 2007. After dozens of deployments to the Middle East, Muth was promoted to Major General, while earning countless recognitions for his service including: Legion of Merit, Bronze Star, Air Medal for valor, Master Army Aviator, Senior Parachutist, and the Korean Defense Service Medal. Muth was unable to attend the ceremony due his active duty in Saudi Arabia.
Sarah Leith Bahn '95
Whitewater Kayaking | Girls' Hockey
A native of Grosse Point Farms, Michigan, Sarah (Leith) Bahn joined her brother, Corby '92, at Proctor in the fall of 1991 and immediately immersed herself in all Proctor had to offer, especially the whitewater kayak program Bert Hinkley had begun a decade prior. Early in her Proctor career, she set her eyes on her dream of making the Olympic Team, and committed to spending the countless hours training, watching races, and traveling to races around the world necessary to pursue this dream.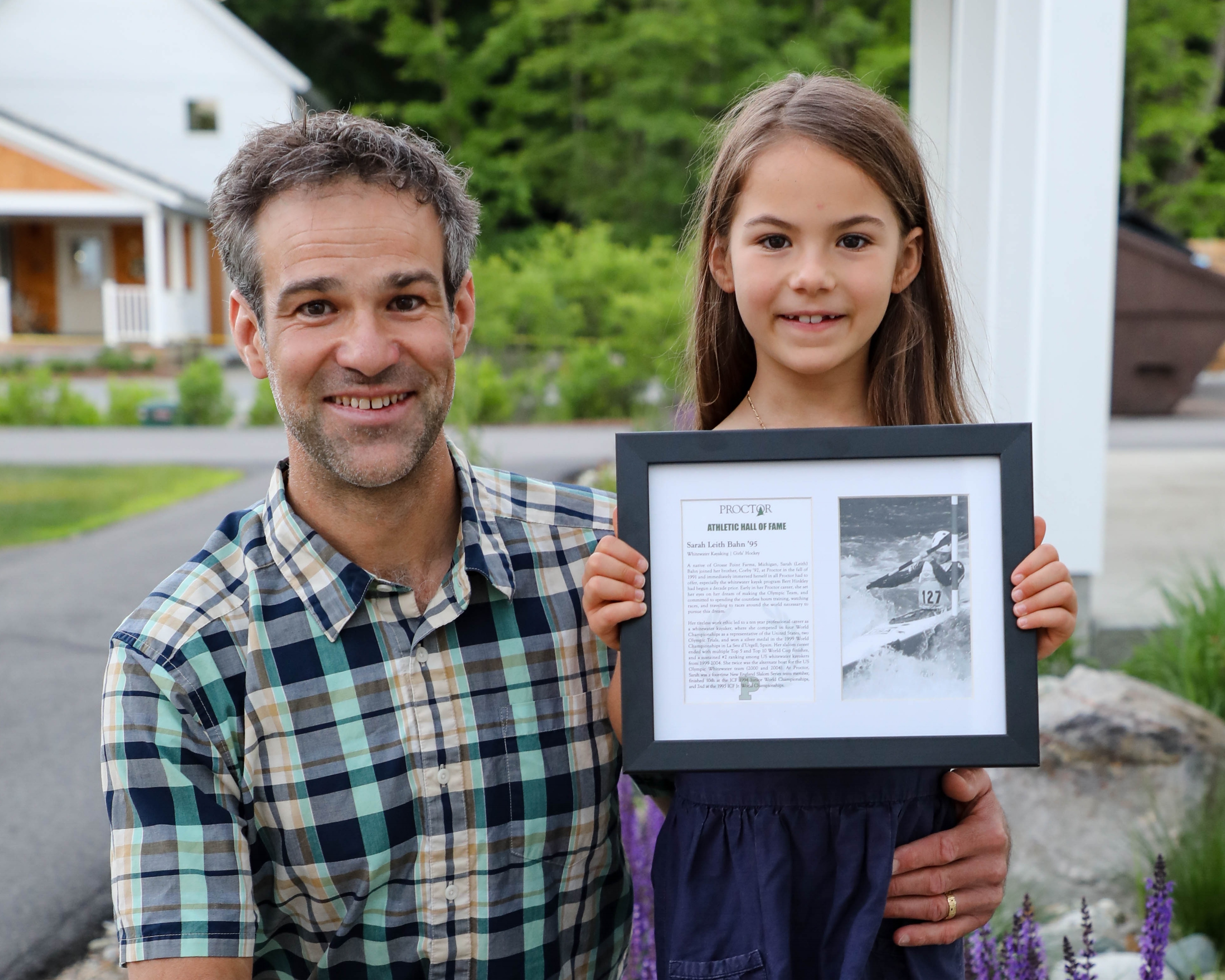 Her tireless work ethic led to a ten year professional career as a whitewater kayaker, where she competed in four World Championships as a representative of the United States, two Olympic Trials, and won a silver medal in the 1999 World Championships in La Seu d'Urgell, Spain. Her slalom career ended with multiple Top 5 and Top 10 World Cup finishes, and a sustained #2 ranking among US whitewater kayakers from 1999-2004. She twice was the alternate boat for the US Olympic Whitewater team (2000 and 2004). At Proctor, Sarah was a four-time New England Slalom Series team member, finished 10th at the ICF 1994 Junior World Championships, and 2nd at the 1995 ICF Jr. World Championships. Sarah was unable to attend the ceremony, but her niece, Audrey, and brother Corby '92, accepted the award on her behalf.
2007-2008 Girls' Basketball Team
20-1 Record | NEPSAC Class C Champions
Entering the season, Proctor's 2007-2008 Varsity Girls' Basketball team knew they had the individual talent to compete for a championship, but did not know if they had the depth to make a title run. Grit, perseverance, relentless work ethic, and commitment to sense of team are just a few of the characteristics of the eight girl roster. Seniors Kaitlin Fifield '08, Joanna de Pena '08, Kate Minister '08, and Patty Dansereau '08, joined juniors Stephanie and Angelica Pascual '09, and sophomores Kayla Dansereau '10 and Eliza Perry '10 as a powerful force that dominated Lakes Region competition all season before entering the NEPSAC Class C tournament (the program's first ever berth in the tournament) as the #3 seed.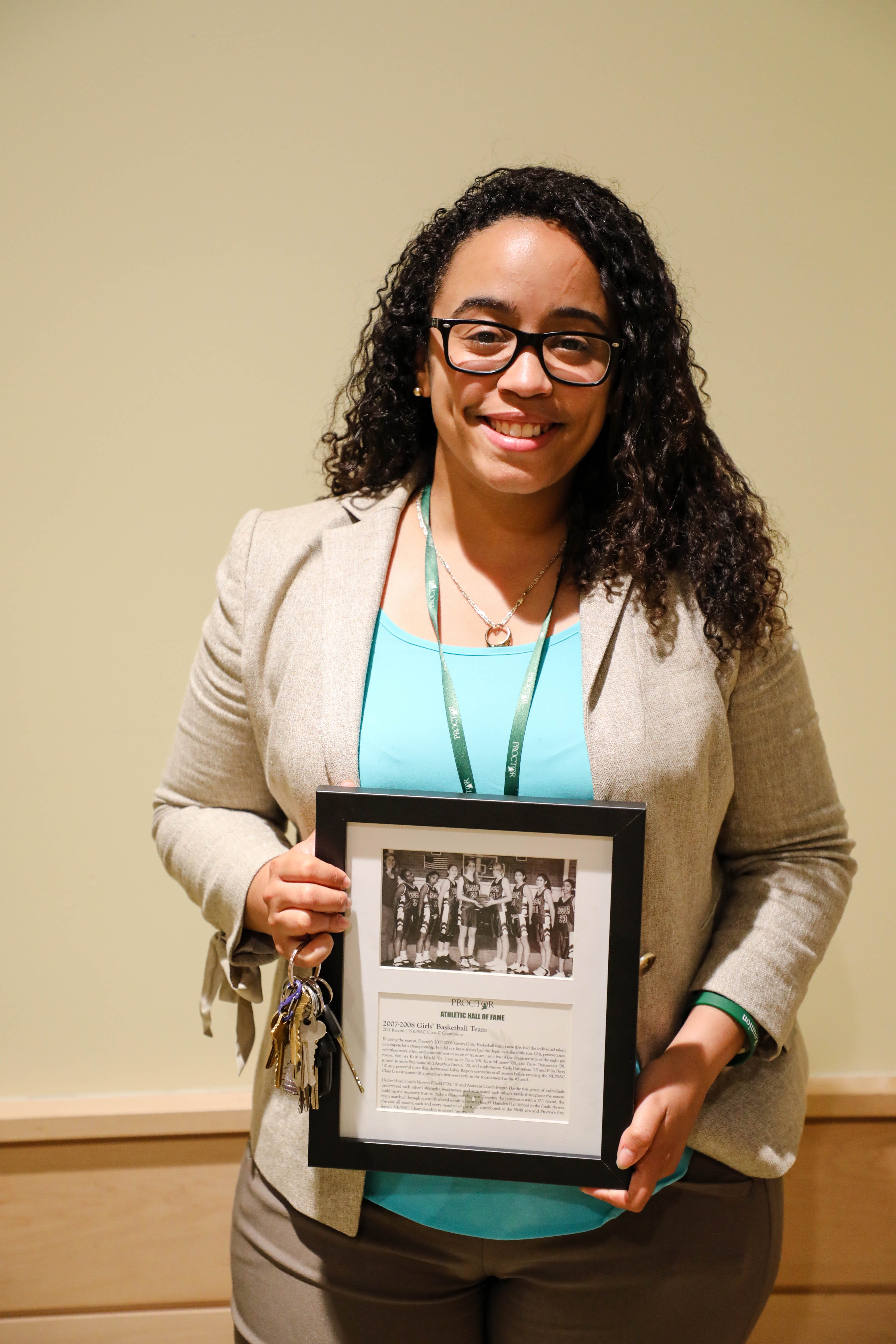 Under Head Coach Noreen Fifield P'08, '10 and Assistant Coach Megan Hardie this group of individuals understood each other's strengths, weaknesses, and anticipated each other's needs throughout the season building the necessary trust to make a championship run. Entering the postseason with a 17-1 record, the team marched through quarterfinal and semifinal wins to face #1 Hamden Hall School in the finals. As was the case all season, each and every member of the team contributed to the 58-48 win and Proctor's first female NEPSAC Championship in school history.