During those first practices in mid-November, hope abounds. The trying road ahead, through the depths of countless road trips criss crossing New England feels as smooth as can be as our sights are set on the potential that rests within our teams. We never define success for a team at Proctor by wins and losses, but for our girls' varsity basketball and boys' varsity hockey teams, a birth in the NEPSAC Tournament affords the opportunity for these two teams to test their merits against the best in New England.
As we travel that road through the season, we realize it is filled with frost heaves and twists and turns: injuries, team dynamics, teachable moments. It is through these challenges that our students and coaches forge the bonds, the trust, required to make a run at a New England title. In high school athletics, the most talented team does not always win, but the most cohesive, balanced, and disciplined often does. Proctor's girls' basketball team (#1 seed in Class C) and boys' hockey team (#2 seed in Small School Division) check both boxes as their talent and team chemistry have been core to their success all winter. Read more about their first round match-ups below. Both teams host games Wednesday afternoon with girls' basketball tipping at 3:00 PM and boys' hockey dropping the puck at 3:30 PM.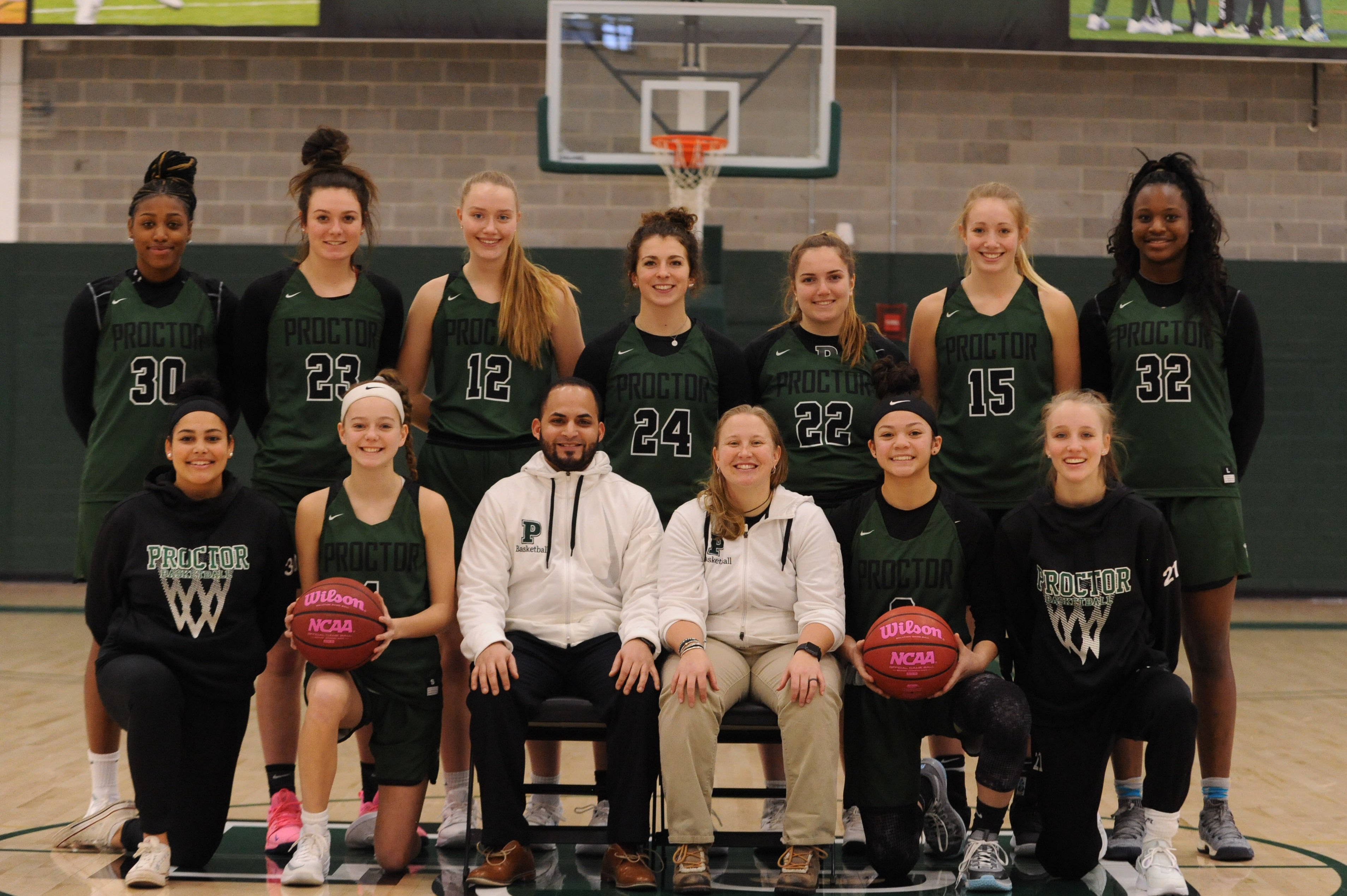 Girls' Basketball #1 vs #8 Beaver Country Day - 3:00 PM | Farrell Field House
Proctor's girls' varsity basketball team has been flirting with the word dynasty over the past decade. Seven straight NEPSAC Tournament bids and back to back titles in 2016 and 2017, this year's squad may be the strongest coaches Junior De la Hoz and Lindsay Brown '01 have had. Boasting a 21-6 record, including an undefeated Lakes Region League campaign (12-0) for the first time in school history, the girls' are excited to host a very talented Beaver Country Day team on Wednesday afternoon.
The two teams faced off in early January at Proctor, with the Hornets escaping with a 62-59 victory. Beaver's combination of outside shooting and inside presence will present Proctor with a challenge on the defensive end of the court, but our girls hope to uptempo the game and capitalize on their own inside/out combinations. Be sure to tune into the quarterfinal matchup on Wednesday via Livestream if you cannot make it to the Farrell Field House for the 3:00 PM tip. Read more about this year's girls' basketball team in THIS team spotlight.
Boys' Hockey #2 vs #7 Holderness School | 3:30 PM | Teddy Maloney '88 Rink
Proctor's boys' varsity hockey team enters the NEPSAC Tournament with one of the most balanced rosters in New England. There are no superstars, no single player other teams can focus on in their scouting report, but rather four lines of hard working, skilled athletes who have bought into coaches Mike Walsh and Ian Hamlet's game plan night in and night out. Entering the tournament with an 19-11-1 record, the Hornets have held their own against the best in New England, including the incredibly competitive Lakes Region League. The league sent five teams to the NEPSAC Tournament this year, resulting in a first round matchup between the Hornets and arch rival Holderness School on Wednesday afternoon.
Proctor split with Holderness this year, as both teams won on the other's home ice, with Proctor taking a 2-0 victory at Holderness and the Bulls most recently stealing a 5-1 win over the Hornets just last week. Proctor's ability to score goals in bunches will serve the team well, however, it will be their defensive focus that will dictate their ability to make a run at a NEPSAC title this week. Be sure to watch Wednesday's matchup on Livestream HERE, and take a look at the team spotlight shared earlier this winter HERE.